The global waste management market was valued at USD 1,352.83 billion in 2022, which is anticipated to grow at a CAGR of 4.93% from 2023 to 2032. To enhance the service, strict government laws like the Resource Conservation and Recovery Act and the Waste Shipment Regulation are anticipated to drive the market. Due to the lockdown imposed during the COVID-19 pandemic, waste generation from the commercial and industrial sectors was reduced as businesses and industries shut down entirely or partially. However, the amount of urban garbage increased in populated areas. The waste recycling industry and businesses restarted at total capacity due to the reopening of production facilities at the beginning of 2021, along with an increase in vaccination rates.
Market Introduction:
Waste management refers to the collecting, transporting, and disposal of waste, sewage, and other waste products. It includes handling solid waste along with safely and effectively discarding undesirable goods and chemicals. Solid, liquid, and gaseous waste are all included in waste management. Municipal, industrial, and hazardous waste are all handled via waste management. Municipal waste is a broad term for household and non-hazardous waste produced in towns and cities. Industrial waste is waste produced during production and manufacturing activities in industries. Waste produced by the pharmaceutical, medical, chemical, and paint manufacturing industries is referred to as hazardous waste. The collection and disposal of garbage are additional significant tasks. Storage, handling, and sorting garbage are all considered collection services. In contrast, disposable services include composting, recycling, segregating garbage for landfills, and anaerobic digestion. Waste management is the treatment of solid waste and includes a variety of recycling techniques. One of the main factors fueling the market expansion is the increasing awareness programmes highlighting the necessity of waste management and segregation. In the upcoming years, increased urbanization and industrialization, rising environmental concerns, and adopting sustainable waste management practices are all projected to contribute substantially to the waste management market.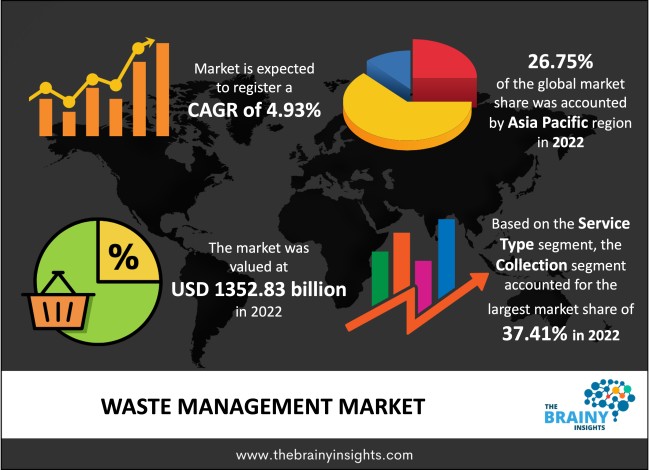 Get an overview of this study by requesting a free sample
Recent Development
To increase its operations in Canada and boost its position in waste management, FCC Environmental Services acquired Wastech Services Ltd. in 2021.
To enter the Chinese waste management business and increase its global reach, China Everbright International acquired Veolia China in 2021.
One of the biggest waste management firms in the UK, Biffa, acquired the commercial waste division of Company Shop Group in 2021, allowing it to diversify into the food waste management business.
Waste Management acquired Advanced Disposal Services, a solid waste management business, in October 2020. Due to this acquisition, approximately 3 million new commercial, residential, and industrial customers—concentrated in 16 states in the eastern half of the US— have access to Waste Management's unique, sustainable waste management and recycling services.
Eramet and SUEZ partnered in May 2021 to increase their collaborative efforts in the market for recycling end-of-life electric vehicle batteries. This cooperation is predicted to put forth a highly implementable, affordable, and practical battery recycling option for the European market.
Veolia and Groupe Renault partnered in March 2021 to strengthen the European economy using EV battery metals through closed-loop recycling.
Market Dynamics:
Drivers
An increase in e-waste caused by technological advancements and the shorter lifespan of electronic products- Development, introduction, growth, maturation, and disposal or recycling are all parts of the normal life cycle of an electronic product. When an electronic product reaches the recycling stage, it may be because of the end of its useful life, technological advancements, or shifting market demands. New electronic devices and improved models of already-existing products, such as laptops, mobile phones, and televisions, are produced as a result of the rapid improvements in technology. The shelf life of electronic devices also gets shorter as people's purchasing power rises. Every year, improved versions of smartphones and other electronic devices are released; the older models are either discarded or sold online for recycling. More e-waste is produced due to the shorter lifespan of electronic items. Electronic waste management is required due to this accumulation of electronic material and the requirement to recycle electronic devices. Since the emergence of personal computers and mobile phones, the average lifespan of consumer electronics and the parts used to create them have steadily declined. The typical electronics lifespan has decreased from the initial expectation of 40+ years to 1.5 to 13 years, with most devices lasting an average of 4-5 years.
Restraints:
Lack of essential infrastructure for garbage collection and separation- Municipalities and other organizations involved in garbage collection face severe danger from improper waste disposal. People living near a polluted environment or a landfill may suffer serious health consequences due to improper garbage disposal. Exposure to poorly disposed garbage can result in rashes on the skin, blood infections, respiratory disorders, growth challenges, and even reproductive problems. Developed nations like the US, Australia, Japan, and Germany have effectively created frameworks for waste management analysis, allowing for efficient garbage handling and ensuring that it produces valuable outcomes through recycling. Countries like Egypt, Turkey, South Africa, Nigeria, Brazil, and Middle Eastern nations haven't yet standardized and organized their waste management frameworks, significantly contributing to poor handling of waste materials. Different waste categories should be separated at the source to recover a significant quantity of recyclable garbage and cut down on overall effort and time. The three main issues with solid waste management are incorrect garbage collection, unscientific treatment, and ethical concerns like discarding e-waste. As a result, the market for waste management is constrained from expanding due to risks like environmental degradation, water pollution, soil pollution, and air pollution.
Opportunities:
Urban areas are using more construction and demolition materials due to an increase in construction projects- In some areas, a majority of the waste stream from constructing and demolishing is illegally dumped on land or in natural drainage systems, including water, against laws intended to safeguard public health, industry, and the environment. Millions of tonnes of waste from buildings are annually legally disposed of in solid waste dumps by businesses and citizens. Smart cities are being created in metropolitan regions to encourage sustainable economic growth. The need for construction creates profitable opportunities for businesses involved in waste management. A procedure known as diversion is used to remove a significant volume of construction-related garbage from the waste stream as a result of an increase in construction activities. Diverted materials are separated for later recycling and reuse. The amount of garbage generated by buildings is substantially impacted by macroeconomic factors, which include an impact on construction, society consumption patterns, and risks, both natural and artificial. The amount of construction and demolition debris dumped in landfills has decreased recently due to increased awareness about the reuse and disposal of building materials. There are numerous potentials for substantially reducing and recovering materials that would otherwise be discarded as waste.
Regional segmentation analysis:
The regions analyzed for the market include North America, Europe, South America, Asia Pacific, the Middle East, and Africa. Asia Pacific emerged as the most significant global waste management market, with a 26.75% market revenue share in 2022. Awareness about waste management is projected to increase due to government initiatives like the Swacch Bharat Abhiyan and the zero waste plans adopted by various Asia Pacific nations. It is projected that this will have a favourable effect on expanding the market in Asia Pacific.
Asia-Pacific Region Waste Management Market Share in 2022 - 26.75%
www.thebrainyinsights.com
Check the geographical analysis of this market by requesting a free sample
Service Type Segment Analysis
The service type segment is divided into transportation, collection, and disposal. The collection segment dominated, with a market share of around 37.41% in 2022. Segregating garbage, loading and unloading waste, choosing a suitable location, preparing that location for storage of waste at a minimal distance from the location of waste generation, and maintaining the waste are all included in waste collecting. The waste collection companies must think about routinely maintaining and cleaning these storage spaces. Proper precautions must be taken while carrying the waste to prevent the garbage from spilling or leaking. The liquid waste must be protected and sealed during transportation to prevent leaks. Non-hazardous garbage from commercial and industrial buildings can be delivered directly to the recycling facility. At the same time, hazardous material must be transported through specialized transport vehicles with a specified level of protection.
Waste Segment Analysis
The waste segment is divided into medical waste, e-waste, municipal waste, and industrial waste. The industrial waste segment dominated the market, with a market share of around 28.55% in 2022. Increased industrial waste output is primarily a result of rapid urban and industrialization. Industrial waste management is essential because improper handling of this garbage can pollute lakes and groundwater and harm wildlife and vegetation.
Some of the Key Market Players:
Suez
Veolia
Republic Services
Clean Harbors
Daiseki
Remondis Se & Co. Kg
Fcc Environment
Stericycle
Waste Management
Waste Connections
Covanta Holding
Biomedical Waste Solutions
Valicor
Hitachi Zosen
Urbaser
Biffa
Report Description:
| Attribute | Description |
| --- | --- |
| Market Size | Revenue (USD Billion) |
| Market size value in 2022 | USD 1,352.83 Billion |
| Market size value in 2032 | USD 2,188.97 Billion |
| CAGR (2023 to 2032) | 4.93% |
| Historical data | 2019-2021 |
| Base Year | 2022 |
| Forecast | 2023-2032 |
| Region | The regions analyzed for the market are Asia Pacific, Europe, South America, North America, and Middle East & Africa. Furthermore, the regions are further analyzed at the country level. |
| Segments | Service Type, Waste Type |
Frequesntly Asked Questions
1. Introduction
1.1. Objective of the Study
1.2. Market Definition
1.3. Research Scope
1.4. Currency
1.5. Key Target Audience

2. Research Methodology and Assumptions

3. Executive Summary

4. Premium Insights
4.1. Porter's Five Forces Analysis
4.2. Value Chain Analysis
4.3. Top Investment Pockets
4.3.1. Market Attractiveness Analysis By Service Type
4.3.2. Market Attractiveness Analysis By Waste Type
4.3.3. Market Attractiveness Analysis By Region
4.4. Industry Trends

5. Market Dynamics
5.1. Market Evaluation
5.2. Drivers
5.2.1. An increase in e-waste caused by technological advancements and the shorter lifespan of electronic products
5.3. Restraints
5.3.1. Lack of essential infrastructure for garbage collection and separation
5.4. Opportunities
5.4.1. Urban areas are using more construction and demolition materials due to an increase in construction projects

6. Global Waste Management Market Analysis and Forecast, By Service Type
6.1. Segment Overview
6.2. Transportation
6.3. Collection
6.4. Disposal

7. Global Waste Management Market Analysis and Forecast, By Waste Type
7.1. Segment Overview
7.2. Medical Waste
7.3. E-waste
7.4. Municipal Waste
7.5. Industrial Waste

8. Global Waste Management Market Analysis and Forecast, By Regional Analysis
8.1. Segment Overview
8.2. North America
8.2.1. U.S.
8.2.2. Canada
8.2.3. Mexico
8.3. Europe
8.3.1. Germany
8.3.2. France
8.3.3. U.K.
8.3.4. Italy
8.3.5. Spain
8.4. Asia-Pacific
8.4.1. Japan
8.4.2. China
8.4.3. India
8.5. South America
8.5.1. Brazil
8.6. Middle East and Africa
8.6.1. UAE
8.6.2. South Africa

9. Global Waste Management Market-Competitive Landscape
9.1. Overview
9.2. Market Share of Key Players in the Waste Management Market
9.2.1. Global Company Market Share
9.2.2. North America Company Market Share
9.2.3. Europe Company Market Share
9.2.4. APAC Company Market Share
9.3. Competitive Situations and Trends
9.3.1. Product Launches and Developments
9.3.2. Partnerships, Collaborations, and Agreements
9.3.3. Mergers & Acquisitions
9.3.4. Expansions

10. Company Profiles
10.1. Suez
10.1.1. Business Overview
10.1.2. Company Snapshot
10.1.3. Company Market Share Analysis
10.1.4. Company Product Portfolio
10.1.5. Recent Developments
10.1.6. SWOT Analysis
10.2. Veolia
10.2.1. Business Overview
10.2.2. Company Snapshot
10.2.3. Company Market Share Analysis
10.2.4. Company Product Portfolio
10.2.5. Recent Developments
10.2.6. SWOT Analysis
10.3. Republic Services
10.3.1. Business Overview
10.3.2. Company Snapshot
10.3.3. Company Market Share Analysis
10.3.4. Company Product Portfolio
10.3.5. Recent Developments
10.3.6. SWOT Analysis
10.4. Clean Harbors
10.4.1. Business Overview
10.4.2. Company Snapshot
10.4.3. Company Market Share Analysis
10.4.4. Company Product Portfolio
10.4.5. Recent Developments
10.4.6. SWOT Analysis
10.5. Daiseki
10.5.1. Business Overview
10.5.2. Company Snapshot
10.5.3. Company Market Share Analysis
10.5.4. Company Product Portfolio
10.5.5. Recent Developments
10.5.6. SWOT Analysis
10.6. Remondis Se & Co. Kg
10.6.1. Business Overview
10.6.2. Company Snapshot
10.6.3. Company Market Share Analysis
10.6.4. Company Product Portfolio
10.6.5. Recent Developments
10.6.6. SWOT Analysis
10.7. Fcc Environment
10.7.1. Business Overview
10.7.2. Company Snapshot
10.7.3. Company Market Share Analysis
10.7.4. Company Product Portfolio
10.7.5. Recent Developments
10.7.6. SWOT Analysis
10.8. Stericycle
10.8.1. Business Overview
10.8.2. Company Snapshot
10.8.3. Company Market Share Analysis
10.8.4. Company Product Portfolio
10.8.5. Recent Developments
10.8.6. SWOT Analysis
10.9. Waste Management
10.9.1. Business Overview
10.9.2. Company Snapshot
10.9.3. Company Market Share Analysis
10.9.4. Company Product Portfolio
10.9.5. Recent Developments
10.9.6. SWOT Analysis
10.10. Waste Connections
10.10.1. Business Overview
10.10.2. Company Snapshot
10.10.3. Company Market Share Analysis
10.10.4. Company Product Portfolio
10.10.5. Recent Developments
10.10.6. SWOT Analysis
10.11. Covanta Holding
10.11.1. Business Overview
10.11.2. Company Snapshot
10.11.3. Company Market Share Analysis
10.11.4. Company Product Portfolio
10.11.5. Recent Developments
10.11.6. SWOT Analysis
10.12. Biomedical Waste Solutions
10.12.1. Business Overview
10.12.2. Company Snapshot
10.12.3. Company Market Share Analysis
10.12.4. Company Product Portfolio
10.12.5. Recent Developments
10.12.6. SWOT Analysis
10.13. Valicor
10.13.1. Business Overview
10.13.2. Company Snapshot
10.13.3. Company Market Share Analysis
10.13.4. Company Product Portfolio
10.13.5. Recent Developments
10.13.6. SWOT Analysis
10.14. Hitachi Zosen
10.14.1. Business Overview
10.14.2. Company Snapshot
10.14.3. Company Market Share Analysis
10.14.4. Company Product Portfolio
10.14.5. Recent Developments
10.14.6. SWOT Analysis
10.15. Urbaser
10.15.1. Business Overview
10.15.2. Company Snapshot
10.15.3. Company Market Share Analysis
10.15.4. Company Product Portfolio
10.15.5. Recent Developments
10.15.6. SWOT Analysis
10.16. Biffa
10.16.1. Business Overview
10.16.2. Company Snapshot
10.16.3. Company Market Share Analysis
10.16.4. Company Product Portfolio
10.16.5. Recent Developments
10.16.6. SWOT Analysis

List of Table
1. Global Waste Management Market, By Service Type, 2019-2032 (USD Billion)
2. Global Transportation, Waste Management Market, By Region, 2019-2032 (USD Billion)
3. Global Collection, Waste Management Market, By Region, 2019-2032 (USD Billion)
4. Global Disposal, Waste Management Market, By Region, 2019-2032 (USD Billion)
5. Global Waste Management Market, By Waste Type, 2019-2032 (USD Billion)
6. Global Medical Waste, Waste Management Market, By Region, 2019-2032 (USD Billion)
7. Global E-waste, Waste Management Market, By Region, 2019-2032 (USD Billion)
8. Global Municipal Waste, Waste Management Market, By Region, 2019-2032 (USD Billion)
9. Global Industrial Waste, Waste Management Market, By Region, 2019-2032 (USD Billion)
10. Global Waste Management Market, By Region, 2019-2032 (USD Billion)
11. North America Waste Management Market, By Service Type, 2019-2032 (USD Billion)
12. North America Waste Management Market, By Waste Type, 2019-2032 (USD Billion)
13. U.S. Waste Management Market, By Service Type, 2019-2032 (USD Billion)
14. U.S. Waste Management Market, By Waste Type, 2019-2032 (USD Billion)
15. Canada Waste Management Market, By Service Type, 2019-2032 (USD Billion)
16. Canada Waste Management Market, By Waste Type, 2019-2032 (USD Billion)
17. Mexico Waste Management Market, By Service Type, 2019-2032 (USD Billion)
18. Mexico Waste Management Market, By Waste Type, 2019-2032 (USD Billion)
19. Europe Waste Management Market, By Service Type, 2019-2032 (USD Billion)
20. Europe Waste Management Market, By Waste Type, 2019-2032 (USD Billion)
21. Germany Waste Management Market, By Service Type, 2019-2032 (USD Billion)
22. Germany Waste Management Market, By Waste Type, 2019-2032 (USD Billion)
23. France Waste Management Market, By Service Type, 2019-2032 (USD Billion)
24. France Waste Management Market, By Waste Type, 2019-2032 (USD Billion)
25. U.K. Waste Management Market, By Service Type, 2019-2032 (USD Billion)
26. U.K. Waste Management Market, By Waste Type, 2019-2032 (USD Billion)
27. Italy Waste Management Market, By Service Type, 2019-2032 (USD Billion)
28. Italy Waste Management Market, By Waste Type, 2019-2032 (USD Billion)
29. Spain Waste Management Market, By Service Type, 2019-2032 (USD Billion)
30. Spain Waste Management Market, By Waste Type, 2019-2032 (USD Billion)
31. Asia Pacific Waste Management Market, By Service Type, 2019-2032 (USD Billion)
32. Asia Pacific Waste Management Market, By Waste Type, 2019-2032 (USD Billion)
33. Japan Waste Management Market, By Service Type, 2019-2032 (USD Billion)
34. Japan Waste Management Market, By Waste Type, 2019-2032 (USD Billion)
35. China Waste Management Market, By Service Type, 2019-2032 (USD Billion)
36. China Waste Management Market, By Waste Type, 2019-2032 (USD Billion)
37. India Waste Management Market, By Service Type, 2019-2032 (USD Billion)
38. India Waste Management Market, By Waste Type, 2019-2032 (USD Billion)
39. South America Waste Management Market, By Service Type, 2019-2032 (USD Billion)
40. South America Waste Management Market, By Waste Type, 2019-2032 (USD Billion)
41. Brazil Waste Management Market, By Service Type, 2019-2032 (USD Billion)
42. Brazil Waste Management Market, By Waste Type, 2019-2032 (USD Billion)
43. Middle East and Africa Waste Management Market, By Service Type, 2019-2032 (USD Billion)
44. Middle East and Africa Waste Management Market, By Waste Type, 2019-2032 (USD Billion)
45. UAE Waste Management Market, By Service Type, 2019-2032 (USD Billion)
46. UAE Waste Management Market, By Waste Type, 2019-2032 (USD Billion)
47. South Africa Waste Management Market, By Service Type, 2019-2032 (USD Billion)
48. South Africa Waste Management Market, By Waste Type, 2019-2032 (USD Billion)
List of Figures
1. Global Waste Management Market Segmentation
2. Waste Management Market: Research Methodology
3. Market Size Estimation Methodology: Bottom-Up Approach
4. Market Size Estimation Methodology: Top-Down Approach
5. Data Triangulation
6. Porter's Five Forces Analysis
7. Value Chain Analysis
8. Global Waste Management Market Attractiveness Analysis By Service Type
9. Global Waste Management Market Attractiveness Analysis By Waste Type
10. Global Waste Management Market Attractiveness Analysis By Region
11. Global Waste Management Market: Dynamics
12. Global Waste Management Market Share by Service Type (2023 & 2032)
13. Global Waste Management Market Share by Waste Type (2023 & 2032)
14. Global Waste Management Market Share by Regions (2023 & 2032)
15. Global Waste Management Market Share by Company (2022)