The global solar-powered trains market is expected to reach USD 3.4 billion by 2032, at a CAGR of 6% during the forecast period 2023 to 2032. Asia Pacific is expected to grow the fastest during the forecast period.
Market Overview:
The solar train is powered by solar energy, a primary renewable energy source currently employed as a source of electricity in trains. Furthermore, solar-powered trains are powered by installing photovoltaic panels near or on rail lines. These photovoltaic panels can create significant electricity, which could trigger traction current and allow trains to go forward. Furthermore, because the train follows a straight and constant track, it can be swiftly recharged using electricity generated by a static solar panel at each stop. The idea of mounting solar panels to railway sleepers on the roof is also gaining steam in the industry. It might allow solar photovoltaic panels to work over vast distances at minimal cost. Furthermore, the primary premise of the solar-powered train is to utilize the energy stored in battery systems while charging it from roof-mounted solar panels. The energy from charged storage batteries powers the engine and propels the train ahead.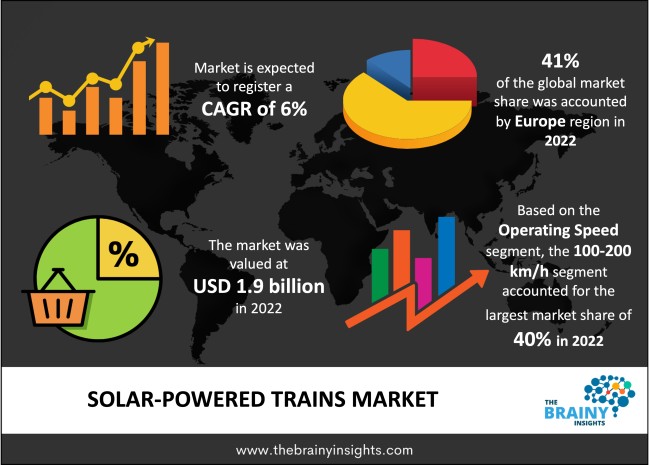 Get an overview of this study by requesting a free sample
Recent Development
June 2022- Siemens, a global leader in industrial automation and software, infrastructure, building technology, and transportation, and NVIDIA, a pioneer in accelerated graphics and artificial intelligence (A.I.), today announced an expansion of their partnership to enable the industrial metaverse and increase the use of AI-driven digital twin technology, which will help elevate industrial automation to new heights.
Market Dynamics:
Drivers
Rising Advantages of Solar-Powered Trains- A solar train is a railway vehicle or locomotive that uses alternative fuels for propulsion and powering internal systems. Energy storage devices are installed between the diesel engine's prime mover and the gearbox system that connects to the wheels. Diesel, hydrogen, fuel cells, CNG, and other primary energy sources are used in accelerating trains. Extra energy generated during acceleration and braking is saved in energy storage systems. This energy is also used to improve gearbox systems and speeds. This application of energy storage systems minimizes energy consumption, reduces environmental pollutants, and creates cost savings.
Restraints:
High Cost- Although hybrid trains have several advantages over conventional trains, the high cost of research and development for hybrid train technology compared to traditional counterparts is projected to limit market expansion. Propulsion types for hybrid trains include hydrogen-powered, battery-powered, electro-diesel-powered, gas-powered, and others. Each fuel source necessitates a unique infrastructure for storage, incurring additional building infrastructure costs.
Opportunities:
Government Initiatives- To stimulate research and development in this business, government policies encourage using alternative fuels like biofuels (bio-ethanol, bio-methanol, bio-DME, and bio-LPG), solar, hydrogen, gasoline, and other renewable energies to power hybrid trains. Furthermore, increased investment in solar-powered hybrid trains in emerging economies like China, India, Japan, Germany, and France is expected to generate attractive opportunities for market participants. Furthermore, the principal factors attracting investments and government backing for using alternative fuels in the railway industry are critical potential benefits of alternative fuels, such as lower carbon emissions, cost savings, less maintenance, biodegradability, and low toxicity. As a result, these variables are expected to help the global solar-powered trains market's progress throughout the forecast period.
Challenges:
External Issues- External issues such as land acquisition, air and noise pollution, and global warming will likely stymie the solar-powered trains market's expansion. Due to budget constraints, developing countries such as India, Turkey, and others aim to adapt existing tracks but cannot invest in constructing new tracks and infrastructure. As a result of the high investment expenditures, the high-speed rail network is growing slowly.
Regional segmentation analysis:
The regions analyzed for the market include North America, Europe, South America, Asia Pacific, the Middle East, and Africa. Europe emerged as the most significant global solar-powered trains market, with a 41% market revenue share in 2022.
Europe dominates the solar-powered trains market, with a 41% market revenue share in 2022. The solar-powered trains market has grown in Europe due to key market trends, such as the increased deployment of hybrid locomotives in several German regions.
Asia Pacific is expected to witness the fastest growth during the forecast period. The surge in hybrid locomotive adoption by railway freight firms is the key factor driving market growth in Japan. Japan Freight Railway Company, for example, has deployed yard-track shunting hybrid locomotives that provide lower noise levels, easier maintenance, and lower NOx emissions. Because of the development of high-speed hybrid trains, China is expected to create growth possibilities for the solar-powered train market.
Europe Region Solar-Powered Trains Market Share in 2022 - 41%
www.thebrainyinsights.com
Check the geographical analysis of this market by requesting a free sample
Operating Speed Analysis:
The operating speed segment is divided into below 100 Km/h, 100-200 Km/h, and above 200 Km/h. The 100-200 Km/h segment dominated the market, with a market share of around 40% in 2022. High-speed hybrid locomotives for freight traffic have increased demand for the 100-200 km/h sector. Alstom, for example, created an eco-friendly battery-powered shunted freight locomotive capable of running at 120km/hr. This hybrid locomotive is powered by two batteries, the Prima H3 and the Prima H4, resulting in a light and zero-emission hybrid train. Furthermore, this locomotive is expected to minimize its carbon impact by up to 6,000 tonnes per year and its noise level.
Application Analysis:
The application segment is divided into freight and passenger. The passenger segment dominated the market, with a share of around 59% in 2022. During the forecast period, the market is likely to develop due to an increase in demand for efficient and safe hybrid trains for public transit that is efficient and safe while emitting fewer carbon emissions. Furthermore, a significant increase in railway infrastructure investment is expected to drive demand for hybrid trains, consequently supporting market expansion. Furthermore, a rise in population, rapid urbanization, and enhanced connectivity between metropolitan and sub-urban areas are expected to drive demand for solar-powered trains for passenger use throughout the forecast period, boosting the market's expansion.
List of Key Market Players:
Alstom SA
Ballard Power Systems Inc.
Bombardier Inc.
China Railway Rolling Stock Corporation (CRRC)
Kawasaki Heavy Industries Ltd.
Siemens AG
Stadler Rail AG
Toshiba Corporation
Hyundai Rotem Company
Wabtec Corporation
Report Description:
| Attribute | Description |
| --- | --- |
| Market Size | Revenue (USD Billion) |
| Market size value in 2022 | USD 1.9 billion |
| Market size value in 2032 | USD 3.4 billion |
| CAGR (2023 to 2032) | 6% |
| Historical data | 2019-2021 |
| Base Year | 2022 |
| Forecast | 2023-2032 |
| Regional Segments | North America, Asia Pacific, Europe, Latin America, Middle East and Africa |
| Segments | Operating Speed, Application |
Frequesntly Asked Questions
As per The Brainy Insights, the size of the solar-powered trains market was valued at USD 1.9 billion in 2022 to USD 3.4 billion by 2032.
The global solar-powered trains market is growing at a CAGR of 6% during the forecast period 2023-2032.
Europe emerged as the largest solar-powered trains market.
1. Introduction
1.1. Objectives of the Study
1.2. Market Definition
1.3. Research Scope
1.4. Currency
1.5. Key Target Audience

2. Research Methodology and Assumptions

3. Executive Summary

4. Premium Insights
4.1. Porter's Five Forces Analysis
4.2. Value Chain Analysis
4.3. Top Investment Pockets
4.3.1. Market Attractiveness Analysis by Operating Speed
4.3.2. Market Attractiveness Analysis by Application
4.3.3. Market Attractiveness Analysis by Region
4.4. Industry Trends

5. Market Dynamics
5.1. Market Evaluation
5.2. Drivers
5.2.1. Rising Advantages of Solar-Powered Trains
5.3. Restraints
5.3.1. High Cost
5.4. Opportunities
5.4.1. Government Initiatives
5.5. Challenges
5.5.1. External Issues

6. Global Solar-Powered Trains Market Analysis and Forecast, By Operating Speed
6.1. Segment Overview
6.2. Below 100 Km/h
6.3. 100-200 Km/h
6.4. Above 200 Km/h

7. Global Solar-Powered Trains Market Analysis and Forecast, By Application
7.1. Segment Overview
7.2. Freight
7.3. Passenger

8. Global Solar-Powered Trains Market Analysis and Forecast, By Regional Analysis
8.1. Segment Overview
8.2. North America
8.2.1. U.S.
8.2.2. Canada
8.2.3. Mexico
8.3. Europe
8.3.1. Germany
8.3.2. France
8.3.3. U.K.
8.3.4. Italy
8.3.5. Spain
8.4. Asia-Pacific
8.4.1. Japan
8.4.2. China
8.4.3. India
8.5. South America
8.5.1. Brazil
8.6. Middle East and Africa
8.6.1. UAE
8.6.2. South Africa

9. Global Solar-Powered Trains Market-Competitive Landscape
9.1. Overview
9.2. Market Share of Key Players in Global Solar-Powered Trains Market
9.2.1. Global Company Market Share
9.2.2. North America Company Market Share
9.2.3. Europe Company Market Share
9.2.4. APAC Company Market Share
9.3. Competitive Situations and Trends
9.3.1. Product Launches and Developments
9.3.2. Partnerships, Collaborations, and Agreements
9.3.3. Mergers & Acquisitions
9.3.4. Expansions

10. Company Profiles
10.1. Alstom SA
10.1.1. Business Overview
10.1.2. Company Snapshot
10.1.3. Company Market Share Analysis
10.1.4. Company Product Portfolio
10.1.5. Recent Developments
10.1.6. SWOT Analysis
10.2. Ballard Power Systems Inc.
10.2.1. Business Overview
10.2.2. Company Snapshot
10.2.3. Company Market Share Analysis
10.2.4. Company Product Portfolio
10.2.5. Recent Developments
10.2.6. SWOT Analysis
10.3. Bombardier Inc.
10.3.1. Business Overview
10.3.2. Company Snapshot
10.3.3. Company Market Share Analysis
10.3.4. Company Product Portfolio
10.3.5. Recent Developments
10.3.6. SWOT Analysis
10.4. China Railway Rolling Stock Corporation (CRRC)
10.4.1. Business Overview
10.4.2. Company Snapshot
10.4.3. Company Market Share Analysis
10.4.4. Company Product Portfolio
10.4.5. Recent Developments
10.4.6. SWOT Analysis
10.5. Kawasaki Heavy Industries Ltd.
10.5.1. Business Overview
10.5.2. Company Snapshot
10.5.3. Company Market Share Analysis
10.5.4. Company Product Portfolio
10.5.5. Recent Developments
10.5.6. SWOT Analysis
10.6. Siemens AG
10.6.1. Business Overview
10.6.2. Company Snapshot
10.6.3. Company Market Share Analysis
10.6.4. Company Product Portfolio
10.6.5. Recent Developments
10.6.6. SWOT Analysis
10.7. Stadler Rail AG
10.7.1. Business Overview
10.7.2. Company Snapshot
10.7.3. Company Market Share Analysis
10.7.4. Company Product Portfolio
10.7.5. Recent Developments
10.7.6. SWOT Analysis
10.8. Toshiba Corporation
10.8.1. Business Overview
10.8.2. Company Snapshot
10.8.3. Company Market Share Analysis
10.8.4. Company Product Portfolio
10.8.5. Recent Developments
10.8.6. SWOT Analysis
10.9. Hyundai Rotem Company
10.9.1. Business Overview
10.9.2. Company Snapshot
10.9.3. Company Market Share Analysis
10.9.4. Company Product Portfolio
10.9.5. Recent Developments
10.9.6. SWOT Analysis
10.10. Wabtec Corporation
10.10.1. Business Overview
10.10.2. Company Snapshot
10.10.3. Company Market Share Analysis
10.10.4. Company Product Portfolio
10.10.5. Recent Developments
10.10.6. SWOT Analysis

List of Table
1. Global Solar-Powered Trains Market, By Operating Speed, 2019-2032 (USD Billion)
2. Global Below 100 Km/h, Solar-Powered Trains Market, By Region, 2019-2032 (USD Billion)
3. Global 100-200 Km/h, Solar-Powered Trains Market, By Region, 2019-2032 (USD Billion)
4. Global Above 200 Km/h, Solar-Powered Trains Market, By Region, 2019-2032 (USD Billion)
5. Global Solar-Powered Trains Market, By Application, 2019-2032 (USD Billion)
6. Global Freight, Solar-Powered Trains Market, By Region, 2019-2032 (USD Billion)
7. Global Passenger, Solar-Powered Trains Market, By Region, 2019-2032 (USD Billion)
8. North America Solar-Powered Trains Market, By Operating Speed, 2019-2032 (USD Billion)
9. North America Solar-Powered Trains Market, By Application, 2019-2032 (USD Billion)
10. U.S. Solar-Powered Trains Market, By Operating Speed, 2019-2032 (USD Billion)
11. U.S. Solar-Powered Trains Market, By Application, 2019-2032 (USD Billion)
12. Canada Solar-Powered Trains Market, By Operating Speed, 2019-2032 (USD Billion)
13. Canada Solar-Powered Trains Market, By Application, 2019-2032 (USD Billion)
14. Mexico Solar-Powered Trains Market, By Operating Speed, 2019-2032 (USD Billion)
15. Mexico Solar-Powered Trains Market, By Application, 2019-2032 (USD Billion)
16. Europe Solar-Powered Trains Market, By Operating Speed, 2019-2032 (USD Billion)
17. Europe Solar-Powered Trains Market, By Application, 2019-2032 (USD Billion)
18. Germany Solar-Powered Trains Market, By Operating Speed, 2019-2032 (USD Billion)
19. Germany Solar-Powered Trains Market, By Application, 2019-2032 (USD Billion)
20. France Solar-Powered Trains Market, By Operating Speed, 2019-2032 (USD Billion)
21. France Solar-Powered Trains Market, By Application, 2019-2032 (USD Billion)
22. U.K. Solar-Powered Trains Market, By Operating Speed, 2019-2032 (USD Billion)
23. U.K. Solar-Powered Trains Market, By Application, 2019-2032 (USD Billion)
24. Italy Solar-Powered Trains Market, By Operating Speed, 2019-2032 (USD Billion)
25. Italy Solar-Powered Trains Market, By Application, 2019-2032 (USD Billion)
26. Spain Solar-Powered Trains Market, By Operating Speed, 2019-2032 (USD Billion)
27. Spain Solar-Powered Trains Market, By Application, 2019-2032 (USD Billion)
28. Asia Pacific Solar-Powered Trains Market, By Operating Speed, 2019-2032 (USD Billion)
29. Asia Pacific Solar-Powered Trains Market, By Application, 2019-2032 (USD Billion)
30. Japan Solar-Powered Trains Market, By Operating Speed, 2019-2032 (USD Billion)
31. Japan Solar-Powered Trains Market, By Application, 2019-2032 (USD Billion)
32. China Solar-Powered Trains Market, By Operating Speed, 2019-2032 (USD Billion)
33. China Solar-Powered Trains Market, By Application, 2019-2032 (USD Billion)
34. India Solar-Powered Trains Market, By Operating Speed, 2019-2032 (USD Billion)
35. India Solar-Powered Trains Market, By Application, 2019-2032 (USD Billion)
36. South America Solar-Powered Trains Market, By Operating Speed, 2019-2032 (USD Billion)
37. South America Solar-Powered Trains Market, By Application, 2019-2032 (USD Billion)
38. Brazil Solar-Powered Trains Market, By Operating Speed, 2019-2032 (USD Billion)
39. Brazil Solar-Powered Trains Market, By Application, 2019-2032 (USD Billion)
40. Middle East and Africa Solar-Powered Trains Market, By Operating Speed, 2019-2032 (USD Billion)
41. Middle East and Africa Solar-Powered Trains Market, By Application, 2019-2032 (USD Billion)
42. UAE Solar-Powered Trains Market, By Operating Speed, 2019-2032 (USD Billion)
43. UAE Solar-Powered Trains Market, By Application, 2019-2032 (USD Billion)
44. South Africa Solar-Powered Trains Market, By Operating Speed, 2019-2032 (USD Billion)
45. South Africa Solar-Powered Trains Market, By Application, 2019-2032 (USD Billion)
List of Figures
1. Global Solar-Powered Trains Market Segmentation
2. Global Solar-Powered Trains Market: Research Methodology
3. Market Size Estimation Methodology: Bottom-Up Approach
4. Market Size Estimation Methodology: Top-Down Approach
5. Data Triangulation
6. Porter's Five Forces Analysis
7. Value Chain Analysis
8. Global Solar-Powered Trains Market Attractiveness Analysis by Operating Speed
9. Global Solar-Powered Trains Market Attractiveness Analysis by Application
10. Global Solar-Powered Trains Market Attractiveness Analysis by Region
11. Global Solar-Powered Trains Market: Dynamics
12. Global Solar-Powered Trains Market Share by Operating Speed (2023 & 2032)
13. Global Solar-Powered Trains Market Share by Application (2023 & 2032)
14. Global Solar-Powered Trains Market Share by Regions (2023 & 2032)
15. Global Solar-Powered Trains Market Share by Company (2022)