The global smart packaging market was valued at USD 35 billion in 2022 and grew at a CAGR of 7% from 2023 to 2032. The market is expected to reach USD 68.85 billion by 2032. The increasing demand for consumer goods in developing nations will drive the global smart packaging market's growth.
Market Introduction:
Packaging of goods incorporates the science, art, and technology of safeguarding goods for distribution, storage, sale, and use. It envisages the process of creating, analyzing, and designing packages. The choice of material, size, shape, and colour is also discussed at length. The primary goal achieved through effective packaging is to safeguard the goods. It protects them from external impact, moisture, microbes, spillage or other factors. Good packaging will facilitate effective delivery, make storage simple, and also enables manufacturers to communicate important handling instructions. The contents on the packaging are also excellent sales and advertising means to promote company business. The choice of packaging also determines the shelf-life of the products. Packaging allows the producers to keep their products clean and hygienic until it reaches the consumer. Smart packaging utilises new-age technology, devices, systems and products to improve packaging and supply chain logistics. For instance, RFID technology enables real-time tracking of products and locating them within no time. It promotes transparency and helps producers gain the trust of the consumers. Smart packaging also involves using innovative materials that effectively keep durable foods, beverages, vegetables and medicines intact for an extended period. Smart packaging enables enhanced authentication, traceability, and compliance. It promotes security and safeguards goods. Smart packaging allows sustainable measures to be implemented in the industry, which reduces waste and costs. It optimizes logistics. In general, smart packaging technology offers a wide range of potential application domains, and these benefits will propel its growth in the forecast period.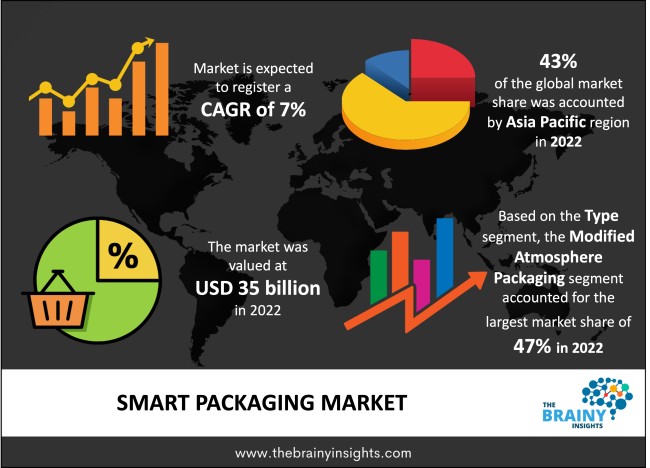 Get an overview of this study by requesting a free sample
Recent Development
April 2023: According to Tetra Pak, a significant food processing and packaging company, top European fruit juice producer's cartons now feature an entertaining and engaging smart packaging experience to inform and motivate consumers. The creative technology studio, Appetite Creative, works with Tetra Pak to design the feature. The connected packaging for one-litre bottles of passion fruit, pineapple, and mango beverages connects to a web app and a personality test through a scannable QR code. The drink that best suit each user's personality type are revealed by this test, which may encourage users to explore and discover new goods or reintroduce previously tried ones.
March 2023: According to Tapwow, Identiv will now be able to expedite its tag management, content distribution, and analytics solutions using the DIRX2 smart packaging and connected products platform. Brands will now have the option of selecting the ideal technology for their specific applications. Customers can batch and re-batch tags with DIRX2 based on a product, location, SKU, or other criteria. They can modify the content of tags or markers even after they have already been distributed. The strategic relationship will see Tapwow serve as Identiv's technical solutions provider and collaborate with clients to create pre-built, semi-custom, and custom experiences for consumer engagement, authentication, traceability, and reuse/recycling. The companies will, in their opinion, be the perfect mix for brands, partners, packagers, and creative agencies to give smart solutions to their consumers because they cover a wide range of verticals.
Market Dynamics:
Drivers
The exponential growth of the E-commerce industry – The increasing ownership of smart connected devices, given the increasing disposable income of the population and better data connectivity facilitated by the telecom boom worldwide, has contributed to enhanced e-commerce accessibility in the global population. Furthermore, the lower prices of the internet and smartphones have augmented the e-commerce industry by increasing the active users on these platforms. The covid-19 pandemic-induced lockdowns increased the popularity of online shopping for groceries, food, clothing and other consumer goods, given the convenience, affordability and accessibility it offered. The pandemic encouraged several businesses to shift towards online e-commerce platforms to facilitate their business expansion. The growth of third-party e-commerce platforms like Amazon, Flipkart and Myntra has also contributed to the market's development. New market players are entering the industry daily, offering consumers more choices, faster services and higher customer satisfaction. The growth of the e-commerce industry will drive the demand for smart packaging. Smart packaging will enable users to optimize logistics, reduce costs, and effectively manage goods and supply chains, offering fast delivery and higher customer satisfaction.
Restraints:
High cost of smart packaging – Conventional packaging products do not incorporate technology or advanced devices, sensors, tags and IoT. Smart packaging uses advanced products, technologies, systems and devices such as sensors, RFIDs, and IoT for real-time product tracking, monitoring, controlling and management. They also use advanced packaging materials for extended shelf life, retaining the freshness and original quality of goods. These products or materials are costlier than conventional products. Not all market players can afford the new technology. Therefore, the high cost of smart packaging will restrict the market's growth.
Opportunities:
Technological advancements and product innovations – digitization and automation globally have enabled economic units to achieve efficiency and enhanced productivity. The packaging sector also deploys new products and technologies to improve their work. The constant technological advancements and innovations enable the packaging sector to incorporate new methods, systems and devices that improve accessibility, monitoring and management of supply chain logistics. Growing demand for automated systems that execute smart logistics with little human involvement is a case in point. Real-time inventory information is provided by the sensors used to track the items. The range of AI and big data analytics applications has expanded due to increased research and advancements. RFID permits remote asset management and inventory tracking. It offers precision, dependability, real-time monitoring, minimal human participation, and security features have made it suitable for application in a variety of industries, including banking, financial services, aerospace, and defence. Such new applications will offer lucrative opportunities for global smart packaging market players in the forecast period.
Regional segmentation analysis:
The regions analyzed for the market include North America, Europe, South America, Asia Pacific, the Middle East, and Africa. Asia Pacific emerged as the most significant global smart packaging market, with a 43% market revenue share in 2022.
Asia Pacific region will account for the largest market share with revenue growth. The expansion of the Asia Pacific smart packaging industry is attributed to increasing government initiatives focused on developing effective, smart, seamless and faster supply chain logistics. The growing population of the region driven by India and China are increasing consumer demand which is also facilitated by the rising disposable income of the population. The enormous populations of China and India are fuelling the market for various items, including automobiles, consumer goods, and pharmaceuticals. Due to the increase in demand, efficient logistics are now a need.
Amcor recently opened a brand-new, cutting-edge production facility in Huizhou, China. The 590,000-square-foot factory is China's largest flexible packaging facility in terms of production capacity, enhancing Amcor's capabilities to fulfil rising client demand throughout Asia Pacific. The new factory will create flexible packaging for food and personal care goods. In China, the facility has an automated packaging production line. This can result in double-digit reductions in manufacturing cycle times and high-speed printing presses, laminators, and bag-making equipment. Amcor is also introducing the first smart production and operation system, which comprises intelligent laser scanners, light curtains, high-standard machine guarding, and several quality-control points.
Asia Pacific Region Smart Packaging Market Share in 2022 - 43%
www.thebrainyinsights.com
Check the geographical analysis of this market by requesting a free sample
Type Segment Analysis
The type segment is divided into active packaging, intelligent packaging and modified atmosphere packaging. The modified atmosphere packaging segment dominated the market, with a market share of around 47% in 2022. Modified atmosphere packaging alters a product's or its content's internal environment to increase its shelf life. The main applications of this technology are meat, fish, poultry, and dairy products that are prone to oxidation and further deterioration. Modified atmosphere packaging (MAP) imposes a gas environment, frequently consisting of an antimicrobial active gas like carbon dioxide and an inert gas like nitrogen. These gases shield the product from oxidation and rancidity, increasing its shelf life. It aids in maintaining the freshness, nutrition, and aesthetic appeal of packaged items.
A high-grade tabletop device and mobile analyzer in one, the new O2/CO2 gas analyzer Oxypad from WITT-Gasetechnik offers a two-in-one solution for the quality monitoring of modified environment packaging. The unique design makes operation quick, simple, safe, and user-friendly. A manufacturer of gas-related equipment, WITT, used its many years of expertise and input from thousands of users to create this gadget, which is both compact and practical.
End-user Segment Analysis
The end-user segment is divided into food and beverages, automotive, personal care, pharmaceuticals and healthcare, and others. The food and beverages segment dominated the market, with a market share of around 40% in 2022. The food and beverage (F&B) industry covers all businesses that prepare, pack, and distribute raw food materials. This covers both packaged and fresh prepared foods, as well as alcoholic and non-alcoholic beverages. The demand for consumer products has expanded due to the expanding population and rising disposable income. With the population's rising disposable income, the consumer market is growing. Retailers are investing in smart technologies to secure timely delivery of high-quality goods, cut downtime in operations, and boost efficiency to win over the market's expanding consumer base.
Some of the Key Market Players:
3M
Amcor Plc
Avery Dennison Corporation
Ball Corporation
BASF SE
Huhtamaki PPL Ltd
International Paper
Sealed Air Corporation
Sysco Corporation
Zebra Technologies Corporation
Report Description:
| Attribute | Description |
| --- | --- |
| Market Size | Revenue (USD Billion) |
| Market size value in 2022 | USD 35 Billion |
| Market size value in 2032 | USD 68.85 Billion |
| CAGR (2023 to 2032) | 7% |
| Historical data | 2019-2021 |
| Base Year | 2022 |
| Forecast | 2023-2032 |
| Regional Segments | The regions analyzed for the market are Asia Pacific, Europe, South America, North America, and Middle East & Africa. Furthermore, the regions are further analyzed at the country level. |
| Segments | Type and End User |
Frequesntly Asked Questions
1. Introduction
1.1. Objectives of the Study
1.2. Market Definition
1.3. Research Scope
1.4. Currency
1.5. Key Target Audience

2. Research Methodology and Assumptions

3. Executive Summary

4. Premium Insights
4.1. Porter's Five Forces Analysis
4.2. Value Chain Analysis
4.3. Top Investment Pockets
4.3.1. Market Attractiveness Analysis By Type
4.3.2. Market Attractiveness Analysis By End User
4.3.3. Market Attractiveness Analysis By Region
4.4. Industry Trends

5. Market Dynamics
5.1. Market Evaluation
5.2. Drivers
5.2.1. The exponential growth of the E-commerce industry
5.3. Restraints
5.3.1. High cost of smart packaging
5.4. Opportunities
5.4.1. Technological advancements and product innovations
5.5. Challenges
5.5.1. Data privacy, security and safety concerns

6. Global Smart Packaging Market Analysis and Forecast, By Type
6.1. Segment Overview
6.2. Active Packaging
6.3. Intelligent Packaging
6.4. Modified Atmosphere Packaging

7. Global Smart Packaging Market Analysis and Forecast, By End User
7.1. Segment Overview
7.2. Food and Beverages
7.3. Automotive
7.4. Personal Care
7.5. Pharmaceuticals and Healthcare
7.6. Others

8. Global Smart Packaging Market Analysis and Forecast, By Regional Analysis
8.1. Segment Overview
8.2. North America
8.2.1. U.S.
8.2.2. Canada
8.2.3. Mexico
8.3. Europe
8.3.1. Germany
8.3.2. France
8.3.3. U.K.
8.3.4. Italy
8.3.5. Spain
8.4. Asia-Pacific
8.4.1. Japan
8.4.2. China
8.4.3. India
8.5. South America
8.5.1. Brazil
8.6. Middle East and Africa
8.6.1. UAE
8.6.2. South Africa

9. Global Smart Packaging Market-Competitive Landscape
9.1. Overview
9.2. Market Share of Key Players in the Smart Packaging Market
9.2.1. Global Company Market Share
9.2.2. North America Company Market Share
9.2.3. Europe Company Market Share
9.2.4. APAC Company Market Share
9.3. Competitive Situations and Trends
9.3.1. Product Launches and Developments
9.3.2. Partnerships, Collaborations, and Agreements
9.3.3. Mergers & Acquisitions
9.3.4. Expansions

10. Company Profiles
10.1. 3M
10.1.1. Business Overview
10.1.2. Company Snapshot
10.1.3. Company Market Share Analysis
10.1.4. Company Product Portfolio
10.1.5. Recent Developments
10.1.6. SWOT Analysis
10.2. Amcor Plc
10.2.1. Business Overview
10.2.2. Company Snapshot
10.2.3. Company Market Share Analysis
10.2.4. Company Product Portfolio
10.2.5. Recent Developments
10.2.6. SWOT Analysis
10.3. Avery Dennison Corporation
10.3.1. Business Overview
10.3.2. Company Snapshot
10.3.3. Company Market Share Analysis
10.3.4. Company Product Portfolio
10.3.5. Recent Developments
10.3.6. SWOT Analysis
10.4. Ball Corporation
10.4.1. Business Overview
10.4.2. Company Snapshot
10.4.3. Company Market Share Analysis
10.4.4. Company Product Portfolio
10.4.5. Recent Developments
10.4.6. SWOT Analysis
10.5. BASF SE
10.5.1. Business Overview
10.5.2. Company Snapshot
10.5.3. Company Market Share Analysis
10.5.4. Company Product Portfolio
10.5.5. Recent Developments
10.5.6. SWOT Analysis
10.6. Huhtamaki PPL Ltd
10.6.1. Business Overview
10.6.2. Company Snapshot
10.6.3. Company Market Share Analysis
10.6.4. Company Product Portfolio
10.6.5. Recent Developments
10.6.6. SWOT Analysis
10.7. International Paper
10.7.1. Business Overview
10.7.2. Company Snapshot
10.7.3. Company Market Share Analysis
10.7.4. Company Product Portfolio
10.7.5. Recent Developments
10.7.6. SWOT Analysis
10.8. Sealed Air Corporation
10.8.1. Business Overview
10.8.2. Company Snapshot
10.8.3. Company Market Share Analysis
10.8.4. Company Product Portfolio
10.8.5. Recent Developments
10.8.6. SWOT Analysis
10.9. Sysco Corporation
10.9.1. Business Overview
10.9.2. Company Snapshot
10.9.3. Company Market Share Analysis
10.9.4. Company Product Portfolio
10.9.5. Recent Developments
10.9.6. SWOT Analysis
10.10. Zebra Technologies Corporation
10.10.1. Business Overview
10.10.2. Company Snapshot
10.10.3. Company Market Share Analysis
10.10.4. Company Component Portfolio
10.10.5. Recent Developments
10.10.6. SWOT Analysis

List of Table
1. Global Smart Packaging Market, By Type, 2019-2032 (USD Billion)
2. Global Active Packaging Smart Packaging Market, By Region, 2019-2032 (USD Billion)
3. Global Intelligent Packaging Smart Packaging Market, By Region, 2019-2032 (USD Billion)
4. Global Modified Atmosphere Packaging Smart Packaging Market, By Region, 2019-2032 (USD Billion)
5. Global Smart Packaging Market, By End User, 2019-2032 (USD Billion)
6. Global Food and Beverages Smart Packaging Market, By Region, 2019-2032 (USD Billion)
7. Global Automotive Smart Packaging Market, By Region, 2019-2032 (USD Billion)
8. Global Personal Care Smart Packaging Market, By Region, 2019-2032 (USD Billion)
9. Global Pharmaceuticals and Healthcare Smart Packaging Market, By Region, 2019-2032 (USD Billion)
10. Global Others Smart Packaging Market, By Region, 2019-2032 (USD Billion)
11. Global Smart Packaging Market, By Region, 2019-2032 (USD Billion)
12. North America Smart Packaging Market, By Type, 2019-2032 (USD Billion)
13. North America Smart Packaging Market, By End User, 2019-2032 (USD Billion)
14. U.S. Smart Packaging Market, By Type, 2019-2032 (USD Billion)
15. U.S. Smart Packaging Market, By End User, 2019-2032 (USD Billion)
16. Canada Smart Packaging Market, By Type, 2019-2032 (USD Billion)
17. Canada Smart Packaging Market, By End User, 2019-2032 (USD Billion)
18. Mexico Smart Packaging Market, By Type, 2019-2032 (USD Billion)
19. Mexico Smart Packaging Market, By End User, 2019-2032 (USD Billion)
20. Europe Smart Packaging Market, By Type, 2019-2032 (USD Billion)
21. Europe Smart Packaging Market, By End User, 2019-2032 (USD Billion)
22. Germany Smart Packaging Market, By Type, 2019-2032 (USD Billion)
23. Germany Smart Packaging Market, By End User, 2019-2032 (USD Billion)
24. France Smart Packaging Market, By Type, 2019-2032 (USD Billion)
25. France Smart Packaging Market, By End User, 2019-2032 (USD Billion)
26. U.K. Smart Packaging Market, By Type, 2019-2032 (USD Billion)
27. U.K. Smart Packaging Market, By End User, 2019-2032 (USD Billion)
28. Italy Smart Packaging Market, By Type, 2019-2032 (USD Billion)
29. Italy Smart Packaging Market, By End User, 2019-2032 (USD Billion)
30. Spain Smart Packaging Market, By Type, 2019-2032 (USD Billion)
31. Spain Smart Packaging Market, By End User, 2019-2032 (USD Billion)
32. Asia Pacific Smart Packaging Market, By Type, 2019-2032 (USD Billion)
33. Asia Pacific Smart Packaging Market, By End User, 2019-2032 (USD Billion)
34. Japan Smart Packaging Market, By Type, 2019-2032 (USD Billion)
35. Japan Smart Packaging Market, By End User, 2019-2032 (USD Billion)
36. China Smart Packaging Market, By Type, 2019-2032 (USD Billion)
37. China Smart Packaging Market, By End User, 2019-2032 (USD Billion)
38. India Smart Packaging Market, By Type, 2019-2032 (USD Billion)
39. India Smart Packaging Market, By End User, 2019-2032 (USD Billion)
40. South America Smart Packaging Market, By Type, 2019-2032 (USD Billion)
41. South America Smart Packaging Market, By End User, 2019-2032 (USD Billion)
42. Brazil Smart Packaging Market, By Type, 2019-2032 (USD Billion)
43. Brazil Smart Packaging Market, By End User, 2019-2032 (USD Billion)
44. Middle East and Africa Smart Packaging Market, By Type, 2019-2032 (USD Billion)
45. Middle East and Africa Smart Packaging Market, By End User, 2019-2032 (USD Billion)
46. UAE Smart Packaging Market, By Type, 2019-2032 (USD Billion)
47. UAE Smart Packaging Market, By End User, 2019-2032 (USD Billion)
48. South Africa Smart Packaging Market, By Type, 2019-2032 (USD Billion)
49. South Africa Smart Packaging Market, By End User, 2019-2032 (USD Billion)
List of Figures
1. Global Smart Packaging Market Segmentation
2. Smart Packaging Market: Research Methodology
3. Market Size Estimation Methodology: Bottom-Up Approach
4. Market Size Estimation Methodology: Top-Down Approach
5. Data Triangulation
6. Porter's Five Forces Analysis
7. Value Chain Analysis
8. Global Smart Packaging Market Attractiveness Analysis By Type
9. Global Smart Packaging Market Attractiveness Analysis By End User
10. Global Smart Packaging Market Attractiveness Analysis By Region
11. Global Smart Packaging Market: Dynamics
12. Global Smart Packaging Market Share by Type (2022 & 2032)
13. Global Smart Packaging Market Share by End User (2022 & 2032)
14. Global Smart Packaging Market Share by Regions (2022 & 2032)
15. Global Smart Packaging Market Share by Company (2022)