The global hyperconnectivity market is expected to grow from USD 366 billion in 2022 to USD 2673.49 billion by 2032, at a CAGR of 22% from 2023-2032. The fourth industrial revolution, or industry 4.0, will augment the growth of the global hyperconnectivity market.
Market Introduction:
The advent of the internet changed the global economic landscape. It made things efficient, accessible, optimal and faster. The internet formed the basis of communication, trade, information exchange and entertainment. Further technological advancements led to a complete domination of the internet over all aspects of individual life. Industrialization 4.0 drives the automation and digitization of all economical sectors and promotes social well-being through innovative devices and systems. The success of automation and digitization is based on a robust data connectivity network. For instance, using all the amenities like operating banking services through mobile apps, controlling home utilities remotely, faster communication, and safe digital payment getaways depend on uninterrupted, secure and fast data connectivity. Hyperconnectivity can be defined as the uninterrupted, secure, fast and efficient network of connection between smart connected devices, automated utilities and digitized data and information. The common thread between all the networks is the internet which facilitates the operation of previously mentioned utilities. Hyperconnectivity will improve real-time data dissipation, processing, monitoring and control, enhancing decision-making and delivering results. The seamless hyperconnectivity will ensure the smooth functioning of supply chains, information transfer, and uninterrupted communication. Hyperconnectivity entails seamless connection between machines, devices, human-machine interaction and the internet of things. Hyperconnectivity can improve governance and social well-being by building a robust infrastructure that allows government authorities to communicate important information without wasting time to deliver timely results. For instance, it can send cyclone and heatwave alerts that prevent damage and reduce loss of life and property. Therefore, hyperconnectivity will play a significant and central role in global sustainable development.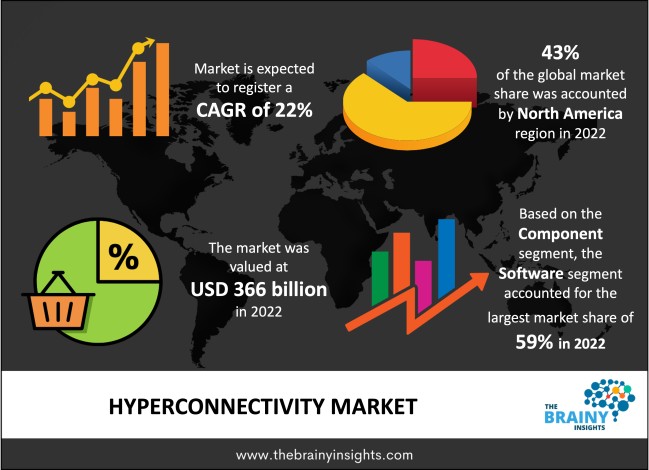 Get an overview of this study by requesting a free sample
Recent Development
July 2022 – Hanwha Systems are developing the OneWeb low Earth orbit (LEO) satellite communications system as part of a 5G-based tactical communications system. It will have an integrated, flexible terminal powered by a smartphone and revolutionary Hanwha Phasor satcom antenna technology (IVT). The development program's goal is to deliver "hyperconnectivity for multidomain operations. In addition to the IVT, other devices connected to the terrestrial layer include high-capacity large base stations, small cell base stations, and multilayer network controllers (MLNC). The MLNC manages the routing of messages across the various communication channels, and it chooses the best medium for each communication type and priority.
Market Dynamics:
Drivers
The fourth industrial revolution – The world has undergone three industrial revolutions, each defined by a different driving force. The present industrial revolution, or industry 4.0, is characterized by automation, digitization and smart connected technologies. Cloud computing, the internet of things, digital twins, robotics, Artificial intelligence, cyber security and machine learning are the fundamental components of industry 4.0. the increasing adoption of automation and digitization in economic sectors can be attributed to the ability of smart technologies to offer real-time data, which aids in informed decision-making, increases productivity, and provides flexibility and agility to operations. These devices and systems optimize supply chain logistics, customer management, delivery downtime, operations, maintenance, assembly and production lines. These automated smart manufacturing technologies facilitate real-time data acquisition, processing, visibility, monitoring, and control of company assets. The multiple benefits offered by industry 4.0 to the several economic sectors are enabled by hyperconnectivity. The robust network of machines, devices, systems, data and information with seamless interconnectivity, fast dissipation, transfer and security form the fundamental basis of adopting industry 4.0 and exploiting its potential benefits. Therefore, the fourth industrial revolution will bode well for the hyperconnectivity market and drive its growth and development in the forecast period.
Restraints:
The lack of infrastructure – Hyperconnectivity integrates information technology with operational technology to facilitate faster communications. Several components, like devices, equipment, software, data and transmission lines, facilitate hyperconnectivity. The developed world has the necessary infrastructure to enable hyperconnectivity. However, the developing and under-developed are struggling to build the infrastructure to enable hyperconnectivity. For instance, a developed country like Japan has optic fibre infrastructure which covers most of its country, offering 5G connectivity to its citizens.
In contrast, developed countries are struggling to provide last-mile energy delivery. The developing countries have the necessary infrastructure for hyperconnectivity restricted to their urban clusters, and the partial coverage limit's the potential applications of hyperconnectivity. Therefore, the lack of infrastructure, awareness, access to resources, capital and politics will limit the market's growth in first-world countries.
Opportunities:
The development of smart cities – A smart city is a technologically advanced metropolitan area that uses daily automation, digitization, IoT, artificial intelligence, and IT. The foundation of a smart city is built on data gathering, processing, disseminating information, seamless communication, real-time monitoring, and control of operations. They enable the government to manage the city sustainably and effectively. To put it another way, a smart city uses information technology and operational technology to optimize administrative services, improve public services and raise its citizens' quality of life and well-being. A smart city must have sufficient water, reliable energy, and sanitary facilities. The objective is to employ ICT to provide efficient urban mobility, cheap housing, and public transportation. The foundation of a smart city is robust IT connectivity and digitization that will enable good governance. The global market for hyperconnectivity will benefit significantly from the increased focus on creating smart cities, particularly in emerging nations.
Challenges:
The lack of robust cybersecurity infrastructure – Hyperconnectivity in defence, education, health and government institutions is fraught with risks without safe and secure cybersecurity infrastructure. The data and information storage, processing, exchange and transmission are prone to cyber-attacks. The data and information of these critical sectors are vital to national security or are sensitive personal information, the attack on which can compromise national interests and privacy. There is a lack of robust cyber security infrastructure in several nations, including developed countries. Therefore, the lack of robust cybersecurity infrastructure will challenge the expansion of the global hyperconnectivity market.
Regional segmentation analysis:
The regions analyzed for the market include North America, Europe, South America, Asia Pacific, the Middle East, and Africa. North America emerged as the most significant global hyperconnectivity market, with a 43% market revenue share in 2022. The United States of America dominates the North American market. The region's well-established information technology and operational technology infrastructure facilitates their seamless and faster integration driving the regional hyperconnectivity market's growth. Access to the latest devices, technologies, software, and systems will aid in the market's development. The high penetration of internet connectivity facilitated by the presence of significant private market players will augment the market's growth. The government's push towards automation and digitization of the economic sector to improve productivity, and efficiency, reduce errors, product optimization, and cost savings will drive the market's expansion.
North America region Hyperconnectivity Market Share in 2022 - 43%
www.thebrainyinsights.com
Check the geographical analysis of this market by requesting a free sample
Product type segment analysis
The product type segment is divided into enterprise wearable devices, cloud platforms, network and communications, middleware software, business solutions, and others. The cloud platforms segment dominated the market with a market share of around 32% in 2022. Cloud computing is one of the fundamental drivers of industry 4.0. It can be defined as a platform that offers a range of IT and business services through the interest. It enables the users to store, process, monitor, control, enter, edit and delete data or information remotely, safely and securely. It is cost-efficient, safe, secure, flexible, and easy to use. It improves quality control, collaboration, and integration reduces data loss and prevents the waste of resources. It offers advanced services like real-time, quick and affordable data processing and analysis. It can be customized according to the company's requirements and upgraded more often without heavy investments or excessive delays. Hyperconnectivity is the basis of cloud platforms as it is offered on the internet, work through the internet and needs the internet for their operations. Therefore, cloud platforms will dominate the global hyperconnectivity market.
Component segment analysis
The component is divided into software and services. The software segment dominated the market with a market share of around 59% in 2022. Software is a set of data, instructions, and programs developed to carry out specific tasks or operations. In layman's words, it can be described as the reverse of a computer's hardware. For instance, the programmes, scripts, and apps collectively incorporated into a mobile phone or other smart devices are defined as software. The software comes in various forms, including word processing, graphic design, spreadsheets, etc. The software makes optimization possible and increases productivity, accuracy, results, and flexibility. It allows for customization, hassle-free upgradeability, easy applications and integration and high levels of safety and security. Software's advantages in terms of cost-effectiveness, optimization, flexibility, choice, and other features account for the segment's dominance in the market.
Organization size segment analysis
The organization size is divided into small and medium enterprises and large enterprises. The large enterprises' segment dominated the market with a market share of around 64% in 2022. The pre-requisite infrastructure for hyperconnectivity involves substantial capital investment. Large enterprises can undertake the requirements given the extensive resources under them. The range of operations, vast amounts of data and a large network of large enterprises make hyperconnectivity a fundamental necessity for optimization, efficiency and productivity. Hyperconnectivity improves production output, quality, customer management and supply chain logistics, which is essential for large enterprises given their area of operation. The infrastructural requirements of establishing robust hyperconnectivity entail vast resources and capital, which large enterprises can invest in, thereby driving the segment's growth.
End-user segment analysis
The end user is divided into BFSI, IT and telecommunications, manufacturing, media and entertainment, healthcare and life sciences, government, retail and E-commerce, and others. The IT and telecommunications segment dominated the market with a market share of around 34% in 2022. Information technology is the creation, processing, storage, and transmission of all forms of electronic data. IT includes using computers, networking, storage, and other physical devices. Various technologies transmit information over wire, radio, optical, or other electromagnetic channels, and these communication channels define the telecommunications sector. IT and telecommunications are foundational structures of the contemporary world, gravitating towards automation and digitization. They support multiple economic and social sectors like banking, finance, health, education, manufacturing and governance. IT and telecommunications have the necessary infrastructure to facilitate hyperconnectivity. They are the driving force of hyperconnectivity in the global economy. Therefore, the presence of well-established storage, networking and transmission infrastructure, the integration and upgradation to achieve hyperconnectivity in the IT and telecommunications segment is the fastest, explaining its dominance in the market.
Some of the Key Market Players:
Avaya
Broadcom Inc.
Extreme Networks
Fujitsu Limited
Iberdrola SA
IBM Corporation
Microsoft Corporation
Oracle Corporation
Orange IT solutions
PathPartner Technology
Report Description:
| Attribute | Description |
| --- | --- |
| Market Size | Revenue (USD Billion) |
| Market size value in 2022 | USD 366 Billion |
| Market size value in 2032 | USD 2673.49 Billion |
| CAGR (2023 to 2032) | 22% |
| Historical data | 2019-2021 |
| Base Year | 2022 |
| Forecast | 2023-2032 |
| Regional Segments | The regions examined for the market are Europe, Asia Pacific, North America, South America, and Middle East & Africa. |
| Segments | The research segment is based on product type, component, organization size and end user. |
Frequesntly Asked Questions
Introduction

Objectives of the Study
Market Definition
Research Scope
Currency
Key Target Audience

Research Methodology and Assumptions
Executive Summary
Premium Insights

Porter's Five Forces Analysis
Value Chain Analysis
Top Investment Pockets

Market Attractiveness Analysis by Product Type
Market Attractiveness Analysis by Component
Market Attractiveness Analysis by Organization Size
Market Attractiveness Analysis by End User
Market Attractiveness Analysis by Region

Industry Trends

Market Dynamics

Market Evaluation
Drivers

The fourth industrial revolution

Restraints

The lack of infrastructure

Opportunities

The development of smart cities

Challenges

The lack of robust cybersecurity infrastructure

Global Hyperconnectivity Market Analysis and Forecast, By Product Type

Segment Overview
Enterprise Wearable Devices
Cloud Platforms
Network and Communications
Middleware Software
Business Solutions
Others

Global Hyperconnectivity Market Analysis and Forecast, By Component

Segment Overview
Software
Services

Global Hyperconnectivity Market Analysis and Forecast, By Organization Size

Segment Overview
Small and Medium Enterprises
Large Enterprises

Global Hyperconnectivity Market Analysis and Forecast, By End User

Segment Overview
BFSI
IT
Telecommunications
Manufacturing
Media and Entertainment
Healthcare and Life Sciences
Government
Retail and E-Commerce
Others

Global Hyperconnectivity Market Analysis and Forecast, By Regional Analysis

Segment Overview
North America

U.S.
Canada
Mexico

Europe

Germany
France
U.K.
Italy
Spain

Asia-Pacific

Japan
China
India

South America

Brazil

Middle East and Africa

UAE
South Africa

Global Hyperconnectivity Market-Competitive Landscape

Overview
Market Share of Key Players in the Hyperconnectivity Market

Global Company Market Share
North America Company Market Share
Europe Company Market Share
APAC Company Market Share

Competitive Situations and Trends

Product Launches and Developments
Partnerships, Collaborations, and Agreements
Mergers & Acquisitions
Expansions

Company Profiles

1Avaya

Business Overview
Company Snapshot
Company Market Share Analysis
Company Product Portfolio
Recent Developments
SWOT Analysis

Broadcom Inc.

Business Overview
Company Snapshot
Company Market Share Analysis
Company Product Portfolio
Recent Developments
SWOT Analysis

Extreme Networks

Business Overview
Company Snapshot
Company Market Share Analysis
Company Product Portfolio
Recent Developments
SWOT Analysis

Fujitsu Limited

Business Overview
Company Snapshot
Company Market Share Analysis
Company Product Portfolio
Recent Developments
SWOT Analysis

Iberdrola SA

Business Overview
Company Snapshot
Company Market Share Analysis
Company Product Portfolio
Recent Developments
SWOT Analysis

IBM Corporation

Business Overview
Company Snapshot
Company Market Share Analysis
Company Product Portfolio
Recent Developments
SWOT Analysis

Microsoft Corporation

Business Overview
Company Snapshot
Company Market Share Analysis
Company Product Portfolio
Recent Developments
SWOT Analysis

Oracle Corporation

Business Overview
Company Snapshot
Company Market Share Analysis
Company Product Portfolio
Recent Developments
SWOT Analysis

Orange IT solutions

Business Overview
Company Snapshot
Company Market Share Analysis
Company Product Portfolio
Recent Developments
SWOT Analysis

PathPartner Technology

Business Overview
Company Snapshot
Company Market Share Analysis
Company Product Portfolio
Recent Developments
SWOT Analysis
List of Table
1. Global Hyperconnectivity Market, By Product Type, 2019-2032 (USD Billion)
2. Global Enterprise Wearable Devices Hyperconnectivity Market, By Region, 2019-2032 (USD Billion)
3. Global Cloud Platforms Hyperconnectivity Market, By Region, 2019-2032 (USD Billion)
4. Global Network and Communications Hyperconnectivity Market, By Region, 2019-2032 (USD Billion)
5. Global Middleware Software Hyperconnectivity Market, By Region, 2019-2032 (USD Billion)
6. Global Business Solutions Hyperconnectivity Market, By Region, 2019-2032 (USD Billion)
7. Global Others Hyperconnectivity Market, By Region, 2019-2032 (USD Billion)
8. Global Hyperconnectivity Market, By Component, 2019-2032 (USD Billion)
9. Global Software Hyperconnectivity Market, By Region, 2019-2032 (USD Billion)
10. Global Services Hyperconnectivity Market, By Region, 2019-2032 (USD Billion)
11. Global Hyperconnectivity Market, By Organization Size, 2019-2032 (USD Billion)
12. Global Small and Medium Enterprises Hyperconnectivity Market, By Region, 2019-2032 (USD Billion)
13. Global Large Enterprises Hyperconnectivity Market, By Region, 2019-2032 (USD Billion)
14. Global Hyperconnectivity Market, By End User, 2019-2032 (USD Billion)
15. Global BFSI Hyperconnectivity Market, By Region, 2019-2032 (USD Billion)
16. Global IT Hyperconnectivity Market, By Region, 2019-2032 (USD Billion)
17. Global Telecommunications Hyperconnectivity Market, By Region, 2019-2032 (USD Billion)
18. Global Manufacturing Hyperconnectivity Market, By Region, 2019-2032 (USD Billion)
19. Global Media and Entertainment Hyperconnectivity Market, By Region, 2019-2032 (USD Billion)
20. Global Healthcare and Life Sciences Hyperconnectivity Market, By Region, 2019-2032 (USD Billion)
21. Global Government Hyperconnectivity Market, By Region, 2019-2032 (USD Billion)
22. Global Retail and E-Commerce Hyperconnectivity Market, By Region, 2019-2032 (USD Billion)
23. Global Others Hyperconnectivity Market, By Region, 2019-2032 (USD Billion)
24. Global Hyperconnectivity Market, By Region, 2019-2032 (USD Billion)
25. North America Hyperconnectivity Market, By Product Type, 2019-2032 (USD Billion)
26. North America Hyperconnectivity Market, By Component, 2019-2032 (USD Billion)
27. North America Hyperconnectivity Market, By Organization Size, 2019-2032 (USD Billion)
28. North America Hyperconnectivity Market, By End User, 2019-2032 (USD Billion)
29. U.S. Hyperconnectivity Market, By Product Type, 2019-2032 (USD Billion)
30. U.S. Hyperconnectivity Market, By Component, 2019-2032 (USD Billion)
31. U.S. Hyperconnectivity Market, By Organization Size, 2019-2032 (USD Billion)
32. U.S. Hyperconnectivity Market, By End User, 2019-2032 (USD Billion)
33. Canada Hyperconnectivity Market, By Product Type, 2019-2032 (USD Billion)
34. Canada Hyperconnectivity Market, By Component, 2019-2032 (USD Billion)
35. Canada Hyperconnectivity Market, By Organization Size, 2019-2032 (USD Billion)
36. Canada Hyperconnectivity Market, By End User, 2019-2032 (USD Billion)
37. Mexico Hyperconnectivity Market, By Product Type, 2019-2032 (USD Billion)
38. Mexico Hyperconnectivity Market, By Component, 2019-2032 (USD Billion)
39. Mexico Hyperconnectivity Market, By Organization Size, 2019-2032 (USD Billion)
40. Mexico Hyperconnectivity Market, By End User, 2019-2032 (USD Billion)
41. Europe Hyperconnectivity Market, By Product Type, 2019-2032 (USD Billion)
42. Europe Hyperconnectivity Market, By Component, 2019-2032 (USD Billion)
43. Europe Hyperconnectivity Market, By Organization Size, 2019-2032 (USD Billion)
44. Europe Hyperconnectivity Market, By End User, 2019-2032 (USD Billion)
45. Germany Hyperconnectivity Market, By Product Type, 2019-2032 (USD Billion)
46. Germany Hyperconnectivity Market, By Component, 2019-2032 (USD Billion)
47. Germany Hyperconnectivity Market, By Organization Size, 2019-2032 (USD Billion)
48. Germany Hyperconnectivity Market, By End User, 2019-2032 (USD Billion)
49. France Hyperconnectivity Market, By Product Type, 2019-2032 (USD Billion)
50. France Hyperconnectivity Market, By Component, 2019-2032 (USD Billion)
51. France Hyperconnectivity Market, By Organization Size, 2019-2032 (USD Billion)
52. France Hyperconnectivity Market, By End User, 2019-2032 (USD Billion)
53. U.K. Hyperconnectivity Market, By Product Type, 2019-2032 (USD Billion)
54. U.K. Hyperconnectivity Market, By Component, 2019-2032 (USD Billion)
55. U.K. Hyperconnectivity Market, By Organization Size, 2019-2032 (USD Billion)
56. U.K. Hyperconnectivity Market, By End User, 2019-2032 (USD Billion)
57. Italy Hyperconnectivity Market, By Product Type, 2019-2032 (USD Billion)
58. Italy Hyperconnectivity Market, By Component, 2019-2032 (USD Billion)
59. Italy Hyperconnectivity Market, By Organization Size, 2019-2032 (USD Billion)
60. Italy Hyperconnectivity Market, By End User, 2019-2032 (USD Billion)
61. Spain Hyperconnectivity Market, By Product Type, 2019-2032 (USD Billion)
62. Spain Hyperconnectivity Market, By Component, 2019-2032 (USD Billion)
63. Spain Hyperconnectivity Market, By Organization Size, 2019-2032 (USD Billion)
64. Spain Hyperconnectivity Market, By End User, 2019-2032 (USD Billion)
65. Asia Pacific Hyperconnectivity Market, By Product Type, 2019-2032 (USD Billion)
66. Asia Pacific Hyperconnectivity Market, By Component, 2019-2032 (USD Billion)
67. Asia Pacific Hyperconnectivity Market, By Organization Size, 2019-2032 (USD Billion)
68. Asia Pacific Hyperconnectivity Market, By End User, 2019-2032 (USD Billion)
69. Japan Hyperconnectivity Market, By Product Type, 2019-2032 (USD Billion)
70. Japan Hyperconnectivity Market, By Component, 2019-2032 (USD Billion)
71. Japan Hyperconnectivity Market, By Organization Size, 2019-2032 (USD Billion)
72. Japan Hyperconnectivity Market, By End User, 2019-2032 (USD Billion)
73. China Hyperconnectivity Market, By Product Type, 2019-2032 (USD Billion)
74. China Hyperconnectivity Market, By Component, 2019-2032 (USD Billion)
75. China Hyperconnectivity Market, By Organization Size, 2019-2032 (USD Billion)
76. China Hyperconnectivity Market, By End User, 2019-2032 (USD Billion)
77. India Hyperconnectivity Market, By Product Type, 2019-2032 (USD Billion)
78. India Hyperconnectivity Market, By Component, 2019-2032 (USD Billion)
79. India Hyperconnectivity Market, By Organization Size, 2019-2032 (USD Billion)
80. India Hyperconnectivity Market, By End User, 2019-2032 (USD Billion)
81. South America Hyperconnectivity Market, By Product Type, 2019-2032 (USD Billion)
82. South America Hyperconnectivity Market, By Component, 2019-2032 (USD Billion)
83. South America Hyperconnectivity Market, By Organization Size, 2019-2032 (USD Billion)
84. South America Hyperconnectivity Market, By End User, 2019-2032 (USD Billion)
85. Brazil Hyperconnectivity Market, By Product Type, 2019-2032 (USD Billion)
86. Brazil Hyperconnectivity Market, By Component, 2019-2032 (USD Billion)
87. Brazil Hyperconnectivity Market, By Organization Size, 2019-2032 (USD Billion)
88. Brazil Hyperconnectivity Market, By End User, 2019-2032 (USD Billion)
89. Middle East and Africa Hyperconnectivity Market, By Product Type, 2019-2032 (USD Billion)
90. Middle East and Africa Hyperconnectivity Market, By Component, 2019-2032 (USD Billion)
91. Middle East and Africa Hyperconnectivity Market, By Organization Size, 2019-2032 (USD Billion)
92. Middle East and Africa Hyperconnectivity Market, By End User, 2019-2032 (USD Billion)
93. UAE Hyperconnectivity Market, By Product Type, 2019-2032 (USD Billion)
94. UAE Hyperconnectivity Market, By Component, 2019-2032 (USD Billion)
95. UAE Hyperconnectivity Market, By Organization Size, 2019-2032 (USD Billion)
96. UAE Hyperconnectivity Market, By End User, 2019-2032 (USD Billion)
97. South Africa Hyperconnectivity Market, By Product Type, 2019-2032 (USD Billion)
98. South Africa Hyperconnectivity Market, By Component, 2019-2032 (USD Billion)
99. South Africa Hyperconnectivity Market, By Organization Size, 2019-2032 (USD Billion)
100. South Africa Hyperconnectivity Market, By End User, 2019-2032 (USD Billion)
List of Figures
1. Global Hyperconnectivity Market Segmentation
2. Hyperconnectivity Market: Research Methodology
3. Market Size Estimation Methodology: Bottom-Up Approach
4. Market Size Estimation Methodology: Top-Down Approach
5. Data Triangulation
6. Porter's Five Forces Analysis
7. Value Chain Analysis
8. Global Hyperconnectivity Market Attractiveness Analysis by Product Type
9. Global Hyperconnectivity Market Attractiveness Analysis by Component
10. Global Hyperconnectivity Market Attractiveness Analysis by Organization Size
11. Global Hyperconnectivity Market Attractiveness Analysis by End User
12. Global Hyperconnectivity Market Attractiveness Analysis by Region
13. Global Hyperconnectivity Market: Dynamics
14. Global Hyperconnectivity Market Share by Product Type (2022 & 2032)
15. Global Hyperconnectivity Market Share by Component (2022 & 2032)
16. Global Hyperconnectivity Market Share by Organization Size (2022 & 2032)
17. Global Hyperconnectivity Market Share by End User (2022 & 2032)
18. Global Hyperconnectivity Market Share by Regions (2022 & 2032)
19. Global Hyperconnectivity Market Share by Company (2022)