The global headwear market is expected to reach USD 54.8 billion by 2032, at a CAGR of 7% during the forecast period 2023 to 2032. Europe is expected to grow the fastest during the forecast period.
Market Overview:
Headwear is a piece of clothing or protective equipment that covers the head. Some common types of headwear include headbands, hats, beanies, caps, and helmets. Wool, polyester fleece, cotton, fur, nylon, silk, and Kevlar are among the materials used to make them. Outdoor sports such as biking, fishing, running, hiking, skiing, motorcycling, hunting, and snowboarding make extensive use of headwear. It protects the face and head from sunburn, lowers the incidence of skin cancer, aids in body temperature regulation, and prevents severe head traumas. In chilly weather, headwear also provides comfort and warmth. One of the primary reasons driving market expansion is the increasing product consumption in sports and related activities. Caps, helmets, and beanies are commonly worn in baseball, polo, cricket, skiing, and snowboarding to improve field performance, increase comfort, and provide safety. Furthermore, the growing fashion sector and widespread product adoption as a style statement that balances the ensemble adds a glamorous touch and increases confidence, boosting market growth significantly. Additional factors expected to fuel market expansion include greater adoption of sustainable production processes, easier product availability across e-commerce platforms, and increased product consumption by doctors and medical personnel.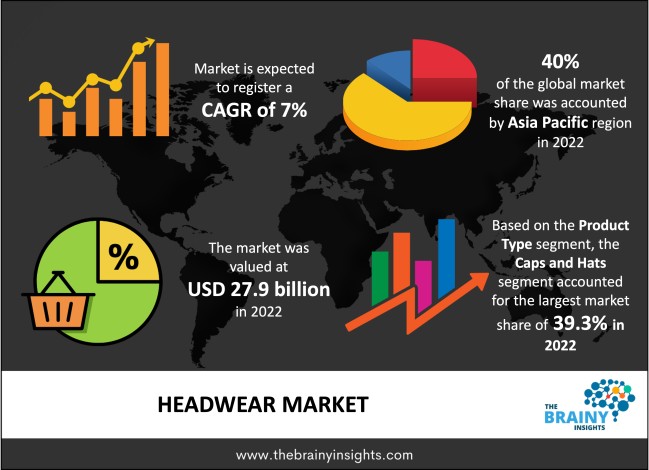 Get an overview of this study by requesting a free sample
Recent Development
In May 2022: PUMA, the worldwide sportswear corporation, released a limited edition hat collection in three styles with the Hometown Heroes emblem, a brand-new design based on PUMA's renowned classic hometown heroes.
In May 2022: Cap America acquired Wear-A-Knit, a personalized knitwear company based in Minnesota. Cap America will be able to expand its USA-made knit department, one of the top 40 suppliers, due to the acquisition.
Market Dynamics:
Drivers
Expansion of the Fashion Sector- The expansion of the headwear market is primarily driven by the development of the fashion sector, which has resulted in a growing attraction of fashion among the global population. Furthermore, altering weather patterns caused by global warming have contributed significantly to the increased demand for winter wear and accessories such as beanies, hats, and winter headwear products. Prominent companies in the sector emphasize the availability of a wide range of winter hats.
Restraints:
Lack of Raw Materials- More raw materials and skilled workers need to be needed, and the distribution network is also disrupted. Furthermore, the emergence of COVID-19 triggered a global financial crisis, which further affected consumer preferences and resulted in a drop in sales of these items. As a result, the market suffered a decline in sales due to these reasons.
Opportunities:
Rise in Demand Among Women- Most women nowadays wear headscarves, headbands, and caps to enhance their appearance and protect themselves from heat, dust, and cold. Women wear hat items to protect their skin from sun damage and cold weather, which can cause premature ageing marks on the neck and face.
Challenges:
Counterfeit Items- The availability of counterfeit items is a significant international issue that companies face, and it is predicted to impede the sale of genuine products during the forecast period.
Regional segmentation analysis:
The regions analyzed for the market include North America, Europe, South America, Asia Pacific, the Middle East, and Africa. Asia Pacific emerged as the largest global headwear market, with a 40% market revenue share in 2022.
Asia Pacific dominates the headwear market with a 40% market revenue share in 2022. Manufacturers in the Asia-Pacific area anticipate substantial market expansion due to rising demand for hair accessories to enhance their appearance. Furthermore, the hot summer months in India, China, and Australia increased demand for headwear, particularly hats. As a result, prominent brands are releasing stylish headbands and headwear, such as cushioned and embroidered, to increase consumer interest.
Europe is expected to witness the fastest growth during the forecast period. Good environmental conditions for winterwear in nations such as Norway, Finland, and Sweden are driving the demand for beanies, mufflers, and scarves. Also, the region has a cooler environment all year, so there is an increasing demand for winterwear products. Companies are offering novel headwear products of higher quality and new styles to fulfil the increased need for headwear items in the overall market.
Asia Pacific Region Headwear Market Share in 2022 - 40%
www.thebrainyinsights.com
Check the geographical analysis of this market by requesting a free sample
Product Type Analysis:
The product type segment is divided into beanies, headbands, caps and hats, and others. The caps and hats segment dominated the market, with a market share of around 39.3% in 2022. Hats are multipurpose and are worn as an everyday outdoor adornment by everyone. As companies create hats with various designs for various occasions, the caps segment continues to gain popularity among young people. Baseball caps and sun visors are popular among athletes who regard them as necessary for sports.
Distribution Channel Analysis:
The distribution channel segment is divided into offline and online. The offline segment dominated the market, with a market share of around 60.7% in 2022, because of the increased expansion of apparel and accessory retail shops in tier I, II, and III cities worldwide. The development of clothes retail outlets, both local and startup, has contributed to the worldwide market's expansion of offline channel sales. Lids Inc., a renowned sports retailer, presented its newest store concept, 'Lids Hat Drop,' in Queens, New York, in December 2022. Headwear manufacturers advertise their accessories in hypermarkets and supermarkets to improve client stickiness and sales.
List of Key Market Players:
Adidas AG
Calvin Klein
RALPH LAUREN MEDIA LLC
Gianni Versace S.r.l.
PUMA SE
New Era Cap
Guccio Gucci S.p.A.
Nike, Inc.
LACOSTE
Superdry PLC
Report Description:
| Attribute | Description |
| --- | --- |
| Market Size | Revenue (USD Billion) |
| Market size value in 2022 | USD 27.9 billion |
| Market size value in 2032 | USD 54.8 billion |
| CAGR (2023 to 2032) | 7% |
| Historical data | 2019-2021 |
| Base Year | 2022 |
| Forecast | 2023-2032 |
| Regional Segments | North America, Asia Pacific, Europe, Latin America, Middle East and Africa |
| Segments | Product Type, Distribution Channel |
Frequesntly Asked Questions
1. Introduction
1.1. Objectives of the Study
1.2. Market Definition
1.3. Research Scope
1.4. Currency
1.5. Key Target Audience

2. Research Methodology and Assumptions

3. Executive Summary

4. Premium Insights
4.1. Porter's Five Forces Analysis
4.2. Value Chain Analysis
4.3. Top Investment Pockets
4.3.1. Market Attractiveness Analysis by Product Type
4.3.2. Market Attractiveness Analysis by Distribution Channel
4.3.3. Market Attractiveness Analysis by Region
4.4. Industry Trends

5. Market Dynamics
5.1. Market Evaluation
5.2. Drivers
5.2.1. Expansion of Fashion Sector
5.3. Restraints
5.3.1. Lack of Raw Materials
5.4. Opportunities
5.4.1. Rise in Demand Among Women
5.5. Challenges
5.5.1. Counterfeit Items

6. Global Headwear Market Analysis and Forecast, By Product Type
6.1. Segment Overview
6.2. Beanies
6.3. Headbands
6.4. Caps and Hats
6.5. Others

7. Global Headwear Market Analysis and Forecast, By Distribution Channel
7.1. Segment Overview
7.2. Offline
7.3. Online

8. Global Headwear Market Analysis and Forecast, By Regional Analysis
8.1. Segment Overview
8.2. North America
8.2.1. U.S.
8.2.2. Canada
8.2.3. Mexico
8.3. Europe
8.3.1. Germany
8.3.2. France
8.3.3. U.K.
8.3.4. Italy
8.3.5. Spain
8.4. Asia-Pacific
8.4.1. Japan
8.4.2. China
8.4.3. India
8.5. South America
8.5.1. Brazil
8.6. Middle East and Africa
8.6.1. UAE
8.6.2. South Africa

9. Global Headwear Market-Competitive Landscape
9.1. Overview
9.2. Market Share of Key Players in Global Headwear Market
9.2.1. Global Company Market Share
9.2.2. North America Company Market Share
9.2.3. Europe Company Market Share
9.2.4. APAC Company Market Share
9.3. Competitive Situations and Trends
9.3.1. Product Launches and Developments
9.3.2. Partnerships, Collaborations, and Agreements
9.3.3. Mergers & Acquisitions
9.3.4. Expansions

10. Company Profiles
10.1. Adidas AG
10.1.1. Business Overview
10.1.2. Company Snapshot
10.1.3. Company Market Share Analysis
10.1.4. Company Product Portfolio
10.1.5. Recent Developments
10.1.6. SWOT Analysis
10.2. Calvin Klein
10.2.1. Business Overview
10.2.2. Company Snapshot
10.2.3. Company Market Share Analysis
10.2.4. Company Product Portfolio
10.2.5. Recent Developments
10.2.6. SWOT Analysis
10.3. RALPH LAUREN MEDIA LLC
10.3.1. Business Overview
10.3.2. Company Snapshot
10.3.3. Company Market Share Analysis
10.3.4. Company Product Portfolio
10.3.5. Recent Developments
10.3.6. SWOT Analysis
10.4. Gianni Versace S.r.l.
10.4.1. Business Overview
10.4.2. Company Snapshot
10.4.3. Company Market Share Analysis
10.4.4. Company Product Portfolio
10.4.5. Recent Developments
10.4.6. SWOT Analysis
10.5. PUMA SE
10.5.1. Business Overview
10.5.2. Company Snapshot
10.5.3. Company Market Share Analysis
10.5.4. Company Product Portfolio
10.5.5. Recent Developments
10.5.6. SWOT Analysis
10.6. New Era Cap
10.6.1. Business Overview
10.6.2. Company Snapshot
10.6.3. Company Market Share Analysis
10.6.4. Company Product Portfolio
10.6.5. Recent Developments
10.6.6. SWOT Analysis
10.7. Guccio Gucci S.p.A.
10.7.1. Business Overview
10.7.2. Company Snapshot
10.7.3. Company Market Share Analysis
10.7.4. Company Product Portfolio
10.7.5. Recent Developments
10.7.6. SWOT Analysis
10.8. Nike, Inc.
10.8.1. Business Overview
10.8.2. Company Snapshot
10.8.3. Company Market Share Analysis
10.8.4. Company Product Portfolio
10.8.5. Recent Developments
10.8.6. SWOT Analysis
10.9. LACOSTE
10.9.1. Business Overview
10.9.2. Company Snapshot
10.9.3. Company Market Share Analysis
10.9.4. Company Product Portfolio
10.9.5. Recent Developments
10.9.6. SWOT Analysis
10.10. Superdry PLC
10.10.1. Business Overview
10.10.2. Company Snapshot
10.10.3. Company Market Share Analysis
10.10.4. Company Product Portfolio
10.10.5. Recent Developments
10.10.6. SWOT Analysis

List of Table
1. Global Headwear Market, By Product Type, 2019-2032 (USD Billion)
2. Global Beanies, Headwear Market, By Region, 2019-2032 (USD Billion)
3. Global Headbands, Headwear Market, By Region, 2019-2032 (USD Billion)
4. Global Caps and Hats, Headwear Market, By Region, 2019-2032 (USD Billion)
5. Global Others, Headwear Market, By Region, 2019-2032 (USD Billion)
6. Global Headwear Market, By Distribution Channel, 2019-2032 (USD Billion)
7. Global Offline, Headwear Market, By Region, 2019-2032 (USD Billion)
8. Global Online, Headwear Market, By Region, 2019-2032 (USD Billion)
9. North America Headwear Market, By Product Type, 2019-2032 (USD Billion)
10. North America Headwear Market, By Distribution Channel, 2019-2032 (USD Billion)
11. U.S. Headwear Market, By Product Type, 2019-2032 (USD Billion)
12. U.S. Headwear Market, By Distribution Channel, 2019-2032 (USD Billion)
13. Canada Headwear Market, By Product Type, 2019-2032 (USD Billion)
14. Canada Headwear Market, By Distribution Channel, 2019-2032 (USD Billion)
15. Mexico Headwear Market, By Product Type, 2019-2032 (USD Billion)
16. Mexico Headwear Market, By Distribution Channel, 2019-2032 (USD Billion)
17. Europe Headwear Market, By Product Type, 2019-2032 (USD Billion)
18. Europe Headwear Market, By Distribution Channel, 2019-2032 (USD Billion)
19. Germany Headwear Market, By Product Type, 2019-2032 (USD Billion)
20. Germany Headwear Market, By Distribution Channel, 2019-2032 (USD Billion)
21. France Headwear Market, By Product Type, 2019-2032 (USD Billion)
22. France Headwear Market, By Distribution Channel, 2019-2032 (USD Billion)
23. U.K. Headwear Market, By Product Type, 2019-2032 (USD Billion)
24. U.K. Headwear Market, By Distribution Channel, 2019-2032 (USD Billion)
25. Italy Headwear Market, By Product Type, 2019-2032 (USD Billion)
26. Italy Headwear Market, By Distribution Channel, 2019-2032 (USD Billion)
27. Spain Headwear Market, By Product Type, 2019-2032 (USD Billion)
28. Spain Headwear Market, By Distribution Channel, 2019-2032 (USD Billion)
29. Asia Pacific Headwear Market, By Product Type, 2019-2032 (USD Billion)
30. Asia Pacific Headwear Market, By Distribution Channel, 2019-2032 (USD Billion)
31. Japan Headwear Market, By Product Type, 2019-2032 (USD Billion)
32. Japan Headwear Market, By Distribution Channel, 2019-2032 (USD Billion)
33. China Headwear Market, By Product Type, 2019-2032 (USD Billion)
34. China Headwear Market, By Distribution Channel, 2019-2032 (USD Billion)
35. India Headwear Market, By Product Type, 2019-2032 (USD Billion)
36. India Headwear Market, By Distribution Channel, 2019-2032 (USD Billion)
37. South America Headwear Market, By Product Type, 2019-2032 (USD Billion)
38. South America Headwear Market, By Distribution Channel, 2019-2032 (USD Billion)
39. Brazil Headwear Market, By Product Type, 2019-2032 (USD Billion)
40. Brazil Headwear Market, By Distribution Channel, 2019-2032 (USD Billion)
41. Middle East and Africa Headwear Market, By Product Type, 2019-2032 (USD Billion)
42. Middle East and Africa Headwear Market, By Distribution Channel, 2019-2032 (USD Billion)
43. UAE Headwear Market, By Product Type, 2019-2032 (USD Billion)
44. UAE Headwear Market, By Distribution Channel, 2019-2032 (USD Billion)
45. South Africa Headwear Market, By Product Type, 2019-2032 (USD Billion)
46. South Africa Headwear Market, By Distribution Channel, 2019-2032 (USD Billion)
List of Figures
1. Global Headwear Market Segmentation
2. Global Headwear Market: Research Methodology
3. Market Size Estimation Methodology: Bottom-Up Approach
4. Market Size Estimation Methodology: Top-Down Approach
5. Data Triangulation
6. Porter's Five Forces Analysis
7. Value Chain Analysis
8. Global Headwear Market Attractiveness Analysis by Product Type
9. Global Headwear Market Attractiveness Analysis by Distribution Channel
10. Global Headwear Market Attractiveness Analysis by Region
11. Global Headwear Market: Dynamics
12. Global Headwear Market Share by Product Type (2023 & 2032)
13. Global Headwear Market Share by Distribution Channel (2023 & 2032)
14. Global Headwear Market Share by Regions (2023 & 2032)
15. Global Headwear Market Share by Company (2022)