The global nylon market was valued at USD 30 billion in 2022 and grew at a CAGR of 5% from 2023 to 2032. The market is expected to reach USD 48.86 billion by 2032. The increasing demand for automobiles will drive the growth of the global nylon market.
Market Introduction:
A series of synthetic polymers made of polyamides are called nylon. Nylon is thermoplastic that can be turned into fibres, films, or other shapes. It is manufactured from petroleum. Nylon has long chains of carbon-based molecules or monomers. Nylon is Lustrous, Elastic, strong, highly resistant to chemicals, and resilient. Additionally, it also dries rapidly. Nylon also has greater tensile strength, high-temperature resistance, and friction resistance. It is wrinkle-resistant and lightweight and shows high resistance to wear and tear, thereby expanding its life cycle. Nylon is used to produce clothing, car accessories, parachutes, nets, ropes, tarpaulins etc. Because of its exceptional abrasion resistance, it is utilized to create bearings in the appliance industry. Additionally, nylon creates machine parts, zip closures, and toothbrushes. Nylon is strong. Nylon is simple to clean.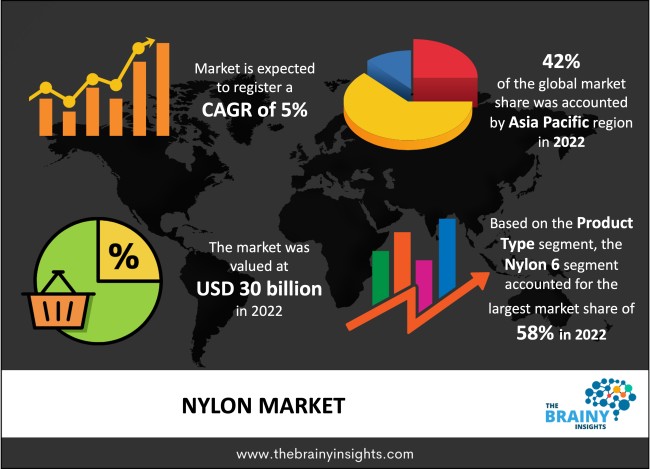 Get an overview of this study by requesting a free sample
Recent Development
August 2023 - By collaborating with the renowned sportswear juggernaut Reebok, VeeFriends has expanded into the fashion world. Their collaborative enterprise will soon release a special pair of trainers with a motivating aesthetic to encourage dream chasers. With the addition of the VeeFriends mascot Aspiring Alpaca, the recently unveiled footwear, dubbed Aspiring Alpaca Classic Nylons, pays homage to Reebok's 1991 Classic Nylon design. The Aspiring Alpaca Classic Nylons have a nylon foundation with suede accents, maintaining the Reebok history silhouette.
Market Dynamics:
Drivers
The increasing demand for automobiles – the increasing population with rising disposable income has increased the demand for automobiles. The growing number of automobile manufacturers is catering to this rising demand. The demand for commercial vehicles is also expanding due to the growing transportation, logistics and retail sector, given the rise of the e-commerce industry. The introduction of favourable government schemes contributes to the automotive market's positive growth. Nylon has multiple applications in the automotive industry, from engine components to tyres. Since they have high tensile strength, excellent flexibility, durability, resilience, abrasion and chemical resistance, they are ideal for use in automobiles subject to various chemicals, shock, and other wear and tear. Therefore, increasing automobile demand will drive the global nylon market's growth.
January 2023 - Apollo Tyres will use a brand-new sustainable material created by Century Enka for a number of its product lines across several market sectors. The commercial manufacture of NTCF (nylon tyre cord fabric), created entirely from recycled nylon trash, has begun at Century Enka. When the first shipment of commercial supplies was delivered to Apollo in November 2022 at the Century Enka Bharuch plant in Gujarat, India, NTCF was launched. On this project, the two businesses collaborated for more than a year. The largest caprolactam consumer in India is Century Enka, which produces in-process waste when producing polyamide yarn. After thorough distillation, this waste is recycled back into caprolactam, which is then made acceptable for the creation of NTCF.
Restraints:
The environmental consequences of nylon waste – nylon is essentially plastic. It does not biodegrade and stays in the environment for a long time. These plastics enter the food chain and reach humans as microplastics. The lack of a robust mechanism to collect and recycle nylon waste further increases the menace of plastic in the environment. The growing concern about plastic has encouraged the government to introduce stringent regulations governing the production, use and disposal of nylon, potentially impacting the market's growth.
May 2023 - Sculpteo, a firm that offers 3D printing services and is a subsidiary of BASF Chemical, recently unveiled a new take-back programme called "REcycle" that would recycle 3D printed items that consumers send back to the company. Customers can re-authorization and PA12 3D printed items to Sculpteo with a destruction authorisation. Before delivering the components to its partner Arkema for compounding and pelletizing part of Arkema's Virtucycle programme, Sculpteo will sort and grind the components. The novel substance will be applied in several industrial settings. Additionally, production scrap will be taken.
Opportunities:
The increasing applications of nylon – the strength, durability, flexibility, resilience, and tenacity of nylon make it ideal for applications in multiple industries, including automotive, textiles, electricals, engineering etc. these applications are enhanced with the introduction of new nylon materials that improve their workability, production and life-cycle. These innovations expand the global nylon market and offer lucrative opportunities for the market players during the forecast period.
August 2023 - At the OR (Outdoor Retailer) Show 2023 held in the USA, Hyosung TNC, a South Korean company principally engaged in the fibre business, unveiled various eco-friendly fibre products. The primary source of ocean plastic pollution abandoned fishing nets, was recycled into Regen Ocean Nylon at the event, along with the Regen Ocean Robic fibre manufactured from Regen Ocean Nylon. For the Talon Earth collection for S/S 2024, Hyosung and Osprey collaborated to incorporate the Regen Ocean Robic from Hyosung TNC. The product is a technical backpack constructed primarily of recycled fabrics, sewing thread and plastic zipper chain. It offers wearing comfort and durability on par with current offerings.
Regional segmentation analysis:
The regions analysed for the market include North America, Europe, South America, Asia Pacific, the Middle East, and Africa. Asia Pacific emerged as the most significant global nylon market, with a 42% market revenue share in 2022.
Given the large populations and rising disposable income in the region, the extensive consumer market for textiles, automotive, electrical, and electrical components will propel the market's growth. Furthermore, favourable government initiatives like the production-linked incentive scheme for the textiles and automotive industries by the government of India will also contribute to the market's demand. Significant market players or manufacturers in India, China, Bangladesh and other countries also contribute to the market's growth.
Asia Pacific Region Nylon Market Share in 2022 - 42%
www.thebrainyinsights.com
Check the geographical analysis of this market by requesting a free sample
January 2023 - At ProPak China 2023, Ascend Performance Materials introduced its HiDura LUX amorphous nylon for packaging films in the Asian market. The greater Chinese market is seeing an increase in demand for higher-performing packaging films to help cut down on food products that spoil or are damaged before they reach consumers. This product introduces new, high-performance films that reduce food waste and product damage throughout the supply chain. To improve the performance characteristics of packaging, such as enhanced thermoforming, improved orientation to optimize shrink performance, improved optical properties, increased organoleptic performance, and oxygen barrier, HiDura Lux is used as a speciality modifier blended with other polyamides.
Product type Segment Analysis
The product type segment is divided into nylon 6 and nylon 6/6. The nylon 6 segment dominated the market, with a market share of around 58% in 2022. Nylon 6 is made of six carbons in caprolactam. Nylon 6 has High tensile strength, flexibility, and lustre. It has excellent abrasion and chemical resistance. It is wrinkle-proof. It produces carpets, tyre cords, clothing, upholstery, car accessories, parachutes, ropes and fishnets. Nylon 6 possesses strong impact strength, elasticity, and abrasion resistance. Nylon 6 is non-toxic and can be combined with glass or carbon fibres to improve performance. Nylon 6 has greater impact strength and a longer flex fatigue life than Nylon 6/6. It can be manufactured at lower temperatures and has less crystallinity than 6/6, making it more feasible.
Application Segment Analysis
The application segment is divided into textiles, automobiles, engineering plastics, electrical and electronics and others. The automobile segment dominated, with a market share of around 36% in 2022. Due to its tensile strength, workability, and chemical and temperature tolerance, nylon is used in the automobile sector. It is primarily used in engine compartments, subjected to corrosive fluids and extreme temperatures. It is also used to make tyres, interior and exterior parts of automobiles, engine components, and brake hoses; lightweight, high resistance to wear and tear and reliability make them a sustainable and cost-effective choice in the automobile industry. The increasing demand for automobiles will contribute to the segment's growth.
June 2023 - Fulgar, an Italian supplier of synthetic yarn, and CHT, a provider of textile chemicals, claim to have teamed up to lessen the environmental impact of colouring nylon. The two businesses assert that they can drastically cut down on water, energy, and process time by using 100% bio-based nylon made from castor oil and recycled nylon yarns, along with CHT's soy-based auxiliaries that have earned Cradle to Cradle gold certification.
Some of the Key Market Players:
Ascend Performance Materials
BASF SE
Domo Chemicals
DuPont
Invista
Lanxess
Nylon Corporation of America Inc.
Radici Partecipazioni SpA
Shenma Industrial Co. Ltd.
Ube Industries Ltd.
Report Description:
| Attribute | Description |
| --- | --- |
| Market Size | Revenue (USD Billion) |
| Market size value in 2022 | USD 30 Billion |
| Market size value in 2032 | USD 48.86 Billion |
| CAGR (2023 to 2032) | 5% |
| Historical data | 2019-2021 |
| Base Year | 2022 |
| Forecast | 2023-2032 |
| Region | The regions analysed for the market are Asia Pacific, Europe, South America, North America, and Middle East & Africa. Furthermore, the regions are further analyzed at the country level. |
| Segments | Product Type and Application |
Frequesntly Asked Questions
1. Introduction
1.1. Objectives of the Study
1.2. Market Definition
1.3. Research Scope
1.4. Currency
1.5. Key Target Audience

2. Research Methodology and Assumptions

3. Executive Summary

4. Premium Insights
4.1. Porter's Five Forces Analysis
4.2. Value Chain Analysis
4.3. Top Investment Pockets
4.3.1. Market Attractiveness Analysis By Product Type
4.3.2. Market Attractiveness Analysis By Application
4.3.3. Market Attractiveness Analysis By Region
4.4. Industry Trends

5. Market Dynamics
5.1. Market Evaluation
5.2. Drivers
5.2.1. The increasing demand for automobiles
5.3. Restraints
5.3.1. The environmental consequences of nylon waste
5.4. Opportunities
5.4.1. The increasing applications of nylon
5.5. Challenges
5.5.1. The stringent government regulations

6. Global Nylon Market Analysis and Forecast, By Product Type
6.1. Segment Overview
6.2. Nylon 6
6.3. Nylon 6/6

7. Global Nylon Market Analysis and Forecast, By Application
7.1. Segment Overview
7.2. Textiles
7.3. Automobiles
7.4. Engineering Plastics
7.5. Electrical and Electronics
7.6. Others

8. Global Nylon Market Analysis and Forecast, By Regional Analysis
8.1. Segment Overview
8.2. North America
8.2.1. U.S.
8.2.2. Canada
8.2.3. Mexico
8.3. Europe
8.3.1. Germany
8.3.2. France
8.3.3. U.K.
8.3.4. Italy
8.3.5. Spain
8.4. Asia-Pacific
8.4.1. Japan
8.4.2. China
8.4.3. India
8.5. South America
8.5.1. Brazil
8.6. Middle East and Africa
8.6.1. UAE
8.6.2. South Africa

9. Global Nylon Market-Competitive Landscape
9.1. Overview
9.2. Market Share of Key Players in the Nylon Market
9.2.1. Global Company Market Share
9.2.2. North America Company Market Share
9.2.3. Europe Company Market Share
9.2.4. APAC Company Market Share
9.3. Competitive Situations and Trends
9.3.1. Product Launches and Developments
9.3.2. Partnerships, Collaborations, and Agreements
9.3.3. Mergers & Acquisitions
9.3.4. Expansions

10. Company Profiles
10.1. Ascend Performance Materials
10.1.1. Business Overview
10.1.2. Company Snapshot
10.1.3. Company Market Share Analysis
10.1.4. Company Product Portfolio
10.1.5. Recent Developments
10.1.6. SWOT Analysis
10.2. BASF SE
10.2.1. Business Overview
10.2.2. Company Snapshot
10.2.3. Company Market Share Analysis
10.2.4. Company Product Portfolio
10.2.5. Recent Developments
10.2.6. SWOT Analysis
10.3. Domo Chemicals
10.3.1. Business Overview
10.3.2. Company Snapshot
10.3.3. Company Market Share Analysis
10.3.4. Company Product Portfolio
10.3.5. Recent Developments
10.3.6. SWOT Analysis
10.4. DuPont
10.4.1. Business Overview
10.4.2. Company Snapshot
10.4.3. Company Market Share Analysis
10.4.4. Company Product Portfolio
10.4.5. Recent Developments
10.4.6. SWOT Analysis
10.5. Invista
10.5.1. Business Overview
10.5.2. Company Snapshot
10.5.3. Company Market Share Analysis
10.5.4. Company Product Portfolio
10.5.5. Recent Developments
10.5.6. SWOT Analysis
10.6. Lanxess
10.6.1. Business Overview
10.6.2. Company Snapshot
10.6.3. Company Market Share Analysis
10.6.4. Company Product Portfolio
10.6.5. Recent Developments
10.6.6. SWOT Analysis
10.7. Nylon Corporation of America Inc.
10.7.1. Business Overview
10.7.2. Company Snapshot
10.7.3. Company Market Share Analysis
10.7.4. Company Product Portfolio
10.7.5. Recent Developments
10.7.6. SWOT Analysis
10.8. Radici Partecipazioni SpA
10.8.1. Business Overview
10.8.2. Company Snapshot
10.8.3. Company Market Share Analysis
10.8.4. Company Product Portfolio
10.8.5. Recent Developments
10.8.6. SWOT Analysis
10.9. Shenma Industrial Co. Ltd.
10.9.1. Business Overview
10.9.2. Company Snapshot
10.9.3. Company Market Share Analysis
10.9.4. Company Product Portfolio
10.9.5. Recent Developments
10.9.6. SWOT Analysis
10.10. Ube Industries Ltd.
10.10.1. Business Overview
10.10.2. Company Snapshot
10.10.3. Company Market Share Analysis
10.10.4. Company Component Portfolio
10.10.5. Recent Developments
10.10.6. SWOT Analysis

List of Table
1. Global Nylon Market, By Product Type, 2019-2032 (USD Billion)
2. Global Nylon 6 Nylon Market, By Region, 2019-2032 (USD Billion)
3. Global Nylon 6/6 Nylon Market, By Region, 2019-2032 (USD Billion)
4. Global Nylon Market, By Application, 2019-2032 (USD Billion)
5. Global Textiles Nylon Market, By Region, 2019-2032 (USD Billion)
6. Global Automobiles Nylon Market, By Region, 2019-2032 (USD Billion)
7. Global Engineering Plastics Nylon Market, By Region, 2019-2032 (USD Billion)
8. Global Electrical and Electronics Nylon Market, By Region, 2019-2032 (USD Billion)
9. Global Others Nylon Market, By Region, 2019-2032 (USD Billion)
10. Global Nylon Market, By Region, 2019-2032 (USD Billion)
11. North America Nylon Market, By Product Type, 2019-2032 (USD Billion)
12. North America Nylon Market, By Application, 2019-2032 (USD Billion)
13. U.S. Nylon Market, By Product Type, 2019-2032 (USD Billion)
14. U.S. Nylon Market, By Application, 2019-2032 (USD Billion)
15. Canada Nylon Market, By Product Type, 2019-2032 (USD Billion)
16. Canada Nylon Market, By Application, 2019-2032 (USD Billion)
17. Mexico Nylon Market, By Product Type, 2019-2032 (USD Billion)
18. Mexico Nylon Market, By Application, 2019-2032 (USD Billion)
19. Europe Nylon Market, By Product Type, 2019-2032 (USD Billion)
20. Europe Nylon Market, By Application, 2019-2032 (USD Billion)
21. Germany Nylon Market, By Product Type, 2019-2032 (USD Billion)
22. Germany Nylon Market, By Application, 2019-2032 (USD Billion)
23. France Nylon Market, By Product Type, 2019-2032 (USD Billion)
24. France Nylon Market, By Application, 2019-2032 (USD Billion)
25. U.K. Nylon Market, By Product Type, 2019-2032 (USD Billion)
26. U.K. Nylon Market, By Application, 2019-2032 (USD Billion)
27. Italy Nylon Market, By Product Type, 2019-2032 (USD Billion)
28. Italy Nylon Market, By Application, 2019-2032 (USD Billion)
29. Spain Nylon Market, By Product Type, 2019-2032 (USD Billion)
30. Spain Nylon Market, By Application, 2019-2032 (USD Billion)
31. Asia Pacific Nylon Market, By Product Type, 2019-2032 (USD Billion)
32. Asia Pacific Nylon Market, By Application, 2019-2032 (USD Billion)
33. Japan Nylon Market, By Product Type, 2019-2032 (USD Billion)
34. Japan Nylon Market, By Application, 2019-2032 (USD Billion)
35. China Nylon Market, By Product Type, 2019-2032 (USD Billion)
36. China Nylon Market, By Application, 2019-2032 (USD Billion)
37. India Nylon Market, By Product Type, 2019-2032 (USD Billion)
38. India Nylon Market, By Application, 2019-2032 (USD Billion)
39. South America Nylon Market, By Product Type, 2019-2032 (USD Billion)
40. South America Nylon Market, By Application, 2019-2032 (USD Billion)
41. Brazil Nylon Market, By Product Type, 2019-2032 (USD Billion)
42. Brazil Nylon Market, By Application, 2019-2032 (USD Billion)
43. Middle East and Africa Nylon Market, By Product Type, 2019-2032 (USD Billion)
44. Middle East and Africa Nylon Market, By Application, 2019-2032 (USD Billion)
45. UAE Nylon Market, By Product Type, 2019-2032 (USD Billion)
46. UAE Nylon Market, By Application, 2019-2032 (USD Billion)
47. South Africa Nylon Market, By Product Type, 2019-2032 (USD Billion)
48. South Africa Nylon Market, By Application, 2019-2032 (USD Billion)
List of Figures
1. Global Nylon Market Segmentation
2. Nylon Market: Research Methodology
3. Market Size Estimation Methodology: Bottom-Up Approach
4. Market Size Estimation Methodology: Top-Down Approach
5. Data Triangulation
6. Porter's Five Forces Analysis
7. Value Chain Analysis
8. Global Nylon Market Attractiveness Analysis By Product Type
9. Global Nylon Market Attractiveness Analysis By Application
10. Global Nylon Market Attractiveness Analysis By Region
11. Global Nylon Market: Dynamics
12. Global Nylon Market Share by Product Type (2022 & 2032)
13. Global Nylon Market Share by Application (2022 & 2032)
14. Global Nylon Market Share by Regions (2022 & 2032)
15. Global Nylon Market Share by Company (2022)