The hair accessories market was valued at USD 19.1 billion in 2021 and is expected to expand at a CAGR of 7.8% over the forecast period from 2022 to 2030. The rising demand for accessories to enhance the physical appearance among consumers is driving market growth. Wigs and extensions are among other trending hair accessories, especially among people of African descent in the U.S. and Europe, as well as native Africans.
Various types of hair accessories are available today, such as bows, clips, scrunchies, headbands, and hair scarves. Social influencers, celebrities, movie stars, and fashion designers have been setting new and innovative hairstyling trends, which have been influencing consumers across the world. Pearl hair clips and velvet hair ribbons are among the trending hair accessories in the market today. These trends are highly driven by social media, street styles, and the selfie culture.
In addition, pearl accessories have also gained momentum in 2020. In London Fashion Week 2020, pearl accessories along with other shiny hair ornaments gained attraction. Simple pearl-encrusted barrettes, hair clips, and headbands are tending lately. Another trend of 2020 was logo/word clips. Oversized, metallic bejeweled, and logo/word clips gained popularity to make a statement with words. These trends are expected to shape and influence the hair accessories industry all over the world.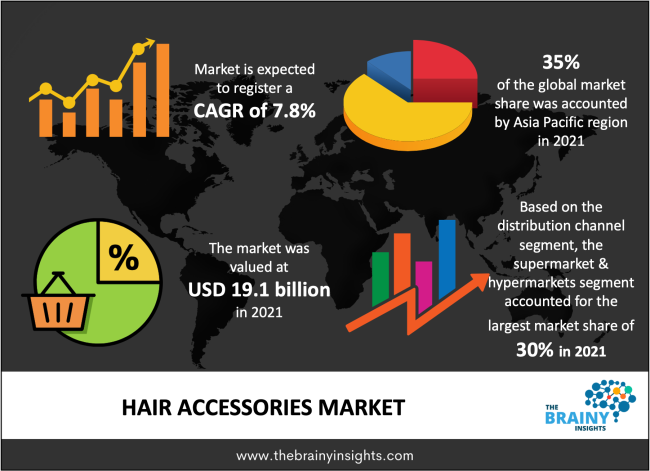 Get an overview of this study by requesting a free sample
The outbreak of Covdi-19 disrupted the supply of hair accessories across the globe. Consumers have also become more conscious of their spending habits and tend to avoid buying frivolously. On the production front, the industry faced disruption in the overall supply chain, including raw material sourcing, manufacturing, and distribution. One of the major problems faced by wig and hair extension manufacturers during the pandemic was the shortage of lace and human hair.
The key manufacturers are focused on product innovations to capture the market share in the hair accessories market. For instance, in March 2019, beloved jewelry brand BaubleBar launched new hair accessories aligning with the latest trends. The new collection includes bejeweled clips, fabric headbands, colorful barrettes, and printed scrunchies, ranging from USD 5 to USD 60.
Product Insights
Scrunchies and ties held the largest market share of more than 30% in 2021. Hair scrunchies and ties are the most popular accessories used by a consumer of all age groups ranging from children to adults. Scrunchies offer convenience to women for tying their hair anytime and anywhere. Moreover, the wide availability of ties across different stores is anticipated to boost the demand further even for men.
Other hair accessories include combs, bows, and crowns/tiaras. The growing trend of baby fashion is driving the demand for fashion accessories for babies, particularly bows and crowns or tiaras. On the other hand, combs and brushes are essential tools for people in their daily lives. The significant use of hairbrushes and combs for personal use and at salons or barber shops is driving the demand for these products. Combs and hairbrushes are used by people of most age groups, including children, teenagers, and adults, to detangle and style their hair. This also drives product demand.
Wigs and extensions are anticipated to register the fastest CAGR during the forecast period. Factors such as excessive exposure to the sun and the use of various chemical-based hair products tend to cause severe hair damage, which can ultimately lead to hair fall. Instead of opting for hair transplant procedures, which are expensive and intrusive, consumers have been turning to wigs and hair extensions of different kinds to disguise thinning hair.
Distribution Channel Insights
The supermarkets & hypermarkets accounted for a market share of more than 30% in 2021. The increasing consumer demand for hair accessories has increased portfolio expansions in supermarkets/hypermarkets. For instance, Walmart offers more than 1,000 hair accessories like unicorn glittered hairbands, velvet scrunchies, and synthetic hair extensions through its multiple stores across the globe.
The online distribution channel is anticipated to register faster growth. Key companies are offering products through D2C sites and third-party websites owing to changing consumer behavior. For instance, Tegen Accessories, a hair accessory brand in the UK, sells a variety of hair accessories on its website, including banana clips, hair claws, snap clips, and chignon pins. Moreover, to increase consumer reach, various mid-sized brands have been offering their products through well-established e-commerce websites such as Amazon, Next, Walmart, and Target.
Regional Insights
Asia Pacific accounted for the largest market share of more than 35% in 2021. China is one of the major countries contributing to the growth of the regional hair accessories market, in terms of production as well as consumption. China is one of the largest exporters of hair accessories owing to favorable government policies and the high availability of cost-effective labor, which creates a high growth potential in the global market. These products are available in the country at competitive prices, which has increased their consumption.
Rising westernization in terms of culture, clothing, and cosmetic product utilization, coupled with increased consumer awareness of fashion trends and hairdos, is expected to drive the market in this region. Moreover, the growing working women population has resulted in greater disposable income, which has increased spending on accessories. The growing trend of elaborate hairstyles and hairdos, coupled with the increasing population of working women and the rising importance given to physical appearance, is expected to boost the demand for hair elastics & ties as well as clips & pins.
Key Players
The main aim of hair accessories manufacturers is to increase the availability of products on all possible platforms, both offline and online. The industry poses moderate-to-low entry barriers due to the presence of a large number of unstructured and local players in various regions. The product is niche and thus, the marketers focus on grabbing consumer attention through various means of advertisements and promotional campaigns. For instance, some companies distribute hair accessories to fashion bloggers and reputed salons to use and advertising. Such initiatives are likely to boost product demand and reach among consumers.
Goody Products Inc.
Bunzee Bands
Creative Findings
Good Hair Days
Conair Corporation
Silke London
Forever 21
SwirlyCurly Hair
SOQ Jewelry
Claire's
H&M
Segments Covered in the Report
Product

Scrunchies & Ties
Headbands
Wigs & extensions
Clips & Pins
Others

Distribution Channel

Supermarkets & Hypermarkets
Convenience Stores
Online
Others

Regional

North America
Europe

UK
Germany
France
Italy
Spain

Asia Pacific

China
Japan
India
Australia
South Korea
Thailand

Central and South America
Middle East and Africa
1. Introduction
1.1. Objectives of the Study
1.2. Market Definition
1.3. Research Scope
1.4. Currency
1.5. Key Target Audience

2. Research Methodology and Assumptions

3. Executive Summary

4. Premium Insights
4.1. Porter's Five Forces Analysis
4.2. Value Chain Analysis
4.3. Top Investment Pockets
4.3.1. Market Attractiveness Analysis by Product
4.3.2. Market Attractiveness Analysis by Distribution Channel
4.3.3. Market Attractiveness Analysis by Region
4.4. Industry Trends

5. Market Dynamics
5.1. Market Evaluation
5.2. Drivers
5.2.1. The rising spending on grooming products
5.3. Restraints
5.3.1. Presence of counterfeit products
5.4. Opportunities
5.4.1. Development of new products

6. Global Hair Accessories Market Analysis and Forecast, By Product
6.1. Segment Overview
6.2. Scrunchies & Ties
6.3. Headbands
6.4. Wigs & extensions
6.5. Clips & Pins
6.6. Others

7. Global Hair Accessories Market Analysis and Forecast, By Distribution Channel
7.1. Segment Overview
7.2. Supermarkets & Hypermarkets
7.3. Convenience Stores
7.4. Online
7.5. Others

8. Global Hair Accessories Market Analysis and Forecast, By Regional Analysis
8.1. Segment Overview
8.2. North America
8.2.1. U.S.
8.2.2. Canada
8.2.3. Mexico
8.3. Europe
8.3.1. Germany
8.3.2. France
8.3.3. U.K.
8.3.4. Italy
8.3.5. Spain
8.4. Asia-Pacific
8.4.1. Japan
8.4.2. China
8.4.3. India
8.5. South America
8.5.1. Brazil
8.6. Middle East and Africa
8.6.1. UAE
8.6.2. South Africa

9. Global Hair Accessories Market-Competitive Landscape
9.1. Overview
9.2. Market Share of Key Players in the Hair Accessories Market
9.2.1. Global Company Market Share
9.2.2. North America Company Market Share
9.2.3. Europe Company Market Share
9.2.4. APAC Company Market Share
9.3. Competitive Situations and Trends
9.3.1. Product Launches and Developments
9.3.2. Partnerships, Collaborations, and Agreements
9.3.3. Mergers & Acquisitions
9.3.4. Expansions

10. Company Profiles
10.1. Goody Products Inc.
10.1.1. Business Overview
10.1.2. Company Snapshot
10.1.3. Company Market Share Analysis
10.1.4. Company Product Portfolio
10.1.5. Recent Developments
10.1.6. SWOT Analysis
10.2. Bunzee Bands
10.2.1. Business Overview
10.2.2. Company Snapshot
10.2.3. Company Market Share Analysis
10.2.4. Company Product Portfolio
10.2.5. Recent Developments
10.2.6. SWOT Analysis
10.3. Creative Findings
10.3.1. Business Overview
10.3.2. Company Snapshot
10.3.3. Company Market Share Analysis
10.3.4. Company Product Portfolio
10.3.5. Recent Developments
10.3.6. SWOT Analysis
10.4. Good Hair Days
10.4.1. Business Overview
10.4.2. Company Snapshot
10.4.3. Company Market Share Analysis
10.4.4. Company Product Portfolio
10.4.5. Recent Developments
10.4.6. SWOT Analysis
10.5. Conair Corporation
10.5.1. Business Overview
10.5.2. Company Snapshot
10.5.3. Company Market Share Analysis
10.5.4. Company Product Portfolio
10.5.5. Recent Developments
10.5.6. SWOT Analysis
10.6. Silke London
10.6.1. Business Overview
10.6.2. Company Snapshot
10.6.3. Company Market Share Analysis
10.6.4. Company Product Portfolio
10.6.5. Recent Developments
10.6.6. SWOT Analysis
10.7. Forever 21
10.7.1. Business Overview
10.7.2. Company Snapshot
10.7.3. Company Market Share Analysis
10.7.4. Company Product Portfolio
10.7.5. Recent Developments
10.7.6. SWOT Analysis
10.8. SwirlyCurly Hair
10.8.1. Business Overview
10.8.2. Company Snapshot
10.8.3. Company Market Share Analysis
10.8.4. Company Product Portfolio
10.8.5. Recent Developments
10.8.6. SWOT Analysis
10.9. SOQ Jewelry
10.9.1. Business Overview
10.9.2. Company Snapshot
10.9.3. Company Market Share Analysis
10.9.4. Company Product Portfolio
10.9.5. Recent Developments
10.9.6. SWOT Analysis
10.10. Claire's
10.10.1. Business Overview
10.10.2. Company Snapshot
10.10.3. Company Market Share Analysis
10.10.4. Company Product Portfolio
10.10.5. Recent Developments
10.10.6. SWOT Analysis
10.11. H&M
10.11.1. Business Overview
10.11.2. Company Snapshot
10.11.3. Company Market Share Analysis
10.11.4. Company Product Portfolio
10.11.5. Recent Developments
10.11.6. SWOT Analysis

List of Table
1. Global Hair Accessories Market, By Product, 2019-2030 (USD Billion)
2. Global Scrunchies & Ties Hair Accessories Market, By Region, 2019-2030 (USD Billion)
3. Global Headbands Hair Accessories Market, By Region, 2019-2030 (USD Billion)
4. Global Wigs & extensions Hair Accessories Market, By Region, 2019-2030 (USD Billion)
5. Global Clips & Pins Hair Accessories Market, By Region, 2019-2030 (USD Billion)
6. Global Others Hair Accessories Market, By Region, 2019-2030 (USD Billion)
7. Global Hair Accessories Market, By Distribution Channel, 2019-2030 (USD Billion)
8. Global Supermarkets & Hypermarkets Hair Accessories Market, By Region, 2019-2030 (USD Billion)
9. Global Convenience Stores Hair Accessories Market, By Region, 2019-2030 (USD Billion)
10. Global Online Hair Accessories Market, By Region, 2019-2030 (USD Billion)
11. Global Others Hair Accessories Market, By Region, 2019-2030 (USD Billion)
12. Global Hair Accessories Market, By Region, 2019-2030 (USD Billion)
13. North America Hair Accessories Market, By Product, 2019-2030 (USD Billion)
14. North America Hair Accessories Market, By Distribution Channel, 2019-2030 (USD Billion)
15. U.S. Hair Accessories Market, By Product, 2019-2030 (USD Billion)
16. U.S. Hair Accessories Market, By Distribution Channel, 2019-2030 (USD Billion)
17. Canada Hair Accessories Market, By Product, 2019-2030 (USD Billion)
18. Canada Hair Accessories Market, By Distribution Channel, 2019-2030 (USD Billion)
19. Mexico Hair Accessories Market, By Product, 2019-2030 (USD Billion)
20. Mexico Hair Accessories Market, By Distribution Channel, 2019-2030 (USD Billion)
21. Europe Hair Accessories Market, By Product, 2019-2030 (USD Billion)
22. Europe Hair Accessories Market, By Distribution Channel, 2019-2030 (USD Billion)
23. Germany Hair Accessories Market, By Product, 2019-2030 (USD Billion)
24. Germany Hair Accessories Market, By Distribution Channel, 2019-2030 (USD Billion)
25. France Hair Accessories Market, By Product, 2019-2030 (USD Billion)
26. France Hair Accessories Market, By Distribution Channel, 2019-2030 (USD Billion)
27. U.K. Hair Accessories Market, By Product, 2019-2030 (USD Billion)
28. U.K. Hair Accessories Market, By Distribution Channel, 2019-2030 (USD Billion)
29. Italy Hair Accessories Market, By Product, 2019-2030 (USD Billion)
30. Italy Hair Accessories Market, By Distribution Channel, 2019-2030 (USD Billion)
31. Spain Hair Accessories Market, By Product, 2019-2030 (USD Billion)
32. Spain Hair Accessories Market, By Distribution Channel, 2019-2030 (USD Billion)
33. Asia Pacific Hair Accessories Market, By Product, 2019-2030 (USD Billion)
34. Asia Pacific Hair Accessories Market, By Distribution Channel, 2019-2030 (USD Billion)
35. Japan Hair Accessories Market, By Product, 2019-2030 (USD Billion)
36. Japan Hair Accessories Market, By Distribution Channel, 2019-2030 (USD Billion)
37. China Hair Accessories Market, By Product, 2019-2030 (USD Billion)
38. China Hair Accessories Market, By Distribution Channel, 2019-2030 (USD Billion)
39. India Hair Accessories Market, By Product, 2019-2030 (USD Billion)
40. India Hair Accessories Market, By Distribution Channel, 2019-2030 (USD Billion)
41. South America Hair Accessories Market, By Product, 2019-2030 (USD Billion)
42. South America Hair Accessories Market, By Distribution Channel, 2019-2030 (USD Billion)
43. Brazil Hair Accessories Market, By Product, 2019-2030 (USD Billion)
44. Brazil Hair Accessories Market, By Distribution Channel, 2019-2030 (USD Billion)
45. Middle East and Africa Hair Accessories Market, By Product, 2019-2030 (USD Billion)
46. Middle East and Africa Hair Accessories Market, By Distribution Channel, 2019-2030 (USD Billion)
47. UAE Hair Accessories Market, By Product, 2019-2030 (USD Billion)
48. UAE Hair Accessories Market, By Distribution Channel, 2019-2030 (USD Billion)
49. South Africa Hair Accessories Market, By Product, 2019-2030 (USD Billion)
50. South Africa Hair Accessories Market, By Distribution Channel, 2019-2030 (USD Billion)
List of Figures
1. Global Hair Accessories Market Segmentation
2. Hair Accessories Market: Research Methodology
3. Market Size Estimation Methodology: Bottom-Up Approach
4. Market Size Estimation Methodology: Top-Down Approach
5. Data Triangulation
6. Porter's Five Forces Analysis
7. Value Chain Analysis
8. Global Hair Accessories Market Attractiveness Analysis by Product
9. Global Hair Accessories Market Attractiveness Analysis by Distribution Channel
10. Global Hair Accessories Market Attractiveness Analysis by Region
11. Global Hair Accessories Market: Dynamics
12. Global Hair Accessories Market Share by Product (2022 & 2030)
13. Global Hair Accessories Market Share by Distribution Channel (2022 & 2030)
14. Global Hair Accessories Market Share by Regions (2022 & 2030)
15. Global Hair Accessories Market Share by Company (2021)