The global yeast protein market was valued at USD 143.95 million in 2022, increasing at a CAGR of 8.39% from 2022 to 2030 and is anticipated to reach USD 274.20 million by 2030. Asia-Pacific is expected to grow the fastest during the forecast period. The yeast protein industry was negatively affected by the COVID-19 epidemic. Bakery, packaged food and meat products observed a decrease in sales and reduced the need for yeast extract in these industries significantly. It was also observed that yeast is used in personal care and cosmetics products, and the demand for these products declined substantially.
Market Introduction:
Yeast protein is a type of high-quality protein. It is having 9 kinds of amino acids which is required for the human body which, include histidine, which is very important for the growth of children. The amino acid score digestibility correction is 1, which is more than soybean protein and equivalent to whey protein. The total amount of important amino acids accounts for around 47.58% of the total amino acids. The ratio of essential amino acids to non-essential amino acids reaches around 0.91, following the 40% and 0.6 mentioned in the standards of FAO/WHO. This makes it higher than the soybean protein and closer to that whey protein. Moreover, lysine is low in cereal food but is rich in yeast protein. Lysine is considered very nutritious in promoting human growth and development, which enhances body immunity. It offers resistance to the virus, promotes fat oxidation and relieves anxiety. Based on one of the studies, around 83% of adults think yeast protein is a good source of protein. It is observed that plant-based proteins often give the flavour challenges like gritty, earthy, starchy, beany or bitter etc. But yeast protein does not bring a flavour of its own, so it is easy to use in food product formulations. This makes it a very functional, flexible and easy-to-use building block for high-protein food.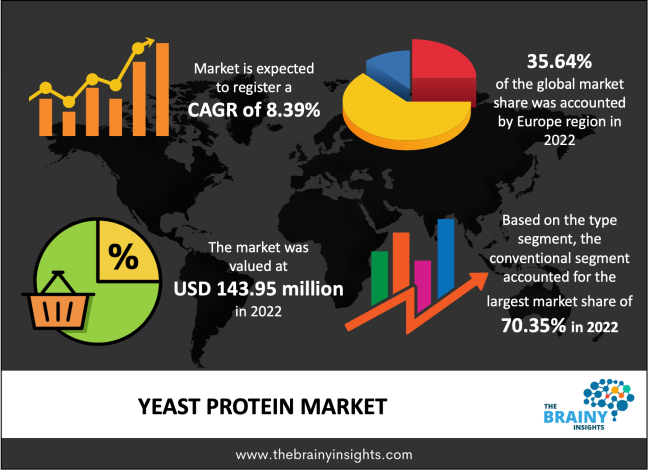 Get an overview of this study by requesting a free sample
Recent Development
For example, in September 2022, an Israeli company called Nextferm announced the production deal of one of its leading products, ProteVin vegan protein. For this, the production plant will be built in the Balkan region. The ProteVin ingredient is manufactured from a proprietary strain of Saccharomyces cerevisiae or brewers yeast. It has some advantages over plant-based protein, and hence its demand is increasing, and the organization will expand its customer base.
For example, in August 2021, Angel Yeast Co. acquired the yeast-relevant asset of Bio Sunkeen Co. This is helping the organization optimise its production capacity and strengthen its position. The organization has planned to utilize Bio Sunkeen's present facilities for the future expansion plan. This acquisition is in line with Angel Yeast's 2025 strategy, which focuses on yeast biotechnology, health and nutritional products, among others.
Market Dynamics:
Drivers:
Growing vegan population: Based on recent UK studies, the country's meat consumption declined by 17% in the past decade. The vegan population is growing in this region and across the world. Some surveys show that there is rapid growth in this population, and there was a 40% increase in 2020, which brings the total to around 1.5 million population in the UK. This could be an overestimate, but more than 500,000 pledged to eat vegan as part of recent year's Veganuary. Globally there are around 79 million population who are estimated to be vegan. Around 500,000 people participate in Veganuary in the UK every year, an increase from 400,000 in 2020 to 250,000 in 2019. In the UK, proportion-wise, around 66% of females are vegan, and the global food market is estimated to reach around USD 24.3 billion by 2026. These factors have eventually created the demand for yeast protein which can be easily used in vegan products as the protein source. All these factors are driving the yeast protein market.
Sustainable protein source: The yeast protein is getting more attention for its sustainable and minimally managed production process via fermentation. Even if yeast needs a sugar source to grow, its protein production needs little land use, and it is better environmentally sustainable than animal-derived proteins. This yeast protein, specifically yeast, comes from a natural origin. It is considered useful as a food component among consumers and manufacturers because of its clean labelling. Consumers are looking for products with natural and recognizable products, and yeast is recognized all across the world. Yeast protein is considered a sustainable protein source. All these factors are driving the growth of the yeast protein market.
Restraints:
Side Effects: Nutritional yeast could cause many side effects, like it could cause many unpleasant digestive side effects when introduced too quickly, as introducing too much fiber too quickly could lead to abdominal discomforts like cramps or even diarrhoea. Nutritional yeast is a good source of many vitamins and minerals like vitamin B-12 and zinc, and some of the yeast products have compounds like tyramine which could trigger migraine attacks in some cases. Nutritional yeast is also a good source of niacin. The consumption of a large amount of niacin could cause facial flushing. In some cases, this yeast could also be responsible for inflammatory bowel disease, and some people are yeast intolerant. These factors are acting as a restraint for the market.
Opportunities:
Great potential for sports nutrition applications: The global population is increasing significantly, so the demand for high-quality protein is growing rapidly. The global population is estimated to grow to around 9.7 billion by 2050, and around two-thirds are estimated to live in urban areas. Along with the increase in the population, eating habits are also changing substantially and thus creating a significant protein gap between the protein available and the expected demand in 2050. Also, consumers require products which provide nutritional boosts and functional benefits to help them through the day. Sports nutrition product demand is increasing, and many key brands focus on yeast protein for sports nutritional supplements. These factors would propel the yeast protein market in the forecasting period.
Challenges:
Availability of substitutes: There are substitutes in the market, like plant-based and animal-based proteins, which are also in demand. Hence there are substitutes present, which is acting as a challenge for the yeast protein market.
Segmentation analysis:
Regional segmentation analysis:
The regions analyzed for the market include Europe, South America, Asia Pacific, North America, the Middle East, and Africa. Europe emerged as the largest market for the global yeast protein market, with a 35.64% share of the market revenue in 2022. Europe dominates the yeast protein market due to the high demand for food products. Yeast protein can be very smoothly added to vegan products like cheese or meat substitutes. According to another study, around 78% of French and German vegetarians believe that yeast protein provides a good nutritional balance. This protein is also gluten-free. Research shows that nutritional yeast helps combat brittle nails and hair loss. It also helps decrease acne and improve other skin problems, especially in adolescence. This yeast protein is also an excellent protein source for young animals. The Asia Pacific is expected to grow the fastest during the forecast period. It has been observed that the protein powder market in Europe, America and Japan has shown interest in yeast protein. Some of the leading nutritional brands are looking to exploit this opportunity. Yeast protein has a huge opportunity in the protein supplement market.
Europe Region Yeast Protein Market Share in 2022 - 35.64%
www.thebrainyinsights.com
Check the geographical analysis of this market by requesting a free sample
Type segment analysis
The type segment is divided into conventional and organic. The conventional segment dominated, with a market share of around 70.35% in 2022. Animal experiments have proven that the yeast protein could substantially improve the density of muscle mass and muscle fibers of ageing mice. Also, yeast protein is an environment-friendly protein. In comparison with plant and animal proteins that have long planting and breeding cycles, yeast protein is pulled from yeast using a short production cycle and high efficiency.
Application segment analysis
The application segment is divided into food, medicine, feed and other. In 2022, the food segment dominated the market with the largest market share of 46.33% and market revenue of 66.69 million. This growth is attributed to the growing demand for vegan products. Yeast protein is not having a flavour, so it can be comfortably utilised in food product formulations. Its neutral flavour makes it a flexible, usable, easy-to-use component for high-protein foodstuffs. It is an animal-free component suitable for vegetarian, vegan and flexitarian diets. It has a well-proportional amino acid composition and micronutrients; hence, it is essential for vegan people.
Some of the Key Market Players:
Angel Yeast Co., Ltd
Van Wankum Ingredients
Biospringer (Subsidiary of Lesaffre)
Titan Biotech Limited
Lallemand Inc. (Subsidiary of Chagnon Family)
Mitushi BioPharma
Report Description:
| Attribute | Description |
| --- | --- |
| Market Size | Revenue (USD Million) |
| Market size value in 2022 | USD 143.95 Million |
| Market size value in 2030 | USD 274.20 Million |
| CAGR (2022 to 2030) | 8.39% |
| Historical data | 2019-2020 |
| Base Year | 2021 |
| Forecast | 2022-2030 |
| Segments | Key Segments are type, application and regions |
| Regional Segments | The key regions are South America, North America, Europe, Asia Pacific, and Middle East & Africa. |
Frequesntly Asked Questions
1. Introduction
1.1. Objectives of the Study
1.2. Market Definition
1.3. Research Scope
1.4. Currency
1.5. Key Target Audience

2. Research Methodology and Assumptions

3. Executive Summary

4. Premium Insights
4.1. Porter's Five Forces Analysis
4.2. Value Chain Analysis
4.3. Top Investment Pockets
4.3.1. Market Attractiveness Analysis by Type
4.3.2. Market Attractiveness Analysis by Application
4.3.3. Market Attractiveness Analysis by Region
4.4. Industry Trends

5. Market Dynamics
5.1. Market Evaluation
5.2. Drivers
5.2.1. Growing vegan population
5.2.2. Sustainable protein source
5.3. Restraints
5.3.1. Side effects
5.4. Opportunities
5.4.1. Great potential for sports nutrition applications
5.5. Challenges
5.5.1. Availability of substitutes

6. Global Yeast Protein Market Analysis and Forecast, By Type
6.1. Segment Overview
6.2. Conventional
6.3. Organic

7. Global Yeast Protein Market Analysis and Forecast, By Application
7.1. Segment Overview
7.2. Food
7.3. Medicine
7.4. Feed
7.5. Other

8. Global Yeast Protein Market Analysis and Forecast, By Regional Analysis
8.1. Segment Overview
8.2. North America
8.2.1. U.S.
8.2.2. Canada
8.2.3. Mexico
8.3. Europe
8.3.1. Germany
8.3.2. France
8.3.3. U.K.
8.3.4. Italy
8.3.5. Spain
8.4. Asia-Pacific
8.4.1. Japan
8.4.2. China
8.4.3. India
8.5. South America
8.5.1. Brazil
8.6. Middle East and Africa
8.6.1. UAE
8.6.2. South Africa

9. Global Yeast Protein Market-Competitive Landscape
9.1. Overview
9.2. Market Share of Key Players in the Yeast Protein Market
9.2.1. Global Company Market Share
9.2.2. North America Company Market Share
9.2.3. Europe Company Market Share
9.2.4. APAC Company Market Share
9.3. Competitive Situations and Trends
9.3.1. Product Launches and Developments
9.3.2. Partnerships, Collaborations, and Agreements
9.3.3. Mergers & Acquisitions
9.3.4. Expansions

10. Company Profiles
10.1. Angel Yeast Co., Ltd.
10.1.1. Business Overview
10.1.2. Company Snapshot
10.1.3. Company Market Share Analysis
10.1.4. Company Product Portfolio
10.1.5. Recent Developments
10.1.6. SWOT Analysis
10.2. Van Wankum Ingredients
10.2.1. Business Overview
10.2.2. Company Snapshot
10.2.3. Company Market Share Analysis
10.2.4. Company Product Portfolio
10.2.5. Recent Developments
10.2.6. SWOT Analysis
10.3. Biospringer (Subsidiary of Lesaffre)
10.3.1. Business Overview
10.3.2. Company Snapshot
10.3.3. Company Market Share Analysis
10.3.4. Company Product Portfolio
10.3.5. Recent Developments
10.3.6. SWOT Analysis
10.4. Titan Biotech Limited
10.4.1. Business Overview
10.4.2. Company Snapshot
10.4.3. Company Market Share Analysis
10.4.4. Company Product Portfolio
10.4.5. Recent Developments
10.4.6. SWOT Analysis
10.5. Lallemand Inc. (Subsidiary of Chagnon Family)
10.5.1. Business Overview
10.5.2. Company Snapshot
10.5.3. Company Market Share Analysis
10.5.4. Company Product Portfolio
10.5.5. Recent Developments
10.5.6. SWOT Analysis
10.6. Mitushi BioPharma
10.6.1. Business Overview
10.6.2. Company Snapshot
10.6.3. Company Market Share Analysis
10.6.4. Company Product Portfolio
10.6.5. Recent Developments
10.6.6. SWOT Analysis

List of Table
1. Global Yeast Protein Market, By Type, 2019-2030 (USD Billion)
2. Global Conventional Yeast Protein Market, By Region, 2019-2030 (USD Billion)
3. Global Organic Yeast Protein Market, By Region, 2019-2030 (USD Billion)
4. Global Yeast Protein Market, By Application, 2019-2030 (USD Billion)
5. Global Food Yeast Protein Market, By Region, 2019-2030 (USD Billion)
6. Global Medicine Yeast Protein Market, By Region, 2019-2030 (USD Billion)
7. Global Feed Yeast Protein Market, By Region, 2019-2030 (USD Billion)
8. Global Other Yeast Protein Market, By Region, 2019-2030 (USD Billion)
9. Global Yeast Protein Market, By Region, 2019-2030 (USD Billion)
10. North America Yeast Protein Market, By Type, 2019-2030 (USD Billion)
11. North America Yeast Protein Market, By Application, 2019-2030 (USD Billion)
12. U.S. Yeast Protein Market, By Type, 2019-2030 (USD Billion)
13. U.S. Yeast Protein Market, By Application, 2019-2030 (USD Billion)
14. Canada Yeast Protein Market, By Type, 2019-2030 (USD Billion)
15. Canada Yeast Protein Market, By Application, 2019-2030 (USD Billion)
16. Mexico Yeast Protein Market, By Type, 2019-2030 (USD Billion)
17. Mexico Yeast Protein Market, By Application, 2019-2030 (USD Billion)
18. Europe Yeast Protein Market, By Type, 2019-2030 (USD Billion)
19. Europe Yeast Protein Market, By Application, 2019-2030 (USD Billion)
20. Germany Yeast Protein Market, By Type, 2019-2030 (USD Billion)
21. Germany Yeast Protein Market, By Application, 2019-2030 (USD Billion)
22. France Yeast Protein Market, By Type, 2019-2030 (USD Billion)
23. France Yeast Protein Market, By Application, 2019-2030 (USD Billion)
24. U.K. Yeast Protein Market, By Type, 2019-2030 (USD Billion)
25. U.K. Yeast Protein Market, By Application, 2019-2030 (USD Billion)
26. Italy Yeast Protein Market, By Type, 2019-2030 (USD Billion)
27. Italy Yeast Protein Market, By Application, 2019-2030 (USD Billion)
28. Spain Yeast Protein Market, By Type, 2019-2030 (USD Billion)
29. Spain Yeast Protein Market, By Application, 2019-2030 (USD Billion)
30. Asia Pacific Yeast Protein Market, By Type, 2019-2030 (USD Billion)
31. Asia Pacific Yeast Protein Market, By Application, 2019-2030 (USD Billion)
32. Japan Yeast Protein Market, By Type, 2019-2030 (USD Billion)
33. Japan Yeast Protein Market, By Application, 2019-2030 (USD Billion)
34. China Yeast Protein Market, By Type, 2019-2030 (USD Billion)
35. China Yeast Protein Market, By Application, 2019-2030 (USD Billion)
36. India Yeast Protein Market, By Type, 2019-2030 (USD Billion)
37. India Yeast Protein Market, By Application, 2019-2030 (USD Billion)
38. South America Yeast Protein Market, By Type, 2019-2030 (USD Billion)
39. South America Yeast Protein Market, By Application, 2019-2030 (USD Billion)
40. Brazil Yeast Protein Market, By Type, 2019-2030 (USD Billion)
41. Brazil Yeast Protein Market, By Application, 2019-2030 (USD Billion)
42. Middle East and Africa Yeast Protein Market, By Type, 2019-2030 (USD Billion)
43. Middle East and Africa Yeast Protein Market, By Application, 2019-2030 (USD Billion)
44. UAE Yeast Protein Market, By Type, 2019-2030 (USD Billion)
45. UAE Yeast Protein Market, By Application, 2019-2030 (USD Billion)
46. South Africa Yeast Protein Market, By Type, 2019-2030 (USD Billion)
47. South Africa Yeast Protein Market, By Application, 2019-2030 (USD Billion)
List of Figures
1. Global Yeast Protein Market Segmentation
2. Yeast Protein Market: Research Methodology
3. Market Size Estimation Methodology: Bottom-Up Approach
4. Market Size Estimation Methodology: Top-Down Approach
5. Data Triangulation
6. Porter's Five Forces Analysis
7. Value Chain Analysis
8. Global Yeast Protein Market Attractiveness Analysis by Type
9. Global Yeast Protein Market Attractiveness Analysis by Application
10. Global Yeast Protein Market Attractiveness Analysis by Region
11. Global Yeast Protein Market: Dynamics
12. Global Yeast Protein Market Share by Type (2022 & 2030)
13. Global Yeast Protein Market Share by Application (2022 & 2030)
14. Global Yeast Protein Market Share by Regions (2022 & 2030)
15. Global Yeast Protein Market Share by Company (2021)