Report Overview
The global vegan sauces and dressings market was valued at USD 247.3 million in 2021 and is expected to grow with a CAGR of 9.5% from 2022-2030. The shifting consumer food preferences, increasing vegan population, the rising prevalence of lactose intolerance, and increasing awareness toward animal cruelty are some of the factors driving the demand for vegan sauces and dressings. According to United Nations 2021, the total number of vegans in the world is around 79 million. Further, the number of vegans in the US grew by 600 % from 4 million in 2014 to 20 million in 2018.
According to Google Trends, the UK was the country most interested in 'veganism' in 2019, followed by Australia, and New Zealand. Thus, these countries offer immense growth opportunities for the market. Further, an increase in the number of product launches is also supporting the market growth. For instance, in May 2021, v2food, a plant-based company launched a bolognese sauce in Australia and is available in the supermarket Woolworths. Similarly, in April 2022, The Vurger Co., a plant-based QSR chain in the UK launched its Cheezy Vegan Sauce in 635 Co-op stores.
Regular or conventional vegan sauces are a lot cheaper compared to their vegan counterparts, which is acting as a major restraint to the market growth. For instance, Botticelli Vegan Bolognese Pasta Sauce of 24 Oz cost ranges from USD 4.42 to USD 4.48 while Prego Pasta Sauce of 24 Oz cost ranges from USD 2.15 to USD 2.28. Thus, the high price of products has been influencing product adoption among consumers. Further, there are some limitations when it comes to vegan sauces and spreads in terms of texture, taste, consistency, and flavor. Conventional spreads are mainly made of cheese, heavy cream, eggs, and butter while vegan sauces are made from tofu, soy milk, almond milk, or cashew milk. These dairy substitutes alter the taste, flavor, and consistency of the products, which acts as a major deterrent for many consumers.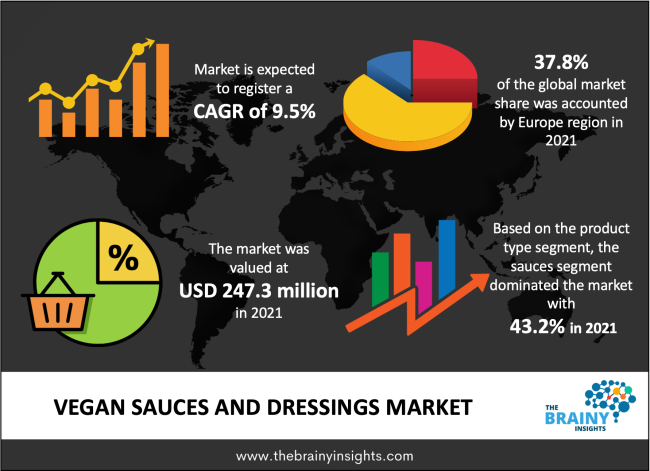 Get an overview of this study by requesting a free sample
The key players in this market are launching new and innovative products and are offering vegan alternatives for most dairy-based products including sauces and dips. For instance, in September 2020, Violife Foods launched its new line of chocolate spreads under the brand name 'CocoaSpread'. This is the first-ever vegan chocolate spread made from coconut, brown sugar, and cocoa powder and is free from nuts, soy, lactose, and gluten. Such innovative products are making market entry easier and more efficient for players. Companies are also teaming up with celebrities and social media influencers to promote their products. Celebrities such as Peter Dinklage, Anushka Sharma, Virat Kohli, Rihanna, and Jay Z have gone vegan and this has played a significant role in changing consumer perception.
Product Insights
Based on product, sauces emerged as the largest segment in 2021, with a share of 43.2%. Sauces find application in a wide range of dishes such as pasta, salad, sandwich, and even some types of curry, which is driving the segment's growth. Further, increase product launches in this category is also likely to boost the growth. For instance, in September 2022, Macphie, a global food and ingredient manufacturer launched a plant-based taco sauce for the food service channel. Some of the popular brands of vegan sauce include Simply Organic, Mike's Organic Foods, Primal Kitchen, The Vine, Otamot, and Do Anything.
The dressings segment is expected to register a faster CAGR of 10.3% during the forecast period. Vegan dressings are majorly made up of soy cream, mustard, soy milk, and other whole ingredients. Some of the popular brands include Daiya, Follow Your Heart, and Annie's Organic, which can be added to salad, sandwiches, and other recipes. The growing consumer inclination towards vegan dressings has prompted manufacturers to offer new products with exotic flavors. For instance, in January 2020, Tesco launched a condiment range through its vegan brand Wicked Kitchen in the UK.
Distribution Channel Insights
The retail distribution channel held a larger market share in 2021. It has been further bifurcated into supermarkets & hypermarkets, online, and other distribution channels. The wide availability of both premium and private label brands at retail stores such as Walmart, Tesco, and Kroger attracts consumers to purchase products through these stores. Further, most of the products are also debuted at big supermarkets due to their large customer base. For instance, in June 2022, Lola's Hot Sauce was launched in Midwest Target and Walmart stores in the US. These hot sauces are available in eight flavors, seven of which are plant-based and vegan-friendly—and all made with fresh ingredients.
Foodservice channel is expected to register faster growth during the forecast period as consumers have started preferring vegan food products while eating out of the home. Further, an increase in the number of vegan restaurants across the globe is also supporting the growth of this market. According to the US Vegan Restaurant Industry Statistics of 2020, there are more than 1,474 plant-based restaurants in the US. According to a report by Google, searches for ''vegan food near me" experienced a more than 5,000 % increase in 202. Further product launches are also supporting the segment's growth. For instance, in September 2019, Indianlife launched vegan sauces for food service.
Regional Insights
Europe held the largest market share of over 37.8% of the market in 2021. In the last few years, the vegan movement has exploded in the European countries, majorly the UK, Italy, and Germany, owing to the growing awareness among people about health, the environment, and ethical issues linked with the consumption of dairy and meat. Millennials and Generation Z are opting for vegan food, due to the growing concerns for health and sustainability. All these factors are expected to drive the market in Europe. Further, as per Google data searches for vegan restaurants have tripled in the last four years, from 60,000 searches per month in 2017 to more than 200,000 searches per month in 2020 in the UK
Asia Pacific is the fastest-growing region in the market with a CAGR of 9.8%. Increasing awareness about the benefits of vegan food and growing concerns for animals and the environment are expected to drive the demand for vegan sauces and dressings. Furthermore, the growing focus on leading a healthier lifestyle and attraction toward international cuisines such as salad, pasta, etc., especially among millennials, is driving the market growth. The trend for healthy products and the demand for premium sauces are anticipated to further drive the market growth. Thus, various manufacturers are launching products in this category to fulfill the demand. For instance, in September 2020, Hello Friends Foods, an Australia-based startup, launched several vegan products including halloumi, mozzarella, and cheese sauce.
Key Players
The market is fragmented in nature with the presence of well-established players and several small and medium players. These manufacturers are adopting various strategies, including new product launches, partnerships, and expansion of product portfolios, to increase their market share.
Violife Foods
General Mills
Primal Kitchen.
Grabenord
CLX (Hidden Valley)
Panos Brands
Heinz
Follow Your Heart
Maustaja
Meridian Foods Limited
DAIYA FOODS INC.
Segments Covered in the Report
Product
Distribution Channel

Retail

Supermarkets & Hypermarkets
Online
Others

Foodservice

Regional

North America
Europe
Asia Pacific

China
Japan
India
Australia

Central & South America
Middle East & Africa
1. Introduction
1.1. Objectives of the Study
1.2. Market Definition
1.3. Research Scope
1.4. Currency
1.5. Key Target Audience

2. Research Methodology and Assumptions

3. Executive Summary

4. Premium Insights
4.1. Porter's Five Forces Analysis
4.2. Value Chain Analysis
4.3. Top Investment Pockets
4.3.1. Market Attractiveness Analysis by Product
4.3.2. Market Attractiveness Analysis by Distribution Channel
4.3.3. Market Attractiveness Analysis by Region
4.4. Industry Trends

5. Market Dynamics
5.1. Market Evaluation
5.2. Drivers
5.2.1. The rising incidence of food allergies among consumers has prompted them to try or shift towards vegan products
5.2.2. Growing trend of cooking at home to maintain a healthier diet
5.3. Restraints
5.3.1. High price of products
5.4. Opportunities
5.4.1. Increasing awareness toward animal cruelty

6. Global Vegan Sauces and Dressings Market Analysis and Forecast, By Product
6.1. Segment Overview
6.2. Sauces
6.3. Dressings

7. Global Vegan Sauces and Dressings Market Analysis and Forecast, By Distribution Channel
7.1. Segment Overview
7.2. Retail
7.2.1. Supermarkets & Hypermarkets
7.2.2. Online
7.2.3. Others
7.3. Foodservice

8. Global Vegan Sauces and Dressings Market Analysis and Forecast, By Regional Analysis
8.1. Segment Overview
8.2. North America
8.2.1. U.S.
8.2.2. Canada
8.2.3. Mexico
8.3. Europe
8.3.1. Germany
8.3.2. France
8.3.3. U.K.
8.3.4. Italy
8.3.5. Spain
8.4. Asia-Pacific
8.4.1. Japan
8.4.2. China
8.4.3. India
8.5. South America
8.5.1. Brazil
8.6. Middle East and Africa
8.6.1. UAE
8.6.2. South Africa

9. Global Vegan Sauces and Dressings Market-Competitive Landscape
9.1. Overview
9.2. Market Share of Key Players in the Vegan Sauces and Dressings Market
9.2.1. Global Company Market Share
9.2.2. North America Company Market Share
9.2.3. Europe Company Market Share
9.2.4. APAC Company Market Share
9.3. Competitive Situations and Trends
9.3.1. Product Launches and Developments
9.3.2. Partnerships, Collaborations, and Agreements
9.3.3. Mergers & Acquisitions
9.3.4. Expansions

10. Company Profiles
10.1. Violife Foods
10.1.1. Business Overview
10.1.2. Company Snapshot
10.1.3. Company Market Share Analysis
10.1.4. Company Product Portfolio
10.1.5. Recent Developments
10.1.6. SWOT Analysis
10.2. General Mills
10.2.1. Business Overview
10.2.2. Company Snapshot
10.2.3. Company Market Share Analysis
10.2.4. Company Product Portfolio
10.2.5. Recent Developments
10.2.6. SWOT Analysis
10.3. Primal Kitchen
10.3.1. Business Overview
10.3.2. Company Snapshot
10.3.3. Company Market Share Analysis
10.3.4. Company Product Portfolio
10.3.5. Recent Developments
10.3.6. SWOT Analysis
10.4. Grabenord
10.4.1. Business Overview
10.4.2. Company Snapshot
10.4.3. Company Market Share Analysis
10.4.4. Company Product Portfolio
10.4.5. Recent Developments
10.4.6. SWOT Analysis
10.5. CLX (Hidden Valley)
10.5.1. Business Overview
10.5.2. Company Snapshot
10.5.3. Company Market Share Analysis
10.5.4. Company Product Portfolio
10.5.5. Recent Developments
10.5.6. SWOT Analysis
10.6. Panos Brands
10.6.1. Business Overview
10.6.2. Company Snapshot
10.6.3. Company Market Share Analysis
10.6.4. Company Product Portfolio
10.6.5. Recent Developments
10.6.6. SWOT Analysis
10.7. Heinz
10.7.1. Business Overview
10.7.2. Company Snapshot
10.7.3. Company Market Share Analysis
10.7.4. Company Product Portfolio
10.7.5. Recent Developments
10.7.6. SWOT Analysis
10.8. Follow Your Heart
10.8.1. Business Overview
10.8.2. Company Snapshot
10.8.3. Company Market Share Analysis
10.8.4. Company Product Portfolio
10.8.5. Recent Developments
10.8.6. SWOT Analysis
10.9. Maustaja
10.9.1. Business Overview
10.9.2. Company Snapshot
10.9.3. Company Market Share Analysis
10.9.4. Company Product Portfolio
10.9.5. Recent Developments
10.9.6. SWOT Analysis
10.10. Meridian Foods Limited
10.10.1. Business Overview
10.10.2. Company Snapshot
10.10.3. Company Market Share Analysis
10.10.4. Company Product Portfolio
10.10.5. Recent Developments
10.10.6. SWOT Analysis
10.11. DAIYA FOODS INC.
10.11.1. Business Overview
10.11.2. Company Snapshot
10.11.3. Company Market Share Analysis
10.11.4. Company Product Portfolio
10.11.5. Recent Developments
10.11.6. SWOT Analysis

List of Table
1. Global Vegan Sauces and Dressings Market, By Product, 2019-2030 (USD Billion)
2. Global Sauces Vegan Sauces and Dressings Market, By Region, 2019-2030 (USD Billion)
3. Global Dressings Vegan Sauces and Dressings Market, By Region, 2019-2030 (USD Billion)
4. Global Vegan Sauces and Dressings Market, By Distribution Channel, 2019-2030 (USD Billion)
5. Global Retail Vegan Sauces and Dressings Market, By Region, 2019-2030 (USD Billion)
6. Global Foodservice Vegan Sauces and Dressings Market, By Region, 2019-2030 (USD Billion)
7. Global Vegan Sauces and Dressings Market, By Region, 2019-2030 (USD Billion)
8. North America Vegan Sauces and Dressings Market, By Product, 2019-2030 (USD Billion)
9. North America Vegan Sauces and Dressings Market, By Distribution Channel, 2019-2030 (USD Billion)
10. U.S. Vegan Sauces and Dressings Market, By Product, 2019-2030 (USD Billion)
11. U.S. Vegan Sauces and Dressings Market, By Distribution Channel, 2019-2030 (USD Billion)
12. Canada Vegan Sauces and Dressings Market, By Product, 2019-2030 (USD Billion)
13. Canada Vegan Sauces and Dressings Market, By Distribution Channel, 2019-2030 (USD Billion)
14. Mexico Vegan Sauces and Dressings Market, By Product, 2019-2030 (USD Billion)
15. Mexico Vegan Sauces and Dressings Market, By Distribution Channel, 2019-2030 (USD Billion)
16. Europe Vegan Sauces and Dressings Market, By Product, 2019-2030 (USD Billion)
17. Europe Vegan Sauces and Dressings Market, By Distribution Channel, 2019-2030 (USD Billion)
18. Germany Vegan Sauces and Dressings Market, By Product, 2019-2030 (USD Billion)
19. Germany Vegan Sauces and Dressings Market, By Distribution Channel, 2019-2030 (USD Billion)
20. France Vegan Sauces and Dressings Market, By Product, 2019-2030 (USD Billion)
21. France Vegan Sauces and Dressings Market, By Distribution Channel, 2019-2030 (USD Billion)
22. U.K. Vegan Sauces and Dressings Market, By Product, 2019-2030 (USD Billion)
23. U.K. Vegan Sauces and Dressings Market, By Distribution Channel, 2019-2030 (USD Billion)
24. Italy Vegan Sauces and Dressings Market, By Product, 2019-2030 (USD Billion)
25. Italy Vegan Sauces and Dressings Market, By Distribution Channel, 2019-2030 (USD Billion)
26. Spain Vegan Sauces and Dressings Market, By Product, 2019-2030 (USD Billion)
27. Spain Vegan Sauces and Dressings Market, By Distribution Channel, 2019-2030 (USD Billion)
28. Asia Pacific Vegan Sauces and Dressings Market, By Product, 2019-2030 (USD Billion)
29. Asia Pacific Vegan Sauces and Dressings Market, By Distribution Channel, 2019-2030 (USD Billion)
30. Japan Vegan Sauces and Dressings Market, By Product, 2019-2030 (USD Billion)
31. Japan Vegan Sauces and Dressings Market, By Distribution Channel, 2019-2030 (USD Billion)
32. China Vegan Sauces and Dressings Market, By Product, 2019-2030 (USD Billion)
33. China Vegan Sauces and Dressings Market, By Distribution Channel, 2019-2030 (USD Billion)
34. India Vegan Sauces and Dressings Market, By Product, 2019-2030 (USD Billion)
35. India Vegan Sauces and Dressings Market, By Distribution Channel, 2019-2030 (USD Billion)
36. South America Vegan Sauces and Dressings Market, By Product, 2019-2030 (USD Billion)
37. South America Vegan Sauces and Dressings Market, By Distribution Channel, 2019-2030 (USD Billion)
38. Brazil Vegan Sauces and Dressings Market, By Product, 2019-2030 (USD Billion)
39. Brazil Vegan Sauces and Dressings Market, By Distribution Channel, 2019-2030 (USD Billion)
40. Middle East and Africa Vegan Sauces and Dressings Market, By Product, 2019-2030 (USD Billion)
41. Middle East and Africa Vegan Sauces and Dressings Market, By Distribution Channel, 2019-2030 (USD Billion)
42. UAE Vegan Sauces and Dressings Market, By Product, 2019-2030 (USD Billion)
43. UAE Vegan Sauces and Dressings Market, By Distribution Channel, 2019-2030 (USD Billion)
44. South Africa Vegan Sauces and Dressings Market, By Product, 2019-2030 (USD Billion)
45. South Africa Vegan Sauces and Dressings Market, By Distribution Channel, 2019-2030 (USD Billion)
List of Figures
1. Global Vegan Sauces and Dressings Market Segmentation
2. Vegan Sauces and Dressings Market: Research Methodology
3. Market Size Estimation Methodology: Bottom-Up Approach
4. Market Size Estimation Methodology: Top-Down Approach
5. Data Triangulation
6. Porter's Five Forces Analysis
7. Value Chain Analysis
8. Global Vegan Sauces and Dressings Market Attractiveness Analysis by Product
9. Global Vegan Sauces and Dressings Market Attractiveness Analysis by Distribution Channel
10. Global Vegan Sauces and Dressings Market Attractiveness Analysis by Region
11. Global Vegan Sauces and Dressings Market: Dynamics
12. Global Vegan Sauces and Dressings Market Share by Product (2022 & 2030)
13. Global Vegan Sauces and Dressings Market Share by Distribution Channel (2022 & 2030)
14. Global Vegan Sauces and Dressings Market Share by Regions (2022 & 2030)
15. Global Vegan Sauces and Dressings Market Share by Company (2021)