The global survival foods market was valued at USD 5.89 billion in 2022, increasing at a CAGR of 5.1% from 2022 to 2030 and is anticipated to reach USD 8.77 billion by 2030. Asia-Pacific is expected to grow the fastest during the forecast period. The survival foods industry was positively affected by the COVID-19 epidemic owing to people who are looking for food having varieties, longer shelf life, and can be prepared quickly with comfort. Around 16 per cent of the consumers started stocking up the groceries in March 2020 in the US, but by the mid of April, it was found that around six of the ten consumers were found stocking up the groceries.
Market Introduction:
Survival foods are food that can be stored for a long time. These are the foods used to help people and families in times of famine, disaster or long and short-term crisis. These are in the form of food which cannot be easily spoiled in normal room temperature conditions. Survival food can generally secure man's food for an undefined set of times. These foods can be anything which, ranged from cookies or crackers, energy bars, canned products, grains, cereals, fresh meat, and dehydrated and frozen dried food. It not only secures the food but also satisfies the daily nutritional requirement of the individual or family who is stocking it and helps them keep them healthy even in times of crisis. In the time of immediate travel and evacuation, the survival food must be portable and light so that there is no need to carry the bulk of things. These survival food packs must be light so that one can able to bring other important items like clothing and water without compromising mobility. Survival food is required to sustain life for as long as it is possible.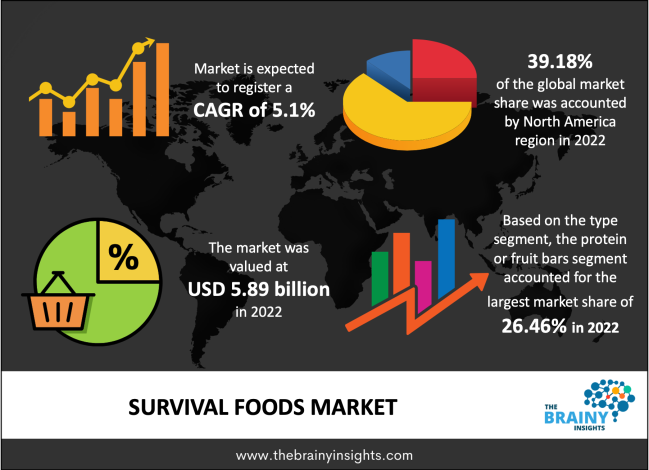 Get an overview of this study by requesting a free sample
Recent Development
For example, in January 2022, Goode Partners LLC acquired ReadyWise, the leading organization in the emergency food preparedness market. ReadyWise is fast growing food brand that provides ready-to-eat meals and others. The Goode Partners is doing so as they plan to continue their expansion for their leadership position in the survival food market. It also accelerates the growth in outdoor reaction and everyday meals and snacks categories, making ReadyWise a top household brand.
The leading organizations are acquiring companies to enter the consumer emergency preparedness market. For instance, in February 2019, SOS Food Lab, which offers survival food to maritime, aviation and mining sectors along with for military operations, entered the consumer emergency preparedness market by acquiring Survivor Industries Inc. This is helping the organizations in reaching a large consumer base for addressing emergency situations all the year round.
Market Dynamics:
Drivers:
Surge in geopolitical tensions: It has been observed that there is an increase in geopolitical tension globally. For instance, the Ukraine conflict is happening, and on the other side, the uncertainty in the South China Sea is growing. The geopolitical Risk Index, generated by the US Federal Reserve, is at its most elevated point since the attack on Iraq in 2003. In the last decade, it has been observed that the world is moving away from the unipolar world concept in which the US-dominated diplomatic, economic, military and geopolitical spheres as China is playing the powerful counter-balancing role. Also, Russia and Ukraine conflict has led to strategic competition between the western camp dominated by the US and Europe and Russia and China-centered zone. All these factors have led to conflict and war zones which is eventually driving the survival food market.
Growing cases of natural disaster: Based on one of the studies, the world has witnessed a tenfold increase in natural disasters since the 1960s. It has been observed that flood has become the most familiar natural disaster since 1990. Based on one of the studies from 1990 to 2019, 9,924 natural disasters happened globally, of which around 42% were flooded. Storms, including hurricanes, tornadoes, cyclones, blizzards and dust storms, accounted for around 30% of the total natural disasters in the same period. Hence together, they accounted for around 71% of the disasters. This is attributed to the change in the climatic condition, especially the warming of global temperature, which increases the likelihood of natural disasters like drought, storms, wetter monsoons, wildfires etc. All these factors are eventually driving the survival food market.
Restraints:
High price: Survival food varies significantly from cookies, energy bars, canned products, fresh meats and dehydrated, frozen, and dried food, among others. But these products have high prices, so generally, people don't prefer to buy these products, and they have several other good options, which are like fruits etc. These products are generally preferred in the time of some emergency. Also, there is a perception that these foods do not have good taste and are also not good for health in daily life. All these factors are acting as a restraint for the market.
Opportunities:
Surge in product development: The organizations are focused on product development to expand their market share in this market. They are introducing new survival food products which are nutritional and tasty. Some of the recent nutrient survival meals are mac n cheese, lasagna, scrambled eggs, shakes and vitamin instant coffee, among others. Also, people with a surge in their disposable income prefer to be mobile and explore the world. This is increasing the sales of survival food as these are light in weight and easy to carry. All these factors would eventually propel the growth of the survival food market all across the world.
Challenges:
Stringent quality regulations: There is a growing case of emergency food quality test failures, and also, there is a surge in the health problem of a younger population due to poor eating habits and sedentary lifestyles. These factors are acting as challenges for the market to grow.
Segmentation analysis:
Regional segmentation analysis:
The regions analyzed for the market include Europe, South America, Asia Pacific, North America, the Middle East, and Africa. North America emerged as the largest market for the global survival foods market, with a 39.18% share of the market revenue in 2022. North America dominates the market because it has a high product penetration. The growing cases of floods and storms in the region have increased the demand for the survival food market. The survival food market is evolving with organizations introducing new products; for instance, in May 2012, an American-based Survivalist Foods came up with a new collection of seasoned freeze-dried meats, which include stroganoff style beef, roasted ground beef, vegetable-with gourmet sauces, teriyaki style chicken, roasted chicken and many more items were included which offered many options like in restaurant menu. Based on one of the studies, there are many advantages to preferring freeze-fried foods for meals in catastrophic conditions, as it has an extremely long shelf life. The Asia Pacific is expected to grow the fastest during the forecast period due to growing awareness for preparedness in some disasters. The survival foods which are most common these days are canned foods, grains and frozen, dried food; these are considered both emergency food as well as survival food as it has the potential to keep families fed for a longer period of time.
North America Region Survival Foods Market Share in 2022 - 39.18%
www.thebrainyinsights.com
Check the geographical analysis of this market by requesting a free sample
Type segment analysis
The type segment is divided into canned food, compressed biscuit, freeze-dried food, ready to eat meals, protein or fruit bars, dry cereals or granola, peanut butter, dried fruit and canned juice. The protein or fruit bars segment dominated, with a market share of around 26.46% in 2022. This growth is attributed to its easy-to-carry and lightweight features. It offers convenience to consumers. Moreover, the health-conscious consumers are also turning towards specialty diets which does not include cooking or which are instant and hence protein bars demand is increasing because of their ready to eat and on the go nature.
Application segment analysis
The application segment is divided into online retails and offline retails. In 2022, the offline segment dominated the market with the largest market share of 66.23% and market revenue of USD 3.90 billion. The survival foods are sold in club stores and Walmart etc. For instance, Walmart offers a kit which can last for two days to a year, and the price ranges from USD 25.88 to USD 1290.99. The market is competitive, and the price tends to vary based on the number of calories each kit offers per person per day.
Some of the Key Market Players:
Nestle S.A
Kraft Heinz Company
Kelloggs
Conagra Brands Inc.
Del Monte Foods
My Patriot Supply
4Patriots, LLC
Mountain House (Subsidiary of Oregon Freeze Dry)
SOS Food Lab LLC
Legacy Food Storage
Survival Frog
Emergency Essentials (Beprepared.Com)
Mother Earth Products (Subsidiary Of Virginia's Finest)
Augason Farms
Readywise (Subsidiary Of Goode Partners Llc)
Alpineaire Foods (Subsidiary Of Katadyn Group)
My Patriot Supply
Peak Refuel
Thrive Life, LLC
Report Description:
| Attribute | Description |
| --- | --- |
| Market Size | Revenue (USD Billion) |
| Market size value in 2022 | USD 5.89 Billion |
| Market size value in 2030 | USD 8.77 Billion |
| CAGR (2022 to 2030) | 5.1% |
| Historical data | 2019-2020 |
| Base Year | 2021 |
| Forecast | 2022-2030 |
| Segments | Key Segments are type, application and regions |
| Regional Segments | The key regions are South America, North America, Europe, Asia Pacific, and Middle East & Africa. |
Frequesntly Asked Questions
1. Introduction
1.1. Objectives of the Study
1.2. Market Definition
1.3. Research Scope
1.4. Currency
1.5. Key Target Audience

2. Research Methodology and Assumptions

3. Executive Summary

4. Premium Insights
4.1. Porter's Five Forces Analysis
4.2. Value Chain Analysis
4.3. Top Investment Pockets
4.3.1. Market Attractiveness Analysis By Application
4.3.2. Market Attractiveness Analysis By Type
4.3.3. MARKET Attractiveness Analysis By Region
4.4. Industry Trends

5. Market Dynamics
5.1. Market Evaluation
5.2. Drivers
5.2.1. Surge in Geopolitical Tensions
5.2.2. Growing Cases of Natural Disaster
5.3. Restraints
5.3.1. High Price
5.4. Opportunities
5.4.1. Surge in Product Development
5.5. Challenges
5.5.1. Stringent quality regulations

6. Global Survival Foods Market Analysis and Forecast, By Application
6.1. Segment Overview
6.2. Online Retails
6.3. Offline Retails

7. Global Survival Foods Market Analysis and Forecast, By Type
7.1. Segment Overview
7.2. Canned Food
7.3. Compressed Biscuit
7.4. Freeze-dried Food
7.5. Ready to Eat Meals
7.6. Protein or Fruit Bars
7.7. Dry Cereals or Granola
7.8. Peanut Butter
7.9. Dried Fruit
7.10. Canned Juice

8. Global Survival Foods Market Analysis and Forecast, By Regional Analysis
8.1. Segment Overview
8.2. North America
8.2.1. U.S.
8.2.2. Canada
8.2.3. Mexico
8.3. Europe
8.3.1. Germany
8.3.2. France
8.3.3. U.K.
8.3.4. Italy
8.3.5. Spain
8.4. Asia-Pacific
8.4.1. Japan
8.4.2. China
8.4.3. India
8.5. South America
8.5.1. Brazil
8.6. Middle East and Africa
8.6.1. UAE
8.6.2. South Africa

9. Global Survival Foods Market-Competitive Landscape
9.1. Overview
9.2. Market Share of Key Players in Global Survival Foods Market
9.2.1. Global Company Market Share
9.2.2. North America Company Market Share
9.2.3. Europe Company Market Share
9.2.4. APAC Company Market Share
9.3. Competitive Situations and Trends
9.3.1. Product Launches and Developments
9.3.2. Partnerships, Collaborations, and Agreements
9.3.3. Mergers & Acquisitions
9.3.4. Expansions

10. Company Profiles
10.1. Nestle S.A
10.1.1. Business Overview
10.1.2. Company Snapshot
10.1.3. Company Market Share Analysis
10.1.4. Company Product Portfolio
10.1.5. Recent Developments
10.1.6. SWOT Analysis
10.2. Kraft Heinz Company
10.2.1. Business Overview
10.2.2. Company Snapshot
10.2.3. Company Market Share Analysis
10.2.4. Company Product Portfolio
10.2.5. Recent Developments
10.2.6. SWOT Analysis
10.3. Kelloggs
10.3.1. Business Overview
10.3.2. Company Snapshot
10.3.3. Company Market Share Analysis
10.3.4. Company Product Portfolio
10.3.5. Recent Developments
10.3.6. SWOT Analysis
10.4. Conagra Brands Inc
10.4.1. Business Overview
10.4.2. Company Snapshot
10.4.3. Company Market Share Analysis
10.4.4. Company Product Portfolio
10.4.5. Recent Developments
10.4.6. SWOT Analysis
10.5. Del Monte Foods
10.5.1. Business Overview
10.5.2. Company Snapshot
10.5.3. Company Market Share Analysis
10.5.4. Company Product Portfolio
10.5.5. Recent Developments
10.5.6. SWOT Analysis
10.6. My Patriot Supply
10.6.1. Business Overview
10.6.2. Company Snapshot
10.6.3. Company Market Share Analysis
10.6.4. Company Product Portfolio
10.6.5. Recent Developments
10.6.6. SWOT Analysis
10.7. 4Patriots, LLC
10.7.1. Business Overview
10.7.2. Company Snapshot
10.7.3. Company Market Share Analysis
10.7.4. Company Product Portfolio
10.7.5. Recent Developments
10.7.6. SWOT Analysis
10.8. Mountain House (Subsidiary of Oregon Freeze Dry)
10.8.1. Business Overview
10.8.2. Company Snapshot
10.8.3. Company Market Share Analysis
10.8.4. Company Product Portfolio
10.8.5. Recent Developments
10.8.6. SWOT Analysis
10.9. SOS Food Lab LLC
10.9.1. Business Overview
10.9.2. Company Snapshot
10.9.3. Company Market Share Analysis
10.9.4. Company Product Portfolio
10.9.5. Recent Developments
10.9.6. SWOT Analysis
10.10. Legacy Food Storage
10.10.1. Business Overview
10.10.2. Company Snapshot
10.10.3. Company Market Share Analysis
10.10.4. Company Product Portfolio
10.10.5. Recent Developments
10.10.6. SWOT Analysis
10.11. Survival Frog
10.11.1. Business Overview
10.11.2. Company Snapshot
10.11.3. Company Market Share Analysis
10.11.4. Company Product Portfolio
10.11.5. Recent Developments
10.11.6. SWOT Analysis
10.12. Emergency Essentials (Beprepared.Com)
10.12.1. Business Overview
10.12.2. Company Snapshot
10.12.3. Company Market Share Analysis
10.12.4. Company Product Portfolio
10.12.5. Recent Developments
10.12.6. SWOT Analysis
10.13. Mother Earth Products (Subsidiary Of Virginia's Finest)
10.13.1. Business Overview
10.13.2. Company Snapshot
10.13.3. Company Market Share Analysis
10.13.4. Company Product Portfolio
10.13.5. Recent Developments
10.13.6. SWOT Analysis
10.14. Augason Farms
10.14.1. Business Overview
10.14.2. Company Snapshot
10.14.3. Company Market Share Analysis
10.14.4. Company Product Portfolio
10.14.5. Recent Developments
10.14.6. SWOT Analysis
10.15. Readywise (Subsidiary Of Goode Partners Llc)
10.15.1. Business Overview
10.15.2. Company Snapshot
10.15.3. Company Market Share Analysis
10.15.4. Company Product Portfolio
10.15.5. Recent Developments
10.15.6. SWOT Analysis
10.16. Alpineaire Foods (Subsidiary Of Katadyn Group)
10.16.1. Business Overview
10.16.2. Company Snapshot
10.16.3. Company Market Share Analysis
10.16.4. Company Product Portfolio
10.16.5. Recent Developments
10.16.6. SWOT Analysis
10.17. My Patriot Supply
10.17.1. Business Overview
10.17.2. Company Snapshot
10.17.3. Company Market Share Analysis
10.17.4. Company Product Portfolio
10.17.5. Recent Developments
10.17.6. SWOT Analysis
10.18. Peak Refuel
10.18.1. Business Overview
10.18.2. Company Snapshot
10.18.3. Company Market Share Analysis
10.18.4. Company Product Portfolio
10.18.5. Recent Developments
10.18.6. SWOT Analysis
10.19. Thrive Life, LLC
10.19.1. Business Overview
10.19.2. Company Snapshot
10.19.3. Company Market Share Analysis
10.19.4. Company Product Portfolio
10.19.5. Recent Developments
10.19.6. SWOT Analysis
List of Table
1. Global Survival Foods Market, By Application, 2019-2030 (USD Billion)
2. Global Online Retails, Survival Foods Market, By Region, 2019-2030 (USD Billion)
3. Global Offline Retails, Survival Foods Market, By Region, 2019-2030 (USD Billion)
4. Global Survival Foods Market, By Type, 2019-2030 (USD Billion)
5. Global Canned Food, Survival Foods Market, By Region, 2019-2030 (USD Billion)
6. Global Compressed Biscuit, Survival Foods Market, By Region, 2019-2030 (USD Billion)
7. Global Freeze-Dried Food, Survival Foods Market, By Region, 2019-2030 (USD Billion)
8. Global Ready To Eat Meals, Survival Foods Market, By Region, 2019-2030 (USD Billion)
9. Global Protein or Fruit Bars, Survival Foods Market, By Region, 2019-2030 (USD Billion)
10. Global Dry Cereals or Granola, Survival Foods Market, By Region, 2019-2030 (USD Billion)
11. Global Peanut Butter, Survival Foods Market, By Region, 2019-2030 (USD Billion)
12. Global Dried Fruit, Survival Foods Market, By Region, 2019-2030 (USD Billion)
13. Global Canned Juice, Survival Foods Market, By Region, 2019-2030 (USD Billion)
14. North America Survival Foods Market, By Application, 2019-2030 (USD Billion)
15. North America Survival Foods Market, By Type, 2019-2030 (USD Billion)
16. U.S. Survival Foods Market, By Application, 2019-2030 (USD Billion)
17. U.S. Survival Foods Market, By Type, 2019-2030 (USD Billion)
18. Canada Survival Foods Market, By Application, 2019-2030 (USD Billion)
19. Canada Survival Foods Market, By Type, 2019-2030 (USD Billion)
20. Mexico Survival Foods Market, By Application, 2019-2030 (USD Billion)
21. Mexico Survival Foods Market, By Type, 2019-2030 (USD Billion)
22. Europe Survival Foods Market, By Application, 2019-2030 (USD Billion)
23. Europe Survival Foods Market, By Type, 2019-2030 (USD Billion)
24. Germany Survival Foods Market, By Application, 2019-2030 (USD Billion)
25. Germany Survival Foods Market, By Type, 2019-2030 (USD Billion)
26. France Survival Foods Market, By Application, 2019-2030 (USD Billion)
27. France Survival Foods Market, By Type, 2019-2030 (USD Billion)
28. U.K. Survival Foods Market, By Application, 2019-2030 (USD Billion)
29. U.K. Survival Foods Market, By Type, 2019-2030 (USD Billion)
30. Italy Survival Foods Market, By Application, 2019-2030 (USD Billion)
31. Italy Survival Foods Market, By Type, 2019-2030 (USD Billion)
32. Spain Survival Foods Market, By Application, 2019-2030 (USD Billion)
33. Spain Survival Foods Market, By Type, 2019-2030 (USD Billion)
34. Asia Pacific Survival Foods Market, By Application, 2019-2030 (USD Billion)
35. Asia Pacific Survival Foods Market, By Type, 2019-2030 (USD Billion)
36. Japan Survival Foods Market, By Application, 2019-2030 (USD Billion)
37. Japan Survival Foods Market, By Type, 2019-2030 (USD Billion)
38. China Survival Foods Market, By Application, 2019-2030 (USD Billion)
39. China Survival Foods Market, By Type, 2019-2030 (USD Billion)
40. India Survival Foods Market, By Application, 2019-2030 (USD Billion)
41. India Survival Foods Market, By Type, 2019-2030 (USD Billion)
42. South America Survival Foods Market, By Application, 2019-2030 (USD Billion)
43. South America Survival Foods Market, By Type, 2019-2030 (USD Billion)
44. Brazil Survival Foods Market, By Application, 2019-2030 (USD Billion)
45. Brazil Survival Foods Market, By Type, 2019-2030 (USD Billion)
46. Middle East and Africa Survival Foods Market, By Application, 2019-2030 (USD Billion)
47. Middle East and Africa Survival Foods Market, By Type, 2019-2030 (USD Billion)
48. UAE Survival Foods Market, By Application, 2019-2030 (USD Billion)
49. UAE Survival Foods Market, By Type, 2019-2030 (USD Billion)
50. South Africa Survival Foods Market, By Application, 2019-2030 (USD Billion)
51. South Africa Survival Foods Market, By Type, 2019-2030 (USD Billion)
List of Figures
1. Global Survival Foods Market Segmentation
2. Global Survival Foods Market: Research Methodology
3. Market Size Estimation Methodology: Bottom-Up Approach
4. Market Size Estimation Methodology: Top-Down Approach
5. Data Triangulation
6. Porter's Five Forces Analysis
7. Value Chain Analysis
8. Global Survival Foods Market Attractiveness Analysis By Application
9. Global Survival Foods Market Attractiveness Analysis By Type
10. Global Survival Foods Market Attractiveness Analysis By Region
11. Global Survival Foods Market: Dynamics
12. Global Survival Foods Market Share By Application (2022 & 2030)
13. Global Survival Foods Market Share By Type (2022 & 2030)
14. Global Survival Foods Market Share By Regions (2022 & 2030)
15. Global Survival Foods Market Share By Company (2021)