The freeze-dried food market was valued at USD 37.2 billion in 2021 and is expected to reach USD 71.7 billion by 2030, expanding at a CAGR of 7.7% from 2022 to 2030. The market is driven by expanding food-processing sector and rising demand for ready-to-eat (RTD) food products. Consumers are also becoming increasingly aware of the benefits and shelf-stability of freeze-drying, owing to which, they are preferring freeze-dried foods over packaged and canned foods.
Freeze-drying methods are increasingly deployed by several B2B channels including QSRs, fast-food restaurant chains, cafés, and hotels, as it removes almost all the water, making the final product lighter with a longer shelf life that results in accessible and logistic-friendly products. Market players are increasingly using freeze-drying technology to enhance the color, nutrient content, and shelf-life of the product, which bodes well for overall market growth.
The consumption of freeze-dried food as snacks has been increasing globally, driven by the growing consumer health consciousness and improved product offerings. As a result, many new products in the market use freeze-dried fruit such as orange, kiwi, strawberry, banana, raspberry, mango, and others in food items such as cereals, snacks, bakery items, confectionery, and milk. Furthermore, rising awareness of the health benefits and the versatility of freeze-dried fruits as an ingredient will increase the demand further.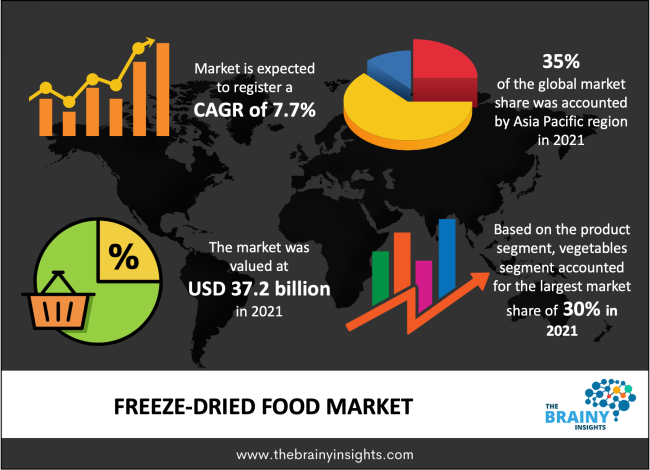 Get an overview of this study by requesting a free sample
Nowadays, millennial parents are considering raw and freeze-dried treats as a viable option for pets as processing raw meat by freeze-drying enables the wholesome nutrition content of each ingredient to be preserved for longer, thus making them a healthy snacking option. Cooking too often or dehydration methods reduces the nutritional value of a treat's key ingredients, owing to which freeze-dried method is adopted. Growing consumer awareness regarding the consumption of freeze-dried meat and pet treats is boding well for the overall market growth.
The increasing trend of pet humanization and growing concern for pets among pet parents is driving the demand for freeze-dried pet food. Freeze-dried pet food has benefits over conventional products, such as longer shelf life and higher retention of vitamins & bio-nutrients. Furthermore, product launches in the pet food category are also anticipated to boost market growth over the forecast period. For instance, in July 2021, Purdy Pet Food, a leading boutique small-batch pet treat maker, launched– 'freeze-dried raw chicken treats.
Product Insights
Vegetables held the largest market share of more than 30% in 2021. This segment is further bifurcated, into potato, carrot, corn, pea, and others. The Growing adoption of healthy and convenient snacking options among millennials will widen the scope for freeze-dried vegetables in the coming years. According to an article published by Candy Industry, in 2019, 51% of millennials switched to healthier snack alternatives, in comparison to 56% in 2021. Moreover, the heightened availability of a wide variety of freeze-dried vegetables will also support segmental growth.
Freeze-dried fruits are anticipated to register the fastest CAGR during the forecast period. The increasing application of freeze-dried such as strawberries, mango, apple, pineapple, and others in cookies, desserts, and cakes is likely to drive the segment's growth. Moreover, product launches in this category are also boding well for the segment's growth. For instance, in August 2019, Chaucer Foods, a global producer of freeze-dried fruits and vegetables based in the UK launched a new line of freeze-dried fruits.
Distribution Channel Insights
The B2C distribution channel is anticipated to register faster growth during the forecast period owing to the growing demand for freeze-dried vegetables and fruits for the preparation of cookies and desserts at home. Moreover, the large consumer base of supermarkets & hypermarkets also encourages end-product manufacturers to collaborate with these big stores to increase their product visibility. For instance, in May 2022, Zesty Paws partnered with Walmart to launch and distribute its pet food products across the US. Similarly, in January 2021, ACANA launched freeze-dried food for pets, which is available in flavors including, Free-Run Chicken, Free-Run Turkey, Ranch-Raised Beef, and Duck and has been made available online and through Walmart.
Among B2C channels, the online distribution channel is expected to expand at the fastest CAGR from 2022-2030. The rising demand for convenient and hassle-free shopping is driving the demand through this channel. Moreover, increasing brand availability on these platforms is also boding well for the segment's growth. For instance, Amazon offers freeze-dried food from brands such as Vedaka, FZYEZY, HALO, Frispies, Crunchy Munchy, Happa, and others.
Regional Insights
Asia Pacific led the market, with a share of more than 35% in 2021. Increasing consumer demand for freeze-dried fruits, vegetables, and snacks is driving the market demand in this region. Further, the presence of a large number of players and product launches in the region is driving regional growth. For instance, in September 2022, Amano Foods, operated by Asahi Group Foods Ltd., launched freeze-dried food including vegetables, curry dishes, stews, and rice porridges. The initiative was taken to increase the consumer base and sales of the company.
Middle East & Africa is anticipated to witness a CAGR of 8.9% from 2022-2030. The increasing preference of consumers towards ready-to-eat food products is expected to upsurge the demand for freeze-dried food in the region. Consumers are generally looking for food products that require less time to prepare. Hence, manufacturers are catering to the needs of consumers by offering a wide variety of easy-to-cook food products. For instance, Forever Fresh LLC, a fresh fruit company, offers freeze-dried food products such as lentils, beef stew, bean chili, and others.
North America is one of the leading regional markets for freeze-dried food products. The growth of the market in the region is prompted by the growing adoption of preserved food products. The surge in this trend is observed due to the growing busy lifestyles of consumers in the region. Due to hectic lifestyles, consumers have started opting for food products that are fast and easy to prepare this results in the growing demand for convenient food products thus driving the market growth in the region.
Key Companies
ASAHI GROUP HOLDINGS, LTD.
Kerry Group plc.
Ajinomoto Co., Inc.
The Hain Celestial Group, Inc.
Nestlé
Freeze-Dry Foods, Ltd.
SouthAM
European Freeze Dry
Harmony House Foods, Inc.
Saraf Foods Ltd.
Van Drunen Farms
Segments Covered in the Report
Product

Fruit

Strawberry
Apple
Mango
Pineapple
Others

Vegetable

Potato
Carrot
Corn
Pea
Others

Pet Food
Meat, Poultry & Seafood
Dairy Products
Others

Distribution Channel

B2B
B2C

Supermarkets & Hypermarkets
Convenience Stores
Online
Others

Regional

North America
Europe

UK
Germany
France
Italy
Spain

Asia Pacific

China
Japan
India
South Korea
Philippines

Central and South America
Middle East and Africa

South Africa
UAE
Saudi Arabia
1. Introduction
1.1. Objectives of the Study
1.2. Market Definition
1.3. Research Scope
1.4. Currency
1.5. Key Target Audience

2. Research Methodology and Assumptions

3. Executive Summary

4. Premium Insights
4.1. Porter's Five Forces Analysis
4.2. Value Chain Analysis
4.3. Top Investment Pockets
4.3.1. Market Attractiveness Analysis by Product
4.3.2. Market Attractiveness Analysis by Distribution Channel
4.3.3. Market Attractiveness Analysis by Region
4.4. Industry Trends

5. Market Dynamics
5.1. Market Evaluation
5.2. Drivers
5.2.1. Rising demand for ready-to-eat (RTD) food products
5.3. Restraints
5.3.1. Increasing Demand For Natural And Fresh Food Goods
5.4. Opportunities
5.4.1. Growing consumer health consciousness and improved product offerings

6. Global Freeze-dried Food Market Analysis and Forecast, By Product
6.1. Segment Overview
6.2. Fruit
6.2.1. Strawberry
6.2.2. Apple
6.2.3. Mango
6.2.4. Pineapple
6.2.5. Others
6.3. Vegetable
6.3.1. Potato
6.3.2. Carrot
6.3.3. Corn
6.3.4. Pea
6.3.5. Others
6.4. Pet Food
6.5. Meat, Poultry & Seafood
6.6. Dairy Products
6.7. Others

7. Global Freeze-dried Food Market Analysis and Forecast, By Distribution Channel
7.1. Segment Overview
7.2. B2B
7.3. B2C
7.3.1. Supermarkets & Hypermarkets
7.3.2. Convenience Stores
7.3.3. Online
7.3.4. Others

8. Global Freeze-dried Food Market Analysis and Forecast, By Regional Analysis
8.1. Segment Overview
8.2. North America
8.2.1. U.S.
8.2.2. Canada
8.2.3. Mexico
8.3. Europe
8.3.1. Germany
8.3.2. France
8.3.3. U.K.
8.3.4. Italy
8.3.5. Spain
8.4. Asia-Pacific
8.4.1. Japan
8.4.2. China
8.4.3. India
8.5. South America
8.5.1. Brazil
8.6. Middle East and Africa
8.6.1. UAE
8.6.2. South Africa

9. Global Freeze-dried Food Market-Competitive Landscape
9.1. Overview
9.2. Market Share of Key Players in the Freeze-dried Food Market
9.2.1. Global Company Market Share
9.2.2. North America Company Market Share
9.2.3. Europe Company Market Share
9.2.4. APAC Company Market Share
9.3. Competitive Situations and Trends
9.3.1. Product Launches and Developments
9.3.2. Partnerships, Collaborations, and Agreements
9.3.3. Mergers & Acquisitions
9.3.4. Expansions

10. Company Profiles
10.1. ASAHI GROUP HOLDINGS, LTD.
10.1.1. Business Overview
10.1.2. Company Snapshot
10.1.3. Company Market Share Analysis
10.1.4. Company Product Portfolio
10.1.5. Recent Developments
10.1.6. SWOT Analysis
10.2. Kerry Group plc.
10.2.1. Business Overview
10.2.2. Company Snapshot
10.2.3. Company Market Share Analysis
10.2.4. Company Product Portfolio
10.2.5. Recent Developments
10.2.6. SWOT Analysis
10.3. Ajinomoto Co., Inc.
10.3.1. Business Overview
10.3.2. Company Snapshot
10.3.3. Company Market Share Analysis
10.3.4. Company Product Portfolio
10.3.5. Recent Developments
10.3.6. SWOT Analysis
10.4. The Hain Celestial Group, Inc.
10.4.1. Business Overview
10.4.2. Company Snapshot
10.4.3. Company Market Share Analysis
10.4.4. Company Product Portfolio
10.4.5. Recent Developments
10.4.6. SWOT Analysis
10.5. Nestlé
10.5.1. Business Overview
10.5.2. Company Snapshot
10.5.3. Company Market Share Analysis
10.5.4. Company Product Portfolio
10.5.5. Recent Developments
10.5.6. SWOT Analysis
10.6. Freeze-Dry Foods, Ltd.
10.6.1. Business Overview
10.6.2. Company Snapshot
10.6.3. Company Market Share Analysis
10.6.4. Company Product Portfolio
10.6.5. Recent Developments
10.6.6. SWOT Analysis
10.7. SouthAM
10.7.1. Business Overview
10.7.2. Company Snapshot
10.7.3. Company Market Share Analysis
10.7.4. Company Product Portfolio
10.7.5. Recent Developments
10.7.6. SWOT Analysis
10.8. European Freeze Dry
10.8.1. Business Overview
10.8.2. Company Snapshot
10.8.3. Company Market Share Analysis
10.8.4. Company Product Portfolio
10.8.5. Recent Developments
10.8.6. SWOT Analysis
10.9. Harmony House Foods, Inc.
10.9.1. Business Overview
10.9.2. Company Snapshot
10.9.3. Company Market Share Analysis
10.9.4. Company Product Portfolio
10.9.5. Recent Developments
10.9.6. SWOT Analysis
10.10. Saraf Foods Ltd.
10.10.1. Business Overview
10.10.2. Company Snapshot
10.10.3. Company Market Share Analysis
10.10.4. Company Product Portfolio
10.10.5. Recent Developments
10.10.6. SWOT Analysis
10.11. Van Drunen Farms
10.11.1. Business Overview
10.11.2. Company Snapshot
10.11.3. Company Market Share Analysis
10.11.4. Company Product Portfolio
10.11.5. Recent Developments
10.11.6. SWOT Analysis

List of Table
1. Global Freeze-dried Food Market, By Product, 2019-2030 (USD Billion)
2. Global Fruit Freeze-dried Food Market, By Region, 2019-2030 (USD Billion)
3. Global Vegetable Freeze-dried Food Market, By Region, 2019-2030 (USD Billion)
4. Global Pet Food Freeze-dried Food Market, By Region, 2019-2030 (USD Billion)
5. Global Meat, Poultry & Seafood Freeze-dried Food Market, By Region, 2019-2030 (USD Billion)
6. Global Dairy Products Freeze-dried Food Market, By Region, 2019-2030 (USD Billion)
7. Global Others Freeze-dried Food Market, By Region, 2019-2030 (USD Billion)
8. Global Freeze-dried Food Market, By Distribution Channel, 2019-2030 (USD Billion)
9. Global B2B Freeze-dried Food Market, By Region, 2019-2030 (USD Billion)
10. Global B2C Freeze-dried Food Market, By Region, 2019-2030 (USD Billion)
11. Global Freeze-dried Food Market, By Region, 2019-2030 (USD Billion)
12. North America Freeze-dried Food Market, By Product, 2019-2030 (USD Billion)
13. North America Freeze-dried Food Market, By Distribution Channel, 2019-2030 (USD Billion)
14. U.S. Freeze-dried Food Market, By Product, 2019-2030 (USD Billion)
15. U.S. Freeze-dried Food Market, By Distribution Channel, 2019-2030 (USD Billion)
16. Canada Freeze-dried Food Market, By Product, 2019-2030 (USD Billion)
17. Canada Freeze-dried Food Market, By Distribution Channel, 2019-2030 (USD Billion)
18. Mexico Freeze-dried Food Market, By Product, 2019-2030 (USD Billion)
19. Mexico Freeze-dried Food Market, By Distribution Channel, 2019-2030 (USD Billion)
20. Europe Freeze-dried Food Market, By Product, 2019-2030 (USD Billion)
21. Europe Freeze-dried Food Market, By Distribution Channel, 2019-2030 (USD Billion)
22. Germany Freeze-dried Food Market, By Product, 2019-2030 (USD Billion)
23. Germany Freeze-dried Food Market, By Distribution Channel, 2019-2030 (USD Billion)
24. France Freeze-dried Food Market, By Product, 2019-2030 (USD Billion)
25. France Freeze-dried Food Market, By Distribution Channel, 2019-2030 (USD Billion)
26. U.K. Freeze-dried Food Market, By Product, 2019-2030 (USD Billion)
27. U.K. Freeze-dried Food Market, By Distribution Channel, 2019-2030 (USD Billion)
28. Italy Freeze-dried Food Market, By Product, 2019-2030 (USD Billion)
29. Italy Freeze-dried Food Market, By Distribution Channel, 2019-2030 (USD Billion)
30. Spain Freeze-dried Food Market, By Product, 2019-2030 (USD Billion)
31. Spain Freeze-dried Food Market, By Distribution Channel, 2019-2030 (USD Billion)
32. Asia Pacific Freeze-dried Food Market, By Product, 2019-2030 (USD Billion)
33. Asia Pacific Freeze-dried Food Market, By Distribution Channel, 2019-2030 (USD Billion)
34. Japan Freeze-dried Food Market, By Product, 2019-2030 (USD Billion)
35. Japan Freeze-dried Food Market, By Distribution Channel, 2019-2030 (USD Billion)
36. China Freeze-dried Food Market, By Product, 2019-2030 (USD Billion)
37. China Freeze-dried Food Market, By Distribution Channel, 2019-2030 (USD Billion)
38. India Freeze-dried Food Market, By Product, 2019-2030 (USD Billion)
39. India Freeze-dried Food Market, By Distribution Channel, 2019-2030 (USD Billion)
40. South America Freeze-dried Food Market, By Product, 2019-2030 (USD Billion)
41. South America Freeze-dried Food Market, By Distribution Channel, 2019-2030 (USD Billion)
42. Brazil Freeze-dried Food Market, By Product, 2019-2030 (USD Billion)
43. Brazil Freeze-dried Food Market, By Distribution Channel, 2019-2030 (USD Billion)
44. Middle East and Africa Freeze-dried Food Market, By Product, 2019-2030 (USD Billion)
45. Middle East and Africa Freeze-dried Food Market, By Distribution Channel, 2019-2030 (USD Billion)
46. UAE Freeze-dried Food Market, By Product, 2019-2030 (USD Billion)
47. UAE Freeze-dried Food Market, By Distribution Channel, 2019-2030 (USD Billion)
48. South Africa Freeze-dried Food Market, By Product, 2019-2030 (USD Billion)
49. South Africa Freeze-dried Food Market, By Distribution Channel, 2019-2030 (USD Billion)
List of Figures
1. Global Freeze-dried Food Market Segmentation
2. Freeze-dried Food Market: Research Methodology
3. Market Size Estimation Methodology: Bottom-Up Approach
4. Market Size Estimation Methodology: Top-Down Approach
5. Data Triangulation
6. Porter's Five Forces Analysis
7. Value Chain Analysis
8. Global Freeze-dried Food Market Attractiveness Analysis by Product
9. Global Freeze-dried Food Market Attractiveness Analysis by Distribution Channel
10. Global Freeze-dried Food Market Attractiveness Analysis by Region
11. Global Freeze-dried Food Market: Dynamics
12. Global Freeze-dried Food Market Share by Product (2022 & 2030)
13. Global Freeze-dried Food Market Share by Distribution Channel (2022 & 2030)
14. Global Freeze-dried Food Market Share by Regions (2022 & 2030)
15. Global Freeze-dried Food Market Share by Company (2021)