The global Sorghum and Sorghum Seeds market generated USD 11.79 billion revenue in 2022 and is projected to grow at a CAGR of 4.17% from 2023 to 2032. The market is expected to reach USD 17.74 billion by 2032. The global sorghum seeds market is experiencing significant growth due to the rising incorporation of sorghum seeds into daily diets. Sorghum's versatility has led to its utilization in various sectors, including floral arrangements, fencing, construction materials, pet food, and various other applications, serving as a pivotal driving factor for the worldwide sorghum market. Additionally, the increasing demand for livestock feed from farmers and the introduction of enhanced sorghum seed varieties have further accelerated the market's expansion.
Market Introduction:
Sorghum is a cereal grain crop, scientifically called Sorghum bicolour, cultivated for its edible grains and versatile applications. This hardy and drought-tolerant plant is a significant agricultural staple due to its adaptability to various environmental conditions. Sorghum Seeds are the reproductive units of the sorghum plant, typically small and round, with a diverse range of colours. These seeds serve as the primary agricultural product of the sorghum plant, finding use in human consumption, livestock feed, and a wide array of industrial and culinary applications, contributing significantly to global agriculture and food production. Sorghum is used as a feedstock for biofuel production, particularly ethanol. The high sugar content in sweet sorghum makes it a sustainable source for bioethanol production, contributing to renewable energy goals.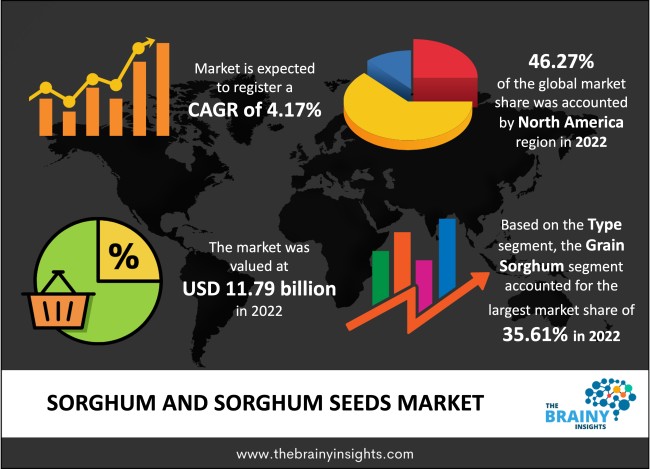 Get an overview of this study by requesting a free sample
Recent Development
In September 2022: UPL NA Inc. (UPL) has become a valued sponsor within the NSP Industry Partner program, holding the title of Contributor level sponsor. UPL is driven by a vision of creating a profound societal impact where agriculture is duly esteemed, sustainable food production is a reality, and farmers thrive. As part of this commitment, the company offers the companion herbicide IMIFLEX for Alta Seeds' herbicide-tolerant sorghum, aligning itself with a leadership role in technology, growth, and innovation to foster the production of more sustainable food products. Collaborative support from industry partners like UPL plays a pivotal role in enabling NSP to advocate for, promote, and safeguard sorghum farmers and the industry without any concerns of plagiarism.
In March 2021: Corteva Agriscience has introduced the groundbreaking Inzen herbicide-tolerant trait. This innovative Inzen trait, available exclusively within the Pioneer brand sorghum range, empowers the postemergence application of Zest WDG herbicide, delivering exceptional control against yield-diminishing annual grasses such as foxtail, barnyard grass, and panicum.
Market Dynamics:
Drivers
Growing Demand for Healthy Food Products - There is increasing consumer demand for healthier and more nutritious food products. Sorghum is considered a healthier grain option due to its nutritional benefits, including being gluten-free and rich in fiber, vitamins, and minerals.
Growing Requirements in the Food and Beverage Industry - Sorghum is used in various food and beverage products, including breakfast cereals, snacks, gluten-free flour, and alcoholic beverages. The expanding application of sorghum in the food and beverage industry is driving market growth.
Climate Resilience - Sorghum is known for its resilience to adverse weather conditions, making it an attractive crop for regions prone to drought and other extreme weather events. Climate change is increasing the importance of crops like sorghum.
Restraints:
Limited Awareness and Consumer Preferences - One of the primary restraints is the limited awareness and consumer preferences for sorghum-based products in many regions. Sorghum is less well-known compared to other grains like wheat and rice, which hinders its market growth.
Competition with Other Crops - Sorghum faces stiff competition with major staple crops such as wheat, maize, and rice, which are more widely cultivated and consumed. This competition can limit the expansion of sorghum cultivation and market share.
Opportunities:
Growing Demand for Gluten-Free Products - As the awareness of gluten intolerance and celiac disease increases, there is a growing demand for gluten-free food products. Sorghum, being naturally gluten-free, presents a significant opportunity for the development of gluten-free foods and snacks.
Diversification of Food Products - The versatility of sorghum allows it to be blended into different food products, including cereals, baked goods, snacks, and beverages. This diversification offers opportunities for the development of innovative sorghum-based food items.
Biofuel Production – Using sorghum in biofuel production, particularly ethanol, is an emerging opportunity. With the global emphasis on renewable energy sources and reducing carbon emissions, the demand for sorghum in biofuel production is expected to increase.
Challenges:
Pest and Disease Management - Sorghum is exposed to different pests and diseases, including the sugarcane aphid and head smut. Managing these issues can be costly and challenging, affecting crop quality and yield.
Yield Variability - Sorghum yields can vary significantly due to weather conditions, soil quality, and pest pressures. Inconsistent yields make it less predictable for farmers and buyers, impacting market stability.
Regional segmentation analysis:
The regions analyzed for the market include North America, Europe, South America, Asia Pacific, the Middle East, and Africa. North America emerged as the most prominent global Sorghum and Sorghum Seeds market, with a 46.27% market revenue share in 2022.
North America, particularly the United States, offers a favourable climate for sorghum cultivation. Sorghum is a warm-season crop and thrives in regions with hot and dry conditions. The Great Plains, often called the "Sorghum Belt," provides an ideal environment for sorghum production. In addition, North America has a well-established tradition of large-scale commercial farming. In the United States, for example, extensive farming practices are common. This scale of farming allows for significant sorghum production, contributing to the region's dominance. The region possesses a robust agricultural infrastructure, including well-developed transportation networks, storage facilities, and processing plants. This infrastructure supports the efficient movement of sorghum from farms to markets, both domestically and for export. Furthermore, the adoption of advanced agricultural practices, such as precision farming, modern machinery, and efficient irrigation systems, has increased the efficiency of sorghum farming in North America. This efficiency results in higher yields and cost-effectiveness. North America has invested significantly in research and development related to sorghum. This factor includes the development of high-yield, disease-resistant sorghum varieties, which have increased productivity and crop quality. The European region is foreseen to witness lucrative growth over the forecast years. European consumers are increasingly seeking diverse and healthy food options. Sorghum, as a gluten-free, nutritious grain, aligns with the growing demand for health-conscious and alternative dietary choices. Its versatility in various food products, from gluten-free flour to snacks and beverages, is likely to drive its consumption. Additionally, the rising prevalence of celiac disease and gluten intolerance has led to a rise in the need for gluten-free food products. Sorghum, being naturally gluten-free, is poised to benefit from this trend, as it can be used in the formulation of gluten-free foods. Besides, ethanol production from sorghum is gaining traction in Europe as a renewable energy source. Sorghum's potential for biofuel use aligns with the region's emphasis on reducing carbon emissions and promoting sustainability.
North America Region Sorghum and Sorghum Seeds Market Share in 2022 - 46.27%
www.thebrainyinsights.com
Check the geographical analysis of this market by requesting a free sample
Type Segment Analysis
The type segment includes biomass sorghum, forage sorghum, grain sorghum and sweet sorghum. The grain sorghum segment dominated the market, with a share of 35.61% in 2022. Grain sorghum is a universal crop grown in various agro-climatic conditions. It is adaptable to diverse environments, including semi-arid and drought-prone regions, making it a dependable crop for many countries worldwide. In addition, grain sorghum is a valuable source for human and animal consumption. It is used to produce various food products, including flour, cereals, snacks, and beverages. Additionally, sorghum-based food items cater to gluten-free and health-conscious consumer preferences, contributing to its popularity. Also, sorghum is a key ingredient in livestock feed, used in the production of poultry, swine, and cattle feed. Its nutritional content and resilience to pests and diseases make it a preferred choice for animal nutrition.
Application Form Segment Analysis
The application form segment is classified into grain, flour, popped, flakes, puffs, chips, pasta, syrup and others. The grain segment dominated the market, with a share of around 21.38% in 2022. As buyers become more knowledgeable of the nutritional benefits and versatility of sorghum grains, they are more likely to incorporate them into their diets. Educational campaigns and marketing efforts have played a role in increasing awareness and consumption. Sorghum grains are rich in essential nutrients, including dietary fiber, antioxidants, vitamins, and minerals. This nutritional profile aligns with the growing demand for healthier and nutrient-dense food products, further bolstering sorghum's popularity in grain form. Furthermore, sorghum grains are widely traded internationally, and grain applications contribute significantly to this trade. Countries with surplus sorghum production often export their grain to meet the demand in other regions, further boosting the dominance of grain applications.
End Use Segment Analysis
The end use segment is divided into human food/feed, biofuel and ethanol, livestock feed and others. The human food/feed segment dominated the market, with a share of around 42.81% in 2022. Sorghum grains can be processed into various food products, including breakfast cereals, snacks, bakery items, and beverages. Incorporating sorghum in processed foods caters to modern consumer preferences for convenience and dietary variety. In addition, sorghum is used to produce nutrient-dense baby food products. Its high nutritional content and suitability for infants make it an important component in this market segment. Besides, sorghum is a globally traded commodity, and a significant portion of its trade is dedicated to human food and feed consumption. Countries with surplus production often export their sorghum to meet the demand in other regions, boosting the importance of this segment.
Some of the Key Market Players:
Archer Daniels-midland Company
Advanta Seeds
Allied Seed
Bayer Cropscience LLC
Blue River Hybrids
Capstone Seeds Source
Corteva Agriscience
Chromatin
Dyna-Gro Seed
Groupe Limagrain
Heritage Seeds
Ingredion
KWS Group
Mabele fuels pty (Ltd)
Monsanto
National sorghum producers
Nuseed
Nufarm
Proline
Richardson seeds, Ltd.
Sustainable Seed Company
Safal Seeds & Biotech
Seed Co., Limited
UPL Limited
Report Description:
| Attribute | Description |
| --- | --- |
| Market Size | Revenue (USD Billion) |
| Market size value in 2022 | USD 11.79 Billion |
| Market size value in 2032 | USD 17.74 Billion |
| CAGR (2023 to 2032) | 4.17% |
| Historical data | 2019-2021 |
| Base Year | 2022 |
| Forecast | 2023-2032 |
| Region | The regions analyzed for the market are Asia Pacific, Europe, South America, North America, and Middle East & Africa. Furthermore, the regions are further analyzed at the country level. |
| Segments | Type, Application Form and End Use |