The global protein chip market is expected to grow from USD 1.34 billion in 2022 to USD 3.07 billion by 2032, at a CAGR of 8.65% from 2023-2032. The increasing incidence of cancer facilitating the need for targeted treatment will augment the growth of the global protein chip market.
Market Introduction:
Studying the living world's elements is crucial to comprehend it. Proteins are a necessary component of all living things and are essential to their physiological processes. Understanding the structure, organization, function, and interactions of the living world through studying proteins paves the way for creating methods, systems, and goods to monitor, regulate, and maintain a healthy environment. In the past, single molecules have been examined for comprehending the biochemical roles of proteins using one experiment at a time. Yet, as time passed, cutting-edge technology for processing and analyzing proteins was created. DNA microarrays are an example which has proved helpful in genetic research. Because DNA microarrays only provide information on the genes themselves and little information about the functions that the proteins in those genes encode, their application was constrained in the evolving world, and its growing needs. Mass spectrometry-based protein profiling has only recently been established to study proteins. They are carried out using protein microarrays, also known as protein chips. Analytical microarrays, functional microarrays, and reverse phase microarrays are the three types of protein microarrays now employed to investigate the biochemical activities of proteins. New molecular interactions between proteins, small molecules, or enzyme substrates are investigated and identified using functional protein microarrays. Protein-detecting microarrays are used to identify proteins in complex mixtures. Protein chips are used for vaccine development, drug discovery, vaccination research and testing, biotechnology, disease monitoring, diagnosis, and targeted therapy/treatment.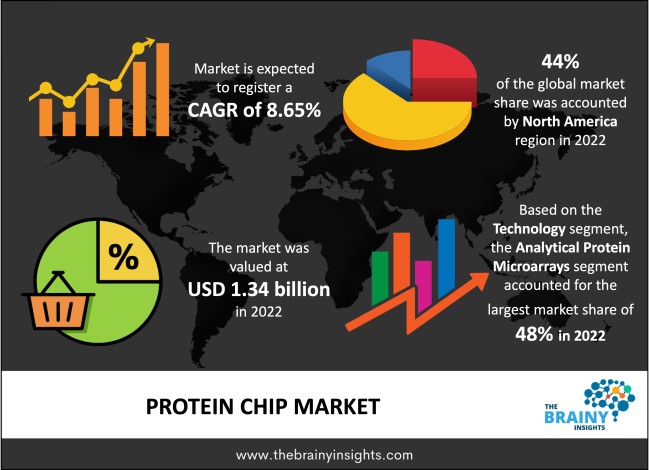 Get an overview of this study by requesting a free sample
Recent Development
February 2023 - Recombinant protein expression is a fundamental method that supports numerous applications, including clinical diagnostics, vaccine development, and drug discovery. However, the high-throughput production of appropriately folded, functional, and full-length proteins is correlated with a significant failure rate. Misfolded proteins can cause false positives. Sengenics KREXTM technology uses Biotin Carboxyl Carrier Protein (BCCP) as a folding marker and solubility booster to overcome this constraint. This method makes the high-throughput expression of fully lengthened, appropriately folded, and functional proteins possible. The technology created specifically intends to test thousands of mutant proteins simultaneously using Sengenics KREXTM technology. This platform can be used to assess the ability of small molecule drugs to restore the function of mutant proteins, offering important insights into the creation of therapies. This technology makes it possible to explore the impact of genetic mutations on protein function in a superior, low-cost, high-throughput manner.
Market Dynamics:
Drivers
The increasing incidence and prevalence of cancer – In the modern world have witnessed a significant change in the population's lifestyle. There is an increasing prevalence of alcohol consumption, smoking and substance abuse. Furthermore, the contemporary world is based on a sedentary lifestyle, which has led to a lack of physical exercise. The lack of physical exercise has led to obesity, the primary cause of many chronic lifestyle diseases. No physical exercise combined with the unhealthy diet of highly-processed, sugary and non-nutritious food from ever-growing fast-food retail chains has exacerbated the situation. This diet is also a cause of diabetes in the population. Additionally, environmental factors like air pollution contribute to the rising cancer incidence. Every cancer is different and needs a personalized or targeted treatment approach to manage or cure it. The first step towards reducing the burden of cancer or arresting its growth in the early stages is the early diagnosis of the disease. The increasing awareness about the disease and robust diagnostic infrastructure has contributed to the rising adoption of protein chip in cancer research and diagnostics. A protein chip is a highly effective and cost-efficient method to identify biomarkers in cancer cells. Identifying biomarkers or protein arrays allows the oncologist to devise an effective personalized treatment plan for the patient. Furthermore, protein chips can also help analyze biomarkers and their interaction with the treatment or therapeutics, offering the doctor useful insights on whether the treatment plan is working. This enables alteration in treatment plans, early intervention, progress tracking, and positive results to be delivered optimally. Therefore, the rising incidence and prevalence of cancer will drive the global protein chip market's growth.
Restraints:
Difficulty obtaining substantive and quality protein samples – Proteins must be extracted from living organisms; they are microscopic and do not retain their form or structure organization in the outside environment. They are highly unstable, thereby making it difficult to gather an adequate amount of samples for analysis. The lack of sampling data and the difficulty in analyzing, given the low amount, are some major challenges to the protein chip market. The microscopic natures make it highly likely that the analysis leaves important protein expression out. Furthermore, protein chip is a novel technology, and there is a lack of standardization in sample processing which increases the risk of high false positivity given the dynamic range of the samples. Furthermore, the complexity of protein assays makes it challenging to gather a complete analysis, given the inaccessibility of the analysis software. Therefore, this inherent challenge in protein chip technology will hamper the market's growth.
Opportunities:
The rising research and development to improve protein chip technology – All living beings carry protein. Understanding protein structure, organization, and interaction with the environment and other components form the fundamental basis of any medical research. A better understanding of proteins enables the scientific community to find answers to mysteries of the human body or the living world. It allows them to understand the life processes of the body, diseases, infections, illnesses, disorders and viruses that affect humans at a deeper level. A deeper level of understanding is the key to preventing or curing several diseases and illnesses. The advancement in protein chip technology can improve the diagnosis, prognosis, drug discovery, disease monitoring, and other relevant medical research. The effective role of protein chips during the covid-19 pandemic in diagnosis, disease monitoring, vaccine and drug development is a fine example of this technology's potential for medicine in the future. The rising applications of protein chips have encouraged private and public market players to increase their research and development expenditure, offering lucrative opportunities for the market's development in the forecast period.
Challenges:
High cost of protein chips – The research and development of protein chips cost significant capital. The production and associated components required for the analysis also entail high working costs. Furthermore, the low-and-middle-income nations have restricted access to this novel technology which leads to the exclusion of a significant consumer market. Therefore, the high cost of protein chips will challenge the market's growth.
Regional segmentation analysis:
The regions analyzed for the market include North America, Europe, South America, Asia Pacific, the Middle East, and Africa. North America emerged as the largest global protein chip market, with a 44% market revenue share in 2022. North America now holds a dominant position in the global market for protein chips due to the rising incidence of cancer. The increasing prevalence can be attributed to the rising obese population given the sedentary lifestyle, high consumption of processed-sugary foods, and no physical exercise. Excessive alcohol consumption and smoking in the region are equally responsible for the rising cancer incidence. The presence of important industry players and premium academic and research institutions also aids the expansion of the regional market. Furthermore, the growing presence of contract research organizations, or CROs, that offer necessary expertise and support to the pharmaceutical and biotechnology industries on a contract basis is aiding the regional protein chip market's growth. The market for protein chips is growing, given the rising fiscal healthcare expenditure to develop robust diagnostics, testing, disease monitoring, and personalized treatment services at an accessible cost. The increasing government expenditure on advancing the healthcare infrastructure and positive reimbursement policies will aid the growth of the protein chip market, especially in cancer research. The rising awareness about personalized medicine in the region will also augment the market's growth.
North America region Protein Chip Market Share in 2022 - 44%
www.thebrainyinsights.com
Check the geographical analysis of this market by requesting a free sample
Technology segment analysis
The technology segment is divided into analytical protein microarrays, functional protein microarrays, and reverse-phase protein microarrays. The analytical protein microarrays segment dominated the market with a revenue share of around 48% in 2022. Analytical protein microarrays profile a complex mixture of proteins to determine their binding affinities. The specificities and levels of protein expression are also analyzed with the help of analytical microarrays. Analytical protein microarrays are used to study antibodies, aptamers, or affibodies. However, it is primarily and majorly used to study antibodies, which is essential for disease monitoring and drug discovery. They can also be utilized for clinical diagnosis and monitoring differential expression profiles. For instance, they study the interaction or reactions of healthy and diseased tissues to environmental stress. Analytical microarrays are useful in environmental monitoring and food safety, given their high sensitivity/specificity, the ability to process large volumes of data and the reduction in biological sample amount.
Application segment analysis
The application is divided into diagnostics, antibody characterization, proteomics, and others. The antibody characterization segment dominated the market with a market share of around 54% in 2022. The physicochemical and immunochemical characteristics, biological activity, purity, impurities, and amount of a monoclonal antibody can all be determined through antibody characterization. The immune system uses antibodies to defend you against allergies, diseases and infections. These proteins are created naturally by your body. Several medical conditions, from non-fatal viral infections to cancer, are treated with lab-produced monoclonal antibodies. Characterizing antibodies is fundamental in diagnostics, drug discovery, therapeutics, and targeted drug delivery systems. Antibody characterization also plays a vital role in identifying biomarkers and thereby developing medication for infectious diseases brought on by bacteria, viruses, and protozoa, along with several applications in treating cancer and autoimmune disorders.
End-user segment analysis
The end user is divided into hospitals and clinics, academic and research institutes, diagnostic laboratories, pharmaceutical and biotechnology companies and others. The academic and research institutes segment dominated the market with a market share of around 37% in 2022. Protein chip is a new technology slowly replacing DNA microarrays in various fields. The limitations of DNA microarray in protein profiling and expression have been overcome with protein chips. The potential of protein chips in diagnosis, drug monitoring, drug discovery, targeted therapy or treatment, personalized medications, cancer and other medical research has been highlighted over the past decade. These potential applications are being studied, researched, tested and developed primarily in academic and research institutions, explaining their dominance in the segment. Furthermore, the increased government expenditure or funding/grants for these institutions after the covid-19 pandemic has propelled the segment's growth. Similarly, major market players' private funding contributes to the segment's growth.
Some of the Key Market Players:
Agilent Technologies Inc.
Arrayit Corporation
Bio-Rad Laboratories Inc.
DANAHER CORPORATION
Illumina Inc.
Merck KGAA
PerkinElmer Inc.
QUOTIENT LIMITED
RayBiotech Life Inc.
Thermo Fisher Scientific Inc.
Report Description:
| Attribute | Description |
| --- | --- |
| Market Size | Revenue (USD Billion) |
| Market size value in 2022 | USD 1.34 Billion |
| Market size value in 2032 | USD 3.07 Billion |
| CAGR (2023 to 2032) | 8.65% |
| Historical data | 2019-2021 |
| Base Year | 2022 |
| Forecast | 2023-2032 |
| Regional Segments | The regions examined for the market are Europe, Asia Pacific, North America, South America, and Middle East & Africa. |
| Segments | The research segment is based on technology, application, and end user. |
Frequesntly Asked Questions
1. Introduction
1.1. Objectives of the Study
1.2. Market Definition
1.3. Research Scope
1.4. Currency
1.5. Key Target Audience

2. Research Methodology and Assumptions

3. Executive Summary

4. Premium Insights
4.1. Porter's Five Forces Analysis
4.2. Value Chain Analysis
4.3. Top Investment Pockets
4.3.1. Market Attractiveness Analysis by Technology
4.3.2. Market Attractiveness Analysis by Application
4.3.3. Market Attractiveness Analysis by End User
4.3.4. Market Attractiveness Analysis by Region
4.4. Industry Trends

5. Market Dynamics
5.1. Market Evaluation
5.2. Drivers
5.2.1. The increasing incidence and prevalence of cancer
5.3. Restraints
5.3.1. Difficulty in obtaining substantive and quality protein samples
5.4. Opportunities
5.4.1. The rising research and development to improve protein chip technology
5.5. Challenges
5.5.1. High cost of protein chip

6. Global Protein Chip Market Analysis and Forecast, By Technology
6.1. Segment Overview
6.2. Analytical Protein Microarrays
6.3. Functional Protein Microarrays
6.4. Reverse Phase Protein Microarrays

7. Global Protein Chip Market Analysis and Forecast, By Application
7.1. Segment Overview
7.2. Diagnostics
7.3. Antibody Characterization
7.4. Proteomics
7.5. Others

8. Global Protein Chip Market Analysis and Forecast, By End User
8.1. Segment Overview
8.2. Hospitals and Clinics
8.3. Academic and Research Institutes
8.4. Diagnostic Laboratories
8.5. Pharmaceutical and Biotechnology Companies
8.6. Others

9. Global Protein Chip Market Analysis and Forecast, By Regional Analysis
9.1. Segment Overview
9.2. North America
9.2.1. U.S.
9.2.2. Canada
9.2.3. Mexico
9.3. Europe
9.3.1. Germany
9.3.2. France
9.3.3. U.K.
9.3.4. Italy
9.3.5. Spain
9.4. Asia-Pacific
9.4.1. Japan
9.4.2. China
9.4.3. India
9.5. South America
9.5.1. Brazil
9.6. Middle East and Africa
9.6.1. UAE
9.6.2. South Africa

10. Global Protein Chip Market-Competitive Landscape
10.1. Overview
10.2. Market Share of Key Players in the Protein Chip Market
10.2.1. Global Company Market Share
10.2.2. North America Company Market Share
10.2.3. Europe Company Market Share
10.2.4. APAC Company Market Share
10.3. Competitive Situations and Trends
10.3.1. Product Launches and Developments
10.3.2. Partnerships, Collaborations, and Agreements
10.3.3. Mergers & Acquisitions
10.3.4. Expansions

11. Company Profiles
11.1. Agilent Technologies Inc.
11.1.1. Business Overview
11.1.2. Company Snapshot
11.1.3. Company Market Share Analysis
11.1.4. Company Product Portfolio
11.1.5. Recent Developments
11.1.6. SWOT Analysis
11.2. Arrayit Corporation
11.2.1. Business Overview
11.2.2. Company Snapshot
11.2.3. Company Market Share Analysis
11.2.4. Company Product Portfolio
11.2.5. Recent Developments
11.2.6. SWOT Analysis
11.3. Bio-Rad Laboratories Inc.
11.3.1. Business Overview
11.3.2. Company Snapshot
11.3.3. Company Market Share Analysis
11.3.4. Company Product Portfolio
11.3.5. Recent Developments
11.3.6. SWOT Analysis
11.4. DANAHER CORPORATION
11.4.1. Business Overview
11.4.2. Company Snapshot
11.4.3. Company Market Share Analysis
11.4.4. Company Product Portfolio
11.4.5. Recent Developments
11.4.6. SWOT Analysis
11.5. Illumina Inc.
11.5.1. Business Overview
11.5.2. Company Snapshot
11.5.3. Company Market Share Analysis
11.5.4. Company Product Portfolio
11.5.5. Recent Developments
11.5.6. SWOT Analysis
11.6. Merck KGAA
11.6.1. Business Overview
11.6.2. Company Snapshot
11.6.3. Company Market Share Analysis
11.6.4. Company Product Portfolio
11.6.5. Recent Developments
11.6.6. SWOT Analysis
11.7. PerkinElmer Inc.
11.7.1. Business Overview
11.7.2. Company Snapshot
11.7.3. Company Market Share Analysis
11.7.4. Company Product Portfolio
11.7.5. Recent Developments
11.7.6. SWOT Analysis
11.8. QUOTIENT LIMITED
11.8.1. Business Overview
11.8.2. Company Snapshot
11.8.3. Company Market Share Analysis
11.8.4. Company Product Portfolio
11.8.5. Recent Developments
11.8.6. SWOT Analysis
11.9. RayBiotech Life Inc.
11.9.1. Business Overview
11.9.2. Company Snapshot
11.9.3. Company Market Share Analysis
11.9.4. Company Product Portfolio
11.9.5. Recent Developments
11.9.6. SWOT Analysis
11.10. Thermo Fisher Scientific Inc.
11.10.1. Business Overview
11.10.2. Company Snapshot
11.10.3. Company Market Share Analysis
11.10.4. Company Product Portfolio
11.10.5. Recent Developments
11.10.6. SWOT Analysis

List of Table
1. Global Protein Chip Market, By Technology, 2019-2032 (USD Billion)
2. Global Analytical Protein Microarrays Protein Chip Market, By Region, 2019-2032 (USD Billion)
3. Global Functional Protein Microarrays Protein Chip Market, By Region, 2019-2032 (USD Billion)
4. Global Reverse Phase Protein Microarrays Protein Chip Market, By Region, 2019-2032 (USD Billion)
5. Global Protein Chip Market, By Application, 2019-2032 (USD Billion)
6. Global Diagnostics Protein Chip Market, By Region, 2019-2032 (USD Billion)
7. Global Antibody Characterization Protein Chip Market, By Region, 2019-2032 (USD Billion)
8. Global Proteomics Protein Chip Market, By Region, 2019-2032 (USD Billion)
9. Global Others Protein Chip Market, By Region, 2019-2032 (USD Billion)
10. Global Protein Chip Market, By End User, 2019-2032 (USD Billion)
11. Global Hospitals and Clinics Protein Chip Market, By Region, 2019-2032 (USD Billion)
12. Global Academic and Research Institutes Protein Chip Market, By Region, 2019-2032 (USD Billion)
13. Global Diagnostic Laboratories Protein Chip Market, By Region, 2019-2032 (USD Billion)
14. Global Pharmaceutical and Biotechnology Companies Protein Chip Market, By Region, 2019-2032 (USD Billion)
15. Global Others Protein Chip Market, By Region, 2019-2032 (USD Billion)
16. Global Protein Chip Market, By Region, 2019-2032 (USD Billion)
17. North America Protein Chip Market, By Technology, 2019-2032 (USD Billion)
18. North America Protein Chip Market, By Application, 2019-2032 (USD Billion)
19. North America Protein Chip Market, By End User, 2019-2032 (USD Billion)
20. U.S. Protein Chip Market, By Technology, 2019-2032 (USD Billion)
21. U.S. Protein Chip Market, By Application, 2019-2032 (USD Billion)
22. U.S. Protein Chip Market, By End User, 2019-2032 (USD Billion)
23. Canada Protein Chip Market, By Technology, 2019-2032 (USD Billion)
24. Canada Protein Chip Market, By Application, 2019-2032 (USD Billion)
25. Canada Protein Chip Market, By End User, 2019-2032 (USD Billion)
26. Mexico Protein Chip Market, By Technology, 2019-2032 (USD Billion)
27. Mexico Protein Chip Market, By Application, 2019-2032 (USD Billion)
28. Mexico Protein Chip Market, By End User, 2019-2032 (USD Billion)
29. Europe Protein Chip Market, By Technology, 2019-2032 (USD Billion)
30. Europe Protein Chip Market, By Application, 2019-2032 (USD Billion)
31. Europe Protein Chip Market, By End User, 2019-2032 (USD Billion)
32. Germany Protein Chip Market, By Technology, 2019-2032 (USD Billion)
33. Germany Protein Chip Market, By Application, 2019-2032 (USD Billion)
34. Germany Protein Chip Market, By End User, 2019-2032 (USD Billion)
35. France Protein Chip Market, By Technology, 2019-2032 (USD Billion)
36. France Protein Chip Market, By Application, 2019-2032 (USD Billion)
37. France Protein Chip Market, By End User, 2019-2032 (USD Billion)
38. U.K. Protein Chip Market, By Technology, 2019-2032 (USD Billion)
39. U.K. Protein Chip Market, By Application, 2019-2032 (USD Billion)
40. U.K. Protein Chip Market, By End User, 2019-2032 (USD Billion)
41. Italy Protein Chip Market, By Technology, 2019-2032 (USD Billion)
42. Italy Protein Chip Market, By Application, 2019-2032 (USD Billion)
43. Italy Protein Chip Market, By End User, 2019-2032 (USD Billion)
44. Spain Protein Chip Market, By Technology, 2019-2032 (USD Billion)
45. Spain Protein Chip Market, By Application, 2019-2032 (USD Billion)
46. Spain Protein Chip Market, By End User, 2019-2032 (USD Billion)
47. Asia Pacific Protein Chip Market, By Technology, 2019-2032 (USD Billion)
48. Asia Pacific Protein Chip Market, By Application, 2019-2032 (USD Billion)
49. Asia Pacific Protein Chip Market, By End User, 2019-2032 (USD Billion)
50. Japan Protein Chip Market, By Technology, 2019-2032 (USD Billion)
51. Japan Protein Chip Market, By Application, 2019-2032 (USD Billion)
52. Japan Protein Chip Market, By End User, 2019-2032 (USD Billion)
53. China Protein Chip Market, By Technology, 2019-2032 (USD Billion)
54. China Protein Chip Market, By Application, 2019-2032 (USD Billion)
55. China Protein Chip Market, By End User, 2019-2032 (USD Billion)
56. India Protein Chip Market, By Technology, 2019-2032 (USD Billion)
57. India Protein Chip Market, By Application, 2019-2032 (USD Billion)
58. India Protein Chip Market, By End User, 2019-2032 (USD Billion)
59. South America Protein Chip Market, By Technology, 2019-2032 (USD Billion)
60. South America Protein Chip Market, By Application, 2019-2032 (USD Billion)
61. South America Protein Chip Market, By End User, 2019-2032 (USD Billion)
62. Brazil Protein Chip Market, By Technology, 2019-2032 (USD Billion)
63. Brazil Protein Chip Market, By Application, 2019-2032 (USD Billion)
64. Brazil Protein Chip Market, By End User, 2019-2032 (USD Billion)
65. Middle East and Africa Protein Chip Market, By Technology, 2019-2032 (USD Billion)
66. Middle East and Africa Protein Chip Market, By Application, 2019-2032 (USD Billion)
67. Middle East and Africa Protein Chip Market, By End User, 2019-2032 (USD Billion)
68. UAE Protein Chip Market, By Technology, 2019-2032 (USD Billion)
69. UAE Protein Chip Market, By Application, 2019-2032 (USD Billion)
70. UAE Protein Chip Market, By End User, 2019-2032 (USD Billion)
71. South Africa Protein Chip Market, By Technology, 2019-2032 (USD Billion)
72. South Africa Protein Chip Market, By Application, 2019-2032 (USD Billion)
73. South Africa Protein Chip Market, By End User, 2019-2032 (USD Billion)
List of Figures
1. Global Protein Chip Market Segmentation
2. Protein Chip Market: Research Methodology
3. Market Size Estimation Methodology: Bottom-Up Approach
4. Market Size Estimation Methodology: Top-Down Approach
5. Data Triangulation
6. Porter's Five Forces Analysis
7. Value Chain Analysis
8. Global Protein Chip Market Attractiveness Analysis by Technology
9. Global Protein Chip Market Attractiveness Analysis by Application
10. Global Protein Chip Market Attractiveness Analysis by End User
11. Global Protein Chip Market Attractiveness Analysis by Region
12. Global Protein Chip Market: Dynamics
13. Global Protein Chip Market Share by Technology (2022 & 2032)
14. Global Protein Chip Market Share by Application (2022 & 2032)
15. Global Protein Chip Market Share by End User (2022 & 2032)
16. Global Protein Chip Market Share by Regions (2022 & 2032)
17. Global Protein Chip Market Share by Company (2022)