The global portable generator market was valued at USD 6.0 billion in 2022, growing at a CAGR of 5.5% from 2023 to 2032. The market is expected to reach USD 10.2 billion by 2032. The portable generator market is driven by rising power consumption, a lack of dependable grid infrastructure, the requirement for emergency backup power solutions, and the demand for consistent power delivery.
Market Introduction:
A portable generator is a small and versatile power generation device used to generate electricity in areas where a traditional power supply is unavailable or unreliable. These generators are often compact, lightweight, and portable, making them ideal for various uses, including camping, outdoor events, construction sites, and emergency backup power during power outages or natural disasters. Portable generators come in various power levels and fuel sources, such as gasoline, diesel, propane, or natural gas. They convert mechanical energy into electrical energy via an engine-driven alternator, allowing customers to run necessary appliances, electronic gadgets, and lighting, offering ease and comfort in various settings. The increased demand for dependable backup power solutions due to the increasing frequency of natural catastrophes and extreme weather occurrences will drive market expansion over the forecast period. Portable generators provide an important lifeline during power outages, allowing individuals and businesses to continue essential operations while providing comfort and safety. Furthermore, the increasing popularity of outdoor leisure activities such as camping, tailgating, and outdoor gatherings has increased the demand for portable power sources.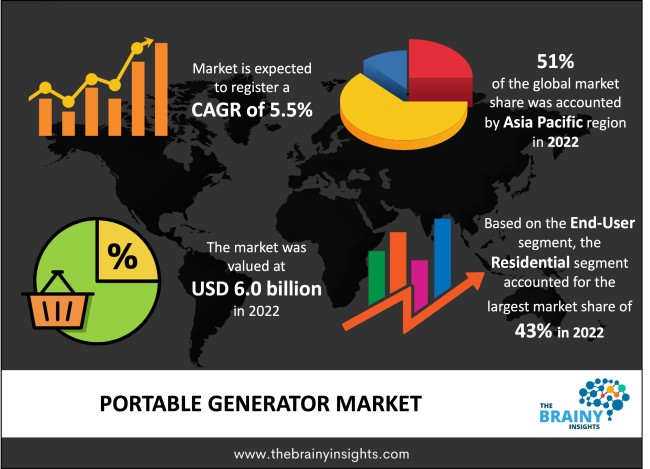 Get an overview of this study by requesting a free sample
Recent Development
In January 2022, Honda announced plans to begin selling its new EU32i portable generator with a newly developed dedicated engine (with a maximum output of 3.2kVA). The business also disclosed that sales would commence in the European region in March 2022, followed by sales in other locations worldwide.
In June 2021, Generac Holdings Inc. announced that it had acquired Deep Sea Electronics Limited, an innovative controls designer and producer. Deep Sea Electronics offers controller products that provide adaptable solutions for various applications, such as generators, automatic transfer switches, battery charging, and off-highway vehicles.
Market Dynamics:
Drivers
Increasing Demand- Natural calamities such as hurricanes, earthquakes, wildfires, and power grid vulnerabilities have increased the demand for dependable backup power solutions. Portable generators provide a key lifeline during an emergency, allowing households, companies, and emergency services to continue critical operations such as powering medical equipment, maintaining communication, and providing basic comforts. As natural catastrophes become increasingly regular, the portable generator market continues to expand as consumers and institutions recognize the value of having a dependable power source that may give quick relief during power outages and interruptions.
Restraints:
Battery Storage Systems- The portable generator market is projected to be restrained by rising demand for battery storage systems and other cleaner standby power sources.
Opportunities:
Growing Outdoor Activities- The rise in outdoor recreational activities, fuelled by a desire for exploration, environmental appreciation, and leisure, has increased demand for portable generators. These generators are sought after by camping enthusiasts, RV owners, and outdoor event organizers to power numerous amenities such as lighting, heating, cooling, and electrical gadgets, ensuring comfort and convenience in distant settings. The portability and versatility of these generators allow outdoor enthusiasts to enjoy the pleasures of nature while still having access to vital energy for safety, entertainment, and modern comforts, contributing to the market's continued growth.
Regional segmentation analysis:
The regions analyzed for the market include North America, Europe, South America, Asia Pacific, the Middle East, and Africa. Asia Pacific emerged as the largest market for the global portable generator market, with a 51% market revenue share in 2022.
The issue can be linked to the rising demand for reliable and accessible power in emerging economies like India and China, where grid power is frequently unreliable or inaccessible in rural areas. Portable generators provide a dependable, cost-effective solution for powering these communities' homes, small businesses, and farms. The region's expanding construction industry is also increasing demand for portable generators for use on job sites to power tools and equipment. The growing incidence of natural catastrophes in the region, such as typhoons and earthquakes, has also increased the demand for portable generators for emergency backup power.
Asia Pacific Region Portable Generator Market Share in 2022 - 51%
www.thebrainyinsights.com
Check the geographical analysis of this market by requesting a free sample
Product Segment Analysis
The product segment is divided into portable diesel generators, portable gas generators, and others. The portable gas generators segment dominated the market, with a market share of around 39% in 2022. Natural gas portable generators' lower emissions, fuel efficiency, and dependability support the segment's growth. Natural gas burns cleaner than petrol, resulting in less emissions and contaminants. This makes them a popular alternative for consumers concerned about the environmental impact of their electricity usage. Furthermore, gaseous-based portable generators are often more fuel-efficient than gasoline generators, allowing them to run for longer periods with less fuel.
End-User Segment Analysis
The end-user segment is divided into industrial, commercial, and residential. The residential segment dominated the market, with a market share of around 43% in 2022. The rising frequency of extreme weather events, such as hurricanes and snowstorms, which can cause power outages and leave houses without electricity for days or weeks, is expected to contribut to the segment's growth. As a result, many homes are turning to portable generators as dependable backup power sources to ensure that their vital appliances and devices continue to operate during these outages. A growing desire for portable generators that are easy to use, compact, and portable, allowing homeowners to take them on camping excursions or utilize them for outdoor events, is also driving segment expansion.
Some of the Key Market Players:
Briggs & Stratton Corporation
Champion Power Equipment
Caterpillar, Inc.
Cummins Inc.
Generac Power Systems, Inc.
Kohler Co.
Multiquip Inc.
WINCO
Yamaha Motor Corporation
Duromax Power Equipment
Report Description:
| Attribute | Description |
| --- | --- |
| Market Size | Revenue (USD Billion) |
| Market size value in 2022 | USD 6.0 Billion |
| Market size value in 2032 | USD 10.2 Billion |
| CAGR (2023 to 2032) | 5.5% |
| Historical data | 2019-2021 |
| Base Year | 2022 |
| Forecast | 2023-2032 |
| Region | The regions analyzed for the market are Asia Pacific, Europe, South America, North America, and Middle East & Africa. Furthermore, the regions are further analyzed at the country level. |
| Segments | Product, End-User |
Frequesntly Asked Questions
As per The Brainy Insights, the size of the portable generator market was valued at USD 6.0 billion in 2022 to USD 10.2 billion by 2032.
The global portable generator market is growing at a CAGR of 5.5% during the forecast period 2023-2032.
Asia Pacific emerged as the largest portable generator market.
1. Introduction
1.1. Objectives of the Study
1.2. Market Definition
1.3. Research Scope
1.4. Currency
1.5. Key Target Audience

2. Research Methodology and Assumptions

3. Executive Summary

4. Premium Insights
4.1. Porter's Five Forces Analysis
4.2. Value Chain Analysis
4.3. Top Investment Pockets
4.3.1. Market Attractiveness Analysis by Product
4.3.2. Market Attractiveness Analysis by End-User
4.3.3. Market Attractiveness Analysis by Region
4.4. Industry Trends

5. Market Dynamics
5.1. Market Evaluation
5.2. Drivers
5.2.1. Increasing demand
5.3. Restraints
5.3.1. Battery storage systems
5.4. Opportunities
5.4.1. Growing outdoor activities
5.5. Challenges
5.5.1. Limited power supply

6. Global Portable Generator Market Analysis and Forecast, By Product
6.1. Segment Overview
6.2. Portable Diesel Generators
6.3. Portable Gas Generators
6.4. Others

7. Global Portable Generator Market Analysis and Forecast, By End-User
7.1. Segment Overview
7.2. Industrial
7.3. Commercial
7.4. Residential

8. Global Portable Generator Market Analysis and Forecast, By Regional Analysis
8.1. Segment Overview
8.2. North America
8.2.1. U.S.
8.2.2. Canada
8.2.3. Mexico
8.3. Europe
8.3.1. Germany
8.3.2. France
8.3.3. U.K.
8.3.4. Italy
8.3.5. Spain
8.4. Asia-Pacific
8.4.1. Japan
8.4.2. China
8.4.3. India
8.5. South America
8.5.1. Brazil
8.6. Middle East and Africa
8.6.1. UAE
8.6.2. South Africa

9. Global Portable Generator Market-Competitive Landscape
9.1. Overview
9.2. Market Share of Key Players in Global Portable Generator Market
9.2.1. Global Company Market Share
9.2.2. North America Company Market Share
9.2.3. Europe Company Market Share
9.2.4. APAC Company Market Share
9.3. Competitive Situations and Trends
9.3.1. Product Launches and Developments
9.3.2. Partnerships, Collaborations, and Agreements
9.3.3. Mergers & Acquisitions
9.3.4. Expansions

10. Company Profiles
10.1. Briggs & Stratton Corporation
10.1.1. Business Overview
10.1.2. Company Snapshot
10.1.3. Company Market Share Analysis
10.1.4. Company Product Portfolio
10.1.5. Recent Developments
10.1.6. SWOT Analysis
10.2. Champion Power Equipment
10.2.1. Business Overview
10.2.2. Company Snapshot
10.2.3. Company Market Share Analysis
10.2.4. Company Product Portfolio
10.2.5. Recent Developments
10.2.6. SWOT Analysis
10.3. Caterpillar, Inc.
10.3.1. Business Overview
10.3.2. Company Snapshot
10.3.3. Company Market Share Analysis
10.3.4. Company Product Portfolio
10.3.5. Recent Developments
10.3.6. SWOT Analysis
10.4. Cummins Inc.
10.4.1. Business Overview
10.4.2. Company Snapshot
10.4.3. Company Market Share Analysis
10.4.4. Company Product Portfolio
10.4.5. Recent Developments
10.4.6. SWOT Analysis
10.5. Generac Power Systems, Inc.
10.5.1. Business Overview
10.5.2. Company Snapshot
10.5.3. Company Market Share Analysis
10.5.4. Company Product Portfolio
10.5.5. Recent Developments
10.5.6. SWOT Analysis
10.6. Kohler Co.
10.6.1. Business Overview
10.6.2. Company Snapshot
10.6.3. Company Market Share Analysis
10.6.4. Company Product Portfolio
10.6.5. Recent Developments
10.6.6. SWOT Analysis
10.7. Multiquip Inc.
10.7.1. Business Overview
10.7.2. Company Snapshot
10.7.3. Company Market Share Analysis
10.7.4. Company Product Portfolio
10.7.5. Recent Developments
10.7.6. SWOT Analysis
10.8. WINCO
10.8.1. Business Overview
10.8.2. Company Snapshot
10.8.3. Company Market Share Analysis
10.8.4. Company Product Portfolio
10.8.5. Recent Developments
10.8.6. SWOT Analysis
10.9. Yamaha Motor Corporation
10.9.1. Business Overview
10.9.2. Company Snapshot
10.9.3. Company Market Share Analysis
10.9.4. Company Product Portfolio
10.9.5. Recent Developments
10.9.6. SWOT Analysis
10.10. Duromax Power Equipment
10.10.1. Business Overview
10.10.2. Company Snapshot
10.10.3. Company Market Share Analysis
10.10.4. Company Product Portfolio
10.10.5. Recent Developments
10.10.6. SWOT Analysis
List of Table
1. Global Portable Generator Market, By Product, 2019-2032 (USD Billion)
2. Global Portable Diesel Generators, Portable Generator Market, By Region, 2019-2032 (USD Billion)
3. Global Portable Gas Generators, Portable Generator Market, By Region, 2019-2032 (USD Billion)
4. Global Others, Portable Generator Market, By Region, 2019-2032 (USD Billion)
5. Global Portable Generator Market, By End-User, 2019-2032 (USD Billion)
6. Global Industrial, Portable Generator Market, By Region, 2019-2032 (USD Billion)
7. Global Commercial, Portable Generator Market, By Region, 2019-2032 (USD Billion)
8. Global Residential, Portable Generator Market, By Region, 2019-2032 (USD Billion)
9. North America Portable Generator Market, By Product, 2019-2032 (USD Billion)
10. North America Portable Generator Market, By End-User, 2019-2032 (USD Billion)
11. U.S. Portable Generator Market, By Product, 2019-2032 (USD Billion)
12. U.S. Portable Generator Market, By End-User, 2019-2032 (USD Billion)
13. Canada Portable Generator Market, By Product, 2019-2032 (USD Billion)
14. Canada Portable Generator Market, By End-User, 2019-2032 (USD Billion)
15. Mexico Portable Generator Market, By Product, 2019-2032 (USD Billion)
16. Mexico Portable Generator Market, By End-User, 2019-2032 (USD Billion)
17. Europe Portable Generator Market, By Product, 2019-2032 (USD Billion)
18. Europe Portable Generator Market, By End-User, 2019-2032 (USD Billion)
19. Germany Portable Generator Market, By Product, 2019-2032 (USD Billion)
20. Germany Portable Generator Market, By End-User, 2019-2032 (USD Billion)
21. France Portable Generator Market, By Product, 2019-2032 (USD Billion)
22. France Portable Generator Market, By End-User, 2019-2032 (USD Billion)
23. U.K. Portable Generator Market, By Product, 2019-2032 (USD Billion)
24. U.K. Portable Generator Market, By End-User, 2019-2032 (USD Billion)
25. Italy Portable Generator Market, By Product, 2019-2032 (USD Billion)
26. Italy Portable Generator Market, By End-User, 2019-2032 (USD Billion)
27. Spain Portable Generator Market, By Product, 2019-2032 (USD Billion)
28. Spain Portable Generator Market, By End-User, 2019-2032 (USD Billion)
29. Asia Pacific Portable Generator Market, By Product, 2019-2032 (USD Billion)
30. Asia Pacific Portable Generator Market, By End-User, 2019-2032 (USD Billion)
31. Japan Portable Generator Market, By Product, 2019-2032 (USD Billion)
32. Japan Portable Generator Market, By End-User, 2019-2032 (USD Billion)
33. China Portable Generator Market, By Product, 2019-2032 (USD Billion)
34. China Portable Generator Market, By End-User, 2019-2032 (USD Billion)
35. India Portable Generator Market, By Product, 2019-2032 (USD Billion)
36. India Portable Generator Market, By End-User, 2019-2032 (USD Billion)
37. South America Portable Generator Market, By Product, 2019-2032 (USD Billion)
38. South America Portable Generator Market, By End-User, 2019-2032 (USD Billion)
39. Brazil Portable Generator Market, By Product, 2019-2032 (USD Billion)
40. Brazil Portable Generator Market, By End-User, 2019-2032 (USD Billion)
41. Middle East and Africa Portable Generator Market, By Product, 2019-2032 (USD Billion)
42. Middle East and Africa Portable Generator Market, By End-User, 2019-2032 (USD Billion)
43. UAE Portable Generator Market, By Product, 2019-2032 (USD Billion)
44. UAE Portable Generator Market, By End-User, 2019-2032 (USD Billion)
45. South Africa Portable Generator Market, By Product, 2019-2032 (USD Billion)
46. South Africa Portable Generator Market, By End-User, 2019-2032 (USD Billion)
List of Figures
1. Global Portable Generator Market Segmentation
2. Global Portable Generator Market: Research Methodology
3. Market Size Estimation Methodology: Bottom-Up Approach
4. Market Size Estimation Methodology: Top-Down Approach
5. Data Triangulation
6. Porter's Five Forces Analysis
7. Value Chain Analysis
8. Global Portable Generator Market Attractiveness Analysis by Product
9. Global Portable Generator Market Attractiveness Analysis by End-User
10. Global Portable Generator Market Attractiveness Analysis by Region
11. Global Portable Generator Market: Dynamics
12. Global Portable Generator Market Share by Product (2023 & 2032)
13. Global Portable Generator Market Share by End-User (2023 & 2032)
14. Global Portable Generator Market Share by Regions (2023 & 2032)
15. Global Portable Generator Market Share by Company (2022)