The global petroleum coke market was valued at USD 28.43 Billion in 2022, which is anticipated to grow at a CAGR of 7.25% from 2023 to 2032. The rapid rise of the steel industry due to advancements in railway, highway, transportation, and automobile sectors has been supported by the expansion of the petroleum coke market. The global petroleum coke market is anticipated to rise due to the technical developments in the power generation sector, as well as the expansion of the heavy oil supply globally and the cement sector.
Market Introduction:
Petroleum coke, a final solid substance byproduct of the distillation of crude oil that contains more than 80% carbon, is a material rich in carbon. It is a substance with a high heat value and a high carbon content that is chemically stable. Petroleum coke, which comes in two grades—calcined grade and fuel grade—is referred to as the final solid product of oil refining. Crude oil is the only substance left after separating useful petroleum products like lubricants, fuel, waxes, and other byproducts of the refining process. This is put through additional processing in cokers or other cracking methods to create petroleum coke. It is also made from bitumen; the process is known as coking, and chemical engineering plant operations are most frequently used for the specific technique of delayed coking. A petcoke is the way it is abbreviated. It has numerous uses, such as an anode and electrode, and fuel for the brick and metal industries. Petroleum coke is stored in a stack next to an oil refinery until it is sold. Several grades of petroleum coke can be produced by altering the cooking time, the temperature at which it is done, and the calibre of the raw materials utilized. Petroleum coke comes in four varieties: needle coke, sponge coke, honeycomb coke, and shot coke. Petroleum coke offers desirable chemical characteristics such as a high calorific value, solid content that is rich in carbon, a low level of ash, low toxicity, and high electrical conductivity. These are mostly employed in the cement and power generation industries and in the refinement of petroleum. Aluminium, steel, paints & colourings, fertilizer, and enterprises that produce titanium dioxide all need calcined petroleum coke. Petroleum coke is used in specialized industries to make urea, ammonium nitrate, titanium dioxide, and paper. Aluminium, metallurgical uses, storage, steel, and power are just a few industries where petroleum coke is extensively used. A carbonaceous substance called petroleum coke, commonly called pet coke is produced during the refining process by distilling crude oil. With trace amounts of sulphur, metals, and other impurities, carbon makes up the majority of its chemical composition. Due to its high energy density, it is a desirable fuel source for various industrial applications. It is a useful fuel alternative because of its low moisture and generally low ash contents. The demand for petroleum coke is rising globally due to its energy efficiency and affordability. Manufacturing anodes for the aluminium sector is currently using more petroleum coke as a feedstock, which is causing the market to expand. The market is expanding due to the increased use of petroleum coke in power plants to generate energy at a reasonable cost. The market is also positively affected by the rising demand for petroleum coke, which is in demand because it is a more affordable fuel alternative than more conventional ones. Furthermore, petroleum coke's many advantages—including its anti-corrosion abilities, high flexibility, and improved thermal connectivity—offer market investors lucrative potential for growth. Additionally, the market is expanding due to the growing demand for various electrical components. Accordingly, the market is expanding due to the rising demand for steel driven by the global infrastructure boom.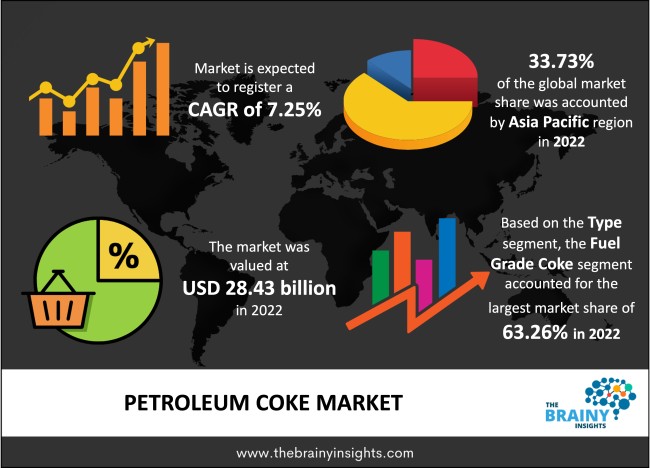 Get an overview of this study by requesting a free sample
Recent Development
Phillips 66 American oil business and DCP Midstream, LP, a midstream petroleum services company, agreed on January 6, 2023, for each standard unit to represent a limited partner interest in DCP Midstream, increasing its economic stake to 86.8%. The firm's growth and, in certain ways, the productivity of the petroleum coke (pet coke) market will be aided by it.
Azule Energy, the new 50/50 independent joint venture merging the two firms' Angolan assets, was formally founded on August 2, 2022, according to an announcement by BP Oil gas company and Eni Italian energy company.
ExxonMobil and Texas A&M University began working together on a method to create graphene by electrochemically exfoliating petroleum coke, a byproduct of crude oil refining, on June 20, 2022.
Reliance Industries Ltd., an Indian multinational conglomerate, announced intentions to produce blue hydrogen to turn petroleum coke into synthesis gas in February 2022.
Market Dynamics:
Drivers
Increasing need for energy to carry out many tasks- The global population's growing requirement for energy to carry out multiple tasks is promoting market expansion. Petroleum coke, mostly used in heavy industries and power production, significantly meets this demand. It is a crucial component, especially in areas with little access to alternative fuels, because it can offer a reliable and abundant energy supply. Aside from that, petroleum coke functions as a backup during periods of inconsistent renewable energy supply and maintains a continuous power supply, which ensures a favourable outlook for the sector as renewable energy sources such as wind and solar continue to develop. Rapid industrialization and urbanization are fueling an increase in residential and commercial buildings, boosting the market's expansion. Additionally, people are becoming more interested in residential restoration because of their higher living standards. In addition, petroleum coke is a crucial ingredient that is frequently used in the manufacture of asphalt. Additionally, asphalt is utilized in the construction of roads and the expansion of transportation networks, both of which are favourably impacting the market. Petroleum coke is a desirable fuel source for industries including cement, steel, and power generation due to its high calorific value and cost-efficiency. The market is expanding due to a growing need for petroleum coke in fertilizers in the agricultural industry. Additionally, it is an important carbon source that is utilized in manufacturing urea, a nitrogen-based fertilizer. To maximize its nitrogen content and granulation, urea is a key nitrogen fertilizer that needs a carbon source during production. Manufacturers have a more affordable and environmentally friendly option because of it, especially in areas with expensive or restricted access to alternative carbon sources like natural gas. In addition, the growing demand for various food products among the general public around the world is driving the market's expansion due to the increased requirement for nitrogen-based fertilizers.
Restraints:
Negative effects of petroleum coke on health and the environment- Pet coke's harmful impacts on the environment and human health are anticipated to restrain market expansion. Due to its high sulphur content, petroleum coke (pet coke) is bad for aquatic and terrestrial habitats. The government has implemented several rigorous laws to limit the use of pet coke. Alternative technologies and fuels are being created to lessen the negative effects of pet coke. Examples include improved pollution control systems and cleaner-burning fuels like hydrogen and natural gas. Additionally, there is a growing focus on recycling and repurposing petcoke to decrease its environmental impact. With these steps, the market's long-term growth is attempted while mitigating the negative effects.
Regional segmentation analysis:
The regions analyzed for the market include North America, Europe, South America, Asia Pacific, the Middle East, and Africa. Asia-Pacific emerged as the most significant global petroleum coke market, with a 33.73% market revenue share in 2022. Regarding demand, Asia Pacific dominates the world market for petroleum coke and is expected to maintain the lead in the near future. Petroleum coke is used extensively in cement kilns and power plants in developing nations like India and China. In China, the majority of petroleum coke is utilized primarily in power plants to produce electricity. Due to its growing industrialization, India uses a significant amount of the product in the cement sector. Over the coming years, expanding cement and power businesses in the region are projected to increase product demand.
Asia-Pacific Region Petroleum Coke Market Share in 2022 - 33.73%
www.thebrainyinsights.com
Check the geographical analysis of this market by requesting a free sample
Type Segment Analysis
The type segment is divided into calcined coke and fuel grade coke. The fuel grade coke segment dominated the market, with a market share of around 63.26% in 2022. In industrial applications and power generation, fuel grade coke is primarily employed as a fuel source. Its high carbon content, which makes it an efficient and energy-dense fuel, essentially differentiates it. It is even more desirable as a combustion fuel because it contains low moisture and ash. The thermal cracking and distillation of crude oil during the refining process produces this kind of petroleum coke. One major sector that depends on fuel grade coke is cement manufacture, which is utilized as an additional fuel to lower production costs.
Application Segment Analysis
The application segment is divided into cement kilns, aluminium, power plants, fertilizer, steel, and others. The aluminium segment dominated the market, with a market share of around 18.44% in 2022. Both the demand for aluminium and the usage of calcined petcock in manufacturing aluminium are on the rise. Due to its superior flexibility, resistance to corrosion, low weight, and exceptional thermal & electrical conductivity, aluminium is ideally suited for usage in various significant industries, including ceramics, electrical components, and medicine. Urbanization in developing countries has raised metal demand, which has fueled market growth over the projection period.
Some of the Key Market Players:
Chevron Corporation
ExxonMobil Corporation
Indian Oil Corporation Limited
Royal Dutch Shell Plc
Valero Energy Corporation
BP Plc
HPCL - Mittal Energy Limited
Saudi Arabian Oil Co.
Essar Oil Ltd.
Reliance Industries Limited
Report Description:
| Attribute | Description |
| --- | --- |
| Market Size | Revenue (USD Billion) |
| Market size value in 2022 | USD 28.43 Billion |
| Market size value in 2032 | USD 57.24 Billion |
| CAGR (2023 to 2032) | 7.25% |
| Historical data | 2019-2021 |
| Base Year | 2022 |
| Forecast | 2023-2032 |
| Region | The regions analyzed for the market are Asia Pacific, Europe, South America, North America, and Middle East & Africa. Furthermore, the regions are further analyzed at the country level. |
| Segments | Type, Application |
Frequesntly Asked Questions
1. Introduction
1.1. Objective of the Study
1.2. Market Definition
1.3. Research Scope
1.4. Currency
1.5. Key Target Audience

2. Research Methodology and Assumptions

3. Executive Summary

4. Premium Insights
4.1. Porter's Five Forces Analysis
4.2. Value Chain Analysis
4.3. Top Investment Pockets
4.3.1. Market Attractiveness Analysis By Type
4.3.2. Market Attractiveness Analysis By Application
4.3.3. Market Attractiveness Analysis By Region
4.4. Industry Trends

5. Market Dynamics
5.1. Market Evaluation
5.2. Drivers
5.2.1. Increasing need for energy to carry out many tasks
5.3. Restraints
5.3.1. Negative effects of petroleum coke on health and the environment

6. Global Petroleum Coke Market Analysis and Forecast, By Type
6.1. Segment Overview
6.2. Calcined Coke
6.3. Fuel Grade Coke

7. Global Petroleum Coke Market Analysis and Forecast, By Application
7.1. Segment Overview
7.2. Cement Kilns
7.3. Aluminium
7.4. Power Plants
7.5. Fertilizer
7.6. Steel
7.7. Others

8. Global Petroleum Coke Market Analysis and Forecast, By Regional Analysis
8.1. Segment Overview
8.2. North America
8.2.1. U.S.
8.2.2. Canada
8.2.3. Mexico
8.3. Europe
8.3.1. Germany
8.3.2. France
8.3.3. U.K.
8.3.4. Italy
8.3.5. Spain
8.4. Asia-Pacific
8.4.1. Japan
8.4.2. China
8.4.3. India
8.5. South America
8.5.1. Brazil
8.6. Middle East and Africa
8.6.1. UAE
8.6.2. South Africa

9. Global Petroleum Coke Market-Competitive Landscape
9.1. Overview
9.2. Market Share of Key Players in the Petroleum Coke Market
9.2.1. Global Company Market Share
9.2.2. North America Company Market Share
9.2.3. Europe Company Market Share
9.2.4. APAC Company Market Share
9.3. Competitive Situations and Trends
9.3.1. Product Launches and Developments
9.3.2. Partnerships, Collaborations, and Agreements
9.3.3. Mergers & Acquisitions
9.3.4. Expansions

10. Company Profiles
10.1. Chevron Corporation
10.1.1. Business Overview
10.1.2. Company Snapshot
10.1.3. Company Market Share Analysis
10.1.4. Company Product Portfolio
10.1.5. Recent Developments
10.1.6. SWOT Analysis
10.2. ExxonMobil Corporation
10.2.1. Business Overview
10.2.2. Company Snapshot
10.2.3. Company Market Share Analysis
10.2.4. Company Product Portfolio
10.2.5. Recent Developments
10.2.6. SWOT Analysis
10.3. Indian Oil Corporation Limited
10.3.1. Business Overview
10.3.2. Company Snapshot
10.3.3. Company Market Share Analysis
10.3.4. Company Product Portfolio
10.3.5. Recent Developments
10.3.6. SWOT Analysis
10.4. Royal Dutch Shell Plc
10.4.1. Business Overview
10.4.2. Company Snapshot
10.4.3. Company Market Share Analysis
10.4.4. Company Product Portfolio
10.4.5. Recent Developments
10.4.6. SWOT Analysis
10.5. Valero Energy Corporation
10.5.1. Business Overview
10.5.2. Company Snapshot
10.5.3. Company Market Share Analysis
10.5.4. Company Product Portfolio
10.5.5. Recent Developments
10.5.6. SWOT Analysis
10.6. BP Plc
10.6.1. Business Overview
10.6.2. Company Snapshot
10.6.3. Company Market Share Analysis
10.6.4. Company Product Portfolio
10.6.5. Recent Developments
10.6.6. SWOT Analysis
10.7. HPCL - Mittal Energy Limited
10.7.1. Business Overview
10.7.2. Company Snapshot
10.7.3. Company Market Share Analysis
10.7.4. Company Product Portfolio
10.7.5. Recent Developments
10.7.6. SWOT Analysis
10.8. Saudi Arabian Oil Co.
10.8.1. Business Overview
10.8.2. Company Snapshot
10.8.3. Company Market Share Analysis
10.8.4. Company Product Portfolio
10.8.5. Recent Developments
10.8.6. SWOT Analysis
10.9. Essar Oil Ltd.
10.9.1. Business Overview
10.9.2. Company Snapshot
10.9.3. Company Market Share Analysis
10.9.4. Company Product Portfolio
10.9.5. Recent Developments
10.9.6. SWOT Analysis
10.10. Reliance Industries Limited
10.10.1. Business Overview
10.10.2. Company Snapshot
10.10.3. Company Market Share Analysis
10.10.4. Company Product Portfolio
10.10.5. Recent Developments
10.10.6. SWOT Analysis
List of Table
1. Global Petroleum Coke Market, By Type, 2019-2032 (USD Billion)
2. Global Calcined Coke, Petroleum Coke Market, By Region, 2019-2032 (USD Billion)
3. Global Fuel Grade Coke, Petroleum Coke Market, By Region, 2019-2032 (USD Billion)
4. Global Petroleum Coke Market, By Application, 2019-2032 (USD Billion)
5. Global Cement Kilns, Petroleum Coke Market, By Region, 2019-2032 (USD Billion)
6. Global Aluminium, Petroleum Coke Market, By Region, 2019-2032 (USD Billion)
7. Global Power Plants, Petroleum Coke Market, By Region, 2019-2032 (USD Billion)
8. Global Fertilizer, Petroleum Coke Market, By Region, 2019-2032 (USD Billion)
9. Global Steel, Petroleum Coke Market, By Region, 2019-2032 (USD Billion)
10. Global Others, Petroleum Coke Market, By Region, 2019-2032 (USD Billion)
11. Global Petroleum Coke Market, By Region, 2019-2032 (USD Billion)
12. North America Petroleum Coke Market, By Type, 2019-2032 (USD Billion)
13. North America Petroleum Coke Market, By Application, 2019-2032 (USD Billion)
14. U.S. Petroleum Coke Market, By Type, 2019-2032 (USD Billion)
15. U.S. Petroleum Coke Market, By Application, 2019-2032 (USD Billion)
16. Canada Petroleum Coke Market, By Type, 2019-2032 (USD Billion)
17. Canada Petroleum Coke Market, By Application, 2019-2032 (USD Billion)
18. Mexico Petroleum Coke Market, By Type, 2019-2032 (USD Billion)
19. Mexico Petroleum Coke Market, By Application, 2019-2032 (USD Billion)
20. Europe Petroleum Coke Market, By Type, 2019-2032 (USD Billion)
21. Europe Petroleum Coke Market, By Application, 2019-2032 (USD Billion)
22. Germany Petroleum Coke Market, By Type, 2019-2032 (USD Billion)
23. Germany Petroleum Coke Market, By Application, 2019-2032 (USD Billion)
24. France Petroleum Coke Market, By Type, 2019-2032 (USD Billion)
25. France Petroleum Coke Market, By Application, 2019-2032 (USD Billion)
26. U.K. Petroleum Coke Market, By Type, 2019-2032 (USD Billion)
27. U.K. Petroleum Coke Market, By Application, 2019-2032 (USD Billion)
28. Italy Petroleum Coke Market, By Type, 2019-2032 (USD Billion)
29. Italy Petroleum Coke Market, By Application, 2019-2032 (USD Billion)
30. Spain Petroleum Coke Market, By Type, 2019-2032 (USD Billion)
31. Spain Petroleum Coke Market, By Application, 2019-2032 (USD Billion)
32. Asia Pacific Petroleum Coke Market, By Type, 2019-2032 (USD Billion)
33. Asia Pacific Petroleum Coke Market, By Application, 2019-2032 (USD Billion)
34. Japan Petroleum Coke Market, By Type, 2019-2032 (USD Billion)
35. Japan Petroleum Coke Market, By Application, 2019-2032 (USD Billion)
36. China Petroleum Coke Market, By Type, 2019-2032 (USD Billion)
37. China Petroleum Coke Market, By Application, 2019-2032 (USD Billion)
38. India Petroleum Coke Market, By Type, 2019-2032 (USD Billion)
39. India Petroleum Coke Market, By Application, 2019-2032 (USD Billion)
40. South America Petroleum Coke Market, By Type, 2019-2032 (USD Billion)
41. South America Petroleum Coke Market, By Application, 2019-2032 (USD Billion)
42. Brazil Petroleum Coke Market, By Type, 2019-2032 (USD Billion)
43. Brazil Petroleum Coke Market, By Application, 2019-2032 (USD Billion)
44. Middle East and Africa Petroleum Coke Market, By Type, 2019-2032 (USD Billion)
45. Middle East and Africa Petroleum Coke Market, By Application, 2019-2032 (USD Billion)
46. UAE Petroleum Coke Market, By Type, 2019-2032 (USD Billion)
47. UAE Petroleum Coke Market, By Application, 2019-2032 (USD Billion)
48. South Africa Petroleum Coke Market, By Type, 2019-2032 (USD Billion)
49. South Africa Petroleum Coke Market, By Application, 2019-2032 (USD Billion)
List of Figures
1. Global Petroleum Coke Market Segmentation
2. Petroleum Coke Market: Research Methodology
3. Market Size Estimation Methodology: Bottom-Up Approach
4. Market Size Estimation Methodology: Top-Down Approach
5. Data Triangulation
6. Porter's Five Forces Analysis
7. Value Chain Analysis
8. Global Petroleum Coke Market Attractiveness Analysis By Type
9. Global Petroleum Coke Market Attractiveness Analysis By Application
10. Global Petroleum Coke Market Attractiveness Analysis By Region
11. Global Petroleum Coke Market: Dynamics
12. Global Petroleum Coke Market Share By Type (2023 & 2032)
13. Global Petroleum Coke Market Share by Application (2023 & 2032)
14. Global Petroleum Coke Market Share by Regions (2023 & 2032)
15. Global Petroleum Coke Market Share by Company (2022)