The global bitumen market was valued at USD 55.0 billion in 2022, growing at a CAGR of 5% from 2023 to 2032. The market is expected to reach USD 89.5 billion by 2032. Because of their expanding use in various applications such as highways, waterproofing, insulation, and adhesives. Rapid urbanization in emerging nations has boosted infrastructure activity. As a result, demand for the product has increased.
Market Introduction:
Bitumen, often known as asphalt, is a black, sticky combination of hydrocarbons that occurs naturally or is generated through petroleum distillation. It is sprayed as glue and mixed with fine aggregates to make concrete blocks used in various applications, including road construction. Other applications for waterproof items include insulation, adhesives, and roofing felt. Bitumen is an essential raw material in the architectural and manufacturing industries for creating water dams, tanks, and bridges due to its high viscosity, adhesion, and moisture properties. In the following years, growing government spending and legislation towards road and infrastructure construction using Publicly Owned Collaboration models in developed and developing countries will drive bitumen market share. They help increase bituminous materials' usage in road building and maintenance. The construction of new manufacturing units and the infrastructure expansion in growing markets are favourable to product demand. One of the factors driving the growth of the bitumen sector is the fact that bitumen is used in paints and coatings, dyes and pigments, and other industries due to properties such as waterproofing and thickness.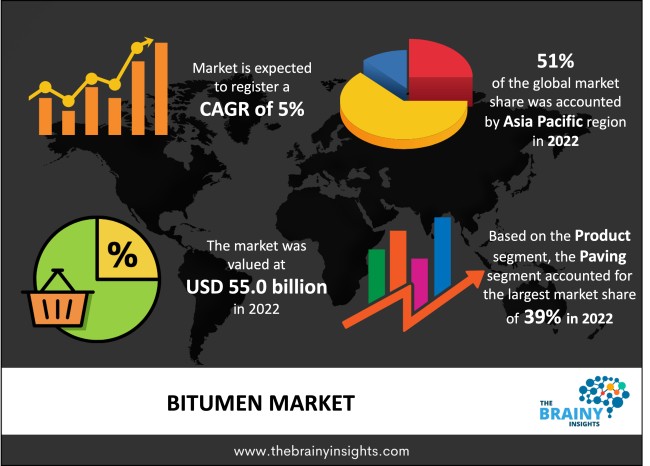 Get an overview of this study by requesting a free sample
Recent Development
In 2019, Shell introduced a new bitumen solution to lessen the harmful effects of paving and asphalt production on local air quality. Rids Bitumen Fresh Air has been shown to reduce pollution of numerous particles and gases in asphalt mix during production and paving by 40%.
Praj Industries, an Indian engineering corporation with operations in North America, Africa, and Latin America, developed a novel process for generating bio-bitumen based on lignin in May 2021. This was yet another big step forward for the company in developing cutting-edge innovation for bitumen production. The technique converts unprocessed phenol into bio-bitumen, reducing reliance on bitumen from fossil fuels while providing an environmentally sustainable answer.
Nypol RE, a novel polymer-modified bitumen containing some biogenic elements that enhance service life while having a low environmental impact, was introduced by NYNAS AB in November 2022.
In May 2021, ExxonMobil's bitumen-producing unit in Singapore will reopen. The factory has a bitumen production capability of 100,000-120,000 tonnes per month.
Market Dynamics:
Drivers
Construction of Roads- The construction of roads generates a lot of revenue for businesses in the bitumen sector. Bitumen is primarily used in road building due to its numerous benefits and features. Bitumen is manufactured with several specific properties already built in. Bitumen is used as a raw material in adaptable road construction, which frequently uses bitumen in road construction. Bitumen is less expensive to install than concrete. Loose rocks, on the other hand, enhance road noise and hasten tyre wear on bitumen pavements. However, bitumen may be repurposed rather than being disposed of in a landfill. Bitumen is an excellent material for resurfacing roads with light traffic. Businesses in the bitumen industry profit from road construction.
Restraints:
Drop in Oil Price- The drop in oil prices has resulted in a reduction in raw material supply, which has resulted in rate volatility and swings in the bituminous market, limiting market growth over the entire forecast period. Because bituminous is a long-lasting product with an extensive distribution network, big suppliers that began selling directly to refineries are disputing this clause. Production techniques and stringent environmental regulations also limit the future expansion of the bitumen market. Variable oil and petrochemical prices may impact bitumen market rate patterns during the forecast period.
Opportunities:
Used in Various Ranges of Products- Bitumen is commonly used as a chemical component in various products, including black paint and solvent. When mixed with chemicals, bitumen improves the efficiency of varnishes and paints and makes waterproof compounds viscous. Furthermore, emulsifiers use chemically modified bitumen as a candy-coated component. When mixed with biological amides or amines, bitumen improves bonding strength, and when combined with wood ash and lime, it makes excellent and smooth road surfaces. As a result, these factors are expected to increase the bitumen business in the following years.
Regional segmentation analysis:
The regions analyzed for the market include North America, Europe, South America, Asia Pacific, the Middle East, and Africa. Asia Pacific emerged as the most significant global bitumen market, with a 51% market revenue share in 2022.
The Asia-Pacific region controlled the majority of the global market. China is the largest economy in Asia-Pacific, and its growth rate remains high. Still, it is gradually slowing as the population ages and the economy shifts from investment to consumption, manufacturing to services, and external to internal demand. While the residential sector is doing well, the office, retail, and logistics sectors have had mixed results. Tier 1 office markets (including Beijing, Shanghai, and Shenzhen) are generally healthy, with strong demand for office space driven by the information technology (IT) and financial sectors.
India has the world's second-largest road network, covering 5.89 million kilometres (km). This road network moves 64.5% of all commodities in the country and handles 90% of the passenger traffic in India. Road transit has significantly expanded, increasing the need for bitumen. South Korea has smashed a record by doubling the length of motorways recorded in 1999, according to the Ministry of Land, Infrastructure, and Transport. In 2021, the country motorways had a total length of around 4,866 kilometres.
In March 2021, Puma Bitumen announced the opening of its newest bitumen terminal in India. The new factory will manufacture up to 40KT of asphalt annually to aid in the nation's infrastructure expansion.
Asia Pacific Region Bitumen Market Share in 2022 - 51%
www.thebrainyinsights.com
Check the geographical analysis of this market by requesting a free sample
Product Segment Analysis
The product segment is divided into oxidized, paving, emulsion, cutback, polymer modified, and others. The paving segment dominated the market, with a market share of around 39% in 2022. A paving grade bitumen with a penetration grade of 60/70 is produced by meticulously supervised refining methods using properly selected crude oils. Asphalt concrete combines fine and coarse materials, such as gravel or crushed stone, with asphalt acting as a binding agent.
Application Segment Analysis
The application segment is divided into road construction, waterproofing, airport runways, piping, and industrial bitumen. The road construction segment dominated the market, with a market share of around 42% in 2022. Road connectivity is the most critical aspect of every industrialized economy. This aspect has led to market expansion because of the increased demand for roads in emerging economies. Effective transportation systems in nations such as India, China, and the United States will stimulate product demand in the near future.
Some of the Key Market Players:
Asphalt & Bitumen West Corporation
ATDM CO. LTD
BP PLC
BMI Group
China Petroleum & Chemical Corporation
ENEOS Corporation
Exxon Mobil Corporation
GOIL Ltd.
Indian Oil Corporation Ltd
KRATON CORPORATION
Marathon Petroleum Corporation
Nynas AB
Raha Bitumen Inc.
Royal Dutch Shell PLC
Suncor Energy Inc.
Report Description:
| Attribute | Description |
| --- | --- |
| Market Size | Revenue (USD Billion) |
| Market size value in 2022 | USD 55.0 Billion |
| Market size value in 2032 | USD 89.5 Billion |
| CAGR (2023 to 2032) | 5% |
| Historical data | 2019-2021 |
| Base Year | 2022 |
| Forecast | 2023-2032 |
| Region | The regions analyzed for the market are Asia Pacific, Europe, South America, North America, and Middle East & Africa. Furthermore, the regions are further analyzed at the country level. |
| Segments | Product, Application |
Frequesntly Asked Questions
As per The Brainy Insights, the size of the bitumen market was valued at USD 55.0 billion in 2022 to USD 89.5 billion by 2032.
The global bitumen market is growing at a CAGR of 5% during the forecast period 2023-2032.
Asia Pacific emerged as the largest bitumen market.
1. Introduction
1.1. Objectives of the Study
1.2. Market Definition
1.3. Research Scope
1.4. Currency
1.5. Key Target Audience

2. Research Methodology and Assumptions

3. Executive Summary

4. Premium Insights
4.1. Porter's Five Forces Analysis
4.2. Value Chain Analysis
4.3. Top Investment Pockets
4.3.1. Market Attractiveness Analysis by Product
4.3.2. Market Attractiveness Analysis by Application
4.3.3. Market Attractiveness Analysis by Region
4.4. Industry Trends

5. Market Dynamics
5.1. Market Evaluation
5.2. Drivers
5.2.1. Construction of roads
5.3. Restraints
5.3.1. Drop in oil price
5.4. Opportunities
5.4.1. Used in various range of products
5.5. Challenges
5.5.1. Stringent laws

6. Global Bitumen Market Analysis and Forecast, By Product
6.1. Segment Overview
6.2. Oxidized
6.3. Paving
6.4. Emulsion
6.5. Cutback
6.6. Polymer Modified
6.7. Others

7. Global Bitumen Market Analysis and Forecast, By Application
7.1. Segment Overview
7.2. Road Construction
7.3. Water-proofing
7.4. Airport Runways
7.5. Piping
7.6. Industrial Bitumen

8. Global Bitumen Market Analysis and Forecast, By Regional Analysis
8.1. Segment Overview
8.2. North America
8.2.1. U.S.
8.2.2. Canada
8.2.3. Mexico
8.3. Europe
8.3.1. Germany
8.3.2. France
8.3.3. U.K.
8.3.4. Italy
8.3.5. Spain
8.4. Asia-Pacific
8.4.1. Japan
8.4.2. China
8.4.3. India
8.5. South America
8.5.1. Brazil
8.6. Middle East and Africa
8.6.1. UAE
8.6.2. South Africa

9. Global Bitumen Market-Competitive Landscape
9.1. Overview
9.2. Market Share of Key Players in Global Bitumen Market
9.2.1. Global Company Market Share
9.2.2. North America Company Market Share
9.2.3. Europe Company Market Share
9.2.4. APAC Company Market Share
9.3. Competitive Situations and Trends
9.3.1. Product Launches and Developments
9.3.2. Partnerships, Collaborations, and Agreements
9.3.3. Mergers & Acquisitions
9.3.4. Expansions

10. Company Profiles
10.1. Asphalt & Bitumen West Corporation
10.1.1. Business Overview
10.1.2. Company Snapshot
10.1.3. Company Market Share Analysis
10.1.4. Company Product Portfolio
10.1.5. Recent Developments
10.1.6. SWOT Analysis
10.2. ATDM CO. LTD
10.2.1. Business Overview
10.2.2. Company Snapshot
10.2.3. Company Market Share Analysis
10.2.4. Company Product Portfolio
10.2.5. Recent Developments
10.2.6. SWOT Analysis
10.3. BP PLC
10.3.1. Business Overview
10.3.2. Company Snapshot
10.3.3. Company Market Share Analysis
10.3.4. Company Product Portfolio
10.3.5. Recent Developments
10.3.6. SWOT Analysis
10.4. BMI Group
10.4.1. Business Overview
10.4.2. Company Snapshot
10.4.3. Company Market Share Analysis
10.4.4. Company Product Portfolio
10.4.5. Recent Developments
10.4.6. SWOT Analysis
10.5. China Petroleum & Chemical Corporation
10.5.1. Business Overview
10.5.2. Company Snapshot
10.5.3. Company Market Share Analysis
10.5.4. Company Product Portfolio
10.5.5. Recent Developments
10.5.6. SWOT Analysis
10.6. ENEOS Corporation
10.6.1. Business Overview
10.6.2. Company Snapshot
10.6.3. Company Market Share Analysis
10.6.4. Company Product Portfolio
10.6.5. Recent Developments
10.6.6. SWOT Analysis
10.7. Exxon Mobil Corporation
10.7.1. Business Overview
10.7.2. Company Snapshot
10.7.3. Company Market Share Analysis
10.7.4. Company Product Portfolio
10.7.5. Recent Developments
10.7.6. SWOT Analysis
10.8. GOIL Ltd.
10.8.1. Business Overview
10.8.2. Company Snapshot
10.8.3. Company Market Share Analysis
10.8.4. Company Product Portfolio
10.8.5. Recent Developments
10.8.6. SWOT Analysis
10.9. Indian Oil Corporation Ltd
10.9.1. Business Overview
10.9.2. Company Snapshot
10.9.3. Company Market Share Analysis
10.9.4. Company Product Portfolio
10.9.5. Recent Developments
10.9.6. SWOT Analysis
10.10. KRATON CORPORATION
10.10.1. Business Overview
10.10.2. Company Snapshot
10.10.3. Company Market Share Analysis
10.10.4. Company Product Portfolio
10.10.5. Recent Developments
10.10.6. SWOT Analysis
10.11. Marathon Petroleum Corporation
10.11.1. Business Overview
10.11.2. Company Snapshot
10.11.3. Company Market Share Analysis
10.11.4. Company Product Portfolio
10.11.5. Recent Developments
10.11.6. SWOT Analysis
10.12. Nynas AB
10.12.1. Business Overview
10.12.2. Company Snapshot
10.12.3. Company Market Share Analysis
10.12.4. Company Product Portfolio
10.12.5. Recent Developments
10.12.6. SWOT Analysis
10.13. Raha Bitumen Inc.
10.13.1. Business Overview
10.13.2. Company Snapshot
10.13.3. Company Market Share Analysis
10.13.4. Company Product Portfolio
10.13.5. Recent Developments
10.13.6. SWOT Analysis
10.14. Royal Dutch Shell PLC
10.14.1. Business Overview
10.14.2. Company Snapshot
10.14.3. Company Market Share Analysis
10.14.4. Company Product Portfolio
10.14.5. Recent Developments
10.14.6. SWOT Analysis
10.15. Suncor Energy Inc.
10.15.1. Business Overview
10.15.2. Company Snapshot
10.15.3. Company Market Share Analysis
10.15.4. Company Product Portfolio
10.15.5. Recent Developments
10.15.6. SWOT Analysis

List of Table
1. Global Bitumen Market, By Product, 2019-2032 (USD Billion)
2. Global Oxidized, Bitumen Market, By Region, 2019-2032 (USD Billion)
3. Global Paving, Bitumen Market, By Region, 2019-2032 (USD Billion)
4. Global Emulsion, Bitumen Market, By Region, 2019-2032 (USD Billion)
5. Global Cutback, Bitumen Market, By Region, 2019-2032 (USD Billion)
6. Global Polymer Modified, Bitumen Market, By Region, 2019-2032 (USD Billion)
7. Global Others, Bitumen Market, By Region, 2019-2032 (USD Billion)
8. Global Bitumen Market, By Application, 2019-2032 (USD Billion)
9. Global Road Construction, Bitumen Market, By Region, 2019-2032 (USD Billion)
10. Global Water-Proofing, Bitumen Market, By Region, 2019-2032 (USD Billion)
11. Global Airport Runways, Bitumen Market, By Region, 2019-2032 (USD Billion)
12. Global Piping, Bitumen Market, By Region, 2019-2032 (USD Billion)
13. Global Industrial Bitumen, Bitumen Market, By Region, 2019-2032 (USD Billion)
14. North America Bitumen Market, By Product, 2019-2032 (USD Billion)
15. North America Bitumen Market, By Application, 2019-2032 (USD Billion)
16. U.S. Bitumen Market, By Product, 2019-2032 (USD Billion)
17. U.S. Bitumen Market, By Application, 2019-2032 (USD Billion)
18. Canada Bitumen Market, By Product, 2019-2032 (USD Billion)
19. Canada Bitumen Market, By Application, 2019-2032 (USD Billion)
20. Mexico Bitumen Market, By Product, 2019-2032 (USD Billion)
21. Mexico Bitumen Market, By Application, 2019-2032 (USD Billion)
22. Europe Bitumen Market, By Product, 2019-2032 (USD Billion)
23. Europe Bitumen Market, By Application, 2019-2032 (USD Billion)
24. Germany Bitumen Market, By Product, 2019-2032 (USD Billion)
25. Germany Bitumen Market, By Application, 2019-2032 (USD Billion)
26. France Bitumen Market, By Product, 2019-2032 (USD Billion)
27. France Bitumen Market, By Application, 2019-2032 (USD Billion)
28. U.K. Bitumen Market, By Product, 2019-2032 (USD Billion)
29. U.K. Bitumen Market, By Application, 2019-2032 (USD Billion)
30. Italy Bitumen Market, By Product, 2019-2032 (USD Billion)
31. Italy Bitumen Market, By Application, 2019-2032 (USD Billion)
32. Spain Bitumen Market, By Product, 2019-2032 (USD Billion)
33. Spain Bitumen Market, By Application, 2019-2032 (USD Billion)
34. Asia Pacific Bitumen Market, By Product, 2019-2032 (USD Billion)
35. Asia Pacific Bitumen Market, By Application, 2019-2032 (USD Billion)
36. Japan Bitumen Market, By Product, 2019-2032 (USD Billion)
37. Japan Bitumen Market, By Application, 2019-2032 (USD Billion)
38. China Bitumen Market, By Product, 2019-2032 (USD Billion)
39. China Bitumen Market, By Application, 2019-2032 (USD Billion)
40. India Bitumen Market, By Product, 2019-2032 (USD Billion)
41. India Bitumen Market, By Application, 2019-2032 (USD Billion)
42. South America Bitumen Market, By Product, 2019-2032 (USD Billion)
43. South America Bitumen Market, By Application, 2019-2032 (USD Billion)
44. Brazil Bitumen Market, By Product, 2019-2032 (USD Billion)
45. Brazil Bitumen Market, By Application, 2019-2032 (USD Billion)
46. Middle East and Africa Bitumen Market, By Product, 2019-2032 (USD Billion)
47. Middle East and Africa Bitumen Market, By Application, 2019-2032 (USD Billion)
48. UAE Bitumen Market, By Product, 2019-2032 (USD Billion)
49. UAE Bitumen Market, By Application, 2019-2032 (USD Billion)
50. South Africa Bitumen Market, By Product, 2019-2032 (USD Billion)
51. South Africa Bitumen Market, By Application, 2019-2032 (USD Billion)
List of Figures
1. Global Bitumen Market Segmentation
2. Global Bitumen Market: Research Methodology
3. Market Size Estimation Methodology: Bottom-Up Approach
4. Market Size Estimation Methodology: Top-Down Approach
5. Data Triangulation
6. Porter's Five Forces Analysis
7. Value Chain Analysis
8. Global Bitumen Market Attractiveness Analysis by Product
9. Global Bitumen Market Attractiveness Analysis by Application
10. Global Bitumen Market Attractiveness Analysis by Region
11. Global Bitumen Market: Dynamics
12. Global Bitumen Market Share by Product (2023 & 2032)
13. Global Bitumen Market Share by Application (2023 & 2032)
14. Global Bitumen Market Share by Regions (2023 & 2032)
15. Global Bitumen Market Share by Company (2022)