The organic edible nuts and seeds market was valued at USD 25.2 billion in 2021 and is expected to reach USD 60.1 billion by 2030, expanding at a CAGR of 10.5% from 2022 to 2030. The market is driven by rising awareness among consumers about the health benefits associated with various types of organic nuts and seeds is boosting product demand.
The growing demand for healthy snacks among a large group of consumers across the globe in recent years is one of the key factors driving the organic edible nuts & seeds market. Moreover, with an increase in consumer inclination toward vegan diets, the consumption of functional nuts & seeds as healthy snacks has risen across the globe.
Organic edible nuts & seeds are the best possible way to complete one's daily requirement of omega-3 fatty acids, antioxidants, vitamins, minerals, and fiber, without involving any animal protein. This allows consumers to maintain their vegan diet and avoid any lactose indigestion problems. In addition, people have been considering organic edible nuts & seeds a healthier alternative to other savory snacks like extruded snacks & crisps.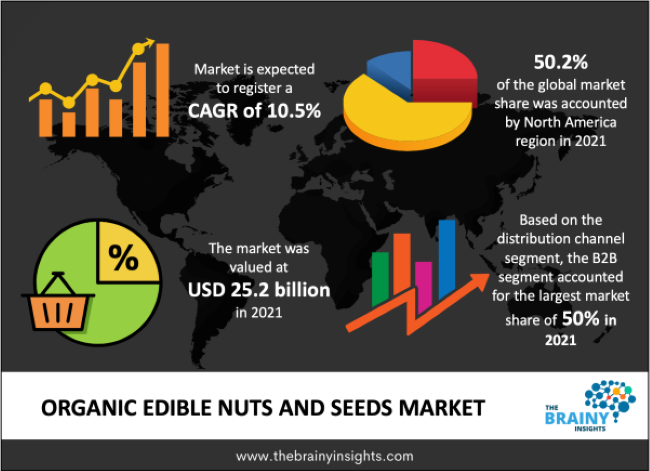 Get an overview of this study by requesting a free sample
The domestic consumption of organic edible nuts & seeds as snacks has been increasing globally, driven by the growing consumer health consciousness and improved product offerings. As a result, many new products in the market use hazelnuts, walnuts, cashews, and other nuts in food items such as cereals, snacks, bakery items, confectionery, and milk. Furthermore, with rising awareness of the health benefits and the versatility of organic nuts & seeds as an ingredient in a range of product categories, the industry anticipates the rising consumption trend to continue in the coming years.
The increasing number of product launches by key players in the market is also supplementing the demand for organic edible nuts and seeds from food industry product manufacturers. For instance, in April 2022, Three Trees plant-based milk brand launched its original almond milk made with organic almonds in the U.S. The product was made available nationwide in collaboration with Whole Foods Market.
Product Insights
Organic nuts dominated the market and held a share of over 70% in 2021. The growing consumer knowledge of the health advantages of nuts, including almonds, cashews, and others has been a key factor in market expansion. Recently, there has been a considerable increase in demand for healthy and nutritious snacks, particularly among the millennials and the working population, owing to which manufacturers are introducing new products and focusing on sustainability.
For instance, in June 2021, Rigoni di Asiago S.r.l., an Italian company, launched a new organic hazelnut spread with toasted hazelnut grains, which are also gluten-free. The product is made from all organic ingredients, such as cocoa and vanilla extract. Similarly, in July 2022, Olam Food Ingredients, a part of Olam Group, developed its first public sustainability targets to support the plant-based revolution. The sustainability target aims to cover 50,000 acres of almond orchards and farming operations in the US and Australian markets.
Organic seeds are anticipated to expand at a faster CAGR during the forecast period. Concerns regarding chemicals and genetically modified seeds have significantly shifted consumer preference toward organic food consumption. Hence, creating opportunities for key players to launch new products in the market. For instance, in September 2021, Bayer launched organic vegetable seeds portfolio to enable greater access to the certified organic market. The portfolio includes tomato, sweet pepper, and cucumber under the brand name Seminis and De Ruiter.
Distribution Channel Insights
B2B led the market with a share of over 50% in 2021. The rising application of organic edible nuts & seeds in snacks, cereals, bakeries, and other products has been driving the sale through this distribution channel. A lot of café and restaurants also provide healthy shakes and salads, in which seeds and nuts are used in the preparation. With time, conventional nuts and seeds are being replaced with organic seeds and nuts owing to growing demand from consumers.
The B2C channel is anticipated to expand with a higher CAGR of 11.5% from 2022-2030. A large consumer base of supermarkets & hypermarkets, coupled with product launches in these stores is driving the market demand. For instance, in February 2020, Hummingbird Wholesale launched a line of grab-and-go Organic snack line in Oregon, U.S. The product line includes dried fruit, granola, nuts & seeds, and trail mix.
Regional Insights
North America accounted for the highest share of over 50.2% of the market in 2021. The growing inclusion of nuts & seeds in the diets of the consumer in countries like the US and Canada is driving the market demand. According to an article published in Deals on Health, in January 2022, organic food sales make up only 5.8% of all US food sales. This data represents growth opportunities in the coming years.
Central & South America is anticipated to register the fastest growth during the forecast period. Consumers in this region are choosing tasty products that provide health benefits and are sustainable. Further, for quality products, consumers are even willing to pay more, which is expected to drive the consumption of organic edible nuts & seeds in the coming years.
The growing dietary concerns and a shift in consumers' eating habits will support the market growth of organic edible nuts & seeds in the Middle East & Africa over the forecast period. Favorable government regulations for organic farming, along with rising awareness among consumers regarding the health benefits of organic nuts & seeds will propel the market growth in the region.
Key Companies
The organic edible nuts & seeds market is fragmented with many large and small companies. These have been focusing on mergers & acquisitions, regional expansions, strengthening of online presence, and new product launch to gain a competitive advantage. For instance, in August 2021, Top Fox Snacks, a U.S.-based snack company, introduced 100% organic pumpkin seeds with unique flavors, including Chile Lime, Salt & Pepper, and Spicy Chipotle to widen its customer base in the US market.
Olam Group
ADM
Wildly Organic
TIERRA FARM
Big Tree Organic Farms
Eden Foods
Food to Live
Truefarm Foods
Forest Whole Foods Ltd
prana organic
Wholefood Earth
Segments Covered in the Report
Product

Nuts

Almonds
Cashews
Walnuts
Others

Seeds

Pumpkin
Sunflower
Chia
Flaxseed
Hemp
Others

Distribution Channel
Regional

North America
Europe

UK
Germany
France
Italy
Spain

Asia Pacific

China
Japan
India
South Korea
Australia

Central and South America
Middle East and Africa
1. Introduction
1.1. Objectives of the Study
1.2. Market Definition
1.3. Research Scope
1.4. Currency
1.5. Key Target Audience

2. Research Methodology and Assumptions

3. Executive Summary

4. Premium Insights
4.1. Porter's Five Forces Analysis
4.2. Value Chain Analysis
4.3. Top Investment Pockets
4.3.1. Market Attractiveness Analysis by Product
4.3.2. Market Attractiveness Analysis by Distribution Channel
4.3.3. Market Attractiveness Analysis by Region
4.4. Industry Trends

5. Market Dynamics
5.1. Market Evaluation
5.2. Drivers
5.2.1. Rising application of edible nuts and seeds in healthy and functional food products
5.3. Restraints
5.3.1. High Cost of the Nuts and Seeds
5.4. Opportunities
5.4.1. Rising emergence of organic snacks and groceries

6. Global Organic Edible Nuts and Seeds Market Analysis and Forecast, By Product
6.1. Segment Overview
6.2. Nuts
6.2.1. Almonds
6.2.2. Cashews
6.2.3. Walnuts
6.2.4. Others
6.3. Seeds
6.3.1. Pumpkin
6.3.2. Sunflower
6.3.3. Chia
6.3.4. Flaxseed
6.3.5. Hemp
6.3.6. Others

7. Global Organic Edible Nuts and Seeds Market Analysis and Forecast, By Distribution Channel
7.1. Segment Overview
7.2. B2B
7.3. B2C

8. Global Organic Edible Nuts and Seeds Market Analysis and Forecast, By Regional Analysis
8.1. Segment Overview
8.2. North America
8.2.1. U.S.
8.2.2. Canada
8.2.3. Mexico
8.3. Europe
8.3.1. Germany
8.3.2. France
8.3.3. U.K.
8.3.4. Italy
8.3.5. Spain
8.4. Asia-Pacific
8.4.1. Japan
8.4.2. China
8.4.3. India
8.5. South America
8.5.1. Brazil
8.6. Middle East and Africa
8.6.1. UAE
8.6.2. South Africa

9. Global Organic Edible Nuts and Seeds Market-Competitive Landscape
9.1. Overview
9.2. Market Share of Key Players in the Organic Edible Nuts and Seeds Market
9.2.1. Global Company Market Share
9.2.2. North America Company Market Share
9.2.3. Europe Company Market Share
9.2.4. APAC Company Market Share
9.3. Competitive Situations and Trends
9.3.1. Product Launches and Developments
9.3.2. Partnerships, Collaborations, and Agreements
9.3.3. Mergers & Acquisitions
9.3.4. Expansions

10. Company Profiles
10.1. Olam Group
10.1.1. Business Overview
10.1.2. Company Snapshot
10.1.3. Company Market Share Analysis
10.1.4. Company Product Portfolio
10.1.5. Recent Developments
10.1.6. SWOT Analysis
10.2. ADM
10.2.1. Business Overview
10.2.2. Company Snapshot
10.2.3. Company Market Share Analysis
10.2.4. Company Product Portfolio
10.2.5. Recent Developments
10.2.6. SWOT Analysis
10.3. Wildly Organic
10.3.1. Business Overview
10.3.2. Company Snapshot
10.3.3. Company Market Share Analysis
10.3.4. Company Product Portfolio
10.3.5. Recent Developments
10.3.6. SWOT Analysis
10.4. TIERRA FARM
10.4.1. Business Overview
10.4.2. Company Snapshot
10.4.3. Company Market Share Analysis
10.4.4. Company Product Portfolio
10.4.5. Recent Developments
10.4.6. SWOT Analysis
10.5. Big Tree Organic Farms
10.5.1. Business Overview
10.5.2. Company Snapshot
10.5.3. Company Market Share Analysis
10.5.4. Company Product Portfolio
10.5.5. Recent Developments
10.5.6. SWOT Analysis
10.6. Eden Foods
10.6.1. Business Overview
10.6.2. Company Snapshot
10.6.3. Company Market Share Analysis
10.6.4. Company Product Portfolio
10.6.5. Recent Developments
10.6.6. SWOT Analysis
10.7. Food to Live
10.7.1. Business Overview
10.7.2. Company Snapshot
10.7.3. Company Market Share Analysis
10.7.4. Company Product Portfolio
10.7.5. Recent Developments
10.7.6. SWOT Analysis
10.8. Truefarm Foods
10.8.1. Business Overview
10.8.2. Company Snapshot
10.8.3. Company Market Share Analysis
10.8.4. Company Product Portfolio
10.8.5. Recent Developments
10.8.6. SWOT Analysis
10.9. Forest Whole Foods Ltd
10.9.1. Business Overview
10.9.2. Company Snapshot
10.9.3. Company Market Share Analysis
10.9.4. Company Product Portfolio
10.9.5. Recent Developments
10.9.6. SWOT Analysis
10.10. Prana organic
10.10.1. Business Overview
10.10.2. Company Snapshot
10.10.3. Company Market Share Analysis
10.10.4. Company Product Portfolio
10.10.5. Recent Developments
10.10.6. SWOT Analysis
10.11. Wholefood Earth
10.11.1. Business Overview
10.11.2. Company Snapshot
10.11.3. Company Market Share Analysis
10.11.4. Company Product Portfolio
10.11.5. Recent Developments
10.11.6. SWOT Analysis
List of Table
1. Global Organic Edible Nuts and Seeds Market, By Product, 2019-2030 (USD Billion)
2. Global Nuts Organic Edible Nuts and Seeds Market, By Region, 2019-2030 (USD Billion)
3. Global Seeds Organic Edible Nuts and Seeds Market, By Region, 2019-2030 (USD Billion)
4. Global Organic Edible Nuts and Seeds Market, By Distribution Channel, 2019-2030 (USD Billion)
5. Global B2B Organic Edible Nuts and Seeds Market, By Region, 2019-2030 (USD Billion)
6. Global B2C Organic Edible Nuts and Seeds Market, By Region, 2019-2030 (USD Billion)
7. Global Organic Edible Nuts and Seeds Market, By Region, 2019-2030 (USD Billion)
8. North America Organic Edible Nuts and Seeds Market, By Product, 2019-2030 (USD Billion)
9. North America Organic Edible Nuts and Seeds Market, By Distribution Channel, 2019-2030 (USD Billion)
10. U.S. Organic Edible Nuts and Seeds Market, By Product, 2019-2030 (USD Billion)
11. U.S. Organic Edible Nuts and Seeds Market, By Distribution Channel, 2019-2030 (USD Billion)
12. Canada Organic Edible Nuts and Seeds Market, By Product, 2019-2030 (USD Billion)
13. Canada Organic Edible Nuts and Seeds Market, By Distribution Channel, 2019-2030 (USD Billion)
14. Mexico Organic Edible Nuts and Seeds Market, By Product, 2019-2030 (USD Billion)
15. Mexico Organic Edible Nuts and Seeds Market, By Distribution Channel, 2019-2030 (USD Billion)
16. Europe Organic Edible Nuts and Seeds Market, By Product, 2019-2030 (USD Billion)
17. Europe Organic Edible Nuts and Seeds Market, By Distribution Channel, 2019-2030 (USD Billion)
18. Germany Organic Edible Nuts and Seeds Market, By Product, 2019-2030 (USD Billion)
19. Germany Organic Edible Nuts and Seeds Market, By Distribution Channel, 2019-2030 (USD Billion)
20. France Organic Edible Nuts and Seeds Market, By Product, 2019-2030 (USD Billion)
21. France Organic Edible Nuts and Seeds Market, By Distribution Channel, 2019-2030 (USD Billion)
22. U.K. Organic Edible Nuts and Seeds Market, By Product, 2019-2030 (USD Billion)
23. U.K. Organic Edible Nuts and Seeds Market, By Distribution Channel, 2019-2030 (USD Billion)
24. Italy Organic Edible Nuts and Seeds Market, By Product, 2019-2030 (USD Billion)
25. Italy Organic Edible Nuts and Seeds Market, By Distribution Channel, 2019-2030 (USD Billion)
26. Spain Organic Edible Nuts and Seeds Market, By Product, 2019-2030 (USD Billion)
27. Spain Organic Edible Nuts and Seeds Market, By Distribution Channel, 2019-2030 (USD Billion)
28. Asia Pacific Organic Edible Nuts and Seeds Market, By Product, 2019-2030 (USD Billion)
29. Asia Pacific Organic Edible Nuts and Seeds Market, By Distribution Channel, 2019-2030 (USD Billion)
30. Japan Organic Edible Nuts and Seeds Market, By Product, 2019-2030 (USD Billion)
31. Japan Organic Edible Nuts and Seeds Market, By Distribution Channel, 2019-2030 (USD Billion)
32. China Organic Edible Nuts and Seeds Market, By Product, 2019-2030 (USD Billion)
33. China Organic Edible Nuts and Seeds Market, By Distribution Channel, 2019-2030 (USD Billion)
34. India Organic Edible Nuts and Seeds Market, By Product, 2019-2030 (USD Billion)
35. India Organic Edible Nuts and Seeds Market, By Distribution Channel, 2019-2030 (USD Billion)
36. South America Organic Edible Nuts and Seeds Market, By Product, 2019-2030 (USD Billion)
37. South America Organic Edible Nuts and Seeds Market, By Distribution Channel, 2019-2030 (USD Billion)
38. Brazil Organic Edible Nuts and Seeds Market, By Product, 2019-2030 (USD Billion)
39. Brazil Organic Edible Nuts and Seeds Market, By Distribution Channel, 2019-2030 (USD Billion)
40. Middle East and Africa Organic Edible Nuts and Seeds Market, By Product, 2019-2030 (USD Billion)
41. Middle East and Africa Organic Edible Nuts and Seeds Market, By Distribution Channel, 2019-2030 (USD Billion)
42. UAE Organic Edible Nuts and Seeds Market, By Product, 2019-2030 (USD Billion)
43. UAE Organic Edible Nuts and Seeds Market, By Distribution Channel, 2019-2030 (USD Billion)
44. South Africa Organic Edible Nuts and Seeds Market, By Product, 2019-2030 (USD Billion)
45. South Africa Organic Edible Nuts and Seeds Market, By Distribution Channel, 2019-2030 (USD Billion)
List of Figures
1. Global Organic Edible Nuts and Seeds Market Segmentation
2. Organic Edible Nuts and Seeds Market: Research Methodology
3. Market Size Estimation Methodology: Bottom-Up Approach
4. Market Size Estimation Methodology: Top-Down Approach
5. Data Triangulation
6. Porter's Five Forces Analysis
7. Value Chain Analysis
8. Global Organic Edible Nuts and Seeds Market Attractiveness Analysis by Product
9. Global Organic Edible Nuts and Seeds Market Attractiveness Analysis by Distribution Channel
10. Global Organic Edible Nuts and Seeds Market Attractiveness Analysis by Region
11. Global Organic Edible Nuts and Seeds Market: Dynamics
12. Global Organic Edible Nuts and Seeds Market Share by Product (2022 & 2030)
13. Global Organic Edible Nuts and Seeds Market Share by Distribution Channel (2022 & 2030)
14. Global Organic Edible Nuts and Seeds Market Share by Regions (2022 & 2030)
15. Global Organic Edible Nuts and Seeds Market Share by Company (2021)