The global oatmeal market was valued at USD 7.64 Billion in 2022, which is anticipated to grow at a CAGR of 6.22% from 2023 to 2032. The popularity of rapid and healthy breakfast items is primarily due to people's hectic lifestyles, which fuels demand for oat-based breakfasts and snacks. Consumers' growing health consciousness is boosting demand for nutritious items that deliver benefits to health. Because oats include many fibres, proteins, antioxidants, and vitamins, they can be cooked quickly and give health benefits such as lowering cholesterol, digestive disorders, and heart disease.
Market Introduction:
Oatmeal, commonly known as white oats or porridge, is a hot cereal made from oats after de-husked, steamed and flattened. The husk of the whole grain seed is removed to generate oat groats, which are also used to make oatmeal. Ground oats are frequently mixed with milk or hot water to get a smooth consistency. They are known as oatmeal because they are made from oat plant grains. Oatmeal has nutritional benefits such as lowering blood sugar levels, easing constipation, relieving irritation and skin itching, and lowering the risk of colon cancer, among others, and increasing public awareness of these benefits is a major factor driving the oatmeal market's growth. People's hectic schedules and chaotic lives have prompted them to switch to nutritious breakfast products that are easily accessible and simple. Oatmeal is also gaining popularity among consumers looking for a light but nutritious breakfast. Oatmeal adaptations and customizations are a major trend in the oatmeal market, with many professional and home chefs experimenting with various oatmeal preparations and toppings. The popularity of various oatmeal recipes on social media is growing, driving up demand for oatmeal. Many individuals around the world prefer oatmeal as their breakfast cereal. It is eaten because of its rich nutritious content, which includes a lot of protein, starchy carbs, dietary fibre, vitamins, and minerals. In general, oatmeal is eaten with fruits, nuts and milk. Oatmeal, high in antioxidants and includes over 26 bioactive compounds, protects the body against chronic diseases such as heart disease, diabetes, and cancer. Oatmeal is a good dish for a busy lifestyle because it quickly prepares and meets the body's daily nutritional requirements. Changes in food habits and an increase in preference for nutritious meals influence the demand for oatmeal. Furthermore, the market is boosted by the demand for convenience foods and the high nutritional value of oatmeal. However, the availability of substitute products such as quinoa, buckwheat, brown rice, and cornflakes is projected to limit the market's growth in the near future. The development of various flavoured oats and the use of oatmeal in the cosmetics industry provide significant opportunities for the oatmeal market. The high nutritious content of oats is the primary market driver. The growing inclination for healthy meals and the demand for convenience foods are driving the oatmeal market. Furthermore, its added functional features increase customer utilization and are generally consumed as a breakfast dish. Furthermore, the active population's fast-paced lifestyle has contributed to the growth in demand for oats as a breakfast cereal. The oatmeal businesses are gaining popularity as a potential alternative to components such as sugar or fat, assisting in moisture retention, increasing fibre content, and stabilizing meal texture. The current customer preference for low-calorie, low-fat, and coffee-sugar meal products is utilizing the requirement for oats to replace fats or sugars.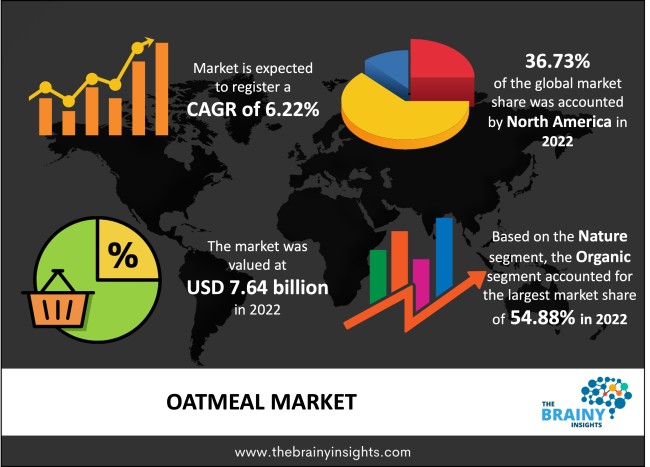 Get an overview of this study by requesting a free sample
Recent Development
Kreatures of Habit, a major functional food company, released- The PrOATagonist- oatmeal developed with plant-based gluten-free nutrients and compositions in August 2021. Furthermore, four flavours are expected to be released: vanilla, blueberry, banana, and chocolate. The price for seven single-serve packets is $34.99. Furthermore, the serving includes 30 grammes of protein.
Path of Life announced the release of frozen steel-cut oats in two flavours in April 2021. Organic Berry Steel Cut oatmeal and Organic Apple Cinnamon Steel Cut oatmeal are the products being sold.
FREEE, the gluten-free flour and food business, introduced new organic, gluten-free porridge oats in October 2019 to capitalize on the expanding market for gluten-free and organic products in the United Kingdom.
In August 2019, RXBAR, a major protein bar producer, announced its entry into the breakfast cereal area by introducing RX A.M. oats, which provide a premium oatmeal option with additional protein. It is available in a variety of flavours.
Market Dynamics:
Drivers
Rapid global urbanization- The fast development in global urbanization is significantly driving the growth of the oatmeal market. The world's population is increasingly emigrating to cities, which is a major global driver driving the oatmeal market's expansion. Individuals make breakfast regularly as more people relocate to cities. This has raised the demand for oatmeal as a quick, convenient, healthy, portable breakfast choice. The oatmeal is an ideal breakfast option for city people because it is simple to prepare and portable. It is simple to prepare and transport in single-serving packets or containers. Furthermore, oatmeal is a nutritious breakfast alternative that can deliver long-lasting energy, particularly in the morning. It is high in fibre, protein, and other nutrients, making it an excellent choice for breakfast. Demand for quick, convenient, and healthy breakfast options is predicted to rise as the world's population urbanizes and the oatmeal business increases globally. For example, single-serve oatmeal cups and flavoured oatmeal packets can be easily cooked and consumed on the go. This factor is thus expected to propel the global oatmeal market's growth throughout the forecast period.
Restraints:
The high cost of oatmeal- Oat consumption has increased due to its health benefits. Still, healthier alternatives such as quinoa, buckwheat, brown rice and other grains restrict oatmeal business expansion. Furthermore, the high price of oatmeal compared to other breakfast items is one of the factors expected to hinder the growth of the oatmeal market size throughout the forecast period. Quinoa and buckwheat are gaining popularity as protein and fibre sources and gluten-free alternatives to whole grains, resulting in a wide range of healthy breakfast options. Furthermore, in the ready-to-eat food segment, the widespread availability of substitutes in convenient stores, along with oats' lengthier cooking time, may act as oatmeal market limitations.
Opportunities:
The availability of gluten-free and allergy-friendly oatmeal- The availability of gluten-free and allergy-friendly oatmeal is an important factor influencing the growth of the oatmeal market. There is an increasing need for environmentally friendly choices. The oatmeal is gluten-free by nature, although processing might introduce gluten. Oatmeal manufacturers have produced gluten-free oatmeal-based products to satisfy clients with gluten intolerance or celiac disease. In response to this development, oatmeal makers are developing oatmeal-based products free of common allergies, such as dairy, almonds, and soy. Producers are developing cutting-edge gluten-free and allergy-friendly oatmeal products to suit consumer demand. It is likely to drive the growth of the global oatmeal market as it launches. As a result, this development is likely to drive the global oatmeal market throughout the forecast period.
Challenges:
The availability of several alternative products- The presence of several substitutes threatens the expansion of the oatmeal market. One of the most significant challenges affecting the global oatmeal business is competition from other breakfast options. Nowadays, Breakfast options for consumers include granola, yoghurt, smoothies, and other to-go options. Consumers' preference for these alternative options over oatmeal can hinder market expansion. The oatmeal is a plain and bland breakfast with little variation or excitement, which is one of the primary criteria in this competition. Manufacturers must respond to this issue by introducing fresh, new oatmeal products in various flavours and textures to appeal to consumer preferences. Several new products, such as oatmeal bars, oatmeal cups, and quick oatmeal packs, have also been produced.
Regional segmentation analysis:
The regions analyzed for the market include North America, Europe, South America, Asia Pacific, the Middle East, and Africa. North America emerged as the most significant global oatmeal market, with a 36.73% market revenue share in 2022. It is related to the region's increasing tendency to eat nutritious breakfast. Furthermore, diabetic individuals are advised to switch from wheat to oats due to its superior digestive benefits. Furthermore, millions of people in the United States have been diagnosed with diabetes. Adults, on the other hand, were unaware of their seropositivity. As a result, these factors generated one of the reasons for the North American region's massive market share.
North America Region Oatmeal Market Share in 2022 - 36.73%
www.thebrainyinsights.com
Check the geographical analysis of this market by requesting a free sample
Nature Segment Analysis
The nature segment is divided into conventional and organic. The organic segment dominated the market, with a market share of around 54.88% in 2022. It is due to the absence of carcinogens in the finished product. Furthermore, glyphosate is present in several oat products. Although the allowed range is 30PPM, the presence ranged from 0.3 to 1.67 parts per billion. However, it has warned that legal is different from safe. These factors boosted demand for this segment.
Distribution Channel Segment Analysis
The distribution channel segment is divided into online stores and offline stores. The offline stores segment dominated the market, with a market share of around 65.37% in 2022. This is due to the many products offered to a buyer when shopping for goods. Oat-related products have been given an appropriate shelf and section, making consumers aware of them as a separate grain and creating product uniqueness. Furthermore, hypermarkets and supermarkets offer discounts and coupons to boost sales.
Some of the Key Market Players:
General Mills Inc.
The Quaker Oats Company
Bagrry's India Ltd.
Avena Foods Limited
World Finer Foods Inc.
Nature's Path Foods Inc.
Cargill Incorporated
Kellogg NA Co.
La Crosse Milling Company
Report Description:
| Attribute | Description |
| --- | --- |
| Market Size | Revenue (USD Billion) |
| Market size value in 2022 | USD 7.64 Billion |
| Market size value in 2032 | USD 13.96 Billion |
| CAGR (2023 to 2032) | 6.22% |
| Historical data | 2019-2021 |
| Base Year | 2022 |
| Forecast | 2023-2032 |
| Region | The regions analyzed for the market are Asia Pacific, Europe, South America, North America, and Middle East & Africa. Furthermore, the regions are further analyzed at the country level. |
| Segments | Nature, Distribution Channel |
Frequesntly Asked Questions
1. Introduction
1.1. Objective of the Study
1.2. Market Definition
1.3. Research Scope
1.4. Currency
1.5. Key Target Audience

2. Research Methodology and Assumptions

3. Executive Summary

4. Premium Insights
4.1. Porter's Five Forces Analysis
4.2. Value Chain Analysis
4.3. Top Investment Pockets
4.3.1. Market Attractiveness Analysis By Nature
4.3.2. Market Attractiveness Analysis By Distribution Channel
4.3.3. Market Attractiveness Analysis By Region
4.4. Industry Trends

5. Market Dynamics
5.1. Market Evaluation
5.2. Drivers
5.2.1. Rapid global urbanisation
5.3. Restraints
5.3.1. The high cost of oatmeal
5.4. Opportunities
5.4.1. The availability of gluten-free and allergy-friendly oatmeal
5.5. Challenges
5.5.1. The availability of several alternative products

6. Global Oatmeal Market Analysis and Forecast, By Nature
6.1. Segment Overview
6.2. Conventional
6.3. Organic

7. Global Oatmeal Market Analysis and Forecast, By Distribution Channel
7.1. Segment Overview
7.2. Online Stores
7.3. Offline Stores

8. Global Oatmeal Market Analysis and Forecast, By Regional Analysis
8.1. Segment Overview
8.2. North America
8.2.1. U.S.
8.2.2. Canada
8.2.3. Mexico
8.3. Europe
8.3.1. Germany
8.3.2. France
8.3.3. U.K.
8.3.4. Italy
8.3.5. Spain
8.4. Asia-Pacific
8.4.1. Japan
8.4.2. China
8.4.3. India
8.5. South America
8.5.1. Brazil
8.6. Middle East and Africa
8.6.1. UAE
8.6.2. South Africa

9. Global Oatmeal Market-Competitive Landscape
9.1. Overview
9.2. Market Share of Key Players in the Oatmeal Market
9.2.1. Global Company Market Share
9.2.2. North America Company Market Share
9.2.3. Europe Company Market Share
9.2.4. APAC Company Market Share
9.3. Competitive Situations and Trends
9.3.1. Product Launches and Developments
9.3.2. Partnerships, Collaborations, and Agreements
9.3.3. Mergers & Acquisitions
9.3.4. Expansions

10. Company Profiles
10.1. General Mills Inc.
10.1.1. Business Overview
10.1.2. Company Snapshot
10.1.3. Company Market Share Analysis
10.1.4. Company Product Portfolio
10.1.5. Recent Developments
10.1.6. SWOT Analysis
10.2. The Quaker Oats Company
10.2.1. Business Overview
10.2.2. Company Snapshot
10.2.3. Company Market Share Analysis
10.2.4. Company Product Portfolio
10.2.5. Recent Developments
10.2.6. SWOT Analysis
10.3. Bagrry's India Ltd.
10.3.1. Business Overview
10.3.2. Company Snapshot
10.3.3. Company Market Share Analysis
10.3.4. Company Product Portfolio
10.3.5. Recent Developments
10.3.6. SWOT Analysis
10.4. Avena Foods Limited
10.4.1. Business Overview
10.4.2. Company Snapshot
10.4.3. Company Market Share Analysis
10.4.4. Company Product Portfolio
10.4.5. Recent Developments
10.4.6. SWOT Analysis
10.5. World Finer Foods Inc.
10.5.1. Business Overview
10.5.2. Company Snapshot
10.5.3. Company Market Share Analysis
10.5.4. Company Product Portfolio
10.5.5. Recent Developments
10.5.6. SWOT Analysis
10.6. Nature's Path Foods Inc.
10.6.1. Business Overview
10.6.2. Company Snapshot
10.6.3. Company Market Share Analysis
10.6.4. Company Product Portfolio
10.6.5. Recent Developments
10.6.6. SWOT Analysis
10.7. Cargill Incorporated
10.7.1. Business Overview
10.7.2. Company Snapshot
10.7.3. Company Market Share Analysis
10.7.4. Company Product Portfolio
10.7.5. Recent Developments
10.7.6. SWOT Analysis
10.8. Kellogg NA Co.
10.8.1. Business Overview
10.8.2. Company Snapshot
10.8.3. Company Market Share Analysis
10.8.4. Company Product Portfolio
10.8.5. Recent Developments
10.8.6. SWOT Analysis
10.9. La Crosse Milling Company
10.9.1. Business Overview
10.9.2. Company Snapshot
10.9.3. Company Market Share Analysis
10.9.4. Company Product Portfolio
10.9.5. Recent Developments
10.9.6. SWOT Analysis
List of Table
1. Global Oatmeal Market, By Nature, 2019-2032 (USD Billion)
2. Global Conventional, Oatmeal Market, By Region, 2019-2032 (USD Billion)
3. Global Organic, Oatmeal Market, By Region, 2019-2032 (USD Billion)
4. Global Oatmeal Market, By Distribution Channel, 2019-2032 (USD Billion)
5. Global Online Stores, Oatmeal Market, By Region, 2019-2032 (USD Billion)
6. Global Offline Stores, Oatmeal Market, By Region, 2019-2032 (USD Billion)
7. Global Oatmeal Market, By Region, 2019-2032 (USD Billion)
8. North America Oatmeal Market, By Nature, 2019-2032 (USD Billion)
9. North America Oatmeal Market, By Distribution Channel, 2019-2032 (USD Billion)
10. U.S. Oatmeal Market, By Nature, 2019-2032 (USD Billion)
11. U.S. Oatmeal Market, By Distribution Channel, 2019-2032 (USD Billion)
12. Canada Oatmeal Market, By Nature, 2019-2032 (USD Billion)
13. Canada Oatmeal Market, By Distribution Channel, 2019-2032 (USD Billion)
14. Mexico Oatmeal Market, By Nature, 2019-2032 (USD Billion)
15. Mexico Oatmeal Market, By Distribution Channel, 2019-2032 (USD Billion)
16. Europe Oatmeal Market, By Nature, 2019-2032 (USD Billion)
17. Europe Oatmeal Market, By Distribution Channel, 2019-2032 (USD Billion)
18. Germany Oatmeal Market, By Nature, 2019-2032 (USD Billion)
19. Germany Oatmeal Market, By Distribution Channel, 2019-2032 (USD Billion)
20. France Oatmeal Market, By Nature, 2019-2032 (USD Billion)
21. France Oatmeal Market, By Distribution Channel, 2019-2032 (USD Billion)
22. U.K. Oatmeal Market, By Nature, 2019-2032 (USD Billion)
23. U.K. Oatmeal Market, By Distribution Channel, 2019-2032 (USD Billion)
24. Italy Oatmeal Market, By Nature, 2019-2032 (USD Billion)
25. Italy Oatmeal Market, By Distribution Channel, 2019-2032 (USD Billion)
26. Spain Oatmeal Market, By Nature, 2019-2032 (USD Billion)
27. Spain Oatmeal Market, By Distribution Channel, 2019-2032 (USD Billion)
28. Asia Pacific Oatmeal Market, By Nature, 2019-2032 (USD Billion)
29. Asia Pacific Oatmeal Market, By Distribution Channel, 2019-2032 (USD Billion)
30. Japan Oatmeal Market, By Nature, 2019-2032 (USD Billion)
31. Japan Oatmeal Market, By Distribution Channel, 2019-2032 (USD Billion)
32. China Oatmeal Market, By Nature, 2019-2032 (USD Billion)
33. China Oatmeal Market, By Distribution Channel, 2019-2032 (USD Billion)
34. India Oatmeal Market, By Nature, 2019-2032 (USD Billion)
35. India Oatmeal Market, By Distribution Channel, 2019-2032 (USD Billion)
36. South America Oatmeal Market, By Nature, 2019-2032 (USD Billion)
37. South America Oatmeal Market, By Distribution Channel, 2019-2032 (USD Billion)
38. Brazil Oatmeal Market, By Nature, 2019-2032 (USD Billion)
39. Brazil Oatmeal Market, By Distribution Channel, 2019-2032 (USD Billion)
40. Middle East and Africa Oatmeal Market, By Nature, 2019-2032 (USD Billion)
41. Middle East and Africa Oatmeal Market, By Distribution Channel, 2019-2032 (USD Billion)
42. UAE Oatmeal Market, By Nature, 2019-2032 (USD Billion)
43. UAE Oatmeal Market, By Distribution Channel, 2019-2032 (USD Billion)
44. South Africa Oatmeal Market, By Nature, 2019-2032 (USD Billion)
45. South Africa Oatmeal Market, By Distribution Channel, 2019-2032 (USD Billion)
List of Figures
1. Global Oatmeal Market Segmentation
2. Oatmeal Market: Research Methodology
3. Market Size Estimation Methodology: Bottom-Up Approach
4. Market Size Estimation Methodology: Top-Down Approach
5. Data Triangulation
6. Porter's Five Forces Analysis
7. Value Chain Analysis
8. Global Oatmeal Market Attractiveness Analysis By Nature
9. Global Oatmeal Market Attractiveness Analysis By Distribution Channel
10. Global Oatmeal Market Attractiveness Analysis By Region
11. Global Oatmeal Market: Dynamics
12. Global Oatmeal Market Share By Nature (2023 & 2032)
13. Global Oatmeal Market Share by Distribution Channel (2023 & 2032)
14. Global Oatmeal Market Share by Regions (2023 & 2032)
15. Global Oatmeal Market Share by Company (2022)