The global oats market was valued at USD 5.84 billion in 2021 and growing at a CAGR of 4.75% from 2022 to 2030. The global oats market is expected to reach USD 8.86 billion by 2030. Europe is expected to increase the fastest during the forecast period
Research Analyst view on the market
A new line of oat-based items has emerged in response to the rising popularity of oatmeal as a regular breakfast option. Products in the food business that are in high demand include bread goods and protein bars made with oats. The oats market has many chances for expansion due to the distinct variety of oat-based items. Additionally, because of their super-nourishing pairing with coconut oil, which softens the face and gives it a young shine by regenerating the skin, oats can also be utilized in the skincare routine. By creating profitable new opportunities in the skincare sector, these properties of oats can help the oats market.
Market Introduction:
Cereal grains come in several varieties, and oats are one of them. In Europe, oats are typically farmed and regarded as one of the world's healthiest foods. Proteins, unsaturated fatty acids, vitamins, beta-gluten, minerals, antioxidants, and dietary fiber can all be found in oats, making them a nutrient-dense meal. In addition to being a popular morning cereal, oats are also a healthful ingredient in various bakery, snack, savory, and other goods. Because they can be quickly cooked by adding hot water or milk, rolled oats, also known as fast cook oats, are one of the more widely consumed food types worldwide.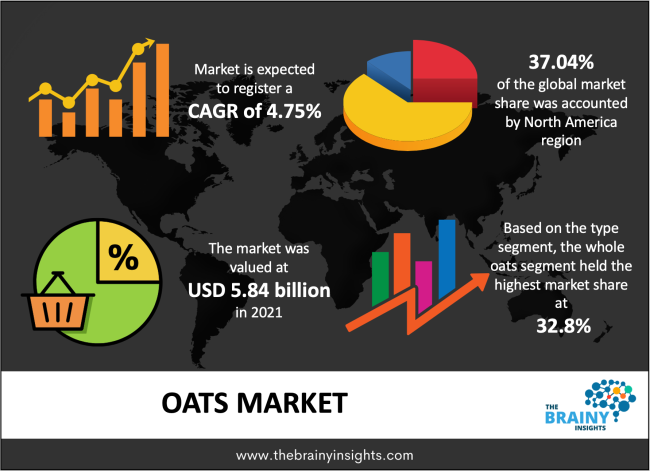 Get an overview of this study by requesting a free sample
Recent Development
The key players are concentrating on implementing strategies such as adopting new applications, product innovations, mergers & acquisitions, joint ventures, alliances, and partnerships to improve their market position in the global oats market. To address customers' growing concerns about sustainability, manufacturers are putting more emphasis on creative and environmentally friendly product packaging. The newest chilled oat milk, which will be offered in two varieties—semi and whole—was presented by MOMA, a British manufacturer of oat milk, in February 2022. Along with being introduced at specific stores, such as Ocado and Morrisons, both items will be available in 220 Waitrose locations around the nation. According to MOMA, the latest oat milk products have barista quality and can froth as flawlessly as possible without splitting. In contrast to other brands, these types are produced in the UK without concentrating.
Market Dynamics:
Drivers:
Consumer Preferences & Lifestyle- The use of durable solutions and products has exploded because of the shifting consumer preferences and lifestyles. This tendency is believed to be one of the key factors influencing the growth of the global oats market. The oats market is anticipated to grow due to the nourishing and health benefits associated with oat consumption and increasing global awareness of the need for improved food usage. A key market participant is offering innovative products based on these ingredients due to the rising demand for oats, which is also acting as a substantial growth driver for the market share of oats.
Restraints:
Price & Consumption Habits- Since consumption habits for food products are constantly evolving; it will be critical for the market's growth to be restricted between 2022 and 2030. The premium pricing of these ingredients is anticipated to hinder market growth compared to similar items. Due to such limitations, the industry is experiencing several issues, which will probably impact the expansion and development of the oats market for the forecasted period.
Opportunities:
Dietary Preferences- The global oats market has a great opportunity because of the rising desire for fine dining and shifting consumer dietary preferences. Additionally, the need for comfort food and cereal's high nutritional value helps to sustain the business. The production of different types of oats and the use of grain in the cosmetics industry present the market for oats with tremendous growth opportunities.
Challenges:
Supply Chain Disruption Issues- Consumer goods, food, and beverage firms were dealing with drastically lower demand, and supply chain disruption issues as the repercussions of COVID-19 were felt globally. In contrast to the increase in at-home consumption, there had been no change in out-of-home consumption. Oats were typically consumed at home due to a disrupted production and supply chain, as well as a drop in growth in the retail sector. Additionally, oats are a nutritious snack that strengthens a person's immune system. As a result, it was anticipated that the demand for oats would rise to maintain healthy diets once COVID-19's effects have decreased.
Segmentation analysis:
Regional segmentation analysis:
The regions analyzed for the market include North America, Europe, South America, Asia Pacific, the Middle East, and Africa. North America emerged as the largest market for the global oats market, with a 37.04% share of the market revenue in 2021.
With a share of 37.04% in 2021, North America led the market. Due to the widespread consumption of oats in North America, the region had a substantial market share. One of the key factors influencing the expansion of the oats market is the usage of oats in porridge. However, due to the increased demand for diet foods that also offer nutritional advantages, Asia Pacific may also experience strong development. Due to the rising demand for diet foods, the Middle East and South Africa areas could also help the oats market develop.
North America Region Oats Market Share in 2021 - 37.04%
www.thebrainyinsights.com
Check the geographical analysis of this market by requesting a free sample
Type segment analysis
The type segment is divided into whole oats, steel cuts, instant oats, and others. In 2021, the whole oats segment held the highest market share at 32.85%. Collecting, washing, and removing the inedible hulls from oats produces whole oats. These are most commonly found at health food stores. They are the hardest to prepare. Oats that have not been ground or processed to remove the middle part of each seed are considered whole-grain oats. Most carbohydrates in each seed of whole grain oats come from the endosperms. The endosperm offers quick, easily digestible energy when consumed alongside the germ and bran.
Application segment analysis
The application segment is divided into breakfast cereals, bakery & confectionery, animal feed, and others. The animal feed segment held a larger market share of 35.58% in 2021. As a cereal item, oats can be added to animal diets and are suitable for feeding pets like cats, dogs, and game animals. The energy level of oats is increased by their fat content, which is a crucial component in horse meals. Oats in cat meals reduce allergic reactions and soothe the gastrointestinal tract. Because of their high hull and fiber content, oats are an excellent grain for beginning calves on feed. Many knowledgeable cattlemen choose to feed weaned calves, primarily oats, to begin with before gradually transitioning to higher-energy grains as the animals grow accustomed to grain intake. For youngstock and breeding animals, oats make a great diet.
Some of the Key Market Players:
Nestlé S.A.
Quaker Oats Company
General Mills, Inc.
Pioneer Foods Ltd.
Post Holdings, Inc.
Nature's Path Foods
Richardson International Limited
The Hain Celestial Group, Inc.
Morning Foods Limited
Blue Lake Milling Pty Ltd. (CHB Group)
Bob's Red Mill Natural Foods, Inc.
Post Holdings, Inc.
The Kellogg Company
Marico Limited
B&G Foods, Inc.
Avena Foods Limited
Grain Millers, Inc.
Bagrry's India Ltd
NOW Health Group, Inc.
Helsinki Mills Ltd.
Unigrain Pty Ltd
Report Description:
| Attribute | Description |
| --- | --- |
| Market Size | Revenue (USD Billion), Volume (Kg) |
| Market size value in 2021 | USD 5.84 Billion |
| Market size value in 2030 | USD 8.86 Billion |
| CAGR (2022 to 2030) | 4.75% |
| Historical data | 2019-2020 |
| Base Year | 2021 |
| Forecast | 2022-2030 |
| Segments | The research report also delivers an outline of the attractiveness of oats based on type, application, and regions |
| Regional Segments | The regions analyzed for the market are Europe, Asia Pacific, North America, South America, and Middle East & Africa. Furthermore, the regions are further analyzed at the country level. |
1. Introduction
1.1. Objectives of the Study
1.2. Market Definition
1.3. Research Scope
1.4. Currency
1.5. Key Target Audience

2. Research Methodology and Assumptions

3. Executive Summary

4. Premium Insights
4.1. Porter's Five Forces Analysis
4.2. Value Chain Analysis
4.3. Top Investment Pockets
4.3.1. Market Attractiveness Analysis By Type
4.3.2. Market Attractiveness Analysis By Application
4.3.3. Market Attractiveness Analysis By Region
4.4. Industry Trends

5. Market Dynamics
5.1. Market Evaluation
5.2. Drivers
5.2.1. Consumer preferences & lifestyle
5.3. Restraints
5.3.1. Price & consumption habits
5.4. Opportunities
5.4.1. Dietary preferences
5.5. Challenges
5.5.1. Supply chain disruption issues

6. Global Oats Market Analysis and Forecast, By Type
6.1. Segment Overview
6.2. Whole Oats
6.3. Steel Cut
6.4. Instant Oats
6.5. Others

7. Global Oats Market Analysis and Forecast, By Application
7.1. Segment Overview
7.2. Breakfast Cereals
7.3. Bakery & Confectionery
7.4. Animal Feed
7.5. Others

8. Global Oats Market Analysis and Forecast, By Regional Analysis
8.1. Segment Overview
8.2. North America
8.2.1. U.S.
8.2.2. Canada
8.2.3. Mexico
8.3. Europe
8.3.1. Germany
8.3.2. France
8.3.3. U.K.
8.3.4. Italy
8.3.5. Spain
8.4. Asia-Pacific
8.4.1. Japan
8.4.2. China
8.4.3. India
8.5. South America
8.5.1. Brazil
8.6. Middle East and Africa
8.6.1. UAE
8.6.2. South Africa

9. Global Oats Market-Competitive Landscape
9.1. Overview
9.1.1. Market Share of Key Players in the Oats Market
9.1.2. Global Company Market Share
9.1.3. North America Company Market Share
9.1.4. Europe Company Market Share
9.1.5. APAC Company Market Share
9.2. Competitive Situations and Trends
9.2.1. Product Launches and Developments
9.2.2. Partnerships, Collaborations, and Agreements
9.2.3. Mergers & Acquisitions
9.2.4. Expansions

10. Company Profiles
10.1. Bob's Red Mill Natural Foods, Inc.
10.1.1. Business Overview
10.1.2. Company Snapshot
10.1.3. Company Market Share Analysis
10.1.4. Company Product Portfolio
10.1.5. Recent Developments
10.1.6. SWOT Analysis
10.2. Nestlé S.A.
10.2.1. Business Overview
10.2.2. Company Snapshot
10.2.3. Company Market Share Analysis
10.2.4. Company Product Portfolio
10.2.5. Recent Developments
10.2.6. SWOT Analysis
10.3. Post Holdings, Inc.
10.3.1. Business Overview
10.3.2. Company Snapshot
10.3.3. Company Market Share Analysis
10.3.4. Company Product Portfolio
10.3.5. Recent Developments
10.3.6. SWOT Analysis
10.4. Quaker Oats Company
10.4.1. Business Overview
10.4.2. Company Snapshot
10.4.3. Company Market Share Analysis
10.4.4. Company Product Portfolio
10.4.5. Recent Developments
10.4.6. SWOT Analysis
10.5. The Kellogg Company
10.5.1. Business Overview
10.5.2. Company Snapshot
10.5.3. Company Market Share Analysis
10.5.4. Company Product Portfolio
10.5.5. Recent Developments
10.5.6. SWOT Analysis
10.6. General Mills, Inc.
10.6.1. Business Overview
10.6.2. Company Snapshot
10.6.3. Company Market Share Analysis
10.6.4. Company Product Portfolio
10.6.5. Recent Developments
10.6.6. SWOT Analysis
10.7. Marico Limited
10.7.1. Business Overview
10.7.2. Company Snapshot
10.7.3. Company Market Share Analysis
10.7.4. Company Product Portfolio
10.7.5. Recent Developments
10.7.6. SWOT Analysis
10.8. Pioneer Foods Ltd.
10.8.1. Business Overview
10.8.2. Company Snapshot
10.8.3. Company Market Share Analysis
10.8.4. Company Product Portfolio
10.8.5. Recent Developments
10.8.6. SWOT Analysis
10.9. B&G Foods, Inc.
10.9.1. Business Overview
10.9.2. Company Snapshot
10.9.3. Company Market Share Analysis
10.9.4. Company Product Portfolio
10.9.5. Recent Developments
10.9.6. SWOT Analysis
10.10. Post Holdings, Inc.
10.10.1. Business Overview
10.10.2. Company Snapshot
10.10.3. Company Market Share Analysis
10.10.4. Company Product Portfolio
10.10.5. Recent Developments
10.10.6. SWOT Analysis
10.11. Avena Foods Limited
10.11.1. Business Overview
10.11.2. Company Snapshot
10.11.3. Company Market Share Analysis
10.11.4. Company Product Portfolio
10.11.5. Recent Developments
10.11.6. SWOT Analysis
10.12. Nature's Path Foods
10.12.1. Business Overview
10.12.2. Company Snapshot
10.12.3. Company Market Share Analysis
10.12.4. Company Product Portfolio
10.12.5. Recent Developments
10.12.6. SWOT Analysis
10.13. Grain Millers, Inc.
10.13.1. Business Overview
10.13.2. Company Snapshot
10.13.3. Company Market Share Analysis
10.13.4. Company Product Portfolio
10.13.5. Recent Developments
10.13.6. SWOT Analysis
10.14. Richardson International Limited
10.14.1. Business Overview
10.14.2. Company Snapshot
10.14.3. Company Market Share Analysis
10.14.4. Company Product Portfolio
10.14.5. Recent Developments
10.14.6. SWOT Analysis
10.15. Bagrry's India Ltd
10.15.1. Business Overview
10.15.2. Company Snapshot
10.15.3. Company Market Share Analysis
10.15.4. Company Product Portfolio
10.15.5. Recent Developments
10.15.6. SWOT Analysis
10.16. The Hain Celestial Group, Inc.
10.16.1. Business Overview
10.16.2. Company Snapshot
10.16.3. Company Market Share Analysis
10.16.4. Company Product Portfolio
10.16.5. Recent Developments
10.16.6. SWOT Analysis
10.17. NOW Health Group, Inc.
10.17.1. Business Overview
10.17.2. Company Snapshot
10.17.3. Company Market Share Analysis
10.17.4. Company Product Portfolio
10.17.5. Recent Developments
10.17.6. SWOT Analysis
10.18. Morning Foods Limited
10.18.1. Business Overview
10.18.2. Company Snapshot
10.18.3. Company Market Share Analysis
10.18.4. Company Product Portfolio
10.18.5. Recent Developments
10.18.6. SWOT Analysis
10.19. Helsinki Mills Ltd.
10.19.1. Business Overview
10.19.2. Company Snapshot
10.19.3. Company Market Share Analysis
10.19.4. Company Product Portfolio
10.19.5. Recent Developments
10.19.6. SWOT Analysis
10.20. Blue Lake Milling Pty Ltd. (CHB Group)
10.20.1. Business Overview
10.20.2. Company Snapshot
10.20.3. Company Market Share Analysis
10.20.4. Company Product Portfolio
10.20.5. Recent Developments
10.20.6. SWOT Analysis
10.21. Unigrain Pty Ltd
10.21.1. Business Overview
10.21.2. Company Snapshot
10.21.3. Company Market Share Analysis
10.21.4. Company Product Portfolio
10.21.5. Recent Developments
10.21.6. SWOT Analysis

List of Table
1. Global Oats Market, By Type, 2019-2030 (USD Billion)
2. Global Whole Oats Oats Market, By Region, 2019-2030 (USD Billion)
3. Global Steel Cut Oats Market, By Region, 2019-2030 (USD Billion)
4. Global Instant Oats Oats Market, By Region, 2019-2030 (USD Billion)
5. Global Others Oats Market, By Region, 2019-2030 (USD Billion)
6. Global Oats Market, By Application, 2019-2030 (USD Billion)
7. Global Breakfast Cereals Oats Market, By Region, 2019-2030 (USD Billion)
8. Global Bakery & Confectionery Oats Market, By Region, 2019-2030 (USD Billion)
9. Global Animal Feed Oats Market, By Region, 2019-2030 (USD Billion)
10. Global Others Oats Market, By Region, 2019-2030 (USD Billion)
11. Global Oats Market, By Region, 2019-2030 (USD Billion)
12. North America Oats Market, By Type, 2019-2030 (USD Billion)
13. North America Oats Market, By Application, 2019-2030 (USD Billion)
14. U.S. Oats Market, By Type, 2019-2030 (USD Billion)
15. U.S. Oats Market, By Application, 2019-2030 (USD Billion)
16. Canada Oats Market, By Type, 2019-2030 (USD Billion)
17. Canada Oats Market, By Application, 2019-2030 (USD Billion)
18. Mexico Oats Market, By Type, 2019-2030 (USD Billion)
19. Mexico Oats Market, By Application, 2019-2030 (USD Billion)
20. Europe Oats Market, By Type, 2019-2030 (USD Billion)
21. Europe Oats Market, By Application, 2019-2030 (USD Billion)
22. Germany Oats Market, By Type, 2019-2030 (USD Billion)
23. Germany Oats Market, By Application, 2019-2030 (USD Billion)
24. France Oats Market, By Type, 2019-2030 (USD Billion)
25. France Oats Market, By Application, 2019-2030 (USD Billion)
26. U.K. Oats Market, By Type, 2019-2030 (USD Billion)
27. U.K. Oats Market, By Application, 2019-2030 (USD Billion)
28. Italy Oats Market, By Type, 2019-2030 (USD Billion)
29. Italy Oats Market, By Application, 2019-2030 (USD Billion)
30. Spain Oats Market, By Type, 2019-2030 (USD Billion)
31. Spain Oats Market, By Application, 2019-2030 (USD Billion)
32. Asia Pacific Oats Market, By Type, 2019-2030 (USD Billion)
33. Asia Pacific Oats Market, By Application, 2019-2030 (USD Billion)
34. Japan Oats Market, By Type, 2019-2030 (USD Billion)
35. Japan Oats Market, By Application, 2019-2030 (USD Billion)
36. China Oats Market, By Type, 2019-2030 (USD Billion)
37. China Oats Market, By Application, 2019-2030 (USD Billion)
38. India Oats Market, By Type, 2019-2030 (USD Billion)
39. India Oats Market, By Application, 2019-2030 (USD Billion)
40. South America Oats Market, By Type, 2019-2030 (USD Billion)
41. South America Oats Market, By Application, 2019-2030 (USD Billion)
42. Brazil Oats Market, By Type, 2019-2030 (USD Billion)
43. Brazil Oats Market, By Application, 2019-2030 (USD Billion)
44. Middle East and Africa Oats Market, By Type, 2019-2030 (USD Billion)
45. Middle East and Africa Oats Market, By Application, 2019-2030 (USD Billion)
46. UAE Oats Market, By Type, 2019-2030 (USD Billion)
47. UAE Oats Market, By Application, 2019-2030 (USD Billion)
48. South Africa Oats Market, By Type, 2019-2030 (USD Billion)
49. South Africa Oats Market, By Application, 2019-2030 (USD Billion)
List of Figures
1. Global Oats Market Segmentation
2. Oats Market: Research Methodology
3. Market Size Estimation Methodology: Bottom-Up Approach
4. Market Size Estimation Methodology: Top-Down Approach
5. Data Triangulation
6. Porter's Five Forces Analysis
7. Value Chain Analysis
8. Global Oats Market Attractiveness Analysis By Type
9. Global Oats Market Attractiveness Analysis By Application
10. Global Oats Market Attractiveness Analysis By Region
11. Global Oats Market: Dynamics
12. Global Oats Market Share by Type (2022 & 2030)
13. Global Oats Market Share by Application (2022 & 2030)
14. Global Oats Market Share by Regions (2022 & 2030)
15. Global Oats Market Share by Company (2021)