The non-alcoholic drinks market was valued at USD 834.3 billion in 2021 and is anticipated to grow at a CAGR of 5.8% from 2022 to 2030. The rising health consciousness among consumers is the key driver for market growth. Globally most consumers are shifting towards low and non-alcoholic beverages as they want to live a healthy life and explore booze-free drinks. Thus, manufacturers are exploring this segment and launching a new version of the drinks.
According to the IWSR report, non-alcoholic beverages have outpaced low-alcoholic beverages in 2019-2020. Further, according to Bacardi Trends Report 2021, non-alcoholic drinks have been gaining more traction among consumers. These trends are expected to positively impact market growth.
The outbreak covid-19 impacted the consumption of non-alcoholic drinks as consumers, the demand for RTD coffee, tea, and bottled water variants increased but the demand for carbonated soft drinks saw a decrease as consumers were switching to functional beverages. Further, the demand for gluten-free, organic, non-GMO-certified, and probiotic-rich drinks increased during the spread of the coronavirus. After this period, manufacturers started offering various functional drinks. For instance, in March 2021 Suntory Holding Ltd. & PepsiCo together launched an RTD oolong tea in Thailand for health-conscious consumers. The product is available in two variants low sugar and no sugar.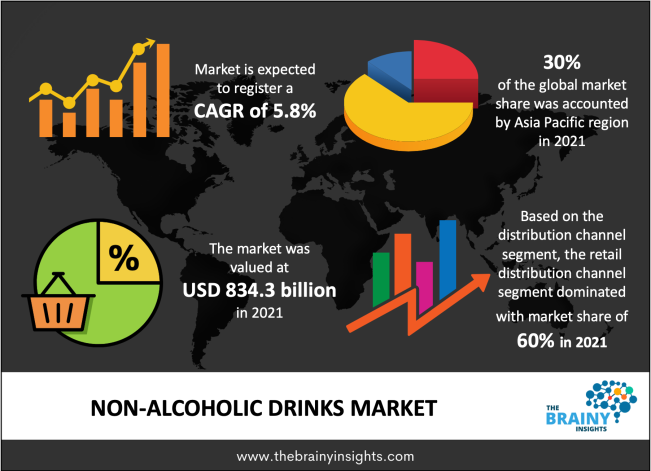 Get an overview of this study by requesting a free sample
As consumers are opting for a healthier version of drinks, manufacturers such as The Coca-Cola Company and PepsiCo are focused on offering healthier drinks to consumers. For instance, AHA, a sparkling water brand of The Coca-Cola Company added two new flavors to its existing portfolio. The new flavors are Mango & Black Tea, and Raspberry & Acai. Both these are sugar & sodium free. Such product innovations will positively impact growth.
Along with product innovation and expansion, many players are acquiring and forming a partnership in this highly competitive market. For instance, in June 2023, Keurig Dr. Pepper acquired the brand Atypique from Station Agro-Biotech. Atypique's offering includes non-alcoholic ready-to-drink cocktails Similarly, in July 2021, Nestlé and Starbucks extended their partnership to offer RTD coffee in the Asia Pacific and Latin America.
Product Insights
Bottled water led the market with a share of more than 30% in 2021. Product innovation is the key factor driving the growth of this segment. Most consumers prefer bottled water in comparison to normal water when eating out of the home. As a result, many restaurants & café have started serving variants of bottled water including spring water, sparkling water, and mineral water even in developing countries like India, The Philippines, and others.
Other categories that include non-alcoholic cocktails, mocktails, beer, and spirits are expected to witness the highest growth rate during the forecast period. The demand for these drinks is rapidly increasing among young consumers as they want to switch towards a healthy lifestyle. Many key players have launched the product in this category, which is boding well for the segment's growth. For instance, in September 2021, AB InBev launched a non-alcoholic beer Stella Artois Liberte in the US.
The juice segment is expected to witness significant growth during the forecast period. The availability of low-calorie and no added sugar juice products in the market are driving the segment's growth. The low-calorie juice offered by Tropicana contains 40% less sugar, thus, are low in calorie. The segment is targeted toward health-conscious consumers looking for a healthier version of beverages.
Distribution Channel Insights
Retail distribution channel led the market with a share of more than 60% in 2021. Retail distribution channels consist of supermarkets & hypermarkets, convenience stores, traditional grocery stores, and online platforms. Consumers prefer to purchase non-alcoholic drinks through retail stores as they offer a wide variety of product portfolios under a single roof. Further, these stores also offer products of their label, thus, consumer shop through these stores. However, increasing penetration of e-commerce websites across geographies and shifting preference to online shopping is driving the sale through e-commerce platforms such as Amazon, Big Basket, Drizly, and others.
The demand for non-alcoholic drinks is also increasing at food service outlets such as café, restaurants, clubs, and bars. Non-drinkers are mostly seeking non-alcoholic options at clubs & bars, which is likely to increase the demand for non-alcoholic beer & spirits. Some of the popular brands of non-alcoholic beer include Heineken, Budweiser, and others. Moreover, demand for bottled water such as sparkling water, flavored water, and low-calorie and natural juice products is expected to fuel the growth through this distribution channel.
Regional Insights
The Asia Pacific led the market with a share of more than 30% in 2021. The region is driven by increasing product penetration and changing consumer preferences in economies such as India, Australia, China, and the Philippines. Moreover, increasing production plants by the key manufacturers in this region is also expected to positively impact the growth. Increasing product launches and expansion strategies by companies like PepsiCo, and The Coca-Cola Company is likely to boost the market in this region.
For instance, in July 2022, The Coca-Cola Company launched Smartwater for fitness-focused consumers targeting consumers in the age group of 24-35 years old. In November 2021, Dole Foods introduced 100% natural pineapple juice in India in can packaging. The drink is GMO-free, gluten-free, and rich in vitamin C. It can be consumed as such or can be used to prepare cocktails and mocktails.
North America accounted for the second largest market in 2021 due to increasing demand for non-alcoholic beverages owing to the rising acceptance of the sober curious trend in the US and Canada. Consumers are frequently opting for non-alcoholic drinks that are healthier such as no in calories, gluten-free, and made from natural ingredients. The increasing sugar tax on products has also prompted manufacturers to reduce the sugar in juice, carbonated soft drinks, and others. The rising obesity level in this region has also made consumers switch to a healthier version of juice, RTD organic tea, and RTD coffee.
Key Players
The non-alcoholic drink market is competitive in nature and consists of several multinational companies. Key players are heavily investing in research & development to innovate product offerings and packaging. Consumers also pay attention to product packaging, thus, companies are emphasizing the need for sustainable product packaging. The regional regulation imposed by the government should also be considered while introducing a product in that region.
The Coca Cola Company
Nestlé
Starbucks
PepsiCo
SUNTORY HOLDINGS LIMITED
Unilever
Keurig Dr Pepper Inc.
Capri Sun AG
Cott Corporation
Danone
Asahi Group Holdings, Ltd.
Ocean Spray
National Beverage Corp.
Gerolsteiner Brunnen GmbH & Co. KG
Segments Covered in the Report
Product

Bottled Water
Carbonated Soft Drinks
RTD Tea & Coffee
Juices
Others

Distribution Channel

Retail
Hypermarkets & Supermarkets
Online
Others
Food Service

Regional

North America
US
Canada
Mexico
Europe
Germany
UK
France
Italy
Spain
Asia Pacific
China
Japan
India
South Korea
Australia
Central & South America
Brazil
Argentina
Middle East & Africa
South Africa
UAE
Saudi Arabia
1. Introduction
1.1. Objectives of the Study
1.2. Market Definition
1.3. Research Scope
1.4. Currency
1.5. Key Target Audience

2. Research Methodology and Assumptions

3. Executive Summary

4. Premium Insights
4.1. Porter's Five Forces Analysis
4.2. Value Chain Analysis
4.3. Top Investment Pockets
4.3.1. Market Attractiveness Analysis by Product Type
4.3.2. Market Attractiveness Analysis by Distribution Channel
4.3.3. Market Attractiveness Analysis by Region
4.4. Industry Trends

5. Market Dynamics
5.1. Market Evaluation
5.2. Drivers
5.2.1. Rising health consciousness
5.3. Restraints
5.3.1. Price Fluctuations
5.4. Opportunities
5.4.1. Growing e-commerce platforms
5.5. Challenges
5.5.1. Economic slowdown

6. Global Non-alcoholic drinks Market Analysis and Forecast, By Product Type
6.1. Segment Overview
6.2. Bottled water
6.3. Carbonated Soft Drinks
6.4. RTD Tea and Coffee
6.5. Juices
6.6. Others

7. Global Non-alcoholic drinks Market Analysis and Forecast, By Distribution Channel
7.1. Segment Overview
7.2. Retail
7.2.1. Hypermarkets
7.2.2. Online
7.2.3. Others
7.3. Food Service

8. Global Non-alcoholic drinks Market Analysis and Forecast, By Regional Analysis
8.1. Segment Overview
8.2. North America
8.2.1. U.S.
8.2.2. Canada
8.2.3. Mexico
8.3. Europe
8.3.1. Germany
8.3.2. France
8.3.3. U.K.
8.3.4. Italy
8.3.5. Spain
8.4. Asia-Pacific
8.4.1. Japan
8.4.2. China
8.4.3. India
8.4.4. South Korea
8.4.5. Australia
8.5. South America
8.5.1. Brazil
8.5.2. Argentina
8.6. Middle East and Africa
8.6.1. UAE
8.6.2. South Africa
8.6.3. Saudi Arabia

9. Global Non-alcoholic drinks Market-Competitive Landscape
9.1. Overview
9.2. Market Share of Key Players in the Non-alcoholic drinks Market
9.2.1. Global Company Market Share
9.2.2. North America Company Market Share
9.2.3. Europe Company Market Share
9.2.4. APAC Company Market Share
9.3. Competitive Situations and Trends
9.3.1. Product Launches and Developments
9.3.2. Partnerships, Collaborations, and Agreements
9.3.3. Mergers & Acquisitions
9.3.4. Expansions

10. Company Profiles
10.1. The Coca Cola Company
10.1.1. Business Overview
10.1.2. Company Snapshot
10.1.3. Company Market Share Analysis
10.1.4. Company Product Portfolio
10.1.5. Recent Developments
10.1.6. SWOT Analysis
10.2. Nestlé
10.2.1. Business Overview
10.2.2. Company Snapshot
10.2.3. Company Market Share Analysis
10.2.4. Company Product Portfolio
10.2.5. Recent Developments
10.2.6. SWOT Analysis
10.3. Starbucks
10.3.1. Business Overview
10.3.2. Company Snapshot
10.3.3. Company Market Share Analysis
10.3.4. Company Product Portfolio
10.3.5. Recent Developments
10.3.6. SWOT Analysis
10.4. PepsiCo
10.4.1. Business Overview
10.4.2. Company Snapshot
10.4.3. Company Market Share Analysis
10.4.4. Company Product Portfolio
10.4.5. Recent Developments
10.4.6. SWOT Analysis
10.5. SUNTORY HOLDINGS LIMITED
10.5.1. Business Overview
10.5.2. Company Snapshot
10.5.3. Company Market Share Analysis
10.5.4. Company Product Portfolio
10.5.5. Recent Developments
10.5.6. SWOT Analysis
10.6. Unilever
10.6.1. Business Overview
10.6.2. Company Snapshot
10.6.3. Company Market Share Analysis
10.6.4. Company Product Portfolio
10.6.5. Recent Developments
10.6.6. SWOT Analysis
10.7. Keurig Dr Pepper Inc.
10.7.1. Business Overview
10.7.2. Company Snapshot
10.7.3. Company Market Share Analysis
10.7.4. Company Product Portfolio
10.7.5. Recent Developments
10.7.6. SWOT Analysis
10.8. Capri Sun AG
10.8.1. Business Overview
10.8.2. Company Snapshot
10.8.3. Company Market Share Analysis
10.8.4. Company Product Portfolio
10.8.5. Recent Developments
10.8.6. SWOT Analysis
10.9. Cott Corporation
10.9.1. Business Overview
10.9.2. Company Snapshot
10.9.3. Company Market Share Analysis
10.9.4. Company Product Portfolio
10.9.5. Recent Developments
10.9.6. SWOT Analysis
10.10. Danone
10.10.1. Business Overview
10.10.2. Company Snapshot
10.10.3. Company Market Share Analysis
10.10.4. Company Product Portfolio
10.10.5. Recent Developments
10.10.6. SWOT Analysis
10.11. Asahi Group Holdings, Ltd.
10.11.1. Business Overview
10.11.2. Company Snapshot
10.11.3. Company Market Share Analysis
10.11.4. Company Product Portfolio
10.11.5. Recent Developments
10.11.6. SWOT Analysis
10.12. Ocean Spray
10.12.1. Business Overview
10.12.2. Company Snapshot
10.12.3. Company Market Share Analysis
10.12.4. Company Product Portfolio
10.12.5. Recent Developments
10.12.6. SWOT Analysis
10.13. National Beverage Corp.
10.13.1. Business Overview
10.13.2. Company Snapshot
10.13.3. Company Market Share Analysis
10.13.4. Company Product Portfolio
10.13.5. Recent Developments
10.13.6. SWOT Analysis
10.14. Gerolsteiner Brunnen GmbH & Co. KG.
10.14.1. Business Overview
10.14.2. Company Snapshot
10.14.3. Company Market Share Analysis
10.14.4. Company Product Portfolio
10.14.5. Recent Developments
10.14.6. SWOT Analysis

List of Table
1. Global Non-alcoholic drinks Market, By Product Type, 2019-2030 (USD Billion) (Tons)
2. Global Bottled water Non-alcoholic drinks Market, By Region, 2019-2030 (USD Billion) (Tons)
3. Global Carbonated Soft Drinks Non-alcoholic drinks Market, By Region, 2019-2030 (USD Billion) (Tons)
4. Global RTD Tea and Coffee Non-alcoholic drinks Market, By Region, 2019-2030 (USD Billion) (Tons)
5. Global Juices Non-alcoholic drinks Market, By Region, 2019-2030 (USD Billion) (Tons)
6. Global Others Non-alcoholic drinks Market, By Region, 2019-2030 (USD Billion) (Tons)
7. Global Non-alcoholic drinks Market, By Distribution Channel, 2019-2030 (USD Billion) (Tons)
8. Global Retail Non-alcoholic drinks Market, By Region, 2019-2030 (USD Billion) (Tons)
9. Global Food Service Non-alcoholic drinks Market, By Region, 2019-2030 (USD Billion) (Tons)
10. Global Non-alcoholic drinks Market, By Region, 2019-2030 (USD Billion) (Tons)
11. North America Non-alcoholic drinks Market, By Product Type, 2019-2030 (USD Billion) (Tons)
12. North America Non-alcoholic drinks Market, By Distribution Channel, 2019-2030 (USD Billion) (Tons)
13. U.S. Non-alcoholic drinks Market, By Product Type, 2019-2030 (USD Billion) (Tons)
14. U.S. Non-alcoholic drinks Market, By Distribution Channel, 2019-2030 (USD Billion) (Tons)
15. Canada Non-alcoholic drinks Market, By Product Type, 2019-2030 (USD Billion) (Tons)
16. Canada Non-alcoholic drinks Market, By Distribution Channel, 2019-2030 (USD Billion) (Tons)
17. Mexico Non-alcoholic drinks Market, By Product Type, 2019-2030 (USD Billion) (Tons)
18. Mexico Non-alcoholic drinks Market, By Distribution Channel, 2019-2030 (USD Billion) (Tons)
19. Europe Non-alcoholic drinks Market, By Product Type, 2019-2030 (USD Billion) (Tons)
20. Europe Non-alcoholic drinks Market, By Distribution Channel, 2019-2030 (USD Billion) (Tons)
21. Germany Non-alcoholic drinks Market, By Product Type, 2019-2030 (USD Billion) (Tons)
22. Germany Non-alcoholic drinks Market, By Distribution Channel, 2019-2030 (USD Billion) (Tons)
23. France Non-alcoholic drinks Market, By Product Type, 2019-2030 (USD Billion) (Tons)
24. France Non-alcoholic drinks Market, By Distribution Channel, 2019-2030 (USD Billion) (Tons)
25. U.K. Non-alcoholic drinks Market, By Product Type, 2019-2030 (USD Billion) (Tons)
26. U.K. Non-alcoholic drinks Market, By Distribution Channel, 2019-2030 (USD Billion) (Tons)
27. Italy Non-alcoholic drinks Market, By Product Type, 2019-2030 (USD Billion) (Tons)
28. Italy Non-alcoholic drinks Market, By Distribution Channel, 2019-2030 (USD Billion) (Tons)
29. Spain Non-alcoholic drinks Market, By Product Type, 2019-2030 (USD Billion) (Tons)
30. Spain Non-alcoholic drinks Market, By Distribution Channel, 2019-2030 (USD Billion) (Tons)
31. Asia Pacific Non-alcoholic drinks Market, By Product Type, 2019-2030 (USD Billion) (Tons)
32. Asia Pacific Non-alcoholic drinks Market, By Distribution Channel, 2019-2030 (USD Billion) (Tons)
33. Japan Non-alcoholic drinks Market, By Product Type, 2019-2030 (USD Billion) (Tons)
34. Japan Non-alcoholic drinks Market, By Distribution Channel, 2019-2030 (USD Billion) (Tons)
35. China Non-alcoholic drinks Market, By Product Type, 2019-2030 (USD Billion) (Tons)
36. China Non-alcoholic drinks Market, By Distribution Channel, 2019-2030 (USD Billion) (Tons)
37. India Non-alcoholic drinks Market, By Product Type, 2019-2030 (USD Billion) (Tons)
38. India Non-alcoholic drinks Market, By Distribution Channel, 2019-2030 (USD Billion) (Tons)
39. South Korea Non-alcoholic drinks Market, By Product Type, 2019-2030 (USD Billion) (Tons)
40. South Korea Non-alcoholic drinks Market, By Distribution Channel, 2019-2030 (USD Billion) (Tons)
41. Australia Non-alcoholic drinks Market, By Product Type, 2019-2030 (USD Billion) (Tons)
42. Australia Non-alcoholic drinks Market, By Distribution Channel, 2019-2030 (USD Billion) (Tons)
43. South America Non-alcoholic drinks Market, By Product Type, 2019-2030 (USD Billion) (Tons)
44. South America Non-alcoholic drinks Market, By Distribution Channel, 2019-2030 (USD Billion) (Tons)
45. Brazil Non-alcoholic drinks Market, By Product Type, 2019-2030 (USD Billion) (Tons)
46. Brazil Non-alcoholic drinks Market, By Distribution Channel, 2019-2030 (USD Billion) (Tons)
47. Argentina Non-alcoholic drinks Market, By Product Type, 2019-2030 (USD Billion) (Tons)
48. Argentina Non-alcoholic drinks Market, By Distribution Channel, 2019-2030 (USD Billion) (Tons)
49. Middle East and Africa Non-alcoholic drinks Market, By Product Type, 2019-2030 (USD Billion) (Tons)
50. Middle East and Africa Non-alcoholic drinks Market, By Distribution Channel, 2019-2030 (USD Billion) (Tons)
51. UAE Non-alcoholic drinks Market, By Product Type, 2019-2030 (USD Billion) (Tons)
52. UAE Non-alcoholic drinks Market, By Distribution Channel, 2019-2030 (USD Billion) (Tons)
53. South Africa Non-alcoholic drinks Market, By Product Type, 2019-2030 (USD Billion) (Tons)
54. South Africa Non-alcoholic drinks Market, By Distribution Channel, 2019-2030 (USD Billion) (Tons)
55. Saudi Arabia Non-alcoholic drinks Market, By Product Type, 2019-2030 (USD Billion) (Tons)
56. Saudi Arabia Non-alcoholic drinks Market, By Distribution Channel, 2019-2030 (USD Billion) (Tons)
List of Figures
1. Global Non-alcoholic drinks Market Segmentation
2. Non-alcoholic drinks Market: Research Methodology
3. Market Size Estimation Methodology: Bottom-Up Approach
4. Market Size Estimation Methodology: Top-Down Approach
5. Data Triangulation
6. Porter's Five Forces Analysis
7. Value Chain Analysis
8. Global Non-alcoholic drinks Market Attractiveness Analysis by Product Type
9. Global Non-alcoholic drinks Market Attractiveness Analysis by Distribution Channel
10. Global Non-alcoholic drinks Market Attractiveness Analysis by Region
11. Global Non-alcoholic drinks Market: Dynamics
12. Global Non-alcoholic drinks Market Share by Product Type (2022 & 2030)
13. Global Non-alcoholic drinks Market Share by Distribution Channel (2022 & 2030)
14. Global Non-alcoholic drinks Market Share by Regions (2022 & 2030)
15. Global Non-alcoholic drinks Market Share by Company (2021)