The global matcha market was valued at USD 2.73 billion in 2021, expected to reach USD 6.19 billion by 2030, growing at a CAGR of 9.54% from 2022 to 2030. The Asia Pacific is expected to grow the fastest during the forecast period. Matcha market growth would be driven by rising consumer demand for matcha attributed to the rise in disposable income of the population. The rising awareness about the multiple benefits of matcha also contributes to the market's growth. The increasing use of matcha in the food processing, beverages, and personal care market will offer lucrative opportunities for the market's development.
Market Introduction:
Matcha is a fine powder derived from the green leaves of a plant grown in the shade for three to four weeks. It is primarily grown in Japan, given its ideal soil and climate conditions for matcha cultivation. Extensive and premium extraction processes are involved in making matcha. It involves harvesting leaves from matcha plants called camellia Sinensis. Then the leaves are dried and processed to produce their powdered form. The invention of preparing, dinking, and serving matcha was performed in the infamous Japanese tea ceremonies. Matcha is associated with long spiritual and meditative relaxation undertaken by monks as matcha helps in calming the nerves. Matcha is high in antioxidants, and moderate consumption of matcha regularly reduces inflammations and promotes cellular repair in the body. Matcha has numerous nutrients and antioxidants that boost metabolism, improve liver and mental health, promote longevity, and enhance brain function. Matcha can be consumed by adding hot water/milk to the powdered matcha. Matcha powder is bright in color and gathers a creamy texture when dissolved in a liquid. Matcha is a traditional drink in east Asia. However, it is gaining prominence in the west in the form of matcha-based food and beverages like matcha latte, iced tea, cookies, chocolates, cocktails, and milkshakes. Besides being a beverage, matcha is used in desserts to enhance its flavor, like ice creams, ice pops, gelatos, milkshakes, and smoothies, among many other delights. A new line of organic products with no added sugar, no added preservatives, and low caffeine content is also being introduced to cater to this health-conscious population. These products are available in a wide variety of flavors; they are available at any nearby supermarket/hypermarket or even online, making them accessible. The products are affordable as compared to their counterparts in restaurants and hotels.
Recent Development
ITO EN and Taiyo International partnered in August 2021 to deliver premium matcha for foods, drinks, and supplements in North America. As a result of this collaboration, Taiyo is introducing ITO EN's extensive line of ceremonial matcha powder and culinary organic matcha powder in the North American market.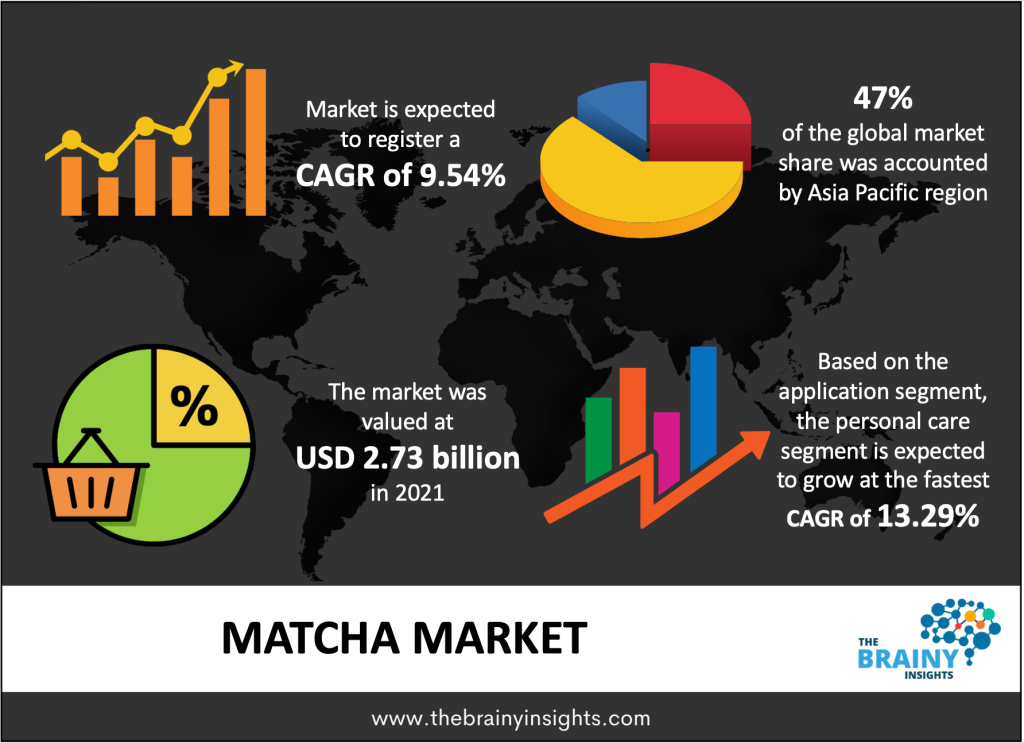 Get an overview of this study by requesting a free sample
Market Dynamics:
Drivers:
The increasing popularity of matcha - The increasing prevalence of chronic and lifestyle diseases like obesity in the world has increased the popularity of healthy foods & beverages. Matcha has numerous antioxidants, vitamins & minerals. It helps in enhancing brain function, reduces disease risk, improves liver health, and boosts metabolism. Matcha also aids in improving mental health and providing longevity. The growing awareness about the benefits of matcha will positively contribute to the development of the market. Furthermore, matcha variants are becoming richer in quality, with high-grade premium quality matcha being offered in the market. They have fine textures and bright colors and are rich in flavor.
Restraints:
High cost of matcha - Matcha is grown only in certain geographical regions with distinct environmental conditions favoring its growth. It is primarily grown in Japan. Matcha is cultivated with intense care, and each step is vital in its processing. It involves skilled workers tending to the matcha plants, which have extensive knowledge about matcha and its growth. The extraction of matcha leaves at the right time, followed by grinding and processing, takes time and money. The time-consuming and expensive nature of matcha cultivation is reflected in its retail prices, making it expensive. The costly nature of high-quality premium matcha will hamper the market's growth.
Opportunities:
Growing product diversification - The growing popularity of matcha has encouraged industry players to develop innovative products with unique flavors. It has also persuaded them to diversify matcha applications beyond regular tea into foods, beverages, and personal care. Market players have introduced new products like matcha coffee, bubble tea, milkshakes, iced tea, canned cocktail, beer, and others. It is increasingly used in packaged foods as well. Chips, biscuits, chocolates, protein bars, and macaroons are some examples of matcha snacks available in the market. Matcha is also used in the personal care & cosmetics industry. Matcha-based cleaners, face masks, hair packs, clearing masks, primer, and lip balm are rising in popularity. The increasing demand for dietary supplements with matcha as a preventive healthcare measure will also provide lucrative opportunities to the market players. Innovative marketing strategies have translated into the skyrocketing popularity of matcha-based skin care, hair care, and beverages.
Challenges:
Availability of cheaper matcha alternatives - Given the expensive nature of matcha, a significant chunk of the population cannot afford to drink it regularly. Therefore, alternatives like chamomile tea, green tea, and rooibos are sought to replace matcha. Chamomile tea and rooibos have more or less the same number of antioxidants with zero caffeine content compared to matcha. Additionally, while they provide the same relaxation as matcha, they are around 60% cheaper than matcha. On the other hand, green tea helps in weight loss, the same as matcha, but is more affordable. Therefore, the availability of matcha alternatives like chamomile tea, green tea, and rooibos will challenge the market's growth.
Segmentation analysis:
Regional segmentation analysis:
The regions analyzed for the market include North America, Europe, South America, Asia Pacific, and the Middle East and Africa. The Asia Pacific emerged as the largest market for the global matcha market, with a 47% share of the market revenue in 2021.
The Asia Pacific currently dominates the matcha market. Chinese were the first to grind green tea leaves into a powder. The Japanese were the ones who invented the method of preparing matcha as tea for their tea ceremonies which holds significance to this day. The historical significance of matcha has continued in today's modern China and Japan as a part of their traditions, contributing to the massive production, consumption, and export of matcha. The growing popularity of matcha in India, Australia, New Zealand, and South Korea, given the rising disposable income of the population, is also contributing to the region's dominance in the global matcha market. The increasing awareness about the known health benefits of matcha beyond Japan and China is also positively influencing the growth of the market. The growing popularity of matcha has led to the development of unique matcha flavors, matcha-based beverages, food recipes, and skin-care and hair care products. The ever-increasing demand for healthy foods & beverages is anticipated to drive the matcha market in the region. China & Japan also have large matcha processing industries and many matcha suppliers, making the Asia Pacific matcha market highly saturated. The growing demand for high-quality, unique, and novel matcha will also contribute to the regional market's growth.
Asia Pacific region Matcha Market Share in 2021 - 47%
www.thebrainyinsights.com
Check the geographical analysis of this market by requesting a free sample
Grade type segment analysis
The grade type segment is divided into classic, café, culinary and ceremonial. The classic segment dominated the market with a market share of around 46% in 2021. Classic grade matcha is the most popular matcha grade in the market given its affordability unlike premium matcha grades like ceremonial. Furthermore, it offers a fresh taste with a creamy texture ideal for new matcha users. Classic grade matcha has a bright color and is used as an ingredient in various recipes. Classic grade matcha has a very fine texture and can be consumed in a variety of ways. Classic grade matcha is amongst the first variants of matcha offered in the market; thereby, it has well-established processing, packaging, and distribution procedures. The expansion of matcha in untapped markets of the developing regions is spearheaded by introducing classic grade matcha before other varieties, given its popularity in other markets. The economic nature of classic grade matcha makes it affordable for most consumers and hence is more profitable to the producer.
Application segment analysis
The application segment is divided into regular tea, food processing, personal care, matcha beverages, food services, household, and institutional. Over the forecast period, the personal care segment is expected to grow at the fastest CAGR of 13.29%. Matcha is high in antioxidants. Matcha helps prevent premature aging and acne and control excess oil/sebum production. It also protects against sun damage and soothes inflammation of the skin. It helps in preventing hair loss by strengthening roots and promotes hair regrowth. Matcha also works against dandruff and graying of hair and reduces split ends. The rising awareness about the benefits of matcha for skin, hair, and overall personal care will propel the demand for matcha-based lotions, creams, cleansers, and balms, among others. The growing social media influence and their increasing promotion of matcha-based personal care products are anticipated to impact the market's growth positively.
Distribution channel segment analysis
The distribution channel segment is divided into supermarkets/hypermarkets, online, business-to-business, convenience stores, specialty stores, and others. In 2021, the supermarkets/hypermarkets segment dominated the market, accounting for around 55% of global revenue. Supermarkets/hypermarkets are extensive, large, and widely distributed retail chains. They have a higher consumer reach given their presence in metropolitan, cosmopolitan, tier-2, and tier-3 cities. Supermarkets/hypermarkets have dedicated shopping aisles for matcha-based products offering clients the convenience of all brands and their respective products in one place. The growing urbanization accompanied by the expanding retail chains will also propel the segment's growth.
Some of the Key Market Players:
Aiya-Co. Ltd.
DoMatcha
Encha
Green Foods Corporation
Ippodo Tea Co. Ltd.
ITO EN Ltd.
Marukyu Koyamaen Co. Ltd.
Tata Global Beverages Corporation
The AOI Tea Company
Unilever PLC
| Attribute | Description |
| --- | --- |
| Market Size | Revenue (USD Billion), Volume (Kgs) |
| Market size value in 2021 | USD 2.73 Billion |
| Market size value in 2030 | USD 6.19 Billion |
| CAGR (2022 to 2030) | 9.54% |
| Historical data | 2019-2020 (Customizable to 2014 - 2018) |
| Base Year | 2021 |
| Forecast | 2022-2030 (Customizable to 2031 - 2035) |
| Segments | The research report of matcha based on grade type, application, distribution channel, and regions |
| Regional Segments | The regions are South America, Europe, Asia Pacific, North America, and Middle East & Africa. |
Frequesntly Asked Questions
1. Introduction
1.1. Objectives of the Study
1.2. Market Definition
1.3. Research Scope
1.4. Currency
1.5. Key Target Audience

2. Research Methodology and Assumptions

3. Executive Summary

4. Premium Insights
4.1. Porter's Five Forces Analysis
4.2. Value Chain Analysis
4.3. Top Investment Pockets
4.3.1. Market Attractiveness Analysis By Grade Type
4.3.2. Market Attractiveness Analysis By Application
4.3.3. Market Attractiveness Analysis By Distribution Channel
4.3.4. Market Attractiveness Analysis By Region
4.4. Industry Trends

5. Market Dynamics
5.1. Market Evaluation
5.2. Drivers
5.2.1. Increasing popularity of matcha
5.3. Restraints
5.3.1. High cost of matcha
5.4. Opportunities
5.4.1. Growing product diversification
5.5. Challenges
5.5.1. Availability of cheaper matcha alternatives

6. Global Matcha Market Analysis and Forecast, By Grade Type
6.1. Segment Overview
6.2. Classic
6.3. Café
6.4. Culinary
6.5. Ceremonial

7. Global Matcha Market Analysis and Forecast, By Application
7.1. Segment Overview
7.2. Regular Tea
7.3. Food Processing
7.4. Personal Care
7.5. Matcha Beverages
7.6. Food Services
7.7. Household
7.8. Institutional

8. Global Matcha Market Analysis and Forecast, By Distribution Channel
8.1. Segment Overview
8.2. Supermarkets/Hypermarkets
8.3. Online
8.4. Business-to-Business
8.5. Convenience Stores
8.6. Specialty Stores
8.7. Others

9. Global Matcha Market Analysis and Forecast, By Regional Analysis
9.1. Segment Overview
9.2. North America
9.2.1. U.S.
9.2.2. Canada
9.2.3. Mexico
9.3. Europe
9.3.1. Germany
9.3.2. France
9.3.3. U.K.
9.3.4. Italy
9.3.5. Spain
9.4. Asia-Pacific
9.4.1. Japan
9.4.2. China
9.4.3. India
9.5. South America
9.5.1. Brazil
9.6. Middle East and Africa
9.6.1. UAE
9.6.2. South Africa

10. Global Matcha Market-Competitive Landscape
10.1. Overview
10.2. Market Share of Key Players in the Matcha Market
10.2.1. Global Company Market Share
10.2.2. North America Company Market Share
10.2.3. Europe Company Market Share
10.2.4. APAC Company Market Share
10.3. Competitive Situations and Trends
10.3.1. Product Launches and Developments
10.3.2. Partnerships, Collaborations, and Agreements
10.3.3. Mergers & Acquisitions
10.3.4. Expansions

11. Company Profiles
11.1. Aiya-Co. Ltd.
11.1.1. Business Overview
11.1.2. Company Snapshot
11.1.3. Company Market Share Analysis
11.1.4. Company Product Portfolio
11.1.5. Recent Developments
11.1.6. SWOT Analysis
11.2. DoMatcha
11.2.1. Business Overview
11.2.2. Company Snapshot
11.2.3. Company Market Share Analysis
11.2.4. Company Product Portfolio
11.2.5. Recent Developments
11.2.6. SWOT Analysis
11.3. Encha
11.3.1. Business Overview
11.3.2. Company Snapshot
11.3.3. Company Market Share Analysis
11.3.4. Company Product Portfolio
11.3.5. Recent Developments
11.3.6. SWOT Analysis
11.4. Green Foods Corporation
11.4.1. Business Overview
11.4.2. Company Snapshot
11.4.3. Company Market Share Analysis
11.4.4. Company Product Portfolio
11.4.5. Recent Developments
11.4.6. SWOT Analysis
11.5. Ippodo Tea Co. Ltd.
11.5.1. Business Overview
11.5.2. Company Snapshot
11.5.3. Company Market Share Analysis
11.5.4. Company Product Portfolio
11.5.5. Recent Developments
11.5.6. SWOT Analysis
11.6. ITO EN Ltd.
11.6.1. Business Overview
11.6.2. Company Snapshot
11.6.3. Company Market Share Analysis
11.6.4. Company Product Portfolio
11.6.5. Recent Developments
11.6.6. SWOT Analysis
11.7. Marukyu Koyamaen Co. Ltd.
11.7.1. Business Overview
11.7.2. Company Snapshot
11.7.3. Company Market Share Analysis
11.7.4. Company Product Portfolio
11.7.5. Recent Developments
11.7.6. SWOT Analysis
11.8. Tata Global Beverages Corporation
11.8.1. Business Overview
11.8.2. Company Snapshot
11.8.3. Company Market Share Analysis
11.8.4. Company Product Portfolio
11.8.5. Recent Developments
11.8.6. SWOT Analysis
11.9. The AOI Tea Company
11.9.1. Business Overview
11.9.2. Company Snapshot
11.9.3. Company Market Share Analysis
11.9.4. Company Product Portfolio
11.9.5. Recent Developments
11.9.6. SWOT Analysis
11.10. Unilever PLC
11.10.1. Business Overview
11.10.2. Company Snapshot
11.10.3. Company Market Share Analysis
11.10.4. Company Product Portfolio
11.10.5. Recent Developments
11.10.6. SWOT Analysis
List of Table
1. Global Matcha Market, By Grade Type, 2019-2030 (USD Billion)
2. Global Classic Matcha Market, By Region, 2019-2030 (USD Billion)
3. Global Café Matcha Market, By Region, 2019-2030 (USD Billion)
4. Global Culinary Matcha Market, By Region, 2019-2030 (USD Billion)
5. Global Ceremonial Matcha Market, By Region, 2019-2030 (USD Billion)
6. Global Matcha Market, By Application, 2019-2030 (USD Billion)
7. Global Regular Tea Matcha Market, By Region, 2019-2030 (USD Billion)
8. Global Food Processing Matcha Market, By Region, 2019-2030 (USD Billion)
9. Global Personal Care Matcha Market, By Region, 2019-2030 (USD Billion)
10. Global Matcha Beverages Matcha Market, By Region, 2019-2030 (USD Billion)
11. Global Food Services Matcha Market, By Region, 2019-2030 (USD Billion)
12. Global Household Matcha Market, By Region, 2019-2030 (USD Billion)
13. Global Institutional Matcha Market, By Region, 2019-2030 (USD Billion)
14. Global Matcha Market, By Distribution Channel, 2019-2030 (USD Billion)
15. Global Supermarkets/Hypermarkets Matcha Market, By Region, 2019-2030 (USD Billion)
16. Global Online Matcha Market, By Region, 2019-2030 (USD Billion)
17. Global Business-to-Business Matcha Market, By Region, 2019-2030 (USD Billion)
18. Global Convenience Stores Matcha Market, By Region, 2019-2030 (USD Billion)
19. Global Specialty Stores Matcha Market, By Region, 2019-2030 (USD Billion)
20. Global Others Matcha Market, By Region, 2019-2030 (USD Billion)
21. Global Matcha Market, By Region, 2019-2030 (USD Billion)
22. North America Matcha Market, By Grade Type, 2019-2030 (USD Billion)
23. North America Matcha Market, By Application, 2019-2030 (USD Billion)
24. North America Matcha Market, By Distribution Channel, 2019-2030 (USD Billion)
25. U.S. Matcha Market, By Grade Type, 2019-2030 (USD Billion)
26. U.S. Matcha Market, By Application, 2019-2030 (USD Billion)
27. U.S. Matcha Market, By Distribution Channel, 2019-2030 (USD Billion)
28. Canada Matcha Market, By Grade Type, 2019-2030 (USD Billion)
29. Canada Matcha Market, By Application, 2019-2030 (USD Billion)
30. Canada Matcha Market, By Distribution Channel, 2019-2030 (USD Billion)
31. Mexico Matcha Market, By Grade Type, 2019-2030 (USD Billion)
32. Mexico Matcha Market, By Application, 2019-2030 (USD Billion)
33. Mexico Matcha Market, By Distribution Channel, 2019-2030 (USD Billion)
34. Europe Matcha Market, By Grade Type, 2019-2030 (USD Billion)
35. Europe Matcha Market, By Application, 2019-2030 (USD Billion)
36. Europe Matcha Market, By Distribution Channel, 2019-2030 (USD Billion)
37. Germany Matcha Market, By Grade Type, 2019-2030 (USD Billion)
38. Germany Matcha Market, By Application, 2019-2030 (USD Billion)
39. Germany Matcha Market, By Distribution Channel, 2019-2030 (USD Billion)
40. France Matcha Market, By Grade Type, 2019-2030 (USD Billion)
41. France Matcha Market, By Application, 2019-2030 (USD Billion)
42. France Matcha Market, By Distribution Channel, 2019-2030 (USD Billion)
43. U.K. Matcha Market, By Grade Type, 2019-2030 (USD Billion)
44. U.K. Matcha Market, By Application, 2019-2030 (USD Billion)
45. U.K. Matcha Market, By Distribution Channel, 2019-2030 (USD Billion)
46. Italy Matcha Market, By Grade Type, 2019-2030 (USD Billion)
47. Italy Matcha Market, By Application, 2019-2030 (USD Billion)
48. Italy Matcha Market, By Distribution Channel, 2019-2030 (USD Billion)
49. Spain Matcha Market, By Grade Type, 2019-2030 (USD Billion)
50. Spain Matcha Market, By Application, 2019-2030 (USD Billion)
51. Spain Matcha Market, By Distribution Channel, 2019-2030 (USD Billion)
52. Asia Pacific Matcha Market, By Grade Type, 2019-2030 (USD Billion)
53. Asia Pacific Matcha Market, By Application, 2019-2030 (USD Billion)
54. Asia Pacific Matcha Market, By Distribution Channel, 2019-2030 (USD Billion)
55. Japan Matcha Market, By Grade Type, 2019-2030 (USD Billion)
56. Japan Matcha Market, By Application, 2019-2030 (USD Billion)
57. Japan Matcha Market, By Distribution Channel, 2019-2030 (USD Billion)
58. China Matcha Market, By Grade Type, 2019-2030 (USD Billion)
59. China Matcha Market, By Application, 2019-2030 (USD Billion)
60. China Matcha Market, By Distribution Channel, 2019-2030 (USD Billion)
61. India Matcha Market, By Grade Type, 2019-2030 (USD Billion)
62. India Matcha Market, By Application, 2019-2030 (USD Billion)
63. India Matcha Market, By Distribution Channel, 2019-2030 (USD Billion)
64. South America Matcha Market, By Grade Type, 2019-2030 (USD Billion)
65. South America Matcha Market, By Application, 2019-2030 (USD Billion)
66. South America Matcha Market, By Distribution Channel, 2019-2030 (USD Billion)
67. Brazil Matcha Market, By Grade Type, 2019-2030 (USD Billion)
68. Brazil Matcha Market, By Application, 2019-2030 (USD Billion)
69. Brazil Matcha Market, By Distribution Channel, 2019-2030 (USD Billion)
70. Middle East and Africa Matcha Market, By Grade Type, 2019-2030 (USD Billion)
71. Middle East and Africa Matcha Market, By Application, 2019-2030 (USD Billion)
72. Middle East and Africa Matcha Market, By Distribution Channel, 2019-2030 (USD Billion)
73. UAE Matcha Market, By Grade Type, 2019-2030 (USD Billion)
74. UAE Matcha Market, By Application, 2019-2030 (USD Billion)
75. UAE Matcha Market, By Distribution Channel, 2019-2030 (USD Billion)
76. South Africa Matcha Market, By Grade Type, 2019-2030 (USD Billion)
77. South Africa Matcha Market, By Application, 2019-2030 (USD Billion)
78. South Africa Matcha Market, By Distribution Channel, 2019-2030 (USD Billion)
List of Figures
1. Global Matcha Market Segmentation
2. Matcha Market: Research Methodology
3. Market Size Estimation Methodology: Bottom-Up Approach
4. Market Size Estimation Methodology: Top-Down Approach
5. Data Triangulation
6. Porter's Five Forces Analysis
7. Value Chain Analysis
8. Global Matcha Market Attractiveness Analysis By Grade Type
9. Global Matcha Market Attractiveness Analysis By Application
10. Global Matcha Market Attractiveness Analysis By Distribution Channel
11. Global Matcha Market Attractiveness Analysis By Region
12. Global Matcha Market: Dynamics
13. Global Matcha Market Share by Grade Type (2022 & 2030)
14. Global Matcha Market Share by Application (2022 & 2030)
15. Global Matcha Market Share by Distribution Channel (2022 & 2030)
16. Global Matcha Market Share by Regions (2022 & 2030)
17. Global Matcha Market Share by Company (2021)