The IQF cheese was valued at USD 6.3 billion in 2021 and is anticipated to grow at a CAGR of 5.0% from 2022 to 2030. The increasing consumption of fast food like pizza, burgers, pasta, and tacos is the key factor driving the overall market growth. Cheese is widely used in fast foods and restaurants to prepare various dishes. IQF cheese has minimal structural changes as it is quickly frozen and offers high-level quality and convenience.
Consumer preference to eat cheese-based dishes, owing its flavor has propelled the market. Nowadays, consumers want cheese as a major ingredient in their food due to its health benefits and taste. It has been widely used in sandwiches, cheese balls, rolls, and other dishes. Thus, manufacturers are focusing on research & development to enhance the shelf life of cheese.
The outbreak of covid-19 impacted the IQF cheese market negatively owing to the temporary closure of food service outlets such as cafes, restaurants, and quick service restaurants (QSR). Lockdown restrictions imposed by several governments also impacted the supply of IQF cheese. A survey conducted by the American Cheese Society in May 2020 consisting of 1,000 members including cheese manufacturers, retailers, and distributors revealed that the cheese business was negatively impacted. 68% of the total respondent confirmed that their business was impacted in some way and faced issues like supply chain disruption, closure of business, decreased sales & future orders.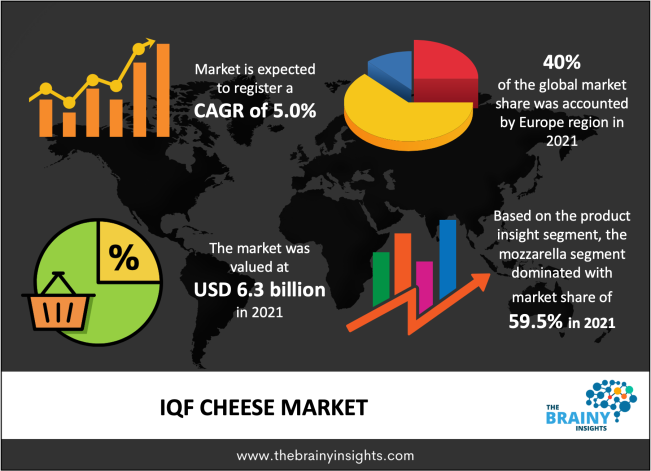 Get an overview of this study by requesting a free sample
Cheese is mostly consumed in Europe and North America, where the per capita consumption is high and is expected to continue to increase further. The rapid urbanization, adoption of western food habits, and expansion of QSR chains in Asian countries such as India, China, and the Philippines are expected to propel the market growth. This spurs the demand for and application of IQF cheese in these markets.
For instance, Taco Bell, an American QSR brand plans to invest USD 100 million to increase the restaurant count in India to 600 over the next few years. Moreover, according to a report of Jubilant Foodworks, Domino's has crossed 1500 stores in India by the end of the financial year 2021-2022. Such rapid expansion strategies by QSR players are likely to create opportunities for IQF cheese manufacturers.
Source Insights
Cow milk led the market with a share of more than 70% in 2021. Worldwide, consumers prefer to eat cheese made from cow's milk as it has a mild flavor & taste in comparison to goat milk. Further, the affordability and easy availability of cow's milk to process into cheese such as mozzarella, cheddar, and others is propelling the growth. The cheese processed from cow's milk finds application in pizza, pasta, salad, ready meals, and sandwiches. Moreover, an increasing number of QSR outlets is expected to boost the segment's growth.
Goat milk is anticipated to witness a higher CAGR of 5.8% from 2022-2030. Blue cheese, gouda, and cheddar can be made using goat's milk. Goat milk is used as an alternative to cow's milk for making cheese owing to its benefits such as being easier to digest, reducing cholesterol levels, and containing mild lactose. Thus, cheese-derived made goat's milk can also be consumed by people with mild lactose intolerance. Rising awareness about the benefits of goat's milk has been encouraging cheese manufacturers to use goat's milk instead of cow's.
Product Insights
Mozzarella led the market with a share of 59.5% in 2021. IQF mozzarella is usually delivered in a shredded format and is widely used in pizza and salads, which is driving the segment's growth. IQF mozzarella retains its taste, shape, aroma, and color even after defrosting. It is also available in cubes & diced format thus preventing wastage. Further, the preference of consumers towards this cheese owing to its high calcium level and protein in it is also expected to boost its application in other dishes as well.
Other segments, consisting of Gouda, Swiss, and Colby are anticipated to witness the fastest CAGR of 5.7% during the forecast period. All these cheeses have typical aromas and tastes and are mostly preferred in European countries. IQF shredded and diced cheese is one of the fastest-growing categories owing to its convenience and price structure, which has made these products very attractive in recent years. Thus, companies are trying to use IQF technology on various cheese types.
Regional Insights
Europe led the market with a share of 40% in 2021. The rising awareness about the benefits offered by IQF technology and overall conventional freezing methods are driving growth in this region. Furthermore, increasing consumption of dishes made using cheese such as salads, pasta, pies, dumplings, and others in countries like Italy, France, Germany, and the UK is likely to boost the market for IQF cheese. The growing expansion by QSR is expected to fuel the demands further. For instance, Sbarro the US-based pizza chain plans to expand in the UK by end of the year 2022.
North America has emerged as one of the lucrative markets for IQF cheese owing to the increasing consumption of frozen ready meals and fast foods in countries like the US and Canada. IQF cheese is a versatile cheese and can be consumed in a variety of dishes like cheese sandwiches, cheeseburgers, soups, steaks, mac & cheese, etc. According to International Dairy Food Association (IDFA), per capita, cheese consumption has increased in the US by 13% in the last 10 years (2011-2021). Moreover, cheese accounts for the largest share of per capita dairy product consumption in the US as per USDA. Such trends indicate growing demand in the region for cheese, which is likely to boost the consumption of IQF cheese as well.
The Asia Pacific region is anticipated to witness the fastest CAGR during the forecast period. The westernization of food habits and growing inclination towards fast food like burgers and pizza especially among the young population is propelling the market growth. The rising expansion of fast-food chains such as KFC, Pizza Hut, and Starbucks in countries like India and China is expected to positively impact market growth. These restaurant chains offer a wide range of pizzas, pasta, and salads that require cheese as an ingredient.
Key Players
IQF cheese market is at growing at a medium pace and increasing as demand for cheese as an ingredient is increasing. The key players in this market are focused on mergers & acquisitions, geographical expansion, and product offerings to stay ahead of the competition.
Granarolo S.p.A.
Saputo Foodservice
Agrial
V.I.P. Vertrieb Italienischer Food Produkte GmbH
Fonterra Co-operative Group Limited
Leprino Foods Company
Ornua Ingredients
Futura Foods UK Ltd.
CASA Radicci
Freddy Baines n.v.
Consorzio Dal Molise
Europomella SpA
Whitehall Specialties Inc.
Segments Covered in the Report
Source
Product

Mozzarella
Cheddar
Parmesan
Others

Regional

North America
Europe

Germany
U.K.
France
Italy
Spain
Netherlands

Asia Pacific

China
Japan
India
South Korea
Indonesia
Philippines

Central & South America
Middle East & Africa
1. Introduction
1.1. Objectives of the Study
1.2. Market Definition
1.3. Research Scope
1.4. Currency
1.5. Key Target Audience

2. Research Methodology and Assumptions

3. Executive Summary

4. Premium Insights
4.1. Porter's Five Forces Analysis
4.2. Value Chain Analysis
4.3. Top Investment Pockets
4.3.1. Market Attractiveness Analysis by Product
4.3.2. Market Attractiveness Analysis by Source
4.3.3. Market Attractiveness Analysis by Region
4.4. Industry Trends

5. Market Dynamics
5.1. Market Evaluation
5.2. Drivers
5.3. Restraints
5.4. Opportunities
5.5. Challenges

6. Global IQF Cheese Market Analysis and Forecast, By Product
6.1. Segment Overview
6.2. Mozzarella
6.3. Cheddar
6.4. Parmesan
6.5. Others

7. Global IQF Cheese Market Analysis and Forecast, By Source
7.1. Segment Overview
7.2. Cow Milk
7.3. Goat Milk

8. Global IQF Cheese Market Analysis and Forecast, By Regional Analysis
8.1. Segment Overview
8.2. North America
8.2.1. U.S.
8.2.2. Canada
8.2.3. Mexico
8.3. Europe
8.3.1. Germany
8.3.2. France
8.3.3. U.K.
8.3.4. Italy
8.3.5. Spain
8.4. Asia-Pacific
8.4.1. Japan
8.4.2. China
8.4.3. India
8.4.4. South Korea
8.4.5. Australia
8.5. South America
8.5.1. Brazil
8.5.2. Argentina
8.6. Middle East and Africa
8.6.1. UAE
8.6.2. South Africa
8.6.3. Saudi Arabia

9. Global IQF Cheese Market-Competitive Landscape
9.1. Overview
9.2. Market Share of Key Players in the IQF Cheese Market
9.2.1. Global Company Market Share
9.2.2. North America Company Market Share
9.2.3. Europe Company Market Share
9.2.4. APAC Company Market Share
9.3. Competitive Situations and Trends
9.3.1. Product Launches and Developments
9.3.2. Partnerships, Collaborations, and Agreements
9.3.3. Mergers & Acquisitions
9.3.4. Expansions

10. Company Profiles
10.1. Granarolo S.p.A.
10.1.1. Business Overview
10.1.2. Company Snapshot
10.1.3. Company Market Share Analysis
10.1.4. Company Product Portfolio
10.1.5. Recent Developments
10.1.6. SWOT Analysis
10.2. Saputo Foodservice
10.2.1. Business Overview
10.2.2. Company Snapshot
10.2.3. Company Market Share Analysis
10.2.4. Company Product Portfolio
10.2.5. Recent Developments
10.2.6. SWOT Analysis
10.3. Agrial
10.3.1. Business Overview
10.3.2. Company Snapshot
10.3.3. Company Market Share Analysis
10.3.4. Company Product Portfolio
10.3.5. Recent Developments
10.3.6. SWOT Analysis
10.4. V.I.P. Vertrieb Italienischer Food Produkte GmbH
10.4.1. Business Overview
10.4.2. Company Snapshot
10.4.3. Company Market Share Analysis
10.4.4. Company Product Portfolio
10.4.5. Recent Developments
10.4.6. SWOT Analysis
10.5. Fonterra Co-operative Group Limited
10.5.1. Business Overview
10.5.2. Company Snapshot
10.5.3. Company Market Share Analysis
10.5.4. Company Product Portfolio
10.5.5. Recent Developments
10.5.6. SWOT Analysis
10.6. Leprino Foods Company
10.6.1. Business Overview
10.6.2. Company Snapshot
10.6.3. Company Market Share Analysis
10.6.4. Company Product Portfolio
10.6.5. Recent Developments
10.6.6. SWOT Analysis
10.7. Ornua Ingredients
10.7.1. Business Overview
10.7.2. Company Snapshot
10.7.3. Company Market Share Analysis
10.7.4. Company Product Portfolio
10.7.5. Recent Developments
10.7.6. SWOT Analysis
10.8. Futura Foods UK Ltd.
10.8.1. Business Overview
10.8.2. Company Snapshot
10.8.3. Company Market Share Analysis
10.8.4. Company Product Portfolio
10.8.5. Recent Developments
10.8.6. SWOT Analysis
10.9. CASA Radicci
10.9.1. Business Overview
10.9.2. Company Snapshot
10.9.3. Company Market Share Analysis
10.9.4. Company Product Portfolio
10.9.5. Recent Developments
10.9.6. SWOT Analysis
10.10. Freddy Baines n.v.
10.10.1. Business Overview
10.10.2. Company Snapshot
10.10.3. Company Market Share Analysis
10.10.4. Company Product Portfolio
10.10.5. Recent Developments
10.10.6. SWOT Analysis
10.11. Consorzio Dal Molise
10.11.1. Business Overview
10.11.2. Company Snapshot
10.11.3. Company Market Share Analysis
10.11.4. Company Product Portfolio
10.11.5. Recent Developments
10.11.6. SWOT Analysis
10.12. Europomella SpA
10.12.1. Business Overview
10.12.2. Company Snapshot
10.12.3. Company Market Share Analysis
10.12.4. Company Product Portfolio
10.12.5. Recent Developments
10.12.6. SWOT Analysis
10.13. Whitehall Specialties Inc.
10.13.1. Business Overview
10.13.2. Company Snapshot
10.13.3. Company Market Share Analysis
10.13.4. Company Product Portfolio
10.13.5. Recent Developments
10.13.6. SWOT Analysis
List of Table
1. Global IQF Cheese Market, By Product Type, 2019-2030 (USD Billion) (Tons)
2. Global Mozzarella IQF Cheese Market, By Region, 2019-2030 (USD Billion) (Tons)
3. Global Cheddar IQF Cheese Market, By Region, 2019-2030 (USD Billion) (Tons)
4. Global Parmesan IQF Cheese Market, By Region, 2019-2030 (USD Billion) (Tons)
5. Global Others IQF Cheese Market, By Region, 2019-2030 (USD Billion) (Tons)
6. Global IQF Cheese Market, By Source, 2019-2030 (USD Billion) (Tons)
7. Global Cow Milk IQF Cheese Market, By Region, 2019-2030 (USD Billion) (Tons)
8. Global Goat Milk IQF Cheese Market, By Region, 2019-2030 (USD Billion) (Tons)
9. Global IQF Cheese Market, By Region, 2019-2030 (USD Billion) (Tons)
10. North America IQF Cheese Market, By Product Type, 2019-2030 (USD Billion) (Tons)
11. North America IQF Cheese Market, By Source, 2019-2030 (USD Billion) (Tons)
12. U.S. IQF Cheese Market, By Product Type, 2019-2030 (USD Billion) (Tons)
13. U.S. IQF Cheese Market, By Source, 2019-2030 (USD Billion) (Tons)
14. Canada IQF Cheese Market, By Product Type, 2019-2030 (USD Billion) (Tons)
15. Canada IQF Cheese Market, By Source, 2019-2030 (USD Billion) (Tons)
16. Mexico IQF Cheese Market, By Product Type, 2019-2030 (USD Billion) (Tons)
17. Mexico IQF Cheese Market, By Source, 2019-2030 (USD Billion) (Tons)
18. Europe IQF Cheese Market, By Product Type, 2019-2030 (USD Billion) (Tons)
19. Europe IQF Cheese Market, By Source, 2019-2030 (USD Billion) (Tons)
20. Germany IQF Cheese Market, By Product Type, 2019-2030 (USD Billion) (Tons)
21. Germany IQF Cheese Market, By Source, 2019-2030 (USD Billion) (Tons)
22. France IQF Cheese Market, By Product Type, 2019-2030 (USD Billion) (Tons)
23. France IQF Cheese Market, By Source, 2019-2030 (USD Billion) (Tons)
24. U.K. IQF Cheese Market, By Product Type, 2019-2030 (USD Billion) (Tons)
25. U.K. IQF Cheese Market, By Source, 2019-2030 (USD Billion) (Tons)
26. Italy IQF Cheese Market, By Product Type, 2019-2030 (USD Billion) (Tons)
27. Italy IQF Cheese Market, By Source, 2019-2030 (USD Billion) (Tons)
28. Spain IQF Cheese Market, By Product Type, 2019-2030 (USD Billion) (Tons)
29. Spain IQF Cheese Market, By Source, 2019-2030 (USD Billion) (Tons)
30. Asia Pacific IQF Cheese Market, By Product Type, 2019-2030 (USD Billion) (Tons)
31. Asia Pacific IQF Cheese Market, By Source, 2019-2030 (USD Billion) (Tons)
32. Japan IQF Cheese Market, By Product Type, 2019-2030 (USD Billion) (Tons)
33. Japan IQF Cheese Market, By Source, 2019-2030 (USD Billion) (Tons)
34. China IQF Cheese Market, By Product Type, 2019-2030 (USD Billion) (Tons)
35. China IQF Cheese Market, By Source, 2019-2030 (USD Billion) (Tons)
36. India IQF Cheese Market, By Product Type, 2019-2030 (USD Billion) (Tons)
37. India IQF Cheese Market, By Source, 2019-2030 (USD Billion) (Tons)
38. South Korea IQF Cheese Market, By Product Type, 2019-2030 (USD Billion) (Tons)
39. South Korea IQF Cheese Market, By Source, 2019-2030 (USD Billion) (Tons)
40. Australia IQF Cheese Market, By Product Type, 2019-2030 (USD Billion) (Tons)
41. Australia IQF Cheese Market, By Source, 2019-2030 (USD Billion) (Tons)
42. South America IQF Cheese Market, By Product Type, 2019-2030 (USD Billion) (Tons)
43. South America IQF Cheese Market, By Source, 2019-2030 (USD Billion) (Tons)
44. Brazil IQF Cheese Market, By Product Type, 2019-2030 (USD Billion) (Tons)
45. Brazil IQF Cheese Market, By Source, 2019-2030 (USD Billion) (Tons)
46. Argentina IQF Cheese Market, By Product Type, 2019-2030 (USD Billion) (Tons)
47. Argentina IQF Cheese Market, By Source, 2019-2030 (USD Billion) (Tons)
48. Middle East and Africa IQF Cheese Market, By Product Type, 2019-2030 (USD Billion) (Tons)
49. Middle East and Africa IQF Cheese Market, By Source, 2019-2030 (USD Billion) (Tons)
50. UAE IQF Cheese Market, By Product Type, 2019-2030 (USD Billion) (Tons)
51. UAE IQF Cheese Market, By Source, 2019-2030 (USD Billion) (Tons)
52. South Africa IQF Cheese Market, By Product Type, 2019-2030 (USD Billion) (Tons)
53. South Africa IQF Cheese Market, By Source, 2019-2030 (USD Billion) (Tons)
54. Saudi Arabia IQF Cheese Market, By Product Type, 2019-2030 (USD Billion) (Tons)
55. Saudi Arabia IQF Cheese Market, By Source, 2019-2030 (USD Billion) (Tons)
List of Figures
1. Global IQF Cheese Market Segmentation
2. IQF Cheese Market: Research Methodology
3. Market Size Estimation Methodology: Bottom-Up Approach
4. Market Size Estimation Methodology: Top-Down Approach
5. Data Triangulation
6. Porter's Five Forces Analysis
7. Value Chain Analysis
8. Global IQF Cheese Market Attractiveness Analysis by Product
9. Global IQF Cheese Market Attractiveness Analysis by Source
10. Global IQF Cheese Market Attractiveness Analysis by Region
11. Global IQF Cheese Market: Dynamics
12. Global IQF Cheese Market Share by Product Type (2022 & 2030)
13. Global IQF Cheese Market Share by Source (2022 & 2030)
14. Global IQF Cheese Market Share by Regions (2022 & 2030)
15. Global IQF Cheese Market Share by Company (2021)