The global Home Insurance market generated USD 259.75 billion revenue in 2022 and is projected to grow at a CAGR of 7.42% from 2023 to 2032. The market is expected to reach USD 531.38 billion by 2032. The worldwide population growth and urbanization trends have resulted in a larger number of households, consequently expanding the potential customer base for home insurance. Additionally, the global home insurance market is significantly propelled by increased government-supported initiatives and the rising incidence of accidents and man-made disasters.
Market Introduction:
Home insurance, also called homeowners insurance or property insurance, is a financial protection policy that provides coverage for a homeowner's dwelling and its contents, offering compensation for losses or damages caused by covered perils such as fire, theft, natural disasters, and liability claims. It typically includes two primary components: property insurance, which covers the physical structure of the home, and liability insurance, which provides coverage for legal responsibilities arising from injuries or property damage occurring on the insured property. Home insurance is designed to safeguard homeowners from financial losses and to help them recover from unexpected events that may affect their homes and personal belongings.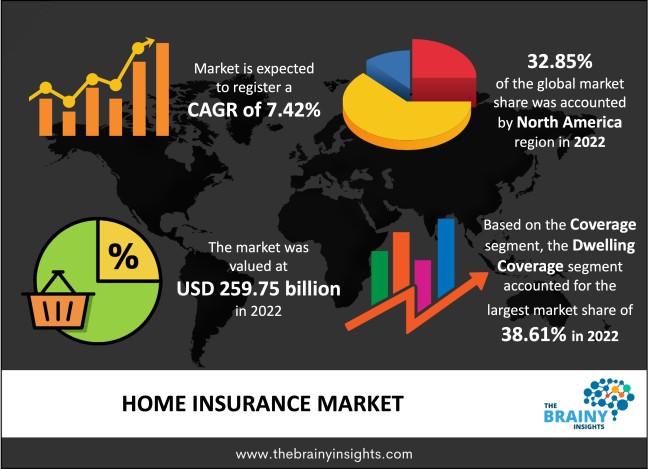 Get an overview of this study by requesting a free sample
Recent Development
In June 2023: Luko, a prominent online insurer, has agreed to be acquired by Admiral Group, a globally recognized financial services company on the FTSE100. Luko has solidified its presence in the online home insurance sector. This acquisition aims to establish a dominant presence in the online insurance market. Within the Admiral Group framework, Luko will continue to advance its insurance services and expand its customer base, all while retaining its well-regarded Luko brand. Luko is especially renowned for its high-performance technology platform, which both entities will leverage to enhance their flexibility and scale more efficiently.
In April 2023: The Florida OIR (Office of Insurance Regulation) has given its clearance to HCI Group's Tailrow Insurance Company, granting the company the status of an authorized domestic insurer. This authorization enables Tailrow to offer homeowners multi-peril insurance within the state. Notably, Tailrow became the first company to attain authorization as a property and casualty domestic insurer after recent legislative revisions to resolve challenges in Florida's property and casualty insurance market.
In October 2022: Amazon has introduced an online service in the United Kingdom that enables users to compare home insurance options. This service will present prospective buyers with quotes from various insurance providers such as Ageas, Co-op, and LV+ General Insurance. Amazon will earn a commission from its partners for each policy sold through this platform. This offering closely resembles the services provided by popular price comparison websites like Comparethemarket and Moneysupermarket. Additionally, Amazon is venturing into financial services by initiating the sale of home insurance in the UK forging partnerships with three local insurers.
Market Dynamics:
Drivers
Economic Conditions - The overall economic environment, including employment rates, disposable income, and interest rates, plays a significant role in shaping the home insurance market. A strong economy often leads to higher homeownership rates and increased demand for home insurance.
Housing Market Trends - The state of the housing market, including property values, construction rates, and housing demand, can affect the home insurance market. Rapidly increasing property values may increase insurance coverage to protect homeowners' investments.
Natural Disasters and Climate Change - The harshness and frequency of natural catastrophes, such as hurricanes, wildfires, and floods, have a direct impact on the demand for home insurance. As climate change raises the threat of harsh weather events, the need for comprehensive coverage is growing.
Restraints:
Natural Catastrophes - While the frequency and severity of natural disasters were mentioned as a driver, they can also act as restraints. High claims payouts due to catastrophic events like hurricanes, earthquakes, or wildfires can strain insurance companies' financial stability, leading to increased premiums and reduced availability of coverage in high-risk areas.
Regulatory Complexity - The regulatory environment, including state-specific insurance regulations and building codes, can make it complex and costly for insurers to operate across multiple regions. Compliance with these regulations often requires significant resources and can limit market expansion.
Opportunities:
Increased Demand for Smart Home Coverage - As more homeowners adopt smart home devices and IoT technology, there is a growing need for insurance products that cover these assets. Insurers can offer policies that protect against cybersecurity threats and malfunctions of connected devices.
Customized Policies - Personalization is a significant trend in the insurance industry. Insurers can leverage data analytics and customer information to offer customized policies that better suit individual homeowner needs, preferences, and budgets.
Digital Transformation – Adopting digital technologies in underwriting, claims processing, and customer service can enhance operational efficiency, lower costs, and enhance the overall customer experience.
Challenges:
Underinsurance and Non-Insured Properties - Many homeowners need to be more insured or insured, leading to adverse selection for insurers. Addressing this issue and promoting adequate coverage can be challenging.
Competition and Pricing Pressure - The competitive nature of the home insurance market can lead to pricing pressures and reduced profitability. Keeping a balance between offering competitive rates and sustaining profitability is a continuous challenge.
Regional segmentation analysis:
The regions analyzed for the market include North America, Europe, South America, Asia Pacific, the Middle East, and Africa. North America emerged as the most prominent global Home Insurance market, with a 32.85% market revenue share in 2022.
The United States has a relatively high homeownership rate compared to many other countries. The desire to protect one's home investment and the requirement of home insurance by mortgage lenders have driven the demand for home insurance policies. In addition, the United States has a vast and diverse market with varying climates and risks, from coastal regions susceptible to hurricanes and floods to areas prone to wildfires and tornadoes. This diversity creates a substantial need for different types of insurance coverage, and it has attracted a wide range of insurers to serve this market. Additionally, mortgage lenders in the United States frequently need homeowners to maintain insurance coverage on their properties, ensuring a steady demand for home insurance. North America, especially the U.S., has a well-developed and competitive insurance industry. Numerous established insurance companies and startups operate in the region, offering a wide variety of home insurance products to meet the diverse needs of homeowners. Furthermore, homeowners in North America are generally aware of the importance of protecting their homes and belongings through insurance. They are more likely to seek coverage and understand the value of comprehensive policies. The European region holds the second-highest market share in 2022. In many European countries, homeownership is culturally significant, and people view their homes as long-term investments. This cultural emphasis contributes to the demand for home insurance. Some European regions are prone to flooding, earthquakes, and winter storms. These risks drive the demand for insurance coverage to protect against property damage. Besides, many European countries have stable economies and relatively high-income levels, enabling homeowners to afford home insurance policies.
North America Region Home Insurance Market Share in 2022 - 32.85%
www.thebrainyinsights.com
Check the geographical analysis of this market by requesting a free sample
Coverage Segment Analysis
The coverage segment includes content coverage, comprehensive coverage, dwelling coverage and other optional coverages. The dwelling coverage segment dominated the market, with a share of 38.61% in 2022. Dwelling coverage is the fundamental component of a home insurance policy, providing financial protection for the insured's primary residence or dwelling. It covers the structure of the home itself, including the roof, walls, foundation, and built-in systems (electrical, plumbing, HVAC). Additionally, most mortgage lenders require homeowners to maintain dwelling coverage as a condition of their loans. This requirement ensures that the lender's investment in the property is protected in case of damage or destruction. As such, homeowners are compelled to purchase dwelling coverage. Moreover, homeowners face various risks, including damage from fire, theft, vandalism, and natural disasters. Dwelling coverage mitigates these risks, helping homeowners recover financially from these unforeseen events.
End User Segment Analysis
The end user segment is divided into landlords and tenants. The landlords segment dominated the market, with a share of around 68.72% in 2022. Landlords purchase home insurance to protect their rental properties, which are significant sources of income. This segment often includes individuals, real estate investors, and property management companies who rely on rental income to cover mortgage payments and generate profits. In addition, landlords have a vested interest in protecting their real estate investments. Home insurance policies for landlords typically provide coverage for the structure of the rental property (dwelling coverage) and offer protection against risks such as fire, vandalism, and natural disasters. Besides, liability coverage is an essential component of home insurance for landlords. It protects them from potential legal claims or lawsuits arising from injuries or property damage on the rental property. This factor is particularly important for landlords responsible for maintaining safe and habitable living conditions.
Some of the Key Market Players:
AXA
American International Group, Inc.
Allianz
Admiral
Allstate Insurance Company
Auto-Owners Insurance Group
Assurant, Inc.
Chubb
CNA Financial Corporation
Erie Insurance Group
Farmers Insurance
Hanover Insurance Group
HCI Group
Hartford Financial Services Group
Liberty Mutual Insurance
MetLife Services and Solutions
Mercury General Corporation
Nationwide Mutual Insurance Company
PICC RE
Progressive Corporation
State Farm Mutual Automobile Insurance Company
The Travelers Indemnity Company
USAA
Zurich Insurance Group
Report Description:
| Attribute | Description |
| --- | --- |
| Market Size | Revenue (USD Billion) |
| Market size value in 2022 | USD 259.75 Billion |
| Market size value in 2032 | USD 531.38 Billion |
| CAGR (2023 to 2032) | 7.42% |
| Historical data | 2019-2021 |
| Base Year | 2022 |
| Forecast | 2023-2032 |
| Region | The regions analyzed for the market are Asia Pacific, Europe, South America, North America, and Middle East & Africa. Furthermore, the regions are further analyzed at the country level. |
| Segments | Coverage and End User |