The global graphic processing unit market was valued at USD 38.6 billion in 2022, growing at a CAGR of 31.3% from 2023 to 2032. The market is expected to reach USD 587.8 billion by 2032. Because there is an increasing demand for specialized processors that can handle intricate mathematical computations linked to 2D and 3D graphics, the global market for graphic processing units has grown rapidly. Furthermore, the global graphic processing unit market is expanding due to the increasing use of portable computers, such as laptops.
Market Introduction:
A computer chip called a graphics processing unit, sometimes called a visual processing unit, is used to compute mathematical operations to produce images quickly. Compared to CPUs, it comprises hundreds of cores that can manage thousands of threads simultaneously. The CPU's limited cache memory and few cores limit its capacity to manage several threads simultaneously. Graphic processing units can be found in chipsets on motherboards, in plug-in cards, or on the same chip as the CPU. The GPUs in standalone cards have their RAM, but they share the CPU's main memory with the chipset. The graphic processing unit uses transistors to carry out mathematical operations related to 3D graphics. Mobile phones, tablets, laptops, wearable medical technology, and many other portable electronic devices all employ GPUs. In applications like virtual reality and augmented reality systems, supercomputers, and artificial intelligence platforms, integrated and hybrid GPUs are constantly being developed to replace specialized GPUs.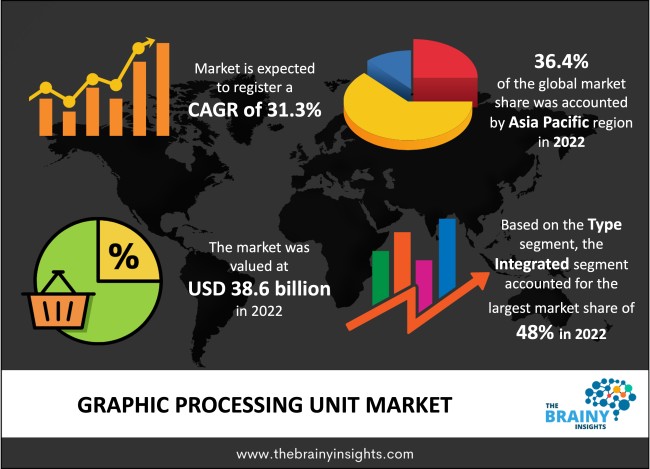 Get an overview of this study by requesting a free sample
Recent Development
In March 2022, Based on the AMD RDNATM 2 architecture, AMD Infinity Cache, and other cutting-edge technologies, AMD unveiled the new AMD Radeon PRO W6600X GPU for Mac Pro, which is intended to help professionals push the envelope. The new GPU provides performance and visuals to power various professional applications and workloads.
In March 2022, Imagination and King partnered to allow mobile game makers to create by pooling their research and development resources.
In August 2022, For the Intelligent Visual Cloud, Intel Released the Intel Data Centre GPU Flex Series Arctic Sound-M. Flex Series GPU is made to handle the demands of intelligent visual cloud applications, offering up to 68 simultaneous cloud gaming streams and 5x video transcoding throughput speed.
Market Dynamics:
Drivers
Growing adoption of portable computing devices- The global graphic processing unit market is expanding due to consumers' increasing use of laptops and other portable computers. Furthermore, the primary driver of the market's expansion is the growing quantity of sophisticated graphic games. The industry is expanding since these demanding application games require graphic cards with a lot of RAM.
Restraints:
Declining sales of desktop computers- The market expansion for graphics processing units (GPUs) may be constrained by the ongoing decline in desktop computer demand. There has been a noticeable decline in PC shipments for computer makers globally, perhaps due to the pandemic-induced preference for desktops and laptops. For instance, the well-known consumer electronics giant Lenovo reported revenue of USD 15.3 billion for the fourth quarter of 2022, a 24% decrease due to the sharp reduction in PC shipments. GPU demand is further hampered by the fact that advanced graphic design tools are incompatible with them.
Opportunities:
New technological penetration- It is predicted that the demand for GPUs will increase due to the big data technology's quick adoption to obtain actionable business insight. Many businesses and industries are embracing big data analytics and decision intelligence for opinion mining, text analysis, and retrieval due to shifting business models and rising data quantities. GPU adoption will accelerate and make business and management decision-making easier because of the increased emphasis on technological intervention for efficient business management and decision-making.
Regional segmentation analysis:
The regions analyzed for the market include North America, Europe, South America, Asia Pacific, the Middle East, and Africa. Asia Pacific emerged as the largest global graphic processing unit market, with a 36.4% market revenue share in 2022.
The government's massive investment in developing high-performance graphic computing systems for the defence and intelligence sectors, combined with the growing demand for IoT systems—necessitating efficient graphic computing systems—is credited for the region's growth. Over the anticipated period, the other major factors driving up demand for graphic processing units were the region's increasing internet and smartphone adoption.
Asia Pacific Region Graphic Processing Unit Market Share in 2022 - 36.4%
www.thebrainyinsights.com
Check the geographical analysis of this market by requesting a free sample
Type Segment Analysis
The type segment is divided into hybrid, dedicated, and integrated. The integrated segment dominated the market, with a market share of around 48% in 2022. The segment has been growing as integrated GPUs find wide usage in portable electronic devices such as smartphones, tablets, wearables, laptops, and many more.
Device Segment Analysis
The device segment is divided into television, smartphone, computer, tablet, and gaming console. The smartphone segment dominated the market, with a market share of around 25% in 2022. This market is expected to expand due to the increased need for powerful yet low-power visual processing units for smartphones.
Industry Vertical Segment Analysis
The industry vertical segment is divided into IT and telecommunication, automotive, defence and intelligence, media and entertainment, electronics and others. The automotive segment dominated the market, with a market share of around 22% in 2022. The strain on automotive design departments to respond quickly to new vehicle advances, adapt to changing market needs and keep up a constantly expanding product line is mounting. This is expected to drive the segment's growth.
Some of the Key Market Players:
Advanced Micro Devices Inc.
Imagination Technologies Group
Arm Limted
SAPPHIRE Technology Limited
Intel Corporation
Nvidia Corporation
Samsung Electronics Co. Ltd
EVGA Corporation
Qualcomm Technologies Inc.
Report Description:
| Attribute | Description |
| --- | --- |
| Market Size | Revenue (USD Billion) |
| Market size value in 2022 | USD 38.6 Billion |
| Market size value in 2032 | USD 587.8 Billion |
| CAGR (2023 to 2032) | 31.3% |
| Historical data | 2019-2021 |
| Base Year | 2022 |
| Forecast | 2023-2032 |
| Region | The regions analyzed for the market are Asia Pacific, Europe, South America, North America, and Middle East & Africa. Furthermore, the regions are further analyzed at the country level. |
| Segments | Type, Device, Industry Vertical |