The global enterprise artificial intelligence market was valued at USD 10 billion in 2022 and grew at a CAGR of 37% from 2023 to 2032. The market is expected to reach USD 232.91 billion by 2032. The increasing automation and digitization will drive the growth of the global enterprise artificial intelligence market.
Market Introduction:
When machines, especially computer systems, replicate human intelligence processes, it is known as artificial intelligence. Expert systems, natural language processing, speech recognition, and machine vision are a few specific uses of AI. Unlike the intelligence of humans or animals, artificial intelligence is the intelligence possessed by robots or software. The term "AI" may also apply to the actual devices. Artificial intelligence (AI) can assist businesses and organizations in better understanding consumer behaviour, market trends, and other crucial elements by analyzing massive volumes of data and seeing patterns and trends. This knowledge will help one make wiser decisions and advance companies and businesses. By anticipating maintenance requirements, it can help reduce downtime and automate complicated procedures. AI enhances human intelligence by providing deep insights and the ability to identify patterns, which helps employees make more creative, effective, and high-quality judgements. All in all, it improves accuracy, decision-making, and Productivity. It enables companies to Solve complicated problems. AI may assist with boosting production, cutting expenses, and raising the calibre of goods and services by automating repetitive operations, analyzing data, and enhancing decision-making. AI may hasten progress and enhance results in various industries, including healthcare and education. An integrated collection of technologies known as an enterprise AI platform gives businesses the ability to create, develop, implement, and run enterprise AI applications at a large scale. Enterprise artificial intelligence (AI) applications can improve data sorting, boost security, expedite processes, and even turn customer care departments into profitable ventures in manufacturing, agriculture, or transportation.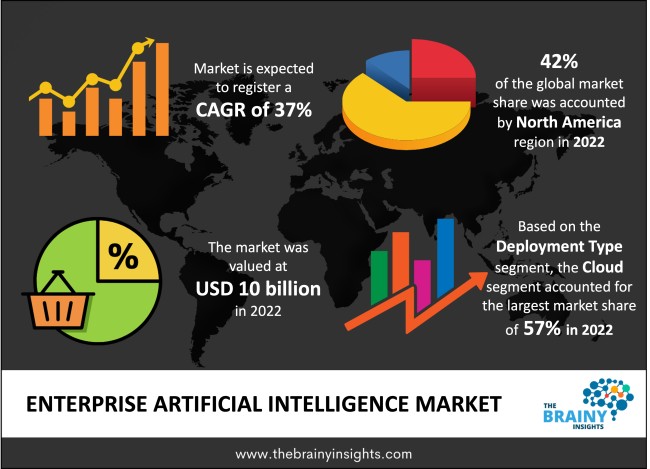 Get an overview of this study by requesting a free sample
Recent Development
The DVF120 system on chip (SoC), which utilizes more than ten years of Synaptics' domain experience to incorporate all key elements needed for sophisticated Unified Communication and Collaboration (UCC) terminals, is now available, according to a statement from Synaptics Incorporated. AI-based audio/voice processing, enterprise-grade security, a field-hardened Linux and Android SDK, and low-power mode are all features of the DVF120. The digital workspace is far more productive when well-known collaboration tools like Zoom, Microsoft Teams, and Cisco WebEx are supported natively.
Market Dynamics:
Drivers
The rise of digital age – the last two decades have been associated with the rise of the digital age and the internet. The rising automation and digitization across industries, including banking, education, automotive, telecom, healthcare, education and retail, have increased the need for AI services globally. AI offers significant help to industries across domains to optimize resource allocations, solve market problems, identify market gaps, improve marketing and sales, and identify new markets and solutions. Therefore, the rise of the digital age will bode well for the market's growth.
Restraints:
The lack of qualified professionals – AI has grown exponentially over the past few years. However, it is a highly advanced complex and sophisticated system that needs knowledge of computer systems, human intelligence, analytical abilities and programming. AI requires a wide variety of skill sets to progress. It needs qualified professionals for its deployment and operation. The growth of these qualified and skilled professional is lagging, and therefore, there is a shortage of these socialites, which will hamper the market's growth.
Opportunities:
The technological advancements – the development of supercomputers with the ability to process trillions of data bits within minutes have enabled developers to progress and innovate faster in AI. Additionally, the development of IT infrastructure, given the favourable government initiatives, is expanding AI deployment and applications. Therefore, technological advancements and infrastructural investments will offer lucrative opportunities during the forecast period.
One of the biggest AI-native businesses in the world, Uniphore, was born at IIT Madras and just opened its India AI Innovation Hub at the IIT Madras Research Park in Chennai. The centre will concentrate on topics like generative AI across speech, video, text, and tonal data, enterprise artificial intelligence (AI), and emotional AI. The goal is to humanize businesses. A press release states that a telecom operator's call centre can use Uniphore's AI application. When a consumer phones to report a discrepancy in the amount on their bill, the agent often puts the call on hold, investigates the system, and informs the caller that the variance resulted from a payment delay.
Regional segmentation analysis:
The regions analyzed for the market include North America, Europe, South America, Asia Pacific, the Middle East, and Africa. North America emerged as the most significant global enterprise artificial intelligence market, with a 42% market revenue share in 2022.
The United States of America is a pioneer in the tech industry and is at the forefront of driving innovation in artificial intelligence. The market players in the region have access to the most advanced technologies, enabling them to further AI applications across industries. Additionally, the region is technologically equipped with the right infrastructure and regulatory environment to deploy and expand enterprise AI in every relevant industry or sector.
Hyperscience, a supplier of business AI solutions, declared that Deep Analysis, a reputable analyst firm in the unstructured data automation space, has given them the 2023 Innovation Award. Hyperscience was praised for its work on generative document AI models since it could do away with optical character recognition (OCR) while still maintaining outstanding content comprehension. The Hyperscience engineering team tried a novel strategy that uses a generative document AI model to cut down on complexity and shorten customers' time to value. The group streamlined end-to-end document processing by drastically lowering the number of document processing steps through the implementation of an OCR-free visual document comprehension model.
North America Region Enterprise Artificial Intelligence Market Share in 2022 - 42%
www.thebrainyinsights.com
Check the geographical analysis of this market by requesting a free sample
The deployment type segment is divided into on-premises and cloud. The cloud segment dominated the market, with a market share of around 57% in 2022. cloud computing is computer services—such as networking, servers, storage, databases, software, analytics, and intelligence—through the internet, or "the cloud,". Cloud computing enables economies of scale, flexible resource allocation, and quicker innovation. The segment's dominance can be attributed to the minimal resource allocation as it can be outsourced. Given the growing number of market players offering these services, it is the ideal choice for enterprises. Furthermore, it is cost-effective and quicker with upgrades without having the need to physically maintain and operate IT hardware and infrastructure.
New features were added to Domino Data Lab's Enterprise AI platform. The vendor of AI and MLOps claims that the new features will assist businesses in responsibly accelerating the production of both traditional and generative AI. Domino launched the AI Project Hub, an app shop integrated within the Domino Enterprise AI platform, to aid in acceleration. It's already accessible. Businesses can access well-known AI apps through the hub. Users can customize the models, workflows, and tools it offers. Businesses utilizing the hub have access to models and resources from partners of Domino Data Lab, including Hugging Face, AWS, Nvidia, and Fiddler AI.
Technology Segment Analysis
The technology segment is divided into machine learning, speech recognition, natural language processing, computer vision, and others. The natural language processing segment dominated the market, with a market share of around 34% in 2022. the study of natural language and speech synthesis and analysis through computational methods is called natural language processing. It is An interdisciplinary branch of computer science and linguistics. Giving computers the ability to support and manipulate speech is its main goal. NLP, for instance, enables computers to hear a voice, analyze it, gauge sentiment, read a text and identify key elements. Large volumes of text-based data may be processed and analyzed with NLP technology. NLP can increase the accuracy of repetitive jobs. In the upcoming years, developments and advancements in NLP will enable chatbots, sentiment analysis, automatic machine translation, and speech recognition.
New development tools, database features, AI services, and improvements to SAP's Business Technology Platform, or BTP, are among the new capabilities the company has introduced to help integrate AI into business applications across its software platform. Simultaneously, he stated, SAP is investing in developing a "large business model" that the company is uniquely positioned to develop. This model is similar to an LLM but trained on business transactions. With permission, SAP is utilizing anonymized data from thousands of businesses that use its software to train its model. Along with additional tools, users of the new SAP Build Code will have access to those initiatives. When the new suite goes on general release in early 2024, it will combine several of SAP's current run-time and design services.
Organization Segment Analysis
The organization segment is divided into small and medium enterprises and large enterprises. The large enterprises segment dominated the market, with a share of around 65% in 2022. AI is made to process large amounts of data at a high speed and accuracy based on human capability. Large enterprises generate or produce such large amounts of data daily and hence require AI to optimize their business processes and other operations. Additionally, large enterprises have the necessary capital to deploy enterprise AI.
End-Use Segment Analysis
The end-use segment is divided into media and advertising, BFSI, healthcare, IT and Telecom, automotive and transportation, retail and others. The IT and telecom segment dominated the market, with a market share of around 44% in 2022. Massive volumes of data from IT infrastructure can be monitored and analyzed by AI-powered systems. It also can identify patterns and spot anomalies, which helps in anticipating possible problems before they arise. It automates repetitive tasks and saves costs and time for companies. Artificial Intelligence runs continuously and has zero human error. AI can detect and prevent degradation or interruptions in operations. It helps in minimizing or eliminating costly downtime. The numerous applications of AI in IT and telecom allow the segment's dominance in the market.
Some of the Key Market Players:
Alphabet Inc.
Amazon Web Services, Inc.
Apple Inc.
Hewlett Packard Enterprise Development LP
Intel Corporation
International Business Machines Corporation
Microsoft Corporation
NVIDIA Corporation
SAP SE
Wipro Limited
Report Description:
| Attribute | Description |
| --- | --- |
| Market Size | Revenue (USD Billion) |
| Market size value in 2022 | USD 10 Billion |
| Market size value in 2032 | USD 232.91 Billion |
| CAGR (2023 to 2032) | 37% |
| Historical data | 2019-2021 |
| Base Year | 2022 |
| Forecast | 2023-2032 |
| Region | The regions analyzed for the market are Asia Pacific, Europe, South America, North America, and Middle East and Africa. Furthermore, the regions are further analyzed at the country level. |
| Segments | Deployment Type, Technology, Organization and End Use |