The global optical character recognition market was valued at USD 11 billion in 2022 and grew at a CAGR of 12% from 2023 to 2032. The market is expected to reach USD 34.16 billion by 2032. The increasing demand for optical character recognition in the BFSI sector will drive the growth of the global optical character recognition market.
Market Introduction:
The method used to transform a text image into a machine-readable text format is called optical character recognition. The electronic or mechanical translation of photographs of typewritten, handwritten, or printed text into machine-encoded text is known as optical character recognition. It is also referred to as an optical character reader. This process can be applied to scanned documents, photos of documents, scene photos, or text with subtitles superimposed on images. OCR data processing has the major benefit of making all digitized documents fully text-searchable. Professionals may swiftly seek numbers, addresses, names, and other characteristics that distinguish the document they are searching for with the aid of this. OCR technology offers many benefits. It reduces time and optimizes processes, which improves efficiency and productivity. Efficient translated to cost savings. OCR is frequently incorporated into other AI technologies to improve accessibility and deployment. Therefore, Advances in AI algorithms, deep learning methodologies, and image processing technologies indicate that OCR systems will improve in the near future and achieve greater precision, effectiveness, and capacity.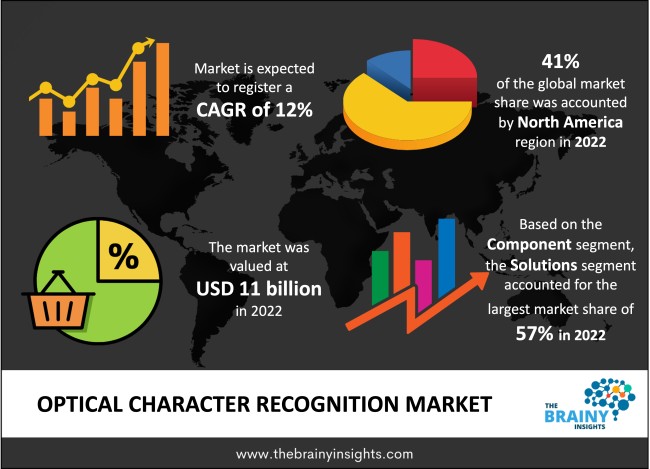 Get an overview of this study by requesting a free sample
Recent Development
Samsung Life Insurance has declared the triumphant deployment of its AI-driven Optical Character Recognition (OCR) technology. This is in response to an increasing trend of non-standard documents submitted for insurance claims via mobile and internet platforms when classic OCR approaches failed to automate data entry and enhance service quality successfully. Working with Upstage's AI specialists, Samsung Life Insurance greatly improved its OCR capabilities, enabling it to recognize various documents correctly. The company claims there has been an improvement in both the speed and accuracy of data analysis.
Market Dynamics:
Drivers
The increasing automation and digitization in industries – the increasing automation and digitization across industries has enabled the market to grow exponentially over the past few years. For instance, digitizing government records for better operational efficiency, faster service deliveries, and transparency has increased the use of OCR in the public sector. Similarly, the digitization and automation in BFSI, retail and E-commerce, healthcare, education and others will also augment the market's growth. The increasing use of OCR by businesses to improve their efficiency and productivity and achieve resource optimization will also contribute to the market's growth.
For service providers looking for a semi-automated data capture and tracking solution for shipments, from letters to packages, Prolistic offers the PRO-CAP optical character recognition (OCR) manual station. Prolistic's PRO-CAP is a hardware and software concept for tracking (BCR), redress, and incorrect processing of shipment data (OCR machine and handwriting). The new Pro-Cap system is designed to streamline the operations of mail and parcel service providers and save time and money in internal logistics with its remarkable speed (up to 650 shipments per hour) and ergonomics. Additionally, it greatly raises the data's quality. According to Prolistic, the market requires customized solutions, especially for the mailing mix in the e-commerce industry.
Restraints:
The high cost of developing OCR technology – OCR technologies are capital-intensive. Furthermore, these services and solutions are costly for commercial expenditure. Therefore, the cost of developing OCR technology will hamper the market's growth. Additionally, OCR technologies rely on the quality of the input image or picture, which doesn't necessarily process well enough to offer complete and accurate results, leading to low-quality descriptions and misleading classifications.
A new malware for Android may be leveraging optical character recognition (OCR), a method often used to extract text from photos to steal confidential data. The malware families known as "CherryBlos" and "FakeTrade," recently identified by Trend Micro, share the same infrastructure and certificates, indicating that the same individual or group may have developed them.
Opportunities:
The integration of AI and OCR – the technological advancements in artificial intelligence, machine learning and deep learning have enabled innovators and developers to improve OCR technologies, their precision, accuracy, speed and results. The continued growth of AI and understanding of machine learning will improve the integration and functioning of OCR technologies, and thereby, the market will grow during the forecast period.
The development of a new system utilizing AI-powered Optical Character Recognition (OCR) for the automatic production of laytime statements for dry bulk carriers was revealed by the Japanese maritime operator "K" LINE. The AI-OCR technology created by Cinnamon Inc. is incorporated into the new CHRONUS system. This technology employs artificial intelligence (AI) to identify handwritten and printed text that has been optically captured. It can also automatically retrieve necessary data from cargo loading and unloading records. The system's integrated software will then automatically apply the data from the Statements of Fact for the company's dry bulk carriers to calculate demurrage and dispatch fees. A laytime statement, which documents the discrepancy between the authorized cargo handling time and the actual time taken, will also be automatically prepared.
Regional segmentation analysis:
The regions analyzed for the market include North America, Europe, South America, Asia Pacific, the Middle East, and Africa. North America emerged as the most significant global optical character recognition market, with a 41% market revenue share in 2022.
The advancements in OCR technologies are driving regional growth. The presence of key market players driving innovation will bode well for the market. The increasing automation and digitization have led to the rising demand for OCR technology across industries, thereby augmenting the market's growth. The well-established digital infrastructure and access to OCR services and solutions augment the regional market's growth.
North America Region Optical Character Recognition Market Share in 2022 - 41%
www.thebrainyinsights.com
Check the geographical analysis of this market by requesting a free sample
Gboard, Google's keyboard app, is about to launch an innovative new feature built on optical character recognition (OCR) technology. Users may now scan and extract text right from the keyboard interface with Gboard on Android with a secret feature that was discovered in the most recent beta version (13.6). The tool, which is not currently available by default, will appear as an addition to the keyboard's ribbon, next to already-existing choices like "Clipboard" and "Translate." To use this feature, users must allow authorization for the Gboard camera. When Text Scan mode is turned on, the bottom portion of the screen becomes a viewfinder, allowing users to take screenshots and scan text by pressing the respective buttons. Gboard shows the text caught in the picture when the "shutter" button clicks. I
Component Segment Analysis
The component segment is divided into solutions and services. The solutions segment dominated, with a market share of around 57% in 2022. The increasing presence of market players offering OCR solutions has contributed to the segment's dominance in the industry. Furthermore, the retail consumption of OCR services, especially on smart connected devices, has enabled the segment to dominate the market. A wide range of solutions are being offered in the market. Additionally, the innovation leading to integrating AI technologies and big data into OCR software will enable the segment's growth during the forecast period.
End-use Segment Analysis
The end-use segment is divided into B2B and B2C. The B2B segment dominated, with a market share of around 64% in 2022. Transactions or business dealings between businesses are referred to as business-to-business (B2B). Business-to-business (B2B) exchanges typically take place in the supply chain. OCR helps document and other paperwork processing faster, easier, and more accurate and thereby makes businesses highly efficient and productive. It also helps identify any bottlenecks, given the technological advancements that have enabled novel features to be integrated into OCR solutions. Analysis has been made easier, organized, systematic and complete. All these features are widely used by businesses on a commercial basis, thereby explaining the segment's dominance in the market.
Dig Security Solutions Inc., a data security startup, stated that it has enhanced its data security posture monitoring product with optical character recognition, enabling businesses to identify sensitive data included in image files. Dig can now identify data in picture files, including driver's licences and passports, even when kept in multi-cloud environments. As businesses gather and retain more data in image files, OCR capabilities are essential because, according to Dig, unless businesses map all sensitive data, the data will remain vulnerable to public exposure.
Industry Vertical Segment Analysis
The industry vertical segment is divided into retail, government, transport and logistics, IT and telecom, BFSI, education, healthcare, manufacturing and others. The BFSI segment dominated the market, with a market share of around 35% in 2022. The industry term for businesses that offer a variety of financial products or services is banking, financial services, and insurance, known as the BFSI vertical. Customers benefit from quicker access to information. Banks optimize their processes, which saves time and money; it also uses less paper and improves customer relationship management and satisfaction. For instance, OCR can scan a cheque from top to bottom and extract specific information, including the serial number, account number, IFSC code, amount, and signature. The automation and digitization of the BFSI sector will augment the segment's growth during the forecast period.
Some of the Key Market Players:
ABBYY
Adobe
Anyline GmbH
ATAPY Software
Captricity Inc.
Creaceed S.P.R.L.
CVISION Technologies, Inc.
Exper-OCR, Inc.
Google LLC
IBM Corporation
Report Description:
| Attribute | Description |
| --- | --- |
| Market Size | Revenue (USD Billion) |
| Market size value in 2022 | USD 11 Billion |
| Market size value in 2032 | USD 34.16 Billion |
| CAGR (2023 to 2032) | 12% |
| Historical data | 2019-2021 |
| Base Year | 2022 |
| Forecast | 2023-2032 |
| Region | The regions analyzed for the market are Asia Pacific, Europe, South America, North America, and Middle East and Africa. Furthermore, the regions are further analyzed at the country level. |
| Segments | Component, End Use and Industry Vertical |