The global digital lending platform market was valued at USD 12.2 billion in 2022, growing at a CAGR of 14.3% from 2023 to 2032. The market is expected to reach USD 46.4 billion by 2032. The digital lending platform market is expected to grow as banks can improve client experience by automating the entire loan process with the help of digital lending platforms.
Market Introduction:
Financial institutions can enhance their efficiency and boost their revenue per loan by utilizing the digital lending platform, which enables them to provide faster services. Moreover, digital lending is extending credit or loans to people or companies through digital channels, including websites or mobile applications, instead of customary face-to-face meetings. To evaluate creditworthiness, handle loan applications, and distribute money, technology and data analytics are used. With quicker approval timeframes and less paperwork, digital lending usually provides borrowers a convenient and efficient experience. Owing to technological improvements, it has gained popularity in recent years and includes a variety of loan types, including personal, business, student, and more. The digital lending platform makes it possible for lenders and borrowers to make loans in digital or electronic formats, which improves user experience, makes lending easier to use, and reduces costs because it requires less time for client verification. The procedure begins with user registration and continues with the gathering of online paperwork, client identification and verification, loan distribution, loan recovery, and loan approval. The loan application process is time-consuming and requires a lot of documentation.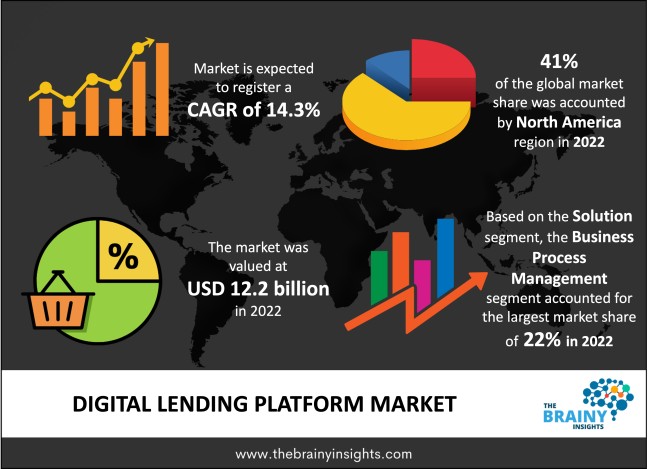 Get an overview of this study by requesting a free sample
Recent Development
In June 2021, To improve its digital commerce, Nucleus Software and Vietnam's TPBank partnered. FinnOne Neo helped TPBank by streamlining processes, enhancing credit assessments, and offering fast digital loans.
In October 2020, To use Google Cloud's machine learning (ML) and artificial intelligence (AI) capabilities to assist lenders in processing mortgage applications more quickly and simply, Roostify partnered with the cloud computing giant.
In July 2021, Newgen Software unveiled NewgenONE, a new platform for digital transformation. The technology facilitates unstructured data handling and improves consumer engagement.
Market Dynamics:
Drivers
Increasing adoption of online banking services- Due to globalization and the rising use of online banking services, lending processes are moving quickly towards digitalization. This is one of the key elements affecting the banking, financial services, and insurance (BFSI) sector's use of DLP to make better decisions, provide better client experiences, and save a substantial amount of money. Furthermore, financial institutions worldwide are rapidly using digital channels to lend money and handle pandemic difficulties in response to the coronavirus illness (COVID-19) outbreak.
Restraints:
Data Security Concerns- It is anticipated that privacy and data security will restrain industry expansion. Numerous governments worldwide have initiated measures to tackle apprehensions over data security and privacy protection linked to digital lending platforms.
Opportunities:
Emerging technologies- Emerging technologies like blockchain, artificial intelligence, and machine learning are anticipated to improve the capabilities of digital lending platforms and create new avenues for expansion. The loan-raising process can be made easy, fast, and transparent by integrating these technologies. Approval times are genuinely scalable owing to AI and machine learning-based systems that process loan applications in mere seconds. Furthermore, the blockchain-based lending platform creates a direct connection between lenders and borrowers by doing away with mediators or intermediaries from the lending process.
Regional segmentation analysis:
The regions analyzed for the market include North America, Europe, South America, Asia Pacific, the Middle East, and Africa. North America emerged as the largest global digital lending platform market, with a 41% market revenue share in 2022.
It is anticipated that the existence of significant digital lending providers throughout the countries of North America will propel market expansion in the region. Additionally, the region has embraced cutting-edge technologies early on. This has led to a strong demand for digital, end-to-end financial solutions in North America. Financial institutions in the area are being especially prompted to digitize their services and improve customer experience due to a sizable mobile workforce. To obtain a significant competitive advantage, financial institutions in the area are attempting to set themselves apart from their rivals by launching cutting-edge digital services.
North America Region Digital Lending Platform Market Share in 2022 - 41%
www.thebrainyinsights.com
Check the geographical analysis of this market by requesting a free sample
Solution Segment Analysis
The solution segment is divided into lending analytics, loan origination, loan management, business process management, risk & compliance management, and others. The business process management segment dominated the market, with a market share of around 22% in 2022. Due to its ability to reduce operational costs and sharply boost productivity, business process management has grown in popularity. Simultaneously, the benefits of business process management in lending—including enhanced customer satisfaction and employee efficiency, reduced errors, and lessened paper usage—are also anticipated to be the primary drivers of the market's growth.
Service Segment Analysis
The service segment is divided into design & implementation, risk assessment, support & maintenance, training & education, and consulting. The design & implementation segment dominated the market, with a market share of around 25% in 2022. To facilitate the use of digital lending platforms, financial institutions require a framework for design and implementation. Generally speaking, the framework can assist financial institutions in effectively conducting their lending business activities.
Deployment Segment Analysis
The deployment segment is divided into cloud and on-premise. The on-premise segment dominated the market, with a market share of around 64% in 2022. As a means of mitigating cyber risks in the aftermath of an increasing number of data breaches and cyberattacks, financial institutions are choosing to use on-premise digital lending platforms.
End-User Segment Analysis
The end-user segment is divided into insurance companies, savings & loan associations, banks, credit unions, peer-to-peer lending, and others. The banks segment dominated the market, with a market share of around 34% in 2022. The anticipated expansion of this market will be driven by banks' increasing emphasis on digitalizing their financial services.
Some of the Key Market Players:
Nucleus software
FIS
Tavant
ICE Mortgage Technology
Intellect Design Arena Ltd
Pegasystems Inc.
Sigma Infosolutions
Temenos
Fiserv inc
Newgen Software Technologies Limited
Report Description:
| Attribute | Description |
| --- | --- |
| Market Size | Revenue (USD Billion) |
| Market size value in 2022 | USD 12.2 Billion |
| Market size value in 2032 | USD 46.4 Billion |
| CAGR (2023 to 2032) | 14.3% |
| Historical data | 2019-2021 |
| Base Year | 2022 |
| Forecast | 2023-2032 |
| Region | The regions analyzed for the market are Asia Pacific, Europe, South America, North America, and Middle East & Africa. Furthermore, the regions are further analyzed at the country level. |
| Segments | Solution, Service, Deployment, End-User |