Report Overview
The cheese snacks market size was valued at USD 65.1 billion in 2021 and is anticipated to grow with a CAGR of 6.2% from 2022 to 2030. The demand for cheese snacks is driven by health-conscious consumers that are continuously looking for nutritional, healthy, and on-the-go snack options owing to busy their lifestyles and hectic work schedule. Moreover, the shift in consumer eating trends from 2 or 3 meals a day to snacking frequently or even throughout the day, has provided growth opportunities to the manufacturers of cheese and other healthy snacks.
The shifting consumer food preferences and evolving trends in the food & beverage industry are driving the demand for cheese snacks across the globe. The ongoing trend of free-from-claims, organic, and natural ingredients are also reflected in the cheese snacks market. Today, consumers want a product with a clean label about ingredients, source, and quality. For instance, in October 2020, UTZ Quality Foods, LLC's brand Good Health launched two new snacks: Baked Cheese Puffs and Baked Cheese Fries in the organic range after collaborating with Organic Valley.
Cheese snacks are a primary source of protein for consumers and gaining popularity among millennials and Gen Z. Countries such as the US, India, Brazil, Turkey, South Africa, and UAE are among the leading consumers of healthy snacks. Further, recently there has been a jump in the number of product launches for healthy or better-for-you snacks, majorly driven by health-conscious consumers, who are searching for snacks with great taste and filled with nutrients. However, increasing acceptance of vegan diets and the rising number of lactose-intolerant populations across the world could restrict the market growth for cheese snacks. Further, increasing product launches in the vegan cheese category are also acting as a major restraint. For instance, in December 2021, PepsiCo, manufacturer of Cheetos announced a new cheesy vegan snack- Protein Twists through Eat Well Group.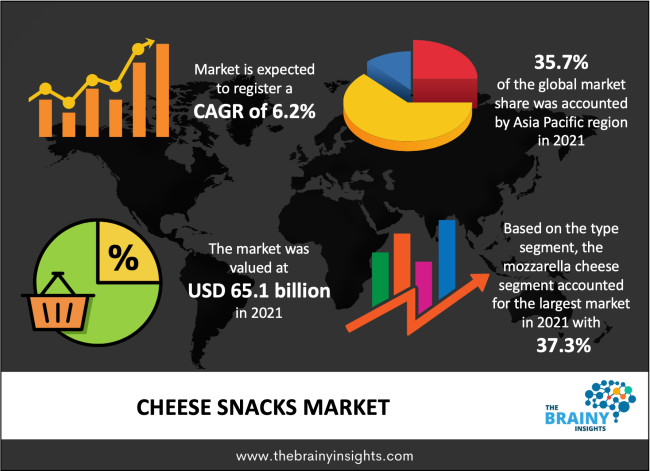 Get an overview of this study by requesting a free sample
Worldwide, consumers are moving away from sugary snacks such as chocolate, biscuits, candies, and others to become healthy and moving towards yogurt and cheese-based snacks that are rich sources of vitamins and protein, thus creating lucrative opportunities for the manufacturers. Further, most players are investing in R&D and launching new products to compete in this growing market. For instance, in August 2022, Moon Cheese (NutraDried LLC), a U.S.-based cheese snacks company launched Crunchy Cheese Sticks as its newest line of 100% real cheese snacks. It is available in five flavors including 'Cheesy Does It', 'Wild White Chedda', 'Kick It Up a Nacho', 'Rowdy Ranch', and 'Yum Inferno'. The product has four times more protein than leading brands with 14-15 grams of protein, and one gram or less of sugar per serving.
Type Insights
By type, the market has been segmented into mozzarella, parmesan, cheddar, feta, and others. Mozzarella cheese accounted for the largest market in 2021 with a share of 37.3%. It is a soft cheese that originated in Italy and is usually made from buffalo or cow's milk. It is low in sodium and calories than most cheese, which makes it an excellent source for application in cheese snacks. It also contains probiotics, including strains of Lactobacillus casei and Lactobacillus fermentum that strengthen the digestive system and build overall immunity. Mozzarella cheese is majorly used as a potential ingredient in cheese snacks owing to its taste and compatibility with savory flavors and spices.
Cheddar cheese is anticipated to register the fastest CAGR of 6.9% during the forecast period. It is a semi-hard cheese that provides various health benefits as it is a good source of protein and calcium. It also contains other essential nutrients, including zinc, phosphorus, vitamin D, vitamin B-6, and vitamin K; therefore, it is mostly preferred in snacks. It can simply be added to snacks to provide a creamy texture. Pirate's Booty Aged White Cheddar Cheese Puffs, COMBOS Cheddar Cheese Cracker Baked Snacks, Goldfish Cheddar Crackers, and Simply Cheetos Puffs White Cheddar Cheese Flavored Snacks are some of the popular cheddar cheese-based snacks available in the market.
Distribution Channel Insights
Supermarkets & Hypermarkets was the leading distribution channel for the cheese snacks market accounting for a share of more than 60% in 2021. These are the preferred channel for shopping for various consumers owing to the wide availability of products and brands, along with promotional offers and discounts on various products. These stores have designated shelf space for healthy snacks, which simply gives shoppers more choices and allows them to find the products that best fulfill their needs. The expansion of supermarkets in various developing nations is also expected to drive sales through this channel. For instance, according to ET, Lulu Group plans to increase its footprint in India by opening hypermarkets and small retail formats across Chennai, Bangalore, Hyderabad, Uttar Pradesh, and Ahmedabad.
The e-commerce distribution channel is anticipated to register the fastest growth from 2022-2030. According to Frito-Lay, a division of PepsiCo, snacks sales through the e-commerce channel saw a boost during the pandemic owing to lockdown restrictions worldwide and this trend is likely to stay. As per Frito-Lay e-commerce sales were up by 73% in comparison to 2020 and are likely to double by 2025. Further, the increasing number of smartphone users in both developed and developing countries is expected to drive the sale of cheese snacks through this channel. Increasing consumers' trust and confidence in online purchases and contactless payments are further expected to boost demand through this channel.
Regional Insights
Snack consumption was already high in North America owing to consumer preference for convenience food. Further, due to the globalization of food culture, and changing consumer preference for healthy snacking, the demand for cheese snacks has increased in the last few years. Moreover, snacks have become a valuable commodity for consumers in North America since the COVID-19 pandemic. According to Frito-Lay's U.S. Snack Index, snacks have become a staple food for 84% of consumers in 2021. Further, the consumption of snacks has also increased in Canada, which is expected to drive the demand for cheese and other types of snacks. According to Snacking Report, 63% of Canadian consumers said they prefer to eat many small meals throughout the day, as opposed to a few large ones, up 13% from 2019.
The Asia Pacific is the largest market accounting for a share of 35.7% in 2021. The shift in consumer preference and high adoption of western food culture is driving the demand for cheese snacks in this region. Further, rising health consciousness among consumers and increasing awareness among consumers on what to eat are likely to boost the demand for cheese snacks. With the emergence of nuclear family structures as more millennials and Generation Z are moving to densely populated cities for employment, Asian countries have been witnessing a high number of single-person, and demand for convenient food such as snacks have been increasing. Additionally, the rising availability of international brands such as Pringles, Cheetos, and others is likely to drive the demand for cheese snacks in this region.
Key Players
The market is fragmented in nature with the presence of well-established players and several small and medium players. These manufacturers are adopting various strategies, including new product launches, partnerships, and expansion of product portfolios, to increase their market share.
Mars, Incorporated
UTZ Quality Foods, LLC.
PepsiCo
General Mills, Inc.
ITC Limited
The Kraft Heinz Company
Kellogg Co.
Amy's Kitchen
Rich Products Corporation
SARGENTO FOODS INCORPORATED
Segments Covered in the Report
Type

Mozzarella
Parmesan
Cheddar
Feta
Others

Distribution Channel

Supermarkets & Hypermarkets
Convenience Stores
E-commerce
Others

Regional

North America
Europe

Germany
U.K.
France
Italy
Spain

Asia Pacific

China
Japan
India
South Korea
Australia

Central & South America
Middle East & Africa
1. Introduction
1.1. Objectives of the Study
1.2. Market Definition
1.3. Research Scope
1.4. Currency
1.5. Key Target Audience

2. Research Methodology and Assumptions

3. Executive Summary

4. Premium Insights
4.1. Porter's Five Forces Analysis
4.2. Value Chain Analysis
4.3. Top Investment Pockets
4.3.1. Market Attractiveness Analysis by Type
4.3.2. Market Attractiveness Analysis by Distribution Channel
4.3.3. Market Attractiveness Analysis by Region
4.4. Industry Trends

5. Market Dynamics
5.1. Market Evaluation
5.2. Drivers
5.2.1. Busy lifestyle and changing consumer preferences
5.3. Restraints
5.3.1. High-calorie content in the cheese snacks
5.4. Opportunities
5.4.1. Product innovation

6. Global Cheese Snacks Market Analysis and Forecast, By Type
6.1. Segment Overview
6.2. Mozzarella
6.3. Parmesan
6.4. Cheddar
6.5. Feta
6.6. Others

7. Global Cheese Snacks Market Analysis and Forecast, By Distribution Channel
7.1. Segment Overview
7.2. Supermarkets & Hypermarkets
7.3. Convenience Stores
7.4. E-commerce
7.5. Others

8. Global Cheese Snacks Market Analysis and Forecast, By Regional Analysis
8.1. Segment Overview
8.2. North America
8.2.1. U.S.
8.2.2. Canada
8.2.3. Mexico
8.3. Europe
8.3.1. Germany
8.3.2. France
8.3.3. U.K.
8.3.4. Italy
8.3.5. Spain
8.4. Asia-Pacific
8.4.1. Japan
8.4.2. China
8.4.3. India
8.5. South America
8.5.1. Brazil
8.6. Middle East and Africa
8.6.1. UAE
8.6.2. South Africa

9. Global Cheese Snacks Market-Competitive Landscape
9.1. Overview
9.2. Market Share of Key Players in the Cheese Snacks Market
9.2.1. Global Company Market Share
9.2.2. North America Company Market Share
9.2.3. Europe Company Market Share
9.2.4. APAC Company Market Share
9.3. Competitive Situations and Trends
9.3.1. Product Launches and Developments
9.3.2. Partnerships, Collaborations, and Agreements
9.3.3. Mergers & Acquisitions
9.3.4. Expansions

10. Company Profiles
10.1. Mars, Incorporated
10.1.1. Business Overview
10.1.2. Company Snapshot
10.1.3. Company Market Share Analysis
10.1.4. Company Product Portfolio
10.1.5. Recent Developments
10.1.6. SWOT Analysis
10.2. UTZ Quality Foods, LLC.
10.2.1. Business Overview
10.2.2. Company Snapshot
10.2.3. Company Market Share Analysis
10.2.4. Company Product Portfolio
10.2.5. Recent Developments
10.2.6. SWOT Analysis
10.3. PepsiCo
10.3.1. Business Overview
10.3.2. Company Snapshot
10.3.3. Company Market Share Analysis
10.3.4. Company Product Portfolio
10.3.5. Recent Developments
10.3.6. SWOT Analysis
10.4. General Mills, Inc.
10.4.1. Business Overview
10.4.2. Company Snapshot
10.4.3. Company Market Share Analysis
10.4.4. Company Product Portfolio
10.4.5. Recent Developments
10.4.6. SWOT Analysis
10.5. ITC Limited
10.5.1. Business Overview
10.5.2. Company Snapshot
10.5.3. Company Market Share Analysis
10.5.4. Company Product Portfolio
10.5.5. Recent Developments
10.5.6. SWOT Analysis
10.6. The Kraft Heinz Company
10.6.1. Business Overview
10.6.2. Company Snapshot
10.6.3. Company Market Share Analysis
10.6.4. Company Product Portfolio
10.6.5. Recent Developments
10.6.6. SWOT Analysis
10.7. Kellogg Co.
10.7.1. Business Overview
10.7.2. Company Snapshot
10.7.3. Company Market Share Analysis
10.7.4. Company Product Portfolio
10.7.5. Recent Developments
10.7.6. SWOT Analysis
10.8. Amy's Kitchen
10.8.1. Business Overview
10.8.2. Company Snapshot
10.8.3. Company Market Share Analysis
10.8.4. Company Product Portfolio
10.8.5. Recent Developments
10.8.6. SWOT Analysis
10.9. Rich Products Corporation
10.9.1. Business Overview
10.9.2. Company Snapshot
10.9.3. Company Market Share Analysis
10.9.4. Company Product Portfolio
10.9.5. Recent Developments
10.9.6. SWOT Analysis
10.10. SARGENTO FOODS INCORPORATED
10.10.1. Business Overview
10.10.2. Company Snapshot
10.10.3. Company Market Share Analysis
10.10.4. Company Product Portfolio
10.10.5. Recent Developments
10.10.6. SWOT Analysis
List of Table
1. Global Cheese Snacks Market, By Type, 2019-2030 (USD Billion)
2. Global Mozzarella Cheese Snacks Market, By Region, 2019-2030 (USD Billion)
3. Global Parmesan Cheese Snacks Market, By Region, 2019-2030 (USD Billion)
4. Global Cheddar Cheese Snacks Market, By Region, 2019-2030 (USD Billion)
5. Global Feta Cheese Snacks Market, By Region, 2019-2030 (USD Billion)
6. Global Others Cheese Snacks Market, By Region, 2019-2030 (USD Billion)
7. Global Cheese Snacks Market, By Distribution Channel, 2019-2030 (USD Billion)
8. Global Supermarkets & Hypermarkets Cheese Snacks Market, By Region, 2019-2030 (USD Billion)
9. Global Convenience Stores Cheese Snacks Market, By Region, 2019-2030 (USD Billion)
10. Global E-commerce Cheese Snacks Market, By Region, 2019-2030 (USD Billion)
11. Global Others Cheese Snacks Market, By Region, 2019-2030 (USD Billion)
12. Global Cheese Snacks Market, By Region, 2019-2030 (USD Billion)
13. North America Cheese Snacks Market, By Type, 2019-2030 (USD Billion)
14. North America Cheese Snacks Market, By Distribution Channel, 2019-2030 (USD Billion)
15. U.S. Cheese Snacks Market, By Type, 2019-2030 (USD Billion)
16. U.S. Cheese Snacks Market, By Distribution Channel, 2019-2030 (USD Billion)
17. Canada Cheese Snacks Market, By Type, 2019-2030 (USD Billion)
18. Canada Cheese Snacks Market, By Distribution Channel, 2019-2030 (USD Billion)
19. Mexico Cheese Snacks Market, By Type, 2019-2030 (USD Billion)
20. Mexico Cheese Snacks Market, By Distribution Channel, 2019-2030 (USD Billion)
21. Europe Cheese Snacks Market, By Type, 2019-2030 (USD Billion)
22. Europe Cheese Snacks Market, By Distribution Channel, 2019-2030 (USD Billion)
23. Germany Cheese Snacks Market, By Type, 2019-2030 (USD Billion)
24. Germany Cheese Snacks Market, By Distribution Channel, 2019-2030 (USD Billion)
25. France Cheese Snacks Market, By Type, 2019-2030 (USD Billion)
26. France Cheese Snacks Market, By Distribution Channel, 2019-2030 (USD Billion)
27. U.K. Cheese Snacks Market, By Type, 2019-2030 (USD Billion)
28. U.K. Cheese Snacks Market, By Distribution Channel, 2019-2030 (USD Billion)
29. Italy Cheese Snacks Market, By Type, 2019-2030 (USD Billion)
30. Italy Cheese Snacks Market, By Distribution Channel, 2019-2030 (USD Billion)
31. Spain Cheese Snacks Market, By Type, 2019-2030 (USD Billion)
32. Spain Cheese Snacks Market, By Distribution Channel, 2019-2030 (USD Billion)
33. Asia Pacific Cheese Snacks Market, By Type, 2019-2030 (USD Billion)
34. Asia Pacific Cheese Snacks Market, By Distribution Channel, 2019-2030 (USD Billion)
35. Japan Cheese Snacks Market, By Type, 2019-2030 (USD Billion)
36. Japan Cheese Snacks Market, By Distribution Channel, 2019-2030 (USD Billion)
37. China Cheese Snacks Market, By Type, 2019-2030 (USD Billion)
38. China Cheese Snacks Market, By Distribution Channel, 2019-2030 (USD Billion)
39. India Cheese Snacks Market, By Type, 2019-2030 (USD Billion)
40. India Cheese Snacks Market, By Distribution Channel, 2019-2030 (USD Billion)
41. South America Cheese Snacks Market, By Type, 2019-2030 (USD Billion)
42. South America Cheese Snacks Market, By Distribution Channel, 2019-2030 (USD Billion)
43. Brazil Cheese Snacks Market, By Type, 2019-2030 (USD Billion)
44. Brazil Cheese Snacks Market, By Distribution Channel, 2019-2030 (USD Billion)
45. Middle East and Africa Cheese Snacks Market, By Type, 2019-2030 (USD Billion)
46. Middle East and Africa Cheese Snacks Market, By Distribution Channel, 2019-2030 (USD Billion)
47. UAE Cheese Snacks Market, By Type, 2019-2030 (USD Billion)
48. UAE Cheese Snacks Market, By Distribution Channel, 2019-2030 (USD Billion)
49. South Africa Cheese Snacks Market, By Type, 2019-2030 (USD Billion)
50. South Africa Cheese Snacks Market, By Distribution Channel, 2019-2030 (USD Billion)
List of Figures
1. Global Cheese Snacks Market Segmentation
2. Cheese Snacks Market: Research Methodology
3. Market Size Estimation Methodology: Bottom-Up Approach
4. Market Size Estimation Methodology: Top-Down Approach
5. Data Triangulation
6. Porter's Five Forces Analysis
7. Value Chain Analysis
8. Global Cheese Snacks Market Attractiveness Analysis by Type
9. Global Cheese Snacks Market Attractiveness Analysis by Distribution Channel
10. Global Cheese Snacks Market Attractiveness Analysis by Region
11. Global Cheese Snacks Market: Dynamics
12. Global Cheese Snacks Market Share by Type (2022 & 2030)
13. Global Cheese Snacks Market Share by Distribution Channel (2022 & 2030)
14. Global Cheese Snacks Market Share by Regions (2022 & 2030)
15. Global Cheese Snacks Market Share by Company (2021)