The global brain health supplements market was valued at USD 7.9 billion in 2021 and is projected to reach 16.1 billion by 2030, with a CAGR of 8.5% from 2022 to 2030. The growing awareness and rising concerns related to improving brain health and cognitive function are expected to drive market growth. Further, the increasing geriatric population worldwide is likely to boost market growth. According to World Health Organization (WHO), the number of people aged 60 years and older will double by 2050 and the number of people aged 80 years or above is expected to triple by 2050.
The key manufacturers have also been focusing on the development of brain health supplements designed only for athletes to enhance their performance. For instance, in December 2021 Thorne Healthtech entered into a partnership with PreCon Health, Inc., to support brain function, and launched the first multi-ingredient brain health supplement to help pre and post-impact on the brain. Such product launches are expected to bode well for market growth.
The outbreak of coronavirus had a positive impact on the market growth as consumers started prioritizing mental well-being. Also, a large number of people faced deteriorating mental and emotional states during the lockdown. Thus, are increasingly consuming mood and sleep supplements. However, product availability across the globe was impacted due to the disruption in the supply chain and unavailability of raw materials, and regulations on import and export as many countries imposed a ban on the import and export of raw materials, which hampered the market growth.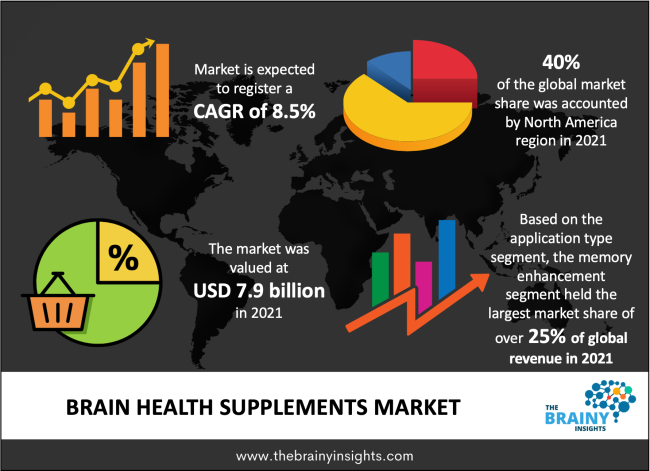 Get an overview of this study by requesting a free sample
Brain health supplements can also have side effects if taken for a prolonged duration. Thus, health experts and medical specialists encourage taking the prescribed supplements for a particular duration. These can also have potential side effects if taken along with some other medication. For instance, taking supplements with vitamin K can hamper the effectiveness of the blood thinners used to treat cardiovascular disease. All these factors could hamper the market growth.
Another factor hampering market growth is college students' illegal access to supplements and drugs to improve their mental functions, including focus, memory, anxiety, and mood disorders to excel in their college performance. These drugs might be effective in the short term but can cause serious health issues in the long term such as blurry vision, insomnia, fast heart rate, and addiction.
Application Insights
Memory enhancement held the largest share of over 25% of the global revenue in 2021. The rising competition in the academic sector as well as increasing pressure among working individuals has fueled the demand for memory enhancers. Further, the increasing aging population, who suffer from weak memory and Alzheimer's disease in countries such as the U.S, Germany, France, and Japan is driving the consumption of memory enhancer brain supplements. According to The Alzheimer's Association study published in 2020, the number of people aged 65 and above with Alzheimer's dementia is projected to reach 12.7 million by 2050 in the U.S.
Depression & mood segment is anticipated to grow at a CAGR of 9.4% over the forecast period. Depression has been becoming more common among all age groups of people, which is driving the consumption of anti-depressant among consumers. According to Mental Health America (MHA), a growing percentage of youth in the U.S. live with major depression. Further, more than 2.5 million youth in the U.S. have severe depression. Further, according to a report by the WHO, over 300 million people suffer from depression globally.
Product Insights
By product, the market has been segmented into natural molecules, herbal extracts, and vitamins & minerals. The herbal extract made of natural ingredients such as ginkgo Biloba, curcumin, ginseng and green tea is expected to register the fastest growth during the forecast period. These extracts help in sharpening memory and increase the oxygen supply to the brain, which improves cognitive functions and mental fatigue. Further, increasing the preference for herbal products over conventional supplements in countries such as China, South Korea, and India will have a positive impact on the segment's growth. According to the World Health Organization's report of 2019, about 80% of the population in developing countries rely on herbal medicines for their primary health concerns.
The natural molecules segment held the largest market share of over 50% in 2021. Natural molecules are made from molecules such as Alpha-Lipoic Acid, Acetyl L Carnitine, and CoQ10, among others, which help in enhancing alertness, clarity, focus and concentration, memory, and even mood. Companies like Reckitt Benckiser, Quincy Bioscience, and Thorne offer these types of brain supplements.
Regional Insights
North America held the largest market share of over 40% of the market in 2021. An increase in the consumption of supplements among consumers of various age groups to improve cognitive health is expected to fuel the market growth in this region. According to a survey conducted by Council for Responsible Nutrition (CRN) in 2021, 80% of Americans consume dietary supplements in the year 2021, an increase of 7% from the previous year to improve overall health & wellness, immunity, gain energy, and fill nutrient gaps. Moreover, according to American the Association of Retired Persons (AARP) on Brain Health and Dietary Supplements, Americans aged 50 and above are regularly consuming large amounts of brain health supplements owing to increasing concerns for cognitive health.
Asia Pacific is the fastest-growing region in the market with a CAGR of 10.6%. The rising awareness and increasing product adoption are driving the consumption of brain health supplements in countries like China, India, Japan, and South Korea. Further rising cases of depression and other brain-related diseases are likely to drive the market. According to a survey conducted by GOQii, a preventive healthcare platform company of 10,000 participants in June 2020, 26% are suffering from mild depression, 11 % are moderately depressed, and 6% face severe depression. Further, the aging population suffering from brain diseases in countries like China and Japan is also likely to boost market growth. According to the Alzheimer's Association, more than 4.6 million people in Japan are living with dementia and this number is expected to rise significantly as the population ages.
Key Developments
Product Launch: In May 2021, Church and Dwight launched Brain Food, a gummy supplement, which contains the adaptogen ashwagandha, vitamins B6 and B12, and Phosphatidylserine, formulated together to provide nutrients necessary to support healthy brain function.
Partnership: In March 2021, Neuriva a brand of Reckitt Benckiser Group plc. partnered with actress and neuroscientist Mayim Bialik to educate and empower consumers on brain health.
Key Players
The market is fragmented in nature with the presence of well-established players and several small and medium players. These manufacturers are adopting various strategies, including new product launches, partnerships, and expansion of product portfolios, to increase their market share.
Reckitt Benckiser Group plc.
Unilever (Onnit Labs, Inc.)
NOW Foods
Church & Dwight Co., Inc.
Quincy Bioscience
Ocean Health Pte Ltd.
Alternascript
GNC Holdings, LLC
SYNERGY CHC CORP
Natrol, LLC.
Segments Covered in the Report
Application

Memory Enhancement
Depression and Mood
Anti-aging and Longevity
Stress & Anxiety
Sleep and Recovery
Others

Product

Vitamins and Minerals
Natural Molecules
Herbal Extract

Regional

North America
Europe
Asia Pacific

China
Japan
India
South Korea

Central & South America
Middle East & Africa
1. Introduction
1.1. Objectives of the Study
1.2. Market Definition
1.3. Research Scope
1.4. Currency
1.5. Key Target Audience

2. Research Methodology and Assumptions

3. Executive Summary

4. Premium Insights
4.1. Porter's Five Forces Analysis
4.2. Value Chain Analysis
4.3. Top Investment Pockets
4.3.1. Market Attractiveness Analysis by Product
4.3.2. Market Attractiveness Analysis by Application
4.3.3. Market Attractiveness Analysis by Region
4.4. Industry Trends

5. Market Dynamics
5.1. Market Evaluation
5.2. Drivers
5.2.1. The growing awareness and rising concerns related to improving brain health and cognitive function
5.3. Restraints
5.3.1. Various side effects associated to Brain Health Supplements
5.4. Opportunities
5.4.1. Increasing geriatric population worldwide
5.5. Challenges
5.5.1. Illegal access to supplements and drugs

6. Global Brain Health Supplements Market Analysis and Forecast, By Product
6.1. Segment Overview
6.2. Vitamins and Minerals
6.3. Natural Molecules
6.4. Herbal Extract

7. Global Brain Health Supplements Market Analysis and Forecast, By Application
7.1. Segment Overview
7.2. Memory Enhancement
7.3. Depression and Mood
7.4. Anti-aging and Longevity
7.5. Stress & Anxiety
7.6. Sleep and Recovery
7.7. Others

8. Global Brain Health Supplements Market Analysis and Forecast, By Regional Analysis
8.1. Segment Overview
8.2. North America
8.2.1. U.S.
8.2.2. Canada
8.2.3. Mexico
8.3. Europe
8.3.1. Germany
8.3.2. France
8.3.3. U.K.
8.3.4. Italy
8.3.5. Spain
8.4. Asia-Pacific
8.4.1. Japan
8.4.2. China
8.4.3. India
8.5. South America
8.5.1. Brazil
8.6. Middle East and Africa
8.6.1. UAE
8.6.2. South Africa

9. Global Brain Health Supplements Market-Competitive Landscape
9.1. Overview
9.2. Market Share of Key Players in the Brain Health Supplements Market
9.2.1. Global Company Market Share
9.2.2. North America Company Market Share
9.2.3. Europe Company Market Share
9.2.4. APAC Company Market Share
9.3. Competitive Situations and Trends
9.3.1. Product Launches and Developments
9.3.2. Partnerships, Collaborations, and Agreements
9.3.3. Mergers & Acquisitions
9.3.4. Expansions

10. Company Profiles
10.1. Reckitt Benckiser Group plc.
10.1.1. Business Overview
10.1.2. Company Snapshot
10.1.3. Company Market Share Analysis
10.1.4. Company Product Portfolio
10.1.5. Recent Developments
10.1.6. SWOT Analysis
10.2. Unilever (Onnit Labs, Inc.)
10.2.1. Business Overview
10.2.2. Company Snapshot
10.2.3. Company Market Share Analysis
10.2.4. Company Product Portfolio
10.2.5. Recent Developments
10.2.6. SWOT Analysis
10.3. NOW Foods
10.3.1. Business Overview
10.3.2. Company Snapshot
10.3.3. Company Market Share Analysis
10.3.4. Company Product Portfolio
10.3.5. Recent Developments
10.3.6. SWOT Analysis
10.4. Church & Dwight Co., Inc.
10.4.1. Business Overview
10.4.2. Company Snapshot
10.4.3. Company Market Share Analysis
10.4.4. Company Product Portfolio
10.4.5. Recent Developments
10.4.6. SWOT Analysis
10.5. Quincy Bioscience
10.5.1. Business Overview
10.5.2. Company Snapshot
10.5.3. Company Market Share Analysis
10.5.4. Company Product Portfolio
10.5.5. Recent Developments
10.5.6. SWOT Analysis
10.6. Ocean Health Pte Ltd.
10.6.1. Business Overview
10.6.2. Company Snapshot
10.6.3. Company Market Share Analysis
10.6.4. Company Product Portfolio
10.6.5. Recent Developments
10.6.6. SWOT Analysis
10.7. Alternascript
10.7.1. Business Overview
10.7.2. Company Snapshot
10.7.3. Company Market Share Analysis
10.7.4. Company Product Portfolio
10.7.5. Recent Developments
10.7.6. SWOT Analysis
10.8. GNC Holdings, LLC
10.8.1. Business Overview
10.8.2. Company Snapshot
10.8.3. Company Market Share Analysis
10.8.4. Company Product Portfolio
10.8.5. Recent Developments
10.8.6. SWOT Analysis
10.9. SYNERGY CHC CORP
10.9.1. Business Overview
10.9.2. Company Snapshot
10.9.3. Company Market Share Analysis
10.9.4. Company Product Portfolio
10.9.5. Recent Developments
10.9.6. SWOT Analysis
10.10. Natrol, LLC.
10.10.1. Business Overview
10.10.2. Company Snapshot
10.10.3. Company Market Share Analysis
10.10.4. Company Product Portfolio
10.10.5. Recent Developments
10.10.6. SWOT Analysis
List of Table
1. Global Brain Health Supplements Market, By Product, 2019-2030 (USD Billion)
2. Global Vitamins and Minerals Brain Health Supplements Market, By Region, 2019-2030 (USD Billion)
3. Global Natural Molecules Brain Health Supplements Market, By Region, 2019-2030 (USD Billion)
4. Global Herbal Extract Brain Health Supplements Market, By Region, 2019-2030 (USD Billion)
5. Global Brain Health Supplements Market, By Application, 2019-2030 (USD Billion)
6. Global Memory Enhancement Brain Health Supplements Market, By Region, 2019-2030 (USD Billion)
7. Global Depression and Mood Brain Health Supplements Market, By Region, 2019-2030 (USD Billion)
8. Global Anti-aging and Longevity Brain Health Supplements Market, By Region, 2019-2030 (USD Billion)
9. Global Stress & Anxiety Brain Health Supplements Market, By Region, 2019-2030 (USD Billion)
10. Global Sleep and Recovery Brain Health Supplements Market, By Region, 2019-2030 (USD Billion)
11. Global Others Brain Health Supplements Market, By Region, 2019-2030 (USD Billion)
12. Global Brain Health Supplements Market, By Region, 2019-2030 (USD Billion)
13. North America Brain Health Supplements Market, By Product, 2019-2030 (USD Billion)
14. North America Brain Health Supplements Market, By Application, 2019-2030 (USD Billion)
15. U.S. Brain Health Supplements Market, By Product, 2019-2030 (USD Billion)
16. U.S. Brain Health Supplements Market, By Application, 2019-2030 (USD Billion)
17. Canada Brain Health Supplements Market, By Product, 2019-2030 (USD Billion)
18. Canada Brain Health Supplements Market, By Application, 2019-2030 (USD Billion)
19. Mexico Brain Health Supplements Market, By Product, 2019-2030 (USD Billion)
20. Mexico Brain Health Supplements Market, By Application, 2019-2030 (USD Billion)
21. Europe Brain Health Supplements Market, By Product, 2019-2030 (USD Billion)
22. Europe Brain Health Supplements Market, By Application, 2019-2030 (USD Billion)
23. Germany Brain Health Supplements Market, By Product, 2019-2030 (USD Billion)
24. Germany Brain Health Supplements Market, By Application, 2019-2030 (USD Billion)
25. France Brain Health Supplements Market, By Product, 2019-2030 (USD Billion)
26. France Brain Health Supplements Market, By Application, 2019-2030 (USD Billion)
27. U.K. Brain Health Supplements Market, By Product, 2019-2030 (USD Billion)
28. U.K. Brain Health Supplements Market, By Application, 2019-2030 (USD Billion)
29. Italy Brain Health Supplements Market, By Product, 2019-2030 (USD Billion)
30. Italy Brain Health Supplements Market, By Application, 2019-2030 (USD Billion)
31. Spain Brain Health Supplements Market, By Product, 2019-2030 (USD Billion)
32. Spain Brain Health Supplements Market, By Application, 2019-2030 (USD Billion)
33. Asia Pacific Brain Health Supplements Market, By Product, 2019-2030 (USD Billion)
34. Asia Pacific Brain Health Supplements Market, By Application, 2019-2030 (USD Billion)
35. Japan Brain Health Supplements Market, By Product, 2019-2030 (USD Billion)
36. Japan Brain Health Supplements Market, By Application, 2019-2030 (USD Billion)
37. China Brain Health Supplements Market, By Product, 2019-2030 (USD Billion)
38. China Brain Health Supplements Market, By Application, 2019-2030 (USD Billion)
39. India Brain Health Supplements Market, By Product, 2019-2030 (USD Billion)
40. India Brain Health Supplements Market, By Application, 2019-2030 (USD Billion)
41. South America Brain Health Supplements Market, By Product, 2019-2030 (USD Billion)
42. South America Brain Health Supplements Market, By Application, 2019-2030 (USD Billion)
43. Brazil Brain Health Supplements Market, By Product, 2019-2030 (USD Billion)
44. Brazil Brain Health Supplements Market, By Application, 2019-2030 (USD Billion)
45. Middle East and Africa Brain Health Supplements Market, By Product, 2019-2030 (USD Billion)
46. Middle East and Africa Brain Health Supplements Market, By Application, 2019-2030 (USD Billion)
47. UAE Brain Health Supplements Market, By Product, 2019-2030 (USD Billion)
48. UAE Brain Health Supplements Market, By Application, 2019-2030 (USD Billion)
49. South Africa Brain Health Supplements Market, By Product, 2019-2030 (USD Billion)
50. South Africa Brain Health Supplements Market, By Application, 2019-2030 (USD Billion)
List of Figures
1. Global Brain Health Supplements Market Segmentation
2. Brain Health Supplements Market: Research Methodology
3. Market Size Estimation Methodology: Bottom-Up Approach
4. Market Size Estimation Methodology: Top-Down Approach
5. Data Triangulation
6. Porter's Five Forces Analysis
7. Value Chain Analysis
8. Global Brain Health Supplements Market Attractiveness Analysis by Product
9. Global Brain Health Supplements Market Attractiveness Analysis by Application
10. Global Brain Health Supplements Market Attractiveness Analysis by Region
11. Global Brain Health Supplements Market: Dynamics
12. Global Brain Health Supplements Market Share by Product (2022 & 2030)
13. Global Brain Health Supplements Market Share by Application (2022 & 2030)
14. Global Brain Health Supplements Market Share by Regions (2022 & 2030)
15. Global Brain Health Supplements Market Share by Company (2021)