The global curcumin market was valued at USD 75.36 Million in 2022, which is anticipated to grow at a CAGR of 9.76% from 2023 to 2032. The product's natural qualities, such as its anti-cancer, antioxidant, and anti-inflammatory characteristics, can be attributed to this growth. As a result, the market is anticipated to increase throughout the projected period. It is also frequently used in skincare applications, such as preventing ringworms, eye infections, leech bites, painful skin, bruises, and swelling. An active component called curcumin is frequently derived from ginger and turmeric. Due to its therapeutic characteristics, turmeric is frequently used in Southeast Asian countries food and pharmaceutical products.
Market Introduction:
A bioactive substance called curcumin is present in the root of the turmeric plant Curcuma longa. Due to its anti-inflammatory and anti-oxidative qualities, curcumin is preferred in numerous food and medical applications. The curcumin market is anticipated to experience significant expansion as consumer knowledge of its medicinal qualities rises. Improved need for natural & organic supplements, improved health consciousness, and various curcumin health advantages have all contributed to the recent growth in the curcumin market. The surge in demand for organic foods and ayurvedic medicine formulations, as well as developments in pharmaceutical and skin care products utilizing curcumin, have all contributed to the expansion of the global market for curcumin. However, the availability of less expensive synthetic food colourings and formulation issues with curcumin-based solutions limit the market's expansion. In the upcoming years, it is anticipated that the use of curcumin in ayurvedic, herbal, and nutritional supplements and cosmetics products will increase its popularity and demand. One of the major factors driving market expansion around the world is the growing awareness of healthy living. As a result, customers are becoming more interested in herbal products like curcumin, which is popular for its anti-inflammatory and antioxidant effects. Curcumin may have therapeutic uses in treating diseases like diabetes, arthritis, and potentially some types of cancer. Sales of curcumin have been encouraged by the growing trend of using nutritional supplements for better health. As a result of pharmaceutical companies' investments in research, curcumin's market demand has been provided a new dimension. Curcumin's market penetration is supported by using the substance as a natural colouring and flavouring agent in the food and beverage industries. Due to its antioxidant characteristics, curcumin is in demand for skincare products, expanding its market reach. Curcumin has a long history of use in traditional medical systems like Ayurveda, which gives it legitimacy and draws in a wider consumer base, promoting commercial expansion globally.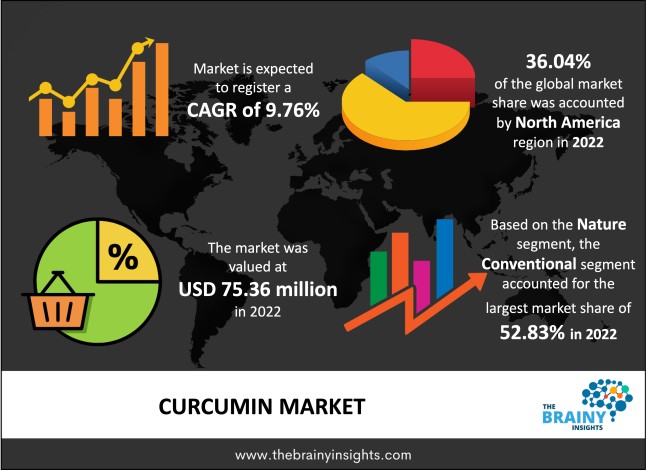 Get an overview of this study by requesting a free sample
Recent Development
The development of a new "Super-micronized Turmeric Curcumin supplement" was announced by the American biotech business Nuvothera, Inc. in April 2019 in response to the rising demand for beverages containing curcumin. The new launch is anticipated to help consumers lessen their reliance on prescription medications.
Pharma Way North America, an Atlanta-based pharmaceutical company, introduced DOT SHOT in July 2021 as a first-of-its-kind ultra-soluble curcumin wellness beverage.
In October 2019, Applied Food Sciences Inc., a market leader in developing organic and functional ingredients for the natural products industry, announced the release of CurcuFlow, a free-flowing curcumin extract. It is made to help turmeric manufacturers produce their products more effectively and without stains.
Market Dynamics:
Drivers
The therapeutic properties drive the demand for curcumin- Consumers highly appreciate it because of its medicinal properties, like anti-oxidation, anti-inflammatory, and anti-cancer. Due to these advantages, curcumin is preferred in several end-user industries, such as pharmaceuticals, food & beverage, and personal care. Curcumin aids in regulating the body's numerous genetic factors, including protein kinases, cytokines, redox status, adhesion molecules, and enzymes. Curcumin lowers the danger of inflammation caused by illnesses because of its anti-inflammatory properties. Inflammation has a major impact on various chronic diseases, including autoimmune, neoplastic, cardiovascular, metabolic, pulmonary, and neurological conditions. Curcumin also supports the treatment and prevention of chronic pro-inflammatory illnesses. Curcumin is favoured because of its antioxidant properties. Free radicals' peroxidation of membrane lipids and oxidative damage to proteins and DNA contribute to the development of atherosclerosis, cancer, and neurological diseases. Curcumin has a significant role in such serious disorders. The phenolic content of curcumin enhances its antioxidant properties. It is becoming increasingly common to use curcumin as a functional ingredient and supplement in drinks like energy drinks, teas that are ready to drink, sports and performance drinks, and others. Among those who are interested in wellness, healthy beverages with curcumin as an ingredient are very popular. Curcumin is being consumed by consumers to treat liver health problems, joint problems, and other medical conditions. However, curcumin medicines look unpleasant due to poor solubility and sedimentation. Therefore, producers employ advanced techniques to enhance final product delivery to put curcumin in beverages without sacrificing the aesthetic appeal and flavour.
Restraints:
Availability of cheaper alternatives- Other inexpensive curcumin substitutes include natural spices that can be used as food additives, such as mustard powder. Additionally, various chemical substances can be employed to create medicines and colours. As a result, producers might move to less expensive raw materials, restricting market expansion. This has made it more difficult for the supply chain for turmeric to obtain raw materials and transmit these products to businesses for extra processing. Some businesses adulterate turmeric species and dyes to meet this growing demand, reducing the quality of the finished product. This affects the way consumers perceive the brand, which harms market growth.
Opportunities:
Turmeric is widely used by manufacturers as an antioxidant- Due to its outstanding anti-inflammatory and antioxidant capabilities, curcumin, advertised as a superfood, has historically been utilized in Indian Ayurvedic treatment. Turmeric is widely used as an antioxidant in skincare and skincare products in nations like China and India, with a significant demand for curcumin. In addition, turmeric has anti-ageing properties that delay the onset of ageing and reduce skin sagging. A natural substitute for many synthetic antioxidants found in supplements and beauty products is curcumin. The market is predicted to witness increased demand for curcumin antioxidants.
Challenges:
Supply of raw materials is uncertain- Food, beverage, and cosmetic companies are starting to incorporate natural and organic ingredients and additives into their products as the demand for natural and organic food and cosmetic ingredients has increased. There is a shortage of raw materials supplies due to the rise in demand for natural ingredients from the food, pharmaceutical, and cosmetic industries, especially for seasonal products like turmeric extracts. The lack of raw materials earlier constrained turmeric usage by food and cosmetics manufacturers. However, the recent rise in demand for turmeric products has resulted in a gap between supply and demand in this market. Manufacturing constraints are going to come from a lack of raw materials. The success of organic cosmetic companies will be largely determined by their strategic collaborations and ties with raw material suppliers. As a result of the shortage of curcumin's raw ingredients, the market is currently experiencing a demand-supply disparity. Some businesses have vertically integrated their operations, from farming to processing to packaging to distribution, to solve the imbalance between supply and demand.
Regional segmentation analysis:
The regions analyzed for the market include North America, Europe, South America, Asia Pacific, the Middle East, and Africa. North America emerged as the most significant global curcumin market, with a 36.04% market revenue share in 2022. The rising demand for food and nutritional supplements is responsible. Numerous high-end cosmetics companies are based in North America, and these businesses are moving more and more towards using organic ingredients in their products, which opens up new market potential.
North America Region Curcumin Market Share in 2022 - 36.04%
www.thebrainyinsights.com
Check the geographical analysis of this market by requesting a free sample
Nature Segment Analysis
The nature segment is divided into conventional and organic. The conventional segment dominated the market, with a market share of around 52.83% in 2022. Because conventional products are more readily available and less expensive than organic products, conventional farming is the predominant method used in developing countries. As a result, it is predicted that the conventional segment will also dominate the market during the forecast period.
Application Segment Analysis
The application segment is divided into cosmetics, pharmaceuticals, food, and others. The pharmaceuticals segment dominated the market, with a market share of around 27.15% in 2022. This is because curcumin has been used for centuries to treat inflammation and infections in traditional herbal remedies.
Some of the Key Market Players:
BioMaxLifesciences Ltd.
Hindustan Mint & Agro Products Pvt. Ltd.
SV Agrofood
Herboveda India Pvt. Ltd.
Tri Rahardja PT/Javaplant
Rosun Natural Products Pvt. Ltd.
WackerChemie AG
Arjuna Natural Extracts Ltd.
Helmigs Prima Sehejtera P.T.
SabinsaCorp.
Synthite Industries Ltd.
Konark Herbals & Healthcare
Star Hi Herbs Pvt. Ltd.
Report Description:
| Attribute | Description |
| --- | --- |
| Market Size | Revenue (USD Million) |
| Market size value in 2022 | USD 75.36 Million |
| Market size value in 2032 | USD 191.24 Million |
| CAGR (2023 to 2032) | 9.76% |
| Historical data | 2019-2021 |
| Base Year | 2022 |
| Forecast | 2023-2032 |
| Region | The regions analyzed for the market are Asia Pacific, Europe, South America, North America, and Middle East & Africa. Furthermore, the regions are further analyzed at the country level. |
| Segments | Nature, Application |
Frequesntly Asked Questions
1. Introduction
1.1. Objective of the Study
1.2. Market Definition
1.3. Research Scope
1.4. Currency
1.5. Key Target Audience

2. Research Methodology and Assumptions

3. Executive Summary

4. Premium Insights
4.1. Porter's Five Forces Analysis
4.2. Value Chain Analysis
4.3. Top Investment Pockets
4.3.1. Market Attractiveness Analysis By Nature
4.3.2. Market Attractiveness Analysis By Application
4.3.3. Market Attractiveness Analysis By Region
4.4. Industry Trends

5. Market Dynamics
5.1. Market Evaluation
5.2. Drivers
5.2.1. The therapeutic properties are driving the demand for curcumin
5.3. Restraints
5.3.1. Availability of cheaper alternatives
5.4. Opportunities
5.4.1. Turmeric is widely used by manufacturers as an antioxidant
5.5. Challenges
5.5.1. Supply of raw materials is uncertain

6. Global Curcumin Market Analysis and Forecast, By Nature
6.1. Segment Overview
6.2. Conventional
6.3. Organic

7. Global Curcumin Market Analysis and Forecast, By Application
7.1. Segment Overview
7.2. Cosmetics
7.3. Pharmaceutical
7.4. Food
7.5. Others

8. Global Curcumin Market Analysis and Forecast, By Regional Analysis
8.1. Segment Overview
8.2. North America
8.2.1. U.S.
8.2.2. Canada
8.2.3. Mexico
8.3. Europe
8.3.1. Germany
8.3.2. France
8.3.3. U.K.
8.3.4. Italy
8.3.5. Spain
8.4. Asia-Pacific
8.4.1. Japan
8.4.2. China
8.4.3. India
8.5. South America
8.5.1. Brazil
8.6. Middle East and Africa
8.6.1. UAE
8.6.2. South Africa

9. Global Curcumin Market-Competitive Landscape
9.1. Overview
9.2. Market Share of Key Players in the Curcumin Market
9.2.1. Global Company Market Share
9.2.2. North America Company Market Share
9.2.3. Europe Company Market Share
9.2.4. APAC Company Market Share
9.3. Competitive Situations and Trends
9.3.1. Product Launches and Developments
9.3.2. Partnerships, Collaborations, and Agreements
9.3.3. Mergers & Acquisitions
9.3.4. Expansions

10. Company Profiles
10.1. BioMaxLifesciences Ltd.
10.1.1. Business Overview
10.1.2. Company Snapshot
10.1.3. Company Market Share Analysis
10.1.4. Company Product Portfolio
10.1.5. Recent Developments
10.1.6. SWOT Analysis
10.2. Hindustan Mint & Agro Products Pvt. Ltd.
10.2.1. Business Overview
10.2.2. Company Snapshot
10.2.3. Company Market Share Analysis
10.2.4. Company Product Portfolio
10.2.5. Recent Developments
10.2.6. SWOT Analysis
10.3. SV Agrofood
10.3.1. Business Overview
10.3.2. Company Snapshot
10.3.3. Company Market Share Analysis
10.3.4. Company Product Portfolio
10.3.5. Recent Developments
10.3.6. SWOT Analysis
10.4. Herboveda India Pvt. Ltd.
10.4.1. Business Overview
10.4.2. Company Snapshot
10.4.3. Company Market Share Analysis
10.4.4. Company Product Portfolio
10.4.5. Recent Developments
10.4.6. SWOT Analysis
10.5. Tri Rahardja PT/Javaplant
10.5.1. Business Overview
10.5.2. Company Snapshot
10.5.3. Company Market Share Analysis
10.5.4. Company Product Portfolio
10.5.5. Recent Developments
10.5.6. SWOT Analysis
10.6. Rosun Natural Products Pvt. Ltd.
10.6.1. Business Overview
10.6.2. Company Snapshot
10.6.3. Company Market Share Analysis
10.6.4. Company Product Portfolio
10.6.5. Recent Developments
10.6.6. SWOT Analysis
10.7. WackerChemie AG
10.7.1. Business Overview
10.7.2. Company Snapshot
10.7.3. Company Market Share Analysis
10.7.4. Company Product Portfolio
10.7.5. Recent Developments
10.7.6. SWOT Analysis
10.8. Arjuna Natural Extracts Ltd.
10.8.1. Business Overview
10.8.2. Company Snapshot
10.8.3. Company Market Share Analysis
10.8.4. Company Product Portfolio
10.8.5. Recent Developments
10.8.6. SWOT Analysis
10.9. Helmigs Prima Sehejtera P.T.
10.9.1. Business Overview
10.9.2. Company Snapshot
10.9.3. Company Market Share Analysis
10.9.4. Company Product Portfolio
10.9.5. Recent Developments
10.9.6. SWOT Analysis
10.10. SabinsaCorp.
10.10.1. Business Overview
10.10.2. Company Snapshot
10.10.3. Company Market Share Analysis
10.10.4. Company Product Portfolio
10.10.5. Recent Developments
10.10.6. SWOT Analysis
10.11. Synthite Industries Ltd.
10.11.1. Business Overview
10.11.2. Company Snapshot
10.11.3. Company Market Share Analysis
10.11.4. Company Product Portfolio
10.11.5. Recent Developments
10.11.6. SWOT Analysis
10.12. Konark Herbals & Healthcare
10.12.1. Business Overview
10.12.2. Company Snapshot
10.12.3. Company Market Share Analysis
10.12.4. Company Product Portfolio
10.12.5. Recent Developments
10.12.6. SWOT Analysis
10.13. Star Hi Herbs Pvt. Ltd.
10.13.1. Business Overview
10.13.2. Company Snapshot
10.13.3. Company Market Share Analysis
10.13.4. Company Product Portfolio
10.13.5. Recent Developments
10.13.6. SWOT Analysis

List of Table
1. Global Curcumin Market, By Nature, 2019-2032 (USD Million)
2. Global Conventional, Curcumin Market, By Region, 2019-2032 (USD Million)
3. Global Organic, Curcumin Market, By Region, 2019-2032 (USD Million)
4. Global Curcumin Market, By Application, 2019-2032 (USD Million)
5. Global Cosmetics, Curcumin Market, By Region, 2019-2032 (USD Million)
6. Global Pharmaceutical, Curcumin Market, By Region, 2019-2032 (USD Million)
7. Global Food, Curcumin Market, By Region, 2019-2032 (USD Million)
8. Global Others, Curcumin Market, By Region, 2019-2032 (USD Million)
9. Global Curcumin Market, By Region, 2019-2032 (USD Million)
10. North America Curcumin Market, By Nature, 2019-2032 (USD Million)
11. North America Curcumin Market, By Application, 2019-2032 (USD Million)
12. U.S. Curcumin Market, By Nature, 2019-2032 (USD Million)
13. U.S. Curcumin Market, By Application, 2019-2032 (USD Million)
14. Canada Curcumin Market, By Nature, 2019-2032 (USD Million)
15. Canada Curcumin Market, By Application, 2019-2032 (USD Million)
16. Mexico Curcumin Market, By Nature, 2019-2032 (USD Million)
17. Mexico Curcumin Market, By Application, 2019-2032 (USD Million)
18. Europe Curcumin Market, By Nature, 2019-2032 (USD Million)
19. Europe Curcumin Market, By Application, 2019-2032 (USD Million)
20. Germany Curcumin Market, By Nature, 2019-2032 (USD Million)
21. Germany Curcumin Market, By Application, 2019-2032 (USD Million)
22. France Curcumin Market, By Nature, 2019-2032 (USD Million)
23. France Curcumin Market, By Application, 2019-2032 (USD Million)
24. U.K. Curcumin Market, By Nature, 2019-2032 (USD Million)
25. U.K. Curcumin Market, By Application, 2019-2032 (USD Million)
26. Italy Curcumin Market, By Nature, 2019-2032 (USD Million)
27. Italy Curcumin Market, By Application, 2019-2032 (USD Million)
28. Spain Curcumin Market, By Nature, 2019-2032 (USD Million)
29. Spain Curcumin Market, By Application, 2019-2032 (USD Million)
30. Asia Pacific Curcumin Market, By Nature, 2019-2032 (USD Million)
31. Asia Pacific Curcumin Market, By Application, 2019-2032 (USD Million)
32. Japan Curcumin Market, By Nature, 2019-2032 (USD Million)
33. Japan Curcumin Market, By Application, 2019-2032 (USD Million)
34. China Curcumin Market, By Nature, 2019-2032 (USD Million)
35. China Curcumin Market, By Application, 2019-2032 (USD Million)
36. India Curcumin Market, By Nature, 2019-2032 (USD Million)
37. India Curcumin Market, By Application, 2019-2032 (USD Million)
38. South America Curcumin Market, By Nature, 2019-2032 (USD Million)
39. South America Curcumin Market, By Application, 2019-2032 (USD Million)
40. Brazil Curcumin Market, By Nature, 2019-2032 (USD Million)
41. Brazil Curcumin Market, By Application, 2019-2032 (USD Million)
42. Middle East and Africa Curcumin Market, By Nature, 2019-2032 (USD Million)
43. Middle East and Africa Curcumin Market, By Application, 2019-2032 (USD Million)
44. UAE Curcumin Market, By Nature, 2019-2032 (USD Million)
45. UAE Curcumin Market, By Application, 2019-2032 (USD Million)
46. South Africa Curcumin Market, By Nature, 2019-2032 (USD Million)
47. South Africa Curcumin Market, By Application, 2019-2032 (USD Million)
List of Figures
1. Global Curcumin Market Segmentation
2. Curcumin Market: Research Methodology
3. Market Size Estimation Methodology: Bottom-Up Approach
4. Market Size Estimation Methodology: Top-Down Approach
5. Data Triangulation
6. Porter's Five Forces Analysis
7. Value Chain Analysis
8. Global Curcumin Market Attractiveness Analysis By Nature
9. Global Curcumin Market Attractiveness Analysis By Application
10. Global Curcumin Market Attractiveness Analysis By Region
11. Global Curcumin Market: Dynamics
12. Global Curcumin Market Share By Nature (2023 & 2032)
13. Global Curcumin Market Share by Application (2023 & 2032)
14. Global Curcumin Market Share by Regions (2023 & 2032)
15. Global Curcumin Market Share by Company (2022)