The global beach towels market is expected to grow from USD 33 million in 2022 to USD 48.84 million by 2032, at a CAGR of 4% from 2023-2030. The increasing demand for beach vacations will augment the growth of the global beach towels market.
Market Introduction:
A towel is a piece of textile produced from an absorbent cloth or paper and used to clean and dry surfaces, among other things. They are usually made of super-absorbent, thick, anti-resistant and quick-drying materials. The magnitude of these features depends on the use of the towel, mainly its purpose or location of use. Cotton, linen and other natural fibres that absorb liquids are preferred for producing towels. The kind of weave or knit the towel has also depended on its uses. For instance, kitchen towels are super-absorbent with high liquid-withholding capacity, absorption-lock technology and extended durability for repeated use. Hand towels, dishcloths, washcloths, gym towels, paper towels, pet towels, face towels, hair towels, and spa towels are some other examples of towels. Another popular category of towels is beach towels. A beach towel is designed for beaches. It can relax on the sand, provide shade, dry, etc. The beach towels stand out from other towel types because they are significantly lighter and absorbent. Beach towels come in various materials, including cotton, linen, and microfiber. The different materials accord different properties to the beach towels. For instance, a beach towel made of linen quickly absorbs water and dries. It has anti-microbial qualities that cover up any undesirable odour. Beach towels come in various materials, sizes, packaging, colours, and designs. Beach towels are breathable, which is achieved with their unique weaving pattern. They are easy to clean. They are incredibly absorbent and dry off quickly. Their stain and dirt-resistant properties make them ideal for outdoor uses like a beach.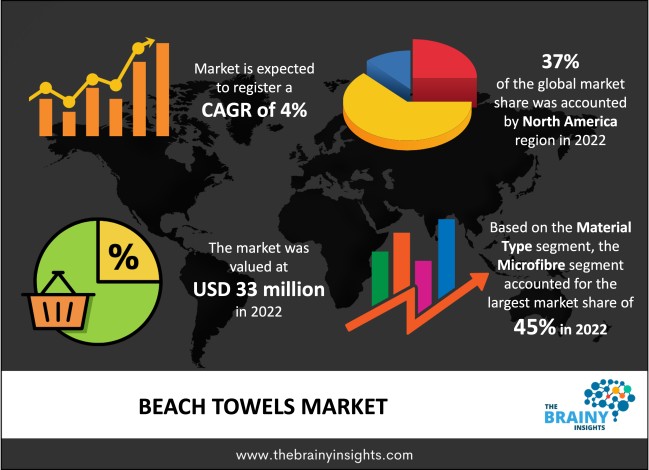 Get an overview of this study by requesting a free sample
Recent Development
March 2023 – A third-year Swansea University student, Artemis Santorinaiou, founded SUNMAR at the beginning of 2023 with assistance from the Welsh Government's youth entrepreneurship programme, Big Ideas Wales. The environmentally aware businesswoman intends to encourage more sustainable practices in households around Swansea and beyond by emphasizing the advantages of microfibre goods. Towels from SUNMAR are made of microfibre and cost £25 apiece. They are made of 80% polyester and 20% polyamide. Artemis collaborates with Grecian painters to emblazon her towels with custom artwork to differentiate SUNMAR from other microfiber towels available on the market. Artemis is now in talks with various independent stores in Swansea town centre that can help promote sustainability in their companies.
Market Dynamics:
Drivers
The increasing demand for beach vacations – The covid-19 pandemic restricted everyone within the confines of their homes. The resurgence of the pandemic over the past two years limited regional and international travel. The two years of confinement led to pent-up demand for a much-needed vacation globally. Coastal regions and islands in the Pacific and Caribbean are amongst the most popular travel destinations for leisure. These destinations offer the most comfortable and affordable stays. They are picturesque, relaxing, accessible and popular amongst the hinterland populations. They are tourism hotspots with the necessary infrastructure for housing tourists, offering leisure activities, entertainment, food and seamless mobility. Furthermore, governments worldwide are funding to revive the tourism industry, which will benefit the beaches and other coastal tourism spots. The funding to revamp tourism combined with the rising efforts to make air travel seamless, affordable vacation stays, offers and discounts drive the demand for beach vacations. The increasing demand for beach vacations will drive the global beach towels market's growth.
Restraints:
The lack of awareness about beach towels – A significant proportion of the population is unaware of the difference in many towel types. They utilize one for several purposes without understanding each towel's purpose, uses and benefits. For instance, many households do not utilize kitchen towels in the kitchen and instead use regular cloth for cleaning and drying. Similarly, regular towels or bath towels are used by consumers instead of beach towels. The lack of awareness, ignorance or the irrational decision to buy beach towels for one-time use keeps consumers away from the beach towels market. Therefore, the lack of awareness about beach towels and the higher prevalence of bath towels will limit the market's growth.
Opportunities:
The development of new products – The towels market is a monopolistic and highly fragmented market with saturated market demand. The market players struggle to increase their market share, given the intense competition in the industry. Therefore, with the growing demand for beach towels, market players are investing in innovative materials, technologies, methods, and systems to design, create and develop advanced quality beach towels which are superior to their counterparts. They are increasing their expenditure on advertising and marketing, designing and other sales efforts to improve the market share. They are identifying gaps in the market and developing products to bridge them. For instance, regular beach towels are bulky, causing inconvenience to the users; newer materials have enabled manufacturers to produce lighter towels with the same absorption capacity and drying capabilities. Microfibre beach towels are also making inroads in the industry and offering lucrative opportunities to the global market. Therefore, the development of new products will provide opportunities to the market players during the forecast period.
Challenges:
The low demand from regions without beaches – The beach towels are designed and developed for use on the beach. Their demand is highest in places where there is a beach. It is high in places closer to beaches and coastal regions. However, a significant proportion of land is landlocked and not coastal. These regions disable the market expansion given the lack of need for beach towels here. Therefore, the low demand in regions without beaches will challenge the market's growth.
Regional segmentation analysis:
The regions analyzed for the market include North America, Europe, South America, Asia Pacific, the Middle East, and Africa. North America emerged as the largest global beach towels market, with a 37% market revenue share in 2022. The North American market has many beaches, given the long coastal boundaries of Canada, the USA, and Mexico. Furthermore, the small littoral nations in the Caribbean are very popular vacation destinations for US, Canadian and European citizens. They are nearby, accessible, affordable and comfortable vacation spots. The popularity and visits to these islands have increased after the pandemic and are expected to rise in the forecast periods, thereby driving the regional beach towels market. Furthermore, the presence of a large number of retail stores and robust online-delivery mechanisms in the region offer convenience and affordability for the purchase of beach towels, thereby driving the market's growth. The presence of key players in the market ensures a steady supply of goods to meet the rising consumer demand.
North America region Beach Towels Market Share in 2022 - 37%
www.thebrainyinsights.com
Check the geographical analysis of this market by requesting a free sample
Material type segment analysis
The material type segment is divided into cotton, linen, microfibre, chamois and others. The microfibre segment dominated the market with a market share of around 45% in 2022. A microfibre fabric or textile is a man-made product. It uses several materials like wood pulp, polymers or nylon to make microfibre materials. The man-made nature assures its scalability and uninterrupted supply. It is a highly durable material. It lasts longer even after repeated uses. It does not shrink or produce wrinkles. They enable the production of lightweight yet super-absorbent beach towels. They have resistant to microbes and lock odour, adding to their many advantages. They are extremely soft with anti-microbial and faster drying properties. These towels are available on both online and offline platforms. Several brands offer these towels in different variations. The multiple benefits of microfibre towels have increased their popularity in the market, which will also drive their growth in the forecast period.
Distribution channel segment analysis
The distribution channel is divided into hypermarkets/supermarkets, departmental stores, online and others. The online segment dominated the market with a market share of around 38% in 2022. The increasing ownership of smart connected devices has enabled the population to access e-commerce platforms to order/shop conveniently. The quick payment getaways, thousands of options, multiple brands, home delivery, and quick return services are among the features that have contributed to the rising popularity of online retail. Furthermore, the offers, discounts and lower prices incentivize consumers to shift towards online e-commerce platforms. Key players in the market have also shifted their focus towards hybrid retailing. They are retailing their products through their websites and partnering with e-commerce platforms like Amazon, Myntra and meesho, driving the online segment's growth in the market.
Some of the Key Market Players:
Canningvale
Dock & Bay
Hatton Textiles International Ltd.
Laguna Beach Textile
Melody Blue LLC
Oasis Towels
Pendleton Woolen Mills Inc.
Round Towel Co.
Snappy Towels
Tofino Towel Co.
Report Description:
| Attribute | Description |
| --- | --- |
| Market Size | Revenue (USD Million) |
| Market size value in 2022 | USD 33 Million |
| Market size value in 2032 | USD 48.84 Million |
| CAGR (2023 to 2032) | 4% |
| Historical data | 2019-2021 |
| Base Year | 2022 |
| Forecast | 2023-2032 |
| Regional Segments | The regions examined for the market are Europe, Asia Pacific, North America, South America, and Middle East & Africa. |
| Segments | The research segment is based on material type and distribution channel. |
Frequesntly Asked Questions
1. Introduction
1.1. Objectives of the Study
1.2. Market Definition
1.3. Research Scope
1.4. Currency
1.5. Key Target Audience

2. Research Methodology and Assumptions

3. Executive Summary

4. Premium Insights
4.1. Porter's Five Forces Analysis
4.2. Value Chain Analysis
4.3. Top Investment Pockets
4.3.1. Market Attractiveness Analysis By Material Type
4.3.2. Market Attractiveness Analysis By Distribution Channel
4.3.3. Market Attractiveness Analysis By Region
4.4. Industry Trends

5. Market Dynamics
5.1. Market Evaluation
5.2. Drivers
5.2.1. The increasing demand for beach vacations
5.3. Restraints
5.3.1. The lack of awareness about beach towels
5.4. Opportunities
5.4.1. The development of new products
5.5. Challenges
5.5.1. The low demand from regions without beaches

6. Global Beach Towels Market Analysis and Forecast, By Material Type
6.1. Segment Overview
6.2. Cotton
6.3. Linen
6.4. Microfibre
6.5. Chamois
6.6. Others

7. Global Beach Towels Market Analysis and Forecast, By Distribution Channel
7.1. Segment Overview
7.2. Hypermarkets/Supermarkets
7.3. Departmental Stores
7.4. Online
7.5. Others

8. Global Beach Towels Market Analysis and Forecast, By Regional Analysis
8.1. Segment Overview
8.2. North America
8.2.1. U.S.
8.2.2. Canada
8.2.3. Mexico
8.3. Europe
8.3.1. Germany
8.3.2. France
8.3.3. U.K.
8.3.4. Italy
8.3.5. Spain
8.4. Asia-Pacific
8.4.1. Japan
8.4.2. China
8.4.3. India
8.5. South America
8.5.1. Brazil
8.6. Middle East and Africa
8.6.1. UAE
8.6.2. South Africa

9. Global Beach Towels Market-Competitive Landscape
9.1. Overview
9.2. Market Share of Key Players in the Beach Towels Market
9.2.1. Global Company Market Share
9.2.2. North America Company Market Share
9.2.3. Europe Company Market Share
9.2.4. APAC Company Market Share
9.3. Competitive Situations and Trends
9.3.1. Product Launches and Developments
9.3.2. Partnerships, Collaborations, and Agreements
9.3.3. Mergers & Acquisitions
9.3.4. Expansions

10. Company Profiles
10.1. Canningvale
10.1.1. Business Overview
10.1.2. Company Snapshot
10.1.3. Company Market Share Analysis
10.1.4. Company Product Portfolio
10.1.5. Recent Developments
10.1.6. SWOT Analysis
10.2. Dock & Bay
10.2.1. Business Overview
10.2.2. Company Snapshot
10.2.3. Company Market Share Analysis
10.2.4. Company Product Portfolio
10.2.5. Recent Developments
10.2.6. SWOT Analysis
10.3. Hatton Textiles International Ltd.
10.3.1. Business Overview
10.3.2. Company Snapshot
10.3.3. Company Market Share Analysis
10.3.4. Company Product Portfolio
10.3.5. Recent Developments
10.3.6. SWOT Analysis
10.4. Laguna Beach Textile
10.4.1. Business Overview
10.4.2. Company Snapshot
10.4.3. Company Market Share Analysis
10.4.4. Company Product Portfolio
10.4.5. Recent Developments
10.4.6. SWOT Analysis
10.5. Melody Blue LLC
10.5.1. Business Overview
10.5.2. Company Snapshot
10.5.3. Company Market Share Analysis
10.5.4. Company Product Portfolio
10.5.5. Recent Developments
10.5.6. SWOT Analysis
10.6. Oasis Towels
10.6.1. Business Overview
10.6.2. Company Snapshot
10.6.3. Company Market Share Analysis
10.6.4. Company Product Portfolio
10.6.5. Recent Developments
10.6.6. SWOT Analysis
10.7. Pendleton Woolen Mills Inc.
10.7.1. Business Overview
10.7.2. Company Snapshot
10.7.3. Company Market Share Analysis
10.7.4. Company Product Portfolio
10.7.5. Recent Developments
10.7.6. SWOT Analysis
10.8. Round Towel Co.
10.8.1. Business Overview
10.8.2. Company Snapshot
10.8.3. Company Market Share Analysis
10.8.4. Company Product Portfolio
10.8.5. Recent Developments
10.8.6. SWOT Analysis
10.9. Snappy Towels
10.9.1. Business Overview
10.9.2. Company Snapshot
10.9.3. Company Market Share Analysis
10.9.4. Company Product Portfolio
10.9.5. Recent Developments
10.9.6. SWOT Analysis
10.10. Tofino Towel Co.
10.10.1. Business Overview
10.10.2. Company Snapshot
10.10.3. Company Market Share Analysis
10.10.4. Company Component Portfolio
10.10.5. Recent Developments
10.10.6. SWOT Analysis
List of Table
1. Global Beach Towels Market, By Material Type, 2019-2032 (USD Million)
2. Global Cotton Beach Towels Market, By Region, 2019-2032 (USD Million)
3. Global Linen Beach Towels Market, By Region, 2019-2032 (USD Million)
4. Global Microfibre Beach Towels Market, By Region, 2019-2032 (USD Million)
5. Global Chamois Beach Towels Market, By Region, 2019-2032 (USD Million)
6. Global Others Beach Towels Market, By Region, 2019-2032 (USD Million)
7. Global Beach Towels Market, By Distribution Channel, 2019-2032 (USD Million)
8. Global Hypermarkets/Supermarkets Beach Towels Market, By Region, 2019-2032 (USD Million)
9. Global Departmental Stores Beach Towels Market, By Region, 2019-2032 (USD Million)
10. Global Online Beach Towels Market, By Region, 2019-2032 (USD Million)
11. Global Others Beach Towels Market, By Region, 2019-2032 (USD Million)
12. Global Beach Towels Market, By Region, 2019-2032 (USD Million)
13. North America Beach Towels Market, By Material Type, 2019-2032 (USD Million)
14. North America Beach Towels Market, By Distribution Channel, 2019-2032 (USD Million)
15. U.S. Beach Towels Market, By Material Type, 2019-2032 (USD Million)
16. U.S. Beach Towels Market, By Distribution Channel, 2019-2032 (USD Million)
17. Canada Beach Towels Market, By Material Type, 2019-2032 (USD Million)
18. Canada Beach Towels Market, By Distribution Channel, 2019-2032 (USD Million)
19. Mexico Beach Towels Market, By Material Type, 2019-2032 (USD Million)
20. Mexico Beach Towels Market, By Distribution Channel, 2019-2032 (USD Million)
21. Europe Beach Towels Market, By Material Type, 2019-2032 (USD Million)
22. Europe Beach Towels Market, By Distribution Channel, 2019-2032 (USD Million)
23. Germany Beach Towels Market, By Material Type, 2019-2032 (USD Million)
24. Germany Beach Towels Market, By Distribution Channel, 2019-2032 (USD Million)
25. France Beach Towels Market, By Material Type, 2019-2032 (USD Million)
26. France Beach Towels Market, By Distribution Channel, 2019-2032 (USD Million)
27. U.K. Beach Towels Market, By Material Type, 2019-2032 (USD Million)
28. U.K. Beach Towels Market, By Distribution Channel, 2019-2032 (USD Million)
29. Italy Beach Towels Market, By Material Type, 2019-2032 (USD Million)
30. Italy Beach Towels Market, By Distribution Channel, 2019-2032 (USD Million)
31. Spain Beach Towels Market, By Material Type, 2019-2032 (USD Million)
32. Spain Beach Towels Market, By Distribution Channel, 2019-2032 (USD Million)
33. Asia Pacific Beach Towels Market, By Material Type, 2019-2032 (USD Million)
34. Asia Pacific Beach Towels Market, By Distribution Channel, 2019-2032 (USD Million)
35. Japan Beach Towels Market, By Material Type, 2019-2032 (USD Million)
36. Japan Beach Towels Market, By Distribution Channel, 2019-2032 (USD Million)
37. China Beach Towels Market, By Material Type, 2019-2032 (USD Million)
38. China Beach Towels Market, By Distribution Channel, 2019-2032 (USD Million)
39. India Beach Towels Market, By Material Type, 2019-2032 (USD Million)
40. India Beach Towels Market, By Distribution Channel, 2019-2032 (USD Million)
41. South America Beach Towels Market, By Material Type, 2019-2032 (USD Million)
42. South America Beach Towels Market, By Distribution Channel, 2019-2032 (USD Million)
43. Brazil Beach Towels Market, By Material Type, 2019-2032 (USD Million)
44. Brazil Beach Towels Market, By Distribution Channel, 2019-2032 (USD Million)
45. Middle East and Africa Beach Towels Market, By Material Type, 2019-2032 (USD Million)
46. Middle East and Africa Beach Towels Market, By Distribution Channel, 2019-2032 (USD Million)
47. UAE Beach Towels Market, By Material Type, 2019-2032 (USD Million)
48. UAE Beach Towels Market, By Distribution Channel, 2019-2032 (USD Million)
49. South Africa Beach Towels Market, By Material Type, 2019-2032 (USD Million)
50. South Africa Beach Towels Market, By Distribution Channel, 2019-2032 (USD Million)
List of Figures
1. Global Beach Towels Market Segmentation
2. Beach Towels Market: Research Methodology
3. Market Size Estimation Methodology: Bottom-Up Approach
4. Market Size Estimation Methodology: Top-Down Approach
5. Data Triangulation
6. Porter's Five Forces Analysis
7. Value Chain Analysis
8. Global Beach Towels Market Attractiveness Analysis By Material Type
9. Global Beach Towels Market Attractiveness Analysis By Distribution Channel
10. Global Beach Towels Market Attractiveness Analysis By Region
11. Global Beach Towels Market: Dynamics
12. Global Beach Towels Market Share by Material Type (2022 & 2032)
13. Global Beach Towels Market Share by Distribution Channel (2022 & 2032)
14. Global Beach Towels Market Share by Regions (2022 & 2032)
15. Global Beach Towels Market Share by Company (2022)