The Asia-Pacific advanced wound care market was valued at USD 2 billion in 2022 and grew at a CAGR of 6% from 2023 to 2032. The market is expected to reach USD 3.25 billion by 2032. The increasing number of accidents and trauma cases will drive the growth of the Asia-Pacific advanced wound care market.
Market Introduction:
A wound is a tear in the skin or the epidermal tissue. A cut, blow, or other impact on living tissue can cause it. In more scientific terms, a wound breaks the continuity of any physiological tissue and is usually caused by an external activity. It usually involves pierced or lacerated skin or a contusion. The proper management and treatment of wounds to encourage healing and avoid infection is defined as wound care. Proper wound care is crucial for preventing complications and lessening pain and discomfort. The entire healing process is accelerated by covering the wound, allowing the patient to resume normal activities more quickly. Also, properly wrapped wounds offer an extra defence against bacterial infection. Wound care usually follows a well-defined structure or stages of treatment: evaluating the wound, cleaning the wound, changing the dressing on schedule, choosing the proper dressings, and using antibiotics. The treatment is customized according to the type of wound and other relevant variables. Advanced wound care is applied when conventional wound care is deemed ineffective. Advanced wound care procedures include using silver materials, biological dressings, collagen, biological skin equivalents, ozone-oxygen therapy, platelet-derived growth factors, and hyperbaric oxygen therapy. The healing process is accelerated with advanced wound care. Modern wound care methods aid in reducing inflammation. As a result, injuries can heal more quickly and painlessly.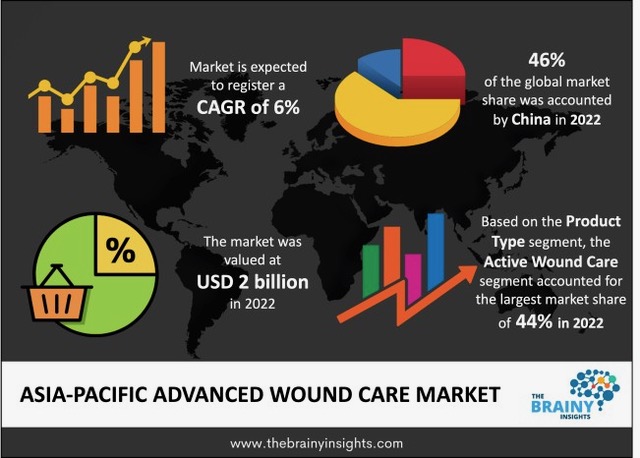 Get an overview of this study by requesting a free sample
Recent Development
September 2023 - The Harvard School of Engineering, Wyss Institute for Biologically Inspired Engineering and Brigham Women's Hospital researchers recently compiled developments in creating new medications, biomaterial therapies, and biological goods appropriate for wound healing in a new report published in Science Advances. They categorized the products as marketed therapeutics and agents for clinical studies to investigate their successful and quick translation for wound healing. They discussed the potential for reducing inflammation and moving towards active proliferation as a healing reaction. Several products on the market use topical oxygen therapy and ultrasound therapy to treat damaged wounds while also looking for enhanced protease activity. The study's results demonstrated the necessity for additional tactics, such as treating chronic wounds at intricate and sophisticated levels.
Market Dynamics:
Drivers
The increasing incidence of accidents and traumas – There are several underdeveloped and developing nations in the Asia-Pacific region with dismal infrastructure, lax safety laws and poor implementation of existing laws, which is driving up accident and trauma cases. Road, construction site, factory and fire accidents are significant in rising trauma cases. Furthermore, rising riots, clashes, and protests often lead to violence and injuries. The increasing incidence of extreme climate events also leads to a rising toll of injuries from natural disasters. All these cases of injuries often have wounds that must be dealt with to avoid infection, promote healing and prevent death. Advanced wound care is instrumental in saving lives in these cases. Therefore, increasing accidents and traumas will drive the Asia-Pacific advanced wound care market growth.
Restraints:
The high costs of advanced wound care – advanced wound care is the next step when traditional wound care treatments fail. They often involve high-end medical devices, medications, bio-materials and expensive instruments. Some devices require a specific space and settings to work and must be operated by professionals. Similarly, bio-materials like skin substitutes are also expensive. These treatments become unaffordable and often inaccessible without positive reimbursement policies and strong public healthcare infrastructure. Therefore, the high costs of advanced wound care will hamper the market's growth.
Opportunities:
Advancements in advanced wound care – the effectiveness with which advanced wound care can speed up healing reduces hospital stays and improves patient outcomes, especially in surgical intervention. Improved patient outcomes increase the demand for surgical interventions, and faster recovery allows hospitals to admit more patients, driving revenue. Therefore, the key market players in the industry drive research, development and innovation to introduce better and more enhanced advanced wound care treatments, thereby driving the market's future growth.
June 2023 - Cholederm, a cutting-edge wound care product created by the Sree Chitra Tirunal Institute for Medical Sciences and Technology (SCTIMST), has been certified as a Class D medical device by the Central Drugs Standard Control Organisation (CDSCO). The researchers from the Division of Experimental Pathology in the Biomedical Technology wing of SCTIMST developed cholederm, a substance used to treat wounds using the extracellular matrix of decellularized pig gall bladder tissue. Compared to similar medications now on the market, Cholederm cured various skin lesions, including burn and diabetic wounds, in rats, rabbits, and dogs more quickly and with less scarring. Cholederm is the first product created locally that satisfies all legal standards.
Country-wise Segmentation Analysis
The countries analyzed for the market include Japan, China and India. China emerged as the most significant Asia-Pacific advanced wound care market, with a 46% market revenue share in 2022.
The extensive and well-established pharmaceuticals and biotechnology companies driving innovation and manufacturing of advanced wound care materials, devices, and instruments are the driving factors of the Chinese market. China is the leading medical ingredient producer that produces several retail drugs, including antibiotics. Furthermore, China's large population also drives the demand for advanced wound care. The rising geriatric population will contribute to the increasing chronic wound cases, driving the market's growth.
July 2023 - In collaboration with Coloplast India, the Manipal Centre for Interprofessional Advanced Wound Care of the Manipal College of Nursing (MCON), MAHE, Manipal, successfully ran a two-day hands-on workshop for staff nurses, MBBS graduates, and nursing students to improve their skills in advanced wound care. Healthcare professionals were able to share best practices, exchange knowledge, and create a collaborative strategy to improve patient outcomes during this session.
Product type Segment Analysis
The product type segment is divided into infection management, active wound care, exudate management, therapy devices and others. The active wound care segment dominated the market, with a market share of around 44% in 2022. active wound care therapies are used for eliminating dead tissue and encouraging healing. The caregiver has direct patient interaction in active wound care treatments. Due to the constantly ageing population, chronic conditions like diabetes and obesity, and diseases like pressure ulcers and diabetic foot ulcers, active wound care is becoming increasingly popular in the market. Active wound care offers quick healing and reduces the risk of infection. It enables a scar-free recovery from any type of surgery. It uses a diverse range of biologic, synthetic, or biosynthetic materials called skin substitutes to permanently or temporarily cover open skin wounds. It also uses Growth factors, a type of intercellular signalling that controls the intricate pattern of cell migration, division, differentiation, and protein expression during the healing of wounds.
September 2023 - To launch AmnioWrap2 across the country, leading US wound market solutions provider Venture Medical, LLC, and BioStem Technologies Inc., a pioneer in regenerative medicine with a focus on the development, production, and commercialization of placenta-derived biologics for advanced wound care. AmnioWrap2TM is the newest addition to BioStem's product line and is created using our in-house BioREtain method. It is an advanced biologic skin substitute that is painstakingly processed to offer a wide range of wound healing and wound care solutions. Through this procedure, an allograft made from amniotic tissue that is tailored to fit a variety of wound care applications is produced.
Application Segment Analysis
The application segment is divided into chronic wounds and acute wounds. The chronic wounds segment dominated the market, with a share of around 53% in 2022. A wound is deemed chronic if it takes longer than three months to heal or if it does not heal in a predictable period of time. Chronic wounds remain inflamed for longer periods and may never heal or might take years to heal. Ischemic ulcers, venous ulcers, pressure ulcers, and non-healing or infected surgical or traumatic wounds are chronic wounds that cause discomfort, pain, and physical and emotional/mental stress for the patient. These wounds require advanced wound care, given that simple and conventional wound care often fails to show results.
April 2023 - Asia-Pacific Open Wound Care, a mobile wound care clinic that specializes in cutting-edge wound therapies and point-of-care treatment decision-making, has chosen the eClinicalWorks EHR to improve patient care, mobility, and practise efficiency, according to the leading ambulatory cloud EHR provider, eClinicalWorks. With the use of cutting-edge skin graft technology, Asia-Pacific Open Wound Care delivers extremely effective, non-invasive treatment to repair chronic open wounds. Asia-Pacific Open Wound Care can continue to offer thorough home care, increase productivity, and simplify patient record retrieval using eClinicalWorks' unified cloud-based solutions and cutting-edge technology.
End-user Segment Analysis
The end-user segment is divided into hospitals, specialty clinics, home healthcare, and others. The hospitals segment dominated the market, with a share of around 46% in 2022. Advanced wound care involves specialized medical devices, instruments, and medical materials, which are often sophisticated, expensive and require special care while using or during application. Hospitals deal with traumas, accidents and other cases regularly and have advanced wound care products handy, making them the first choice for patients. They have trusted, qualified and trained professionals to care for the entire wound management journey. Regular checkups, therapy sessions and re-application or redressing are also offered at hospitals, improving the convenience for patients.
June 2023 - The 2023 Advanced Wound Care Summit, held in Boston, Massachusetts, USA, was one of the top strategic forums for professionals to forge alliances, realize their commercial potential, and locate vital investments to fuel growth. The Summit, organized by Kisaco Research, included interactive roundtable talks to foster new relationships and address significant difficulties faced by executives in the wound care industry. Attendees got unrivalled networking possibilities to discover collaborators and explore business relationships with important actors from recognized firms under one roof. Wound care start-ups had the opportunity to showcase their innovations at the expanded Innovation Showcase to investors, multinational wound care corporations, solution providers, and a selection committee.
Some of the Key Market Players:
3M Company
B. Braun Melsungen AG
Cardinal Health, Inc.
Coloplast A/S
ConvaTec Group Plc
Essity Aktiebolag
Medline Industries
Medtronic Plc.
Mölnlycke Health Care AB
Smith & Nephew Plc.
| Attribute | Description |
| --- | --- |
| Market Size | Revenue (USD Billion) |
| Market size value in 2022 | USD 2 Billion |
| Market size value in 2032 | USD 3.25 Billion |
| CAGR (2023 to 2032) | 6% |
| Historical data | 2019-2021 |
| Base Year | 2022 |
| Forecast | 2023-2032 |
| Country | The countries analyzed for the market are Japan, China and India. |
| Segments | Product Type, Application and End User |
Frequesntly Asked Questions
1. Introduction
1.1. Objectives of the Study
1.2. Market Definition
1.3. Research Scope
1.4. Currency
1.5. Key Target Audience

2. Research Methodology and Assumptions

3. Executive Summary

4. Premium Insights
4.1. Porter's Five Forces Analysis
4.2. Value Chain Analysis
4.3. Top Investment Pockets
4.3.1. Market Attractiveness Analysis by Product Type
4.3.2. Market Attractiveness Analysis by Application
4.3.3. Market Attractiveness Analysis by End User
4.3.4. Market Attractiveness Analysis by Country
4.4. Industry Trends

5. Market Dynamics
5.1. Market Evaluation
5.2. Drivers
5.2.1. The increasing incidence of accidents and traumas
5.3. Restraints
5.3.1. The high costs of advanced wound care
5.4. Opportunities
5.4.1. Advancements in advanced wound care
5.5. Challenges
5.5.1. The lack of positive reimbursement policies

6. Asia-Pacific Advanced Wound Care Market Analysis and Forecast, By Product Type
6.1. Segment Overview
6.2. Infection Management
6.3. Active Wound Care
6.4. Exudate Management
6.5. Therapy Devices
6.6. Others

7. Asia-Pacific Advanced Wound Care Market Analysis and Forecast, By Application
7.1. Segment Overview
7.2. Chronic Wounds
7.3. Acute Wounds

8. Asia-Pacific Advanced Wound Care Market Analysis and Forecast, By End User
8.1. Segment Overview
8.2. Hospitals
8.3. Specialty Clinics
8.4. Home Healthcare
8.5. Others

9. Asia-Pacific Advanced Wound Care Market Analysis and Forecast, By Country-Wise Analysis
9.1. Segment Overview
9.2. Japan
9.3. China
9.4. India

10. Asia-Pacific Advanced Wound Care Market-Competitive Landscape
10.1. Overview
10.2. Market Share of Key Players in the Advanced Wound Care Market
10.2.1. Asia-Pacific Company Market Share
10.3. Competitive Situations and Trends
10.3.1. Product Launches and Developments
10.3.2. Partnerships, Collaborations, and Agreements
10.3.3. Mergers & Acquisitions
10.3.4. Expansions

11. Company Profiles
11.1. 3M Company
11.1.1. Business Overview
11.1.2. Company Snapshot
11.1.3. Company Market Share Analysis
11.1.4. Company Product Portfolio
11.1.5. Recent Developments
11.1.6. SWOT Analysis
11.2. B. Braun Melsungen AG
11.2.1. Business Overview
11.2.2. Company Snapshot
11.2.3. Company Market Share Analysis
11.2.4. Company Product Portfolio
11.2.5. Recent Developments
11.2.6. SWOT Analysis
11.3. Cardinal Health, Inc.
11.3.1. Business Overview
11.3.2. Company Snapshot
11.3.3. Company Market Share Analysis
11.3.4. Company Product Portfolio
11.3.5. Recent Developments
11.3.6. SWOT Analysis
11.4. Coloplast A/S
11.4.1. Business Overview
11.4.2. Company Snapshot
11.4.3. Company Market Share Analysis
11.4.4. Company Product Portfolio
11.4.5. Recent Developments
11.4.6. SWOT Analysis
11.5. ConvaTec Group Plc
11.5.1. Business Overview
11.5.2. Company Snapshot
11.5.3. Company Market Share Analysis
11.5.4. Company Product Portfolio
11.5.5. Recent Developments
11.5.6. SWOT Analysis
11.6. Essity Aktiebolag
11.6.1. Business Overview
11.6.2. Company Snapshot
11.6.3. Company Market Share Analysis
11.6.4. Company Product Portfolio
11.6.5. Recent Developments
11.6.6. SWOT Analysis
11.7. Medline Industries
11.7.1. Business Overview
11.7.2. Company Snapshot
11.7.3. Company Market Share Analysis
11.7.4. Company Product Portfolio
11.7.5. Recent Developments
11.7.6. SWOT Analysis
11.8. Medtronic Plc.
11.8.1. Business Overview
11.8.2. Company Snapshot
11.8.3. Company Market Share Analysis
11.8.4. Company Product Portfolio
11.8.5. Recent Developments
11.8.6. SWOT Analysis
11.9. Mölnlycke Health Care AB
11.9.1. Business Overview
11.9.2. Company Snapshot
11.9.3. Company Market Share Analysis
11.9.4. Company Product Portfolio
11.9.5. Recent Developments
11.9.6. SWOT Analysis
11.10. Smith & Nephew Plc.
11.10.1. Business Overview
11.10.2. Company Snapshot
11.10.3. Company Market Share Analysis
11.10.4. Company Product Portfolio
11.10.5. Recent Developments
11.10.6. SWOT Analysis

List of Table
1. Asia-Pacific Advanced Wound Care Market, By Product Type, 2019-2032 (USD Billion)
2. Asia-Pacific Infection Management Advanced Wound Care Market, By Region, 2019-2032 (USD Billion)
3. Asia-Pacific Active Wound Care Advanced Wound Care Market, By Region, 2019-2032 (USD Billion)
4. Asia-Pacific Exudate Management Advanced Wound Care Market, By Region, 2019-2032 (USD Billion)
5. Asia-Pacific Therapy Devices Advanced Wound Care Market, By Region, 2019-2032 (USD Billion)
6. Asia-Pacific Others Advanced Wound Care Market, By Region, 2019-2032 (USD Billion)
7. Asia-Pacific Advanced Wound Care Market, By Application, 2019-2032 (USD Billion)
8. Asia-Pacific Chronic Wounds Advanced Wound Care Market, By Region, 2019-2032 (USD Billion)
9. Asia-Pacific Acute Wounds Advanced Wound Care Market, By Region, 2019-2032 (USD Billion)
10. Asia-Pacific Advanced Wound Care Market, By End User, 2019-2032 (USD Billion)
11. Asia-Pacific Hospitals Advanced Wound Care Market, By Region, 2019-2032 (USD Billion)
12. Asia-Pacific Specialty Clinics Advanced Wound Care Market, By Region, 2019-2032 (USD Billion)
13. Asia-Pacific Home Healthcare Advanced Wound Care Market, By Region, 2019-2032 (USD Billion)
14. Asia-Pacific Others Advanced Wound Care Market, By Region, 2019-2032 (USD Billion)
15. Japan Advanced Wound Care Market, By Product Type, 2019-2032 (USD Billion)
16. Japan Advanced Wound Care Market, By Application, 2019-2032 (USD Billion)
17. Japan Advanced Wound Care Market, By End User, 2019-2032 (USD Billion)
18. China Advanced Wound Care Market, By Product Type, 2019-2032 (USD Billion)
19. China Advanced Wound Care Market, By Application, 2019-2032 (USD Billion)
20. China Advanced Wound Care Market, By End User, 2019-2032 (USD Billion)
21. India Advanced Wound Care Market, By Product Type, 2019-2032 (USD Billion)
22. India Advanced Wound Care Market, By Application, 2019-2032 (USD Billion)
23. India Advanced Wound Care Market, By End User, 2019-2032 (USD Billion)
List of Figures
1. Asia-Pacific Advanced Wound Care Market Segmentation
2. Advanced Wound Care Market: Research Methodology
3. Market Size Estimation Methodology: Bottom-Up Approach
4. Market Size Estimation Methodology: Top-Down Approach
5. Data Triangulation
6. Porter's Five Forces Analysis
7. Value Chain Analysis
8. Asia-Pacific Advanced Wound Care Market Attractiveness Analysis by Product Type
9. Asia-Pacific Advanced Wound Care Market Attractiveness Analysis by Application
10. Asia-Pacific Advanced Wound Care Market Attractiveness Analysis by End User
11. Asia-Pacific Advanced Wound Care Market Attractiveness Analysis by Country
12. Asia-Pacific Advanced Wound Care Market: Dynamics
13. Asia-Pacific Advanced Wound Care Market Share by Product Type (2022 & 2032)
14. Asia-Pacific Advanced Wound Care Market Share by Application (2022 & 2032)
15. Asia-Pacific Advanced Wound Care Market Share by End User (2022 & 2032)
16. Asia-Pacific Advanced Wound Care Market Share by Countries (2022 & 2032)
17. Asia-Pacific Advanced Wound Care Market Share by Company (2022)