The global airport robots market was valued at USD 1.04 billion in 2022, which is anticipated to grow at a CAGR of 19.37% from 2023 to 2032. The market is expected to reach USD 6.10 billion by 2032. Asia-Pacific is expected to increase the fastest during the forecast period.
Market Introduction:
The term "airport robot" is a modern idea implemented in numerous airports. Robots will eventually handle airport operations in place of human employees. Robots can carry out airport-related tasks, including security, cleaning, and baggage handling. They may also serve as passenger navigation systems. The market for airport robots is expanding due to several critical factors, including the rise in air traffic. The development of the market is accelerated by introducing high-tech robots to enhance airport services, including passenger information, entertainment, and navigation, as well as the rise in actual and possible threats to national security. Adopting robots for security applications at airports that are integrated with features like sensors, facial recognition systems, and cameras to measure pulse rates remotely is influencing the market's growth. Also, the increase in the installation of cutting-edge systems to enhance security at airports to avoid uncertain events significantly impacts the market. The airport robot market has also benefited from the growth of the automobile industry, fast urbanization, and increased airport population. In addition, in the projection period, using chatbots and artificial intelligence to handle airline reservations and inquiries will provide attractive opportunities to market participants. Airport robots are autonomous devices created to help airport staff with security inspections, cleaning, disinfecting cabins, quick check-ins, helping passengers with their bags, and providing directions to travellers. Robots offering consumers entertainment, information, advice, and other services are being tested in several airports worldwide. Robots at airports may eventually perform various tasks, such as security, cleaning, boarding pass scanning, valet parking, and luggage handling, in addition to serving as passenger guide systems, due to the integration of Artificial Intelligence (AI) technology. Airport robots have numerous possible uses, ranging from passenger screening and security to check-in and baggage handling. Robots can also be utilized for security duties, including inspecting luggage and passengers, which may accelerate the procedure and increase security. The rising need for travellers for a better travelling experience is a significant trend promoting airport robot development. As passengers' expectations rise, they count on airports to provide a smooth and convenient journey from beginning to end. Robots are used in several airports worldwide to assist airport staff in interacting with travellers and providing support. Robots have also been introduced to provide security and cleaning services. Future market growth is projected to be fuelled by the growing use of robots in airports worldwide. In the years to come, it is anticipated that the use of high-tech robots to enhance airport services will improve the consumer experience. Continuous attempts are being made to develop novel active interrogation techniques to detect the risks and improve national security. Conventional explosives, weaponry, chemical agents, and illegal substances are possible threats. Authorities worldwide are aggressively working on deploying cutting-edge equipment, such as robots, to improve security at airports and prevent unknown events. The security robots used at airports are equipped with features like facial recognition systems, sensors, and cameras to detect suspicious people, money, weapons and explosives, abandoned objects, and other illicit material without interfering with airport operations or passenger flow. Additionally, the governments of many different countries are investing in expanding their transportation infrastructure, including constructing new airports. The airport robot market has seen a rise in demand due to applications in airport security and passenger services. In interacting with travellers and offering assistance at the airport, these robots support airport staff. Additionally, the airport's contactless immigration is made possible by facial recognition technology. The airport's authority in both emerging and developed nations is also testing the use of robots to offer travellers information, guidance, and entertainment. Additionally, airport robots handle cleaning, security, and the loading and unloading of luggage. The market is moving forward in the future due to the expanding usage of robots at airports throughout the world.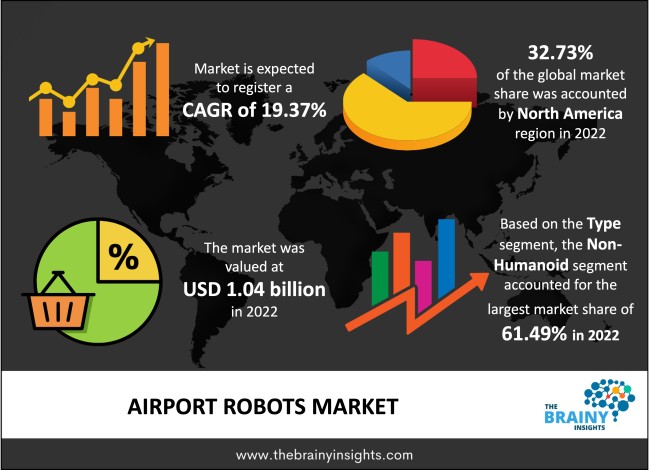 Get an overview of this study by requesting a free sample
Market Dynamics:
Drivers
Increasing emphasis on automating airport surveillance- The need for security and airport cleaning robots is fuelled by airlines' increasing emphasis on providing modern airport amenities to improve passenger experience and security. Airport authorities must deal with the extremely delicate issue of airport security, which also needs physical labour, raising the overall cost of security operations. Robotics, on the other hand, reduces the cost of security operations while increasing effectiveness and precision. As a result, the global market for airport robots is expected to rise during the projected period. The number of air travellers has increased substantially during the last ten years. The demand for new airports and quick, reliable passenger services is rising along with the increasing frequency of air travel. To decrease the time customers wait for flights, airports are replacing outdated systems with highly sophisticated, autonomous robotic systems. To cut down on check-in times for passengers, airport robots are used. They can offer all the services required for quick check-ins, including baggage loading and unloading and passenger and baggage screening.
Restraints:
Reduced traffic of air passengers due to the pandemic- The COVID-19 pandemic has impacted several economies and aviation industry conditions. Due to the COVID-19 outbreak, there were several months of lockdown and strict internal and international travel restrictions. As a result, significantly fewer people travelled by air.
Opportunities:
Smart development of airports is expanding, and new technologies are being included to improve airport services- With cutting-edge technology that improves passenger experiences, the development of "smart airports" has significantly increased in recent years. Additionally, to lessen the adverse environmental effects, the governments of developed countries are eager to invest in programmes for smart and green airports. In these airports, smart parking is a concept that is still developing. This will increase the need for robots designed specifically for airport operations. Additionally, the aviation industry is undergoing a massive shift due to AI, machine learning, IoT, and AR development.
Challenges:
High costs of manufacturing, using, and maintaining airport robots- The development of technologically innovative systems to replace outdated systems at airports is a top priority for producers of airport systems and equipment. Additionally, the construction of smart airports, a project undertaken by numerous governments, is something that airport authorities look forward to. The high costs of manufacturing, installation, and maintenance of airport robots have limited the expansion of the market.
Regional segmentation analysis:
The regions analyzed for the market include North America, Europe, South America, Asia Pacific, the Middle East, and Africa. North America emerged as the highest in the global airport robots market, with a share of 32.73% in 2022. Due to the presence of major competitors and the increase in airport automation, North America dominated the market for airport robots. North America has been the leader in this market due to its multinational companies and durable infrastructure, which have strengthened the aerospace sector. The rapid adoption of new airport technology to improve the passenger experience and the significant number of airports in the U.S. are expected to encourage market expansion in North America.
North America Region Airport Robots Market Share in 2022 - 32.73%
www.thebrainyinsights.com
Check the geographical analysis of this market by requesting a free sample
Type Segment Analysis
The type segment is divided into non-humanoid and humanoid. The non-humanoid segment had the highest market share of 61.49% in 2022 in the airport robots market. The non-humanoid segment accounts for a significant portion of the total share since it is frequently used for freight transportation, cargo handling, and baggage handling.
Application Segment Analysis
The application segment is divided into landside and terminal. The terminal segment had the highest market share of 54.75% in 2022 in the airport robots market. On the terminal side, services include baggage handling, boarding pass scanning, airport security, and cleaning. The increased use of robots for passenger assistance, airport security, and cleaning can be attributed to this expansion.
Some of the Key Market Players:
Swisslog Holding Ltd.
Omron Corporation
Locus Robotics
Fetch Robotics, Inc.
Cimcorp
Aethon
AtriCure, Inc.
Vecna Robotics
Mobile Industrial Robots A/S
Clearpath Robotics Inc.
BD
Savioke, Inc.
AVIC.ALL
Biosensors International Group, Ltd.
Hi-Tech Robotic Systemz
Report Description:
| Attribute | Description |
| --- | --- |
| Market Size | Revenue (USD Billion) |
| Market size value in 2022 | USD 1.04 Billion |
| Market size value in 2032 | USD 6.10 Billion |
| CAGR (2023 to 2032) | 19.37% |
| Historical data | 2019-2021 |
| Base Year | 2022 |
| Forecast | 2023-2032 |
| Regional Segments | The regions analyzed for the market are Europe, Asia Pacific, North America, South America, and Middle East & Africa. |
| Segments | Type, Application |
Frequesntly Asked Questions
1. Introduction
1.1. Objective of the Study
1.2. Market Definition
1.3. Research Scope
1.4. Currency
1.5. Key Target Audience

2. Research Methodology and Assumptions

3. Executive Summary

4. Premium Insights
4.1. Porter's Five Forces Analysis
4.2. Value Chain Analysis
4.3. Top Investment Pockets
4.3.1. Market Attractiveness Analysis By Type
4.3.2. Market Attractiveness Analysis By Application
4.3.3. Market Attractiveness Analysis By Region
4.4. Industry Trends

5. Market Dynamics
5.1. Market Evaluation
5.2. Drivers
5.2.1. Increasing emphasis on automating airport surveillance
5.3. Restraints
5.3.1. Reduced traffic of air passengers due to pandemic
5.4. Opportunities
5.4.1. Smart development of airports is expanding, and new technologies are being included to improve airport services
5.5. Challenges
5.5.1. High costs of manufacturing, using, and maintaining airport robots

6. Global Airport Robots Market Analysis and Forecast, By Type
6.1. Segment Overview
6.2. Non-humanoid
6.3. Humanoid

7. Global Airport Robots Market Analysis and Forecast, By Application
7.1. Segment Overview
7.2. Landside
7.3. Terminal

8. Global Airport Robots Market Analysis and Forecast, By Regional Analysis
8.1. Segment Overview
8.2. North America
8.2.1. U.S.
8.2.2. Canada
8.2.3. Mexico
8.3. Europe
8.3.1. Germany
8.3.2. France
8.3.3. U.K.
8.3.4. Italy
8.3.5. Spain
8.4. Asia-Pacific
8.4.1. Japan
8.4.2. China
8.4.3. India
8.5. South America
8.5.1. Brazil
8.6. Middle East and Africa
8.6.1. UAE
8.6.2. South Africa

9. Global Airport Robots Market-Competitive Landscape
9.1. Overview
9.2. Market Share of Key Players in the Airport Robots Market
9.2.1. Global Company Market Share
9.2.2. North America Company Market Share
9.2.3. Europe Company Market Share
9.2.4. APAC Company Market Share
9.3. Competitive Situations and Trends
9.3.1. Product Launches and Developments
9.3.2. Partnerships, Collaborations, and Agreements
9.3.3. Mergers & Acquisitions
9.3.4. Expansions

10. Company Profiles
10.1. Swisslog Holding Ltd.
10.1.1. Business Overview
10.1.2. Company Snapshot
10.1.3. Company Market Share Analysis
10.1.4. Company Product Portfolio
10.1.5. Recent Developments
10.1.6. SWOT Analysis
10.2. Omron Corporation
10.2.1. Business Overview
10.2.2. Company Snapshot
10.2.3. Company Market Share Analysis
10.2.4. Company Product Portfolio
10.2.5. Recent Developments
10.2.6. SWOT Analysis
10.3. Locus Robotics
10.3.1. Business Overview
10.3.2. Company Snapshot
10.3.3. Company Market Share Analysis
10.3.4. Company Product Portfolio
10.3.5. Recent Developments
10.3.6. SWOT Analysis
10.4. Fetch Robotics, Inc.
10.4.1. Business Overview
10.4.2. Company Snapshot
10.4.3. Company Market Share Analysis
10.4.4. Company Product Portfolio
10.4.5. Recent Developments
10.4.6. SWOT Analysis
10.5. Cimcorp
10.5.1. Business Overview
10.5.2. Company Snapshot
10.5.3. Company Market Share Analysis
10.5.4. Company Product Portfolio
10.5.5. Recent Developments
10.5.6. SWOT Analysis
10.6. Aethon
10.6.1. Business Overview
10.6.2. Company Snapshot
10.6.3. Company Market Share Analysis
10.6.4. Company Product Portfolio
10.6.5. Recent Developments
10.6.6. SWOT Analysis
10.7. AtriCure, Inc.
10.7.1. Business Overview
10.7.2. Company Snapshot
10.7.3. Company Market Share Analysis
10.7.4. Company Product Portfolio
10.7.5. Recent Developments
10.7.6. SWOT Analysis
10.8. Vecna Robotics
10.8.1. Business Overview
10.8.2. Company Snapshot
10.8.3. Company Market Share Analysis
10.8.4. Company Product Portfolio
10.8.5. Recent Developments
10.8.6. SWOT Analysis
10.9. Mobile Industrial Robots A/S
10.9.1. Business Overview
10.9.2. Company Snapshot
10.9.3. Company Market Share Analysis
10.9.4. Company Product Portfolio
10.9.5. Recent Developments
10.9.6. SWOT Analysis
10.10. Clearpath Robotics Inc.
10.10.1. Business Overview
10.10.2. Company Snapshot
10.10.3. Company Market Share Analysis
10.10.4. Company Product Portfolio
10.10.5. Recent Developments
10.10.6. SWOT Analysis
10.11. BD
10.11.1. Business Overview
10.11.2. Company Snapshot
10.11.3. Company Market Share Analysis
10.11.4. Company Product Portfolio
10.11.5. Recent Developments
10.11.6. SWOT Analysis
10.12. Savioke, Inc.
10.12.1. Business Overview
10.12.2. Company Snapshot
10.12.3. Company Market Share Analysis
10.12.4. Company Product Portfolio
10.12.5. Recent Developments
10.12.6. SWOT Analysis
10.13. AVIC.ALL
10.13.1. Business Overview
10.13.2. Company Snapshot
10.13.3. Company Market Share Analysis
10.13.4. Company Product Portfolio
10.13.5. Recent Developments
10.13.6. SWOT Analysis
10.14. Biosensors International Group, Ltd.
10.14.1. Business Overview
10.14.2. Company Snapshot
10.14.3. Company Market Share Analysis
10.14.4. Company Product Portfolio
10.14.5. Recent Developments
10.14.6. SWOT Analysis
10.15. Hi-Tech Robotic Systemz
10.15.1. Business Overview
10.15.2. Company Snapshot
10.15.3. Company Market Share Analysis
10.15.4. Company Product Portfolio
10.15.5. Recent Developments
10.15.6. SWOT Analysis

List of Table
1. Global Airport Robots Market, By Type, 2019-2032 (USD Billion)
2. Global Non-humanoid, Airport Robots Market, By Region, 2019-2032 (USD Billion)
3. Global Humanoid, Airport Robots Market, By Region, 2019-2032 (USD Billion)
4. Global Airport Robots Market, By Application, 2019-2032 (USD Billion)
5. Global Landside, Airport Robots Market, By Region, 2019-2032 (USD Billion)
6. Global Terminal, Airport Robots Market, By Region, 2019-2032 (USD Billion)
7. Global Airport Robots Market, By Region, 2019-2032 (USD Billion)
8. North America Airport Robots Market, By Type, 2019-2032 (USD Billion)
9. North America Airport Robots Market, By Application, 2019-2032 (USD Billion)
10. U.S. Airport Robots Market, By Type, 2019-2032 (USD Billion)
11. U.S. Airport Robots Market, By Application, 2019-2032 (USD Billion)
12. Canada Airport Robots Market, By Type, 2019-2032 (USD Billion)
13. Canada Airport Robots Market, By Application, 2019-2032 (USD Billion)
14. Mexico Airport Robots Market, By Type, 2019-2032 (USD Billion)
15. Mexico Airport Robots Market, By Application, 2019-2032 (USD Billion)
16. Europe Airport Robots Market, By Type, 2019-2032 (USD Billion)
17. Europe Airport Robots Market, By Application, 2019-2032 (USD Billion)
18. Germany Airport Robots Market, By Type, 2019-2032 (USD Billion)
19. Germany Airport Robots Market, By Application, 2019-2032 (USD Billion)
20. France Airport Robots Market, By Type, 2019-2032 (USD Billion)
21. France Airport Robots Market, By Application, 2019-2032 (USD Billion)
22. U.K. Airport Robots Market, By Type, 2019-2032 (USD Billion)
23. U.K. Airport Robots Market, By Application, 2019-2032 (USD Billion)
24. Italy Airport Robots Market, By Type, 2019-2032 (USD Billion)
25. Italy Airport Robots Market, By Application, 2019-2032 (USD Billion)
26. Spain Airport Robots Market, By Type, 2019-2032 (USD Billion)
27. Spain Airport Robots Market, By Application, 2019-2032 (USD Billion)
28. Asia Pacific Airport Robots Market, By Type, 2019-2032 (USD Billion)
29. Asia Pacific Airport Robots Market, By Application, 2019-2032 (USD Billion)
30. Japan Airport Robots Market, By Type, 2019-2032 (USD Billion)
31. Japan Airport Robots Market, By Application, 2019-2032 (USD Billion)
32. China Airport Robots Market, By Type, 2019-2032 (USD Billion)
33. China Airport Robots Market, By Application, 2019-2032 (USD Billion)
34. India Airport Robots Market, By Type, 2019-2032 (USD Billion)
35. India Airport Robots Market, By Application, 2019-2032 (USD Billion)
36. South America Airport Robots Market, By Type, 2019-2032 (USD Billion)
37. South America Airport Robots Market, By Application, 2019-2032 (USD Billion)
38. Brazil Airport Robots Market, By Type, 2019-2032 (USD Billion)
39. Brazil Airport Robots Market, By Application, 2019-2032 (USD Billion)
40. Middle East and Africa Airport Robots Market, By Type, 2019-2032 (USD Billion)
41. Middle East and Africa Airport Robots Market, By Application, 2019-2032 (USD Billion)
42. UAE Airport Robots Market, By Type, 2019-2032 (USD Billion)
43. UAE Airport Robots Market, By Application, 2019-2032 (USD Billion)
44. South Africa Airport Robots Market, By Type, 2019-2032 (USD Billion)
45. South Africa Airport Robots Market, By Application, 2019-2032 (USD Billion)
List of Figures
1. Global Airport Robots Market Segmentation
2. Airport Robots Market: Research Methodology
3. Market Size Estimation Methodology: Bottom-Up Approach
4. Market Size Estimation Methodology: Top-Down Approach
5. Data Triangulation
6. Porter's Five Forces Analysis
7. Value Chain Analysis
8. Global Airport Robots Market Attractiveness Analysis By Type
9. Global Airport Robots Market Attractiveness Analysis By Application
10. Global Airport Robots Market Attractiveness Analysis By Region
11. Global Airport Robots Market: Dynamics
12. Global Airport Robots Market Share by Type (2023 & 2032)
13. Global Airport Robots Market Share by Application (2023 & 2032)
14. Global Airport Robots Market Share by Regions (2023 & 2032)
15. Global Airport Robots Market Share by Company (2022)