The global 5G services market was valued at USD 57.21 billion in 2022, which is anticipated to grow at a CAGR of 51.94% from 2023 to 2032. By offering consumers a variety of use cases and business models, 5G wireless mobile services enable a completely mobile and connected environment. Additionally, 5G services will enhance the user experience for a variety of use cases, including seamless video calling, Ultra-High Definition (UHD) videos, and virtual reality (VR) and augmented reality (AR) gaming, among others, because of their faster data speeds and extremely low latency. Over the forecast period, it is predicted that the adoption of these services will be fueled by the rising demand for high-speed data connectivity for unified Internet of Things (IoT) applications, such as smart home energy management.
Market Introduction:
The fifth-generation (5G) cellular technology offers exceptionally low latency, high speed, and reliable connectivity. The whole ecosystem of tools, programmes, and services needed to set up 5G networks is included in 5G technology. The market for 5G services includes 5G connectivity technologies, including improved mobile broadband, incredibly reliable low-latency communications, and extensive machine-type communications. People's communication, entertainment, and internet connections are all predicted to change due to 5G technology. Faster data delivery is possible due to the ability of 5G technology to operate in millimetre wave bands, which are high-frequency bands with a range of 24 to 100 GHz. Enhanced mobile broadband, mission-critical communications, and widespread IoT are three connected service types that leverage 5G technology. Since 5G technology is designed to be forward-compatible, various devices, including smartphones, laptops, and security systems, can be integrated. Future services requiring ultra-low latency and greater internet speeds can be supported by it due to its adaptability. In addition to enhancing smartphones, 5G technology could play a role in novel immersive experiences like VR and AR by providing faster, more consistent data rates, lower latency, and cheaper cost-per-bit. 5G can enable new services that completely changing businesses, including remote management of vital infrastructure, automobiles, and medical procedures. These services rely on ultra-reliable, readily available, low-latency networks. 5G wireless mobile services enable a completely mobile and connected world by offering consumers a range of business models and application cases.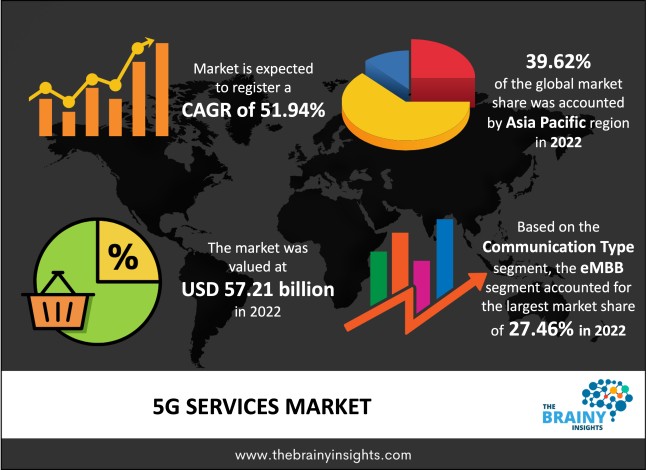 Get an overview of this study by requesting a free sample
Recent Development
In October 2022, Verizon moved consumer traffic to a new cloud-based, containerized design core that will provide unmatched service agility, flexibility, and automated scalability. This comes after Verizon conducted preliminary testing and friendly user trials of the 5G core. The core's service-based architecture comprises computer programmes, computing power, networking, and storage.
As part of the new Verizon Forward Programme, Verizon announced in October 2022 that specific 5G and LTE home internet services are free for eligible homes. In an ongoing effort to guarantee that everyone can use the internet effectively and affordably, Verizon made this announcement.
T-Mobile, Ericsson, and Nokia signed a contract to deploy 5G technology across numerous nations in January 2021.
The new WarnerBros Discovery Company will be 71% owned by AT&T, the company revealed in February 2022. For each AT&T share, the business will also receive 0.24 Warner Bros Discovery shares.
The verification was completed in January 2022 at the KT Research & Development Centre in South Korea by KT, a Korean carrier, and Fujitsu, a Japanese technology company. The two businesses used the 5G base station hardware powered by Fujitsu's Open RAN to test call connections. The Japanese competitor NTT Docomo will support Fujitsu technically throughout the project. With the opening of this new facility, KT hopes to accelerate O-RAN technology's integration into Korea's 5G network.
Market Dynamics:
Drivers
An increase in the need for high-speed data bandwidth- Many individuals use data since it is accessible and generally available. The widespread application of smartphones, tablets, and smart TVs has also boosted their use for surfing, streaming videos, and video calling. The corresponding increase in data traffic has made high-speed internet access necessary to ensure a smooth user experience. Many applications are anticipated to be made possible by the commercialization of 5G-enabled services, ranging from simple ones like Virtual Reality (VR) and Augmented Reality (AR) gaming and Ultra-High Definition (UHD) video streaming to more complex ones like robotic procedures, autonomous vehicles, and autonomous defence equipment. These factors are anticipated to be the primary drivers of demand for 5G services. Industries like manufacturing, healthcare, transportation, and logistics spend a lot on automating their business processes. By executing tasks and duties currently carried out by people, robots are predicted to significantly alter the industrial environment. They would also require extremely low latency to fully function, perform tasks efficiently, and follow safety regulations. Such shifts are projected to be supported by benefits associated with 5G services, such as their lower latency and increased data connectivity.
Restraints:
Expensive spectrum- The government or telecom regulatory agencies charge telecom service providers a significant fee for the licence and permissions to transmit signals over specific electromagnetic spectrum bands. Governments worldwide also limit telecom companies to licence a tiny portion of the spectrum. These factors are anticipated to restrict the market's growth for 5G services. The rising cost of the 5G spectrum and significant infrastructure costs associated with its implementation are expected to result in higher subscription costs for 5G services. Consumers will suffer, and 5G service development will be hampered over the projection period.
Opportunities:
New commercial opportunities in cloud computing- The introduction of 5G technology is expected to present opportunities for expansion for businesses in various industrial verticals. The use of AI and IoT in many business processes is anticipated to expand with the introduction of 5G services, presenting opportunities for growth for all ecosystem members. The enormous costs of creating and maintaining on-premise systems have led organizations to cloud computing. Furthermore, improved network connectivity is needed for cloud computing to operate. Combining cloud technologies with 5G services is anticipated to increase the functionality, operational capacity, and flexibility of various organizations while enabling network operators to offer superior, proactive services. They need to provide cloud business owners with a variety of investing possibilities. Businesses are encouraged to shift to cloud-based solutions because of the 5G network services' high-speed data access and low latency levels.
It was announced in May 2019 that Vodafone Group Plc. and IBM Corporation would collaborate to build an open, agile, and secure IT environment using IBM's hybrid and multi-cloud analytics and AI security capabilities. Businesses will also undertake combined IoT and AI projects.
Regional segmentation analysis:
The regions analyzed for the market include North America, Europe, South America, Asia Pacific, the Middle East, and Africa. Asia Pacific emerged as the most significant global 5G services market, with a 39.62% market revenue share in 2022. Important APAC market companies like China Telecom, China Mobile, SK Telecom, and KT Corp. are investing significantly in establishing the 5G network infrastructure in China, Japan, and South Korea. Most of these investments will be used to implement the next-generation infrastructure for the manufacturing, healthcare, transportation & logistics, and media & entertainment industry verticals. Over the projected period, these investments are expected to fuel the Asia Pacific regional market's expansion. Additionally, the region has seen a substantial rise in the production of smartphones with 5G capabilities due to the increased demand for devices that allows faster data rates. As significant smartphone manufacturers in the area, including Huawei Technologies Co. Ltd., Samsung Electronics Co., Ltd., and BBK Electronics Corp., continue to release 5G-capable devices in response to the growing demand, 5G services are predicted to gain popularity.
Asia-Pacific Region 5G Services Market Share in 2022 - 39.62%
www.thebrainyinsights.com
Check the geographical analysis of this market by requesting a free sample
Communication Type Segment Analysis
The communication type segment is divided into eMBB, mMTC, FWA, and uRLLC. The eMBB segment dominated, with a market share of around 27.46% in 2022. The significant share is due to 5G network operators' initial focus on delivering improved internet capabilities for uses, including high-speed cloud-based gaming, AR/VR, UHD video, and uninterrupted video conversations. A 5G wireless non-standalone deployment methodology is anticipated to be the main emphasis. For both commercial and residential use, eMBB offers high-speed data rates. Therefore, eMBB is anticipated to support a variety of use cases, including in-vehicle infotainment, 4K video access, and virtual meetings, that eventually support the segment's expansion.
Vertical Segment Analysis
The vertical segment is divided into enterprises and consumers. The enterprise segment dominated the market, with a market share of around 65.14% in 2022. However, the segment is projected to maintain its leadership over the forecast period. It results from large expenditures made by key stakeholders in cutting-edge communication technologies. Over the projection period, the increased demand for faster data speeds for household and commercial applications is expected to propel the expansion of the IT & telecom industry. It is anticipated that 5G services will provide widespread broadband access between households and workplaces, promoting remote expert consultation and minimizing corporate travel. During the projection period, increased demand for broadband capacity will be anticipated to fuel the segment's expansion.
Some of the Key Market Players:
BT Group plc
China Telecom Corporation Ltd.
NTT Docomo
Saudi Telecom Company
Deutsche Telekom AG
Verizon Communications, Inc.
Rakuten Mobile Inc.
AT&T, Inc.
Bharti Airtel Ltd.
Vodafone Group
T-Mobile USA, Inc.
China Mobile Ltd.
SK Telecom Co., Ltd.
KT Corp.
Report Description:
| Attribute | Description |
| --- | --- |
| Market Size | Revenue (USD Billion) |
| Market size value in 2022 | USD 57.21 Billion |
| Market size value in 2032 | USD 3,751.39 Billion |
| CAGR (2023 to 2032) | 51.94% |
| Historical data | 2019-2021 |
| Base Year | 2022 |
| Forecast | 2023-2032 |
| Region | The regions analyzed for the market are Asia Pacific, Europe, South America, North America, and Middle East & Africa. Furthermore, the regions are further analyzed at the country level. |
| Segments | Communication Type, Vertical |
Frequesntly Asked Questions
1. Introduction
1.1. Objective of the Study
1.2. Market Definition
1.3. Research Scope
1.4. Currency
1.5. Key Target Audience

2. Research Methodology and Assumptions

3. Executive Summary

4. Premium Insights
4.1. Porter's Five Forces Analysis
4.2. Value Chain Analysis
4.3. Top Investment Pockets
4.3.1. Market Attractiveness Analysis By Communication Type
4.3.2. Market Attractiveness Analysis By Vertical
4.3.3. Market Attractiveness Analysis By Region
4.4. Industry Trends

5. Market Dynamics
5.1. Market Evaluation
5.2. Drivers
5.2.1. An increase in the need for high-speed data bandwidth
5.3. Restraints
5.3.1. Expensive spectrum
5.4. Opportunities
5.4.1. New commercial opportunities in cloud computing

6. Global 5G Services Market Analysis and Forecast, By Communication Type
6.1. Segment Overview
6.2. eMBB
6.3. mMTC
6.4. FWA
6.5. uRLLC

7. Global 5G Services Market Analysis and Forecast, By Vertical
7.1. Segment Overview
7.2. Enterprises
7.3. Consumer

8. Global 5G Services Market Analysis and Forecast, By Regional Analysis
8.1. Segment Overview
8.2. North America
8.2.1. U.S.
8.2.2. Canada
8.2.3. Mexico
8.3. Europe
8.3.1. Germany
8.3.2. France
8.3.3. U.K.
8.3.4. Italy
8.3.5. Spain
8.4. Asia-Pacific
8.4.1. Japan
8.4.2. China
8.4.3. India
8.5. South America
8.5.1. Brazil
8.6. Middle East and Africa
8.6.1. UAE
8.6.2. South Africa

9. Global 5G Services Market-Competitive Landscape
9.1. Overview
9.2. Market Share of Key Players in the 5G Services Market
9.2.1. Global Company Market Share
9.2.2. North America Company Market Share
9.2.3. Europe Company Market Share
9.2.4. APAC Company Market Share
9.3. Competitive Situations and Trends
9.3.1. Product Launches and Developments
9.3.2. Partnerships, Collaborations, and Agreements
9.3.3. Mergers & Acquisitions
9.3.4. Expansions

10. Company Profiles
10.1. BT Group plc
10.1.1. Business Overview
10.1.2. Company Snapshot
10.1.3. Company Market Share Analysis
10.1.4. Company Product Portfolio
10.1.5. Recent Developments
10.1.6. SWOT Analysis
10.2. China Telecom Corporation Ltd.
10.2.1. Business Overview
10.2.2. Company Snapshot
10.2.3. Company Market Share Analysis
10.2.4. Company Product Portfolio
10.2.5. Recent Developments
10.2.6. SWOT Analysis
10.3. NTT Docomo
10.3.1. Business Overview
10.3.2. Company Snapshot
10.3.3. Company Market Share Analysis
10.3.4. Company Product Portfolio
10.3.5. Recent Developments
10.3.6. SWOT Analysis
10.4. Saudi Telecom Company
10.4.1. Business Overview
10.4.2. Company Snapshot
10.4.3. Company Market Share Analysis
10.4.4. Company Product Portfolio
10.4.5. Recent Developments
10.4.6. SWOT Analysis
10.5. Deutsche Telekom AG
10.5.1. Business Overview
10.5.2. Company Snapshot
10.5.3. Company Market Share Analysis
10.5.4. Company Product Portfolio
10.5.5. Recent Developments
10.5.6. SWOT Analysis
10.6. Verizon Communications, Inc.
10.6.1. Business Overview
10.6.2. Company Snapshot
10.6.3. Company Market Share Analysis
10.6.4. Company Product Portfolio
10.6.5. Recent Developments
10.6.6. SWOT Analysis
10.7. Rakuten Mobile Inc.
10.7.1. Business Overview
10.7.2. Company Snapshot
10.7.3. Company Market Share Analysis
10.7.4. Company Product Portfolio
10.7.5. Recent Developments
10.7.6. SWOT Analysis
10.8. AT&T, Inc.
10.8.1. Business Overview
10.8.2. Company Snapshot
10.8.3. Company Market Share Analysis
10.8.4. Company Product Portfolio
10.8.5. Recent Developments
10.8.6. SWOT Analysis
10.9. Bharti Airtel Ltd.
10.9.1. Business Overview
10.9.2. Company Snapshot
10.9.3. Company Market Share Analysis
10.9.4. Company Product Portfolio
10.9.5. Recent Developments
10.9.6. SWOT Analysis
10.10. Vodafone Group
10.10.1. Business Overview
10.10.2. Company Snapshot
10.10.3. Company Market Share Analysis
10.10.4. Company Product Portfolio
10.10.5. Recent Developments
10.10.6. SWOT Analysis
10.11. T-Mobile USA, Inc.
10.11.1. Business Overview
10.11.2. Company Snapshot
10.11.3. Company Market Share Analysis
10.11.4. Company Product Portfolio
10.11.5. Recent Developments
10.11.6. SWOT Analysis
10.12. China Mobile Ltd.
10.12.1. Business Overview
10.12.2. Company Snapshot
10.12.3. Company Market Share Analysis
10.12.4. Company Product Portfolio
10.12.5. Recent Developments
10.12.6. SWOT Analysis
10.13. SK Telecom Co., Ltd.
10.13.1. Business Overview
10.13.2. Company Snapshot
10.13.3. Company Market Share Analysis
10.13.4. Company Product Portfolio
10.13.5. Recent Developments
10.13.6. SWOT Analysis
10.14. KT Corp.
10.14.1. Business Overview
10.14.2. Company Snapshot
10.14.3. Company Market Share Analysis
10.14.4. Company Product Portfolio
10.14.5. Recent Developments
10.14.6. SWOT Analysis
List of Table
1. Global 5G Services Market, By Communication Type, 2019-2032 (USD Billion)
2. Global eMBB, 5G Services Market, By Region, 2019-2032 (USD Billion)
3. Global mMTC, 5G Services Market, By Region, 2019-2032 (USD Billion)
4. Global FWA, 5G Services Market, By Region, 2019-2032 (USD Billion)
5. Global uRLLC, 5G Services Market, By Region, 2019-2032 (USD Billion)
6. Global 5G Services Market, By Vertical, 2019-2032 (USD Billion)
7. Global Enterprises, 5G Services Market, By Region, 2019-2032 (USD Billion)
8. Global Consumer, 5G Services Market, By Region, 2019-2032 (USD Billion)
9. Global 5G Services Market, By Region, 2019-2032 (USD Billion)
10. North America 5G Services Market, By Communication Type, 2019-2032 (USD Billion)
11. North America 5G Services Market, By Vertical, 2019-2032 (USD Billion)
12. U.S. 5G Services Market, By Communication Type, 2019-2032 (USD Billion)
13. U.S. 5G Services Market, By Vertical, 2019-2032 (USD Billion)
14. Canada 5G Services Market, By Communication Type, 2019-2032 (USD Billion)
15. Canada 5G Services Market, By Vertical, 2019-2032 (USD Billion)
16. Mexico 5G Services Market, By Communication Type, 2019-2032 (USD Billion)
17. Mexico 5G Services Market, By Vertical, 2019-2032 (USD Billion)
18. Europe 5G Services Market, By Communication Type, 2019-2032 (USD Billion)
19. Europe 5G Services Market, By Vertical, 2019-2032 (USD Billion)
20. Germany 5G Services Market, By Communication Type, 2019-2032 (USD Billion)
21. Germany 5G Services Market, By Vertical, 2019-2032 (USD Billion)
22. France 5G Services Market, By Communication Type, 2019-2032 (USD Billion)
23. France 5G Services Market, By Vertical, 2019-2032 (USD Billion)
24. U.K. 5G Services Market, By Communication Type, 2019-2032 (USD Billion)
25. U.K. 5G Services Market, By Vertical, 2019-2032 (USD Billion)
26. Italy 5G Services Market, By Communication Type, 2019-2032 (USD Billion)
27. Italy 5G Services Market, By Vertical, 2019-2032 (USD Billion)
28. Spain 5G Services Market, By Communication Type, 2019-2032 (USD Billion)
29. Spain 5G Services Market, By Vertical, 2019-2032 (USD Billion)
30. Asia Pacific 5G Services Market, By Communication Type, 2019-2032 (USD Billion)
31. Asia Pacific 5G Services Market, By Vertical, 2019-2032 (USD Billion)
32. Japan 5G Services Market, By Communication Type, 2019-2032 (USD Billion)
33. Japan 5G Services Market, By Vertical, 2019-2032 (USD Billion)
34. China 5G Services Market, By Communication Type, 2019-2032 (USD Billion)
35. China 5G Services Market, By Vertical, 2019-2032 (USD Billion)
36. India 5G Services Market, By Communication Type, 2019-2032 (USD Billion)
37. India 5G Services Market, By Vertical, 2019-2032 (USD Billion)
38. South America 5G Services Market, By Communication Type, 2019-2032 (USD Billion)
39. South America 5G Services Market, By Vertical, 2019-2032 (USD Billion)
40. Brazil 5G Services Market, By Communication Type, 2019-2032 (USD Billion)
41. Brazil 5G Services Market, By Vertical, 2019-2032 (USD Billion)
42. Middle East and Africa 5G Services Market, By Communication Type, 2019-2032 (USD Billion)
43. Middle East and Africa 5G Services Market, By Vertical, 2019-2032 (USD Billion)
44. UAE 5G Services Market, By Communication Type, 2019-2032 (USD Billion)
45. UAE 5G Services Market, By Vertical, 2019-2032 (USD Billion)
46. South Africa 5G Services Market, By Communication Type, 2019-2032 (USD Billion)
47. South Africa 5G Services Market, By Vertical, 2019-2032 (USD Billion)
List of Figures
1. Global 5G Services Market Segmentation
2. 5G Services Market: Research Methodology
3. Market Size Estimation Methodology: Bottom-Up Approach
4. Market Size Estimation Methodology: Top-Down Approach
5. Data Triangulation
6. Porter's Five Forces Analysis
7. Value Chain Analysis
8. Global 5G Services Market Attractiveness Analysis By Communication Type
9. Global 5G Services Market Attractiveness Analysis By Vertical
10. Global 5G Services Market Attractiveness Analysis By Region
11. Global 5G Services Market: Dynamics
12. Global 5G Services Market Share by Communication Type (2023 & 2032)
13. Global 5G Services Market Share by Vertical (2023 & 2032)
14. Global 5G Services Market Share by Regions (2023 & 2032)
15. Global 5G Services Market Share by Company (2022)