The global xylose market was valued at USD 2.43 Billion in 2022 and growing at a CAGR of 6.84% from 2023 to 2032. The market is expected to reach USD 4.70 Billion by 2032. Europe is expected to increase the fastest during the forecast period.
Market Introduction:
The chemical formula for xylose is C5H10O5. It is pentose sugar. Xylose is a by-product of xylene, the primary ingredient of hemicellulose in all birch and reed floras. The xylose manufacturing in the industry is rapidly expanding. It is the xylitol source and is used as a food sweetener in various foods, including chocolates, cookies, candies, cakes, fruit juices, and flavour-enhanced milk. Xylose is an aldopentose-type monosaccharide with an aldehyde functional group generated from hemicellulose, one of the primary components of biomass. The market is expanding primarily due to the growing use of xylose in the food and beverage industry and rising consumer awareness. Increasing demand for packaged food products will support xylose demand throughout the projection period.
Moreover, xylose is common in many woody materials, such as corncobs, straw, and pecan shells. It also occurs naturally in berries, broccoli, and spinach. Xylose usage in foods, beverages, and medications has increased significantly during the last few years. A diagnostic tool for observing malabsorption is xylose. The process of xylose hydrogenation can also be used to extract xylitol, the most popular food additive sweetener, from xylose. Xylitol has several qualities, making it a beneficial and healthful substitute for ordinary sugar.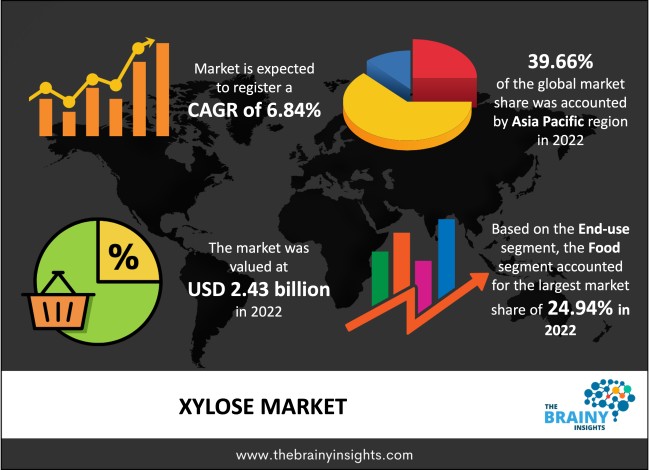 Get an overview of this study by requesting a free sample
Recent Development
A prominent European supplier of non-GMO soy products in Chicago, Sojaprotein, was acquired by Archer Daniels Midland Corporation in 2021, a global leader in nutrition and agricultural origination and processing.
To continue its push into biobased chemicals in Europe, Asia, and the Netherlands, US food processor Cargill purchased the bio-industrial division of British speciality chemical manufacturer Croda for roughly USD 1 billion in 2021.
In 2020, Ingredion and Batory Foods agreed to a strategic distribution deal. According to the contract, Ingredion's distributor must be present in Southern California to help food and beverage producers get the ingredients they need to make and sell their products.
To develop a new company that would serve as a technology scout and source of worldwide innovation and investments, Toyota Tsusho Corporation worked with OurCrowd in October 2019.
Market Dynamics:
Drivers
Rising consumer awareness regarding health and nutrition- A significant shift in consumer preference towards diabetic sweeteners over regular sugar due to the increased prevalence of type 2 diabetes has created new market opportunities. Diabetes sweeteners like xylose help keep cholesterol and glycaemic index low while lowering blood pressure and preventing heart disease. While xylitol, a crystalline aldose sugar, has gained popularity as an alternative to white sugar since it does not have the same impact and is frequently used as a tea and coffee sweetener, white sugar can increase insulin levels in the body. The product's growing use in chocolates and confectionery goods is anticipated to boost market demand because of its textural, moisture-stabilizing, and non-carcinogenic qualities. Due to its easy incorporation into other food products without changing the recipe, xylose is a stable and chemically inert substance in great demand. Manufacturing cosmetics is just one of the many uses for xylose, which has unique and advantageous texture-enhancing qualities. The xylose market is expanding as people become more aware of how xylitol helps to prevent plaque-forming bacteria from growing. As these bacteria cannot develop on xylose, xylitol avoids the growth of the bacteria that cause cavities. Fruits, vegetables, and berries naturally contain xylose, also produced artificially from xylan-rich plant materials like birch and beechwood. There is a greater understanding of the advantages of using sugar-free sweetness among the general public and in the medical and dental fields. Consuming xylose decreased MS numbers in plaque. Chlorhexidine is a more potent antiplaque drug, particularly in youngsters or people with low voluntary movements or when brushing cannot be closely monitored. Hence, the Xylose market will rise faster. The xylose market is expanding due to increasing consumer knowledge and health consciousness. Xylose is a monosaccharide, a reducing sugar of the aldopentose type. Xylose contains in the most edible plant embryos, including several chrysolite beetle species with cardiac glycosides in their defensive system glands. Due to the rising number of diabetics, the trend towards health and wellness, and the growing number of consumers who emphasize taste, many are choosing plant components. Hence, the xylose market is expected to develop further throughout the forecast period.
Restraints:
Seasonal impact- Seasonal variations affect xylose availability. The weather highly influences its quality and cost. Research is being conducted to ascertain if xylose has any adverse effects. These are a few of the main obstacles to expanding the xylose market.
Opportunities:
Increasing requirements of xylose in the food and beverage industry- The market for xylose has an opportunity due to changes in sugar supply and price as well as rising xylose demand in the food and beverage sectors. As a nutritional supplement, people take xylose. The xylose market is growing due to its numerous dietary advantages. Organic or natural cosmetic and hygiene products are in high demand due to increasing awareness. Many oral and dental care items are also made with it.
Challenges:
Issues with pricing and changing consumer preferences- Pricing concerns, governmental restrictions, and changing consumer tastes are a few things that can challenge the expansion of the xylose market.
Regional segmentation analysis:
The regions analysed for the market include North America, Europe, South America, Asia Pacific, the Middle East, and Africa. Asia-Pacific emerged as the highest in the global xylose market, with a share of 39.66% in 2022. Since many people in India alone likely have diabetes as their major illness, the Asia-Pacific region is home to a more significant proportion of people with diabetes. As a result, the xylose market is more likely to accelerate due to the growing population of diabetic individuals. The Asia-Pacific region's demand for xylose is anticipated to be fuelled by rising public awareness of the product's expanding applications and the absence of adverse side effects.
Asia-Pacific Region Xylose Market Share in 2022 - 39.66%
www.thebrainyinsights.com
Check the geographical analysis of this market by requesting a free sample
Product Type Segment Analysis
The product type segment is divided into L-Xylose and D-Xylose. The D-Xylose segment had the highest market share of 56.73% in 2022 in the xylose market. D-Xylose, a sweet-tasting white powder, is made from hemicellulose-rich plants like rice straw and sawdust. D-Xylose comes in two varieties: The glycoside business extensively uses raw material grade D-Xylose, and the food and beverage industry primarily uses refined quality D-Xylose. The D-Xylose Absorption Test analyses the amount of D-Xylose, a form of sugar, in a blood or urine sample. It is used to help identify conditions that restrict the small intestine from assimilating nutrients from food. The intestines are capable of quickly absorbing D-xylose.
End-use Segment Analysis
The end-use segment is divided into beverages, personal care, food, animal feed industry, and pharmaceuticals. The food segment had the highest market share of 24.94% in 2022 in the xylose market. As a common sweetener in the food industry, xylose treats diabetes. The popular food additive xylose is created via the catalytic hydrogenation of xylitol. Everyday sweet meals taste better because of xylose, which can also reduce odours. It is frequently used to sweeten various foods, including spices, meat products, and butter. It has the same sweetness as sucrose and has an excellent, pleasant flavour. The chemical compound xylose can be employed as a sweetener and a medicine intermediary.
Some of the Key Market Players:
Futaste Pharmaceutical Co. Ltd.
Triveni Chemicals
Shandong LongLive
Biosynth Carbosynth
Essex Food Ingredients
Healtang Biotech Co, Ltd.
Suvchem
DuPont
Chengdu Herbpurify Futaste
Toyota Tsusho Corporation
Report Description:
| Attribute | Description |
| --- | --- |
| Market Size | Revenue (USD Billion) |
| Market size value in 2022 | USD 2.43 Billion |
| Market size value in 2032 | USD 4.70 Billion |
| CAGR (2023 to 2032) | 6.84% |
| Historical data | 2019-2021 |
| Base Year | 2022 |
| Forecast | 2023-2032 |
| Regional Segments | The regions analyzed for the market are Europe, Asia Pacific, North America, South America, and Middle East & Africa. |
| Segments | Product Type, End-use |
Frequesntly Asked Questions
1. Introduction
1.1. Objective of the Study
1.2. Market Definition
1.3. Research Scope
1.4. Currency
1.5. Key Target Audience

2. Research Methodology and Assumptions

3. Executive Summary

4. Premium Insights
4.1. Porter's Five Forces Analysis
4.2. Value Chain Analysis
4.3. Top Investment Pockets
4.3.1. Market Attractiveness Analysis By Product Type
4.3.2. Market Attractiveness Analysis By End-use
4.3.3. Market Attractiveness Analysis By Region
4.4. Industry Trends

5. Market Dynamics
5.1. Market Evaluation
5.2. Drivers
5.2.1. Rising consumer awareness regarding health and nutrition
5.3. Restraints
5.3.1. Seasonal impact
5.4. Opportunities
5.4.1. Increasing requirements of xylose in food and beverage industry
5.5. Challenges
5.5.1. Issues with pricing and changing consumer preferences

6. Global Xylose Market Analysis and Forecast, By Product Type
6.1. Segment Overview
6.2. L-Xylose
6.3. D-Xylose

7. Global Xylose Market Analysis and Forecast, By End-use
7.1. Segment Overview
7.2. Beverages
7.3. Personal Care
7.4. Food
7.5. Animal Feed Industry
7.6. Pharmaceuticals

8. Global Xylose Market Analysis and Forecast, By Regional Analysis
8.1. Segment Overview
8.2. North America
8.2.1. U.S.
8.2.2. Canada
8.2.3. Mexico
8.3. Europe
8.3.1. Germany
8.3.2. France
8.3.3. U.K.
8.3.4. Italy
8.3.5. Spain
8.4. Asia-Pacific
8.4.1. Japan
8.4.2. China
8.4.3. India
8.5. South America
8.5.1. Brazil
8.6. Middle East and Africa
8.6.1. UAE
8.6.2. South Africa

9. Global Xylose Market-Competitive Landscape
9.1. Overview
9.2. Market Share of Key Players in the Xylose Market
9.2.1. Global Company Market Share
9.2.2. North America Company Market Share
9.2.3. Europe Company Market Share
9.2.4. APAC Company Market Share
9.3. Competitive Situations and Trends
9.3.1. Product Launches and Developments
9.3.2. Partnerships, Collaborations, and Agreements
9.3.3. Mergers & Acquisitions
9.3.4. Expansions

10. Company Profiles
10.1. Futaste Pharmaceutical Co. Ltd.
10.1.1. Business Overview
10.1.2. Company Snapshot
10.1.3. Company Market Share Analysis
10.1.4. Company Product Portfolio
10.1.5. Recent Developments
10.1.6. SWOT Analysis
10.2. Triveni Chemicals
10.2.1. Business Overview
10.2.2. Company Snapshot
10.2.3. Company Market Share Analysis
10.2.4. Company Product Portfolio
10.2.5. Recent Developments
10.2.6. SWOT Analysis
10.3. Shandong LongLive
10.3.1. Business Overview
10.3.2. Company Snapshot
10.3.3. Company Market Share Analysis
10.3.4. Company Product Portfolio
10.3.5. Recent Developments
10.3.6. SWOT Analysis
10.4. Biosynth Carbosynth
10.4.1. Business Overview
10.4.2. Company Snapshot
10.4.3. Company Market Share Analysis
10.4.4. Company Product Portfolio
10.4.5. Recent Developments
10.4.6. SWOT Analysis
10.5. Essex Food Ingredients
10.5.1. Business Overview
10.5.2. Company Snapshot
10.5.3. Company Market Share Analysis
10.5.4. Company Product Portfolio
10.5.5. Recent Developments
10.5.6. SWOT Analysis
10.6. Healtang Biotech Co, Ltd.
10.6.1. Business Overview
10.6.2. Company Snapshot
10.6.3. Company Market Share Analysis
10.6.4. Company Product Portfolio
10.6.5. Recent Developments
10.6.6. SWOT Analysis
10.7. Suvchem
10.7.1. Business Overview
10.7.2. Company Snapshot
10.7.3. Company Market Share Analysis
10.7.4. Company Product Portfolio
10.7.5. Recent Developments
10.7.6. SWOT Analysis
10.8. DuPont
10.8.1. Business Overview
10.8.2. Company Snapshot
10.8.3. Company Market Share Analysis
10.8.4. Company Product Portfolio
10.8.5. Recent Developments
10.8.6. SWOT Analysis
10.9. Chengdu Herbpurify Futaste
10.9.1. Business Overview
10.9.2. Company Snapshot
10.9.3. Company Market Share Analysis
10.9.4. Company Product Portfolio
10.9.5. Recent Developments
10.9.6. SWOT Analysis
10.10. Toyota Tsusho Corporation
10.10.1. Business Overview
10.10.2. Company Snapshot
10.10.3. Company Market Share Analysis
10.10.4. Company Product Portfolio
10.10.5. Recent Developments
10.10.6. SWOT Analysis
List of Table
1. Global Xylose Market, By Product Type, 2019-2032 (USD Billion)
2. Global L-Xylose, Xylose Market, By Region, 2019-2032 (USD Billion)
3. Global D-Xylose, Xylose Market, By Region, 2019-2032 (USD Billion)
4. Global Xylose Market, By End-use, 2019-2032 (USD Billion)
5. Global Beverages, Xylose Market, By Region, 2019-2032 (USD Billion)
6. Global Personal Care, Xylose Market, By Region, 2019-2032 (USD Billion)
7. Global Food, Xylose Market, By Region, 2019-2032 (USD Billion)
8. Global Animal Feed Industry, Xylose Market, By Region, 2019-2032 (USD Billion)
9. Global Pharmaceuticals, Xylose Market, By Region, 2019-2032 (USD Billion)
10. Global Xylose Market, By Region, 2019-2032 (USD Billion)
11. North America Xylose Market, By Product Type, 2019-2032 (USD Billion)
12. North America Xylose Market, By End-use, 2019-2032 (USD Billion)
13. U.S. Xylose Market, By Product Type, 2019-2032 (USD Billion)
14. U.S. Xylose Market, By End-use, 2019-2032 (USD Billion)
15. Canada Xylose Market, By Product Type, 2019-2032 (USD Billion)
16. Canada Xylose Market, By End-use, 2019-2032 (USD Billion)
17. Mexico Xylose Market, By Product Type, 2019-2032 (USD Billion)
18. Mexico Xylose Market, By End-use, 2019-2032 (USD Billion)
19. Europe Xylose Market, By Product Type, 2019-2032 (USD Billion)
20. Europe Xylose Market, By End-use, 2019-2032 (USD Billion)
21. Germany Xylose Market, By Product Type, 2019-2032 (USD Billion)
22. Germany Xylose Market, By End-use, 2019-2032 (USD Billion)
23. France Xylose Market, By Product Type, 2019-2032 (USD Billion)
24. France Xylose Market, By End-use, 2019-2032 (USD Billion)
25. U.K. Xylose Market, By Product Type, 2019-2032 (USD Billion)
26. U.K. Xylose Market, By End-use, 2019-2032 (USD Billion)
27. Italy Xylose Market, By Product Type, 2019-2032 (USD Billion)
28. Italy Xylose Market, By End-use, 2019-2032 (USD Billion)
29. Spain Xylose Market, By Product Type, 2019-2032 (USD Billion)
30. Spain Xylose Market, By End-use, 2019-2032 (USD Billion)
31. Asia Pacific Xylose Market, By Product Type, 2019-2032 (USD Billion)
32. Asia Pacific Xylose Market, By End-use, 2019-2032 (USD Billion)
33. Japan Xylose Market, By Product Type, 2019-2032 (USD Billion)
34. Japan Xylose Market, By End-use, 2019-2032 (USD Billion)
35. China Xylose Market, By Product Type, 2019-2032 (USD Billion)
36. China Xylose Market, By End-use, 2019-2032 (USD Billion)
37. India Xylose Market, By Product Type, 2019-2032 (USD Billion)
38. India Xylose Market, By End-use, 2019-2032 (USD Billion)
39. South America Xylose Market, By Product Type, 2019-2032 (USD Billion)
40. South America Xylose Market, By End-use, 2019-2032 (USD Billion)
41. Brazil Xylose Market, By Product Type, 2019-2032 (USD Billion)
42. Brazil Xylose Market, By End-use, 2019-2032 (USD Billion)
43. Middle East and Africa Xylose Market, By Product Type, 2019-2032 (USD Billion)
44. Middle East and Africa Xylose Market, By End-use, 2019-2032 (USD Billion)
45. UAE Xylose Market, By Product Type, 2019-2032 (USD Billion)
46. UAE Xylose Market, By End-use, 2019-2032 (USD Billion)
47. South Africa Xylose Market, By Product Type, 2019-2032 (USD Billion)
48. South Africa Xylose Market, By End-use, 2019-2032 (USD Billion)
List of Figures
1. Global Xylose Market Segmentation
2. Xylose Market: Research Methodology
3. Market Size Estimation Methodology: Bottom-Up Approach
4. Market Size Estimation Methodology: Top-Down Approach
5. Data Triangulation
6. Porter's Five Forces Analysis
7. Value Chain Analysis
8. Global Xylose Market Attractiveness Analysis By Product Type
9. Global Xylose Market Attractiveness Analysis By End-use
10. Global Xylose Market Attractiveness Analysis By Region
11. Global Xylose Market: Dynamics
12. Global Xylose Market Share by Product Type (2023 & 2032)
13. Global Xylose Market Share by End-use (2023 & 2032)
14. Global Xylose Market Share by Regions (2023 & 2032)
15. Global Xylose Market Share by Company (2022)