The global video games market was valued at USD 200 billion in 2022 and grew at a CAGR of 9% from 2023 to 2032. The market is expected to reach USD 473.47 billion by 2032. The technological advancements in video game development will drive the growth of the global video game market.
Market Introduction:
A game can be defined as an activity based on some rules, goals and the objective of winning, wherein individuals engage for fun, amusement, or entertainment. The games can be indoors or outdoors. They can be physically demanding or can be intellectually-driven. Video games are a niche category of electronic games played through an input controller, a user interface and an output, the display screen. In simpler terms, it's a game played on video with a controller. It can be played individually or as a team. Video games are diverse; they offer something for each individual, according to their choices. There are online battles, real-time strategy, shooting, racing, roleplaying, board, puzzles and action and adventure games. Video games are primarily sought after for fun or entertainment. They offer a rush of adrenaline and other happy hormones in the brain, which makes them excellent stress relievers. Furthermore, video games demand excellent control and coordination and substantial problem-solving and decision-making abilities, which helps create an environment wherein the user can improve their cognitive skills and mental ability. The right use of video games offers a sufficient stimulus for the brain to develop a healthy mental exercise that facilitates growth. Video games augment problem-solving skills and concentration. It also improves spatial awareness and hand-eye coordination. It improves the multitasking abilities of the users. Additionally, video games are a safe emotional outlet space. With technological advancements, user can now create their games, which boosts creativity. Video games expand the user's horizons and offer unreal worlds and experiences.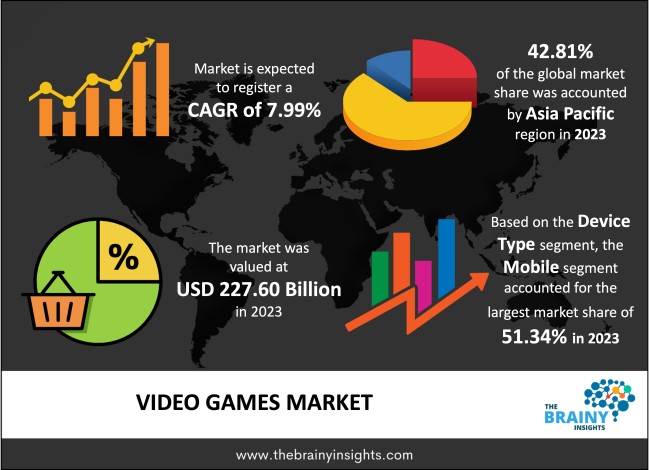 Get an overview of this study by requesting a free sample
Recent Development
June 2023 - According to Annapurna Interactive, the first game created by its in-house team will take place in the Blade Runner universe. The events of Labyrinth, the first brand-new Blade Runner game in 25 years, will occur between Blade Runner and Blade Runner 2049. Annapurna says the game's setting is "a dystopian Los Angeles after the Blackout strikes."
July 2023 - At Brazil's BIG Festival 2023, The Roleplaying Musical won the prize for Best Upcoming Game, beating off a slew of other worldwide video games. The honour is given in recognition of Summerfall's distinctive storytelling style and a huge readership. One of Brazil's longest-running video game festivals, BIG Festival (Best International Games Festival), draws big publishers yearly, including Xbox, Ubisoft, Warner Bros. Games, Epic Games, Konami, and Devolver Digital.
Market Dynamics:
Drivers
The technological advancements – The technological advancements have enabled the development of gaming hardware, software and services that are accessible, affordable and functional. Technological advancements have enabled the development of video games compatible with smart mobile phones. It has also enabled the introduction of VR and AR, which offers immersive gaming experiences to users. 3D modelling has radically reformed the graphics, design and development of gaming, making it increasingly attractive and engaging, thereby expanding the video games market. Therefore, the rising smartphone ownership and deepening and expanding internet penetration with affordable data connectivity services have increased the demand for video games. The development of smartphone-compatible, free and accessible games has ensured users a seamless supply of gaming experiences. Thereby, technological advancements will drive the global video games market's growth.
June 2023 - Unity Technologies has made a ground-breaking statement on releasing two distinctive AI-powered products expected to transform the creative industry. Unity Muse commands attention as an AI-powered platform that offers previously unheard-of speed and efficiency for producing real-time 3D applications and experiences. Muse enables users to easily develop various materials within the Unity Editor, utilizing natural inputs like text prompts and doodles, from creating immersive video games to creating virtual twins. Using AI, Unity Muse enhances the creative process and frees creators to concentrate on bringing their vision to life.
Restraints:
The negative effects of video games on physical and mental health – Video games are known to relieve stress and improve cognitive skills and mental abilities. However, the young population today is spending too much time on video games, which, according to studies, is associated with several negative side effects on physical and mental health. Playing too many and too much video games can lead to addiction. It can disrupt the healthy sleep cycle and cause insomnia, anxiety and depression. Sitting for long hours can lead to a decline in physical health and cause back, eye, and heart problems. It can lead to obesity and muscle atrophy, debilitating long-term effects on the user's health. Extreme suicides have been reported over the loss of video games, highlighting parents' growing concerns over their children playing video games. Therefore, the growing concerns about the negative effects of video games on user health will hamper the market's growth.
Opportunities:
The expansion of the professional gaming market – The development of games like PUBG that could be played from anywhere, with anyone on regular smartphones ushered in a new era of competitive gaming. The development of these advanced games led to professional gaming, wherein professional games live-streamed their games, competed in regional, national and international competitions and made gaming their full time-profession. The influence of professional gaming grew exponentially, leading to live TV competitions, game-developing competitions and a radical rise in video game downloads. Therefore, expanding professional gaming will drive innovation, competition and overall development of the video games market in the forecast period.
Regional segmentation analysis:
The regions analyzed for the market include North America, Europe, South America, Asia Pacific, the Middle East, and Africa. Asia Pacific emerged as the most significant global video games market, with a 43% market revenue share in 2022.
The sizable population of India and China offer a vast player base for the region. Given the innovation and advancements spearheaded by the Chinese and Japanese Mobile companies, the population has access to affordable, advanced gaming phones. The significant number of game developers in the market and major market players headquartered in China is a positive market development for the region. The introduction and expansion of the professional gaming industry have created a lucrative market for video game development. The rising number of professional players and streamers augments the regional market's growth and development.
Asia Pacific Region Video Games Market Share in 2022 - 43%
www.thebrainyinsights.com
Check the geographical analysis of this market by requesting a free sample
The greatest number of new video games this year—89—were licenced by Chinese regulators in June, pushing the total for the first half of the year—521—to a record high. The interactive open-world action-adventure game Where Winds Meet by NetEase, China's second-largest gaming company, has been licenced for use on mobile devices and personal computers, according to a list published on the website of the National Press and Publication Administration (NPPA), the body in charge of licencing video games.
Device Type Segment Analysis
The device type segment is divided into console, computer and mobile. The mobile segment dominated the market, with a market share of around 52% in 2022. Mobile are the most affordable means of playing video games, unlike a console or a computer. The ever-expanding smartphone market, with technological advancements and product innovations, offers consumers a wide variety of affordable and accessible choices of products, which drives the segment's growth. The lowering of retail prices of smart, along with the increasing disposable income of consumers, is augmenting the rising smartphone ownership. The increasing internet penetration and the development of high-end smartphones that support gaming will bode well for the market. The development of free mobile games also augments the segment's growth. Furthermore, the sentiment of the general public is playing video games for fun, which makes mobiles the ideal choice. Therefore, the affordability, accessibility, and functionality of mobiles in the gaming industry make it the popular choice in the market.
July 2023 - Ubisoft is remaking the popular Assassin's Creed game Black Flag. The 2013 cross-gen PlayStation 3 and Xbox 360 game's remake is reportedly still in its early stages. According to reports, a team from Ubisoft Singapore, one of the companies that worked on Black Flag, especially its boating gameplay, will significantly aid the game's modernization. The publisher, Ubisoft, is investing more in its most successful franchise. This year's Mirage is one of the six new Assassin's Creed games discussed at a Ubisoft product showcase last year. After Mirage, the upcoming flagship series episodes will be Red and Hexe.
Platform type Segment Analysis
The platform type segment is divided into online and offline. The offline segment dominated the market, with a market share of around 54% in 2022. Offline video games do not require an internet connection to be played. Offline games allow users a seamless gaming experience without the internet or poor internet connection. They can be played anywhere. Their user interface is better given the non-requirement of an internet connection. The lack of universal internet coverage and poor internet penetration in several economies make offline games more popular. Furthermore, the gaming experience remains unchanged, auguring the segment's growth. Offline games save money on data and the device's battery on which they are played.
July 2023 - On September 28, Disney Speedstorm will end its Early Access term and become available on PCs and consoles as a free-to-play game. Three distinct premium versions of the kart-racing game, each offering additional content, were released in Early Access on April 18. By switching to a free-to-play model, more players can participate in a fully developed competitive and cooperative racing experience.
Some of the Key Market Players:
Activision Blizzard
Electronic Arts Inc.
Epic Games
Lucid Games
Microsoft
Nintendo
Sony Interactive Entertainment Inc.
Google LLC
Tencent Holdings Limited
Ubisoft
Report Description:
| Attribute | Description |
| --- | --- |
| Market Size | Revenue (USD Billion) |
| Market size value in 2022 | USD 200 Billion |
| Market size value in 2032 | USD 473.47 Billion |
| CAGR (2023 to 2032) | 9% |
| Historical data | 2019-2021 |
| Base Year | 2022 |
| Forecast | 2023-2032 |
| Region | The regions analyzed for the market are Asia Pacific, Europe, South America, North America, and Middle East & Africa. Furthermore, the regions are further analyzed at the country level. |
| Segments | Device Type and Platform Type |
Frequesntly Asked Questions
1. Introduction
1.1. Objectives of the Study
1.2. Market Definition
1.3. Research Scope
1.4. Currency
1.5. Key Target Audience

2. Research Methodology and Assumptions

3. Executive Summary

4. Premium Insights
4.1. Porter's Five Forces Analysis
4.2. Value Chain Analysis
4.3. Top Investment Pockets
4.3.1. Market Attractiveness Analysis By Device Type
4.3.2. Market Attractiveness Analysis By Platform Type
4.3.3. Market Attractiveness Analysis By Region
4.4. Industry Trends

5. Market Dynamics
5.1. Market Evaluation
5.2. Drivers
5.2.1. The technological advancements
5.3. Restraints
5.3.1. The negative effects of video games on physical and mental health
5.4. Opportunities
5.4.1. The expansion of professional gaming market
5.5. Challenges
5.5.1. The indiscriminate banning of games due to geopolitical tensions

6. Global Video Games Market Analysis and Forecast, By Device Type
6.1. Segment Overview
6.2. Console
6.3. Computer
6.4. Mobile

7. Global Video Games Market Analysis and Forecast, By Platform Type
7.1. Segment Overview
7.2. Online
7.3. Offline

8. Global Video Games Market Analysis and Forecast, By Regional Analysis
8.1. Segment Overview
8.2. North America
8.2.1. U.S.
8.2.2. Canada
8.2.3. Mexico
8.3. Europe
8.3.1. Germany
8.3.2. France
8.3.3. U.K.
8.3.4. Italy
8.3.5. Spain
8.4. Asia-Pacific
8.4.1. Japan
8.4.2. China
8.4.3. India
8.5. South America
8.5.1. Brazil
8.6. Middle East and Africa
8.6.1. UAE
8.6.2. South Africa

9. Global Video Games Market-Competitive Landscape
9.1. Overview
9.2. Market Share of Key Players in the Video Games Market
9.2.1. Global Company Market Share
9.2.2. North America Company Market Share
9.2.3. Europe Company Market Share
9.2.4. APAC Company Market Share
9.3. Competitive Situations and Trends
9.3.1. Product Launches and Developments
9.3.2. Partnerships, Collaborations, and Agreements
9.3.3. Mergers & Acquisitions
9.3.4. Expansions

10. Company Profiles
10.1. Activision Blizzard
10.1.1. Business Overview
10.1.2. Company Snapshot
10.1.3. Company Market Share Analysis
10.1.4. Company Product Portfolio
10.1.5. Recent Developments
10.1.6. SWOT Analysis
10.2. Electronic Arts Inc.
10.2.1. Business Overview
10.2.2. Company Snapshot
10.2.3. Company Market Share Analysis
10.2.4. Company Product Portfolio
10.2.5. Recent Developments
10.2.6. SWOT Analysis
10.3. Epic Games
10.3.1. Business Overview
10.3.2. Company Snapshot
10.3.3. Company Market Share Analysis
10.3.4. Company Product Portfolio
10.3.5. Recent Developments
10.3.6. SWOT Analysis
10.4. Lucid Games
10.4.1. Business Overview
10.4.2. Company Snapshot
10.4.3. Company Market Share Analysis
10.4.4. Company Product Portfolio
10.4.5. Recent Developments
10.4.6. SWOT Analysis
10.5. Microsoft
10.5.1. Business Overview
10.5.2. Company Snapshot
10.5.3. Company Market Share Analysis
10.5.4. Company Product Portfolio
10.5.5. Recent Developments
10.5.6. SWOT Analysis
10.6. Nintendo
10.6.1. Business Overview
10.6.2. Company Snapshot
10.6.3. Company Market Share Analysis
10.6.4. Company Product Portfolio
10.6.5. Recent Developments
10.6.6. SWOT Analysis
10.7. Sony Interactive Entertainment Inc.
10.7.1. Business Overview
10.7.2. Company Snapshot
10.7.3. Company Market Share Analysis
10.7.4. Company Product Portfolio
10.7.5. Recent Developments
10.7.6. SWOT Analysis
10.8. Google LLC
10.8.1. Business Overview
10.8.2. Company Snapshot
10.8.3. Company Market Share Analysis
10.8.4. Company Product Portfolio
10.8.5. Recent Developments
10.8.6. SWOT Analysis
10.9. Tencent Holdings Limited
10.9.1. Business Overview
10.9.2. Company Snapshot
10.9.3. Company Market Share Analysis
10.9.4. Company Product Portfolio
10.9.5. Recent Developments
10.9.6. SWOT Analysis
10.10. Ubisoft
10.10.1. Business Overview
10.10.2. Company Snapshot
10.10.3. Company Market Share Analysis
10.10.4. Company Device Type Portfolio
10.10.5. Recent Developments
10.10.6. SWOT Analysis
List of Table
1. Global Video Games Market, By Device Type, 2019-2032 (USD Billion)
2. Global Console Video Games Market, By Region, 2019-2032 (USD Billion)
3. Global Computer Video Games Market, By Region, 2019-2032 (USD Billion)
4. Global Mobile Video Games Market, By Region, 2019-2032 (USD Billion)
5. Global Video Games Market, By Platform Type, 2019-2032 (USD Billion)
6. Global Online Video Games Market, By Region, 2019-2032 (USD Billion)
7. Global Offline Video Games Market, By Region, 2019-2032 (USD Billion)
8. Global Video Games Market, By Region, 2019-2032 (USD Billion)
9. North America Video Games Market, By Device Type, 2019-2032 (USD Billion)
10. North America Video Games Market, By Platform Type, 2019-2032 (USD Billion)
11. U.S. Video Games Market, By Device Type, 2019-2032 (USD Billion)
12. U.S. Video Games Market, By Platform Type, 2019-2032 (USD Billion)
13. Canada Video Games Market, By Device Type, 2019-2032 (USD Billion)
14. Canada Video Games Market, By Platform Type, 2019-2032 (USD Billion)
15. Mexico Video Games Market, By Device Type, 2019-2032 (USD Billion)
16. Mexico Video Games Market, By Platform Type, 2019-2032 (USD Billion)
17. Europe Video Games Market, By Device Type, 2019-2032 (USD Billion)
18. Europe Video Games Market, By Platform Type, 2019-2032 (USD Billion)
19. Germany Video Games Market, By Device Type, 2019-2032 (USD Billion)
20. Germany Video Games Market, By Platform Type, 2019-2032 (USD Billion)
21. France Video Games Market, By Device Type, 2019-2032 (USD Billion)
22. France Video Games Market, By Platform Type, 2019-2032 (USD Billion)
23. U.K. Video Games Market, By Device Type, 2019-2032 (USD Billion)
24. U.K. Video Games Market, By Platform Type, 2019-2032 (USD Billion)
25. Italy Video Games Market, By Device Type, 2019-2032 (USD Billion)
26. Italy Video Games Market, By Platform Type, 2019-2032 (USD Billion)
27. Spain Video Games Market, By Device Type, 2019-2032 (USD Billion)
28. Spain Video Games Market, By Platform Type, 2019-2032 (USD Billion)
29. Asia Pacific Video Games Market, By Device Type, 2019-2032 (USD Billion)
30. Asia Pacific Video Games Market, By Platform Type, 2019-2032 (USD Billion)
31. Japan Video Games Market, By Device Type, 2019-2032 (USD Billion)
32. Japan Video Games Market, By Platform Type, 2019-2032 (USD Billion)
33. China Video Games Market, By Device Type, 2019-2032 (USD Billion)
34. China Video Games Market, By Platform Type, 2019-2032 (USD Billion)
35. India Video Games Market, By Device Type, 2019-2032 (USD Billion)
36. India Video Games Market, By Platform Type, 2019-2032 (USD Billion)
37. South America Video Games Market, By Device Type, 2019-2032 (USD Billion)
38. South America Video Games Market, By Platform Type, 2019-2032 (USD Billion)
39. Brazil Video Games Market, By Device Type, 2019-2032 (USD Billion)
40. Brazil Video Games Market, By Platform Type, 2019-2032 (USD Billion)
41. Middle East and Africa Video Games Market, By Device Type, 2019-2032 (USD Billion)
42. Middle East and Africa Video Games Market, By Platform Type, 2019-2032 (USD Billion)
43. UAE Video Games Market, By Device Type, 2019-2032 (USD Billion)
44. UAE Video Games Market, By Platform Type, 2019-2032 (USD Billion)
45. South Africa Video Games Market, By Device Type, 2019-2032 (USD Billion)
46. South Africa Video Games Market, By Platform Type, 2019-2032 (USD Billion)
List of Figures
1. Global Video Games Market Segmentation
2. Video Games Market: Research Methodology
3. Market Size Estimation Methodology: Bottom-Up Approach
4. Market Size Estimation Methodology: Top-Down Approach
5. Data Triangulation
6. Porter's Five Forces Analysis
7. Value Chain Analysis
8. Global Video Games Market Attractiveness Analysis By Device Type
9. Global Video Games Market Attractiveness Analysis By Platform Type
10. Global Video Games Market Attractiveness Analysis By Region
11. Global Video Games Market: Dynamics
12. Global Video Games Market Share by Device Type (2022 & 2032)
13. Global Video Games Market Share by Platform Type (2022 & 2032)
14. Global Video Games Market Share by Regions (2022 & 2032)
15. Global Video Games Market Share by Company (2022)