The global veterinary imaging market was valued at USD 2.0 billion in 2022, growing at a CAGR of 7% from 2023 to 2032. The market is expected to reach USD 3.93 billion by 2032. In recent years, there has been an increase in the adoption of companion and livestock animals. This is likely one of the primary drivers of the studied market's growth.
Market Introduction:
The technique and process of imaging an animal's body for clinical examination and medical intervention, as well as visual representation of the function of particular organs or tissues (physiology), is known as veterinary imaging. Veterinary imaging aims to expose internal structures that are buried beneath the skin and bones, as well as to diagnose and cure disease. Veterinary imaging also creates a database of normal anatomy and physiology, allowing abnormalities to be identified. Although medical imaging of excised organs and tissues is possible, such operations are normally classified as pathology rather than medical imaging. It is a branch of biological imaging that includes radiology, which employs imaging technologies such as X-ray radiography, magnetic resonance imaging, ultrasound, elastography, endoscopy, medical photography, tactile imaging, thermography, and nuclear medicine functional imaging techniques such as positron emission tomography (PET) and single-photon emission computed tomography (SPECT). The increased emphasis on animal health innovation, the rising need for timely diagnosis of chronic conditions, increased adoption of imaging technologies in veterinary orthopaedics, dentistry, and several other indications, and increased pet adoption and ownership rates have all contributed to increased demand for veterinary imaging. Furthermore, the increasing prevalence of zoonotic illnesses has increased the demand for effective diagnostic solutions, driving market expansion. Zoonotic infections are relatively widespread in the United States and around the world, according to statistics published in July 2021 by the National Centre for Emerging and Zoonotic Infectious Diseases (NCEZID) and the Centres for Disease Control and Prevention (CDC). According to researchers, animals are thought to transmit more than six out of ten known infections and three out of four developing infections in humans.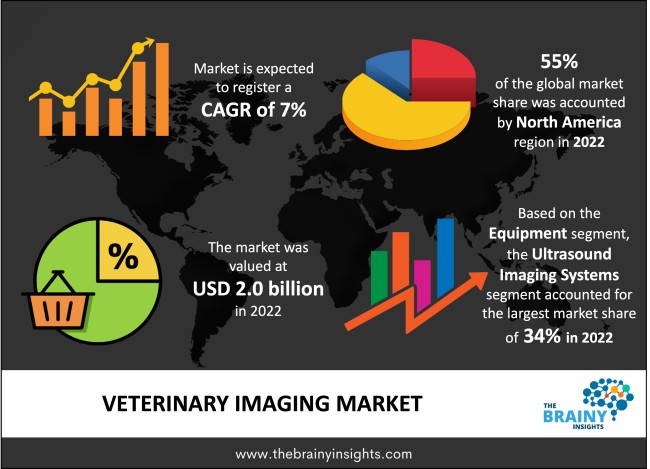 Get an overview of this study by requesting a free sample
Recent Development
In February 2022, Softneta's MedDream VET DICOM Viewer was added to Aycan Medical Systems' increasing offering of veterinary imaging. MedDream VET is an organic extension of Aycan's other solutions, built on the same DICOM standard.
In January 2022, ClariusMobile Health released its third-generation product line of high-performance, handheld wireless ultrasound scanners for veterinarians, which is 30% lighter, smaller, and pocket-sized. Because of their low cost and ease of use, handheld and tiny ultrasound equipment attract veterinary specialists.
In September 2021, Heska Corporation, a leading name in the pet care sector, announced the acquisition of Biotech Laboratories USA LL, intending to extend its product line and intellectual property to strengthen its market position.
Market Dynamics:
Drivers
Rising Popularity- Unlike MRIs, which require anaesthesia for animals, ultrasonography does not. The world of veterinary medicine is continually changing to satisfy the ever-increasing need for high-quality pet care. Butterfly Network, Inc., for example, debuted the new Butterfly iQ+ Vet on October 5th, 2021, bringing in the next significant transition in veterinary treatment. Sharper imagery, a new procedural guidance tool, and hardware upgrades make the solution's second iteration more powerful, adaptable, and easy to use.
Restraints:
High Cost- Veterinary imaging devices are quite expensive due to the numerous expensive components and innovative technology usage. This feature alone is projected to significantly impact the potential of the veterinary imaging market over the forecast period. Veterinary imaging firms invest in R&D to create more economical solutions to increase sales and earn money.
Opportunities:
Technological Advancements- Technological advances have helped improve the quality of human life and the lives of animals that people care about. Veterinary medicine has come a long way, allowing doctors to make more accurate diagnoses and, ultimately, save animal lives. Regarding care, technology has also resulted in better outcomes for both pets and their owners. Veterinary clinics are continually being technologically improved. Modern veterinary medicine has included so many new technological breakthroughs that how pets are handled has changed. While MRIs are common among people, performing them on animals is far more complicated. As a result, ultrasonography has emerged as a potential option. The most contemporary technology enables the generation of four-dimensional images.
Regional segmentation analysis:
The regions analyzed for the market include North America, Europe, South America, Asia Pacific, the Middle East, and Africa. North America emerged as the largest global veterinary imaging market, with a 55% market revenue share in 2022.
Because of factors such as expanding pet adoption and rising per capita animal healthcare expenditure, the United States is likely to maintain its considerable market share. Furthermore, the increased occurrence of numerous animal diseases and injuries has been cited as a major factor driving market expansion. According to the North American Pet Health Insurance Association's (NAPHIA) 2021 data, the total number of pets insured in the United States by the end of 2020 was 3.1 million. This reflects the rising frequency of diagnostic exams of pets in hospitals around the country.
According to the American Pet Products Association's (APPA) 2021-2022 National Pet Owners Survey, around 70% of US households own a pet, equating to 90.5 million homes, including 45.3 million cats and 69 million dogs. According to the same source, there are 6.2 million homes in the United States with small animals. The country's high pet ownership rate is one of the primary elements driving the market's growth.
According to the American Pet Products Association's (APPA) 2021-2022 National Pet Owners Survey, an annual regular dog visit costs USD 242, while it costs USD 178 for cats in the country. Because imaging costs are insured in the country, it benefits the market under consideration. In the United States, spending on pets is rising. According to the American Pet Products Association Inc., USD 99 billion will be spent on pets in the United States in 2020.
North America Region Veterinary Imaging Market Share in 2022 - 55%
www.thebrainyinsights.com
Check the geographical analysis of this market by requesting a free sample
Equipment Segment Analysis
The equipment segment is divided into radiography (X-ray) systems, ultrasound imaging systems, computed tomography imaging systems, magnetic resonance imaging systems, video endoscopy imaging systems, and others. The ultrasound imaging systems segment dominated the market, with a market share of around 34% in 2022. Ultrasound devices are predicted to account for a sizable portion of the global veterinary imaging market. Ultrasound machines are simple to operate and give veterinarians the information they need to make swift decisions and diagnose animals faster than other equipment. As a result, vets prefer veterinary imaging the most. As a result, this category is predicted to expand during the forecast period.​ These devices are suitable for use in ambulances, emergency rooms, and point-of-care assessments. In addition, they give a faster reaction and immediate diagnosis than traditional ultrasound equipment, which is immobile, cumbersome, and expensive. As a result, the ultrasound scanner segment is predicted to develop in the market under consideration.​
Application Segment Analysis
The application segment is divided into orthopaedics and traumatology, oncology, cardiology, neurology, and others. The orthopaedics and traumatology segment dominated the market, with a market share of around 40% in 2022. Orthopaedics and traumatology are clinical and experimental fields that deal with dogs and cats. It focuses on fracture treatment, joint luxation, congenital diseases, degenerative illness, and limb deformity, among other things. Several retrospective studies have been conducted to determine the prevalence of bone fracture in companion animals. A study conducted between 2013 and 2016 found that around 1,780 out of 106,286 dogs (1.67%) and 255 out of 22,258 cats (1.13%) had a bone fracture.
Some of the Key Market Players:
IDEXX Laboratories, Inc.
ESAOTE SPA
SOUND
General Electric Company
Universal Medical Systems, Inc.
FUJIFILM Holdings America Corporation
Hallmarq Veterinary Imaging Ltd.
VetZ GmbH
Shenzhen Mindray Animal Medical Technology Co., LTD.
Heska Corporation
Report Description:
| Attribute | Description |
| --- | --- |
| Market Size | Revenue (USD Billion) |
| Market size value in 2022 | USD 2.0 Billion |
| Market size value in 2032 | USD 3.93 Billion |
| CAGR (2023 to 2032) | 7% |
| Historical data | 2019-2021 |
| Base Year | 2022 |
| Forecast | 2023-2032 |
| Region | The regions analyzed for the market are Asia Pacific, Europe, South America, North America, and Middle East & Africa. Furthermore, the regions are further analyzed at the country level. |
| Segments | Equipment, Application |
Frequesntly Asked Questions
As per The Brainy Insights, the size of the veterinary imaging market was valued at USD 2.0 billion in 2022 to USD 3.93 billion by 2032.
The global veterinary imaging market is growing at a CAGR of 7% during the forecast period 2023-2032.
North America emerged as the largest veterinary imaging market.
1. Introduction
1.1. Objectives of the Study
1.2. Market Definition
1.3. Research Scope
1.4. Currency
1.5. Key Target Audience

2. Research Methodology and Assumptions

3. Executive Summary

4. Premium Insights
4.1. Porter's Five Forces Analysis
4.2. Value Chain Analysis
4.3. Top Investment Pockets
4.3.1. Market Attractiveness Analysis by Equipment
4.3.2. Market Attractiveness Analysis by Application
4.3.3. Market Attractiveness Analysis by Region
4.4. Industry Trends

5. Market Dynamics
5.1. Market Evaluation
5.2. Drivers
5.2.1. Rising popularity
5.3. Restraints
5.3.1. Need good experience
5.4. Opportunities
5.4.1. Technological advancements
5.5. Challenges
5.5.1. High cost

6. Global Veterinary Imaging Market Analysis and Forecast, By Equipment
6.1. Segment Overview
6.2. Radiography (X-ray) Systems
6.3. Ultrasound Imaging Systems
6.4. Computed Tomography Imaging Systems
6.5. Magnetic Resonance Imaging Systems
6.6. Video Endoscopy Imaging Systems
6.7. Others

7. Global Veterinary Imaging Market Analysis and Forecast, By Application
7.1. Segment Overview
7.2. Orthopaedics & Traumatology
7.3. Oncology
7.4. Cardiology
7.5. Neurology
7.6. Others

8. Global Veterinary Imaging Market Analysis and Forecast, By Regional Analysis
8.1. Segment Overview
8.2. North America
8.2.1. U.S.
8.2.2. Canada
8.2.3. Mexico
8.3. Europe
8.3.1. Germany
8.3.2. France
8.3.3. U.K.
8.3.4. Italy
8.3.5. Spain
8.4. Asia-Pacific
8.4.1. Japan
8.4.2. China
8.4.3. India
8.5. South America
8.5.1. Brazil
8.6. Middle East and Africa
8.6.1. UAE
8.6.2. South Africa

9. Global Veterinary Imaging Market-Competitive Landscape
9.1. Overview
9.2. Market Share of Key Players in Global Veterinary Imaging Market
9.2.1. Global Company Market Share
9.2.2. North America Company Market Share
9.2.3. Europe Company Market Share
9.2.4. APAC Company Market Share
9.3. Competitive Situations and Trends
9.3.1. Product Launches and Developments
9.3.2. Partnerships, Collaborations, and Agreements
9.3.3. Mergers & Acquisitions
9.3.4. Expansions

10. Company Profiles
10.1. IDEXX Laboratories, Inc.
10.1.1. Business Overview
10.1.2. Company Snapshot
10.1.3. Company Market Share Analysis
10.1.4. Company Product Portfolio
10.1.5. Recent Developments
10.1.6. SWOT Analysis
10.2. ESAOTE SPA
10.2.1. Business Overview
10.2.2. Company Snapshot
10.2.3. Company Market Share Analysis
10.2.4. Company Product Portfolio
10.2.5. Recent Developments
10.2.6. SWOT Analysis
10.3. SOUND
10.3.1. Business Overview
10.3.2. Company Snapshot
10.3.3. Company Market Share Analysis
10.3.4. Company Product Portfolio
10.3.5. Recent Developments
10.3.6. SWOT Analysis
10.4. General Electric Company
10.4.1. Business Overview
10.4.2. Company Snapshot
10.4.3. Company Market Share Analysis
10.4.4. Company Product Portfolio
10.4.5. Recent Developments
10.4.6. SWOT Analysis
10.5. Universal Medical Systems, Inc.
10.5.1. Business Overview
10.5.2. Company Snapshot
10.5.3. Company Market Share Analysis
10.5.4. Company Product Portfolio
10.5.5. Recent Developments
10.5.6. SWOT Analysis
10.6. FUJIFILM Holdings America Corporation
10.6.1. Business Overview
10.6.2. Company Snapshot
10.6.3. Company Market Share Analysis
10.6.4. Company Product Portfolio
10.6.5. Recent Developments
10.6.6. SWOT Analysis
10.7. Hallmarq Veterinary Imaging Ltd.
10.7.1. Business Overview
10.7.2. Company Snapshot
10.7.3. Company Market Share Analysis
10.7.4. Company Product Portfolio
10.7.5. Recent Developments
10.7.6. SWOT Analysis
10.8. VetZ GmbH
10.8.1. Business Overview
10.8.2. Company Snapshot
10.8.3. Company Market Share Analysis
10.8.4. Company Product Portfolio
10.8.5. Recent Developments
10.8.6. SWOT Analysis
10.9. Shenzhen Mindray Animal Medical Technology Co., LTD.
10.9.1. Business Overview
10.9.2. Company Snapshot
10.9.3. Company Market Share Analysis
10.9.4. Company Product Portfolio
10.9.5. Recent Developments
10.9.6. SWOT Analysis
10.10. Heska Corporation
10.10.1. Business Overview
10.10.2. Company Snapshot
10.10.3. Company Market Share Analysis
10.10.4. Company Product Portfolio
10.10.5. Recent Developments
10.10.6. SWOT Analysis

List of Table
1. Global Veterinary Imaging Market, By Equipment, 2019-2032 (USD Billion)
2. Global Radiography (X-ray) Systems, Veterinary Imaging Market, By Region, 2019-2032 (USD Billion)
3. Global Ultrasound Imaging Systems, Veterinary Imaging Market, By Region, 2019-2032 (USD Billion)
4. Global Computed Tomography Imaging Systems, Veterinary Imaging Market, By Region, 2019-2032 (USD Billion)
5. Global Magnetic Resonance Imaging Systems, Veterinary Imaging Market, By Region, 2019-2032 (USD Billion)
6. Global Video Endoscopy Imaging Systems, Veterinary Imaging Market, By Region, 2019-2032 (USD Billion)
7. Global Others, Veterinary Imaging Market, By Region, 2019-2032 (USD Billion)
8. Global Veterinary Imaging Market, By Application, 2019-2032 (USD Billion)
9. Global Orthopaedics & Traumatology, Veterinary Imaging Market, By Region, 2019-2032 (USD Billion)
10. Global Oncology, Veterinary Imaging Market, By Region, 2019-2032 (USD Billion)
11. Global Cardiology, Veterinary Imaging Market, By Region, 2019-2032 (USD Billion)
12. Global Neurology, Veterinary Imaging Market, By Region, 2019-2032 (USD Billion)
13. Global Others, Veterinary Imaging Market, By Region, 2019-2032 (USD Billion)
14. North America Veterinary Imaging Market, By Equipment, 2019-2032 (USD Billion)
15. North America Veterinary Imaging Market, By Application, 2019-2032 (USD Billion)
16. U.S. Veterinary Imaging Market, By Equipment, 2019-2032 (USD Billion)
17. U.S. Veterinary Imaging Market, By Application, 2019-2032 (USD Billion)
18. Canada Veterinary Imaging Market, By Equipment, 2019-2032 (USD Billion)
19. Canada Veterinary Imaging Market, By Application, 2019-2032 (USD Billion)
20. Mexico Veterinary Imaging Market, By Equipment, 2019-2032 (USD Billion)
21. Mexico Veterinary Imaging Market, By Application, 2019-2032 (USD Billion)
22. Europe Veterinary Imaging Market, By Equipment, 2019-2032 (USD Billion)
23. Europe Veterinary Imaging Market, By Application, 2019-2032 (USD Billion)
24. Germany Veterinary Imaging Market, By Equipment, 2019-2032 (USD Billion)
25. Germany Veterinary Imaging Market, By Application, 2019-2032 (USD Billion)
26. France Veterinary Imaging Market, By Equipment, 2019-2032 (USD Billion)
27. France Veterinary Imaging Market, By Application, 2019-2032 (USD Billion)
28. U.K. Veterinary Imaging Market, By Equipment, 2019-2032 (USD Billion)
29. U.K. Veterinary Imaging Market, By Application, 2019-2032 (USD Billion)
30. Italy Veterinary Imaging Market, By Equipment, 2019-2032 (USD Billion)
31. Italy Veterinary Imaging Market, By Application, 2019-2032 (USD Billion)
32. Spain Veterinary Imaging Market, By Equipment, 2019-2032 (USD Billion)
33. Spain Veterinary Imaging Market, By Application, 2019-2032 (USD Billion)
34. Asia Pacific Veterinary Imaging Market, By Equipment, 2019-2032 (USD Billion)
35. Asia Pacific Veterinary Imaging Market, By Application, 2019-2032 (USD Billion)
36. Japan Veterinary Imaging Market, By Equipment, 2019-2032 (USD Billion)
37. Japan Veterinary Imaging Market, By Application, 2019-2032 (USD Billion)
38. China Veterinary Imaging Market, By Equipment, 2019-2032 (USD Billion)
39. China Veterinary Imaging Market, By Application, 2019-2032 (USD Billion)
40. India Veterinary Imaging Market, By Equipment, 2019-2032 (USD Billion)
41. India Veterinary Imaging Market, By Application, 2019-2032 (USD Billion)
42. South America Veterinary Imaging Market, By Equipment, 2019-2032 (USD Billion)
43. South America Veterinary Imaging Market, By Application, 2019-2032 (USD Billion)
44. Brazil Veterinary Imaging Market, By Equipment, 2019-2032 (USD Billion)
45. Brazil Veterinary Imaging Market, By Application, 2019-2032 (USD Billion)
46. Middle East and Africa Veterinary Imaging Market, By Equipment, 2019-2032 (USD Billion)
47. Middle East and Africa Veterinary Imaging Market, By Application, 2019-2032 (USD Billion)
48. UAE Veterinary Imaging Market, By Equipment, 2019-2032 (USD Billion)
49. UAE Veterinary Imaging Market, By Application, 2019-2032 (USD Billion)
50. South Africa Veterinary Imaging Market, By Equipment, 2019-2032 (USD Billion)
51. South Africa Veterinary Imaging Market, By Application, 2019-2032 (USD Billion)
List of Figures
1. Global Veterinary Imaging Market Segmentation
2. Global Veterinary Imaging Market: Research Methodology
3. Market Size Estimation Methodology: Bottom-Up Approach
4. Market Size Estimation Methodology: Top-Down Approach
5. Data Triangulation
6. Porter's Five Forces Analysis
7. Value Chain Analysis
8. Global Veterinary Imaging Market Attractiveness Analysis by Equipment
9. Global Veterinary Imaging Market Attractiveness Analysis by Application
10. Global Veterinary Imaging Market Attractiveness Analysis by Region
11. Global Veterinary Imaging Market: Dynamics
12. Global Veterinary Imaging Market Share by Equipment (2023 & 2032)
13. Global Veterinary Imaging Market Share by Application (2023 & 2032)
14. Global Veterinary Imaging Market Share by Regions (2023 & 2032)
15. Global Veterinary Imaging Market Share by Company (2022)