The U.S. Electronic Vehicle (EV) charging infrastructure market was valued at USD 3.92 billion in 2022 and grew at a CAGR of 27.20% from 2023 to 2032. The market is expected to reach USD 43.46 billion by 2032. The increasing market share can be attributed to the high growth rate of electric vehicles and rising initiatives for constructing EV charging infrastructure in commercial places.
Market Introduction:
A charging station called a charge point or electric vehicle supply equipment, is a piece of machinery that provides electricity for plug-in electric vehicle charging. Connectors that adhere to several international standards are offered by charging stations. In order to be able to charge a variety of automobiles that use conflicting standards, D.C. charging stations consist of numerous ports. Governmental buildings, retail shopping malls, and other parking lots are the traditional locations for public charging stations. Residences, businesses, and hotels are places where one can find private charging outlets. D.C. charging stations and A.C. charging stations are the two main categories. Since alternating current is the predominant kind of electricity transmitted from the power grid, batteries can only be charged with direct current electricity. Due to this, the majority of electric cars come equipped with an onboard charger, also known as an integrated AC-to-DC converter. For charging technologies, a number of standards have been established to allow for vendor interoperability. There are standards for connectors, power, and terminology.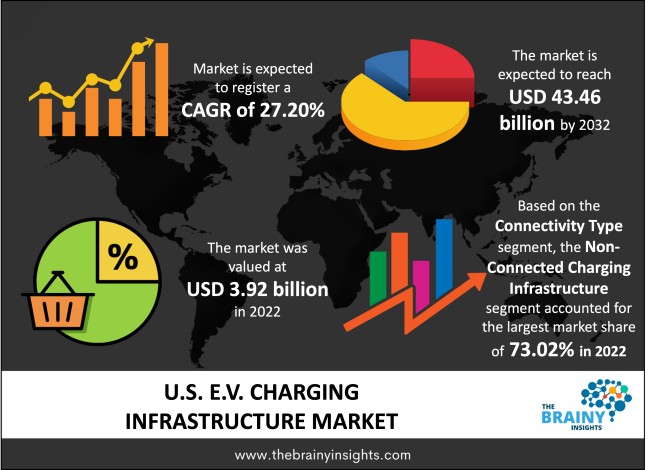 Get an overview of this study by requesting a free sample
Recent Development
In January 2020, Green Motion and Eaton, a provider of rental service and market player, respectively, announced a partnership for providing integrated chargers in buildings consisting of energy storage systems.
Market Dynamics:
Drivers
Increased sales of electric hybrid vehicles – Electric car sales surpassed 2.1 million worldwide in 2019. Electric vehicles accounted for 2.6 per cent of global car sales in 2019 and about 1% of global car stock, representing a 40 per cent rise year over year. Electric vehicles are becoming more common as technological advancements in the electrification of two/three-wheelers, buses, and trucks progress, and the demand for them expands. In recent years, bold policy announcements have been instrumental in accelerating the adoption of electric vehicles in major vehicle markets. Electric cars are quickly becoming one of the most popular modes of transportation in countries like the USA. Fuel prices continue to rise year after year, but an electric lease will drastically reduce operating costs, saving money in the long term.
Restraints:
The fluctuating cost of components– The development of EV charging infrastructure faces the inherent difficulty of installation cost fluctuation. This is primarily because several factors affect how much it will cost to install a charger. While there is considerable variation in the price of the equipment, it is clear that the installation cost mainly determines the variety in the deployment's overall cost.
Opportunities:
A growing number of smart city initiatives - Many people worldwide, including those in the United States, are flocking to cities, causing a surge in demand for resources and services in these areas. By 2025, 34 cities throughout the world will have populations of more than 10 million people. Cities currently utilise two-thirds of global energy and the vast majority of other resources. Mayors from the country said they are more interested in expediting the implementation of digital city services than before the outbreak. Most mayors want to invest in technology like EV charging infrastructure to promote the sales of EVs.
Connectivity Type Segment Analysis
The connectivity type segment is divided into connected charging infrastructure and non-connected charging infrastructure. The non-connected charging infrastructure segment dominated the market, with a share of around 73.02% in 2022. These non-connected chargers enable the users to offer secure and safe charging without paying recurring charges.
Connector Type Segment Analysis
The connector type segment is divided into combined charging systems, CHAdeMO and others. The combined charging system segment dominated the market, with a share of around 65.28% in 2022. Combined charging systems are primarily deployed in commercial places due to their easy compatibility with most electric vehicle models available in the U.S. market.
Components Segment Analysis
The components segment is divided into protective devices, circuit breakers, I/O modules, A.C. couplers and others. The other segment dominated the market, with a share of around 42.10% in 2022. Different types of connectors are available such as JI772, GB/T, etc. These components should be of global standard in order to be used in different electric vehicles.
End-use Segment Analysis
The end-user segment is divided into residential and commercial. The commercial segment further includes fleet charging systems, destination charging systems, bus charging systems, highway charging systems and others. The commercial segment dominated the market, with a share of around 66.42% in 2022. The rising funding for deploying electric vehicle charging systems in different commercial places has led to a high market share of the segment.
Some of the Key Market Players:
ChargePoint, Inc.
SemaConnect Inc.
Leviton Manufacturing Co., Inc.
Tesla, Inc.
ClipperCreek, Inc.
Delta Electronics, Inc.
General Electric Company
ABB Ltd.
Webasto Group
B.P. pulse
Report Description:
| Attribute | Description |
| --- | --- |
| Market Size | Revenue (USD Billion) |
| Market size value in 2022 | USD 3.92 Billion |
| Market size value in 2032 | USD 43.46 Billion |
| CAGR (2023 to 2032) | 27.20% |
| Historical data | 2019-2021 |
| Base Year | 2022 |
| Forecast | 2023-2032 |
| Segments | Connectivity Type, Connector Type, Components, and End-Use |
Frequesntly Asked Questions
1. Introduction
1.1. Objectives of the Study
1.2. Market Definition
1.3. Research Scope
1.4. Currency
1.5. Key Target Audience

2. Research Methodology and Assumptions

3. Executive Summary

4. Premium Insights
4.1. Porter's Five Forces Analysis
4.2. Value Chain Analysis
4.3. Top Investment Pockets
4.3.1. Market Attractiveness Analysis By Connectivity Type
4.3.2. Market Attractiveness Analysis By Connector Type
4.3.3. Market Attractiveness Analysis By Components
4.3.4. Market Attractiveness Analysis By End-use
4.4. Industry Trends

5. Market Dynamics
5.1. Market Evaluation
5.2. Drivers
5.2.1. Increasing sales of electric vehicles
5.3. Restraints
5.3.1. High cost of infrastructure
5.4. Opportunities
5.4.1. Increasing investment in smart city initiatives
5.5. Challenges
5.5.1. Dependency on fossil fuels

6. U.S. EV Charging Infrastructure Market Analysis and Forecast, By Connectivity Type
6.1. Segment Overview
6.2. Connected Charging Infrastructure
6.3. Non-Connected Charging Infrastructure

7. U.S. EV Charging Infrastructure Market Analysis and Forecast, By Connector Type
7.1. Segment Overview
7.2. Combined Charging System
7.3. CHAdeMO
7.4. Others

8. U.S. EV Charging Infrastructure Market Analysis and Forecast, By Components
8.1. Segment Overview
8.2. Protective Devices
8.3. Circuit Breakers
8.4. I/O Modules
8.5. AC Couplers
8.6. Others

9. U.S. EV Charging Infrastructure Market Analysis and Forecast, By End-use
9.1. Segment Overview
9.2. Residential
9.3. Commercial
9.3.1. Fleet Charging Systems
9.3.2. Destination Charging Systems
9.3.3. Bus Charging Systems
9.3.4. Highway Charging Systems
9.3.5. Others

10. U.S. EV Charging Infrastructure Market-Competitive Landscape
10.1. Overview
10.2. Market Share of Key Players in the EV Charging Infrastructure Market
10.2.1. U.S. Company Market Share
10.2.2. North America Company Market Share
10.2.3. Europe Company Market Share
10.2.4. APAC Company Market Share
10.3. Competitive Situations and Trends
10.3.1. Product Launches and Developments
10.3.2. Partnerships, Collaborations, and Agreements
10.3.3. Mergers & Acquisitions
10.3.4. Expansions

11. Company Profiles
11.1. ChargePoint, Inc.
11.1.1. Business Overview
11.1.2. Company Snapshot
11.1.3. Company Market Share Analysis
11.1.4. Company Product Portfolio
11.1.5. Recent Developments
11.1.6. SWOT Analysis
11.2. SemaConnect Inc.
11.2.1. Business Overview
11.2.2. Company Snapshot
11.2.3. Company Market Share Analysis
11.2.4. Company Product Portfolio
11.2.5. Recent Developments
11.2.6. SWOT Analysis
11.3. Tesla, Inc.
11.3.1. Business Overview
11.3.2. Company Snapshot
11.3.3. Company Market Share Analysis
11.3.4. Company Product Portfolio
11.3.5. Recent Developments
11.3.6. SWOT Analysis
11.4. Leviton Manufacturing Co., Inc.
11.4.1. Business Overview
11.4.2. Company Snapshot
11.4.3. Company Market Share Analysis
11.4.4. Company Product Portfolio
11.4.5. Recent Developments
11.4.6. SWOT Analysis
11.5. ClipperCreek, Inc.
11.5.1. Business Overview
11.5.2. Company Snapshot
11.5.3. Company Market Share Analysis
11.5.4. Company Product Portfolio
11.5.5. Recent Developments
11.5.6. SWOT Analysis
11.6. Delta Electronics, Inc.
11.6.1. Business Overview
11.6.2. Company Snapshot
11.6.3. Company Market Share Analysis
11.6.4. Company Product Portfolio
11.6.5. Recent Developments
11.6.6. SWOT Analysis
11.7. General Electric Company
11.7.1. Business Overview
11.7.2. Company Snapshot
11.7.3. Company Market Share Analysis
11.7.4. Company Product Portfolio
11.7.5. Recent Developments
11.7.6. SWOT Analysis
11.8. ABB Ltd.
1.1.1. Business Overview
1.1.2. Company Snapshot
1.1.3. Company Market Share Analysis
1.1.4. Company Product Portfolio
1.1.5. Recent Developments
1.1.6. SWOT Analysis
11.9. Webasto Group
11.9.1. Business Overview
11.9.2. Company Snapshot
11.9.3. Company Market Share Analysis
11.9.4. Company Product Portfolio
11.9.5. Recent Developments
11.9.6. SWOT Analysis
11.10. BP pulse
11.10.1. Business Overview
11.10.2. Company Snapshot
11.10.3. Company Market Share Analysis
11.10.4. Company Product Portfolio
11.10.5. Recent Developments
11.10.6. SWOT Analysis
List of Table
1. U.S. EV Charging Infrastructure Market, By Connectivity Type, 2019-2032 (USD Billion)
2. U.S. Connected Charging Infrastructure, EV Charging Infrastructure Market, 2019-2032 (USD Billion)
3. U.S. Non-Connected Charging Infrastructure, EV Charging Infrastructure Market, 2019-2032 (USD Billion)
4. U.S. EV Charging Infrastructure Market, By Connector Type, 2019-2032 (USD Billion)
5. U.S. Combined Charging System, EV Charging Infrastructure Market, 2019-2032 (USD Billion)
6. U.S. CHAdeMO, EV Charging Infrastructure Market, 2019-2032 (USD Billion)
7. U.S. Others, EV Charging Infrastructure Market, 2019-2032 (USD Billion)
8. U.S. EV Charging Infrastructure Market, By Components, 2019-2032 (USD Billion)
9. U.S. Protective Devices, EV Charging Infrastructure Market, 2019-2032 (USD Billion)
10. U.S. Circuit Breakers, EV Charging Infrastructure Market, 2019-2032 (USD Billion)
11. U.S. I/O Modules, EV Charging Infrastructure Market, 2019-2032 (USD Billion)
12. U.S. AC Couplers, EV Charging Infrastructure Market, 2019-2032 (USD Billion)
13. U.S. Others, EV Charging Infrastructure Market, 2019-2032 (USD Billion)
14. U.S. EV Charging Infrastructure Market, By End-use, 2019-2032 (USD Billion)
15. U.S. Residential, EV Charging Infrastructure Market, 2019-2032 (USD Billion)
16. U.S. Commercial, EV Charging Infrastructure Market, 2019-2032 (USD Billion)
List of Figures
1. U.S. EV Charging Infrastructure Market Segmentation
2. EV Charging Infrastructure Market: Research Methodology
3. Market Size Estimation Methodology: Bottom-Up Approach
4. Market Size Estimation Methodology: Top-Down Approach
5. Data Triangulation
6. Porter's Five Forces Analysis
7. Value Chain Analysis
8. U.S. EV Charging Infrastructure Market Attractiveness Analysis By Connectivity Type
9. U.S. EV Charging Infrastructure Market Attractiveness Analysis By Connector Type
10. U.S. EV Charging Infrastructure Market Attractiveness Analysis By Components
11. U.S. EV Charging Infrastructure Market Attractiveness Analysis By End-use
12. U.S. EV Charging Infrastructure Market: Dynamics
13. U.S. EV Charging Infrastructure Market Share By Connectivity Type (2022 & 2032)
14. U.S. EV Charging Infrastructure Market Share by Connector Type (2022 & 2032)
15. U.S. EV Charging Infrastructure Market Share by Components (2022 & 2032)
16. U.S. EV Charging Infrastructure Market Share by End-use (2022 & 2032)
17. U.S. EV Charging Infrastructure Market Share by Company (2022)