The US cannabis market was valued at USD 15 billion in 2022 and grew at a CAGR of 13% from 2023 to 2032. The market is expected to reach USD 50.91 billion by 2032. The growing legalization of cannabis in the US will drive the growth of the US cannabis market.
Market Introduction:
Sometimes referred to as marijuana, cannabis is a psychoactive drug made from the cannabis plant. It is indigenous to either Central or South Asia. It has been employed in conventional treatments for countless years. Additionally, it is a narcotic with entheogenic and recreational effects. In various slang terms, cannabis is also known as weed, herb, pot, grass, and ganja. Flowers from Cannabis sativa are a greenish-grey colour. Given its tremendous strength, the cannabis plant's stems, leaves, flowers, and stalks are chopped up and then smoked dry. It can be smoked as a joint, in a pipe or bong, or as a blunt. Cannabis can be used both medicinally and recreationally. Cannabis with a high THC content is used recreationally because it makes users feel relaxed and sleepy. Cannabis has many medical applications, from treating rare epilepsy to alleviating nausea and vomiting caused by cancer chemotherapy. It can be taken for weight loss and aids in regaining lost appetite. Cannabis has anti-inflammatory qualities that make it a highly effective pain reliever. It also aids in controlling sleep.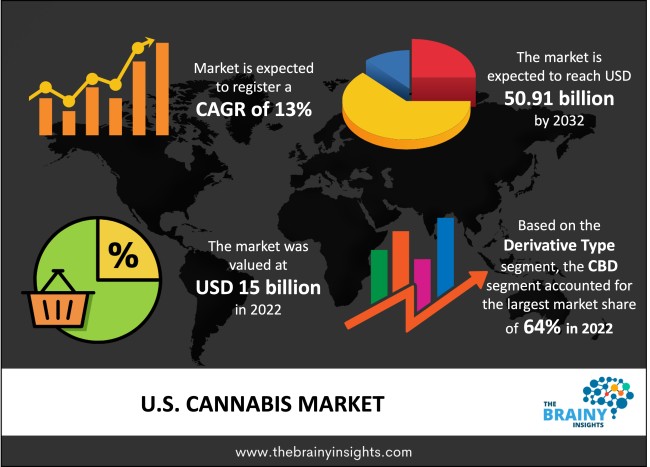 Get an overview of this study by requesting a free sample
Recent Development
May 2023: An adult-use marijuana legalization measure that permits cannabis businesses to sell hemp-derived goods, including those containing delta-8 THC, will be signed into law by Minnesota Governor Tim Walz. Minnesota will be the 23rd state in the union to legalize cannabis for adult use. Beginning on August 1, adults aged 21 and over can use and grow limited amounts of marijuana at home. Retailers are restricted to a maximum of five sites, while cultivation licence holders are restricted to a canopy area of 15,000 square feet. Vertical integration is permitted, but only for startups or companies that exclusively provide low-THC hemp-derived goods. Regulators may offer social equity applicants an advantage when granting licences.
May 2023: Canopy Growth Corp. submitted an amended proxy statement to the US Securities and Exchange Commission (SEC), which contains information regarding its plan to enter the US cannabis market more quickly through a holding company with US citizenship, Canopy USA LLC. Canopy USA is anticipated to exercise rights to buy Acreage Holdings Inc., Mountain High Products LLC, Wana Wellness LLC, The Cima Group LLC, and Lemurian Inc. after securing shareholder approval.
Market Dynamics:
Drivers
The increasing number of US States legalizing cannabis for medicinal and recreational purposes – The young population of the United States has been increasingly consuming cannabis over the years, given the high it offers and its relaxing benefits for the body. However, the illegality attached to cannabis made the black market and smuggling flourish, causing devastating effects for the user and the US economy. Years of study and scientific exploration have underscored the medicinal and recreational benefits of cannabis when regulated and monitored. Therefore, the US states started legalizing the use of cannabis with specified limits that can be cultivated, sold, kept in possession and utilized personally. With more studies showing the several medicinal benefits of cannabis, more states have started legalizing cannabis, which will drive the US market's growth. Legalizing cannabis has also helped the states take control of the smuggling and black market and increase their income through legalized sales and purchases of cannabis.
Restraints:
The undesirable effects of cannabis – Low-dose and controlled use of cannabis for recreational purposes efficiently address various health concerns. Additionally, it is not advocated for use by healthy people regularly. It is used to manage chronic pain, sleep deprivation, and other conditions. However, the country's young population gravitated towards using it under peer pressure, which may lead to addiction. The consistent use of cannabis by a healthy individual over the long run is detrimental as the risks outweigh the benefits by a considerable margin. Therefore, some states have a prominent pushback against legalising cannabis or a more stringent regulation over its cultivation, sales, purchase and consumption. Therefore, the undesirable effects of cannabis will hinder the market's growth.
Opportunities:
The increasing research and development expenditure to explore the medicinal benefits of cannabis – The countries in the south and east of Asia have been using cannabis in their traditional medicines for centuries. They have mastered the cultivation, proper usage and controlled consumption of cannabis to derive the maximum benefits of the plant. They have also used their wisdom to utilize the plant in their food and beverages. Globalization led to the spread of this knowledge. The growing awareness about the medicinal benefits of cannabis has helped millions deal with chronic ailments. Therefore, the government and other private players have increased their research and development expenditure to explore the other potential benefits of cannabis in treating several illnesses/conditions. The increasing research and development expenditure on cannabis and its medicinal benefits will offer lucrative opportunities to the market players in the forecast period.
Derivate Type Segment Analysis
The derivative type segment is divided into THC, CBD and others. The CBD segment dominated the market, with a market share of around 64% in 2022. Cannabidiol (CBD) is a chemical found in cannabis. Both hemp and non-hemp plants can be used to produce CBD. All of the cannabis' therapeutic benefits are enhanced and made easier by CBD, which also lessens the psychotic effects associated with THC-dominant weed. Compared to cannabis with a high THC content, CBD has extremely little to no brain effects, making social acceptability and legalization easier. Cannabis with a high CDB content can control mental problems and relieve pain, inflammation, and migraines.
Source Segment Analysis
The source segment is divided into marijuana and hemp. The marijuana segment dominated the market, with a market share of around 56% in 2022. Marijuana is much more potent than hemp, which makes it effective for medical purposes. Furthermore, it is a more known form of cannabis, increasing its familiarity and adoption in the market. It can be found in Oils, concentrates, tinctures, isolates, flowers, edibles, etc. Furthermore, it can be infused into foods and drinks and therefore have a wide scope of application.
End-use Segment Analysis
The end-use segment is divided into medical, recreational, and industrial. The medical segment dominated the market, with a market share of around 46% in 2022. Cannabis has several medical benefits and has been known to be used in traditional medicines worldwide. The medical use of cannabis makes its legalization easier when compared to its use for recreational purposes, thereby driving its dominance in the market. It is an effective treatment for chronic pain, given its anti-inflammatory characteristics that help patients. It is preferred over several other treatments, given the manageable side effects. The increase in the prevalence of chronic pain, the availability of cannabis for pain management on the open market, and the social acceptance of cannabis will all contribute to the segment's growth.
Some of the Key Market Players:
Aphria, Inc.
Aurora Cannabis, Inc.
Cannabis Sativa Inc.
Canopy Growth Corporation
Cronos Group
Curaleaf
Emerald Health Therapeutics Inc.
GW Pharmaceuticals, plc
The Cronos Group Inc.
Tilray
Report Description:
| Attribute | Description |
| --- | --- |
| Market Size | Revenue (USD Billion) |
| Market size value in 2022 | USD 15 Billion |
| Market size value in 2032 | USD 50.91 Billion |
| CAGR (2023 to 2032) | 13% |
| Historical data | 2019-2021 |
| Base Year | 2022 |
| Forecast | 2023-2032 |
| Segments | Derivate Type, Source and End Use |
Frequesntly Asked Questions
1. Introduction
1.1. Objectives of the Study
1.2. Market Definition
1.3. Research Scope
1.4. Currency
1.5. Key Target Audience

2. Research Methodology and Assumptions

3. Executive Summary

4. Premium Insights
4.1. Porter's Five Forces Analysis
4.2. Value Chain Analysis
4.3. Top Investment Pockets
4.3.1. Market Attractiveness Analysis by Derivative Type
4.3.2. Market Attractiveness Analysis by Source
4.3.3. Market Attractiveness Analysis by End Use
4.4. Industry Trends

5. Market Dynamics
5.1. Market Evaluation
5.2. Drivers
5.2.1. The increasing number of US States legalizing cannabis for medicinal and recreational purposes
5.3. Restraints
5.3.1. The undesirable effects of cannabis
5.4. Opportunities
5.4.1. The increasing research and development expenditure to explore the medicinal benefits of cannabis
5.5. Challenges
5.5.1. The lack of standard regulation.

6. US Cannabis Market Analysis and Forecast, By Derivative Type
6.1. Segment Overview
6.2. THC
6.3. CBD
6.4. Others

7. US Cannabis Market Analysis and Forecast, By Source
7.1. Segment Overview
7.2. Marijuana
7.3. Hemp

8. US Cannabis Market Analysis and Forecast, By End Use
8.1. Segment Overview
8.2. Medical
8.3. Recreational
8.4. Industrial

9. US Cannabis Market-Competitive Landscape
9.1. Overview
9.2. Market Share of Key Players in the US Cannabis Market
9.3. Competitive Situations and Trends
9.3.1. Product Launches and Developments
9.3.2. Partnerships, Collaborations, and Agreements
9.3.3. Mergers & Acquisitions
9.3.4. Expansions

10. Company Profiles
10.1. Aphria, Inc.
10.1.1. Business Overview
10.1.2. Company Snapshot
10.1.3. Company Market Share Analysis
10.1.4. Company Product Portfolio
10.1.5. Recent Developments
10.1.6. SWOT Analysis
10.2. Aurora Cannabis, Inc.
10.2.1. Business Overview
10.2.2. Company Snapshot
10.2.3. Company Market Share Analysis
10.2.4. Company Product Portfolio
10.2.5. Recent Developments
10.2.6. SWOT Analysis
10.3. Cannabis Sativa Inc.
10.3.1. Business Overview
10.3.2. Company Snapshot
10.3.3. Company Market Share Analysis
10.3.4. Company Product Portfolio
10.3.5. Recent Developments
10.3.6. SWOT Analysis
10.4. Canopy Growth Corporation
10.4.1. Business Overview
10.4.2. Company Snapshot
10.4.3. Company Market Share Analysis
10.4.4. Company Product Portfolio
10.4.5. Recent Developments
10.4.6. SWOT Analysis
10.5. Cronos Group
10.5.1. Business Overview
10.5.2. Company Snapshot
10.5.3. Company Market Share Analysis
10.5.4. Company Product Portfolio
10.5.5. Recent Developments
10.5.6. SWOT Analysis
10.6. Curaleaf
10.6.1. Business Overview
10.6.2. Company Snapshot
10.6.3. Company Market Share Analysis
10.6.4. Company Product Portfolio
10.6.5. Recent Developments
10.6.6. SWOT Analysis
10.7. Emerald Health Therapeutics Inc.
10.7.1. Business Overview
10.7.2. Company Snapshot
10.7.3. Company Market Share Analysis
10.7.4. Company Product Portfolio
10.7.5. Recent Developments
10.7.6. SWOT Analysis
10.8. GW Pharmaceuticals, plc
10.8.1. Business Overview
10.8.2. Company Snapshot
10.8.3. Company Market Share Analysis
10.8.4. Company Product Portfolio
10.8.5. Recent Developments
10.8.6. SWOT Analysis
10.9. The Cronos Group Inc.
10.9.1. Business Overview
10.9.2. Company Snapshot
10.9.3. Company Market Share Analysis
10.9.4. Company Product Portfolio
10.9.5. Recent Developments
10.9.6. SWOT Analysis
10.10. Tilray
10.10.1. Business Overview
10.10.2. Company Snapshot
10.10.3. Company Market Share Analysis
10.10.4. Company Product Portfolio
10.10.5. Recent Developments
10.10.6. SWOT Analysis
List of Table
1. US Cannabis Market, By Derivative Type, 2019-2032 (USD Billion)
2. US THC Cannabis Market, By Region, 2019-2032 (USD Billion)
3. US CBD Cannabis Market, By Region, 2019-2032 (USD Billion)
4. US Others Cannabis Market, By Region, 2019-2032 (USD Billion)
5. US Cannabis Market, By Source, 2019-2032 (USD Billion)
6. US Marijuana Cannabis Market, By Region, 2019-2032 (USD Billion)
7. US Hemp Cannabis Market, By Region, 2019-2032 (USD Billion)
8. US Cannabis Market, By End Use, 2019-2032 (USD Billion)
9. US Medical Cannabis Market, By Region, 2019-2032 (USD Billion)
10. US Recreational Cannabis Market, By Region, 2019-2032 (USD Billion)
11. US Industrial Cannabis Market, By Region, 2019-2032 (USD Billion)
List of Figures
1. US Cannabis Market Segmentation
2. Cannabis Market: Research Methodology
3. Market Size Estimation Methodology: Bottom-Up Approach
4. Market Size Estimation Methodology: Top-Down Approach
5. Data Triangulation
6. Porter's Five Forces Analysis
7. Value Chain Analysis
8. US Cannabis Market Attractiveness Analysis by Derivative Type
9. US Cannabis Market Attractiveness Analysis by Source
10. US Cannabis Market Attractiveness Analysis by End Use
11. US Cannabis Market: Dynamics
12. US Cannabis Market Share by Derivative Type (2022 & 2032)
13. US Cannabis Market Share by Source (2022 & 2032)
14. US Cannabis Market Share by End Use (2022 & 2032)
15. US Cannabis Market Share by Company (2022)