The global unified communications market was valued at USD 115.0 billion in 2022, growing at a CAGR of 18% from 2023 to 2032. The market is expected to reach USD 601.8 billion by 2032. The growth of the global unified communications market is attributed to the expanding government efforts and measures for implementing unified communications platforms across various industries. The government also collaborates with companies and organizations active in the global unified communications market. The goal of this partnership is to increase consumer awareness for unified communications.
Market Introduction:
By integrating several communication platforms, unified communications offer real-time unified access to interaction with businesses operating in various industrial verticals. Unified communication service providers have launched novel products and solutions to facilitate easy access and high levels of interoperability for high productivity and well-informed decision-making through group efforts. Unified communications are also accessible in various formats, including video, mobility, conferencing, unified messaging, IM and presence, telephony, and contact centres. The growing need for mobility complements the unified communications market expansion across multiple industry sectors, the need to lower the cost of administrative operations, and the growing market for cloud solutions. Real-time communication, interoperability, and more straightforward access to necessary information are made possible through unified communications for enterprises. It offers a uniform interface to combine many devices, allowing for fluid communication and intelligent decision-making. The growing demand for cloud-enabled solutions is anticipated to fuel market expansion.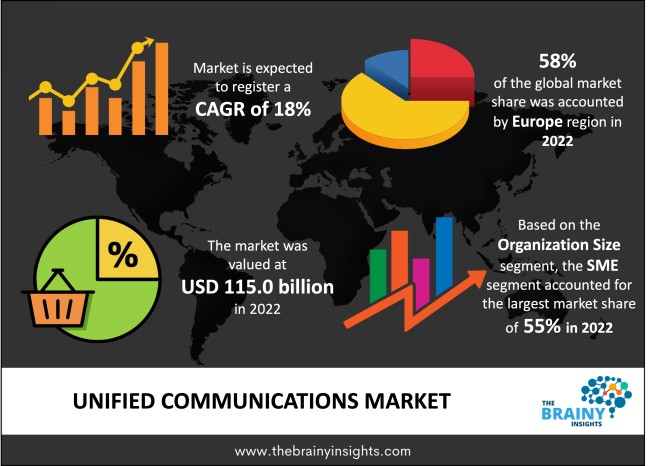 Get an overview of this study by requesting a free sample
Recent Development
In February 2022, RingCentral Inc. and Deutsche Telekom announced that their partnership would be expanded to provide customers with "RingCentral X powered by Telekom," an end-to-end communication and collaboration solution. RingCentral Inc. provides global enterprise cloud communications, video meetings, collaboration, and contact centre solutions.
In February 2022, Darty declared a new relationship with Google to enhance its online operations. Google's Cloud Retail Search, a service designed to make it simpler for shoppers to find products, will now be used on Fnac Darty's websites. One retailer in France using this cutting-edge Google Cloud service to raise the bar for online and mobile shopping is Fnac Darty.
In August 2020, Tevatel created the 'doctor' breakthrough cloud telephone technology to revolutionize sales support services. The platform increases business process collaboration and flexibility, which raises sales productivity.
In July 2020, Airtel launched a video conferencing app called BlueJeans in India. To create video conferencing software for Indian users, Airtel has partnered with Verizon-owned BlueJeans in the United States.
Market Dynamics:
Drivers
Growing Adoption of Communications- The transition from unified communications platforms to automated solutions is being aided by the Internet of Things. The healthcare industry, where daily communication is crucial, is where the Internet of Things is employed most frequently. The effective and efficient processing of data is also made possible by the Internet of Things. As a result, the global unified communications market will rise during the forecast period due to the increasing acceptance of the Internet of Things in unified communications.
Restraints:
Privacy Concerns- With unified communications, much confidential information is kept throughout communications. As a result, employing unified communications platforms and solutions for everyday operations worries large organizations. As a result, worries about data security and privacy are impeding the development of the global unified communications market.
Opportunities:
Growing Government Initiatives- Governments all around the world are working hard to build unified communications platforms in a variety of industries. Government organizations have also begun implementing unified communications solutions for regular operations. Additionally, they are making significant investments to grow the unified communications market. Additionally, market participants work with governments in both developed and developing nations. Therefore, during the forecast period, expanding government efforts offer attractive chances for the growth of the global unified communications market.
Regional segmentation analysis:
The regions analyzed for the market include North America, Europe, South America, Asia Pacific, the Middle East, and Africa. Europe emerged as the largest market for the global unified communications market, with a 58% market revenue share in 2022.
Significant industry players are fueling the growth of the unified communications market in Europe. Additionally, digital communication channels are being implemented by both small and large businesses. This feature is driving up demand for unified communications in the European market.
This can be linked to the development of BYOD service usage, which, combined with the necessity for operational and performance efficiency, has greatly aided the adoption of unified communication systems across enterprise apps. The region's rising UC demand has allowed several providers to launch their operations.
For instance, Alcatel-Lucent Enterprise and Avaya announced their next chapter of a strategic alliance in October 2022 at GITEX Global, allowing businesses to develop without undertaking initiatives to replace disruptively operating technologies. Talk and Alcatel-Lucent Enterprise established a distribution partnership in Germany, and Talk quickly took on the role of master broker under the broker model.
Europe Region Unified Communications Market Share in 2022 - 58%
www.thebrainyinsights.com
Check the geographical analysis of this market by requesting a free sample
Product Segment Analysis
The product segment is divided into on-premise and hosted. The hosted segment dominated the market, with a market share of around 53% in 2022 due to decreased operational, capital, and total ownership costs. Due to the predictable and straightforward operational cost model, businesses are switching to hosted UC systems to upgrade their storage capacity. The hosted solution delivers A single UC platform, enabling communication and collaboration services through various channels.
Organization Size Segment Analysis
The organization size segment is divided into large and SME. The SME segment dominated the market, with a share of around 55% in 2022. Small and medium-sized businesses (SMEs) can install unified communications solutions more affordably using unified communications services. In addition, several suppliers have shifted their attention to Small and Medium-sized Businesses (SMBs), which previously did not comprise a significant market due to the requirement for education about the potential advantages of UC and the high cost of on-premise equipment.
Some of the Key Market Players:
Alcatel-Lucent Enterprise
Avaya Inc.
Cisco Systems Inc.
Microsoft Corporation
Mitel Network Corporation
NEC Corporation
Poly (Platonics Inc.)
Unify (Atos SE)
Verizon Communications Inc.
Tata Communications
IBM Corporation
Report Description:
| Attribute | Description |
| --- | --- |
| Market Size | Revenue (USD Billion) |
| Market size value in 2022 | USD 115.0 Billion |
| Market size value in 2032 | USD 601.8 Billion |
| CAGR (2023 to 2032) | 18% |
| Historical data | 2019-2021 |
| Base Year | 2022 |
| Forecast | 2023-2032 |
| Region | The regions analyzed for the market are Asia Pacific, Europe, South America, North America, and Middle East & Africa. Furthermore, the regions are further analyzed at the country level. |
| Segments | Product, Organisation Size |
Frequesntly Asked Questions
As per The Brainy Insights, the size of the unified communications market was valued at USD 115.0 billion in 2022 to USD 601.8 billion by 2032.
The global unified communications market is growing at a CAGR of 18% during the forecast period 2023-2032.
Europe emerged as the largest unified communications market.
1. Introduction
1.1. Objectives of the Study
1.2. Market Definition
1.3. Research Scope
1.4. Currency
1.5. Key Target Audience

2. Research Methodology and Assumptions

3. Executive Summary

4. Premium Insights
4.1. Porter's Five Forces Analysis
4.2. Value Chain Analysis
4.3. Top Investment Pockets
4.3.1. Market Attractiveness Analysis by Product
4.3.2. Market Attractiveness Analysis by Organisation Size
4.3.3. Market Attractiveness Analysis by Region
4.4. Industry Trends

5. Market Dynamics
5.1. Market Evaluation
5.2. Drivers
5.2.1. Growing adoption of communications
5.3. Restraints
5.3.1. Privacy concerns
5.4. Opportunities
5.4.1. Growing government initiatives
5.5. Challenges
5.5.1. Data concern

6. Global Unified Communications Market Analysis and Forecast, By Product
6.1. Segment Overview
6.2. On-premise
6.3. Hosted

7. Global Unified Communications Market Analysis and Forecast, By Organisation Size
7.1. Segment Overview
7.2. Large
7.3. SME

8. Global Unified Communications Market Analysis and Forecast, By Regional Analysis
8.1. Segment Overview
8.2. North America
8.2.1. U.S.
8.2.2. Canada
8.2.3. Mexico
8.3. Europe
8.3.1. Germany
8.3.2. France
8.3.3. U.K.
8.3.4. Italy
8.3.5. Spain
8.4. Asia-Pacific
8.4.1. Japan
8.4.2. China
8.4.3. India
8.5. South America
8.5.1. Brazil
8.6. Middle East and Africa
8.6.1. UAE
8.6.2. South Africa

9. Global Unified Communications Market-Competitive Landscape
9.1. Overview
9.2. Market Share of Key Players in Global Unified Communications Market
9.2.1. Global Company Market Share
9.2.2. North America Company Market Share
9.2.3. Europe Company Market Share
9.2.4. APAC Company Market Share
9.3. Competitive Situations and Trends
9.3.1. Product Launches and Developments
9.3.2. Partnerships, Collaborations, and Agreements
9.3.3. Mergers & Acquisitions
9.3.4. Expansions

10. Company Profiles
10.1. Alcatel-Lucent Enterprise
10.1.1. Business Overview
10.1.2. Company Snapshot
10.1.3. Company Market Share Analysis
10.1.4. Company Product Portfolio
10.1.5. Recent Developments
10.1.6. SWOT Analysis
10.2. Avaya Inc.
10.2.1. Business Overview
10.2.2. Company Snapshot
10.2.3. Company Market Share Analysis
10.2.4. Company Product Portfolio
10.2.5. Recent Developments
10.2.6. SWOT Analysis
10.3. Cisco Systems Inc.
10.3.1. Business Overview
10.3.2. Company Snapshot
10.3.3. Company Market Share Analysis
10.3.4. Company Product Portfolio
10.3.5. Recent Developments
10.3.6. SWOT Analysis
10.4. Microsoft Corporation
10.4.1. Business Overview
10.4.2. Company Snapshot
10.4.3. Company Market Share Analysis
10.4.4. Company Product Portfolio
10.4.5. Recent Developments
10.4.6. SWOT Analysis
10.5. Mitel Network Corporation
10.5.1. Business Overview
10.5.2. Company Snapshot
10.5.3. Company Market Share Analysis
10.5.4. Company Product Portfolio
10.5.5. Recent Developments
10.5.6. SWOT Analysis
10.6. NEC Corporation
10.6.1. Business Overview
10.6.2. Company Snapshot
10.6.3. Company Market Share Analysis
10.6.4. Company Product Portfolio
10.6.5. Recent Developments
10.6.6. SWOT Analysis
10.7. Poly (Platonics Inc.)
10.7.1. Business Overview
10.7.2. Company Snapshot
10.7.3. Company Market Share Analysis
10.7.4. Company Product Portfolio
10.7.5. Recent Developments
10.7.6. SWOT Analysis
10.8. Unify (Atos SE)
10.8.1. Business Overview
10.8.2. Company Snapshot
10.8.3. Company Market Share Analysis
10.8.4. Company Product Portfolio
10.8.5. Recent Developments
10.8.6. SWOT Analysis
10.9. Verizon Communications Inc.
10.9.1. Business Overview
10.9.2. Company Snapshot
10.9.3. Company Market Share Analysis
10.9.4. Company Product Portfolio
10.9.5. Recent Developments
10.9.6. SWOT Analysis
10.10. Tata Communications
10.10.1. Business Overview
10.10.2. Company Snapshot
10.10.3. Company Market Share Analysis
10.10.4. Company Product Portfolio
10.10.5. Recent Developments
10.10.6. SWOT Analysis
10.11. IBM Corporation
10.11.1. Business Overview
10.11.2. Company Snapshot
10.11.3. Company Market Share Analysis
10.11.4. Company Product Portfolio
10.11.5. Recent Developments
10.11.6. SWOT Analysis
List of Table
1. Global Unified Communications Market, By Product, 2019-2032 (USD Billion)
2. Global On-premise, Unified Communications Market, By Region, 2019-2032 (USD Billion)
3. Global Hosted, Unified Communications Market, By Region, 2019-2032 (USD Billion)
4. Global Unified Communications Market, By Organisation Size, 2019-2032 (USD Billion)
5. Global Large, Unified Communications Market, By Region, 2019-2032 (USD Billion)
6. Global SME, Unified Communications Market, By Region, 2019-2032 (USD Billion)
7. North America Unified Communications Market, By Product, 2019-2032 (USD Billion)
8. North America Unified Communications Market, By Organisation Size, 2019-2032 (USD Billion)
9. U.S. Unified Communications Market, By Product, 2019-2032 (USD Billion)
10. U.S. Unified Communications Market, By Organisation Size, 2019-2032 (USD Billion)
11. Canada Unified Communications Market, By Product, 2019-2032 (USD Billion)
12. Canada Unified Communications Market, By Organisation Size, 2019-2032 (USD Billion)
13. Mexico Unified Communications Market, By Product, 2019-2032 (USD Billion)
14. Mexico Unified Communications Market, By Organisation Size, 2019-2032 (USD Billion)
15. Europe Unified Communications Market, By Product, 2019-2032 (USD Billion)
16. Europe Unified Communications Market, By Organisation Size, 2019-2032 (USD Billion)
17. Germany Unified Communications Market, By Product, 2019-2032 (USD Billion)
18. Germany Unified Communications Market, By Organisation Size, 2019-2032 (USD Billion)
19. France Unified Communications Market, By Product, 2019-2032 (USD Billion)
20. France Unified Communications Market, By Organisation Size, 2019-2032 (USD Billion)
21. U.K. Unified Communications Market, By Product, 2019-2032 (USD Billion)
22. U.K. Unified Communications Market, By Organisation Size, 2019-2032 (USD Billion)
23. Italy Unified Communications Market, By Product, 2019-2032 (USD Billion)
24. Italy Unified Communications Market, By Organisation Size, 2019-2032 (USD Billion)
25. Spain Unified Communications Market, By Product, 2019-2032 (USD Billion)
26. Spain Unified Communications Market, By Organisation Size, 2019-2032 (USD Billion)
27. Asia Pacific Unified Communications Market, By Product, 2019-2032 (USD Billion)
28. Asia Pacific Unified Communications Market, By Organisation Size, 2019-2032 (USD Billion)
29. Japan Unified Communications Market, By Product, 2019-2032 (USD Billion)
30. Japan Unified Communications Market, By Organisation Size, 2019-2032 (USD Billion)
31. China Unified Communications Market, By Product, 2019-2032 (USD Billion)
32. China Unified Communications Market, By Organisation Size, 2019-2032 (USD Billion)
33. India Unified Communications Market, By Product, 2019-2032 (USD Billion)
34. India Unified Communications Market, By Organisation Size, 2019-2032 (USD Billion)
35. South America Unified Communications Market, By Product, 2019-2032 (USD Billion)
36. South America Unified Communications Market, By Organisation Size, 2019-2032 (USD Billion)
37. Brazil Unified Communications Market, By Product, 2019-2032 (USD Billion)
38. Brazil Unified Communications Market, By Organisation Size, 2019-2032 (USD Billion)
39. Middle East and Africa Unified Communications Market, By Product, 2019-2032 (USD Billion)
40. Middle East and Africa Unified Communications Market, By Organisation Size, 2019-2032 (USD Billion)
41. UAE Unified Communications Market, By Product, 2019-2032 (USD Billion)
42. UAE Unified Communications Market, By Organisation Size, 2019-2032 (USD Billion)
43. South Africa Unified Communications Market, By Product, 2019-2032 (USD Billion)
44. South Africa Unified Communications Market, By Organisation Size, 2019-2032 (USD Billion)
List of Figures
1. Global Unified Communications Market Segmentation
2. Global Unified Communications Market: Research Methodology
3. Market Size Estimation Methodology: Bottom-Up Approach
4. Market Size Estimation Methodology: Top-Down Approach
5. Data Triangulation
6. Porter's Five Forces Analysis
7. Value Chain Analysis
8. Global Unified Communications Market Attractiveness Analysis by Product
9. Global Unified Communications Market Attractiveness Analysis by Organisation Size
10. Global Unified Communications Market Attractiveness Analysis by Region
11. Global Unified Communications Market: Dynamics
12. Global Unified Communications Market Share by Product (2023 & 2032)
13. Global Unified Communications Market Share by Organisation Size (2023 & 2032)
14. Global Unified Communications Market Share by Regions (2023 & 2032)
15. Global Unified Communications Market Share by Company (2022)