The global ultrasound market was valued at USD 9.1 billion in 2022, growing at a CAGR of 6.5% from 2023 to 2032. The market is expected to reach USD 17.0 billion by 2032. The increasing prevalence of chronic diseases, the rising geriatric population and the demand for point-of-care testing are expected to drive the market's growth. Furthermore, ultrasound equipment is being implemented into intraoperative settings more frequently, helping surgeons make informed decisions while they perform operations. Real-time imaging of anatomical structures is provided by intraoperative ultrasound, which also aids in guiding surgical operations to ensure accuracy and reduce complications.
Market Introduction:
To view inside body structures in real-time, ultrasound instruments use high-frequency sound waves outside humans' audible range. They are essential to non-invasive medical imaging and provide insightful data on anatomical structures and physiological functions. Devices that use ultrasound produce sound waves that interact with tissues inside the body and generate echoes, which are then converted into precise images. These images help medical practitioners diagnose various illnesses, track the effectiveness of treatment, and direct minimally invasive operations. Cardiology, obstetrics, radiology, and other medical specialities are among those where ultrasound equipment is useful. High-resolution transducers and 3D/4D imaging capabilities are examples of technological developments that continuously increase medical devices' diagnostic precision and usability, leading to better patient care and medical decision-making.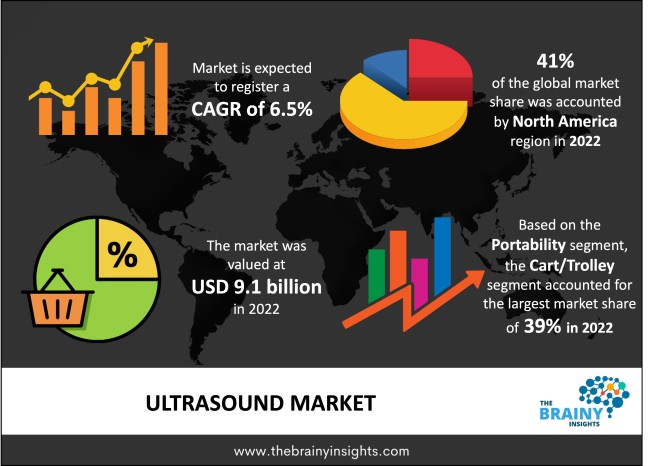 Get an overview of this study by requesting a free sample
Recent Development
In January 2023, FUJIFILM The Sonosite PX ultrasound system was unveiled by Sonosite, Inc. Sonosite PX is the successor to Sonosite POCUS and provides the highest level of visual quality ever seen in a Sonosite system, along with several features that improve productivity and a flexible form factor.
In April 2022, In Mumbai's Patalganga Industrial Area, Trivitron Healthcare established a new ultrasound manufacturing facility in India. According to market demands in India and worldwide, various cutting-edge ultrasound devices and accessories will be produced at the new production facility.
Market Dynamics:
Drivers
Rising Prevalence of Chronic Diseases- The frequency of chronic diseases is increasing globally, increasing demand for healthcare services due to more patient visits, hospital admissions, and surgeries. For instance, the CDC's data from 2021 shows that there were more than 1.0 billion doctor visits, 131.3 million trips to the ER, and 41.5 million outpatient procedures in the US. This is expected to drive the market's growth over the forecast period.
Restraints:
High setup cost- The initial cost of purchasing and setting up ultrasound technology must be lowered, which is expected to hinder the market's growth. Furthermore, maintaining modern ultrasound technology is also costly, which adds to the overall cost of the ultrasound system. So, it's projected to restrain the market's expansion for ultrasound devices.
Opportunities:
Increasing application- Applications of this technology have grown over the last ten years to include clinical areas like surgery, gastroenterology, and musculoskeletal. These uses were formerly restricted to gynaecology, cardiology, obesity, and radiography. The employment of these systems in primary care, anaesthesia, emergency medicine, and critical care applications has therefore increased due to recent innovations and the introduction of numerous products in the point-of-care (POC) sector and handheld devices. This is anticipated to grow opportunities for the market during the forecast period.
Regional segmentation analysis:
The regions analyzed for the market include North America, Europe, South America, Asia Pacific, the Middle East, and Africa. North America emerged as the largest global ultrasound market, with a 41% market revenue share in 2022.
North America is expected to be the largest global ultrasound market due to the presence of a sizable number of market competitors and the rising incidence of cancer cases. Additionally, this region's market expansion is driven by the rising prevalence of cancer patients. For instance, the National Journal of Health Statistics projects that there will be 195,831 extra cancer cases and 60,982 cancer-related fatalities in the United States in 2023. Additionally, rising healthcare spending, improved knowledge of various diagnostic techniques, and favourable reimbursement policies would fuel market expansion in this industry.
North America Region Ultrasound Market Share in 2022 - 41%
www.thebrainyinsights.com
Check the geographical analysis of this market by requesting a free sample
Portability Segment Analysis
The portability segment is divided into compact, cart/trolley, and handheld. The cart/trolley segment dominated, with a market share of around 39% in 2022. Cart/trolley ultrasounds eliminate the problem of transferring essential patients by bringing the equipment to the patient's location, whether it's an Intensive Care Unit (ICU) or an emergency room. Additionally, it facilitates quick diagnosis, therapy selection, and administration, all of which support greater patient satisfaction and recovery.
Application Segment Analysis
The application segment is divided into primary care, radiology, cardiology, anaesthesia, obstetrics/gynaecology, critical care, orthopaedic, and emergency medicine. The radiology segment dominated, with a market share of around 24% in 2022. The segment is growing as artificial intelligence is used more frequently in radiology. In addition, the market is rising due to increased mergers and acquisitions among the major companies in the sector.
End-User Segment Analysis
The end-user segment is divided into imaging centres, research centres, and hospitals. The hospital segment dominated, with a market share of around 42% in 2022. Introducing portable systems is expected to fuel the demand for ultrasound devices in OPD and in-patient departments. The extensive use of ultrasound devices in hospital settings and an increase in the number of patients visiting hospitals with various lifestyle-related disorders are two factors that have contributed to the segment's growth.
Some of the Key Market Players:
Zimmer MedizinSysteme GmbH
General Electric Company
Fujifilm Corporation
Hitachi, Ltd.
Mindray Medical International Limited.
Samsung Healthcare
Siemens Healthineers AG
Koninklijke Philips N.V.
Canon Inc.
ESAOTE SPA
Report Description:
| Attribute | Description |
| --- | --- |
| Market Size | Revenue (USD Billion) |
| Market size value in 2022 | USD 9.1 Billion |
| Market size value in 2032 | USD 17.0 Billion |
| CAGR (2023 to 2032) | 6.5% |
| Historical data | 2019-2021 |
| Base Year | 2022 |
| Forecast | 2023-2032 |
| Region | The regions analyzed for the market are Asia Pacific, Europe, South America, North America, and Middle East & Africa. Furthermore, the regions are further analyzed at the country level. |
| Segments | Portability, Application, End-User |