The global tight gas market was valued at USD 37.0 billion in 2022, growing at a CAGR of 5.6% from 2023 to 2032. The market is expected to reach USD 63.8 billion by 2032. Government initiatives encouraging clean fuel generation and implementing modern drilling technologies in various countries are expected to boost the market over the forecast period.
Market Introduction:
Tight gas, a type of natural gas, is regarded as a reliable energy source for power generation, accounting for the second-largest percentage of the world energy supply after coal. Tight gas's share is likely to rise in the following years due to coal power's environmental and economic restrictions, at least in nations where natural gas is a viable option. This high-end application is likely to have a positive impact on the tight gas market environment. Production and processing, gas transmission and storage, and distribution to big-volume consumers, residential users, and commercial customers are all part of the tight gas supply chain. Multi-stage hydraulic fracturing and horizontal drilling have enabled industry participants to generate natural gas from tight formations economically. The advancement of these innovative procedures is likely to boost the supply chain's upstream sector. Stable regulatory and fiscal policies, new technologies, lower drilling and healthy completion costs, and increased investment from international market participants are crucial determinants of the tight gas market competitiveness. Furthermore, the successful production of tight gas depends on the availability of demand markets for it, including electricity generation, the industrial thermal sector, the building thermal sector, and others.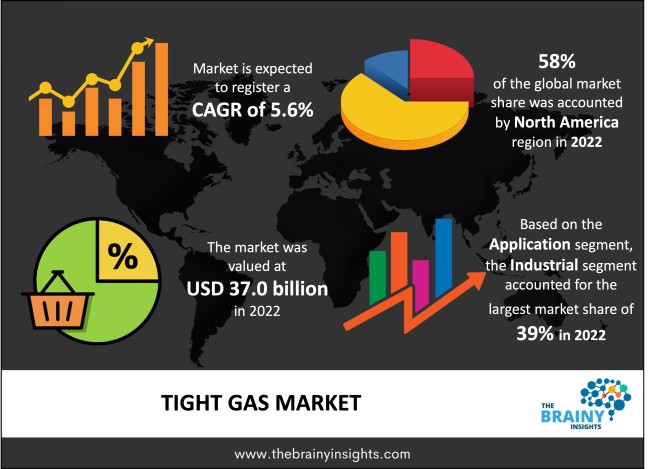 Get an overview of this study by requesting a free sample
Recent Development
Repsol SA spent US$ 8.3 million (6.64 million euros) in 2015 to acquire 100% of Talisman Energy, a Canadian oil company. As a result of the transaction, Repsol became one of the world's largest energy firms, with operations in over 50 countries and over 27,000 employees. It also strengthened Repsol's position as an integrated firm with a more balanced and competitive business model resulting from a more robust asset portfolio comprising multiple high-quality assets in geopolitically stable nations.
Market Dynamics:
Drivers
Surge in Usage- Tight gas fulfils various functions, making it a lucrative resource expected to grow the global tight gas market. Flammable gas is used as an energy source in transportation and local areas. The transportation industry has supported the gaseous petrol market, increasing the number of CNG vehicles on the road. Over 24 million flammable petrol cars (NGVs) were used worldwide in 2017. All vehicles can run on petroleum gas, including cruisers, automobiles, vans, light and heavy trucks, transports, lift trucks and trains. As a result, all aspects contribute to the global market's success.
Restraints:
Environmental Issues- Market expansion is projected to be hampered by tight environmental regulations and lengthy government inspection and authorization issuing. In June 2019, Ascent Resources plc, based in the United Kingdom, failed to get the licences required to re-stimulate production in the company's existing producing wells, including the tight gas reservoirs in the Petisovci field. Tight gas extraction requires a lot of water and emits harmful contaminants throughout the drilling process. It has provoked significant environmental concerns and vociferous opposition from activist groups, effectively halting tight gas development in several viable reservoirs.
Opportunities:
Rise in Government Policies- Increased government requirements for clean fuel generation and deploying contemporary drilling technologies in various countries are estimated to drive the market over the forecast period. Tight gas, a form of natural gas, is regarded as a reliable energy source for power generation, accounting for the second-highest percentage of the global energy supply after coal. Tight gas's share is expected to rise in the following years due to coal's environmental and economic constraints, at least in countries where natural gas is feasible.
Regional segmentation analysis:
The regions analyzed for the market include North America, Europe, South America, Asia Pacific, the Middle East, and Africa. North America emerged as the largest global tight gas market, with a 58% market revenue share in 2022.
US government investments, legislation, and subsidies for tight gas extraction have spurred the tight gas market. Furthermore, tight gas output is expected to rise over the forecast period due to technological advancements in the United States. Tight gas deposits in the Permian Basin, Anadarko, Niobrara, and Bakken fields are driving the industry in the region and using complex drilling methods. The United States leads the global tight gas market because of its vast tight gas deposits, superior drilling technology, and highly qualified workforce.
North America Region Tight Gas Market Share in 2022 - 58%
www.thebrainyinsights.com
Check the geographical analysis of this market by requesting a free sample
Application Segment Analysis
The application segment is divided into industrial, power generation, residential, commercial, and transportation. The industrial segment dominated the market, with a market share of around 39% in 2022. Tight gas growth is entirely dependent on gas usage in the industrial sector. It is currently utilised as a biofuel in producing fertilisers, chemicals, and various other commodities. This creates an opportunity for countries already exploiting it as a resource to increase industrial output in the following years.
Some of the Key Market Players:
Chevron Corporation
Royal Dutch Shell PLC
ConocoPhillips
Exxon Mobil Corporation
PetroChina Company Limited
Equinor ASA.
Report Description:
| Attribute | Description |
| --- | --- |
| Market Size | Revenue (USD Billion) |
| Market size value in 2022 | USD 37.0 Billion |
| Market size value in 2032 | USD 63.8 Billion |
| CAGR (2023 to 2032) | 5.6% |
| Historical data | 2019-2021 |
| Base Year | 2022 |
| Forecast | 2023-2032 |
| Region | The regions analyzed for the market are Asia Pacific, Europe, South America, North America, and Middle East & Africa. Furthermore, the regions are further analyzed at the country level. |
| Segments | Application |
Frequesntly Asked Questions
1. Introduction
1.1. Objectives of the Study
1.2. Market Definition
1.3. Research Scope
1.4. Currency
1.5. Key Target Audience

2. Research Methodology and Assumptions

3. Executive Summary

4. Premium Insights
4.1. Porter's Five Forces Analysis
4.2. Value Chain Analysis
4.3. Top Investment Pockets
4.3.1. Market Attractiveness Analysis by Application
4.3.2. Market Attractiveness Analysis by Region
4.4. Industry Trends

5. Market Dynamics
5.1. Market Evaluation
5.2. Drivers
5.2.1. Surge in usage
5.3. Restraints
5.3.1. Environmental issues
5.4. Opportunities
5.4.1. Rise in government policies
5.5. Challenges
5.5.1. Stringent laws

6. Global Tight Gas Market Analysis and Forecast, By Application
6.1. Segment Overview
6.2. Industrial
6.3. Power Generation
6.4. Residential
6.5. Commercial
6.6. Transportation

7. Global Tight Gas Market Analysis and Forecast, By Regional Analysis
7.1. Segment Overview
7.2. North America
7.2.1. U.S.
7.2.2. Canada
7.2.3. Mexico
7.3. Europe
7.3.1. Germany
7.3.2. France
7.3.3. U.K.
7.3.4. Italy
7.3.5. Spain
7.4. Asia-Pacific
7.4.1. Japan
7.4.2. China
7.4.3. India
7.5. South America
7.5.1. Brazil
7.6. Middle East and Africa
7.6.1. UAE
7.6.2. South Africa

8. Global Tight Gas Market-Competitive Landscape
8.1. Overview
8.2. Market Share of Key Players in Global Tight Gas Market
8.2.1. Global Company Market Share
8.2.2. North America Company Market Share
8.2.3. Europe Company Market Share
8.2.4. APAC Company Market Share
8.3. Competitive Situations and Trends
8.3.1. Product Launches and Developments
8.3.2. Partnerships, Collaborations, and Agreements
8.3.3. Mergers & Acquisitions
8.3.4. Expansions

9. Company Profiles
9.1. Chevron Corporation
9.1.1. Business Overview
9.1.2. Company Snapshot
9.1.3. Company Market Share Analysis
9.1.4. Company Product Portfolio
9.1.5. Recent Developments
9.1.6. SWOT Analysis
9.2. Royal Dutch Shell PLC
9.2.1. Business Overview
9.2.2. Company Snapshot
9.2.3. Company Market Share Analysis
9.2.4. Company Product Portfolio
9.2.5. Recent Developments
9.2.6. SWOT Analysis
9.3. ConocoPhillips
9.3.1. Business Overview
9.3.2. Company Snapshot
9.3.3. Company Market Share Analysis
9.3.4. Company Product Portfolio
9.3.5. Recent Developments
9.3.6. SWOT Analysis
9.4. Exxon Mobil Corporation
9.4.1. Business Overview
9.4.2. Company Snapshot
9.4.3. Company Market Share Analysis
9.4.4. Company Product Portfolio
9.4.5. Recent Developments
9.4.6. SWOT Analysis
9.5. PetroChina Company Limited
9.5.1. Business Overview
9.5.2. Company Snapshot
9.5.3. Company Market Share Analysis
9.5.4. Company Product Portfolio
9.5.5. Recent Developments
9.5.6. SWOT Analysis
9.6. Equinor ASA.
9.6.1. Business Overview
9.6.2. Company Snapshot
9.6.3. Company Market Share Analysis
9.6.4. Company Product Portfolio
9.6.5. Recent Developments
9.6.6. SWOT Analysis
List of Table
1. Global Tight Gas Market, By Application, 2019-2032 (USD Billion)
2. Global Industrial, Tight Gas Market, By Region, 2019-2032 (USD Billion)
3. Global Power Generation, Tight Gas Market, By Region, 2019-2032 (USD Billion)
4. Global Residential, Tight Gas Market, By Region, 2019-2032 (USD Billion)
5. Global Commercial, Tight Gas Market, By Region, 2019-2032 (USD Billion)
6. Global Transportation, Tight Gas Market, By Region, 2019-2032 (USD Billion)
7. North America Tight Gas Market, By Application, 2019-2032 (USD Billion)
8. U.S. Tight Gas Market, By Application, 2019-2032 (USD Billion)
9. Canada Tight Gas Market, By Application, 2019-2032 (USD Billion)
10. Mexico Tight Gas Market, By Application, 2019-2032 (USD Billion)
11. Europe Tight Gas Market, By Application, 2019-2032 (USD Billion)
12. Germany Tight Gas Market, By Application, 2019-2032 (USD Billion)
13. France Tight Gas Market, By Application, 2019-2032 (USD Billion)
14. U.K. Tight Gas Market, By Application, 2019-2032 (USD Billion)
15. Italy Tight Gas Market, By Application, 2019-2032 (USD Billion)
16. Spain Tight Gas Market, By Application, 2019-2032 (USD Billion)
17. Asia Pacific Tight Gas Market, By Application, 2019-2032 (USD Billion)
18. Japan Tight Gas Market, By Application, 2019-2032 (USD Billion)
19. China Tight Gas Market, By Application, 2019-2032 (USD Billion)
20. India Tight Gas Market, By Application, 2019-2032 (USD Billion)
21. South America Tight Gas Market, By Application, 2019-2032 (USD Billion)
22. Brazil Tight Gas Market, By Application, 2019-2032 (USD Billion)
23. Middle East and Africa Tight Gas Market, By Application, 2019-2032 (USD Billion)
24. UAE Tight Gas Market, By Application, 2019-2032 (USD Billion)
25. South Africa Tight Gas Market, By Application, 2019-2032 (USD Billion)
List of Figures
1. Global Tight Gas Market Segmentation
2. Global Tight Gas Market: Research Methodology
3. Market Size Estimation Methodology: Bottom-Up Approach
4. Market Size Estimation Methodology: Top-Down Approach
5. Data Triangulation
6. Porter's Five Forces Analysis
7. Value Chain Analysis
8. Global Tight Gas Market Attractiveness Analysis by Application
9. Global Tight Gas Market Attractiveness Analysis by Region
10. Global Tight Gas Market: Dynamics
11. Global Tight Gas Market Share by Application (2023 & 2032)
12. Global Tight Gas Market Share by Regions (2023 & 2032)
13. Global Tight Gas Market Share by Company (2022)