The global surfing equipment market was valued at USD 5 billion in 2022, growing at a CAGR of 4.5% from 2023 to 2032. The market is expected to reach USD 7.76 billion by 2032. Increasing recreational activity adoption due to several health benefits associated with surfing, increased international tourism, growing population, rapid product innovation, and increasing disposable income are a few of the critical surfing equipment market drivers and trends fuelling market growth. Surfing equipment is increasingly being used to help individuals manoeuvre their bodies against the moving wave stream. These advantages of surfing boards, surf gear, and other surfing accessories are growing global demand for surfing equipment.
Market Introduction:
Surfing is a dangerous water sport in which a person utilises a road to ride on an ocean wave. Surfers utilise surfing equipment to help them surf. Surfboards, fins, surfboard bags, wetsuits, and fins are examples of surfing equipment. Surfing is an exciting hobby that allows you to experience a rush, release stress, and enjoy your leisure time. They are played both recreationally and competitively. Surfing equipment is designed to help people move their bodies against a moving wave. Wood, polyester, fibreglass, and polystyrene are used to make surfboards. Surfing equipment is specifically developed to protect the body from cold water, rashes, and water currents. Surfing has various health benefits, including increasing metabolism, burning calories, strengthening the back, legs, and shoulder muscles, developing core strength, and improving cardiovascular fitness. The growing understanding of the health benefits of surfing has prompted more people to take up the activity. Surfing equipment is in high demand as the sport grows in popularity. Surfing equipment can be purchased through a variety of sources, including online portals, specialty stores, and supermarkets. They are frequently utilised in entertainment, recreational sports, and a variety of sporting competitions. In the United States, there are numerous prominent surfing tournaments and champions, including West Coast Surfing Champions, U.S Open Champions, and United States Surfing Champions. Many manufacturing companies create surfing equipment specifically for consumer demand. The booming tourism business and the increasing health advantages linked with surfing are driving the Global Surfing Equipment business forward. The growing surfing equipment market is boosting the number of tourists that participate in surfing sports along the coast. The booming tourism industry and rising disposable income are important drivers driving market expansion.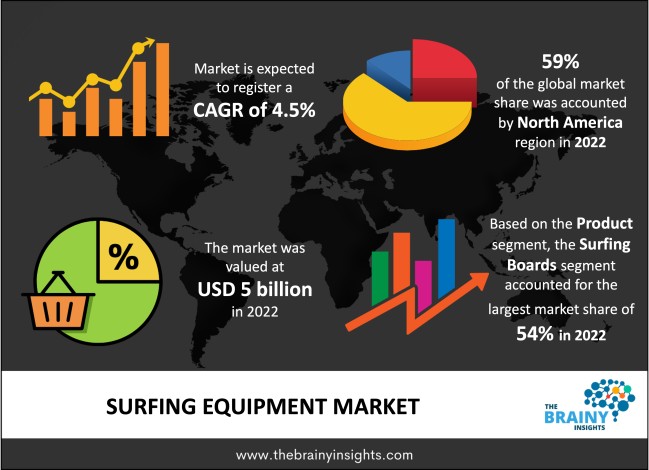 Get an overview of this study by requesting a free sample
Recent Development
In March 2023, Vans Surf announced the Surf VR3 Collection, claiming that it is aimed to combine the easy-going vibes of surfing with Vans' ongoing commitment to more sustainably-focused clothing and footwear.
In January 2023, NASCAR announced a clothing cooperation with action-sports company Hurley, selling men's and women's beach and surf wear.
In February 2022, Awake, a Swedish electric surfboard maker, revealed the latest iteration of their flagship model, the Rävik S 22. For greater torque and acceleration, the board included a 12-kW brushless motor and a redesigned impeller.
Market Dynamics:
Drivers
Rising Popularity of Surfing Growing consumer interest in surfing, as well as aggressive growth techniques employed by surf equipment manufacturers, are driving product demand. Leading manufacturers, like as Quicksilver, Channel Islands Surfboards, and Firewire Surfboards, place a premium on product innovation, which drives the industry's expansion. In July 2019, Billabong, an Australian company, announced the launch of Furnace Graphene, graphene-enhanced surfing apparel. This product's graphene-wrapped yarns are cleverly designed to trap and hold heat more effectively, delivering warmth to the wearer.
Restraints:
High Price- Speciality stores will pay a higher price for higher-quality goods, and they strive to differentiate themselves by presenting themselves as a family store that appeals to young teenagers and their parents. Premium products are preferred by consumers with a lot of discretionary cash; yet, product features, functionality, and comfortability are essential aspects that may stymie market expansion.
Opportunities:
Marketing Programmes- Businesses are developing strategic marketing programmes in order to enhance their consumer base and sales. Partnerships with surfing clubs, professional surfers, and surfing superstars, for example, might assist businesses in gaining new customers. Furthermore, the exclusive online community serves as a centralised platform for surf industry enterprises. Famous companies such as Quiksilver/Roxy and Billabong represent niche retail outlets, which are gaining popularity.
Regional segmentation analysis:
The regions analyzed for the market include North America, Europe, South America, Asia Pacific, the Middle East, and Africa. North America emerged as the largest market for the global surfing equipment market, with a 59% market revenue share in 2022.
Surfing's growing appeal among adventure seekers in North America is driving product demand in the region. The surfing boards category represented a significant share of the North America regional market in 2020, and this trend is expected to continue over the forecast period. According to the Sports & Fitness Industry Association, there were 2.87 million surfers in the United States in August 2019. Because of its long beaches, the United States has the largest surfing market, making it a popular site for surfing and other water activities.
North America Region Surfing Equipment Market Share in 2022 - 59%
www.thebrainyinsights.com
Check the geographical analysis of this market by requesting a free sample
Product Segment Analysis
The product segment is divided into apparels & accessories and surfing boards. The surfing boards segment dominated the market, with a market share of around 54% in 2022. Sales of surfing boards will increase during the projected period due to increased surfing participation, growing surf tourism, and rising disposable income levels. In addition to surfboards and surfing attire, necessary surfing gear include fins, surf wax, leashes, surf earplugs, a surfboard bag, a surf poncho, boots, hoods, gloves, and surf watches.
Distribution Channel Segment Analysis
The distribution channel segment is divided into offline and online. The online segment dominated the market, with a market share of around 60% in 2022. Due to technical developments and the rising importance given to online platforms for acquiring surfing equipment, particularly by users looking for prices.
Some of the Key Market Players:
Billabong
Quiksilver, Inc.
JS Industries
Channel Islands Surfboards
Nike, Inc.
Firewire Surfboards, LLC
Rusty Surfboards
Rip Curl. Ltd.
Cannibal Surfboards
O'Neill
Report Description:
| Attribute | Description |
| --- | --- |
| Market Size | Revenue (USD Billion) |
| Market size value in 2022 | USD 5 Billion |
| Market size value in 2032 | USD 7.76 Billion |
| CAGR (2023 to 2032) | 4.5% |
| Historical data | 2019-2021 |
| Base Year | 2022 |
| Forecast | 2023-2032 |
| Region | The regions analyzed for the market are Asia Pacific, Europe, South America, North America, and Middle East & Africa. Furthermore, the regions are further analyzed at the country level. |
| Segments | Product, Distribution Channel |
Frequesntly Asked Questions
1. Introduction
1.1. Objectives of the Study
1.2. Market Definition
1.3. Research Scope
1.4. Currency
1.5. Key Target Audience

2. Research Methodology and Assumptions

3. Executive Summary

4. Premium Insights
4.1. Porter's Five Forces Analysis
4.2. Value Chain Analysis
4.3. Top Investment Pockets
4.3.1. Market Attractiveness Analysis by Product
4.3.2. Market Attractiveness Analysis by Distribution Channel
4.3.3. Market Attractiveness Analysis by Region
4.4. Industry Trends

5. Market Dynamics
5.1. Market Evaluation
5.2. Drivers
5.2.1. Rising popularity of nicotine
5.3. Restraints
5.3.1. High price
5.4. Opportunities
5.4.1. Marketing programmes
5.5. Challenges
5.5.1. High cost

6. Global Surfing Equipment Market Analysis and Forecast, By Product
6.1. Segment Overview
6.2. Apparels & Accessories
6.3. Surfing Boards

7. Global Surfing Equipment Market Analysis and Forecast, By Distribution Channel
7.1. Segment Overview
7.2. Offline
7.3. Online

8. Global Surfing Equipment Market Analysis and Forecast, By Regional Analysis
8.1. Segment Overview
8.2. North America
8.2.1. U.S.
8.2.2. Canada
8.2.3. Mexico
8.3. Europe
8.3.1. Germany
8.3.2. France
8.3.3. U.K.
8.3.4. Italy
8.3.5. Spain
8.4. Asia-Pacific
8.4.1. Japan
8.4.2. China
8.4.3. India
8.5. South America
8.5.1. Brazil
8.6. Middle East and Africa
8.6.1. UAE
8.6.2. South Africa

9. Global Surfing Equipment Market-Competitive Landscape
9.1. Overview
9.2. Market Share of Key Players in Global Surfing Equipment Market
9.2.1. Global Company Market Share
9.2.2. North America Company Market Share
9.2.3. Europe Company Market Share
9.2.4. APAC Company Market Share
9.3. Competitive Situations and Trends
9.3.1. Product Launches and Developments
9.3.2. Partnerships, Collaborations, and Agreements
9.3.3. Mergers & Acquisitions
9.3.4. Expansions

10. Company Profiles
10.1. Billabong
10.1.1. Business Overview
10.1.2. Company Snapshot
10.1.3. Company Market Share Analysis
10.1.4. Company Product Portfolio
10.1.5. Recent Developments
10.1.6. SWOT Analysis
10.2. Quiksilver, Inc.
10.2.1. Business Overview
10.2.2. Company Snapshot
10.2.3. Company Market Share Analysis
10.2.4. Company Product Portfolio
10.2.5. Recent Developments
10.2.6. SWOT Analysis
10.3. JS Industries
10.3.1. Business Overview
10.3.2. Company Snapshot
10.3.3. Company Market Share Analysis
10.3.4. Company Product Portfolio
10.3.5. Recent Developments
10.3.6. SWOT Analysis
10.4. Channel Islands Surfboards
10.4.1. Business Overview
10.4.2. Company Snapshot
10.4.3. Company Market Share Analysis
10.4.4. Company Product Portfolio
10.4.5. Recent Developments
10.4.6. SWOT Analysis
10.5. Nike, Inc.
10.5.1. Business Overview
10.5.2. Company Snapshot
10.5.3. Company Market Share Analysis
10.5.4. Company Product Portfolio
10.5.5. Recent Developments
10.5.6. SWOT Analysis
10.6. Firewire Surfboards, LLC
10.6.1. Business Overview
10.6.2. Company Snapshot
10.6.3. Company Market Share Analysis
10.6.4. Company Product Portfolio
10.6.5. Recent Developments
10.6.6. SWOT Analysis
10.7. Rusty Surfboards
10.7.1. Business Overview
10.7.2. Company Snapshot
10.7.3. Company Market Share Analysis
10.7.4. Company Product Portfolio
10.7.5. Recent Developments
10.7.6. SWOT Analysis
10.8. Rip Curl. Ltd.
10.8.1. Business Overview
10.8.2. Company Snapshot
10.8.3. Company Market Share Analysis
10.8.4. Company Product Portfolio
10.8.5. Recent Developments
10.8.6. SWOT Analysis
10.9. Cannibal Surfboards
10.9.1. Business Overview
10.9.2. Company Snapshot
10.9.3. Company Market Share Analysis
10.9.4. Company Product Portfolio
10.9.5. Recent Developments
10.9.6. SWOT Analysis
10.10. O'Neill
10.10.1. Business Overview
10.10.2. Company Snapshot
10.10.3. Company Market Share Analysis
10.10.4. Company Product Portfolio
10.10.5. Recent Developments
10.10.6. SWOT Analysis
List of Table
1. Global Surfing Equipment Market, By Product, 2019-2032 (USD Billion)
2. Global Apparels & Accessories, Surfing Equipment Market, By Region, 2019-2032 (USD Billion)
3. Global Surfing Boards, Surfing Equipment Market, By Region, 2019-2032 (USD Billion)
4. Global Surfing Equipment Market, By Distribution Channel, 2019-2032 (USD Billion)
5. Global Offline, Surfing Equipment Market, By Region, 2019-2032 (USD Billion)
6. Global Online, Surfing Equipment Market, By Region, 2019-2032 (USD Billion)
7. North America Surfing Equipment Market, By Product, 2019-2032 (USD Billion)
8. North America Surfing Equipment Market, By Distribution Channel, 2019-2032 (USD Billion)
9. U.S. Surfing Equipment Market, By Product, 2019-2032 (USD Billion)
10. U.S. Surfing Equipment Market, By Distribution Channel, 2019-2032 (USD Billion)
11. Canada Surfing Equipment Market, By Product, 2019-2032 (USD Billion)
12. Canada Surfing Equipment Market, By Distribution Channel, 2019-2032 (USD Billion)
13. Mexico Surfing Equipment Market, By Product, 2019-2032 (USD Billion)
14. Mexico Surfing Equipment Market, By Distribution Channel, 2019-2032 (USD Billion)
15. Europe Surfing Equipment Market, By Product, 2019-2032 (USD Billion)
16. Europe Surfing Equipment Market, By Distribution Channel, 2019-2032 (USD Billion)
17. Germany Surfing Equipment Market, By Product, 2019-2032 (USD Billion)
18. Germany Surfing Equipment Market, By Distribution Channel, 2019-2032 (USD Billion)
19. France Surfing Equipment Market, By Product, 2019-2032 (USD Billion)
20. France Surfing Equipment Market, By Distribution Channel, 2019-2032 (USD Billion)
21. U.K. Surfing Equipment Market, By Product, 2019-2032 (USD Billion)
22. U.K. Surfing Equipment Market, By Distribution Channel, 2019-2032 (USD Billion)
23. Italy Surfing Equipment Market, By Product, 2019-2032 (USD Billion)
24. Italy Surfing Equipment Market, By Distribution Channel, 2019-2032 (USD Billion)
25. Spain Surfing Equipment Market, By Product, 2019-2032 (USD Billion)
26. Spain Surfing Equipment Market, By Distribution Channel, 2019-2032 (USD Billion)
27. Asia Pacific Surfing Equipment Market, By Product, 2019-2032 (USD Billion)
28. Asia Pacific Surfing Equipment Market, By Distribution Channel, 2019-2032 (USD Billion)
29. Japan Surfing Equipment Market, By Product, 2019-2032 (USD Billion)
30. Japan Surfing Equipment Market, By Distribution Channel, 2019-2032 (USD Billion)
31. China Surfing Equipment Market, By Product, 2019-2032 (USD Billion)
32. China Surfing Equipment Market, By Distribution Channel, 2019-2032 (USD Billion)
33. India Surfing Equipment Market, By Product, 2019-2032 (USD Billion)
34. India Surfing Equipment Market, By Distribution Channel, 2019-2032 (USD Billion)
35. South America Surfing Equipment Market, By Product, 2019-2032 (USD Billion)
36. South America Surfing Equipment Market, By Distribution Channel, 2019-2032 (USD Billion)
37. Brazil Surfing Equipment Market, By Product, 2019-2032 (USD Billion)
38. Brazil Surfing Equipment Market, By Distribution Channel, 2019-2032 (USD Billion)
39. Middle East and Africa Surfing Equipment Market, By Product, 2019-2032 (USD Billion)
40. Middle East and Africa Surfing Equipment Market, By Distribution Channel, 2019-2032 (USD Billion)
41. UAE Surfing Equipment Market, By Product, 2019-2032 (USD Billion)
42. UAE Surfing Equipment Market, By Distribution Channel, 2019-2032 (USD Billion)
43. South Africa Surfing Equipment Market, By Product, 2019-2032 (USD Billion)
44. South Africa Surfing Equipment Market, By Distribution Channel, 2019-2032 (USD Billion)
List of Figures
1. Global Surfing Equipment Market Segmentation
2. Global Surfing Equipment Market: Research Methodology
3. Market Size Estimation Methodology: Bottom-Up Approach
4. Market Size Estimation Methodology: Top-Down Approach
5. Data Triangulation
6. Porter's Five Forces Analysis
7. Value Chain Analysis
8. Global Surfing Equipment Market Attractiveness Analysis by Product
9. Global Surfing Equipment Market Attractiveness Analysis by Distribution Channel
10. Global Surfing Equipment Market Attractiveness Analysis by Region
11. Global Surfing Equipment Market: Dynamics
12. Global Surfing Equipment Market Share by Product (2023 & 2032)
13. Global Surfing Equipment Market Share by Distribution Channel (2023 & 2032)
14. Global Surfing Equipment Market Share by Regions (2023 & 2032)
15. Global Surfing Equipment Market Share by Company (2022)