The global surfactants market was valued at USD 46.67 billion in 2022 and growing at a CAGR of 4.80% from 2022 to 2030. The market is expected to reach USD 67.92 billion by 2030. Increasing bio-based product need, especially in North America and Europe, is anticipated to push the overall market over the projection years. Customer awareness and government help towards bio-based product consumption and manufacturing are calculated to promote industry development. Surfactants are primarily utilized to reduce the surface tension between any two liquids or a solid and a liquid in wetting agents, emulsifiers, dispersants, detergents, or foaming agents. Surfactants are used in several end-use industries, like cosmetics, pharmaceuticals, agrochemicals, and petroleum. The constant development in the industry is expected to help the sector shortly. Similarly, rising awareness among customers towards using economically friendly products in developed countries, including Europe and the United States., is anticipated to propel the need for biosurfactants. Furthermore, different regulations set by many economies like the European Union have driven industries to fund eco-friendly bio-based technologies.
Market Introduction:
Surfactant, also known as a surface-active agent, a substance like a detergent that, when mixed with liquid, decreases its surface tension, thereby improving its spreading and wetting effects. In textile dyeing, surfactants are helpful in dye to penetrate the fabric evenly. They are used to distribute liquid suspensions of insoluble perfumes and dyes. The chemical compounds utilized to lower the interfacial tension between different mixtures, like two liquids or between a liquid and a gas, are known as surfactants; they can also be between a solid and a liquid. Surfactants are classified as organic compounds and are amphiphilic. Which means it includes both hydrophilic and hydrophobic groups. The surfactant word was derived from a surface-active agent and was coined in 1950. The surfactants have multiple uses in industries. They are present in wetting agents, foaming agents, detergents, emulsifiers, etc. Surfactants are essential elements used in detergents that prevent dirt from the skin, household utensils, clothes, and especially in bathrooms and kitchens. Additionally, a surfactant has both a water-insoluble feature and a water-soluble element. The surfactant properties are dispersed in water and adsorb at interfaces between water and air. It can also adsorb at the interface between water and oil, where water is mixed with oil. The water-insoluble group can expand out of the bulk water phase and move into the air or oil phase. On the other hand, the water-soluble head group usually remains in the water phase.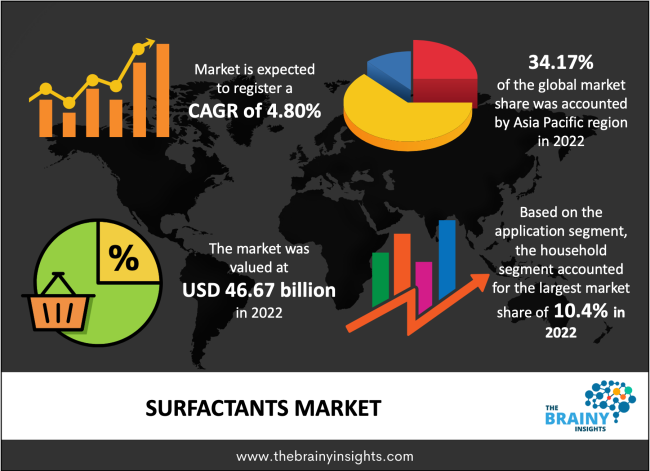 Get an overview of this study by requesting a free sample
Recent Development
In March 2021, BASF SE, Holiferm Ltd, and Allied Carbon Solutions Co. Ltd entered an arrangement to raise their positions in the active and bio-based surfactants industry. The development shall enable BASF to manufacture and produce the potential for industrial formulators, personal care, and home care products.
Market Dynamics:
Drivers
High Demand of Surfactants in the Textile Industry- Surface‐active agents are broadly used in manufacturing dyes, dyeing techniques, and preliminary processes for dyeing. Numerous surface‐active agents exist and have different names depending on their method; detergents are utilized in scouring and washing procedures. Some are named wetting agents and are integrated into formulations of dye powders to help wet out when the powder is being dissolved in water and enable the wetting of fibers before dyeing. Retarding and levelling agents are also surfactants; these types include fibers to ionic dyes. Dispersing agents are a different form of surfactant used in the formulation of disperse dyes, ensuring a stable dispersion of the dyes in the dyebath during the dyeing procedure, helping in uniform coloring by the fiber. Regardless, surfactants in the textile wet processing industry are operated as detergents, emulsifying, wetting agents, and dispersing agents; specific surfactants are utilized as lubricants, softeners, anti-bacterial, and anti-static agents.
Restraints:
Fluctuations in raw material prices to hamper market- The cost of raw materials is volatile due to environmental problems and crude oil prices. The adverse consequences of surfactants on the environment, like toxicity and degradability, affect the prices of raw materials. Different regional governments have mandated rules for environmental safety and the usage of resources. Lower raw material prices and technological limitations in the commercial production of petroleum products are anticipated to hamper the market during the projection years.
Opportunities:
Technological Advancement- The more significant opportunities for HPC and green Surfactants are the variability and availability of renewable raw materials and their flexibility together with other non-conventional raw materials like waste oil, new greener processes, and synthetic routes such as the bio-catalysis and fermentation of new formulations, which allow low-temperature wash, less packaging, and 3-in-1 functionality and use of polymeric surfactants. Additionally, the growing awareness and willingness to purchase safer and environmentally friendly products.
Segmentation analysis:
Regional segmentation analysis:
The regions analyzed for the market include North America, Europe, South America, Asia Pacific, the Middle East, and Africa. Asia Pacific's emerged as the largest market for the global surfactants market, with a 34.17% share of the market revenue in 2022.
The increasing population pushes Asia Pacific's surfactant market to countries like India and China. The significant development of different end-use sectors, including textile, personal care, and agriculture, wherein surfactants find large-scale applications. Similarly, substantial international players in the detergent market, like Procter & Gamble(P&G) and different countries in the region, are described by several domestic players concentrating on maintaining their position in the market. For example, the presence of significant players like Nirma, Rohit Surfactants Private Ltd., and Hindustan Unilever Limited in the Indian detergent market represents the increasing consumption of surfactants in the region.
Asia Pacific Region Surfactants Market Share in 2022 - 34.17%
www.thebrainyinsights.com
Check the geographical analysis of this market by requesting a free sample
Type Segment Analysis
The type segment is divided into silicone surfactants, cationic surfactants, non-ionic surfactants, anionic surfactants, amphoteric surfactants, and others. The anionic surfactants segment dominated the market, with a market share of around 18.2% in 2022. On the hydrophilic end anionic surfactants have a negative charge. The negative charge enables the surfactant molecules raise and suspend soils in micelles. Also, they can strike a broad spectrum of soils, anionic surfactants are utilized often in detergents and soaps. The Anionic surfactants make a lot of foam. While anionic surfactants are perfect for lifting and suspending particulate soils, as compared to anionic emulsifying oily soils are better.
Application Segment Analysis
The application segment is divided into food processing, household, soaps and detergents, personal care, industry and institutional cleaning, agricultural chemicals, oilfield chemicals, lubricants and fuel additives, emulsion polymerization, textile processing, and others. The household segment dominated the market, with a market share of around 10.4% in 2022. Due to increasing customer need for sanitizers, detergent, hand wash, cleaners, and other products. The Covid-19 has resulted in increased awareness about hygiene/ sanitizing among customers, which has caused improved consumption of consumer goods, therefore pushing the demand of the market. In food & beverages applications, the surfactants are mainly utilized for food additives/ingredients and for treating agents for food contact surfaces.
Some of the Key Market Players:
Some of the Key Market Players:
Stepan Company
Solvay
Nouryon
Lion Corporation
Kao Corporation
Indorama Ventures Public Company Limited
Evonik Industries AG
Dow Chemical Company
Clariant AG
Croda International Plc
BASF SE
Ashland Global Holdings Inc.
Akzonobel N.V.
Report Description:
| Attribute | Description |
| --- | --- |
| Market Size | Revenue (USD Billion), Volume (KT) |
| Market size value in 2022 | USD 46.67 Billion |
| Market size value in 2030 | USD 67.92 Billion |
| CAGR (2022 to 2030) | 4.80% |
| Historical data | 2019-2020 |
| Base Year | 2021 |
| Forecast | 2022-2030 |
| Segments | Type, Application |
| Regional Segments | The regions analyzed for the market are North America, Asia Pacific, Europe, South America, and Middle East & Africa. Furthermore, the regions are further analyzed at the country level. |
Frequesntly Asked Questions
1. Introduction
1.1. Objectives of the Study
1.2. Market Definition
1.3. Research Scope
1.4. Currency
1.5. Key Target Audience

2. Research Methodology and Assumptions

3. Executive Summary

4. Premium Insights
4.1. Porter's Five Forces Analysis
4.2. Value Chain Analysis
4.3. Top Investment Pockets
4.3.1. Market Attractiveness Analysis by Type
4.3.2. Market Attractiveness Analysis by Application
4.3.3. Market Attractiveness Analysis by Region
4.4. Industry Trends

5. Market Dynamics
5.1. Market Evaluation
5.2. Drivers
5.2.1. High demand of surfactants in the textile industry
5.3. Restraints
5.3.1. Fluctuations in raw material prices to hamper market
5.4. Opportunities
5.4.1. Technological advancement

6. Global Surfactants Market Analysis and Forecast, By Type:
6.1. Segment Overview
6.2. Silicone Surfactants
6.3. Cationic Surfactants
6.4. Non-ionic Surfactants
6.5. Anionic Surfactants
6.6. Amphoteric Surfactants
6.7. Others

7. Global Surfactants Market Analysis and Forecast, By Application
7.1. Segment Overview
7.2. Food Processing
7.3. Household
7.4. Personal Care
7.5. Industry and Institutional Cleaning
7.6. Agricultural Chemicals
7.7. Oilfield Chemicals
7.8. Lubricants and Fuel Additives
7.9. Emulsion Polymerization
7.10. Textile Processing
7.11. Others

8. Global Surfactants Market Analysis and Forecast, By Regional Analysis
8.1. Segment Overview
8.2. North America
8.2.1. U.S.
8.2.2. Canada
8.2.3. Mexico
8.3. Europe
8.3.1. Germany
8.3.2. France
8.3.3. U.K.
8.3.4. Italy
8.3.5. Spain
8.4. Asia-Pacific
8.4.1. Japan
8.4.2. China
8.4.3. India
8.5. South America
8.5.1. Brazil
8.6. Middle East and Africa
8.6.1. UAE
8.6.2. South Africa

9. Global Surfactants Market-Competitive Landscape
9.1. Overview
9.2. Market Share of Key Players in the Surfactants Market
9.2.1. Global Company Market Share
9.2.2. North America Company Market Share
9.2.3. Europe Company Market Share
9.2.4. APAC Company Market Share
9.3. Competitive Situations and Trends
9.3.1. Product Launches and Developments
9.3.2. Partnerships, Collaborations, and Agreements
9.3.3. Mergers & Acquisitions
9.3.4. Expansions

10. Company Profiles
10.1. Stepan Company
10.1.1. Business Overview
10.1.2. Company Snapshot
10.1.3. Company Market Share Analysis
10.1.4. Company Product Portfolio
10.1.5. Recent Developments
10.1.6. SWOT Analysis
10.2. Solvay.
10.2.1. Business Overview
10.2.2. Company Snapshot
10.2.3. Company Market Share Analysis
10.2.4. Company Product Portfolio
10.2.5. Recent Developments
10.2.6. SWOT Analysis
10.3. Nouryon
10.3.1. Business Overview
10.3.2. Company Snapshot
10.3.3. Company Market Share Analysis
10.3.4. Company Product Portfolio
10.3.5. Recent Developments
10.3.6. SWOT Analysis
10.4. Lion Corporation
10.4.1. Business Overview
10.4.2. Company Snapshot
10.4.3. Company Market Share Analysis
10.4.4. Company Product Portfolio
10.4.5. Recent Developments
10.4.6. SWOT Analysis
10.5. Kao Corporation.
10.5.1. Business Overview
10.5.2. Company Snapshot
10.5.3. Company Market Share Analysis
10.5.4. Company Product Portfolio
10.5.5. Recent Developments
10.5.6. SWOT Analysis
10.6. Indorama Ventures Public Company Limited
10.6.1. Business Overview
10.6.2. Company Snapshot
10.6.3. Company Market Share Analysis
10.6.4. Company Product Portfolio
10.6.5. Recent Developments
10.6.6. SWOT Analysis
10.7. Evonik Industries AG
10.7.1. Business Overview
10.7.2. Company Snapshot
10.7.3. Company Market Share Analysis
10.7.4. Company Product Portfolio
10.7.5. Recent Developments
10.7.6. SWOT Analysis
10.8. Dow Chemical Company
10.8.1. Business Overview
10.8.2. Company Snapshot
10.8.3. Company Market Share Analysis
10.8.4. Company Product Portfolio
10.8.5. Recent Developments
10.8.6. SWOT Analysis
10.9. Clariant AG
10.9.1. Business Overview
10.9.2. Company Snapshot
10.9.3. Company Market Share Analysis
10.9.4. Company Product Portfolio
10.9.5. Recent Developments
10.9.6. SWOT Analysis
10.10. Croda International Plc
10.10.1. Business Overview
10.10.2. Company Snapshot
10.10.3. Company Market Share Analysis
10.10.4. Company Product Portfolio
10.10.5. Recent Developments
10.10.6. SWOT Analysis
10.11. BASF SE
10.11.1. Business Overview
10.11.2. Company Snapshot
10.11.3. Company Market Share Analysis
10.11.4. Company Product Portfolio
10.11.5. Recent Developments
10.11.6. SWOT Analysis
10.12. Ashland Global Holdings Inc
10.12.1. Business Overview
10.12.2. Company Snapshot
10.12.3. Company Market Share Analysis
10.12.4. Company Product Portfolio
10.12.5. Recent Developments
10.12.6. SWOT Analysis
10.13. Akzonobel N.V.
10.13.1. Business Overview
10.13.2. Company Snapshot
10.13.3. Company Market Share Analysis
10.13.4. Company Product Portfolio
10.13.5. Recent Developments
10.13.6. SWOT Analysis
List of Table
1. Global Surfactants Market, By Type, 2019-2030 (USD Billion)
2. Global Silicone Surfactants Surfactants Market, By Region, 2019-2030 (USD Billion)
3. Global Cationic Surfactants Surfactants Market, By Region, 2019-2030 (USD Billion)
4. Global Non-ionic Surfactants Surfactants Market, By Region, 2019-2030 (USD Billion)
5. Global Anionic Surfactants Surfactants Market, By Region, 2019-2030 (USD Billion)
6. Global Amphoteric Surfactants Surfactants Market, By Region, 2019-2030 (USD Billion)
7. Global Others Surfactants Market, By Region, 2019-2030 (USD Billion)
8. Global Surfactants Market, By Application, 2019-2030 (USD Billion)
9. Global Food Processing Surfactants Market, By Region, 2019-2030 (USD Billion)
10. Global Household Surfactants Market, By Region, 2019-2030 (USD Billion)
11. North America Surfactants Market, By Type, 2019-2030 (USD Billion)
12. North America Surfactants Market, By Application, 2019-2030 (USD Billion)
13. U.S. Surfactants Market, By Type, 2019-2030 (USD Billion)
14. U.S. Surfactants Market, By Application, 2019-2030 (USD Billion)
15. Canada Surfactants Market, By Type, 2019-2030 (USD Billion)
16. Canada Surfactants Market, By Application, 2019-2030 (USD Billion)
17. Mexico Surfactants Market, By Type, 2019-2030 (USD Billion)
18. Mexico Surfactants Market, By Application, 2019-2030 (USD Billion)
19. Europe Surfactants Market, By Type, 2019-2030 (USD Billion)
20. Europe Surfactants Market, By Application, 2019-2030 (USD Billion)
21. Germany Surfactants Market, By Type, 2019-2030 (USD Billion)
22. Germany Surfactants Market, By Application, 2019-2030 (USD Billion)
23. France Surfactants Market, By Type 2019-2030 (USD Billion)
24. France Surfactants Market, By Application, 2019-2030 (USD Billion)
25. U.K. Surfactants Market, By Type, 2019-2030 (USD Billion)
26. U.K. Surfactants Market, By Application, 2019-2030 (USD Billion)
27. Italy Surfactants Market, By Type, 2019-2030 (USD Billion)
28. Italy Surfactants Market, By Application, 2019-2030 (USD Billion)
29. Spain Surfactants Market, By Type, 2019-2030 (USD Billion)
30. Spain Surfactants Market, By Application, 2019-2030 (USD Billion)
31. Asia Pacific Surfactants Market, By Type, 2019-2030 (USD Billion)
32. Asia Pacific Surfactants Market, By Application, 2019-2030 (USD Billion)
33. Japan Surfactants Market, By Type, 2019-2030 (USD Billion)
34. Japan Surfactants Market, By Application, 2019-2030 (USD Billion)
35. China Surfactants Market, By Type 2019-2030 (USD Billion)
36. China Surfactants Market, By Application, 2019-2030 (USD Billion)
37. India Surfactants Market, By Type 2019-2030 (USD Billion)
38. India Surfactants Market, By Application, 2019-2030 (USD Billion)
39. South America Surfactants Market, By Type, 2019-2030 (USD Billion)
40. South America Surfactants Market, By Application, 2019-2030 (USD Billion)
41. Brazil Surfactants Market, By Type 2019-2030 (USD Billion)
42. Brazil Surfactants Market, By Application, 2019-2030 (USD Billion)
43. Middle East and Africa Surfactants Market, By Type, 2019-2030 (USD Billion)
44. Middle East and Africa Surfactants Market, By Application, 2019-2030 (USD Billion)
45. UAE Surfactants Market, By Type, 2019-2030 (USD Billion)
46. UAE Surfactants Market, By Application, 2019-2030 (USD Billion)
47. South Africa Surfactants Market, By Type 2019-2030 (USD Billion)
48. South Africa Surfactants Market, By Application, 2019-2030 (USD Billion)
List of Figures
1. Global Surfactants Market Segmentation
2. Surfactants Market: Research Methodology
3. Market Size Estimation Methodology: Bottom-Up Approach
4. Market Size Estimation Methodology: Top-Down Approach
5. Data Triangulation
6. Porter's Five Forces Analysis
7. Value Chain Analysis
8. Global Surfactants Market Attractiveness Analysis by Type
9. Global Surfactants Market Attractiveness Analysis by Application
10. Global Surfactants Market Attractiveness Analysis by Region
11. Global Surfactants Market: Dynamics
12. Global Surfactants Market Share by Type (2022 & 2030)
13. Global Surfactants Market Share by Application (2022 & 2030)
14. Global Surfactants Market Share by Regions (2022 & 2030)
15. Global Surfactants Market Share by Company (2021)