The global stem cell banking market was valued at USD 7.93 Billion in 2022, which is anticipated to grow at a CAGR of 8.57% from 2023 to 2032. As stem cell transplants become more feasible therapeutic options, the demand for a safe and dependable source of stem cells has increased tremendously. Stem cell banks are essential to the success of these treatments because they provide a safe, dependable mechanism to store and transfer stem cells for transplantation.
Market Introduction:
Stem cells are tiny cells with tremendous potential and the ability to save lives. Stem cells are the master cells that serve as the foundation of the human body. These cells have the unique potential to convert into specialised cell lines such as blood cells, brain cells, bone cells, and other types. Various reasons like as ageing, injury, or sickness might cause damage or impairment to a part of the body or its functions. Stem cells have the power to replace and repair these damaged parts by restoring the body's regular activities. Stem cells, which are produced primarily from umbilical cord blood, have a high potential for regeneration and can be employed to treat more than 80 diseases. Stem cells can develop into blood cells to replace sick ones. Blood banking has grown in popularity in recent years due to its ability to cure genetic issues, metabolic disorders, immunological disorders, and illnesses such as lymphomas and leukaemia. Doctors all across the world strongly recommend stem cell banking at birth. Stem cell banking has risen in popularity as a result of its ability to replace and repair damaged tissues in the treatment of more than 80 different medical illnesses. Over the last 50 years, over 30 lakh transplants have been conducted worldwide using stem cells. Currently, more than 50,000 transplants are performed each year, and the number is increasing. Because of their ability to self-renew and differentiate into different cell types, stem cells have been used to treat a variety of diseases. In situ generation, illness therapy, cardiovascular tissue repair, blood disease, replacement, and repair are all potential applications for stem cells that are currently being investigated and used. Stem cell banking is the practise of conserving valuable umbilical cord blood obtained at the time of delivery for future use. Stem cell banking ensures a healthy future for everyone in the family, not only babies. Stem cell preservation is a novel technology that is gaining interest among potential consumers. The primary drivers impacting the Stem Cell Banking Market are the technology's wide range of benefits, its ease of use, and the growing number of biotechnology specialists.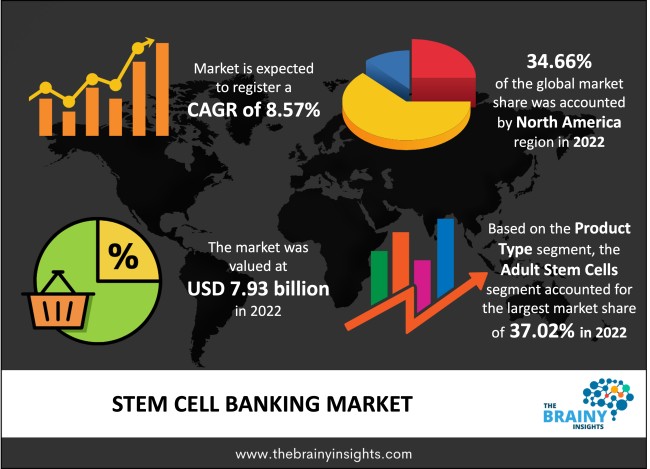 Get an overview of this study by requesting a free sample
Recent Development
Cordlife revealed advanced research on Mesenchymal Stem Cell Secretome-based products for treating osteoarthritis in July 2023.
Cryo-Cell International, Inc. announced the acquisition of a 56,000-square-foot facility within the Regional Commerce Centre in the Research Triangle, North Carolina, in March 2022. This acquisition is subject to the satisfaction of ordinary closing conditions.
Market Dynamics:
Drivers
A growing elderly population- The market is being influenced positively by an ageing population. This demographic transition is altering healthcare dynamics around the world. Individuals grow more vulnerable to degenerative diseases such as osteoarthritis, cardiovascular disease, and neurological disorders such as Alzheimer's and Parkinson's as they age. Stem cells hold enormous promise in rebuilding damaged or ageing tissues, opening the door to innovative treatments and improved quality of life for the elderly. This ageing population necessitates more advanced healthcare treatments and constitutes a sizable consumer base for stem cell banking services. Several individuals and families are aware of the possibility of retaining themselves or their loved ones' stem cells, which can be obtained from sources such as cord blood or adipose tissue. These banked stem cells can be employed in future therapies to combat age-related health concerns, providing comfort and hope. As a result, the ageing population's growing awareness of the regenerative potential of stem cells, combined with their desire for better healthcare options, is driving rising demand for stem cell banking services, positioning the market for long-term growth.
Opportunities:
Growing ethical issues over the use of embryonic stem cells- The growing ethical concerns over the use of embryonic stem cells are fueling the market. Due to the destruction of embryos, embryonic stem cell research has long been a source of ethical discussion, resulting in moral and legislative limits in many areas. This has redirected the focus of stem cell research and therapeutic uses away from controversial sources and towards non-controversial sources such as adult stem cells and cord blood. As a result, individuals and institutions looking for the potential benefits of stem cell therapy without the ethical ambiguity of stem cell banking are turning to it. Cord blood, in particular, has gained popularity as a rich source of stem cells that is free of ethical problems. Families and healthcare providers understand the importance of storing these cells as biological insurance against future illnesses for the donor and potentially compatible family members. This shift towards morally sound stem cell sources is consistent with the practises of the majority of stem cell banks, garnering a larger client base and contributing to the industry's growth. The market is well-positioned for long-term growth as ethical concerns continue to influence public opinion and regulatory decisions.
Regional segmentation analysis:
The regions analyzed for the market include North America, Europe, South America, Asia Pacific, the Middle East, and Africa. North America emerged as the most significant global stem cell banking market, with a 34.66% market revenue share in 2022. It is owing to an increase in the number of individuals suffering from genetic illnesses such as muscular dystrophy, cystic fibrosis, and Huntington's disease, which necessitate stem cell treatments and therapies. Stem cell banking allows users to save stem cells for future use in the treatment of a variety of genetic and reproductive diseases. Stem cell banking enables parents to save healthy stem cells for their children, which can then be used if they are diagnosed with any of these conditions in the future. Furthermore, the region has a well-established medical infrastructure, which allows for greater access to advanced technologies such as cryogenic storage and stem cell preservation.
North America Region Stem Cell Banking Market Share in 2022 - 34.66%
www.thebrainyinsights.com
Check the geographical analysis of this market by requesting a free sample
Product Type Segment Analysis
The product type segment is divided into human embryonic cells, adult stem cells, and IPS cells. The adult stem cells segment dominated the market, with a market share of around 37.02% in 2022. Adult stem cells, also known as somatic or tissue-specific stem cells, have emerged as a major changer in the field of regenerative medicine. These cells are ethically acceptable because they are derived from bone marrow, adipose tissue, and peripheral blood. Their therapeutic potential in treating a variety of conditions, such as orthopaedic problems, cardiovascular disease, and autoimmune disorders, is becoming more widely recognised.
Service Type Segment Analysis
The service type segment is divided into sample analysis, sample collection and transportation, sample preservation and storage, and sample processing. The sample preservation and storage segment dominated the market, with a market share of around 28.63% in 2022. The sample preservation and storage segment is critical to the market's growth. Stem cell therapies have emerged as a game changer in medicine, promising solutions for a wide range of diseases and disorders. As a result, the demand for safe and dependable storage options for valuable stem cell samples has surged. These services provided by stem cell banks assure the long-term viability and potency of these precious biological assets.
Some of the Key Market Players:
Cordlife
Cryo-Save AG (A Group of Esperite)
Stemcyte
Smart Cells International Ltd.
Cordvida
CBR Systems, Inc.
Lifecell
Cryoviva India
Cryo-Cell
Viacord
Report Description:
| Attribute | Description |
| --- | --- |
| Market Size | Revenue (USD Billion) |
| Market size value in 2022 | USD 7.93 Billion |
| Market size value in 2032 | USD 18.04 Billion |
| CAGR (2023 to 2032) | 8.57% |
| Historical data | 2019-2021 |
| Base Year | 2022 |
| Forecast | 2023-2032 |
| Region | The regions analyzed for the market are Asia Pacific, Europe, South America, North America, and Middle East & Africa. Furthermore, the regions are further analyzed at the country level. |
| Segments | Product Type, Service Type |