The global specialty generics market was valued at USD 70.0 billion in 2022, growing at a CAGR of 10.2% from 2023 to 2032. The market is expected to reach USD 184.8 billion by 2032. Factors such as rising illness prevalence and increasing patent expirations are predicted to boost market share. In recent years, the burden of chronic diseases such as cancer, cardiovascular disease, and arthritis, among others, has increased dramatically, putting a huge strain on people's healthcare budgets.
Market Introduction:
Speciality generics are low-cost generic copies of expensive brand-name speciality medications. These drugs treat complex, long-term illnesses, including cancer, rheumatoid arthritis, multiple sclerosis, and HIV. They differ from ordinary generics in that they are often biologic-based, necessitate particular handling and administration (commonly via injectables), and are frequently provided through restricted networks. Developing specialized generics involves particular hurdles because of the delicate nature of the molecules involved and the complex procedures required in their manufacture. As a result, the regulatory processes for their approval may be more strict than those for traditional generic pharmaceuticals. Furthermore, speciality generics have enormous promise in healthcare. They provide patients access to critical treatments at a lower cost while reducing the financial load on healthcare systems. The development of innovative distribution channels, such as online pharmacies and telemedicine platforms, has also expanded the speciality generics industry. These channels facilitate medicine access, ensuring that patients in even the most remote regions can acquire the required medications. In addition, government healthcare programmes and private payers are constantly looking for ways to curb rising healthcare costs. A main tactic is to emphasize using generic medications, particularly specialized generics. As a result, numerous governments and insurance companies are increasingly incentivizing or mandating the prescription of generics when they are available, driving demand. Furthermore, because specialized generics are less expensive, they have become the preferred choice for many in regions, ensuring that vital treatments are within reach of broader parts of the population.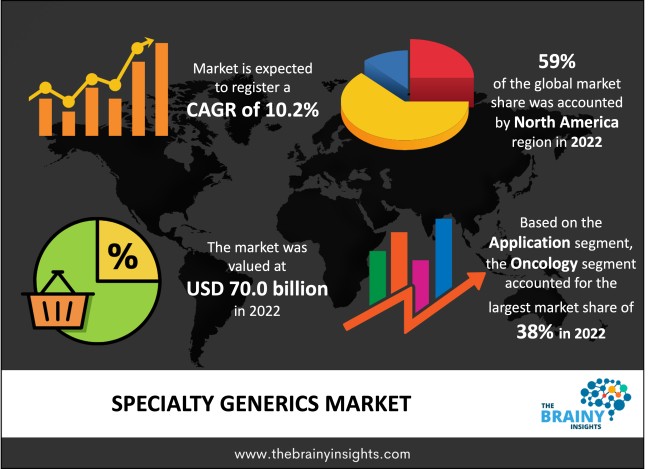 Get an overview of this study by requesting a free sample
Recent Development
In March 2022, Nevakar Injectables Inc., a biopharmaceutical company developing multiple sterile injectable products for use in critical and ambulatory care settings, launched its ready-to-use Ephedrine Sulphate Injection, a formulation pre-diluted to a concentration of 5mg/mL and supplied in a 10mL vial.
In February 2022, Dr Reddy's Laboratories Ltd. launched the generic version of Par Pharmaceuticals VASOSTRICT (vasopressin injectable, USP) Vials, which has been approved by the US Food and Drug Administration (USFDA) for sale in the US market.
In April 2022, Dr Reddy's Laboratories announced methylprednisolone sodium succinate injectable for treating rheumatoid arthritis, blood issues, and select rare tumours in the United States.
In June 2022, Elixir launched its copay solutions improvement programme to control the cost of speciality generic pharmaceuticals. A qualifying patient can receive a free generic version of a specialty medicine through this programme.
Market Dynamics:
Drivers
Rising Prevalence of Cancers- The rising prevalence of cancers such as melanoma, lung, breast, leukaemia, prostate, and colon cancer has increased global demand for generic speciality medications. According to the International Agency for Research on Cancer (IARC), roughly 14 million cancer cases were diagnosed globally in 2012, and this figure is expected to climb in the coming years. As a result of the rising prevalence, there is a great need for low-cost generic pharmaceuticals that are less expensive and more effective than branded drugs.
Restraints:
Competition- Specialist generics have a more competitive market than conventional generics due to their sophisticated production needs, higher capital costs, and often lesser volumes due to a smaller patient base. This results in higher earnings than regular generics and a smaller price decline when compared to branded drugs. Prior authorization is usually required to acquire specialty generic medications and specific handling, administration, and monitoring.
Opportunities:
Rising Cancer Patients- The increasing number of cancer patients is expected to boost global market growth. According to the World Health Organisation (WHO), roughly 160,000 people in the United States were diagnosed with cancer in 2015. As a result of the rising prevalence of cancer cases requiring medications, the global speciality generic drugs market is expected to develop.
Regional segmentation analysis:
The regions analyzed for the market include North America, Europe, South America, Asia Pacific, the Middle East, and Africa. North America emerged as the largest global specialty generics market, with a 59% market revenue share in 2022.
The North American speciality injectable generics market is predicted to develop throughout the forecast period due to the country's high chronic disease burden, rising geriatric population, and new product releases by key industry participants. For example, according to the National Centre for Chronic Disease Prevention and Health Promotion (January 2021), 6 in 10 adults in the United States have a chronic disease, and 4 in 10 adults have two or more chronic diseases. These conditions cost the country's healthcare system around USD 3.8 trillion annually, even though generic drugs are much cheaper than other prescribed drugs. As a result, the widespread use of generic medications in the country can drastically lower healthcare expenditures, which is predicted to have a considerable impact on the growth of the analyzed market.
North America Region Specialty Generics Market Share in 2022 - 59%
www.thebrainyinsights.com
Check the geographical analysis of this market by requesting a free sample
End-User Segment Analysis
The end-user segment is divided into specialty pharmacy, retail pharmacy, and hospital pharmacy. The specialty pharmacy segment dominated, with a market share of around 42% in 2022. The market is expected to increase at a lucrative rate over the forecast period. Because of reduced distribution costs and easy drug access, major specialty generic manufacturers and insurance companies choose specialty pharmacies to distribute their products. According to the drug Channels Institute's analysis from 2021, the top five specialty pharmacies in the globe are CVS speciality, Accredo, Optum specialty pharmacy, Walgreens stores, and Humana specialty pharmacy.
Application Segment Analysis
The application segment is divided into oncology, cardiovascular, infectious diseases, central nervous systems, autoimmune disorders, and others. The oncology segment dominated, with a market share of around 38% in 2022. The expanding global burden of cancer, the increasing need for effective therapeutic medications to treat cancer, and pharmaceutical companies' increased focus on producing effective drugs are all factors driving the rise of the oncology industry. According to GLOBOCAN 2020, there were 19.3 million predicted new cancer cases worldwide in 2020, expected to rise to 30.2 million by 2040. As a result, the predicted increase in cancer burden is a major element leading to increased demand for generic pharmaceuticals, supporting market growth.
Some of the Key Market Players:
Teva Pharmaceuticals Industries Ltd
Viatris Inc.
Novartis AG (Sandoz International GmbH)
Hikma Pharmaceuticals PLC
Mallinckrodt
Bausch Health Companies Inc. (Valeant Pharmaceuticals International, Inc.)
Dr. Reddy's Laboratories Ltd.
Endo Pharmaceuticals Inc.
Apotex Corp.
Sun Pharmaceutical Industries Ltd
Fresenius Kabi Brasil Ltda
STADA Arzneimittel AG
Report Description:
| Attribute | Description |
| --- | --- |
| Market Size | Revenue (USD Billion) |
| Market size value in 2022 | USD 70.0 Billion |
| Market size value in 2032 | USD 184.8 Billion |
| CAGR (2023 to 2032) | 10.2% |
| Historical data | 2019-2021 |
| Base Year | 2022 |
| Forecast | 2023-2032 |
| Region | The regions analyzed for the market are Asia Pacific, Europe, South America, North America, and Middle East & Africa. Furthermore, the regions are further analyzed at the country level. |
| Segments | End-User, Application |
Frequesntly Asked Questions
As per The Brainy Insights, the size of the specialty generics market was valued at USD 70.0 billion in 2022 to USD 184.8 billion by 2032.
The global specialty generics market is growing at a CAGR of 10.2% during the forecast period 2023-2032.
North America emerged as the largest specialty generics market.
1. Introduction
1.1. Objectives of the Study
1.2. Market Definition
1.3. Research Scope
1.4. Currency
1.5. Key Target Audience

2. Research Methodology and Assumptions

3. Executive Summary

4. Premium Insights
4.1. Porter's Five Forces Analysis
4.2. Value Chain Analysis
4.3. Top Investment Pockets
4.3.1. Market Attractiveness Analysis by End-User
4.3.2. Market Attractiveness Analysis by Application
4.3.3. Market Attractiveness Analysis by Region
4.4. Industry Trends

5. Market Dynamics
5.1. Market Evaluation
5.2. Drivers
5.2.1. Rising prevalence of cancers
5.3. Restraints
5.3.1. Competition
5.4. Opportunities
5.4.1. Rising cancer patients
5.5. Challenges
5.5.1. Undesirable effect

6. Global Specialty Generics Market Analysis and Forecast, By End-User
6.1. Segment Overview
6.2. Specialty Pharmacy
6.3. Retail Pharmacy
6.4. Hospital Pharmacy

7. Global Specialty Generics Market Analysis and Forecast, By Application
7.1. Segment Overview
7.2. Oncology
7.3. Cardiovascular
7.4. Infectious Diseases
7.5. Central Nervous Systems
7.6. Autoimmune Disorders
7.7. Others

8. Global Specialty Generics Market Analysis and Forecast, By Regional Analysis
8.1. Segment Overview
8.2. North America
8.2.1. U.S.
8.2.2. Canada
8.2.3. Mexico
8.3. Europe
8.3.1. Germany
8.3.2. France
8.3.3. U.K.
8.3.4. Italy
8.3.5. Spain
8.4. Asia-Pacific
8.4.1. Japan
8.4.2. China
8.4.3. India
8.5. South America
8.5.1. Brazil
8.6. Middle East and Africa
8.6.1. UAE
8.6.2. South Africa

9. Global Specialty Generics Market-Competitive Landscape
9.1. Overview
9.2. Market Share of Key Players in Global Specialty Generics Market
9.2.1. Global Company Market Share
9.2.2. North America Company Market Share
9.2.3. Europe Company Market Share
9.2.4. APAC Company Market Share
9.3. Competitive Situations and Trends
9.3.1. Product Launches and Developments
9.3.2. Partnerships, Collaborations, and Agreements
9.3.3. Mergers & Acquisitions
9.3.4. Expansions

10. Company Profiles
10.1. Teva Pharmaceuticals Industries Ltd
10.1.1. Business Overview
10.1.2. Company Snapshot
10.1.3. Company Market Share Analysis
10.1.4. Company Product Portfolio
10.1.5. Recent Developments
10.1.6. SWOT Analysis
10.2. Viatris Inc.
10.2.1. Business Overview
10.2.2. Company Snapshot
10.2.3. Company Market Share Analysis
10.2.4. Company Product Portfolio
10.2.5. Recent Developments
10.2.6. SWOT Analysis
10.3. Novartis AG (Sandoz International GmbH)
10.3.1. Business Overview
10.3.2. Company Snapshot
10.3.3. Company Market Share Analysis
10.3.4. Company Product Portfolio
10.3.5. Recent Developments
10.3.6. SWOT Analysis
10.4. Hikma Pharmaceuticals PLC
10.4.1. Business Overview
10.4.2. Company Snapshot
10.4.3. Company Market Share Analysis
10.4.4. Company Product Portfolio
10.4.5. Recent Developments
10.4.6. SWOT Analysis
10.5. Mallinckrodt
10.5.1. Business Overview
10.5.2. Company Snapshot
10.5.3. Company Market Share Analysis
10.5.4. Company Product Portfolio
10.5.5. Recent Developments
10.5.6. SWOT Analysis
10.6. Bausch Health Companies Inc. (Valeant Pharmaceuticals International, Inc.)
10.6.1. Business Overview
10.6.2. Company Snapshot
10.6.3. Company Market Share Analysis
10.6.4. Company Product Portfolio
10.6.5. Recent Developments
10.6.6. SWOT Analysis
10.7. Dr. Reddy's Laboratories Ltd.
10.7.1. Business Overview
10.7.2. Company Snapshot
10.7.3. Company Market Share Analysis
10.7.4. Company Product Portfolio
10.7.5. Recent Developments
10.7.6. SWOT Analysis
10.8. Endo Pharmaceuticals Inc.
10.8.1. Business Overview
10.8.2. Company Snapshot
10.8.3. Company Market Share Analysis
10.8.4. Company Product Portfolio
10.8.5. Recent Developments
10.8.6. SWOT Analysis
10.9. Apotex Corp.
10.9.1. Business Overview
10.9.2. Company Snapshot
10.9.3. Company Market Share Analysis
10.9.4. Company Product Portfolio
10.9.5. Recent Developments
10.9.6. SWOT Analysis
10.10. Sun Pharmaceutical Industries Ltd
10.10.1. Business Overview
10.10.2. Company Snapshot
10.10.3. Company Market Share Analysis
10.10.4. Company Product Portfolio
10.10.5. Recent Developments
10.10.6. SWOT Analysis
10.11. Fresenius Kabi Brasil Ltda
10.11.1. Business Overview
10.11.2. Company Snapshot
10.11.3. Company Market Share Analysis
10.11.4. Company Product Portfolio
10.11.5. Recent Developments
10.11.6. SWOT Analysis
10.12. STADA Arzneimittel AG
10.12.1. Business Overview
10.12.2. Company Snapshot
10.12.3. Company Market Share Analysis
10.12.4. Company Product Portfolio
10.12.5. Recent Developments
10.12.6. SWOT Analysis

List of Table
1. Global Specialty Generics Market, By End-User, 2019-2032 (USD Billion)
2. Global Specialty Pharmacy, Specialty Generics Market, By Region, 2019-2032 (USD Billion)
3. Global Retail Pharmacy, Specialty Generics Market, By Region, 2019-2032 (USD Billion)
4. Global Hospital Pharmacy, Specialty Generics Market, By Region, 2019-2032 (USD Billion)
5. Global Specialty Generics Market, By Application, 2019-2032 (USD Billion)
6. Global Oncology, Specialty Generics Market, By Region, 2019-2032 (USD Billion)
7. Global Cardiovascular, Specialty Generics Market, By Region, 2019-2032 (USD Billion)
8. Global Infectious Diseases, Specialty Generics Market, By Region, 2019-2032 (USD Billion)
9. Global Central Nervous Systems, Specialty Generics Market, By Region, 2019-2032 (USD Billion)
10. Global Autoimmune Disorders, Specialty Generics Market, By Region, 2019-2032 (USD Billion)
11. Global Others, Specialty Generics Market, By Region, 2019-2032 (USD Billion)
12. North America Specialty Generics Market, By End-User, 2019-2032 (USD Billion)
13. North America Specialty Generics Market, By Application, 2019-2032 (USD Billion)
14. U.S. Specialty Generics Market, By End-User, 2019-2032 (USD Billion)
15. U.S. Specialty Generics Market, By Application, 2019-2032 (USD Billion)
16. Canada Specialty Generics Market, By End-User, 2019-2032 (USD Billion)
17. Canada Specialty Generics Market, By Application, 2019-2032 (USD Billion)
18. Mexico Specialty Generics Market, By End-User, 2019-2032 (USD Billion)
19. Mexico Specialty Generics Market, By Application, 2019-2032 (USD Billion)
20. Europe Specialty Generics Market, By End-User, 2019-2032 (USD Billion)
21. Europe Specialty Generics Market, By Application, 2019-2032 (USD Billion)
22. Germany Specialty Generics Market, By End-User, 2019-2032 (USD Billion)
23. Germany Specialty Generics Market, By Application, 2019-2032 (USD Billion)
24. France Specialty Generics Market, By End-User, 2019-2032 (USD Billion)
25. France Specialty Generics Market, By Application, 2019-2032 (USD Billion)
26. U.K. Specialty Generics Market, By End-User, 2019-2032 (USD Billion)
27. U.K. Specialty Generics Market, By Application, 2019-2032 (USD Billion)
28. Italy Specialty Generics Market, By End-User, 2019-2032 (USD Billion)
29. Italy Specialty Generics Market, By Application, 2019-2032 (USD Billion)
30. Spain Specialty Generics Market, By End-User, 2019-2032 (USD Billion)
31. Spain Specialty Generics Market, By Application, 2019-2032 (USD Billion)
32. Asia Pacific Specialty Generics Market, By End-User, 2019-2032 (USD Billion)
33. Asia Pacific Specialty Generics Market, By Application, 2019-2032 (USD Billion)
34. Japan Specialty Generics Market, By End-User, 2019-2032 (USD Billion)
35. Japan Specialty Generics Market, By Application, 2019-2032 (USD Billion)
36. China Specialty Generics Market, By End-User, 2019-2032 (USD Billion)
37. China Specialty Generics Market, By Application, 2019-2032 (USD Billion)
38. India Specialty Generics Market, By End-User, 2019-2032 (USD Billion)
39. India Specialty Generics Market, By Application, 2019-2032 (USD Billion)
40. South America Specialty Generics Market, By End-User, 2019-2032 (USD Billion)
41. South America Specialty Generics Market, By Application, 2019-2032 (USD Billion)
42. Brazil Specialty Generics Market, By End-User, 2019-2032 (USD Billion)
43. Brazil Specialty Generics Market, By Application, 2019-2032 (USD Billion)
44. Middle East and Africa Specialty Generics Market, By End-User, 2019-2032 (USD Billion)
45. Middle East and Africa Specialty Generics Market, By Application, 2019-2032 (USD Billion)
46. UAE Specialty Generics Market, By End-User, 2019-2032 (USD Billion)
47. UAE Specialty Generics Market, By Application, 2019-2032 (USD Billion)
48. South Africa Specialty Generics Market, By End-User, 2019-2032 (USD Billion)
49. South Africa Specialty Generics Market, By Application, 2019-2032 (USD Billion)
List of Figures
1. Global Specialty Generics Market Segmentation
2. Global Specialty Generics Market: Research Methodology
3. Market Size Estimation Methodology: Bottom-Up Approach
4. Market Size Estimation Methodology: Top-Down Approach
5. Data Triangulation
6. Porter's Five Forces Analysis
7. Value Chain Analysis
8. Global Specialty Generics Market Attractiveness Analysis by End-User
9. Global Specialty Generics Market Attractiveness Analysis by Application
10. Global Specialty Generics Market Attractiveness Analysis by Region
11. Global Specialty Generics Market: Dynamics
12. Global Specialty Generics Market Share by End-User (2023 & 2032)
13. Global Specialty Generics Market Share by Application (2023 & 2032)
14. Global Specialty Generics Market Share by Regions (2023 & 2032)
15. Global Specialty Generics Market Share by Company (2022)