The South Africa food safety testing market was valued at USD 69.6 million in 2022 and grew at a CAGR of 11% from 2023 to 2032. The market is expected to reach USD 197.6 million by 2032. Food security and affordability are fundamental human rights. Customers require and demand protection from risks associated with food. This ethical issue creates the necessity for the establishment of food safety regulations and fuels the expansion of the South African food safety testing market.
Market Introduction:
Food products are examined for pathogenic organisms, chemicals, and other harmful contaminants as part of food safety testing. Pathogens, chemicals, and genetically modified organisms (GMOs) are the three primary food pollutants that are the main focus of food safety testing. Food fraud occurs when food is purposefully changed for monetary advantage to deceive consumers. The food standards agency (FSA) identifies two primary categories of food fraud: the sale of potentially dangerous or improper food and purposeful misrepresentation. The expansion of the South African food safety testing market is driven by implementing various food safety standards. Some of the most prevalent food fraud practices include recycling animal byproducts, selling items that have passed their use-by dates, using dangerous additives, and improper food handling procedures. Foodborne disease is brought on by eating tainted food, which may contain radioactive and hazardous substances. This illness may even be fatal. The development of the South African food safety testing industry is anticipated to be fueled by the implementation of strict regulations by numerous top food safety organisations, including The Department of Agriculture, The Department of Health, and The Department of Trade & Industry. These regulations aim to prevent consumer illness and food fraud. An increase also aids the growth of the South African food safety testing market in economically motivated adulterations (EMAs), which are on the rise as a result of fierce competition among food producers, as well as food debasement incidents like adulterations, pesticides, artificial flavour enhancers, and certifications.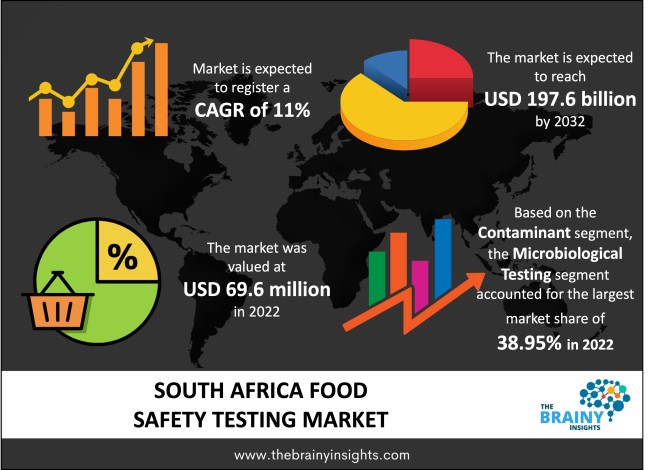 Get an overview of this study by requesting a free sample
Market Dynamics:
Drivers
Growing Consumer Knowledge- Due to growing consumer knowledge of food quality issues and other considerations, such as health and environmental consequences, the demand for high-quality food has steadily risen over the past few decades. Governmental organisations like the Codex Alimentarius Commission also put rules governing food safety, quality, and labelling in place. These organisations are in charge of enforcing and monitoring safety regulations through efficient food control operations.
Restraints:
Lack of Testing Procedures- The absence of unified laws and the complexity of testing procedures are expected to impede the expansion of the South African food safety testing market.
Opportunities:
Technological Improvements- Rapid culture-independent molecular or microbiological tests are becoming more popular in the South African food safety testing market due to the increased disease occurrences and public awareness of foodborne diseases in the region. The South African food safety testing market is driven by significant technological improvements and rising consumer interest in food quality in developed and emerging nations.
Contaminant Segment Analysis
The contaminant segment is divided into microbiological testing, chemical & toxin, radioactivity, genetically modified organism (GMOs), heavy metals, and others. The microbiological testing segment dominated the market, with a share of around 38.95% in 2022. The market is predicted to expand as it helps detect microorganisms in food items utilising chemical, biological, molecular, and biochemical methods, delivering exact results on their makeup.
Food Tested Segment Analysis
The food tested segment is divided into meat & meat product, cereal, dairy & dairy product, grain & pulse, processed food, and others. The meat & meat product segment dominated the market, with a share of around 41.7% in 2022. Because they are very susceptible to bacterial development, meat and meat product and processed food products are frequently processed with various artificial additives to extend their shelf life. As a result, there is a strong need for testing for dangerous chemicals, poisons, and pathogens in food.
Some of the Key Market Players:
ALS Limited
Bio-Rad Laboratories, Inc.
Bureau Veritas
Deltamune
DNV GL AS (DNV)
Eurofins Scientific S.E.
Intertek Group plc.
QIMA Limited
SGS SA (SGS)
TUV SUD
Report Description:
| Attribute | Description |
| --- | --- |
| Market Size | Revenue (USD Million) |
| Market size value in 2022 | USD 69.6 million |
| Market size value in 2032 | USD 197.6 million |
| CAGR (2023 to 2032) | 11% |
| Historical data | 2019-2021 |
| Base Year | 2022 |
| Forecast | 2023-2032 |
| Segments | Contaminant, Food Tested |
Frequesntly Asked Questions
1. Introduction
1.1. Objectives of the Study
1.2. Market Definition
1.3. Research Scope
1.4. Currency
1.5. Key Target Audience

2. Research Methodology and Assumptions

3. Executive Summary

4. Premium Insights
4.1. Porter's Five Forces Analysis
4.2. Value Chain Analysis
4.3. Top Investment Pockets
4.3.1. Market Attractiveness Analysis by Contaminant
4.3.2. Market Attractiveness Analysis by Food Tested
4.4. Industry Trends

5. Market Dynamics
5.1. Market Evaluation
5.2. Drivers
5.2.1. Growing consumer knowledge
5.3. Restraints
5.3.1. Lack of testing procedures
5.4. Opportunities
5.4.1. Technological improvements

6. South Africa Food Safety Testing Market Analysis and Forecast, By Contaminant
6.1. Segment Overview
6.2. Microbiological Testing
6.3. Chemical & Toxin
6.4. Radioactivity
6.5. Genetically Modified Organism (GMO)
6.6. Heavy Metals
6.7. Others

7. South Africa Food Safety Testing Market Analysis and Forecast, By Food Tested
7.1. Segment Overview
7.2. Meat & Meat Product
7.3. Cereal
7.4. Dairy & Dairy Product
7.5. Grain & Pulse
7.6. Processed Food
7.7. Others

8. South Africa Food Safety Testing Market-Competitive Landscape
8.1. Overview
8.2. Market Share of Key Players in the Food Safety Testing Market
8.2.1. SOUTH AFRICA Company Market Share
8.2.2. North America Company Market Share
8.2.3. Europe Company Market Share
8.2.4. APAC Company Market Share
8.3. Competitive Situations and Trends
8.3.1. Product Launches and Developments
8.3.2. Partnerships, Collaborations, and Agreements
8.3.3. Mergers & Acquisitions
8.3.4. Expansions

9. Company Profiles
9.1. ALS Limited
9.1.1. Business Overview
9.1.2. Company Snapshot
9.1.3. Company Market Share Analysis
9.1.4. Company Product Portfolio
9.1.5. Recent Developments
9.1.6. SWOT Analysis
9.2. Bio-Rad Laboratories, Inc.
9.2.1. Business Overview
9.2.2. Company Snapshot
9.2.3. Company Market Share Analysis
9.2.4. Company Product Portfolio
9.2.5. Recent Developments
9.2.6. SWOT Analysis
9.3. Bureau Veritas
9.3.1. Business Overview
9.3.2. Company Snapshot
9.3.3. Company Market Share Analysis
9.3.4. Company Product Portfolio
9.3.5. Recent Developments
9.3.6. SWOT Analysis
9.4. Deltamune
9.4.1. Business Overview
9.4.2. Company Snapshot
9.4.3. Company Market Share Analysis
9.4.4. Company Product Portfolio
9.4.5. Recent Developments
9.4.6. SWOT Analysis
9.5. DNV GL AS (DNV)
9.5.1. Business Overview
9.5.2. Company Snapshot
9.5.3. Company Market Share Analysis
9.5.4. Company Product Portfolio
9.5.5. Recent Developments
9.5.6. SWOT Analysis
9.6. Eurofins Scientific S.E.
9.6.1. Business Overview
9.6.2. Company Snapshot
9.6.3. Company Market Share Analysis
9.6.4. Company Product Portfolio
9.6.5. Recent Developments
9.6.6. SWOT Analysis
9.7. Intertek Group plc.
9.7.1. Business Overview
9.7.2. Company Snapshot
9.7.3. Company Market Share Analysis
9.7.4. Company Product Portfolio
9.7.5. Recent Developments
9.7.6. SWOT Analysis
9.8. QIMA Limited
1.1.1. Business Overview
1.1.2. Company Snapshot
1.1.3. Company Market Share Analysis
1.1.4. Company Product Portfolio
1.1.5. Recent Developments
1.1.6. SWOT Analysis
9.9. SGS SA (SGS)
9.9.1. Business Overview
9.9.2. Company Snapshot
9.9.3. Company Market Share Analysis
9.9.4. Company Product Portfolio
9.9.5. Recent Developments
9.9.6. SWOT Analysis
9.10. TUV SUD
9.10.1. Business Overview
9.10.2. Company Snapshot
9.10.3. Company Market Share Analysis
9.10.4. Company Product Portfolio
9.10.5. Recent Developments
9.10.6. SWOT Analysis

List of Table
1. South Africa Food Safety Testing Market, By Contaminant, 2019-2032 (USD Thousand)
2. South Africa Microbiological Testing, Food Safety Testing Market, 2019-2032 (USD Thousand)
3. South Africa Chemical & Toxin, Food Safety Testing Market, 2019-2032 (USD Thousand)
4. South Africa Radioactivity, Food Safety Testing Market, 2019-2032 (USD Thousand)
5. South Africa Genetically Modified Organism (GMO), Food Safety Testing Market, 2019-2032 (USD Thousand)
6. South Africa Heavy Metals, Food Safety Testing Market, 2019-2032 (USD Thousand)
7. South Africa Others, Food Safety Testing Market, 2019-2032 (USD Thousand)
8. South Africa Food Safety Testing Market, By Food Tested, 2019-2032 (USD Thousand)
9. South Africa Meat & Meat Product, Food Safety Testing Market, 2019-2032 (USD Thousand)
10. South Africa Cereal, Food Safety Testing Market, 2019-2032 (USD Thousand)
11. South Africa Dairy & Dairy Product, Food Safety Testing Market, 2019-2032 (USD Thousand)
12. South Africa Grain & Pulse, Food Safety Testing Market, 2019-2032 (USD Thousand)
13. South Africa Processed Food, Food Safety Testing Market, 2019-2032 (USD Thousand)
14. South Africa Others, Food Safety Testing Market, 2019-2032 (USD Thousand)
List of Figures
1. South Africa Food Safety Testing Market Segmentation
2. Food Safety Testing Market: Research Methodology
3. Market Size Estimation Methodology: Bottom-Up Approach
4. Market Size Estimation Methodology: Top-Down Approach
5. Data Triangulation
6. Porter's Five Forces Analysis
7. Value Chain Analysis
8. South Africa Food Safety Testing Market Attractiveness Analysis by Contaminant
9. South Africa Food Safety Testing Market Attractiveness Analysis by Food Tested
10. South Africa Food Safety Testing Market: Dynamics
11. South Africa Food Safety Testing Market Share by Contaminant (2022 & 2032)
12. South Africa Food Safety Testing Market Share by Food Tested (2022 & 2032)
13. South Africa Food Safety Testing Market Share by Company (2022)