The global sleep aids market generated USD 80.16 billion revenue in 2022 and is projected to grow at a CAGR of 7.04% from 2023 to 2032. The expansion of this market can be credited to several key factors, including the escalating incidence of sleep disorders, increasing awareness of the benefits associated with the use of sleep aids, and the continuous technological progress in sleep apnea devices. Furthermore, the mounting endorsements of these products, coupled with government funding to foster healthier approaches to sleep apnea diagnosis and treatment, are generating extensive prospects for sleep aid product manufacturers to combat chronic sleep-related conditions and expand their market presence.
Market Introduction:
Sleep aids are substances, medications, or devices designed to help individuals improve their sleep quality or manage sleep-related issues. These aids can encompass various products and techniques, including prescription and over-the-counter medications, herbal supplements, lifestyle changes, relaxation techniques, sleep hygiene practices, and specialized devices like sleep apnea machines or wearable sleep tracking technology. Their primary aim is to assist individuals in falling asleep more easily, staying asleep longer, and achieving restful and restorative sleep, thereby addressing various sleep-related problems and disorders. Prescription sleep aids are generally reserved for addressing more severe and chronic sleep disorders, and their usage necessitates a healthcare provider's prescription. On the other hand, over-the-counter sleep aids, like antihistamines and melatonin supplements, are readily accessible without a prescription and serve to induce relaxation and enhance the overall quality of sleep. An increasing number of individuals are turning to natural sleep aids, encompassing herbal supplements and essential oils, in their quest for holistic and organic methods to enhance sleep quality. These remedies have gained popularity as consumers seek alternatives to traditional medications. Moreover, sleep-tracking devices, from wearable gadgets to innovative smart pillows, have become valuable tools for monitoring sleep patterns. They allow users to assess their sleep quality and gain insights into potential factors affecting their sleep. These devices enable individuals to adjust their sleep hygiene by providing feedback and data analysis, ultimately promoting better sleep.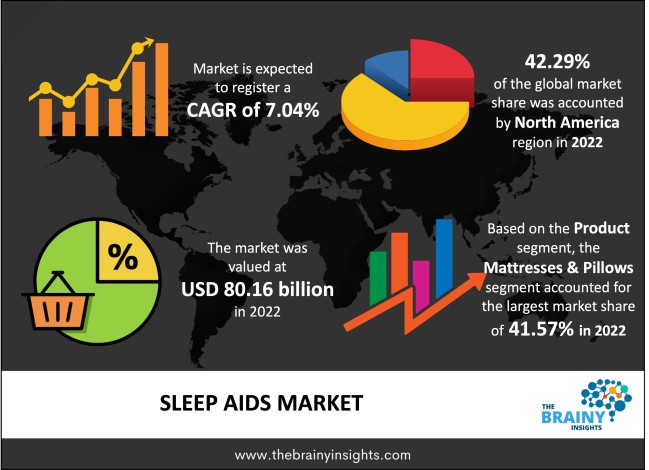 Get an overview of this study by requesting a free sample
Recent Development
In January 2023: LG Electronics has unveiled an innovative wireless earphone that enhances sleep quality through advanced brain wave technology. Developed under the wing of their subsidiary, SleepWave, this revolutionary device, known as "Breeze," goes beyond merely aiding sleep—it actively monitors and analyzes sleep data in real time, offering personalized recommendations for improved sleep patterns. The device is crafted to be comfortably worn during sleep. The Breeze earphone is a lightweight marvel that leverages brain wave-based technology to deliver synchronized sounds at varying frequencies. These encompass static and dynamic binaural beats, specifically aiming to induce brain waves conducive to sleep or facilitate a smooth transition into a deep slumber, typically characterized by brain waves operating within the 0.5-3 Hertz range. Moreover, the Breeze earphone boasts an extensive library of 80 pre-installed sounds, including brain wave-tuned compositions, lullabies, and the soothing sounds of nature, capable of triggering an Autonomous Sensory Meridian Response (ASMR). Beyond these options, the earphone seamlessly synchronizes with users' preferred music or videos from platforms like YouTube, further customizing the auditory experience for a peaceful night's sleep.
In October 2022: Pfizer Inc. has officially concluded its acquisition of Biohaven Pharmaceutical Holding Company Ltd., the renowned manufacturer of NURTEC ODT (rimegepant). This groundbreaking migraine therapy has garnered approval for its dual utility in acute treating and preventing episodic migraines among adults.
In August 2022: ResMed has disclosed its successful acquisition of Mementor, a Leipzig-based company. This strategic move bolsters ResMed's comprehensive sleep product offerings in Germany, introducing a digital solution tailored to address insomnia concerns.
Market Dynamics:
Drivers
Increasing Prevalence of Sleep Disorders - The rising incidence of sleep disorders such as insomnia, narcolepsy, sleep apnea, and others is driving the growth of the sleep aids market. As awareness of these conditions grows, more people seek medical help and medication to improve their sleep.
Stress and Lifestyle Factors - Modern lifestyles are often portrayed by high stress levels, irregular work hours, and excessive screen time, which can disrupt sleep patterns. These factors have increased the demand for sleep aids as individuals seek ways to manage their problems.
Older Adult Population - The global population is ageing, and elderly individuals are more prone to sleep-related issues. This demographic shift has created a larger customer base for sleep aid products.
Restraints:
Safety Concerns and Side Effects - Many sleep aids, especially prescription medications, can have side effects, including drowsiness, grogginess, dependency, and even the risk of addiction. This factor has raised safety concerns among both patients and healthcare professionals.
Regulatory Hurdles - Sleep aids, particularly prescription drugs, are subject to strict regulatory oversight. The approval process for new sleep aid medications can be time-consuming and costly, hindering market growth.
Opportunities:
Growing Awareness of Sleep Health - Increasing understanding of the significance of sleep in overall health and well-being presents a significant opportunity. More individuals are seeking information and solutions for improving their sleep, which can drive demand for sleep aids.
Innovative Products and Technologies - Advances in sleep aid technologies, such as wearable devices, smart beds, and mobile apps for tracking sleep patterns, offer opportunities to develop more effective and personalized solutions.
Natural and Non-Prescription Sleep Aids - The demand for natural and non-prescription sleep aid products is rising. This factor may create new opportunities for companies to develop and market non-pharmaceutical sleep remedies.
Challenges:
Limited Long-Term Efficacy - Some sleep aids work well in the short term, but their long-term efficacy can be limited. Patients may develop a tolerance, requiring higher doses or alternative treatments.
Cost and Accessibility - The cost of prescription sleep aids can be high, and not all insurance plans cover them. This financial barrier can discourage some individuals from seeking treatment.
Regional segmentation analysis:
The regions analyzed for the market include North America, Europe, South America, Asia Pacific, the Middle East, and Africa. The North American region emerged as the most prominent global sleep aids market, with a 42.29% market revenue share in 2022.
North America has a significant prevalence of sleep disorders, including insomnia, narcolepsy, restless leg syndrome, and others. This high prevalence drives the demand for sleep aids as individuals seek relief from their sleep-related problems. In addition, North America has growing awareness about the importance of quality sleep for overall health and well-being. Thus, more people sought medical help for sleep disturbances, resulting in higher sales of sleep aids. Furthermore, North America boasts a well-developed healthcare infrastructure, including a network of sleep clinics and specialist centers. This infrastructure supports diagnosing and treating sleep disorders, including prescription sleep aid medications. The region is also a hub for medical research and innovation. Ongoing research in sleep medicine has led to the developing of new and more effective sleep aid products. This innovation drives the growth of the sleep aids market. The European region held the second-highest market share in 2022. Modern lifestyles in Europe often involve high stress levels, irregular work hours, and excessive screen time, which can disrupt sleep patterns. These factors contribute to the demand for sleep aids. The European Union (EU) has a stringent regulative framework that assures the safety and efficacy of sleep aid products. This regulatory oversight provides consumers with confidence in the quality of the products. Besides, the availability of prescription and OTC sleep aid products in Europe provides consumers various options to manage their sleep disturbances.
North America Region Sleep Aids Market Share in 2022 - 42.29%
www.thebrainyinsights.com
Check the geographical analysis of this market by requesting a free sample
Product Segment Analysis
The product segment includes mattresses & pillows, medications, sleep apnea devices and others. The mattresses & pillows segment dominated the market, with a share of 41.57% in 2022. Mattresses and pillows are fundamental components of a good night's sleep. They provide comfort and support, ensuring that individuals can rest comfortably, essential for sleep quality. Many sleep disturbances can be traced back to uncomfortable or inadequate bedding. Additionally, mattresses and pillows have a broad appeal. They are essential for nearly everyone, regardless of whether they have a diagnosed sleep disorder. Therefore, there is a large potential customer base for products in this segment. Mattresses and pillows also typically have a longer lifespan than other sleep aid products. While medications and supplements are consumed and must be replaced, mattresses and pillows can last for years, making them a cost-effective long-term solution.
Sleep Disorder Segment Analysis
The sleep disorder segment is classified into insomnia, narcolepsy, restless leg syndrome, sleep apnea and others. The insomnia segment dominated the market, with a share of around 38.25% in 2022. Insomnia is a prevalent sleep disorder, impacting a significant portion of the population. This widespread occurrence drives the demand for sleep aid products, with many individuals seeking treatment to address their insomnia symptoms. Insomnia often prompts individuals to seek medical attention, leading to healthcare professionals' diagnosis and prescription of sleep aid medications. This medical intervention contributes to the dominance of insomnia in the sleep aids market. Besides, insomnia can be a chronic condition lasting for weeks, months, or even years. Individuals with chronic insomnia may require ongoing treatment, creating a consistent market for sleep aids.
Distribution Channel Segment Analysis
The distribution channel segment is split into hospital pharmacies, retail pharmacies, e-commerce, drug stores and others. The e-commerce segment dominated the market, with a share of around 26.94% in 2022. E-commerce platforms provide unparalleled convenience for consumers. Shoppers can browse and purchase sleep aids from the comfort of their homes, eliminating the need to visit physical stores. This accessibility is particularly important for individuals with sleep disturbances, as it allows them to shop anytime that suits their needs, including during nighttime. Moreover, e-commerce platforms offer many sleep aid products, including mattresses, pillows, over-the-counter medications, supplements, and sleep-related accessories. Consumers can compare and choose from various brands and product options, ensuring they find the sleep aid that best fits their requirements. Also, e-commerce websites often provide comprehensive product information and user reviews. These features empower consumers to decide which sleep aids suit their specific sleep-related issues. Reading reviews from other customers can instil confidence in the product's efficacy.
Some of the Key Market Players:
AstraZeneca Plc
Biodiem
BMC Medical Co., Ltd.
Cadwell Industries, Inc.
Compumedics Limited
Drive DeVilbiss Healthcare Inc.
Eisai Inc.
Fisher & Paykel Healthcare Limited
GlaxoSmithKline Plc
Idorsia Pharmaceuticals Ltd.
Koninklijke Philips N.V.
LG Electronics
Lowenstein Medical Technology GmbH
Merck& Co., Inc.
Natus Medical Inc.
Novartis AG
Pfizer, Inc.
ResMed Inc.
Rotech Healthcare Inc.
Sanofi S.A.
SleepMed Inc.
Simple Habit
StimScience
Takeda Pharmaceutical Company Limited
Report Description:
| Attribute | Description |
| --- | --- |
| Market Size | Revenue (USD Billion) |
| Market size value in 2022 | USD 80.16 Billion |
| Market size value in 2032 | USD 158.28 Billion |
| CAGR (2023 to 2032) | 7.04% |
| Historical data | 2019-2021 |
| Base Year | 2022 |
| Forecast | 2023-2032 |
| Region | The regions analyzed for the market are Asia Pacific, Europe, South America, North America, and Middle East & Africa. Furthermore, the regions are further analyzed at the country level. |
| Segments | Product, Sleep Disorder and Distribution Channel |
Frequesntly Asked Questions
1. Introduction
1.1. Objectives of the Study
1.2. Market Definition
1.3. Research Scope
1.4. Currency
1.5. Key Target Audience

2. Research Methodology and Assumptions

3. Executive Summary

4. Premium Insights
4.1. Porter's Five Forces Analysis
4.2. Value Chain Analysis
4.3. Top Investment Pockets
4.3.1. Market Attractiveness Analysis by Product
4.3.2. Market Attractiveness Analysis by Sleep Disorder
4.3.3. Market Attractiveness Analysis by Distribution Channel
4.3.4. Market Attractiveness Analysis by Region
4.4. Industry Trends

5. Market Dynamics
5.1. Market Evaluation
5.2. Drivers
5.2.1. Increasing Prevalence of Sleep Disorders
5.2.2. Stress and Lifestyle Factors
5.2.3. Aging Population
5.3. Restraints
5.3.1. Safety Concerns and Side Effects
5.3.2. Regulatory Hurdles
5.4. Opportunities
5.4.1. Growing Awareness of Sleep Health
5.4.2. Innovative Products and Technologies
5.4.3. Natural and Non-Prescription Sleep Aids
5.5. Challenges
5.5.1. Limited Long-Term Efficacy
5.5.2. Cost and Accessibility

6. Global Sleep Aids Market Analysis and Forecast, By Product
6.1. Segment Overview
6.2. Mattresses & Pillows
6.3. Medications
6.4. Sleep Apnea Devices
6.5. Others

7. Global Sleep Aids Market Analysis and Forecast, By Sleep Disorder
7.1. Segment Overview
7.2. Insomnia
7.3. Narcolepsy
7.4. Restless Leg Syndrome
7.5. Sleep Apnea
7.6. Others

8. Global Sleep Aids Market Analysis and Forecast, By Distribution Channel
8.1. Segment Overview
8.2. Hospital Pharmacies
8.3. Retail Pharmacies
8.4. E-commerce
8.5. Drug Stores
8.6. Others

9. Global Sleep Aids Market Analysis and Forecast, By Regional Analysis
9.1. Segment Overview
9.2. North America
9.2.1. U.S.
9.2.2. Canada
9.2.3. Mexico
9.3. Europe
9.3.1. Germany
9.3.2. France
9.3.3. U.K.
9.3.4. Italy
9.3.5. Spain
9.4. Asia-Pacific
9.4.1. Japan
9.4.2. China
9.4.3. India
9.5. South America
9.5.1. Brazil
9.6. Middle East and Africa
9.6.1. UAE
9.6.2. South Africa

10. Global Sleep Aids Market-Competitive Landscape
10.1. Overview
10.2. Market Share of Key Players in the Sleep Aids Market
10.2.1. Global Company Market Share
10.2.2. North America Company Market Share
10.2.3. Europe Company Market Share
10.2.4. APAC Company Market Share
10.3. Competitive Situations and Trends
10.3.1. Product Launches and Developments
10.3.2. Partnerships, Collaborations, and Agreements
10.3.3. Mergers & Acquisitions
10.3.4. Expansions

11. Company Profiles
11.1. AstraZeneca Plc
11.1.1. Business Overview
11.1.2. Company Snapshot
11.1.3. Company Market Share Analysis
11.1.4. Company Product Portfolio
11.1.5. Recent Developments
11.1.6. SWOT Analysis
11.2. Biodiem
11.2.1. Business Overview
11.2.2. Company Snapshot
11.2.3. Company Market Share Analysis
11.2.4. Company Product Portfolio
11.2.5. Recent Developments
11.2.6. SWOT Analysis
11.3. BMC Medical Co., Ltd.
11.3.1. Business Overview
11.3.2. Company Snapshot
11.3.3. Company Market Share Analysis
11.3.4. Company Product Portfolio
11.3.5. Recent Developments
11.3.6. SWOT Analysis
11.4. Cadwell Industries, Inc.
11.4.1. Business Overview
11.4.2. Company Snapshot
11.4.3. Company Market Share Analysis
11.4.4. Company Product Portfolio
11.4.5. Recent Developments
11.4.6. SWOT Analysis
11.5. Compumedics Limited
11.5.1. Business Overview
11.5.2. Company Snapshot
11.5.3. Company Market Share Analysis
11.5.4. Company Product Portfolio
11.5.5. Recent Developments
11.5.6. SWOT Analysis
11.6. Drive DeVilbiss Healthcare Inc.
11.6.1. Business Overview
11.6.2. Company Snapshot
11.6.3. Company Market Share Analysis
11.6.4. Company Product Portfolio
11.6.5. Recent Developments
11.6.6. SWOT Analysis
11.7. Eisai Inc.
11.7.1. Business Overview
11.7.2. Company Snapshot
11.7.3. Company Market Share Analysis
11.7.4. Company Product Portfolio
11.7.5. Recent Developments
11.7.6. SWOT Analysis
11.8. Fisher & Paykel Healthcare Limited
11.8.1. Business Overview
11.8.2. Company Snapshot
11.8.3. Company Market Share Analysis
11.8.4. Company Product Portfolio
11.8.5. Recent Developments
11.8.6. SWOT Analysis
11.9. GlaxoSmithKline Plc
11.9.1. Business Overview
11.9.2. Company Snapshot
11.9.3. Company Market Share Analysis
11.9.4. Company Product Portfolio
11.9.5. Recent Developments
11.9.6. SWOT Analysis
11.10. Idorsia Pharmaceuticals Ltd.
11.10.1. Business Overview
11.10.2. Company Snapshot
11.10.3. Company Market Share Analysis
11.10.4. Company Product Portfolio
11.10.5. Recent Developments
11.10.6. SWOT Analysis
11.11. Koninklijke Philips N.V.
11.11.1. Business Overview
11.11.2. Company Snapshot
11.11.3. Company Market Share Analysis
11.11.4. Company Product Portfolio
11.11.5. Recent Developments
11.11.6. SWOT Analysis
11.12. LG Electronics
11.12.1. Business Overview
11.12.2. Company Snapshot
11.12.3. Company Market Share Analysis
11.12.4. Company Product Portfolio
11.12.5. Recent Developments
11.12.6. SWOT Analysis
11.13. Lowenstein Medical Technology GmbH
11.13.1. Business Overview
11.13.2. Company Snapshot
11.13.3. Company Market Share Analysis
11.13.4. Company Product Portfolio
11.13.5. Recent Developments
11.13.6. SWOT Analysis
11.14. Merck& Co., Inc.
11.14.1. Business Overview
11.14.2. Company Snapshot
11.14.3. Company Market Share Analysis
11.14.4. Company Product Portfolio
11.14.5. Recent Developments
11.14.6. SWOT Analysis
11.15. Natus Medical Inc.
11.15.1. Business Overview
11.15.2. Company Snapshot
11.15.3. Company Market Share Analysis
11.15.4. Company Product Portfolio
11.15.5. Recent Developments
11.15.6. SWOT Analysis
11.16. Novartis AG
11.16.1. Business Overview
11.16.2. Company Snapshot
11.16.3. Company Market Share Analysis
11.16.4. Company Product Portfolio
11.16.5. Recent Developments
11.16.6. SWOT Analysis
11.17. Pfizer, Inc.
11.17.1. Business Overview
11.17.2. Company Snapshot
11.17.3. Company Market Share Analysis
11.17.4. Company Product Portfolio
11.17.5. Recent Developments
11.17.6. SWOT Analysis
11.18. ResMed Inc.
11.18.1. Business Overview
11.18.2. Company Snapshot
11.18.3. Company Market Share Analysis
11.18.4. Company Product Portfolio
11.18.5. Recent Developments
11.18.6. SWOT Analysis
11.19. Rotech Healthcare Inc.
11.19.1. Business Overview
11.19.2. Company Snapshot
11.19.3. Company Market Share Analysis
11.19.4. Company Product Portfolio
11.19.5. Recent Developments
11.19.6. SWOT Analysis
11.20. Sanofi S.A.
11.20.1. Business Overview
11.20.2. Company Snapshot
11.20.3. Company Market Share Analysis
11.20.4. Company Product Portfolio
11.20.5. Recent Developments
11.20.6. SWOT Analysis
11.21. SleepMed Inc.
11.21.1. Business Overview
11.21.2. Company Snapshot
11.21.3. Company Market Share Analysis
11.21.4. Company Product Portfolio
11.21.5. Recent Developments
11.21.6. SWOT Analysis
11.22. Simple Habit
11.22.1. Business Overview
11.22.2. Company Snapshot
11.22.3. Company Market Share Analysis
11.22.4. Company Product Portfolio
11.22.5. Recent Developments
11.22.6. SWOT Analysis
11.23. StimScience
11.23.1. Business Overview
11.23.2. Company Snapshot
11.23.3. Company Market Share Analysis
11.23.4. Company Product Portfolio
11.23.5. Recent Developments
11.23.6. SWOT Analysis
11.24. Takeda Pharmaceutical Company Limited
11.24.1. Business Overview
11.24.2. Company Snapshot
11.24.3. Company Market Share Analysis
11.24.4. Company Product Portfolio
11.24.5. Recent Developments
11.24.6. SWOT Analysis

List of Table
1. Global Sleep Aids Market, By Product, 2019-2032 (USD Billion)
2. Global Mattresses & Pillows Sleep Aids, Sleep Aids Market, By Region, 2019-2032 (USD Billion)
3. Global Medications Sleep Aids, Sleep Aids Market, By Region, 2019-2032 (USD Billion)
4. Global Sleep Apnea Devices Sleep Aids, Sleep Aids Market, By Region, 2019-2032 (USD Billion)
5. Global Others Sleep Aids, Sleep Aids Market, By Region, 2019-2032 (USD Billion)
6. Global Sleep Aids Market, By Sleep Disorder, 2019-2032 (USD Billion)
7. Global Insomnia Sleep Aids Market, By Region, 2019-2032 (USD Billion)
8. Global Narcolepsy Sleep Aids Market, By Region, 2019-2032 (USD Billion)
9. Global Restless Leg Syndrome Sleep Aids Market, By Region, 2019-2032 (USD Billion)
10. Global Sleep Apnea Sleep Aids Market, By Region, 2019-2032 (USD Billion)
11. Global Others Sleep Aids Market, By Region, 2019-2032 (USD Billion)
12. Global Sleep Aids Market, By Distribution Channel, 2019-2032 (USD Billion)
13. Global Hospital Pharmacies Sleep Aids Market, By Region, 2019-2032 (USD Billion)
14. Global Retail Pharmacies Sleep Aids Market, By Region, 2019-2032 (USD Billion)
15. Global E-commerce Sleep Aids Market, By Region, 2019-2032 (USD Billion)
16. Global Drug Stores Sleep Aids Market, By Region, 2019-2032 (USD Billion)
17. Global Others Sleep Aids Market, By Region, 2019-2032 (USD Billion)
18. Global Sleep Aids Market, By Region, 2019-2032 (USD Billion)
19. North America Sleep Aids Market, By Product, 2019-2032 (USD Billion)
20. North America Sleep Aids Market, By Sleep Disorder, 2019-2032 (USD Billion)
21. North America Sleep Aids Market, By Distribution Channel, 2019-2032 (USD Billion)
22. U.S. Sleep Aids Market, By Product, 2019-2032 (USD Billion)
23. U.S. Sleep Aids Market, By Sleep Disorder, 2019-2032 (USD Billion)
24. U.S. Sleep Aids Market, By Distribution Channel, 2019-2032 (USD Billion)
25. Canada Sleep Aids Market, By Product, 2019-2032 (USD Billion)
26. Canada Sleep Aids Market, By Sleep Disorder, 2019-2032 (USD Billion)
27. Canada Sleep Aids Market, By Distribution Channel, 2019-2032 (USD Billion)
28. Mexico Sleep Aids Market, By Product, 2019-2032 (USD Billion)
29. Mexico Sleep Aids Market, By Sleep Disorder, 2019-2032 (USD Billion)
30. Mexico Sleep Aids Market, By Distribution Channel, 2019-2032 (USD Billion)
31. Europe Sleep Aids Market, By Product, 2019-2032 (USD Billion)
32. Europe Sleep Aids Market, By Sleep Disorder, 2019-2032 (USD Billion)
33. Europe Sleep Aids Market, By Distribution Channel, 2019-2032 (USD Billion)
34. Germany Sleep Aids Market, By Product, 2019-2032 (USD Billion)
35. Germany Sleep Aids Market, By Sleep Disorder, 2019-2032 (USD Billion)
36. Germany Sleep Aids Market, By Distribution Channel, 2019-2032 (USD Billion)
37. France Sleep Aids Market, By Product, 2019-2032 (USD Billion)
38. France Sleep Aids Market, By Sleep Disorder, 2019-2032 (USD Billion)
39. France Sleep Aids Market, By Distribution Channel, 2019-2032 (USD Billion)
40. U.K. Sleep Aids Market, By Product, 2019-2032 (USD Billion)
41. U.K. Sleep Aids Market, By Sleep Disorder, 2019-2032 (USD Billion)
42. U.K. Sleep Aids Market, By Distribution Channel, 2019-2032 (USD Billion)
43. Italy Sleep Aids Market, By Product, 2019-2032 (USD Billion)
44. Italy Sleep Aids Market, By Sleep Disorder, 2019-2032 (USD Billion)
45. Italy Sleep Aids Market, By Distribution Channel, 2019-2032 (USD Billion)
46. Spain Sleep Aids Market, By Product, 2019-2032 (USD Billion)
47. Spain Sleep Aids Market, By Sleep Disorder, 2019-2032 (USD Billion)
48. Spain Sleep Aids Market, By Distribution Channel, 2019-2032 (USD Billion)
49. Asia Pacific Sleep Aids Market, By Product, 2019-2032 (USD Billion)
50. Asia Pacific Sleep Aids Market, By Sleep Disorder, 2019-2032 (USD Billion)
51. Asia Pacific Sleep Aids Market, By Distribution Channel, 2019-2032 (USD Billion)
52. Japan Sleep Aids Market, By Product, 2019-2032 (USD Billion)
53. Japan Sleep Aids Market, By Sleep Disorder, 2019-2032 (USD Billion)
54. Japan Sleep Aids Market, By Distribution Channel, 2019-2032 (USD Billion)
55. China Sleep Aids Market, By Product, 2019-2032 (USD Billion)
56. China Sleep Aids Market, By Sleep Disorder, 2019-2032 (USD Billion)
57. China Sleep Aids Market, By Distribution Channel, 2019-2032 (USD Billion)
58. India Sleep Aids Market, By Product, 2019-2032 (USD Billion)
59. India Sleep Aids Market, By Sleep Disorder, 2019-2032 (USD Billion)
60. India Sleep Aids Market, By Distribution Channel, 2019-2032 (USD Billion)
61. South America Sleep Aids Market, By Product, 2019-2032 (USD Billion)
62. South America Sleep Aids Market, By Sleep Disorder, 2019-2032 (USD Billion)
63. South America Sleep Aids Market, By Distribution Channel, 2019-2032 (USD Billion)
64. Brazil Sleep Aids Market, By Product, 2019-2032 (USD Billion)
65. Brazil Sleep Aids Market, By Sleep Disorder, 2019-2032 (USD Billion)
66. Brazil Sleep Aids Market, By Distribution Channel, 2019-2032 (USD Billion)
67. Middle East and Africa Sleep Aids Market, By Product, 2019-2032 (USD Billion)
68. Middle East and Africa Sleep Aids Market, By Sleep Disorder, 2019-2032 (USD Billion)
69. Middle East and Africa Sleep Aids Market, By Distribution Channel, 2019-2032 (USD Billion)
70. UAE Sleep Aids Market, By Product, 2019-2032 (USD Billion)
71. UAE Sleep Aids Market, By Sleep Disorder, 2019-2032 (USD Billion)
72. UAE Sleep Aids Market, By Distribution Channel, 2019-2032 (USD Billion)
73. South Africa Sleep Aids Market, By Product, 2019-2032 (USD Billion)
74. South Africa Sleep Aids Market, By Sleep Disorder, 2019-2032 (USD Billion)
75. South Africa Sleep Aids Market, By Distribution Channel, 2019-2032 (USD Billion)
List of Figures
1. Global Sleep Aids Market Segmentation
2. Sleep Aids Market: Research Methodology
3. Market Size Estimation Methodology: Bottom-Up Approach
4. Market Size Estimation Methodology: Top-Down Approach
5. Data Triangulation
6. Porter's Five Forces Analysis
7. Value Chain Analysis
8. Global Sleep Aids Market Attractiveness Analysis by Product
9. Global Sleep Aids Market Attractiveness Analysis by Sleep Disorder
10. Global Sleep Aids Market Attractiveness Analysis by Distribution Channel
11. Global Sleep Aids Market Attractiveness Analysis by Region
12. Global Sleep Aids Market: Dynamics
13. Global Sleep Aids Market Share by Product (2023 & 2032)
14. Global Sleep Aids Market Share by Sleep Disorder (2023 & 2032)
15. Global Sleep Aids Market Share by Distribution Channel (2023 & 2032)
16. Global Sleep Aids Market Share by Regions (2023 & 2032)
17. Global Sleep Aids Market Share by Company (2022)