The global shared mobility market was valued at USD 192.34 billion in 2022, increasing at a CAGR of 17.10% from 2023 to 2031 and is anticipated to reach USD 796.31 billion by 2031. Asia Pacific is expected to grow the fastest during the forecast period. The shared mobility industry was negatively affected by the COVID-19 epidemic, and thus there was a significant drop in ridership due to safety concerns and nationwide lockdowns. Based on the survey in China, consumers preferred using a personal vehicle as there was a lack of trust in public transportation and other safety concerns. People were inclined toward online and contactless purchases during the pandemic time, which also contributed to the decline in the shared mobility market in pandemic time. Post covid-19 the key players are focusing on attracting customers using flexible subscription plans. For instance, Zoomcar has launched many plans, like subscription termination without penalties and deferment of payments, among others.
Market Introduction:
Shared mobility is a means of transport in which the operator owns the vehicle but rents it to the public for a limited period of time. Users could share the vehicle concurrently or one after another. The development of mobile apps, fast internet and other connectivity services allow quick and easy access to such forms of transportation. Services like mobility-as-a-service apps are integrating several forms of transport in a single on-demand transport service platform. Based on the article, from 2019, up to 2018, around USD 100 Billion got invested in shared-mobility organizations. Based on the types of investors, it was found that automotive players did not invest in the shared-mobility companies; instead, it was venture capital and private equity players who invested around 72 per cent of the total amount of the disclosed investment since 2010. Recent trends are also suggesting that car sharing has become the least used means on average by consumers, which is getting reflected due to lower trip numbers. Also, E-hailing is the most preferred way for shared mobility by consumers in China, Brazil and the US. For instance, in China, around 90% of the consumers agreed to use e-hailing services a minimum of once a week. Based on one of the articles, till October 2016, car sharing operated in 46 countries and six continents, with around 2,095 cities and approximately 15 million members sharing more than 157,000 vehicles. Similarly, till May 2018, there were around 1,600 information technology-based public bike-sharing systems globally, with more than 18.17 million bicycles. Between the years 2010 to 2018, around 207 million shared micro-mobility trips were completed in the US. Around 36.5 million trips were completed by station-based bike sharing, 9 million travels were on dockless bike sharing, and around 38.5 million journeys were on shared e-scooters in 2018. In China, till May 2018, around 6.1 million bicycles were shared by more than 640 bike-sharing programs. These factors are driving the growth of the shared mobility market.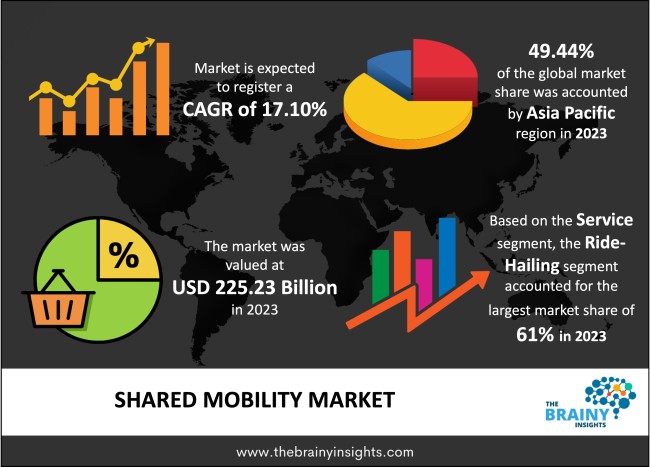 Get an overview of this study by requesting a free sample
Recent Development
For example, in February 2023, BinBin, the largest micro and shared mobility provider in Turkey, announced the acquisition of Netherland-based Go Sharing, which has an e-scooter hire fleet. This acquisition helps the organization in expanding its market share in Western Europe.
For example, in July 2022, Free2move, which is a global mobility player for B2B and B2C customers, acquired Share Now company, the market leader and founder of free-floating car sharing in Europe. This acquisition aligned with the organization's strategic growth plan as a global mobility leader and expanded the mobility hub's conception to 14 new cities.
Market Dynamics:
Drivers
The surge in mobility trends: There are around 1.4 billion vehicles that are in operation globally. In the US, around 91% of households have access to a minimum of one vehicle. But the high car prices and emerging mobility trends are significantly declining car ownership. It is creating new opportunities for automakers and other players in the mobility sector. For instance, individual Demand-responsive transport (DRT), which is also known as e-hailing, has become very popular, and it accounts for around 90% of the total consumer expenditure on shared mobility. Moreover, private equity and venture capital organizations are investing significant money in new technologies and mobility innovation, which is surging several new mobility trends like autonomous driving, ride-sharing and peer-to-peer car sharing, among others. All these factors are eventually driving the shared mobility market.
Environment concern and government initiatives: Many governments worldwide have started initiatives to encourage congestion reduction solutions. Moreover, enhanced accessibility, reduction in driving, and declining personal car ownership is changing the lifestyle of commuters. Also, based on one of the surveys, around 60% of the people agreed to share their shared mobility ride with a stranger if that adds below 15% of their travel time but decreases the cost. Also, shared mobility projects eventually benefit the environment, society and transportation system; the Micro-mobility trend is also growing. In the US, around 84 million trips happened on shared micro-mobility in 2018. Moreover, it was found that the number of e-hailing trips tripled in 4 years, and the number of micro-mobility journeys doubled in one year. All these factors are driving the shared mobility market.
Restraints:
High prices for the service post-pandemic: It has been observed that the average price for the services of Uber and Lyft has increased, and it reached a record high in April 2022, which was 35% more than the pre-pandemic level. Hence both organizations witnessed 35% fewer trips and around 20% fewer users. The organization's prices increased due to a significant increase in the price of gas. Also, there is a shortage of drivers as profits have become less. Passenger numbers are decreasing due to a surge in the fare. Investors are also putting pressure to decrease the heavy losses. All such factors act as restraints for the market.
Opportunities:
Emerging economies: The demand for shared mobility is growing due to the growing need for on-demand transport. It has been observed that US & China are the leading countries in the global shared mobility market, as both accounted for around 56% of the market share in 2021. Also, it has been observed that ride-hailing is the most popular shared mobility service in these countries, with around 88% in China and around 77% in the US. The market will grow significantly in the future for emerging economies, especially in Southeast economies like Indonesia and Thailand, due to a surge in disposable incomes and an increase in the use of smartphones along with poor public transport provisions. Moreover, shared micro-mobility bookings will grow as consumers shift away from private passenger car travel. Also, this would further get influenced due the improvement in infrastructure and rapid urbanization. All these factors would drive the shared mobility market in the forecast period.
Challenges:
Use of Personal Vehicles: The use of personal vehicles can be a challenge. Based on one of the surveys, post-pandemic, consumers' intention to use personal vehicles has increased by 41%, especially in the major cities. Also, around 23% of the consumers planning to buy a new car would prefer a used car; this would gradually increase the use of personal vehicles. These factors are acting as a challenge for the market.
Regional segmentation analysis:
The regions analyzed for the market include Europe, South America, Asia Pacific, North America, the Middle East, and Africa. Asia Pacific emerged as the largest market for the global shared mobility market, with a 49.51% share of the market revenue in 2022. China is the leading country in the shared mobility market. Based on one of the surveys, around 33% of the Chinese prefer shared mobility as a mode of commuting, preferring private vehicles in second place. Also, they prefer to switch to robotaxi and shuttles in the future. Didi Chuxing of China, along with US' Uber, are the leading shared mobility companies that focus on ride-hailing and account for around 40% of the total shared mobility bookings. China and India seem to be the most promising market due to their large population. Further, countries like India and Taiwan have underdeveloped transportation infrastructure along with high air pollution. Moreover, in India, there are many additional problems with owning vehicles, like traffic etc. and finding parking, especially in metropolitan cities like Mumbai and Bangalore. Residents prefer more comfort and convenience while saving the cost. These factors are driving the market in the region. Europe has emerged as the second largest market for the global shared mobility market. This market share is attributed to the factors such as growing consumer willingness to use shared vehicles; also, there is a regulatory push to drive people from private car ownership to other mobility options. There is also the advent of shared autonomous mobility in the region. Based on one of the studies, by 2035, the autonomous vehicle would cover around half of the shared mobility market in Europe, and there would be an estimation of around 200,000 to 1 million Autonomous driving cars used for ride-sharing services. These factors are eventually driving the shared mobility market in Europe.
Asia Pacific Region Shared Mobility Market Share in 2022 - 49.51%
www.thebrainyinsights.com
Check the geographical analysis of this market by requesting a free sample
Service segment analysis
The service segment is divided into ride-hailing, bike sharing, ride-sharing, car sharing and others. The ride-hailing segment dominated, with a market share of around 61.11% in 2022. This share is attributed to ride-hailing being the most accepted mode of shared mobility. Leading countries such as China have a market share of around 88%, and the US, with more than 75% of the market. This decreases the dependence on many transport apps and privately owned vehicles by combining several services like rental cars, taxis and public transport on a single platform that can be accessed using the smartphone app.
Vehicle segment analysis
The vehicle segment is divided into shared rides and shared vehicles. The shared vehicles segment dominated, with a market share of around 70.12% in 2022. Shared vehicles consist of conventional mobility services. This is present in all countries and generally needs hubs or infrastructure. These are also integrated into governmental institutions. This service is more efficient as it transports a large population per trip and thus will help reduce the environmental impact in the future.
Sales Channel segment analysis
The sales channel segment is divided into online and offline. In 2022, the online segment dominated the market with the largest market share of 61.33% and market revenue of 117.96 billion. This share is attributed to the growing use of smartphone users and fast internet facilities. The article from 2019 states that the e-hailing market accounted for more than USD 95 billion in investments. Around half of these investments were focused on the three leading global players. Also, robotaxis and shuttles could be game changers in e-hailing services because of lower operating costs than driver-based services. Also, investors are waiting for the leading players to commercialize autonomous driving technology for more profitability. These factors are eventually driving the online share.
Some of the Key Market Players:
Uber
Car2Go
Lyft
Flinkster
DiDi Chuxing
EVCARD
Zipcar
Grab
Deutsche Bahn Connect GmbH
GreenGo
Drive Now (BMW)
Report Description:
| Attribute | Description |
| --- | --- |
| Market Size | Revenue (USD Billion) |
| Market size value in 2022 | USD 192.34 Billion |
| Market size value in 2031 | USD 796.31 Billion |
| CAGR (2023 to 2031) | 17.10% |
| Historical data | 2019-2021 |
| Base Year | 2022 |
| Forecast | 2023-2032 |
| Regional Segments | The key regions are South America, North America, Europe, Asia Pacific, and Middle East & Africa. |
| Segments | Key Segments are service, vehicle, sales channel and regions |
Frequesntly Asked Questions
1. Introduction
1.1. Objectives of the Study
1.2. Market Definition
1.3. Research Scope
1.4. Currency
1.5. Key Target Audience

2. Research Methodology and Assumptions

3. Executive Summary

4. Premium Insights
4.1. Porter's Five Forces Analysis
4.2. Value Chain Analysis
4.3. Top Investment Pockets
4.3.1. Market Attractiveness Analysis By Service
4.3.2. Market Attractiveness Analysis By Vehicle
4.3.3. Market Attractiveness Analysis By Sales Channel
4.3.4. Market Attractiveness Analysis By Region
4.4. Industry Trends

5. Market Dynamics
5.1. Market Evaluation
5.2. Drivers
5.2.1. The surge in the mobility trends
5.2.2. Environment concern and government initiatives
5.3. Restraints
5.3.1. High prices for services post pandemic
5.4. Opportunities
5.4.1. Emerging economies
5.5. Challenges
5.5.1. Use of personal vehicles

6. Global Shared Mobility Market Analysis and Forecast, By Service
6.1. Segment Overview
6.2. Ride Hailing
6.3. Bike Sharing
6.4. Ride Sharing
6.5. Car Sharing
6.6. Others

7. Global Shared Mobility Market Analysis and Forecast, By Vehicle
7.1. Segment Overview
7.2. Shared Rides
7.3. Shared Vehicles

8. Global Shared Mobility Market Analysis and Forecast, By Sales Channel
8.1. Segment Overview
8.2. Online
8.3. Offline

9. Global Shared Mobility Market Analysis and Forecast, By Regional Analysis
9.1. Segment Overview
9.2. North America
9.2.1. U.S.
9.2.2. Canada
9.2.3. Mexico
9.3. Europe
9.3.1. Germany
9.3.2. France
9.3.3. U.K.
9.3.4. Italy
9.3.5. Spain
9.4. Asia-Pacific
9.4.1. Japan
9.4.2. China
9.4.3. India
9.5. South America
9.5.1. Brazil
9.6. Middle East and Africa
9.6.1. UAE
9.6.2. South Africa

10. Global Shared Mobility Market-Competitive Landscape
10.1. Overview
10.2. Market Share of Key Players in Global Shared Mobility Market
10.2.1. Global Company Market Share
10.2.2. North America Company Market Share
10.2.3. Europe Company Market Share
10.2.4. APAC Company Market Share
10.3. Competitive Situations and Trends
10.3.1. Product Launches and Developments
10.3.2. Partnerships, Collaborations, and Agreements
10.3.3. Mergers & Acquisitions
10.3.4. Expansions

11. Company Profiles
11.1. Uber
11.1.1. Business Overview
11.1.2. Company Snapshot
11.1.3. Company Market Share Analysis
11.1.4. Company Product Portfolio
11.1.5. Recent Developments
11.1.6. SWOT Analysis
11.2. Car2Go
11.2.1. Business Overview
11.2.2. Company Snapshot
11.2.3. Company Market Share Analysis
11.2.4. Company Product Portfolio
11.2.5. Recent Developments
11.2.6. SWOT Analysis
11.3. Lyft
11.3.1. Business Overview
11.3.2. Company Snapshot
11.3.3. Company Market Share Analysis
11.3.4. Company Product Portfolio
11.3.5. Recent Developments
11.3.6. SWOT Analysis
11.4. Flinkster
11.4.1. Business Overview
11.4.2. Company Snapshot
11.4.3. Company Market Share Analysis
11.4.4. Company Product Portfolio
11.4.5. Recent Developments
11.4.6. SWOT Analysis
11.5. DiDi Chuxing
11.5.1. Business Overview
11.5.2. Company Snapshot
11.5.3. Company Market Share Analysis
11.5.4. Company Product Portfolio
11.5.5. Recent Developments
11.5.6. SWOT Analysis
11.6. EVCARD
11.6.1. Business Overview
11.6.2. Company Snapshot
11.6.3. Company Market Share Analysis
11.6.4. Company Product Portfolio
11.6.5. Recent Developments
11.6.6. SWOT Analysis
11.7. Zipcar
11.7.1. Business Overview
11.7.2. Company Snapshot
11.7.3. Company Market Share Analysis
11.7.4. Company Product Portfolio
11.7.5. Recent Developments
11.7.6. SWOT Analysis
11.8. Grab
11.8.1. Business Overview
11.8.2. Company Snapshot
11.8.3. Company Market Share Analysis
11.8.4. Company Product Portfolio
11.8.5. Recent Developments
11.8.6. SWOT Analysis
11.9. Deutsche Bahn Connect GmbH
11.9.1. Business Overview
11.9.2. Company Snapshot
11.9.3. Company Market Share Analysis
11.9.4. Company Product Portfolio
11.9.5. Recent Developments
11.9.6. SWOT Analysis
11.10. GreenGo
11.10.1. Business Overview
11.10.2. Company Snapshot
11.10.3. Company Market Share Analysis
11.10.4. Company Product Portfolio
11.10.5. Recent Developments
11.10.6. SWOT Analysis
11.11. Drive Now (BMW)
11.11.1. Business Overview
11.11.2. Company Snapshot
11.11.3. Company Market Share Analysis
11.11.4. Company Product Portfolio
11.11.5. Recent Developments
11.11.6. SWOT Analysis

List of Table
1. Global Shared Mobility Market, By Service, 2019-2031 (USD Billion)
2. Global Ride Hailing, Shared Mobility Market, By Region, 2019-2031 (USD Billion)
3. Global Bike Sharing, Shared Mobility Market, By Region, 2019-2031 (USD Billion)
4. Global Ride Sharing, Shared Mobility Market, By Region, 2019-2031 (USD Billion)
5. Global Car Sharing, Shared Mobility Market, By Region, 2019-2031 (USD Billion)
6. Global Others, Shared Mobility Market, By Region, 2019-2031 (USD Billion)
7. Global Shared Mobility Market, By Vehicle, 2019-2031 (USD Billion)
8. Global Shared Rides, Shared Mobility Market, By Region, 2019-2031 (USD Billion)
9. Global Shared Vehicles, Shared Mobility Market, By Region, 2019-2031 (USD Billion)
10. Global Shared Mobility Market, By Sales Channel, 2019-2031 (USD Billion)
11. Global Online, Shared Mobility Market, By Region, 2019-2031 (USD Billion)
12. Global Offline, Shared Mobility Market, By Region, 2019-2031 (USD Billion)
13. North America Shared Mobility Market, By Service, 2019-2031 (USD Billion)
14. North America Shared Mobility Market, By Vehicle, 2019-2031 (USD Billion)
15. North America Shared Mobility Market, By Sales Channel, 2019-2031 (USD Billion)
16. U.S. Shared Mobility Market, By Service, 2019-2031 (USD Billion)
17. U.S. Shared Mobility Market, By Vehicle, 2019-2031 (USD Billion)
18. U.S. Shared Mobility Market, By Sales Channel, 2019-2031 (USD Billion)
19. Canada Shared Mobility Market, By Service, 2019-2031 (USD Billion)
20. Canada Shared Mobility Market, By Vehicle, 2019-2031 (USD Billion)
21. Canada Shared Mobility Market, By Sales Channel, 2019-2031 (USD Billion)
22. Mexico Shared Mobility Market, By Service, 2019-2031 (USD Billion)
23. Mexico Shared Mobility Market, By Vehicle, 2019-2031 (USD Billion)
24. Mexico Shared Mobility Market, By Sales Channel, 2019-2031 (USD Billion)
25. Europe Shared Mobility Market, By Service, 2019-2031 (USD Billion)
26. Europe Shared Mobility Market, By Vehicle, 2019-2031 (USD Billion)
27. Europe Shared Mobility Market, By Sales Channel, 2019-2031 (USD Billion)
28. Germany Shared Mobility Market, By Service, 2019-2031 (USD Billion)
29. Germany Shared Mobility Market, By Vehicle, 2019-2031 (USD Billion)
30. Germany Shared Mobility Market, By Sales Channel, 2019-2031 (USD Billion)
31. France Shared Mobility Market, By Service, 2019-2031 (USD Billion)
32. France Shared Mobility Market, By Vehicle, 2019-2031 (USD Billion)
33. France Shared Mobility Market, By Sales Channel, 2019-2031 (USD Billion)
34. U.K. Shared Mobility Market, By Service, 2019-2031 (USD Billion)
35. U.K. Shared Mobility Market, By Vehicle, 2019-2031 (USD Billion)
36. U.K. Shared Mobility Market, By Sales Channel, 2019-2031 (USD Billion)
37. Italy Shared Mobility Market, By Service, 2019-2031 (USD Billion)
38. Italy Shared Mobility Market, By Vehicle, 2019-2031 (USD Billion)
39. Italy Shared Mobility Market, By Sales Channel, 2019-2031 (USD Billion)
40. Spain Shared Mobility Market, By Service, 2019-2031 (USD Billion)
41. Spain Shared Mobility Market, By Vehicle, 2019-2031 (USD Billion)
42. Spain Shared Mobility Market, By Sales Channel, 2019-2031 (USD Billion)
43. Asia Pacific Shared Mobility Market, By Service, 2019-2031 (USD Billion)
44. Asia Pacific Shared Mobility Market, By Vehicle, 2019-2031 (USD Billion)
45. Asia Pacific Shared Mobility Market, By Sales Channel, 2019-2031 (USD Billion)
46. Japan Shared Mobility Market, By Service, 2019-2031 (USD Billion)
47. Japan Shared Mobility Market, By Vehicle, 2019-2031 (USD Billion)
48. Japan Shared Mobility Market, By Sales Channel, 2019-2031 (USD Billion)
49. China Shared Mobility Market, By Service, 2019-2031 (USD Billion)
50. China Shared Mobility Market, By Vehicle, 2019-2031 (USD Billion)
51. China Shared Mobility Market, By Sales Channel, 2019-2031 (USD Billion)
52. India Shared Mobility Market, By Service, 2019-2031 (USD Billion)
53. India Shared Mobility Market, By Vehicle, 2019-2031 (USD Billion)
54. India Shared Mobility Market, By Sales Channel, 2019-2031 (USD Billion)
55. South America Shared Mobility Market, By Service, 2019-2031 (USD Billion)
56. South America Shared Mobility Market, By Vehicle, 2019-2031 (USD Billion)
57. South America Shared Mobility Market, By Sales Channel, 2019-2031 (USD Billion)
58. Brazil Shared Mobility Market, By Service, 2019-2031 (USD Billion)
59. Brazil Shared Mobility Market, By Sales Channel, 2019-2031 (USD Billion)
60. Brazil Shared Mobility Market, By Vehicle, 2019-2031 (USD Billion)
61. Middle East and Africa Shared Mobility Market, By Service, 2019-2031 (USD Billion)
62. Middle East and Africa Shared Mobility Market, By Vehicle, 2019-2031 (USD Billion)
63. Middle East and Africa Shared Mobility Market, By Sales Channel, 2019-2031 (USD Billion)
64. UAE Shared Mobility Market, By Service, 2019-2031 (USD Billion)
65. UAE Shared Mobility Market, By Vehicle, 2019-2031 (USD Billion)
66. UAE Shared Mobility Market, By Sales Channel, 2019-2031 (USD Billion)
67. South Africa Shared Mobility Market, By Service, 2019-2031 (USD Billion)
68. South Africa Shared Mobility Market, By Vehicle, 2019-2031 (USD Billion)
69. South Africa Shared Mobility Market, By Sales Channel, 2019-2031 (USD Billion)
List of Figures
1. Global Shared Mobility Market Segmentation
2. Global Shared Mobility Market: Research Methodology
3. Market Size Estimation Methodology: Bottom-Up Approach
4. Market Size Estimation Methodology: Top-Down Approach
5. Data Triangulation
6. Porter's Five Forces Analysis
7. Value Chain Analysis
8. Global Shared Mobility Market Attractiveness Analysis By Service
9. Global Shared Mobility Market Attractiveness Analysis By Vehicle
10. Global Shared Mobility Market Attractiveness Analysis By Sales Channel
11. Global Shared Mobility Market Attractiveness Analysis By Region
12. Global Shared Mobility Market: Dynamics
13. Global Shared Mobility Market Share By Service (2023 & 2031)
14. Global Shared Mobility Market Share By Vehicle (2023 & 2031)
15. Global Shared Mobility Market Share By Sales Channel (2023 & 2031)
16. Global Shared Mobility Market Share By Regions (2023 & 2031)
17. Global Shared Mobility Market Share By Company (2022)