The global refrigerated display cases market was valued at USD 8.8 billion in 2022, growing at a CAGR of 6.1% from 2023 to 2032. The market is expected to reach USD 15.9 billion by 2032. The refrigerated display cases market is driven by development in the food and beverages segment. Furthermore, increasing urbanization also helps propel the market's growth.
Market Introduction:
The food and beverage companies, including general stores/hypermarkets, supermarkets, restaurants, lodging facilities, and other irregular outlets, are where refrigerated display cases are primarily utilized. Through an eye-catching visual presentation of food and drink products, RDCs aid in drawing customers. Furthermore, the need for RDCs in the worldwide market for refrigerated display cases has been driven by the growing retail network and commercial sector for prepared and ready-to-eat food items. Specialized devices called refrigerator display cases are made to hold and exhibit perishable and temperature-sensitive items, including drinks, sweets, and food. Various sturdy, hygienic, and non-corrosive materials, including polyurethane foam, copper, plastic, glass, and stainless steel, are used in their manufacture. They comprise several parts, including control systems, lighting, fans, compressors, condensers, and evaporators. Fresh produce, meat, fish, alcoholic and non-alcoholic beverages, ice cream, cakes, pastries, and other bakery items are frequently displayed in refrigerator display cases. They are easy to use, have a long lifespan, use less energy, allow for personalization, take up less room, and require little upkeep. In addition to helping to maintain a constant temperature, refrigerated display cases also help to avoid spoiling, minimize waste, and guarantee food safety.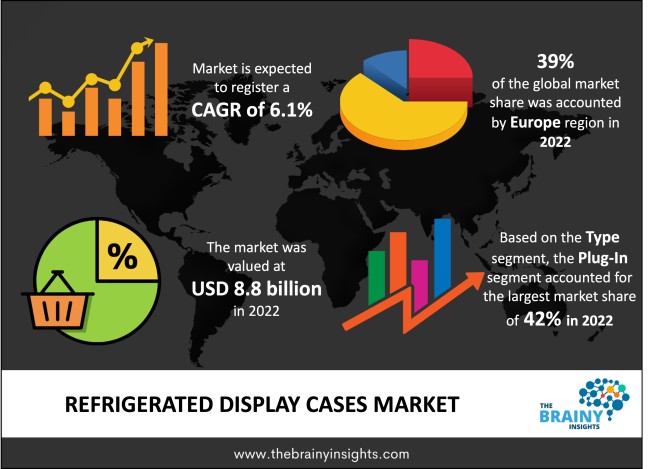 Get an overview of this study by requesting a free sample
Recent Development
In January 2023, the Leading producer of chilled display cases, Beverage-Air Corporation, announced the introduction of their new range of energy-efficient cases.
In February 2023, Another well-known producer of chilled display cases, AHT Cooling Systems GmbH, recently declared the launch of a new factory in China.
In March 2023, the European Commission announced A new project to develop innovative technologies for refrigerated display cabinets.
Market Dynamics:
Drivers
Increasing demand for frozen food and drinks- Convenience in food and beverage processing is the primary driver of the market's growth for refrigerated display cases. Demand for fresh, hygienic and healthful food is growing, which in turn is driving up demand for refrigerated display cases made of high-quality materials. The market is primarily responsible for the segment's growth because of the modern lifestyle's constant demand for rapid and simple access to food and drink, pushing up demand for frozen foods and beverages. In the near future, rising consumer buying power and shifting consumer tastes for wholesome food will fuel the market expansion for refrigerated display cases.
Restraints:
Lack of awareness and limited adoption- In less developed regions, there needs to be more adoption and better awareness of chilled display cases, the main obstacle impeding their expansion. The lack of market awareness among consumers is one of the main causes of restricted adoption. Most restaurants and hotels that use refrigerated display cases are located in more developed locations. Furthermore, refrigerated display cases are more common in developed nations, which may hinder the market's expansion in less developed areas.
Opportunities:
Increasing investment- The fact that major enterprises are now investing in chilled display cases presents a significant opportunity for the refrigerated display cases market. Larger supermarket chains wish to modernize their machinery to meet the increasing demand. Refrigerated display cases reach millions of prospective customers, and the industry has piqued the curiosity of foreign investors. The market's expansion will be mostly driven by foreign investment. Even though the market is still in its early stages of development, it is growing swiftly.
Regional segmentation analysis:
The regions analyzed for the market include North America, Europe, South America, Asia Pacific, the Middle East, and Africa. Europe emerged as the largest global refrigerated display cases market, with a 39% market revenue share in 2022.
Europe is the largest and most extensively distributed market for refrigerated display cases. The rise in disposable income has led to an increase in demand for home appliance goods. The primary drivers of the refrigerated display case market in European countries are the rise in packaged food goods and the per capita income development. Furthermore, a well-established food and beverage retail sector is driving the industry in the region.
Europe Region Refrigerated Display Cases Market Share in 2022 - 39%
www.thebrainyinsights.com
Check the geographical analysis of this market by requesting a free sample
Type Segment Analysis
The type segment is divided into semi-plug-in, plug-in, and remote. The plug-in segment dominated the market, with a market share of around 42% in 2022. Plug-in display cases include floor-mounted curved glass and compact refrigerated cases that mount to a wall for opening. The fastest growth for bottle coolers in plug-in devices is anticipated due to the growing demand for bottled and aerated drinks.
Design Segment Analysis
The design segment is divided into hybrid, vertical, and horizontal. The vertical segment dominated the market, with a market share of around 38% in 2022. Vertical refrigerated display cases are becoming increasingly popular due to their small floor area, growing variety, ease of mobility, and cheap maintenance. Given the growing trend of packaged and processed food consumption, businesses are eager to showcase their display cabinets to draw in customers.
Some of the Key Market Players:
Hoshizaki International
Metalfrio Solutions S.A
Epta S.p.a Refrigeration
AHT cooling systems gmbh
Lennox International
Dover Corporation
Illinois Tool Works Inc.
Hussmann Corporation
Frigoglass S.A.I.C
Verco Limited
Report Description:
| Attribute | Description |
| --- | --- |
| Market Size | Revenue (USD Billion) |
| Market size value in 2022 | USD 8.8 Billion |
| Market size value in 2032 | USD 15.9 Billion |
| CAGR (2023 to 2032) | 6.1% |
| Historical data | 2019-2021 |
| Base Year | 2022 |
| Forecast | 2023-2032 |
| Region | The regions analyzed for the market are Asia Pacific, Europe, South America, North America, and Middle East & Africa. Furthermore, the regions are further analyzed at the country level. |
| Segments | Type, Design |